EDITOR'S PICK
Pittsburgh Automotive 3 Ton Heavy Duty Ultra Low Profile Steel Floor Jack
Simple to use and control
Controlling the load is easy
Only a few pumps needed to reach 19.75 inches
Suitable for different automobiles
Well-built, high-quality materials
PREMIUM PICK
Arcan 3-Ton Quick Rise Aluminum Floor Jack
Strength and control are promoted with stronger lift arm
Great lifting weight
Rubber saddle and handle bumper for avoiding dents
Easy to position
Suitable for sports cars
BUDGET PICK
Arcan 2 Ton Low Profile Quick Rise Steel Floor Jack XL20
Rubber saddle for increased protection of the automobile
Super flat profile
Quickly reaches the height of 18.5 inches
Overburdening is avoided
Convenient storing
Easy to maneuver
No matter if you own a professional workshop or just enjoy working on your car, a floor jack is a must-have in any garage.
Car enthusiasts are already familiar with this handy tool – it is used in NASCAR races to lift cars off the ground and change tires. Of course, it can be used on other vehicles as well – picking up larger cars, such as Jeeps, is much easier with this practical tool.
A low profile jack is a slim tool that will easily slide beneath any car and just as easily pick it up, so any repair can be done. Even though this is quite a practical tool, choosing the right one for yourself is a bit challenging.
Your new tool shouldn't only be handy but durable, strong, and, most importantly, safe to use.
I recently had to shop for a floor jack myself so I have created a list of seven top-ranked floor jacks I found and also included a couple of tips and tricks to help you find a jack both fitting your needs and budget.
7 Best Low Profile Floor Jacks Review
Being a car enthusiast myself, I wanted a floor jack that would give me versatility – something suitable for all car types. And this Sunex service jack is excellent for all automobiles.
The biggest pro of this model is the incredibly low entry – even with space less than 3 inches, it will easily slide in between the car and ground.
Another fantastic feature of this model is the 18″ lifting arm allowing you to position the floor jack as you wish, so picking up the car from the ground is much easier.
This feature also comes in handy for different repairs – you can reach every part of the car quickly.
Many mechanics are worried about the jack damaging their automobile, but thanks to the included padded saddle, that problem is prevented.
The Sunex model's maximum height is 24 inches, and with its rapid rise technology and dual pump pistons, you can reach it in a jiffy.
Unfortunately, this model's weight limit is on the low side as it only lifts cars that weigh up to two tons. However, unless you own a pickup truck or a larger vehicle, most vehicles weigh less than two tons.
PROS
The rapid rise and dual pump pistons
Rubber saddle for avoiding damages
The long arm of 24 inches
Low profile for more versatility
Durable and premium quality steel
CONS
It can lift only 2 tons
A pricier model
---
This is another model great for anyone who drives a low-riding vehicle and, since it has a higher weight capacity than the previous model, it is a far better option for anyone who owns a larger vehicle.
Thanks to the thick plates and dual pistons, it lifts most cars and trucks with ease. Also, side handles make this floor jack even more practical – you can easily find the jack point and move it.
Moreover, the fact that it's built with aluminum increases the longevity of the Arcan 3-ton jack, making it suitable for any heavy-duty work.
This model comes with a dust shield as well – something that other recommended models do not have.
A reinforced lift arm ensures maneuverability, control, and promotes strength.
It features an anti-skid saddle made of rubber to prevent damages to rocker panels.
And, if you do not have plenty of space in your workshop, this model might be perfect for you as you can disassemble the handle for more convenient storage.
PROS
Strength and control are promoted with stronger lift arm
Great lifting weight
Rubber saddle and handle bumper for avoiding dents
Easy to position
Suitable for sports cars
CONS
It requires more energy to get to the maximum height
Read our in-depth review of the Arcan ALJ3T Aluminum Floor Jack here!
---
Because not all repairs can be done in the garage, mobile tools are the best choice. This one has an aluminum frame that makes the jack weightless and more portable. With that being said, the Liftmaster model also has steel-reinforced sides and steel lifting arm, extending its expected lifespan.
Furthermore, a safety valve is making sure the tool isn't exceeding its capacity.
Unfortunately, although the dual pistons quickly rise to 19.68 inches, its release mechanism isn't as efficient as other models on this list.
When it comes to the low point, it goes as low as 2.95 inches – sports car fanatics and slammed cars enthusiast are now probably thinking that this isn't enough; however, it does fit under most sports cars.
The weight capacity is the most significant advantage of this model since it can lift even an SUV. With a lifting weight of three tons, you won't have to worry about going over its capacity unless you own a really large vehicle.
PROS
3-ton weight capacity, suitable for high body frame automobiles
Low entry, great for sports cars
Lightweight and portable
Made of durable and robust steel
Overloading prevention
Quickly rises to its max-height
CONS
The release mechanism is a bit slow
---
As you may notice, new sports cars tend to come with ever-lower ground clearance, which makes older floor jacks unusable.
After I bought a newer model of the same sports car, I had to purchase a new floor jack. This Arcan model seemed like the best choice since it has features suitable for recent as well as older automobiles.
One advantage of this model is the incredibly low profile. This feature makes it one of the best floor jacks for really low sports cars.
Although it isn't usable for the most massive vehicles with its 2-ton lifting capacity, the Arcan 2 still gives you more than enough versatility so that you can use it on plenty of different automobiles.
Furthermore, it comes with safety valves, so you don't have to worry about accidentally overburdening and damaging the tool. Besides the valves, it has a bypass that keeps the arm from over-extending.
Another amazing feature of the Arcan model is a universal joint release mechanism. It significantly helps with controlling the tool during the lifting process and repair.
It also has dual pistons, so it reaches the maximum rise incredibly fast, saving you both time and energy.
Also, the saddle is covered with rubber and a foam bumper to prevent damages from lifting or accidental slipping.
PROS
Rubber saddle for increased protection of the automobile
Super flat profile
Quickly reaches the height of 18.5 inches
Overburdening is avoided
Convenient storing
Easy to maneuver
CONS
Lifting capacity of only two tons
---
This model may not be for everyone. As a car enthusiast, I struggled with it initially but eventually learned how to use it properly. This model is most suited for professionals.
The Pittsburgh 3-ton floor jack offers a great height adjustment range, making it suitable to be used on various vehicles such as SUVs, Jeeps, minivans, low-clearance automobiles, etc.
What separates this floor jack from other models previously mentioned is its premium quality and sturdy construction. The wide steel casters also boost the tool's stability so that the repairs can be done safely.
The Pittsburgh floor jack uses a universal joint release as well, and the handle's position doesn't affect the control of the load.
Even though it is mostly for professionals, it has a traditional pump – beginners won't struggle to figure out how it works. Also, it is a dual pump and doesn't require much energy to reach the highest point.
The only downside of this tool is the rough finish. However, even though it doesn't add to the tool's appearance, it doesn't really impact any of the performance traits either.
PROS
Simple to use and control
Controlling the load is easy
Only a few pumps needed to reach 19.75 inches
Suitable for different automobiles
Well-built, high-quality materials
Wide casters, made of quality steel for better stability
Read our in-depth review of the Pittsburgh 3 Ton Low Profile Floor Jack here!
---
Even if you plan on using the floor jack only in your garage, you should buy a good quality, robust tool.
Furthermore, the Powerbuilt Xtra Low Profile jack is entirely made of steel, meaning that it will be durable but quite heavy. Luckily, its durable, premium quality rolling casters make moving it from one place to another super easy without having to lift it from the ground.
Furthermore, it features a safety bar as well – when the car is up, the steel bar goes under the arm and secures the jack at that height. It doesn't require a jack stand, and it is excellent for Unibody vehicles.
Another positive trait of this floor jack is its flat entry. This floor jack will adapt to your automobile easily – switching between different models won't be a problem.
The maximum rise of the floor jack is 15.5 inches. Since the lowest point is 2.75, it has a good height range, but some mechanics might prefer a slightly higher maximum point.
Also, the lifting capacity is only two tons – this is a great trait, but some mechanics require more significant capacities and height difference.
PROS
Steel bar for securing the tool
Premium quality build
Has casters for better mobility
Features an anti-skid saddle
CONS
It could have a slightly bigger maximum height
Read our in-depth review of the Powerbuilt 620422E Triple Lift Jack here!
---
As you can already conclude from the name of the tool, this floor jack is made for professionals, but it is great for beginners as well.
One of the biggest advantages of this Neiko model is its construction. It features a smooth finish that makes it look like a premium quality tool. Moreover, the aluminum frame ensures the device's longevity while keeping it weightless and portable.
Additionally, it has both rollers and casters, and side handles, so the maneuverability is further increased.
The lightweight material and extra features (such as rollers and handles) make this floor jack convenient even for roadside emergencies.
Another feature that will amaze you is the dual plunger system – it offers hassle-free lifting to the highest point of 19.25 inches.
The Neiko 20272B jack has a lifting capacity of three tons. This is an outstanding capacity, and the safety valves will make sure that the tool doesn't get overloaded.
The padded saddle is also making sure that dents or other scratches aren't created in the process.
The biggest disadvantage is the price tag – this model is one of the pricier available, yet it is worth every penny.
PROS
Aluminum frame, lightweight and durable
Easy to maneuver
Dual plunger construction, hassle-free lifting
Rubber saddle that protects the frame and chassis of the vehicle
CONS
More expensive than others
---
How to buy the Best Low Profile Floor Jack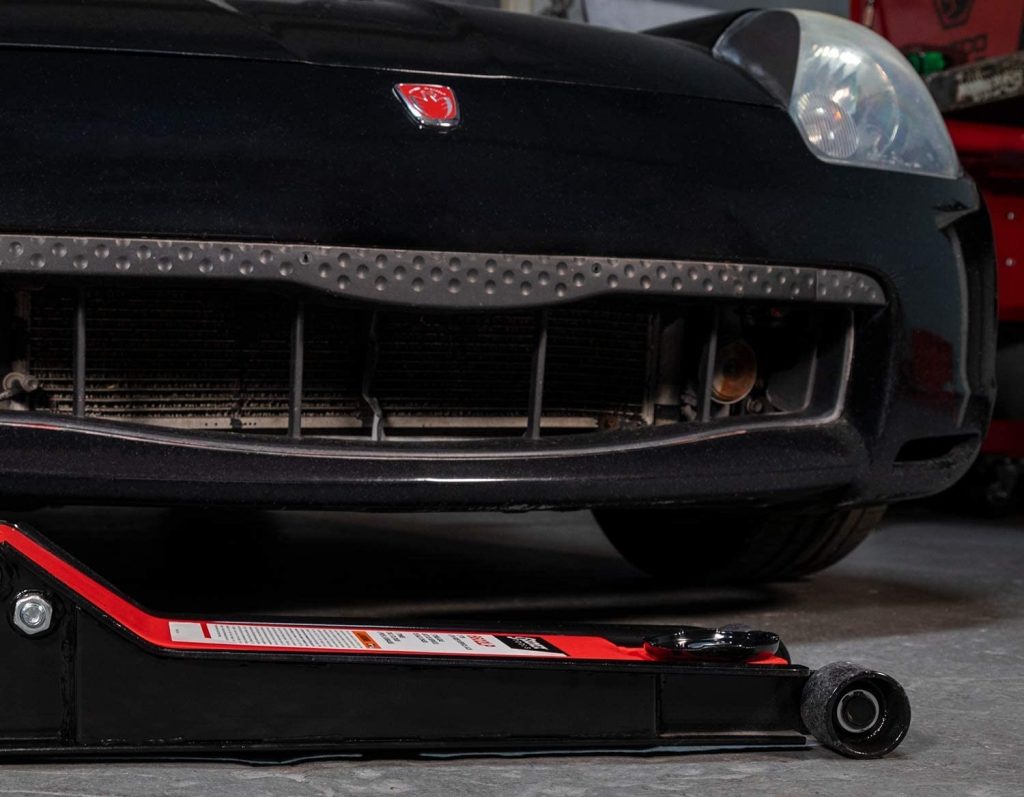 Before you click on that "Add to cart" button, you should get familiar with some criteria.
Here is a list of traits the floor jack you intend to buy should have:
Lifting range
Lifting range is the difference between the lowest and highest point a floor jack can reach.
Choose a floor jack with a lifting range that suits your car. If you own more than one, make sure it's suitable for all of them.
High body-frame cars aren't as close to the ground as sports models, so you can go for a model that doesn't have a super low entry.
For SUVs, the highest point a floor jack can reach is much more critical since they higher from the ground. The ideal tool for these models should be able to reach at least 14 inches.
Car lovers that own sports models should focus more on the low entry feature. The ideal would be the one with a super flat, 2.5-inch entry.
Lifting arm
The purpose of the lifting arm is to pump and elevate the vehicle from the ground. When it isn't built from strong materials and constructed in the right way, it might end up breaking at one point.
Due to the leverage principle, longer lifting arms also usually make the lifting process easier.
Another thing you should pay attention to is the number of pieces. Lifting arms made of two parts that can be disassembled are the easiest to store and the best choice for anyone with a smaller workshop or garage.
Besides convenient storage, some type of lifting arm can also extend or shorten, adjusting better to different cars.
Saddle pad
The part of the tool that comes in contact with the automobile is a saddle pad. It is a part that holds the auto, prevents the jack from slipping, and reduces the risk of scratching the vehicle you are working on.
The anti-skid coating material is of utmost importance since it will start wearing away as time passes. That is why you should choose a floor jack with a padded saddle made of either rubber or any other type of premium quality anti-skid coating.
Weight capacity
Not all cars weigh the same. To stay safe at all times, make sure the floor jack you intend to buy is capable of lifting your car without any hassle.
Many floor jacks have different parts (like safety valves mentioned in a few recommended products above) that should prevent overloading. This feature is always a plus, but you should still pay attention to the car's weight and the capacity of the tool.
Handles and rollers
These aren't the most critical features of floor jacks; however, they are always an advantage and boost the tool's practicality.
These parts have one purpose, and that is to improve the mobility of the floor jack.
Since jacks are often quite heavy and picking up from the ground might be tricky (especially if it is made of steel), rollers can help move it around from one spot to the other.
Typically, the rollers are used as front wheels, and casters are placed in the back.
Quality of the materials
Aluminum or steel floor jacks are preferable to other alloys or materials.
Aluminum is great because it is a long-lasting alloy, yet it doesn't weigh much as steel, so it provides better mobility.
However, even though steel is heavier, it is a material that can stand all heavy-duty work and will usually last longer.
Conclusion
In the end, I hope this article has answered some of your questions and helped with finding the right low profile jack for you. If you have any questions, don't hesitate to ask in the comment section below and I'll try to answer to the full-extent of my knowledge.