EDITOR'S PICK
Torin BIG RED T815016L Low-Profile Aluminum Racing Floor Jack
1.5 tons or 3,000 lbs maximum weight capacity
3 ½" to 14" lifting range
Total weight: 33.6 lbs
Dual-pump hydraulic system
Fast lifting option
Rubberized saddle surface
2-piece foam handle with knurled grip
Hybrid aluminum and steel construction
PREMIUM PICK
Esco 90521 3 Ton Pro Series Low Profile Floor Trolley Jack
3 tons or 6,000 lbs maximum weight capacity
3.75" to 19.69" lifting range
Total weight: 90 lbs
Dual-piston pump hydraulic system
Foot pedal lifting option
Rubberized saddle surface
47" extra-long T-bar handle
All-metal construction
BUDGET PICK
Pro-Lift F-767 Grey Low Profile Floor Jack
2 tons or 4,000 lbs maximum weight capacity
3 ½" to 14" lifting range
Total weight: 31 lbs
Single-pump hydraulic system
Steel saddle surface
Short one-piece handle
Heavy-duty steel construction
No matter if you own a professional workshop or just enjoy working on your car, a floor jack is a must-have in any garage.
Car enthusiasts and weekend DIYers are already familiar with this handy tool. Indeed, a jack is necessary every time you need to raise your car for whatever reason. From simple maintenance jobs like oil changes and brake services to more extensive work like a clutch replacement or transmission work, you'll need a jack—unless you have a big enough budget to buy a full-fledged car lift.
However, not all jacks are created equal and while most models can be used on commonly sized vehicles, you might need something a little different if you own a bigger truck or a lowered car. Higher-than-normal truck owners will need to look for a jack specifically designed for lifted trucks and tuners will instead need low-profile models.
Low-profile jacks are quite straightforward. No rocket science here—it's just a jack that is lower than usual. However, due to the high number of models out there (not always super high-quality, to be honest), choosing the right one might be a bit challenging.
To help you sort the wheat from the chaff and make sure you invest your hard-earned money on a tool that is actually worth it and will last you for years to come, we have curated and reviewed some of the best low-profile jack out there.
Of course, I have to mention that each of these products were handpicked by yours truly, based on my own experience in the field. Tools are always subjective and depend a lot on personal preference. I might love a tool that you hate and vice versa. However, I tried to include a little something for everyone. From budget-friendly models to high-end jacks only meant for professional technicians, there's should be a good model for you in there.
Of course, if I missed one, make sure to leave a comment below and I'll be more than happy to review it too and add it to the list.
Enjoy!
Low Profile Floor Jack Reviews
The Pro-Lift F767 low-profile jack is my budget pick for this list. It features solid all-steel construction for optimum strength and reliability, and despite the heavier material, is remarkably lightweight at just over 30 pounds.
The robust frame is accompanied by a conventional single-pump hydraulic system rated to lift up to 2 tons—nothing crazy here but more than enough for most modern compact cars. The hydraulic system is equipped with several safety features to ensure operator safety at all times, including an integrated safety valve to protect against overloading, and a safety release valve.
The Pro-Lift F767 floor jack has a lifting range of 3 ½" to 14″, making it perfect for a wide range of low-profile applications. 3 1/2″ is not the lowest lifting point on this list but will do just fine unless your car is dropped like hell. And if it's the case, you can always place wooden planks in front of your car and drive over them to get a little more clearance.
At below $100, the Pro-Lift F767 low-profile floor jack is an entry-level model perfect for inexperienced individuals looking to start in the field. Moreover, if you commute long distances frequently or are preparing for an upcoming road trip, this is the perfect floor jack to have in your lowered car for emergencies. However, being an entry-level model, the F767's isn't as long-lasting or durable as some of the more high-end low-profile floor jacks on this list. We would recommend it mostly for occasional or light use.
If you need a low-profile jack that does the job without breaking the bank. this one's for you! On the other hand, if you are a pro mechanic looking for a low-profile jack that can withstand years of use, 40 hours a week in the shop, you might be better with a model below.
Highlighted features
2 tons or 4,000 lbs maximum weight capacity
3 ½" to 14" lifting range
Total weight: 31 lbs
Single-pump hydraulic system
Steel saddle surface
Short one-piece handle
Heavy-duty steel construction
Pros
Good lifting range
Extremely lightweight
Quite affordable
High value for money
Loaded with safety features
Perfect for use in emergencies
90 days manufacturer warranty
Cons
Not recommended for heavy-duty work
This is another model great for beginners and weekend DIYers driving a low-riding vehicle, but with a higher weight capacity than the previous model.
Thanks to the thick plates and dual pistons, it lifts most lowered cars and trucks with ease. Of course, we assume that if you have a lowered truck, it's a minitruck. If you own a larger SUV, you might need something a little tougher depending on your truck model. Although 3-ton is usually enough for most applications, I prefer to be on the safer side and not lift a 2 ¾-ton truck with a 3-ton jack—but that's just me.
Moreover, the fact that it's aluminum-made increases the longevity of the Arcan 3-ton jack, making it suitable for any heavy-duty work while significantly reducing the overall weight.
And worth mentioning, this model comes with a dust shield as well—something most models don't have—and side handles making it a lot easier to transport and position under your car.
Meanwhile, a reinforced lift arm ensures maneuverability, control, and promotes strength. It also features an anti-skid rubber saddle to prevent your beloved vehicle from sliding off.
Moreover, if you are short on space in your garage, you'll be happy to hear that the handle can be disassembled for more convenient storage.
The Arcan ALJ3T is significantly more expensive than the previous model but will also last significantly longer (aluminum doesn't rust) and can also lift 1-ton more. If you need a jack that will last for years and can be easily transported, look no further; it might be the one!
Read our in-depth review of the Arcan ALJ3T Aluminum Floor Jack here!
Highlighted features
3 tons or 6,000 lbs maximum weight capacity
3.75" to 18" lifting range
Total weight: 56 lbs
Dual-pump hydraulic system
Fast lifting option
Rubberized saddle surface
2-piece foam handle
Aircraft-grade aluminum construction
Pros
Durable
Lightweight
Stronger lift arm than most
Rubber saddle and handle bumper for avoiding dents
Easy to position
Cons
Requires more pumps to reach maximum height
If an all-aluminum or all-steel floor jack isn't what you are looking for, how about a hybrid model. That way, you get the best of both worlds without making any significant compromises. The Torin Big Red T815016L low-profile racing floor jack has been designed with just that in mind.
The use of steel ensures optimum strength & reliability, while aluminum helps in keeping the weight down. As a result, the Torin floor jack is exceptionally strong while weighing merely 33.6 pounds, making it highly desirable for racing applications.
Like all high-quality floor jacks, the Big Red is also equipped with an advanced dual-piston hydraulic system capable of lifting up to 1.5-tons or 3,000 lbs. Yes, only 1.5-tons so it's super lightweight but also lifts significantly less than other models so keep an eye on that before you buy.
Interestingly, Torin's Big Red uses quick lift technology, allowing to raise the jack to maximum height with only a few pumps using the extra-long 2-piece padded handle with knurled grip.
The Torin Big Red T815016L low-profile floor jack is excellent at what it is built for—racing applications. The host of features like the modern hydraulic system, quick lifting functionality, and lightweight body make it simply perfect for your next track day. However, if you need a versatile jack that can lift all sorts of lowered vehicles, you might be better with one of the upcoming models instead.
Highlighted features
1.5 tons or 3,000 lbs maximum weight capacity
3 ½" to 14" lifting range
Total weight: 33.6 lbs
Dual-pump hydraulic system
Fast lifting option
Rubberized saddle surface
2-piece foam handle with knurled grip
Hybrid aluminum and steel construction
Pros
Premium quality hybrid construction
Rubber saddle to protect your car
Wide front roller for added stability
Integrated safety overload system
Lightweight floor jack perfect for racing applications
Side handle for easy transportation
Reasonably priced
1 year limited manufacturer warranty
Cons
Comparatively low weight rating
Not suitable for SUVs, trucks, etc.
The same brand that gave us the CAT 240330 large wheel off-road hybrid floor jack is back with yet another spectacular product. Meet the CAT 240109 low-profile service jack; it is a 3-ton floor jack constructed entirely from heavy-duty steel. The highly durable steel frame is accorded a clever flanged design to maximize strength and prevent twisting under load. As a result, you can subject this floor jack to heavy-duty work without worrying about reliability.
The CAT 240109 features a powerful and highly sophisticated dual-piston hydraulic system with quick lift functionality. The rapid lifting feature allows you to raise the saddle from the 3″ minimum to the 19 ½" maximum lift height with just 7 pumps.
Moreover, the rubberized saddle surface will provide optimum grip and prevent scratches or other marks on your car and you also get an integrated foot pump allowing to quickly bring the jack to speed. Another helpful feature is the built-in small parts tray where you can store small tools lug nuts so they don't roll around everywhere.
Worth mentioning, the CAT 240109 low-profile floor jack costs more than other models on this list. However, when considering what it offers in return, it quickly becomes clear that the price is well worth it. If you are looking for a feature-loaded high-quality floor jack that will last a lifetime, there is nothing that can beat the 240109 floor jack in this price range.
Highlighted features
3 tons or 6,000 lbs maximum weight capacity
3" to 19 ½" lifting range
Total weight: 77 lbs
Dual-piston hydraulic system
Fast lifting option
Rubberized saddle surface
2-piece foam handle
Flanged steel construction
Pros
Can reach maximum lifting height in just 7 pumps
Exceptionally strong and durable steel frame
Practical small tool and bolt tray
Suitable for heavy-duty work
Versatile lifting range
Integrated foot pump
Efficient and smooth lifting
Carrying handles for easy transportation
1 year manufacturer warranty
Cons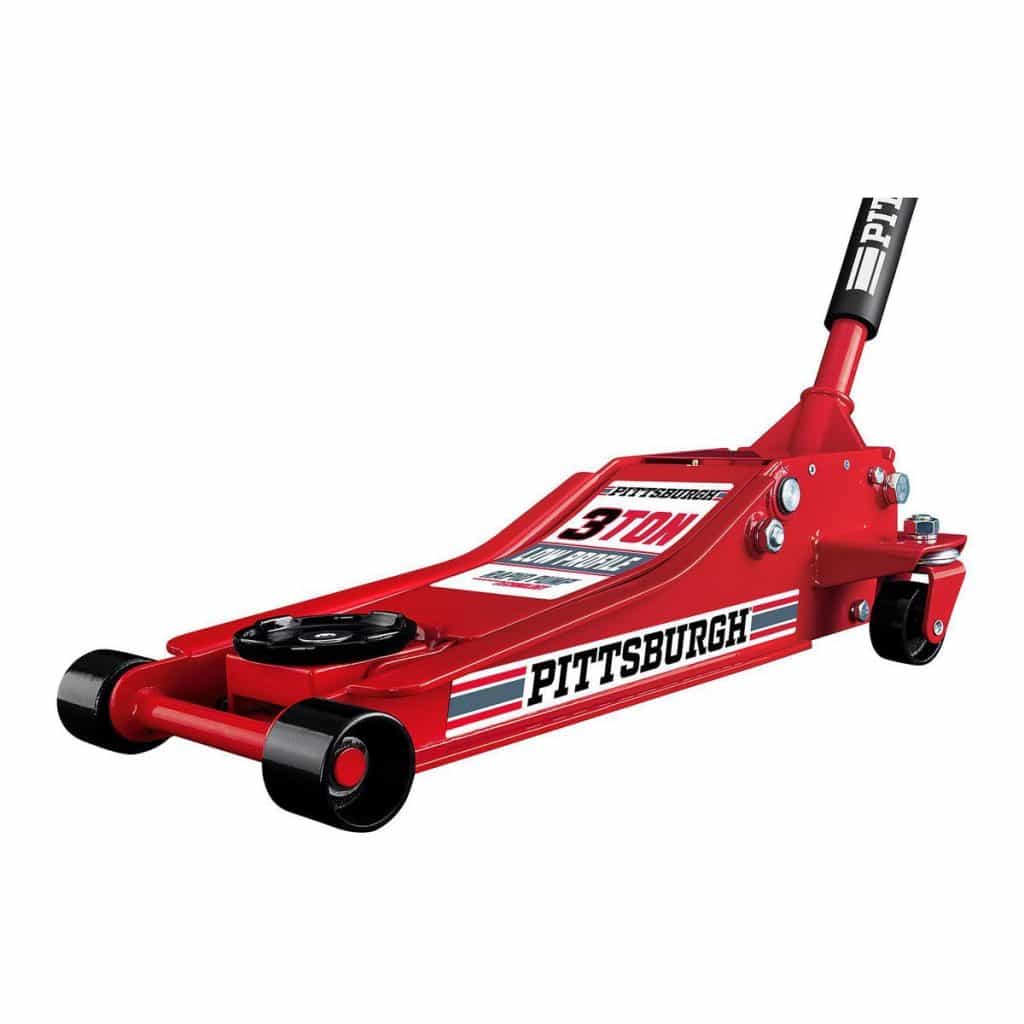 The Pittsburgh Automotive 3-ton floor jack is another excellent option in the ultra-low-profile category. It boasts a precision welded heavy-duty steel construction, which may result in excess weight, but you get an extremely tough & long-lasting floor jack.
Furthermore, hidden underneath the sturdy frame is a high-tech dual parallel pump hydraulic system providing smooth and efficient lifting. The system comes with something called "Rapid Pump Technology," which allows you to raise the jack to its maximum lifting height with just 3 ½ pumps of the extra-long handle. The universal joint pressure release also allows for precise load control while lowering the saddle, greatly increasing safety in your work environment by preventing any sudden movements that could cause the vehicle to slip.
Pittsburgh Automotive's 3-ton floor jack has a versatile lifting range of 3 1/8″ to 19 ¾", making it suitable to lift a wide range of low to medium ground clearance vehicles. You get a steel saddle, but we would recommend putting a rubber pad on it to get a good grip and prevent dents or scratches on your car.
Thanks to the reasonable price tag, the Pittsburgh Automotive low-profile floor jack is a good option for weekend DIYers and occasional users. However, professional mechanics looking for a floor jack for daily use may be better off opting for one of the higher-end models in this list.
Read our in-depth review of the Pittsburgh 3 Ton Low Profile Floor Jack here!
Highlighted features
3 tons or 6,000 lbs maximum weight capacity
3 1/8" to 19 ¾" lifting range
Total weight: 75.1 lbs
Dual-pump hydraulic system
Rapid pump technology
Steel saddle surface
2-piece padded handle
High-grade steel construction
Pros
Easy to use
Only 3 ½ pumps needed to reach maximum lifting height
Solid and sturdy steel frame
Front fixed and swiveling rear casters for mobility
Precision load control for added safety
High maximum lift height
Cons
Not suitable for rough use
Heavier than other models
If you are looking for a super versatile low-profile jack with an innovative design, look no further. The Powerbuilt 620479E looks like no other jack out there and comes with a couple of neat features you won't find on more conventional models.
Of course, the all-steel construction means that it will be durable but quite heavy. Luckily, the front roller makes moving it from one place to another super easy without having to lift it from the ground. In addition, the fact that this jack uses a roller instead of two separate casters in front brings the lowest minimum lifting point of the list (2 ¾").
However, the maximum height is also lower than most at only 15.5″. It should be more than enough to lift the wheels off the ground but might be a little low if you want to get under the vehicle. It might not be a problem depending on what you need your jack for but professional mechanics may be better with a slightly higher maximum point.
Worth mentioning, it features a safety bar as well—when the car is up, a steel bar can be placed under the arm and secures the jack at that height. It doesn't require the use of jack stands and is excellent for unibody vehicles.
Also worth mentioning here, the Powerbuilt 620479E's lifting capacity is on the lower side at only two tons. It's a good enough capacity for most people, but mechanics may require a higher capacity. I would personally recommend this one mostly to weekend DIYers and tuning fans with cars so low that a 3 ½" model simply won't cut it.
Read our in-depth review of the Powerbuilt 620422E Triple Lift Jack here!
Highlighted features
2 tons or 4,000 lbs maximum weight capacity
2 ¾" to 15 ½" lifting range
Total weight: 58.7 lbs
Single-pump hydraulic system
Ultra low-profile floor jack
Wide rubberized saddle surface
2-piece foam handle
Steel construction
Pros
Steel bar removes the need for jack stands
Larger-than-usual saddle is super practical
Premium quality build
Innovative front roller for better mobility
Features an anti-skid saddle
Cons
The last low-profile floor jack on this list is a true heavy-duty workhorse. The Esco 90521 Pro Series trolley-style floor jack is a premium model with a 3-ton weight rating and a double piston pump hydraulic system found in most high-quality floor jacks.
However, Esco's jack comes with several perks. For a first, you get a foot-operated quick-lifting mechanism that is a lot faster than using the handle. Moreover, the conventional handle is replaced by a T-bar with what Esco likes to call "Lift & Twist" technology, a feature that allows for precise lowering.
Other convenience-enhancing features include a tray to store nuts and bolts while working on your car, a rubberized saddle surface, and rugged nylon wheels designed to tackle uneven surfaces with ease.
Thanks to the robust construction and a versatile lifting range, the Esco 90521 Pro Series low-profile floor jack is the model of choice for repair shops and pro mechanics. Features like the durable nylon wheels, dual lifting mechanism, and sturdy construction make it the perfect jack for regular heavy-duty use.
You really can't go wrong with Esco!
Highlighted features
3 tons or 6,000 lbs maximum weight capacity
3.75" to 19.69" lifting range
Total weight: 90 lbs
Dual-piston pump hydraulic system
Foot pedal lifting option
Rubberized saddle surface
47" extra-long T-bar handle
All-metal construction
Pros
Heavy-duty floor jack
Alternate foot pedal mechanism for fast lifting
Versatile lifting range
Durable and rugged nylon wheels
Convenient storage tray
T-bar handle for better maneuverability
Precision speed control functionality when lowering cars
1 year limited manufacturer warranty
Cons
Costs more than other models
How to Buy the Best Low Profile Floor Jack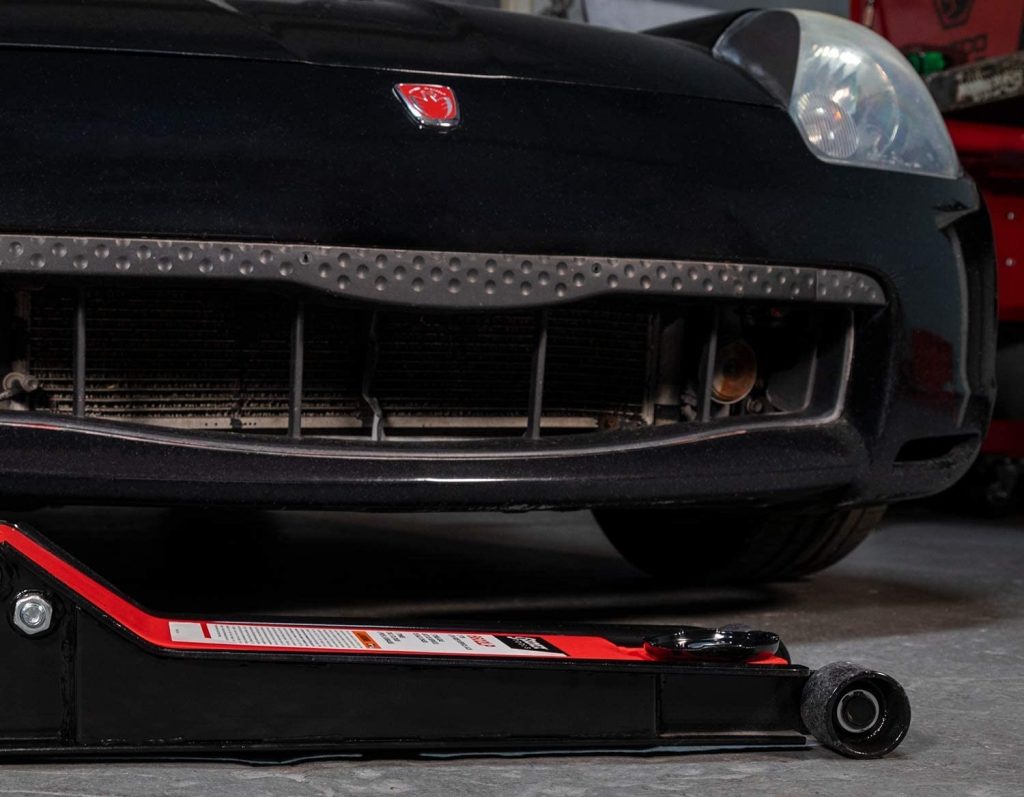 Before you click on that "Add to cart" button, you should get familiar with a couple of terms and consider specific criteria to ensure you get the most bang for your hard-earned bucks. To help you with that, here is a list of traits the floor jack you intend to buy should have, or at least, that you should be looking for.
Lifting range
The lifting range is the difference between the lowest and highest point a floor jack can reach. Of course, different people will have different needs here. If you only plan to use your jack on a single car, simply pick a range that fits your specific vehicle. However, if you need a jack for shop use or wrench on multiple cars during the weekend, you'll need something a little more versatile.
In all cases, ensure to choose a floor jack with a lifting range that suits the type of vehicle you plan on fixing.
If you own a stock sports models, you can go for a model that doesn't have a super-low entry. However, if you own a dropped/slammed tuner, you'll need to look for the slimmer models only.
It gets trickier if your lowered car has long-travel suspension. In this case, the entry point needs to be as low as possible but the jack also needs to have a high-enough high point to actually extend the suspension and raise the wheels off the ground.
Lifting arm
The lifting arm is pretty self-explanatory—just a lifting arm used to pump and raise the vehicle, right? True. But you still need to keep in mind that, thanks to the leverage principle, longer lifting arms also usually make the lifting process easier. However, a longer arm will also take up more storage space. If this is a concern for you, look for two-piece arms that can be disassembled when stored.
That's pretty much all there is to know about that.
Saddle
The part of the jack that comes in contact with the automobile is the saddle. It is what holds the car and prevents it from slipping. Depending on the jack model you get, it might come with an anti-skid coating material or pad. As a general rule, rubber pads tend to last a lot longer than anti-skid coating and can also be easily replaced when needed.
Weight capacity
Not all cars weigh the same. To stay safe at all times, make sure the floor jack you intend to buy is capable of lifting your car without any hassle. If you plan to lift multiple cars, play safe and get one with a lifting capacity on the heavier side—just in case.
Of course, most floor jacks have safety features such as the safety valves mentioned in a few products above that should prevent overloading. This feature is always a plus, but you should still pay attention to the car's weight and tool capacity.
Once you are under a car, pulling and pushing on tools, you really don't want to leave your life in the ends of a safety valve.
Handles and rollers
These aren't the most critical features of floor jacks; however, they are always advantageous and boost the tool's practicality.
These features have one purpose, and that is to improve portability and maneuverability.
Since jacks are often quite heavy and picking one up from the ground might be tricky (especially if it is all-steel), rollers can help move it around from one spot to the other.
Typically, the rollers are used as front wheels, and casters are placed in the back.
Quality of the materials
As a general rule, aluminum and steel floor jacks are preferable to other alloys or materials.
Aluminum is great because it is a long-lasting alloy that doesn't rust and doesn't weigh much as steel. On the other hand, aluminum is much more expensive so keep that in mind if you don't really need your jack to be portable.
Verdict
To put it simply, if you need a cheap jack that will do the trick just fine without costing an arm and a leg, go for the Pro-Lift F-767 Grey Low-Profile Floor Jack. However, if you are a pro mechanic that needs a jack that can take years of beating without flinching, look for the CAT 240109 Low-Profile Fast Lift Floor Jack instead.
Track enthusiasts, on the other end, should favor the Torin BIG RED T815016L Racing Floor Jack for the better portability and quick-lift mechanism. And if you really want nothing but the best, stop wondering and get yourself the Esco 90521 3 Ton Pro Series Trolley Jack—you won't regret it.
I hope this article has answered some of your questions and helped with finding the right low-profile jack. If you have any questions, don't hesitate to ask in the comment section below and I'll try to answer to the full-extent of my knowledge.