Today, we will be looking at a clever piece of garage equipment – Powerbuilt Heavy Duty Triple Lift Jack.
This jack is designed to lower the expenses (and storage space!) of having to use separate jacks for each of your vehicles.
With strong lifting power, you can use it to lift cars, trailers, ATVs, and similar vehicles. Moreover, the Powerbuilt can even replace jack stands.
"How is this possible?" you wonder?
The secret is the simple yet brilliant use of padded rails and removable saddle.
Let me tell you more.
See Also: Top Rated Floor Jacks in 2021
Who is it made for?
If you own a car, truck, trailer, SUV, motorcycle, or any other vehicle of up to 4 thousand pounds, and if you are a DIY enthusiast – this jack is made for you.
Simple and efficient, it is likely to become one of your favorite tools.
Features of the Powerbuilt 620422E 4000 lb Triple Lift Jack
Lifting power of 4000 pounds or 2 tons
Powerbuilt Triple Lift Jack has a lifting power of 4000 pounds. That's enough for lifting a large car or a small truck.
As I mentioned before, this is not a single-purpose jack. Therefore, you won't need different types and load capacities for your vehicles.
So, if you are looking for an all-purpose jack, you might want to try this one.
Built-in loops to tie down your motorcycle
If you are a motorcycle driver, you won't need to worry if this jack is secure and stable enough. There are tie-down loops built into the jack. These are meant for an additional safeguard of your bike while you are lifting and servicing.
Let me tell you; these strong loops will be able to hold your bike up even for months. That's great to hear if you are working on a serious problem. It's even my go-to jack when my bike is up for a week or two.
Locking bar for safety
As security is of high importance, this Triple Lift Jack can replace jack stands as well. So, instead of using several different tools, you can just use the lock bar in this innovative piece.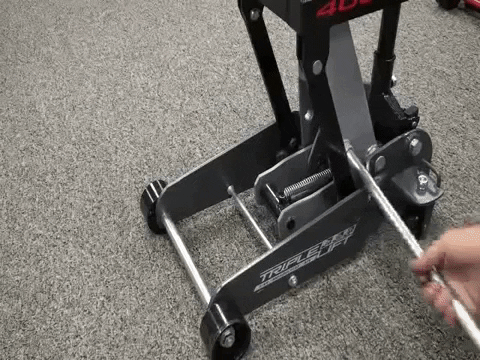 All you have to do is raise your Triple Lift Jack and put the lock bar in place. Then, gently lower the jack until the lock bar reaches the side panels meant to hold it in place.
Lifting range from 5.25 inches to 17.75 inches
The lifting range of 12.5 inches is another feature that ensures you'll be able to lift various vehicles. Only this time, it applies to the height of your machine. Still, I would advise measuring your vehicle height before purchasing.
Although the range is pretty broad, some reports stated it doesn't fit properly. And, it never hurts to be sure, doesn't it?
Multipurpose saddle design
You can remove the saddle and use padded rails in a matter of seconds.
When you are using Powerbuilt to lift a car – leave the saddle on.
Conversely, when you are lifting your motorcycle, remove the paddle and let the padded lifting rails do the magic.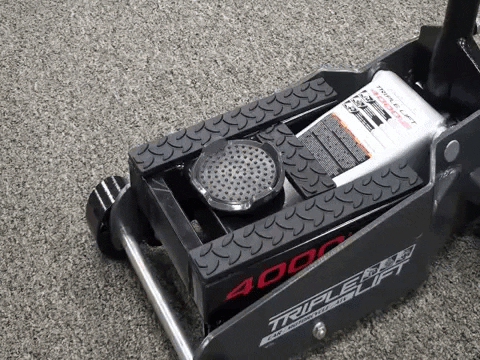 In short, no matter the vehicle, the multipurpose saddle will adjust quickly, without damaging the vital parts of your machine.
Product Benefits
Strong enough to lift vehicles of up to 4000 pounds
Easily replaces numerous tools
Built-in security loops for motorcycles
Strong locking bar for safety and stability
Made of steel – highly durable
Wide chassis adds to the stability
The Negative Things
Might not fit every car – check the height of your vehicle before ordering the jack
Highlighted Features
Replaces 4 jack, ATV jacks, and jack stands
Great lift range of 5.25 inches to 17.75 inches
Fits various vehicles
The capacity that exceeds ANSI standards
Improved safety with locking bars/li>
FAQs
What is the minimum height that this jack can fit under?
The minimum height is about 5 ½ inches when you have the round pad removed. Meanwhile, when the pad is in place, the height measures approximately 6 inches.
Are there any brakes on this jack, and if not, what keeps it in place?
There are no built-in brakes, but there is a locking bar that makes sure the jack stands firmly.
Furthermore, the weight of the vehicle and the jack itself will keep it "locked" to the floor.
What are the dimensions of the pad?
The size of the pad is about 9.5-inches x 12-inches.
Final Verdict
All being said, Powerbuilt Triple Lift Jack is a pretty solid piece of garage equipment.
No matter the vehicle, if it is between 5.25-inches and 17.75-inches high, Powerbuilt will easily fit and elevate it.
With the power to lift 4000 pounds, even your SUV or an ATV will be set. Moreover, you won't need to buy numerous jacks to fill all your needs.
I am personally delighted with the Powerbuilt Triple Lift Jack, and if you need a simple and versatile tool, I would suggest giving it a try.
Powerbuilt 2 Ton Triple Lift Floor Jack, Lifts Cars, Trucks, Motorcycles, ATV's, Transmissions,...
REPLACES MULTIPLE JACKS: The patented Triple Lift design fits cars, trucks, motorcycles,...
WIDE LIFT RANGE: From a low of 5-1/2 inches (with the round saddle removed) to a high of...
ULTRA STABLE AND SECURE: Thanks to a wide wheelbase, the Triple Lift offers stability well...
NO NEED FOR JACKSTANDS: Slide the included safety bar in place and the Triple Lift is...
STRONG AND DURABLE: tested and certified to meet or exceed ASME and PALD standards.