EDITOR'S PICK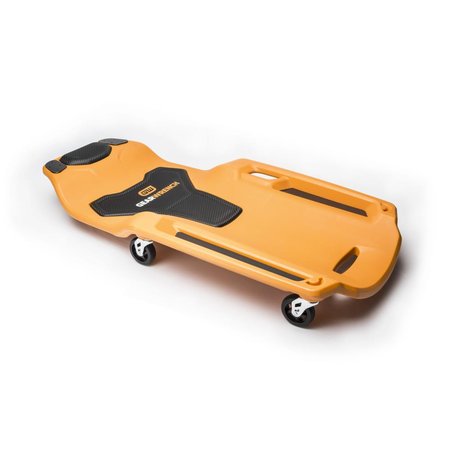 GEARWRENCH 86995 Mechanics Creeper
Metal plates to mount magnetic accessories
Magnetic trays on either side to store tools
Excellent body support characteristics
Larger wheels can roll over various cords and rocks
Composite custom-molded tub for optimum comfort
Ethylene-vinyl acetate padding for back and head
PREMIUM PICK
PRO-LIFT C-4031 BONE-STER Mechanic Plastic Creeper
Highest weight capacity
Built-in carrying handle
Heavy-duty creeper
Lightweight tool
Made in the USA
Limited one year warranty
BUDGET PICK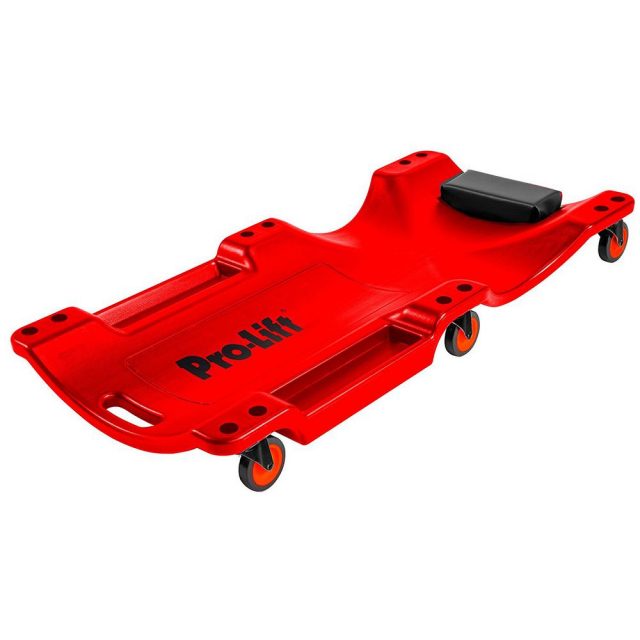 PRO-LIFT C-6040 Mechanic Plastic Creeper
Low ground clearance
Sturdy and durable HDPE plastic construction
Ergonomic design
Two built-in trays to easily store hand tools
Sufficiently long backboard
Built-in carry handle for easy portability
A mechanics creeper is a tool used to work under a car or any other vehicle on jack stands. Although quite simple in construction and operation, a creeper does a very important job: providing comfort and mobility to the technician while he is working under the vehicle. In simple terms, a creeper is every mechanic's best friend, especially those who don't have access to a hoist.
In its simplest form, a creeper is nothing more than a plank of any material with tiny wheels attached on all four corners. Using it, mechanics can easily slide under a vehicle and do their job while still being fairly comfortable and keeping their clothes relatively clean. However, these days there is a wide range of differently-configured creepers on the market, and choosing one is not always easy.
To help you find one that will fit your needs, we have carefully reviewed and selected some of the best creepers on the market. No matter your budget, skill level, or type of use, we've got you covered.
Mechanics Creeper Reviews
The Lisle 95002 creeper is as basic as it gets; it's also the cheapest creeper out there. The Lisle Fold-Up Creeper, as the name implies, is a foldable mat with soft padding and no wheels. Therefore, the 95002 creeper is most suitable for use over rough surfaces such as gravel, where others with wheels would just get stuck anyway. Moreover, no need to worry about exceeding any weight limit here.
The 95002 creeper has good quality stitched vinyl foam pads for optimum comfort and durability. And thanks to its foldable nature, it is also extremely easy to keep in your car or truck, making it perfect for off-roading or mobile mechanics. On the other hand, since it has no wheels, you cannot slide in or out from under a vehicle as easily as you would do with a conventional one. However, keeping a standard creeper in your truck might be a lot more complicated.
The Lisle 95002 can also be used as an extra creeper for use in an emergency or outdoor situation. For daily use in the shop, you might be better with a proper mechanic's creeper with sufficient strength and wheels to move around. Having said that, despite being made in China, the 95002 creeper is fairly durable—of course, never as durable as metal ones but it's also much cheaper.
Big-boned individuals or people who like to keep other tools nearby may consider buying two Lisle 95002s for more surface area. At that price, why not?
Pros
Adequately durable
Durable vinyl padding
Very portable creeper
Easy to clean
Reasonable price
Compact in size
Weighs next to nothing
Cons
No wheels to move around
Obviously not as comfortable as standard creepers

Not for everyday use
The Lisle 93102 is also pretty basic but it's been around for so long, we simply couldn't leave it out. It's a free-moving mechanics creeper made of blow-molded high-density polyethylene plastic. The body is made of a single piece of plastic, and thus, nothing can go wrong here. It will last you for years.
The Lisle creeper is quite confortable, no matter the user's body type—of course, other more expensive, fully-padded models are obviously more comfortable. However, a bigger padded area and vinyl wrapping will eventually crack with time. That won't happen with this one.
Also, the Lisle creeper's shape, although minimalistic at first glance, has been molded to fit a wide range of bodies. There's a curved area for the lower back and a depression for the upper back. Moreover, there is also a soft padded headrest that not only provides optimum comfort to the operator but also keeps him/her in an appropriate working position.
Meanwhile, the 93102 creeper uses six casters to roll or move around. The 2″ casters urethane wheels were designed with anti-corrosion properties and are fitted onto metal bushings for added strength. The mechanism also swivels on ball-bearing rollers that are easy to replace and mount.
The Lisle creeper has a weight capacity of 250-300 lbs and measures 38″ long, 17.5″ wide, and 4″ high. Thus, it's suitable for average to slightly heavy mechanics. Furthermore, thanks to the three carrying handles and weight only slightly over 11 lbs, the 93102 is quite portable. And the low ground clearance (7/8") means it can slide in tight spots with ease.
The Lisle 93102 is obviously not the best creeper out there. However, its low price tag and simple construction make it an options of choice. It's super cheap and will last for decades—what more could you ask for from a creeper?
Pros
Good weight capacity
Low ground clearance
Compact design makes it portable
Easy to clean surface
Ergonomic and comfort-oriented design
Reasonable price
Replaceable wheels and headrest
Cons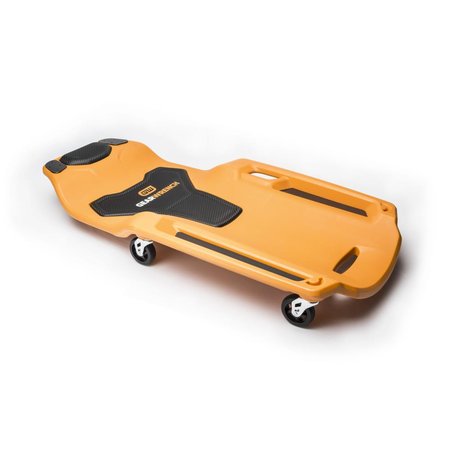 The GearWrench 86995 is one of the best budget mechanics creepers available and it has a host of extra features that make the operator's job a whole lot easier. First off, the 40″ backboard length ensures enough room for tall individuals. It also features an ethylene-vinyl acetate padding in the headrest and mid-lower back for support. This material is designed to provide optimum comfort without being too thick to keep a low working height.
The GearWrench creeper weighs just 13 lbs but has a maximum weight capacity of 300 lbs. Moreover, it is constructed from a single piece of plastic composite material to ensure high strength and durability. The body is supported by six 3″ ball-bearing casters made from thermoplastic polyester for hindrance-free movement.
Convenience is further enhanced by two metal plates fixed on the headrest's either side, serving as mounting points for magnetic lights.
Furthermore, the GearWrench 86995 also has special storage compartments for hand tools; these trays are also lined with magnets to secure the tools and make sure you don't lose all those nuts and bolts.
Pros
Metal plates to mount magnetic accessories
Magnetic trays on either side to store tools
Decent maximum weight capacity
Excellent body support characteristics
Larger wheels can roll over various cords and rocks
Lightweight and strong body
Reasonable price
Composite custom-molded tub for optimum comfort
Ethylene-vinyl acetate padding for back and head
Cons
Certain operators may find the cushioning insufficient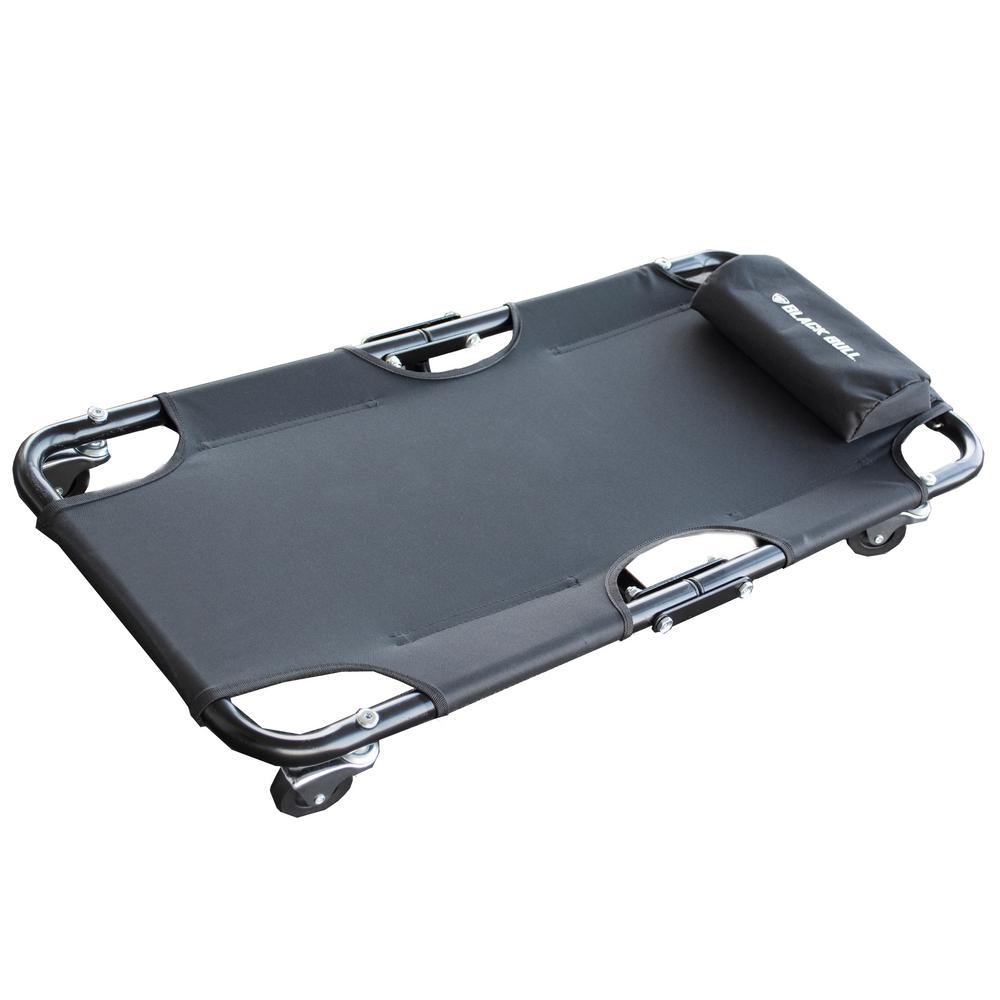 The 803884 model by Black Bull is a mechanics creeper with a fairly unique design; it has a tubular frame constructed from 1″ diameter steel pipes and the operator's body is supported by a strong cloth-like canvas material fastened to the steel frame. As you might have guessed, this creeper is designed to be folded in half for transporting or storage purposes.
Despite the canvas construction, the Black Bull Folding Creeper is fact from being flimsy. In fact, with a weight capacity rating of 330 lbs, it's one of the toughest on this list. Furthermore, thanks to its portable nature, the 803884 creeper weighs just 7.5 lbs and measures only 16.5" wide, 18" long, and 5.5" thick when folded. No need to mention that, in this size, it's very easy to carry and store.
However, compact doesn't mean small. When fully extended, the Black Bull creeper measure 36″ long, 16″ wide, and 4″ high, which should be good enough for pretty much anyone except super tall mechanics.
When working under a vehicle using this creeper, you have an adjustable pillow with 2″ thick foam to provide optimum comfort. The pillow also ensures a good working position.
The Black Bull Folding Creeper is perfect for mechanics who don't typically need a creeper everyday but still want to have one just in case. Just buy it and store it somewhere in the shop. You'll be happy it's there the next time you have to work on jack stands while your hoist is jammed with another car for which you are waiting part to arrive.
Pros
Low cost
Above-average maximum weight capacity
Foldable nature allows for easy storage
Soft pillow for head support
Highly portable due to low weight
90-day limited manufacturer's warranty
Cons
No lumbar support
No dedicated tool storage compartment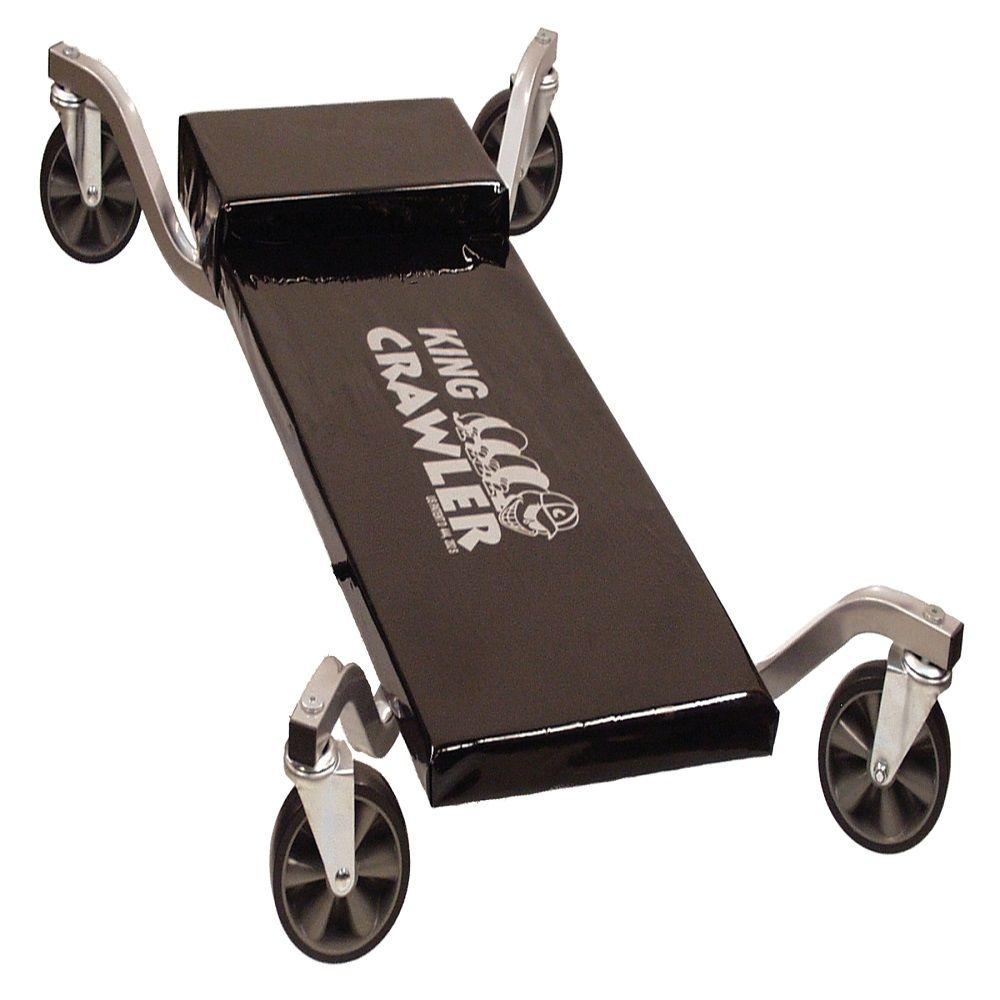 The TRX 1-200 King Crawler by TraXion is a mechanics creeper featuring a unique X-frame skeleton design, specially designed to firmly hold the casters.
Speaking of which, the TRX 1-200 creeper has one of the largest diameter wheels of any creeper I have ever seen. The four 5″ high-performance casters can easily roll over surface imperfections, dirt, metal flakes, and even light gravel.
Furthermore, the King Crawler mechanics creeper has a padded deck measuring 38″ x 13″ with a maximum weight capacity of 300 lbs. However, unlike other creepers, this one does not have any special molding that fits the operator's body contours. You get a flat surface instead.
Nonetheless, what the creeper's body style lags in terms of comfort, it makes up for with greater maneuverability. And worth mentioning, comfort has not been entirely neglected as the King Crawler does have a padded headrest.
On the other hand, this creeper's portability is somewhat questionable as it weighs considerably more than other products in this list, and the X-frame design also takes up a lot of space. But if you work in a garage with a not-so-mint cement floor or if you work on vehicles always covered in mud and dirt, this is the one you need.
Pros
Increased mobility due to flat body
Smooth and easy to clean exterior body
Huge 5" casters can overcome various obstacles
Decent maximum weight capacity
1-year warranty on material and workmanship
Cons
No lumbar support
Quite a heavy creeper (23 lbs)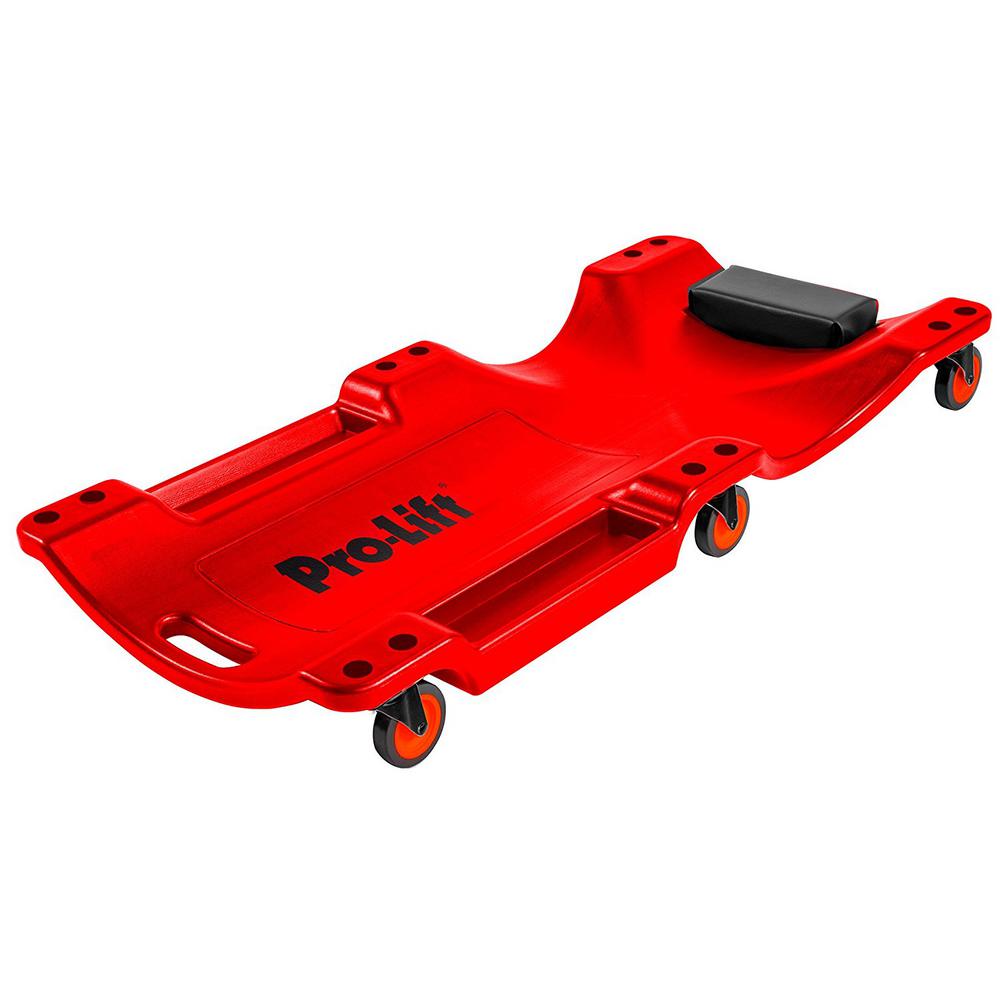 The Pro-Lift's C-6040 is a mechanics creeper made from HDPE (high-density polyethylene), a material with a high strength-to-density ratio. Like most plastic creepers, the C-6040 has also been constructed from a single piece using blow molding, not only making it strong but also quite light, at only 13 lbs.
Thanks to the sturdy body, it also has a high weight rating of 350 lbs. Besides, the large body measuring 40" long and 19" wide makes it suitable for a wide range of body styles.
Moreover, the use of HDPE makes it impact-resistant and very easy to clean. The large ergonomic body and padded headrest have also been carefully designed to provide optimum comfort to the mechanic.
The Pro-Lift's C-6040 sits on six rugged 3" casters that provide exceptional maneuverability and strength. Finally, the lightweight nature and the carrying handle make the Pro-Lift C-6040 very easy to transport.
If you are a professional mechanic and use a creeper regularly, this is the kind of model you should be looking for. And thanks to the super affordable price tag, this one is a no-brainer.
Pros
Low ground clearance
Sturdy and durable HDPE plastic construction
High maximum weight capacity
Ergonomic design
Two built-in trays to easily store hand tools
Lightweight mechanics creeper
Six multi-terrain casters
Sufficiently long backboard
Low cost
High value for money
Built-in carry handle for easy portability
Pro-Lift's C-6040
Cons
Once you learn to look past the funky nickname, you'll find the Pro-Lift Bone-Ster mechanics creeper to be an excellent product. The 400-lbs weight capacity means that even the heaviest individuals can use it with complete ease. Such a high weight rating is in-part thanks to the ribbed design that not only adds exceptional strength and durability but also keeps the creeper's weight as low as possible.
In addition, the ultra-low ground clearance of just 1.25" and four 3" casters with adjustable swivel ball-bearing means this mechanics creeper can easily slide in and out of cars where others would struggle.
The biggest downside of the C-4031 Bone-ster is the absence of any padding or cushioning material not only for the back but also for the operator's head. Due to this, the creeper's prolonged use can seem marginally more uncomfortable in certain cases. Having said that, the Bone-ster's patented dog bone design is proven to be inherently more comfortable while allowing for less restricted shoulder movement.
Pro-Lift claims the C-4031 Bone-ster creeper is easy to clean along with being resistant to common workshop fluids such as gasoline, oil, diesel, etc. However, its ribbed body design may make it difficult to thoroughly clean after use.
While I have used one and still do regularly in the shop, it might not be everyone's cup-of-tea. Some like it; others don't. It's really a question of personal preference at this point.
Pros
Highest weight rating on this list
Built-in carrying handle
Heavy-duty creeper
Lightweight tool
Made in the USA
Limited one year warranty
Cons
No head support
Expensive option for beginners
No cushions or pads
It may be difficult to clean into grooves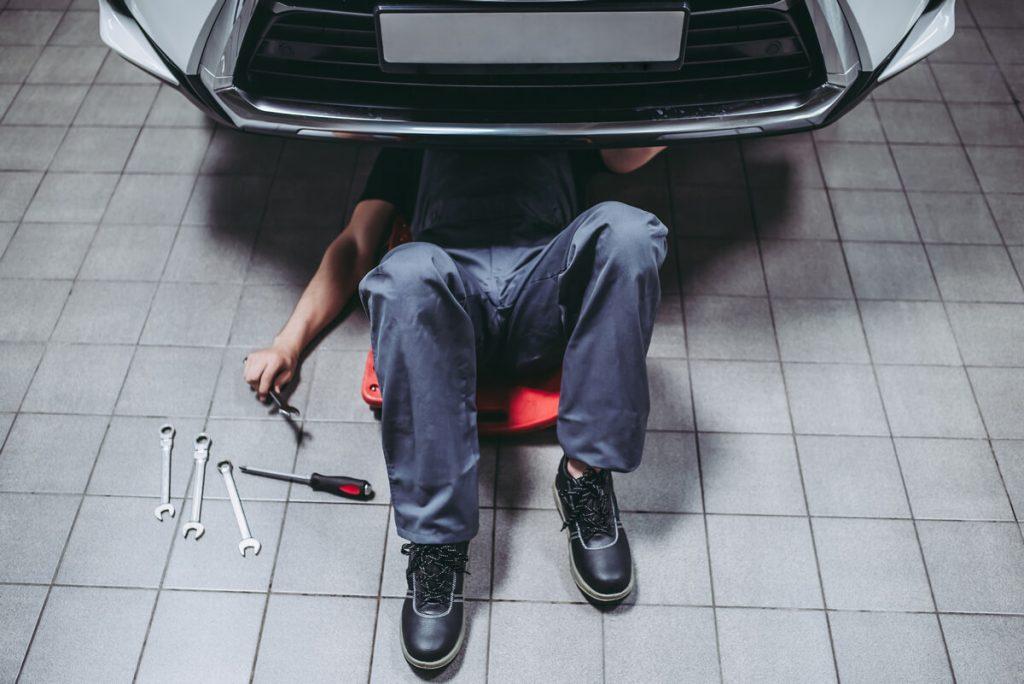 What to Look for in A Good Mechanic Creeper
Ground clearance
A good creeper needs to have the smallest possible ground clearance; this lets the tool slide in and out of tight spaces easily. On the other hand, if you work mostly on SUVs and pickup trucks, ground clearance may not be a problem for you.
Weight capacity
A good creeper should have a high enough maximum weight capacity to support the user. However, most models on this list have a capacity of at least 300 lbs. It is important to note that you should not exceed your creeper's rated weight limits, as it can potentially cause serious damage to your body if it breaks.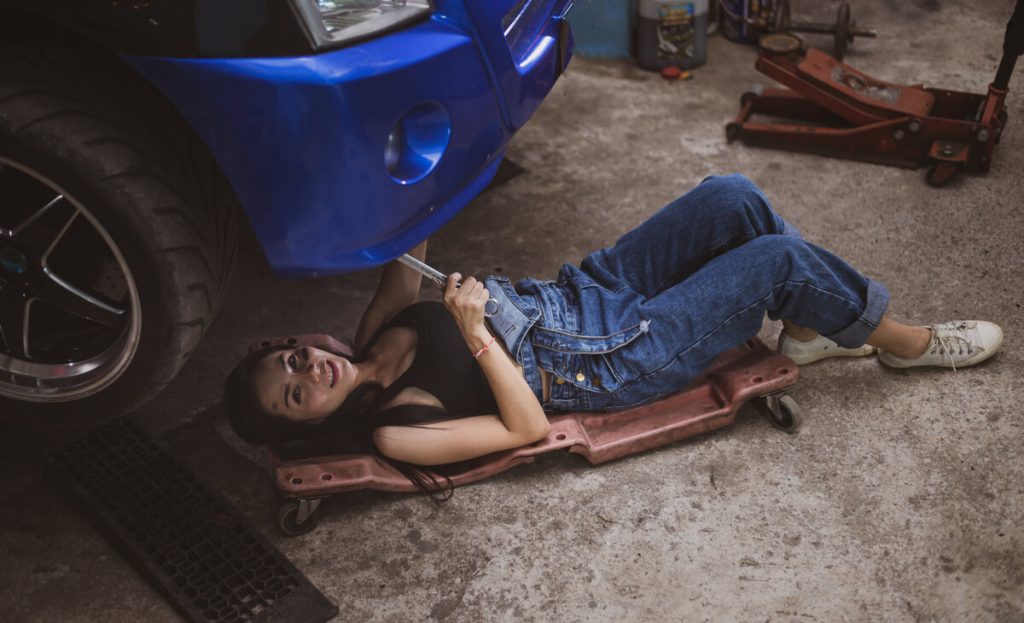 Construction material and build quality
Make sure to look for a creeper made from high-quality materials. Most manufacturers nowadays use plastic to make the creeper's body, but there is a difference in the quality of plastic used. Also, beware of products having cardboard or wood backing; such products may be cheaper to buy, but they usually don't last very long if they get in contact with water. If you work in a snowy area, wood creepers are simply not a good idea.
A good creeper should also have sturdy and durable casters. To that end, factors like the wheel's material, diameter, and joint reinforcement can go a long way in ensuring longevity.
Portability
The creeper's weight itself is an important factor that you should consider while choosing a product. Less weight means the creeper will be easy to carry while a compact shape takes less storage space. If you are a mobile mechanic, you should consider buying fold-up or lighter creepers; this will save a great deal of effort and cause less fatigue.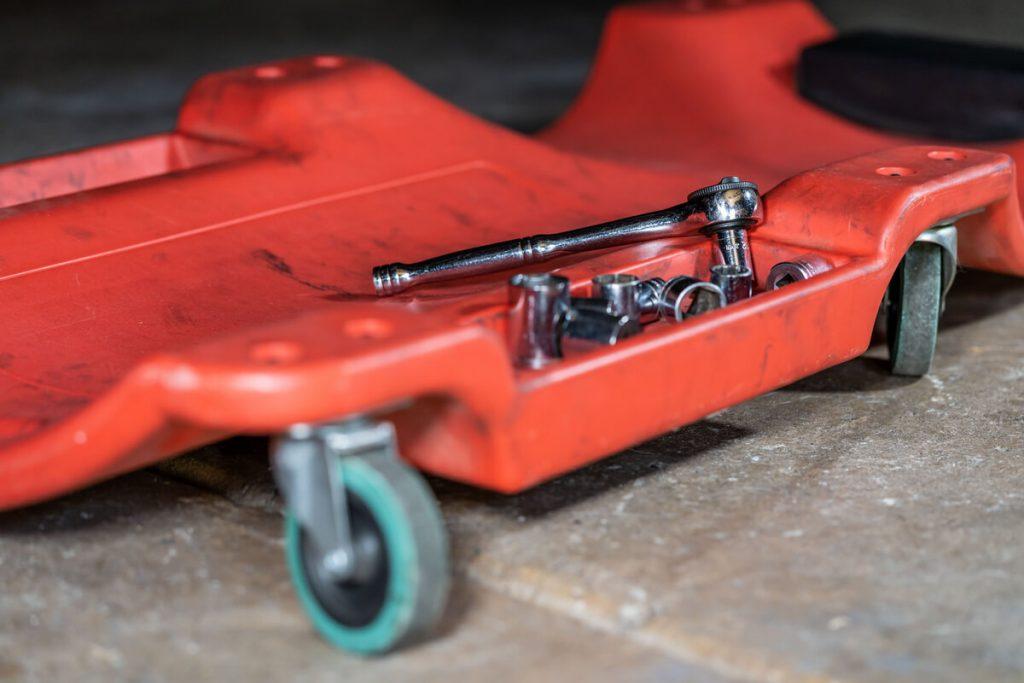 Comfort
Modern-day mechanics creepers have a lot of provisions for ensuring the operator's comfort. Features like lumbar support, head padding, etc., are quite common. The way optimum comfort is achieved is by modeling the creeper's plastic body in a certain way. However, a creeper's comfort levels differ from person to person; that is why you should carefully select the right creeper for your posture.
Type of use
Creepers come in several different configurations depending on the type of use. For example, the Lisle 95002 is suitable for extremely rough and uneven surfaces where a traditional creeper's wheels will be unable to turn. Other creepers with low ground clearance and small wheels are made for operating on smooth floors.
Last Words
For obvious reasons, there is no one-size-fits-all when looking for a mechanics creeper, but choosing a single product from this article should not be a difficult task once you have carefully evaluated your needs and budget.
That being said, we can help you further by saying that if you're just starting in the field and just need a basic and cheaper model, go for either of Lisle's products.
On the other hand, if you are a professional auto mechanic in need of a good all-arounder, consider buying the GearWrench 86995 or the Pro-Lift C-6040. Meanwhile, big-boned individuals are better off with the Pro-Lift Bone-ster creeper.