Need a cordless impact wrench to speed up your workflow? Here are the best ones available, from amateur to professional models!
BUDGET PICK
Power: 350 ft-lbs
Speed: 1700 RPMs
IPM: 2500
Power control: Variable trigger
Battery: 20v – 4A
Weight: 4.66 lbs
Length: 7 inches
EDITOR'S PICK
Power: 1000 ft-lbs and 1400 ft-lbs nutbreaking torque
Speed: 1750 RPMs
IPM: 2100
Power control: 4-speed switch, bolt removal mode, variable trigger
Battery: 18v – 5Ah (two included)
Weight: 7.5 lbs
Length: 8.4 inches
PREMIUM PICK
Power: 1000 ft-lbs and 1500 ft-lbs nutbreaking torque
Speed: 1900 RPMs
IPM: 2450
Power control: two power modes and two automatic shut-off modes
Battery: 20v – 5Ah (two included)
Weight: 7.6 lbs
Length: 8.1 inches
3-year warranty
No need to say that cordless impact wrenches are essential in any toolbox since they are super versatile and will save you tons of time. They are incredibly mobile, easy to store, and don't require an air compressor, adding to the ease of use. Thus, these tools find use in various industries, including auto repair shops, construction sites, and many more.
Impact wrenches come in many sizes and power ratings, each aimed at different buyers. Besides, there are many brands to choose from, and each has its pros and cons, making the purchasing decision a bit more tedious. But don't worry about that, as here you'll find the best 1/2-inch cordless impact wrenches on the market, reviewed by our team of professionals.
Enjoy!
Best 1/2 Cordless Impact Wrench Reviews
With this impact wrench being the budget pick, its biggest highlight is obviously the price. And since both Craftsman and DeWalt are owned by Stanley Black & Decker, you know this impact wrench is a high-quality product, despite the lower price tag. However, you will have to have to sacrifice a couple of features here. But as long as its spec sheet is satisfactory for your application, don't shy away from this one.
Indeed, when buying an impact wrench, cordless or not, one of the biggest questions is how much power you'll actually need — not everyone needs over 900 pounds of torque on a daily basis, right? The Craftsman V20's 350 ft-lbs is good enough for light-duty work, although it might struggle with the really heavy stuff. But if you work mostly on modern passenger cars or will use your impact around the house, do some carpentry work, or any other application where impressive torque isn't necessarily a good thing, this model will do just fine, especially since it comes with a variable speed trigger.
Like all cordless tools, battery life will vary widely depending on the use. Still, the 4Ah battery, although smaller than some of its competitors, will be enough for most applications. Besides, it keeps the weight down at 4.66 lbs and charges in only one hour with the included charger — unless you plan on using your impact gun for hours on end, no need to shell out the big bucks for something you won't use to its full capacity anyway.
Some other cool features include a LED light that can help even in well-lit working areas and an anvil with a hog ring to keep the socket solidly on there while making it easy to switch (pin detents tend to be significantly more tedious). Also worth mentioning, it does come with a three-year warranty, which is not to neglect.
All in all, it's not the most powerful gun you can find, nor the most technological one. But just like everything Craftsman makes, you know it's good — cheap but good.
Highlighted Features
Power: 350 ft-lbs
Speed: 1700 RPMs
IPM: 2500
Power control: Variable trigger
Battery: 20v – 4A
Weight: 4.66 lbs
Length: 7 inches
Pros
Inexpensive
Charger and battery included
Fast Charging
3-year warranty
Cons
Although Porter-Cable is also owned by Stanley Black & Decker, this brand has a different target audience than Craftsman. Indeed, it's important to mention that, even though the two aren't miles apart, Porter-Cable is mostly targeted at homeowners and weekend DIYers. Reports show that they won't last as long in heavy-duty circumstances, but they do perform pretty well with lighter applications.
Porter-Cable tools are very ergonomic and comfortable to use, and this impact wrench is no exception. The rubber grip makes it a perfect choice for amateur mechanics and handymen. However, it's not much cheaper than Craftsman's, considering that the charger has to be bought separately. Still, it's significantly smaller, which is a big plus for home use.
At 260 ft-lbs, torque output isn't something that this impact wrench can brag about. Nonetheless, it does get a variable speed trigger and all the other small details that its Craftsman counterpart brings, such as an LED light, a hog ring anvil, and a 4Ah battery that will last much longer due to the lower power output. So, even though the Craftsman impact wrench might be better overall, this Porter-Cable model isn't without its advantages. If you only plan on using your impact wrench occasionally, this one might be a very interesting alternative.
Highlighted Features
Power: 260 ft-lbs
Speed: 1650 RPMs
IPM: 2500
Power control: Variable trigger
Battery: 20v – 4Ah
Weight: 5 lbs
Length: 9.9 inches
Pros
Cheaper than most
Ergonomic
3-year warranty
Cons
This is the first impact wrench in this article truly intended for professional use. Makita is a world-renowned brand with factories all across the globe, producing some of the highest-quality tools out there.
In fact, no matter the type of work you intend to do with your impact wrench, this one will undoubtedly do the trick. However, quality and versatility do come at a price. Indeed, its price tag is already higher than the previous two models, and you still have to buy a battery and a charger (unless you already own other Makita power tools).
On the other hand, if you need to buy the battery, go for at least a 5Ah model since this impact wrench outputs 740 ft-lbs of fastening and 1180 ft-lbs of loosening torque, and that requires a lot of power. Moreover, as you may expect from a wrench with such a high power output, it also weighs significantly more than the previous model — but if you want real power, you'll have to compromise on weight.
Still, torque isn't the only thing justifying the price of this impact wrench. It also comes with more advanced tech features, including a brushless motor, which increases longevity and reliability. It also offers three selectable power outputs and is electronically controlled to optimize battery use — a big plus when using your impact wrench every day in the shop.
Highlighted Features
Power: 740 ft-lbs and 1180 ft-lbs nut-breaking torque
Speed: 1800 RPMs
IPM: 2200
Power control: 3-speed switch
Battery: 18v – 4Ah/ 5Ah/ 6Ah (not included)
Weight: 7.9 lbs
Length: 9 inches
Pros
High-quality
High torque output
Durable
Brushless motor
Electronic battery control
Cons
Battery and charger not included
Heavier
On the expensive side
All impact wrenches are designed to do the same primary job: to fasten and loosen bolts and nuts much faster than if you were using a ratchet or a wrench. However, some are better suited to certain types of work than others. Such is the case with this Dewalt impact wrench that is perfect for car mechanics, although it's a tad more expensive.
If you are a mechanic yourself, you know very well that, no matter what you are repairing on a car, tight spaces will always be an issue. Luckily, the main advantage of this impact wrench lies in its size. Indeed, just by looking at the pictures, you can easily see that the complete motor assembly and the anvil are about as long as the battery, making it a perfect choice when working in cramped engine bays.
Of course, this one should be considered an "extra" in the sense that it cannot replace a regular, full-size impact wrench — you'll still need one of those to remove lug nuts and big bolts on a daily basis. Still, if you work 40 hours in the shop and already have a regular impact that doesn't fit in most places, this is a pretty interesting model to consider.
Moreover, it's resistant to oil or other automotive chemicals or solvents, so you don't have to worry if it was to be covered in transmission fluid at some point (and you know that's bound to happen). The power might not be that impressive, but with 400 ft-lbs of breakaway torque, it will complete most tasks an average car mechanic might throw its way.
Another considerable advantage of this kit is that it comes with two 5Ah batteries, a charger, a belt hook, and a carrying bag. Hence, considering the sturdy build, overall quality, and durable brushless motor, you will be set for years to come!
Highlighted Features
Power: 250 ft-lbs and 400ft-lbs nut-breaking torque
Speed: 2850 RPMs
IPM: 3150
Power control: 2-speed switch and a variable trigger
Battery: 20v – 5Ah (two included)
Weight: 2.3 lbs
Length: 4.95 inches
Pros
Impressively compact
Oil resistant
Brushless motor
3-year warranty
A lot of additional equipment
Light
Reasonable power
Cons
The second Dewalt model on this list is much better suited for trucks, agricultural equipment, or other heavy machinery. Even so, at 8.8 inches in length, it's still pretty compact when compared to competitors in the same category. Moreover, weight is equally impressive at only 7.2 lbs, especially when considering the 700 ft-lbs of torque and 1200 ft-lbs of nutbreaking torque.
As you might expect, the price is a bit higher, and it only comes with a smaller 4Ah battery. However, the kit still includes a carrying bag and a charger, so there is no immediate need to buy anything more unless you need a bigger battery or a spare one.
But even without the additional equipment, the higher cost comes from where it counts. For instance, the power output is unmatched by most cordless impact wrenches, and it uses an anvil with a detent pin instead of a hog ring that will help keep bigger and heavier sockets on without falling off while the wrench is running.
Thus, if you use your impact wrench on larger vehicles or just want a bigger wrench to complement your current setup, this is the model you should be spending your money on.
Highlighted Features
Power: 700 ft-lbs and 1200 ft-lbs breakaway
Speed: 1900 RPMs
IPM: 2400
Power control: 3-speed switch
Battery: 20v – 4Ah
Weight: 7.2 lbs
Length: 8.8 inches
Pros
High torque output
Relatively compact
Relatively light
3-year warranty
Brushless motor
Detent pin anvil
Cons
Milwaukee might very well be the most popular tool brand out there right now, and rightfully so. With its M18 platform being an industry leader in cordless tools, this impact wrench was designed to be an editor's pick.
One of Milwaukee's impact wrench's main competitors is the aforementioned Dewalt, which we lauded for its compact size. However, although priced similarly, this impact wrench is in a league of its own. For starters, it's shorter at only 8.4 inches long while being only 0.3 lbs heavier at 7.5 lbs total, with the battery assembled. Yet, it produces 1000 ft-lbs of fastening torque and an impressive 1400 ft-lbs of nutbreaking torque. The kit also includes two 5Ah batteries, a charger, and a composite carrying case.
With such a small size and high torque output, this impact wrench will be at home anywhere, no matter what you intend to use it on, and serve you for years. Its 5-year warranty surpasses all of the previous models, and Milwaukee also offers a 2-year warranty on the batteries. And even though it's not exactly cheap, the higher price tag is well justified considering its versatility and impressive build quality.
Highlighted Features
Power: 1000 ft-lbs and 1400 ft-lbs nutbreaking torque
Speed: 1750 RPMs
IPM: 2100
Power control: 4-speed switch, bolt removal mode, variable trigger
Battery: 18v – 5Ah (two included)
Weight: 7.5 lbs
Length: 8.4 inches
Pros
Durability
High torque
Composite carrying case
Includes two batteries
Smaller than its competitors
Lightweight
5-year warranty and a 2-year battery warranty
Lots of different ways to control the power
Cons
We are finishing this list with the highest-end model coming from Ingersol Rand. It isn't much more powerful than Milwaukee's impact wrench, with about 100 ft-lbs more nutbreaking power. Still, this model brings several innovations, including an even smaller footprint, measuring only 8.1 inches in length while weighing about as much as the Milwaukee.
Furthermore, the Ingersol Rand 1/2 cordless impact wrench has 4 power modes (Full Power, Half Power, Wrench Tight, and Hand Tight), significantly reducing the risk of breaking bolts by mistakes, a feature that none of the previous models offer. It's also equipped with a LED light; although that's something that pretty much every cordless impact wrenches have nowadays, but still a nice addition. However, Ingersol Rand went for a 360-degree LED light placed around the anvil, making sure it lights up the exact area you are working on and preventing annoying shades when looking at an angle.
IR's impact wrench structure is a patented combination of composites and steel resistant to all kinds of fluids and chemicals you might encounter in the workplace. The kit also includes two batteries, a charger, and a tool bag — basically everything you need to get to work right away.
In short, Ingersol Rand's impact wrench comes with excellent features making it easy to use, robust, and durable while retaining a small size and keeping the weight down, more than justifying the higher price tag. It's not cheap, but it's worth every penny!
Highlighted Features
Power: 1000 ft-lbs and 1500 ft-lbs nutbreaking torque
Speed: 1900 RPMs
IPM: 2450
Power control: two power modes and two automatic shut-off modes
Battery: 20v – 5Ah (two included)
Weight: 7.6 lbs
Length: 8.1 inches
3-year warranty
Pros
Superior LED light
Automatic shut-off mode
Lots of additional equipment
High torque
Compact
Lightweight
Cons
At this price, the warranty could be better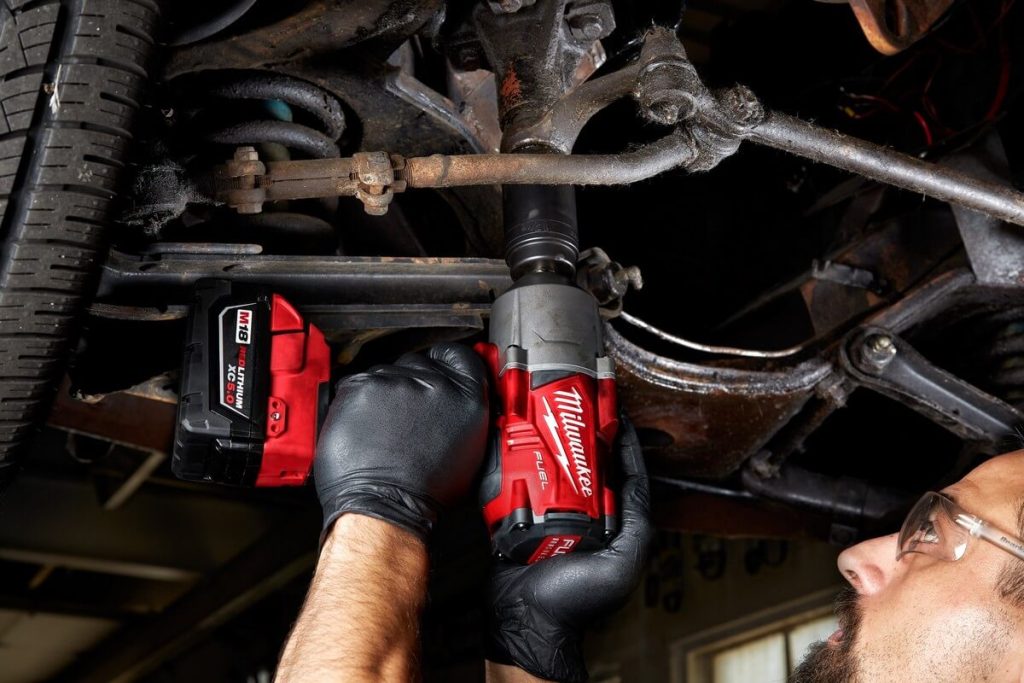 Features to Look for in a 1/2 Cordless Impact Wrench
Considering that an impact wrench is one of the most significant additions to any toolbox or garage, deciding which one is right for you is crucial. So here are all the more notable features you need to look out for when buying one.
Power
Although more power may sound better in most cases, it can often be unnecessary or just "too much" for the task at hand, meaning you'd be paying significantly more for a powerful tool that you simply don't need. Hence, the real question is: "how much power is actually enough?"
The least powerful models producing up to 250 ft-lbs will be enough for most repairs around the house. Even though that would technically be enough to remove and fasten lug nuts, it might struggle with bigger or rusty bolts. When buying an impact wrench for car repairs, the nutbreaking torque is the main focus, and anything above 400 ft-lbs should be enough for most work you might have to tackle.
When it comes to trucks and agricultural equipment, everything above 750 ft-lbs should be good enough. Meanwhile, construction equipment and techs working on truly heavy-duty stuff should look for 1000 ft-lbs and above.
Another factor tied to power is speed, which is necessary for carpentry work to screw long bolts and nuts. Thus, keep RPM specifications in mind if this is what you do.
Size
This one is pretty simple. When buying an impact wrench, you should consider one primary size: the length. This factor will be most important to car mechanics, who are most likely to work in tight spaces. Still, you might want to consider getting a smaller impact wrench for other jobs, simply because it will be easier to operate.
Let's be honest — if you work 40 hours a week in an auto repair shop and are serious about your tool game, you'll need a regular impact wrench, a stubby one, and a big one anyway.
Weight
Besides power, weight should be of utmost importance for professional mechanics and everyone in the construction industry since they are the most likely to use power tools for prolonged periods, and a higher weight can increase muscle fatigue and potentially cause injuries in the long term.
If you are working with impact wrenches on a daily basis, a lighter impact wrench might be one of the best investments you can make.
Battery
When it comes to cordless tools, the biggest drawback is having to charge the battery. Depending on how long you need your impact wrench every day, keep in mind the battery size and how many are included.
Unfortunately, battery life is hard to predict as it depends on many factors. Still, going for a larger battery should give you more working time on a charge. Moreover, a second battery can alleviate the battery drain issue, as you can charge it while working with the other one.
Quick note: when shopping for cordless power tools, don't forget to plan ahead. Buying several power tools from the same manufacturer will often mean that you'll be able to interchange the batteries. For instance, if you were to buy a DeWalt cordless power drill, it's most likely to come with a battery. When the time comes to buy an impact wrench, think about going for DeWalt this time again. This way, you'll now have two batteries you can use with the impact wrench you use every day while the power drill sleeps soundly in your tool chest.
Price
Once you have decided what matter to you, the last thing that remains is the price. Taking everything into consideration, including whether you are buying the wrench for personal or professional use, will help you determine how much money you can actually spend on it.
As a general rule, you should pay more if you are using it professionally. However, we recommend against buying cheap off-brand impact wrenches, even if you are just a weekend DIYer, as they might prove to be more expensive in the long run due to their relatively lower reliability.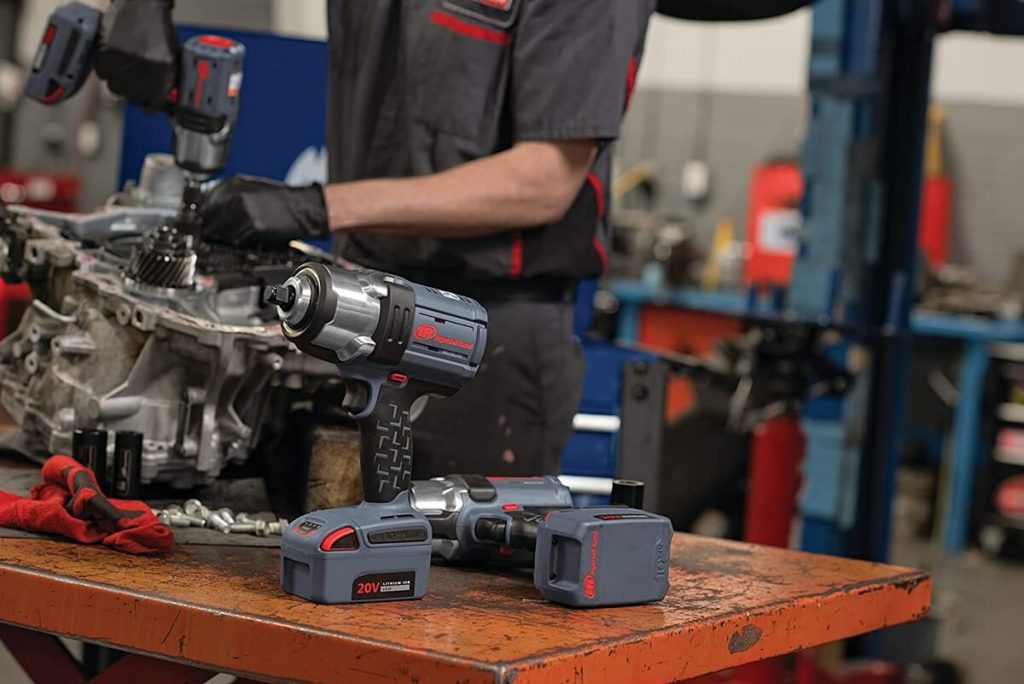 Frequently Asked Questions (FAQs)
How much torque do I need from a cordless impact wrench?
The answer to this question will widely depend on the type of work at hand, but a 400-500 ft-lbs impact wrench will cover 90% of the work for personal use. If you are a professional, aim a bit higher than that, just to be safe.
What should I be careful about when using a cordless impact wrench?
Watch out not to overtighten anything — electric power is pretty instant and may sometimes be surprising. Ensure to correctly place the socket over the bolt to avoid stripping it, and be careful not to damage the thread when tightening. Also, keep your batteries and charger in a heated room — batteries never fare well in the cold.
But aside from that, cordless impact wrenches are no different from their pneumatic counterparts and should be used and cared for similarly.
How much torque do I need from a cordless impact wrench to remove lug nuts?
Lug nuts are usually tightened to around 90 to 130 ft-lbs, depending on the type of vehicles you work on. However, they can often be overtightened or seized, so your safest bet is an impact wrench producing over 200 ft-lbs of torque — anything beyond that will probably snap the wheel studs anyway.
Should I tighten lug nuts with a cordless impact wrench?
It's always best to avoid tightening lug nuts since it's easy to overtighten them with an impact wrench, cordless or not, which can create many problems down the road, including stripping the nuts and breaking the studs.
Of course, tightening lug nuts by hand with a torque wrench is quite time-consuming so instead, think about getting yourself a set of torque sticks. You can't go wrong with those — they are quick, safe, affordable, and will save you a bunch of headaches in the long run.
Read more: Best Torque Sticks — Reviews and Buying Guide
What is the most powerful 1/2 cordless impact wrench?
At the time of writing this article, the most powerful 1/2 impact wrench we could find is the Snap-On CT9080 with 1050 ft-lbs of fastening torque. However, it didn't make the list because it's super expensive and simply overkill for 99% of applications.
What is the difference between an impact wrench and an impact driver?
An impact driver is more often used for screws rather than bolts and comes with a 1/4-inch hex collet head instead of a square anvil to fit sockets. Impact drivers also usually spin faster while being significantly less powerful than impact wrenches.
Verdict
An impact wrench will be one of the most valuable tools in any garage or home, but it's also a significant investment. Thus, it's essential to take it slow when choosing one. And yes, reading a buyer's guide like this one is an excellent move, considering the many different brands available and, more importantly, the wide range of models out there, each tailored to specific jobs.
But in short, if you are a DIYer or want a cordless impact wrench for occasional repairs, something like the first two models, the Craftsman V20 and Porter-Cable 20V MAX, will be perfect as they are of reasonably good quality and won't break the bank.
Meanwhile, if you mostly do car repairs, be it professionally or even as an amateur, the Dewalt 20V MAX is your best bet, as it was built specifically with mechanics in mind. It's relatively affordable and will last for years — for automotive applications, you will hardly find a better alternative.
For all other jobs requiring more power or more durability for extended everyday use, the Milwaukee 2767-22 Fuel is one of the best options. With all the power you might need and a ton of equipment included in the kit, this cordless impact wrench will take everything you will throw at it.
And if money is no object, or you simply need an impact wrench that will everything to perfection, the Ingersol Rand W7152-K22 20V is what you want. It will shine no matter the task at hand, leave all the other impact wrenches in the dust and make your coworkers jealous — what's not to like, right?