Looking for a high-quality sander to take away car paint before a body repair? Here are the best models out there, cherry-picked and thoroughly reviewed!
BUDGET PICK
Ingersoll Rand 317A High-Speed Air Sander
Air-powered
Weight: 2.3 lbs.
Max. speed: 18,000 rpm with Variable Speed Control
2 stackable backing pads: 3" and 5"
Min. hose size: 3/8"
Air inlet: 1/4" NPT
Avg. air consumption: 12 cfm
1-year warranty
EDITOR'S PICK
Ingersoll Rand 4151 6" Random Orbit Pneumatic Sander
Type: Orbital
Air-powered
Weight: 1.92 lbs.
Max. speed: 12,000 rpm
Orbit diameter: 3/16"
Backing pad diameter: 6"
Min. hose size: 5/16"
Air inlet: 1/4" NPT
Avg. air consumption: 8 cfm
1-year warranty
PREMIUM PICK
Hutchins ProFinisher 700H Sander
Type: Orbital
Air-powered
Weight: 1.89 lbs.
Speed: 12,000 rpm
Orbit diameter: 5/16"
Backing pad diameter: 6"
1-year warranty
Whether you want to completely repaint your car or fix a rusty panel, removing the old paint first, or at least some of it, is always necessary. And one of the best ways to remove a layer of color from a vehicle is by sanding it (yes, you could always strip it but unless you are planning on repainting a whole car a different color, sanding it should be more than enough).
In the automotive world, sandpapers are used for a wide range of things, including removing the paint off a body part. And while you can do it by hand, it's quite time-consuming, to say the least, especially if you are repainting a complete panel. As a result, most automotive body repairmen use sanders to get the job done much more quickly instead.
However, there are plenty of sanders you can pick up from your favorite store, and some are better at specific jobs than others while some are not even worth the investment. To help you find the right one for you, we've gathered and reviewed the five best sanders for car paint removal we could find and created a handy buying guide.
Of course, it would be impossible to review every model out there so we focused on selecting a little something for everyone, from entry-level, budget-friendly models to true professional ones. If you use a different sander and think it's good enough to make the list, don't hesitate to leave a comment below and we'll make sure to review it too!
So without further ado, let's see what we got!
Best Sander for Car Paint Removal Reviews
Kicking off the list is the Ingersoll Rand 317A, an affordable and rather aggressive pneumatic sander. It has a powerful 18,000 rpm motor, perfect for removing 2-3 coats of paint in a minute. Moreover, it has a built-in power regulator and variable speed control too so you can still use it for more delicate operations (I would really not recommend it for the really delicate stuff, though — it's pretty hardcore).
The package includes two round-shaped backing pads (3 and 5 inches) and the compact design makes hard-to-reach places more accessible. Also, while it may look like an impact gun with sanding paper on top, the shape does help with the ergonomics — it's superbly comfortable to use at any angle.
And if you think the non-orbital movement is a bummer, I feel you. However, the high-speed motor should be more than capable of scraping off those few first paint layers. On the other hand, the fact that it's not an orbital sander also means that it's suitable to be used as a grinder and smoothing out welded panels.
Hence, if you're looking for a budget-friendly and straightforward sander for paint removal, you can bet your money on this one — it's not the fanciest model you'll find, but it won't disappoint.
Key Features
Air-powered
Weight: 2.3 lbs.
Max. speed: 18,000 rpm with Variable Speed Control
2 stackable backing pads: 3" and 5"
Min. hose size: 3/8"
Air inlet: 1/4" NPT
Avg. air consumption: 12 cfm
1-year warranty
Pros
Budget-friendly
Powerful high-speed motor
Compact design
Comfortable grip
Cons
Non-orbital movement makes paint removal a bit slower
Want a powerful sander but don't want to deal with a hose or a power cord? The Milwaukee M18™ is well worth taking a look at. It's a battery-powered random orbit sander with an electric motor adjustable from 7,000-12,000 rpm and just like any power tool manufactured by Milwaukee, it's pretty impressive. Furthermore, it has an orbit diameter of 3/32 inches, supporting heavy-duty jobs like paint removals. Put simply, it will do the job and do it well and fast.
But it's not all! Your purchase also gets you a dust canister, universal hose adapters, and two pieces of 80 grit sandpaper — of course, you'd tell me 2 pieces of sandpaper won't get you far in the shop, but it's a start, and that's 2 more than most other models on this list, right?
Moreover, the cordless design is complemented by a compact and lightweight body, and the top part of the machine is built to provide a natural grip — this part might not be so appealing to you if you only plan to use your sander once or twice a week, but trust me, if you'll be using it every day, this is what you need!
Unfortunately, the 3000mAh battery pack is sold separately, and it's only good for about 35 minutes of run time over a single charge. Nonetheless, the battery pack is interchangeable with other Milwaukee tools, so if you are lucky enough to already own a Milwaukee M18 FUEL impact wrench, or any other Milwaukee power tool for that matter, you probably have a bunch of chargers and spare batteries anyway. Still, if you don't, it's worth keeping in mind — you really don't want to be tackling a whole paint job with this one and have to stop every 35 minutes to wait for the battery to recharge.
Overall, if you're looking for a reasonably priced but powerful sander that gives you a cordless sanding experience, the Milwaukee M18 Random Orbit Sander is well worth a look, especially if you already use other Milwaukee tools. However, if you need a sander you can use 40 hours a week in the shop, you might be better with one of the following models instead.
Key Features
Type: Orbital
Electric-powered (lithium-ion battery)
Weight: 2.0 lbs.
Speed: 7,000-12,000 rpm with Variable Speed Control
Orbit diameter: 3/32"
Backing pad diameter: 5"
Universal hose adapter
Dust canister
3000mAh battery pack (sold separately)
Runtime: up to 35 minutes
5-year warranty
Pros
Very ergonomic
Cordless design
Adjustable speed
Comes with a dust canister and sandpapers
Fair pricing
Generous warranty
Cons
Short runtime
Battery pack and charger sold separately
As a compelling straight line sander, the Ingersoll Rand Edge Series™ 315G can chew any heavy sanding tasks thrown at it, like paint scraping, rust removal, and smoothing body filler. It's air-powered and runs at a speed that replicates 3000 1-inch strokes per minute — so yeah, it gets the job done quite quickly.
Despite being quite heavy at 6.1 lbs., the rubber handle provides a comfortable grip, even for extended periods. Moreover, it was designed to produce as little vibration as possible and deliver a smooth sanding experience, which is an absolute must when working day in and day out with your sander.
With a price that won't break the bank, the Ingersoll Rand Edge Series™ 315G is well worth considering, especially if you'll be dealing with large vehicles with huge flat panels down at work. However, it's important to keep in mind that, while the 2.75″ x 15″ sanding pad is ideal to remove paint on large flat surfaces, it will obviously not be that good for anything that isn't absolutely flat. So it will without a doubt speed up the paint removal process, but you'll still need a second more compact sander to finish the job.
Key Features
Type: Straight line
Air-powered
Weight: 6.1 lbs.
Speed: 3000 reciprocating strokes per minute
Stroke length: 1"
Backing pad size: 2.75" x 15"
Min. hose size: 3/8"
Air inlet: 1/4" NPT
Avg. air consumption: 8 cfm
1-year warranty
Pros
Ergonomic grip handle
Superb for flat surfaces
Low vibration
Cons
A bit heavy
A tad uncomfortable when used vertically
Read more: 5 Best Air Orbital Sander for Auto Body Work in 2022
Yeah, I know; we featured quite a few Ingersoll Rand sanders on this list already. Still, I can't leave out its 4151 Random Orbital Air Sander just because it's that good.
Indeed, the 4151 is favored by many automotive body repairmen for its high-quality finish on every job, from paint removals to smoothening putty and filler. Moreover, its powerful motor can spin up to 12,000 rpm, and the sizeable 3/16-inch orbit diameter sands wide areas really quickly. Moreover, the 6″ backing pad complements the rather big orbit diameter, allowing you to use larger sandpaper, further speeding up the process.
Although you'll be paying a bit extra, this one has an excellent interchangeable grip handle and low vibration internals, which you'll be thankful for after a full day working hard in the shop. And even better, it's possible to connect it to a vacuum and suck up dust and particles through the pad, significantly reducing sandpaper clogs and preventing from making a mess.
In short, the Ingersoll Rand 4151 is a premium professional air sander that should nail any sanding work you might have to do. And if you fancy such versatility, with paint removal being its forte, then this little machine should be perfect for you.
Key Features
Type: Orbital
Air-powered
Weight: 1.92 lbs.
Max. speed: 12,000 rpm
Orbit diameter: 3/16"
Backing pad diameter: 6"
Min. hose size: 5/16"
Air inlet: 1/4" NPT
Avg. air consumption: 8 cfm
1-year warranty
Pros
Quiet and smooth performance
Low vibration
Interchangeable grips
Compact body
Dust extraction system is a must
Cons
Price is on the higher side
As a proudly American-made power tool, the Hutchins ProFinisher 700H offers all the right features to make you want one. First off, this pneumatic random orbital sander can spring up to 12,000 rpm, is equipped with a 6-inch sanding pad, and provides an immense orbit diameter of 5/16 inches (almost twice as large as the previous model). Hence, this tool can't help to be excellent at paint removal, doing what's expected of it much faster than most average sanders.
On top of that, you can tell it's designed to provide a comfortable experience to its user. Indeed, it weighs just 1.89 lbs., making it the lightest sander on this list. Moreover, the palm rest serves as a superb grip handle, and it produces as few vibrations as you might expect from a ProFinisher product. In fact, the 700 series sits at the top of the brand's orbital sander lineup, so you know you're getting the best of the best here.
All in all, if you're looking for the finest sander for car paint removal and can afford to pay the above-average price, the Hutchins ProFinisher 700H is a stellar investment. Yes, it's a bit pricier than all the previous models, but it's worth every penny!
Key Features
Type: Orbital
Air-powered
Weight: 1.89 lbs.
Speed: 12,000 rpm
Orbit diameter: 5/16"
Backing pad diameter: 6"
1-year warranty
Pros
Large orbit diameter reaches more area quicker
Lightweight
Made in the USA
Cons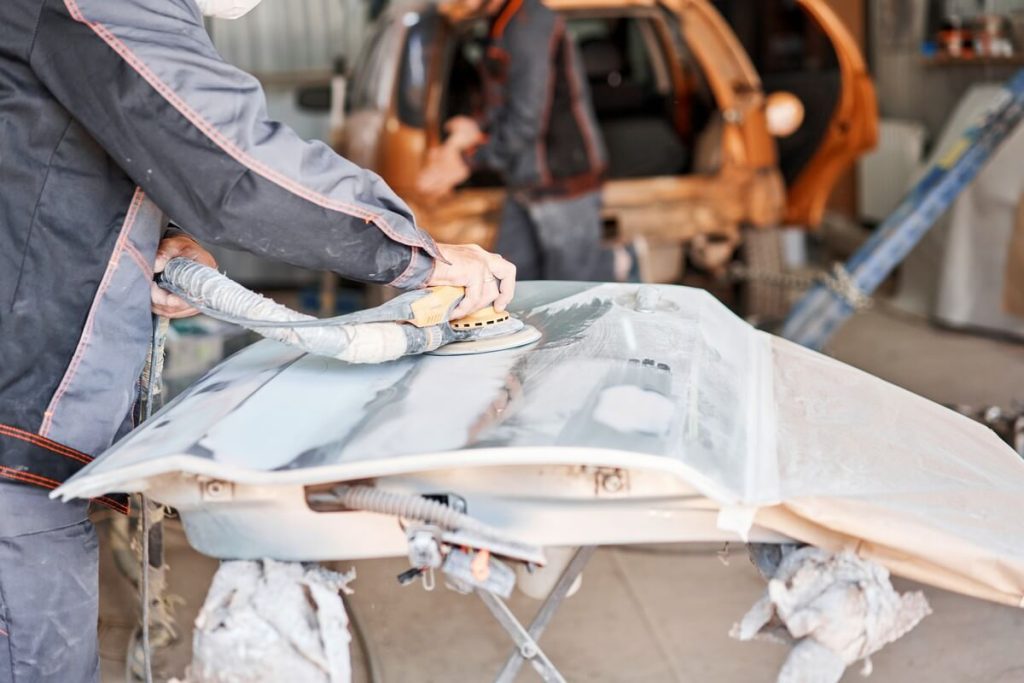 Buying Guide: What to Look for When Buying a Sander for Removing Paint
Type
There are plenty of sander options available on the market but the most common types you'll come across are orbital, straight-line, belt, or detail/mini sanders. And of course, some types are better than others at accomplishing specific tasks, so it's worth taking a minute to understand how they each work.
Orbital Sander
On an orbital sander, the abrasive sanding pad moves in an orbital motion. They are generally lighter and more ergonomic to hold at any angle. It's arguably the most common sander type in the automotive industry, and for a good reason — it's by far the most versatile type.
Orbital sanders come in two categories: regular orbital and random orbital sanders. Regular orbital sanders only move in a circular motion, while random orbital sanders move the disk around while spinning it, creating irregular overlapping circles.
Keep in mind the orbit diameter is what dictates what it will be better suited for. A larger diameter covers a larger area much quicker, which is especially useful when removing paint. Contrarily, smaller orbit diameters are better suited for detail work.
Straight Line Sander
Imagine a regular longboard sander equipped with an air/electric-powered motor to assist you, saving you a lot of time and sweat, especially when dealing with large and flat surfaces. Hence, not only are straight-line sanders great to remove paint quickly but also for smoothing welded panels and body fillers on body panels.
Belt Sander
As the name suggests, belt sanders are equipped with belt sandpapers. They are usually heavy, so you'll be most comfortable using one on a flat and horizontal surface. Don't be surprised if it's more of a companion to woodworkers rather than automotive body repairmen, though.
Despite that, some people may still fancy using belt sanders on cars. Still, their hefty mass and aggressive power make them more applicable for assisting paint preparations (like smoothening uneven surfaces before applying epoxy or paint) rather than paint removals.
Detail/Mini Sander
Lastly, a detail sander (a.k.a. mini sander) is purposely made compact to reach those tight spaces. But although it's excellent for perfecting hard-to-reach corners or edges before the painting process, it wouldn't be of great help for paint removals as it'd take longer to complete, especially with those small sanding pads. Still, it's a wise investment for anyone working in a body shop.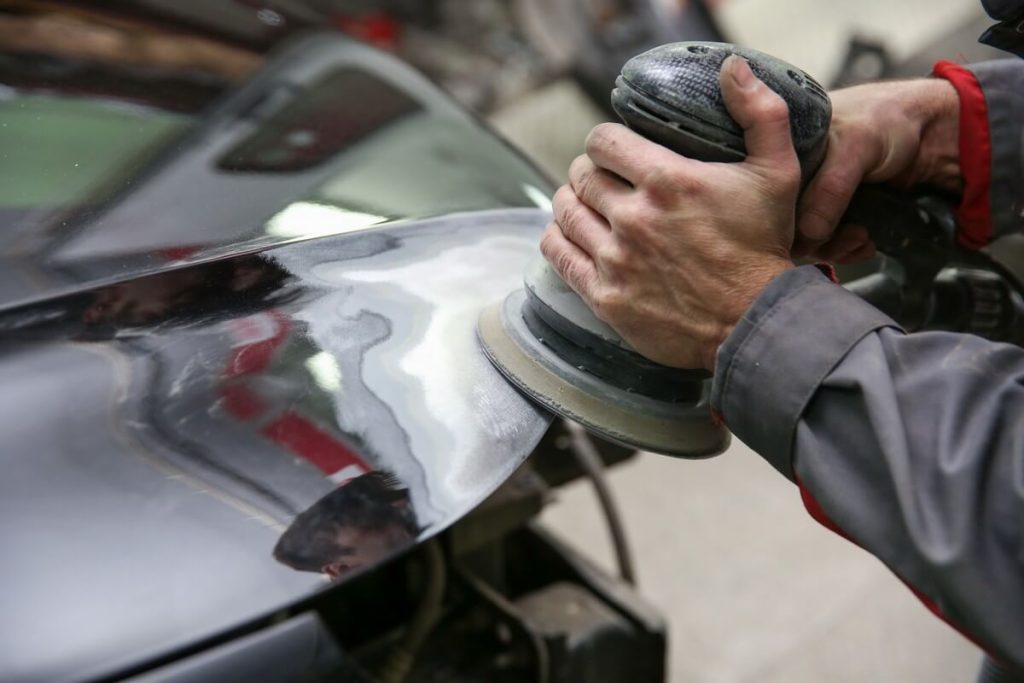 Power Source – Pneumatic vs. Electric
When choosing a sander, you have options to go with either an air-powered or electric-powered unit. While both may accomplish their tasks well, there are a few benefits and drawbacks to picking either.
Air-powered sanders (a.k.a. pneumatic sanders) are generally lighter, quieter, and more powerful. They're great for handling big tasks like paint removal and smoothing welded panels. However, you'll usually need a powerful air compressor to run them, and they tend to lack a bit in dust collection.
On the other hand, electric sanders are more practical since they don't need an air compressor to run. Most of them also do a better job of collecting dust. Some models are even battery-powered, which lets you perform the sanding cordless. However, they're a bit heavy due to their built-in motor, and those battery-powered units do drain their juice pretty fast and rarely give consistent performance. Still, these electric sanders are best for small jobs, like those final preps before repainting the panel.
Speed and Power
It's no secret that powerful sanders can help you finish the paint removal process quicker. Speed plays a significant role here, and you'd want a sander that can rotate or stroke faster to scrape that old paint off rapidly.
Random orbital and belt-type sanders measure their speed in revolutions per minute (rpm). The higher the rpm, the faster the sanding pad rotates, and the quicker you'll remove the paint layer.
Meanwhile, straight-line sanders' speed is measured in strokes per minute, as it stimulates the strokes we manually do with a longboard sander. So like RPMs, the higher, the better.
Ergonomic Design
Depending on the vehicle size, sanding can take hours. Thus, it's crucial to have a durable machine and one that's comfortable to work with for a long time.
Note that the grip handle should be ergonomically designed so you can hold it securely, even when using it on oddly angled surfaces. Additionally, you should ensure the control switches and buttons are easily accessible, so you can simply adjust the speed or turn it off instantly in the case of an emergency.
Verdict
Bodywork is more art than science, and having the right tool for the task at hand is always vital. When it comes to removing paint, a high-quality sander can increase productivity, provide better results, and won't leave you dead at the end of the day.
If you're a beginner looking for a simple and powerful sander that gets the job done without breaking the bank, the Ingersoll Rand 317A High-Speed Air Sander is what you need. It has a high-speed motor with adjustable speed, and the gun-shaped handle is highly ergonomic.
Meanwhile, if you can spend a bit more, the Ingersoll Rand 4151 Random Orbit Pneumatic Sander will serve you better in the long run. It's powerful, covers large surfaces faster, and consistently delivers excellent performance.
Yet, if you're a professional with a good budget looking straight for the best car paint removal sander available, the Hutchins ProFinisher 700H Sander is where you should put your hard-earned money — trust me, you won't regret it one bit!