EDITOR'S PICK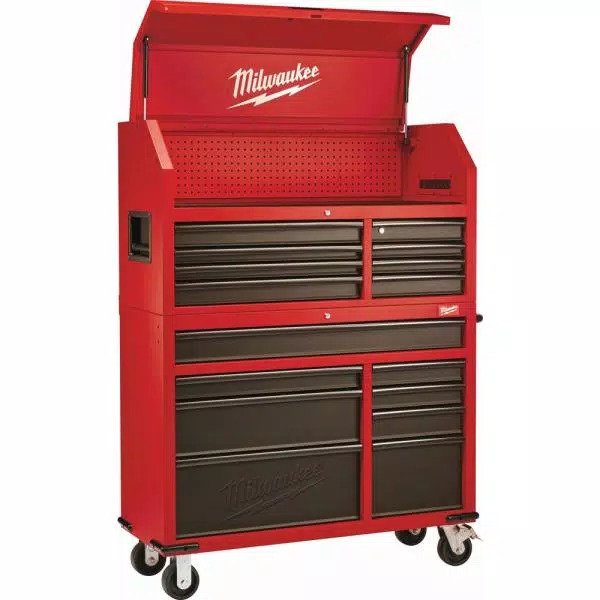 MILWAUKEE 48-22-8510-8520 Steel Tool Chest and Rolling Cabinet – 46″
20-gauge heavy-duty steel construction
3-barrel locking system
Soft close drawers
Plenty storage capacity
High maximum weight rating
16 drawers allow dedicated sections for each tool type
Three rugged handles for easy maneuverability
3-year manufacturer's warranty
PREMIUM PICK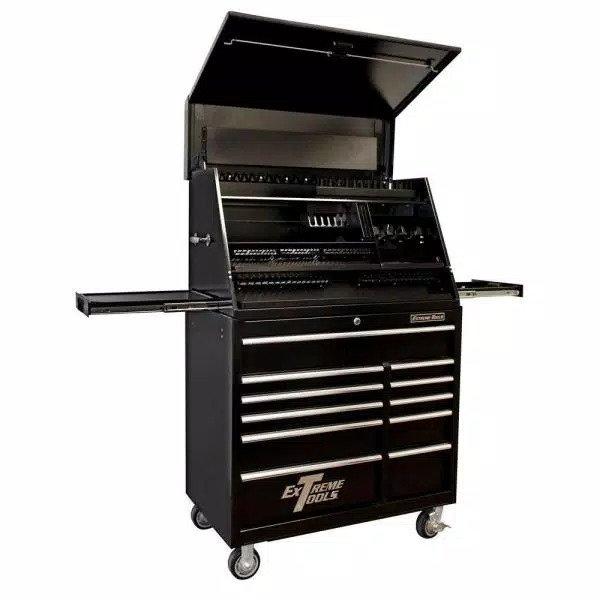 EXTREME TOOLS PWSRC4129TXBK Tool Chest – 41″
EVA lining on all drawers
Special side-opening pull-out drawers
Extremely strong and sturdy 14-gauge steel construction
1,200-lb maximum weight capacity
Scratch-resistant and attractive black finish
Accessories included for small tool storage
Ball-bearing slides for all drawers
Incredible top compartment
BUDGET PICK
GEARWRENCH 83151 Tool Chest – 20″
Heavy-duty steel construction
Low cost
Lightweight and durable
Integrated lock
Powder-coated
Ball-bearing drawer slides
The metal handle makes it easy to carry
One-year limited manufacturer's warranty
Let's admit it, there's no way around it. If you like to wrench on cars, you'll need many tools. And if you work in the field as a professional auto mechanic, you'll literally need tons of them. Using a tool chest is simply the most efficient, secure, and convenient way to store them all. Of course, if you only work in your home garage, you might think you can just hang them on a wall or keep them in their plastic case or pouch. If it's your care, you simply don't have enough tools yet.
Besides, quality tools last a lifetime while plastic cases just don't. If you are serious about auto mechanics either as a weekend DIYer, or even a mobile mechanic, you just need one.
Now that it's clear, choosing a tool chest from the plethora of options can be somewhat stressful and difficult. After all, you'll be using the one you choose for years. To make your life easier, we have prepared a list of 7 of the best value tool chests available in the market, according to experienced auto mechanics—me, in fact. As usual, we made sure to include something for everyone, starting with small portable budget tool chests all the way to heavy-duty professional tool chests.
Of course, this list, like any other list I make, is highly subjective. Different people like different tools and it's alright. But these are my personal favorites. I have owned or currently own some of them and tested the others extensively—you simply can't go wrong with any of these tool chests. However, if you own a different model and think it's good enough to make the list, don't hesitate to leave a comment below and I'll make sure to review them too.
Enjoy!
Tool Chest Reviews
The first model on this list, the 83151 model by GearWrench, is a 20-inch tool chest/box primarily aimed at mobile mechanics or those looking for a second tool chest after exhausting their main one's storage capacity. GearWrench's tool chest is one of the best budget tool chests available to buy out there; it is a highly portable unit with decent storage capacity and ergonomic handles for easy handling.
The 83151 model comes with three 2″-high drawers with ball-bearing slides allowing easy, smooth, and quiet operation. Moreover, there is also a top compartment that is 2 ½ inches in height, for a total of 2040 cubic inches of storage.
On the other hand, its low weight of just 9.46 lbs and compact size—12-inches high, 20 inches wide, and 8.5-inches deep—make it an extremely portable unit. Using the rugged handle provided, one can easily keep this tool chest in the back of their trucks or store it in small spaces.
This tool chest is constructed from heavy-duty steel and powder coated to make it immune to rust or corrosion. For optimum security, the GearWrench tool chest has a robust locking system and two steel latches. However, remember that while the lock will prevent kids and co-workers from messing with your tools, it doesn't really make it theftproof. After all, a thief could easily just pick it up and leave with it.
It's slightly bigger than standard toolboxes but still quite portable even when fully-loaded. Keep in mind that more drawers would increase the number of tools it can hold and, at some, point, a 150 lbs unit is not really portable anymore.
The GearWrench 83151 is perfect for mobile mechanics, as a second tool chest for pro mechanics or as a starter kit for apprentices being hired as grease monkeys. However, if you are looking for a main unit, you might be better with one of the bigger models below.
Pros
Heavy-duty steel construction
Low cost
Lightweight and durable
Integrated lock
Powder-coated
Ball-bearing drawer slides
The metal handle makes it easy to carry
One-year limited manufacturer's warranty
Cons
Suitable for limited use
Pretty basic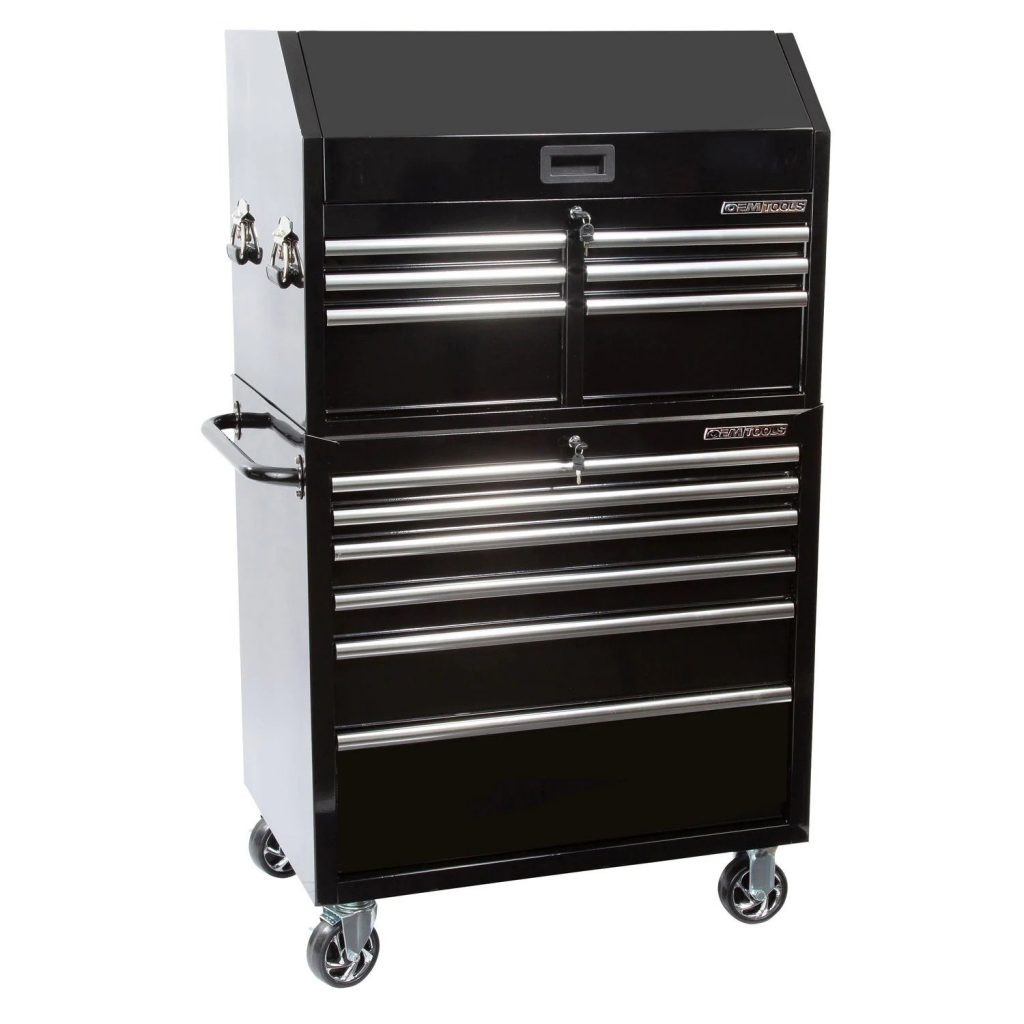 The first rolling tool chest in this list is the 24569 model by Great Neck. It is a 36-inch wide unit with 12 storage drawers and a top compartment. All drawers and the compartment are lined with Ethylene-vinyl acetate or EVA foam, preventing stored tools from moving around.
Accessibility is enhanced further by ball bearing sliders for each drawer having 100-lbs capacity while the top compartment gets gas struts. Meanwhile, the total storage capacity of this tool chest comes in at just over 28,000 cubic inches, making it one of the best units for small to medium garages.
Due to the sturdy and durable steel body, this mechanics tool chest tips the scales at just over 340 lbs. However, mobility should not be a concern thanks to four 5-inches X 2-inch casters and a steel handle.
The Great Neck 24569 rolling tool chest's additional features include comparably larger bottom drawers to store power tools, power accessibility in the top compartment that allows for easy and secure storage while charging batteries, and a locking mechanism for optimum security. It's a great tool chest for weekend DIYers and will only make your home garage look better than ever.
Pros
Strong and durable steel body
Sturdy casters and rugged steel handle
Easily available replacement parts such as sliders, locks, etc.
Locking mechanism
12 drawers and one top compartment
EVA lining for easy storage
24-inch depth
Attractive black finish
Impressive storage capacity
3-year manufacturer's warranty
Cons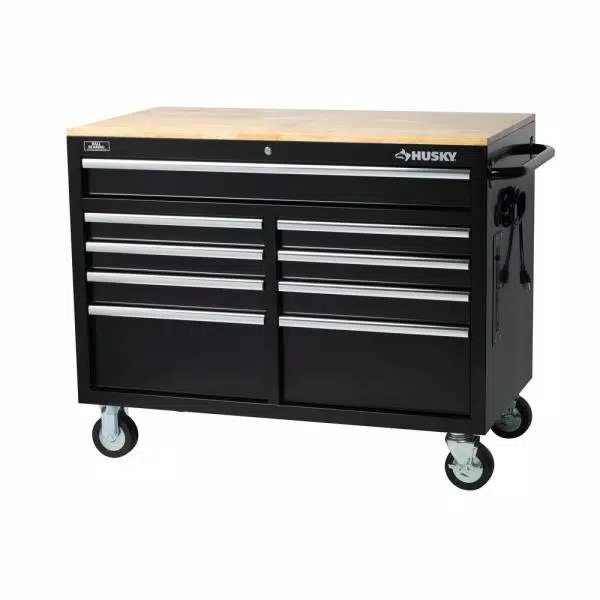 Husky has earned quite a reputation for manufacturing quality tools and other accessories and this 46-inch tool chest is no different. It has nine drawers in addition to a solid wood top measuring 46″ X 24″. You can use the wooden top as a workbench, thereby eliminating the need for a separate bench.
Moreover, this tool chest comes with drawers with ball-bearing slides for smooth and quiet operation. Each drawer is rated to carry up to 100 lbs, while the bottom two are large enough to fit most power tools—in fact, a ton of them.
The H46MWC9XD model boasts an all-steel construction with welded seams for added strength and durability. Surprisingly, even though this mechanics tool chest uses 21 gauge steel, it is still rated to carry a total of 1,200 lbs. It's strong and light, what more could you ask for?
The somewhat standard four 5 in. x 2 in. casters provide additional support and good maneuverability. Two are stationary, while the other two are swiveling and feature toe brakes to prevent the tool chest from rolling away.
In addition to a standard locking system, Husky's tool chest comes with a power strip with 4 outlets and a couple of USB ports allowing you to use power tools and charge your phone while you work.
There's basically two schools of thought when it comes to toll chests: some people prefer 2-piece sets while others only swear by workbench models. It's really a question of taste—or whether or not you need more work surface. I personally prefer a chest with a top because of the added storage but to each his own.
Pros
Easy to assemble
Power strip with USB slots
Integrated wooden worktop

Sturdy and durable steel welded body

One of the best tool chests under 500
19,650 cubic inches of storage capacity
Reasonably priced
Included drawer liners
3-year limited warranty
Cons
Wooden work area has a negative impact on storage space (bottom drawers are huge, though)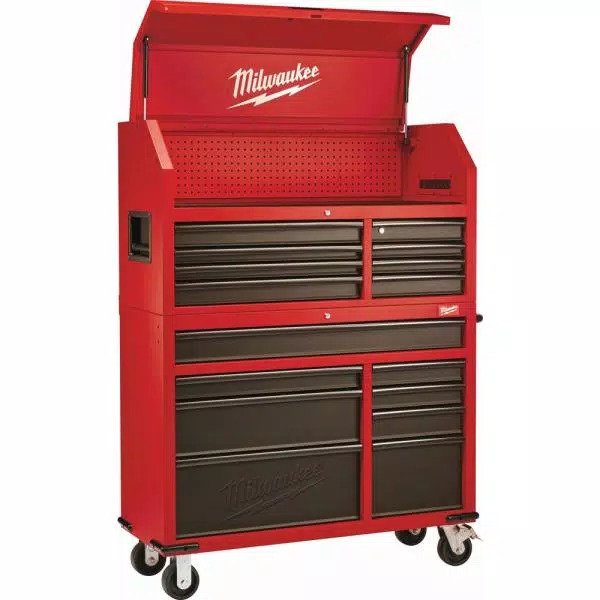 The 48-22-8510-8520 model by Milwaukee is a highly comprehensive mechanics tool chest. With 16 drawers and a top compartment, you'll have enough space (27,223 cubic inches) to store all your tools. Each drawer is lined to prevent scratches or tool slipping, and the top compartment has a super useful pegboard wall.
The drawers have ball-bearing slides that allow for a weight capacity of 100 lbs, while the top compartment's cover features gas struts. Furthermore, there is also a soft close functionality that prevents wear to the drawers and your tools from flying around when slamming drawers (if you are a professional mechanic, you know that you'll end up slamming those drawers at some point).
Milwaukee's tool chest is constructed from 20-gauge steel with an angle iron frame to further impart strength and durability. The main body is supported by four casters, two of which can swivel and lock in place. Worth mentioning, it's quite heavy, though. The tool chest itself weighs around 386 lbs dry, but the sturdy construction also allows for a rated capacity of 1,800 lbs.
The Milwaukee tool chest ranks high on usability thanks to unique features like a dedicated drawer for laptops or scanners, which you can plug using the on-board power strip. The power strip also has enough outlets to charge several power tool batteries at once. The laptop drawer is also super useful to fill those inspection forms.
This tool chest is a standard in the industry and should be what you are looking for if you are a professional auto mechanic or serious about wrenching on weekends.
Pros
20-gauge heavy-duty steel construction
3-barrel locking system
Soft close drawers
Plenty storage capacity
High maximum weight rating
One of the best tool chests under $1000
16 drawers allow dedicated sections for each tool type
Three rugged handles for easy maneuverability
3-year manufacturer's warranty
Cons
That's the chest tool I own at work and I just love it. Really nothing bad to say about it.
See Also: 9 Best Garage Cabinets for All Your Tools and Equipment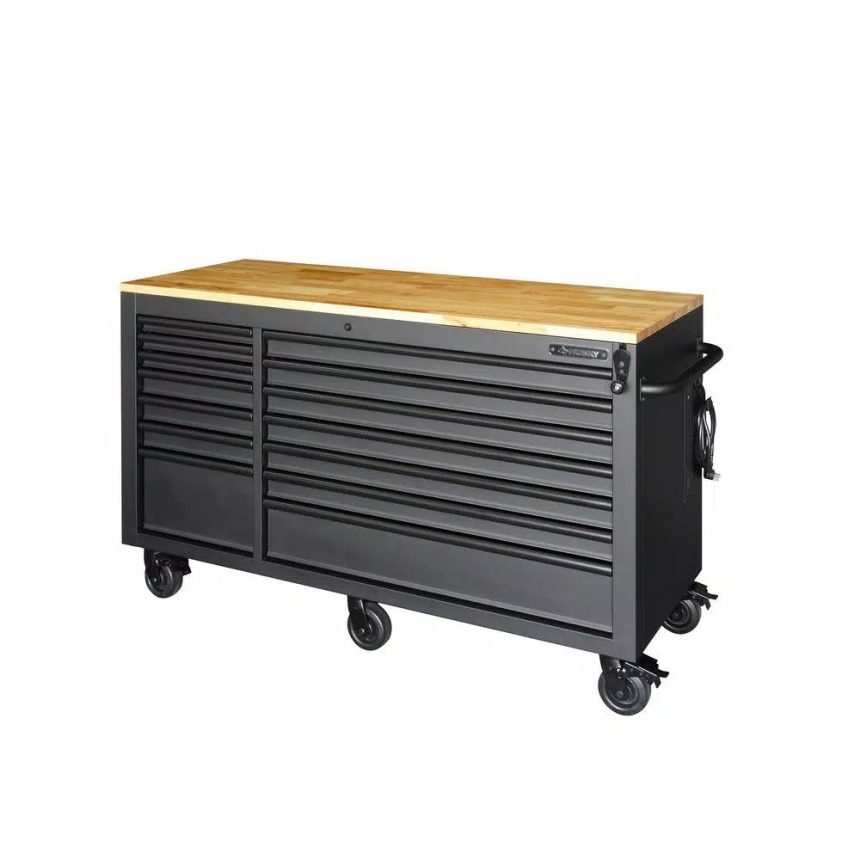 Husky's deep tool chest allows you to have a good working space and sufficient tool storage. The work surface is just huge!
Interestingly, it is equipped with a solid wood top that can be adjusted to anywhere between 38 and 48 inches. Mechanics already how annoying it is to always fill inspection forms on their 38″-high workbench. Thanks to the adjustable worksurface, mechanics can choose their preferred working height. Besides, it's also perfect to put your computer screen (for those of you working at dealers with dedicated workstations) or radio. And thanks to the 1.2-inch thick wood plank and polyurethane coating, mechanics can perform several jobs on the surface without worrying about leaving stains behind.
Husky's 62-inch wide tool chest features an impressive 14 drawers that use ball bearing slides with soft-close functionality rated for up to 120 lbs—one of the highest capacities on this list. Two of the bottom-most drawers are bigger in size in order to store larger power tools.
This rolling tool chest is constructed from highly durable and strong 19-gauge steel. The sturdy body is supported by six 5-inch X 2-inch casters (two swiveling, four locking), good enough to carry up to 2,500 lbs in tools without breaking a sweat.
Additional features like a 6-outlet power strip with 2 USB ports, a rugged push bar and steel handle, high-quality drawer liners, and a barrel locking mechanism make this model one of the best value tool chests available to buy.
Pros
Adjustable wood top
High capacity ball bearing sliders
31,721 cubic inches storage capacity
14 drawers with 24-inch depth
Built-in power strip
Locking mechanism
Strong and durable steel construction
Higher storage capacity than most
Comes with drawer liners
5-year limited warranty
Cons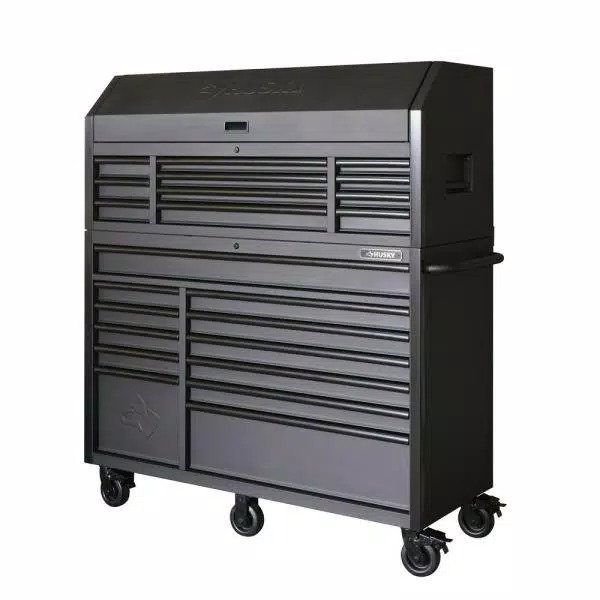 This one starts to be a tool chest you can be proud to show off. The HOTC5623BB2S model by Husky is a fantastic option for those requiring a rugged, truly heavy-duty, and long-lasting mechanics tool chest, thanks to its 18-gauge steel construction.
As a result, this 56-inch tool chest weighs a whopping 623.9 lbs, but smooth and uninterrupted mobility is ensured by six casters with locking and swiveling functionality. And thanks to the super sturdy build, this tool chest is rated to carry up to 3,000 lbs—yes, you heard that right!
Moreover, it comes with 23 drawers and a top compartment resulting in a staggering tool storage capacity of 42,930 cubic inches. Each drawer comes with pre-cut liners and uses standard slides with soft close functionality rated to support up to 120 lbs.
The HOTC5623BB2S model features an integrated power strip with eight outlets and two USB ports; a useful feature to charge your power tools while not in use. It also has a 360-lumen magnetic LED light that can be recharged using the on-board USB port.
Worth mentioning, before buying this tool chest, make sure you have enough space for it in your garage. Honestly, it's really big. It measures 56 inches wide, 58.22 inches high (excluding the caster), and 22 inches deep; this heavy-duty tool chest is not compact by any means.
However, if you think you'll need a chest that can old 3,000 pounds of tools, this is the one for you!
Pros
High quality 18-gauge steel construction
Included drawer liners
In-built power strip
Magnetic LED light for working in under-lit environments
Safe and secure thanks to locking mechanism
High storage and weight capacity
5-year limited warranty
Cons
More suitable for professionals
On the expensive side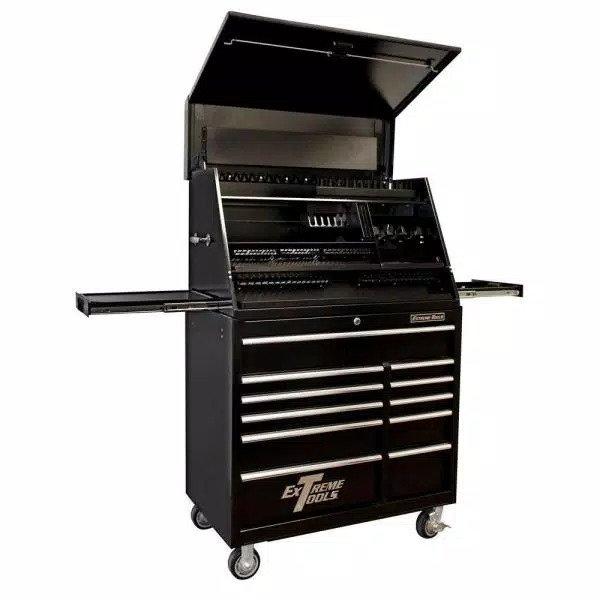 If you are the type of mechanic that never settles for anything but the best, you'll like this one. The Extreme Tools chest is one of the most sophisticated and advanced tool chests available to buy.
The drawers are lined with a special EVA foam liner that prevents damage caused due to tools sliding around. Each drawer is capable of carrying 100 lbs thanks to ball-bearing sliders that also allow smooth and easy operation. Furthermore, there are two pull-out drawers on the tool chest's either side where mechanics can keep things such as laptops, tools, and the morning's coffee.
It has 11 drawers and an additional top compartment resulting in a total tool storage capacity of 36,583 cubic inches. The body has been constructed from ultra heavy-duty 14 gauge steel for maximum strength and durability.
Most tool chests do not come with vital accessories to securely hold screwdrivers, sockets, etc., but this model's top compartment comes with several such holders. Notably, it has dedicated slots for 156 deep and shallow socket pegs, 29 drill bit holders, 23 wrench holders, 13 specialty tool slots, 6 plier racks, and 49 screwdriver slots. In simpler terms, you can pretty much store everything that's in a basic 2-piece tool chest just in the top compartment.
Even though this tool chest may cost more compared to other units, it is a complete solution to all your tool storage needs. And for having tested it at work, it's just incredible. I personally really appreciated the fact that almost all your hand tools, including ratchets, sockets, pliers, screwdriver, etc, can all be store in the top compartment, making them easier to grab than ever. I could basically work half a day without pulling a single drawer.
Truly a game-changer.
Pros
EVA lining on all drawers
Special side-opening pull-out drawers
Extremely strong and sturdy 14-gauge steel construction
1,200-lb maximum weight capacity
Scratch-resistant and attractive black finish
Accessories included for small tool storage
Ball-bearing slides for all drawers
Incredible top compartment
5-year limited warranty
Cons
Obviously, costs more than most tool chests but it will be the last one you'll ever need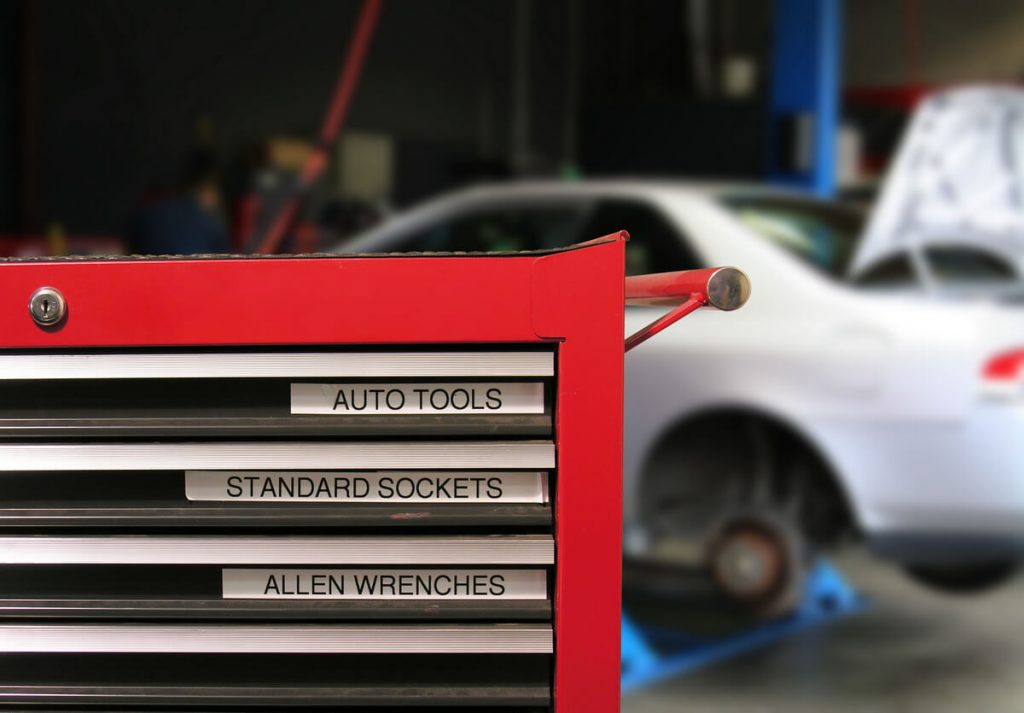 What To Consider When Buying A Tool Chest
Construction quality and material
Let's be honest, tool chests are not cheap, and if you are spending your hard-earned money on one, you want it to last a long time. For that purpose, you should buy a high-quality tool chest that has been constructed with strong materials. Most tool chests are made from steel with welded seams; the important thing is to check the steel's thickness.
In the United States, standard practice is to represent sheet metal thickness in the form of gauge terminology. Metal thickness is inversely proportional to the gauge number. For example, 14 gauge is thicker than 24 gauge steel. So, the lower the gauge number, the better. For example, the Husky H46MWC9XD is constructed with 21 gauge steel, while the Extreme Tools PWSRC4129TXBK uses 14 gauge instead.
On the other hand, the thicker the steel, the heavier it is. If you intend to move your chest around a lot, you might be better with a lighter tool chest.
Portability
This factor is important for mobile mechanics as they need a portable tool chest. For that purpose, the tool chest needs to be as light as possible; this can be achieved using higher gauge steel. Mobile mechanics may have to compromise on other important parameters such as strength and storage capacity to achieve the required portability.
If you work in a repair shop and have a dedicated working bay, portability may not be as vital for you.
Additional features
To get the most bang for your buck, make sure to buy a tool chest having certain features that enhance its usability. Simple things such as locking wheels can have a huge impact.
Tool chests in the premium range have features such as an onboard power strip that you can use to power flashlights, charge power tool batteries, or even charge your phone. A drawer locking system is another example of a desirable feature. Some also have special drawers to support a laptop or allow you to write down notes without having to bend them in half.
Others like the Husky HOLC6214BB1MYS have an adjustable work surface, an interesting feature if you have a computer screen at your workstation (I have to admit, that's the first time I have seen a tool chest with such a feature—and now I wish mine had one).
Storage space
The main reason mechanics buy a tool chest is for its storage space. Therefore, it is important for the buyer to evaluate his/her needs first and then look for a tool chest with enough storage space. Mechanics should be careful and also plan for the future here; a tool chest is not something you'll replace in a year or two. Always look for a tool chest with more storage capacity than you currently need—no need to deny it, it's not like you'd stop buying tools any time soon, right?
Tool chest size
Tool chests come in many different shapes and sizes, and you'll need to determine the amount of space you have first. Even though tool chests are intended to be moved around on the garage floor as per requirement, they should fit in their spots when not in use. Therefore, measure your available space and then pick a tool chest accordingly. Moreover, don't forget to consider the extra width due to protruding handles.
Versatility
Versatility in a tool chest refers to the different types of tools it can store. A tool chest can be versatile if it has drawers of different sizes, spaces for smaller components such as sockets or screwdrivers, and other features such as a power strip. For example, you can use chests with a wooden workbench to perform several operations that a combination tool chest simply could not.
What are Some of the Best Tool Chest Brands?
In addition to buying a good tool chest, buyers also need to make sure that the tool chest is from a reputed brand; this not only assures quality but also tells a lot about how the after-sale service experience is going to be.
Pick a tool chest from a brand that has a proven and tested track record of solving customer grievances quickly. Moreover, in case components like slides or casters fail on your tool chest, replacement parts should be easily and cheaply available. Just try buying one of those cheap Chinese models and ordering replacement slides and you'll see what I mean.
The choice of a brand also affects the duration and type of warranty. For instance, Husky offers a standard 5-year limited warranty while other brands may offer less. For peace of mind, it is advisable to get the maximum possible warranty duration and coverage.
As you would expect, there are a plethora of brands manufacturing and selling tool chests, but we have picked some of the top ones below.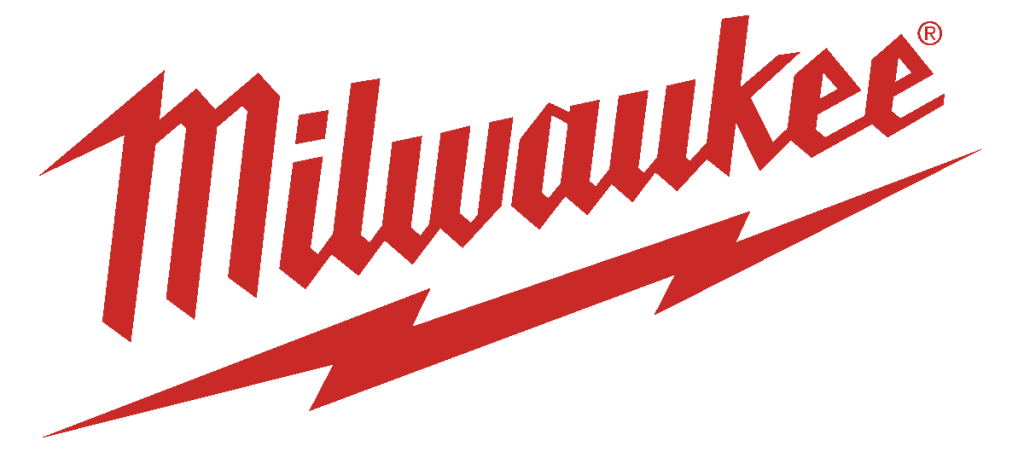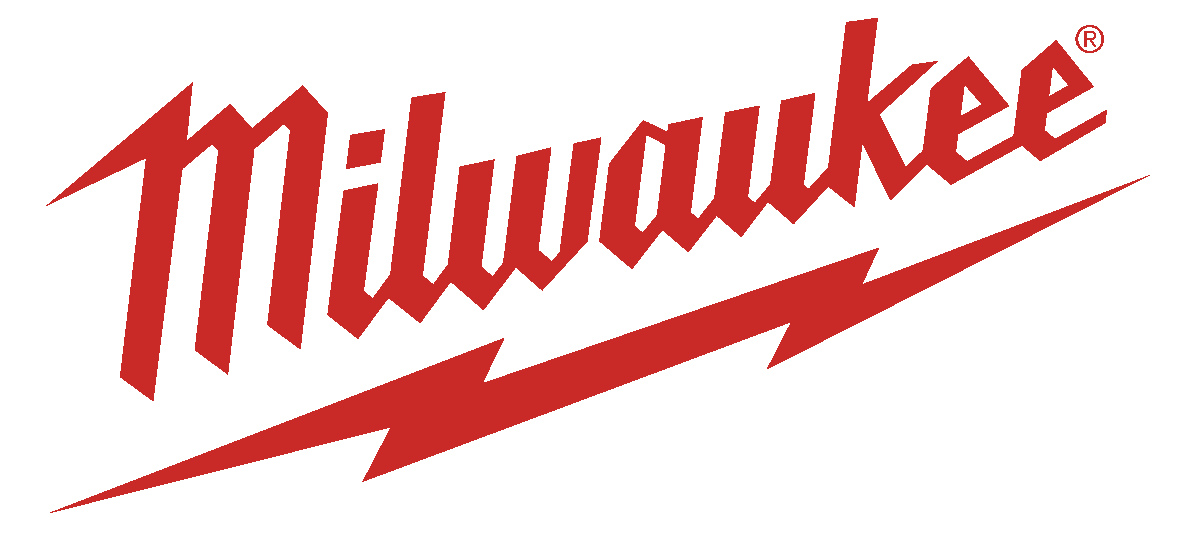 Milwaukee
Founded in 1924, Milwaukee Electric Tool Corporation is a brand that is very well known among mechanics for its high-quality power and hand tools. What's not so well known is the fact that its tool chests are also top-notch.
For example, Milwaukee's 48-22-8510-8520 tool chest mentioned above is an exceptional tool chest for medium use. It is hands-down one of the best tool chests under $1,000 you can find.
Milwaukee also has a wide variety of products for almost every imaginable situation. If you fancy it, you could literally outfit your entire garage from scratch only using Milwaukee tools. I personally think Milwaukee is the next best bet if, like me, you really don't care about Snap-On's incredibly high prices and shitty customer service. Yes, Snap-On will come to your shop and replace your tools but it will also leave with them and only bring them back in two weeks. What am I supposed to do with no 3/8″ ratchets until then?
Anyway, I digress…


Husky
Although the Husky brand offers good quality products are relatively affordable prices, it is predominantly known by mechanics as a budget option in most categories. Having said that, the brand's tool chests are almost as good as other premium brands for a relatively lower price range.
However, since the 1990s, the Husky brand has been exclusive to Home Depot; meaning, you can only find its products in Home Depot stores or its website. Still, if you run on a tight budget, look for Husky tool chests—you won't be deceived!

GearWrench
Another brand that is famous for its affordable products is GearWrench. Just like Milwaukee, this brand also offers a wide range of products such as hand tools, power tools, cutting tools, tool storage solutions, etc, and is also on the more affordable side. Of course, its tool chest rarely have all the bells and whistles that Milwaukee ones have but not everyone needs a tool chest with tons of features.
I personally started with a GearWrench tool chest and it's now retired, sitting in my home garage. And I still love it as much as the first day.
FAQs
How do I know which tool chest to buy?
You should only make the final decision after considering important parameters such as storage space, cost, type of use, and of course, your budget. However, even though every mechanic is different and has different needs, there are some things worth mentioning.
As a general rule, you should look for durable tool chests having somewhere between 18-19 gauge steel construction—higher can be a bit flimsy and lower is pushing it. Moreover, maximum rated weight capacity is also important as it ultimately governs the type of tools one can store.
Is buying a tool chest worth the cost?
Yes, absolutely!
As the famous saying goes—a mechanic is only as good as his tools. And to keep them safe, secure, and easy to find, a good tool chest is the way to go.
Yes, a good tool chest may cost a small fortune, but in most cases, it's absolutely worth the investment. There are numerous advantages in using a tool chest over plastic cases and pouches. Firstly, you can have all your tools in just one unit, which saves time and effort. Moreover, the chances of losing tools or a 10 mm socket are also greatly reduced.
Do I need to purchase anything else with the tool chest?
Yes, but only in some cases.
You may need to additionally purchase a handful of things if your tool chest does not come with it. It is advisable to line the surface of each drawer with soft foam to prevent the tools from sliding around and damage the surface. However, most tool chest brands provide such foam, so just make sure before you buy.
A few other things, such as holding devices for small components like sockets and screwdrivers as well as drawer organizers may need to be purchased separately.
Last Words
We hope that this review piece will help you choose a tool chest that fits your needs. As is the case with most tools and equipment, there is no right or wrong answer. Rather, you should pick a product after carefully evaluating your needs and budget and considering the factors mentioned above.
However, if we had to pick the best heavy-duty tool chest for professional and rugged use, it would be the HOTC5623BB2S model by Husky. On the other hand, the 83151 tool chest by Gearwrench is a budget-friendly option more suited for mobile mechanics and beginners alike. Professionals who don't mind spending a few more bucks for one of the best tool chest money can buy should look no further than Extreme Tools' model.