Have you been looking for a new aluminum floor jack to help you out in your garage or auto body shop? Well, these are some of the most durable jacks, and therefore of the best options for your garage.
However, there are many options available, which could make it challenging to make a final decision. To help you out, we have reviewed some of the top choices. That way, you can see the good and bad of all of these options. Moreover, this article will help you look at several options and give you top aluminum floor jack choices to pick from.
A Quick Comparison of the Top Aluminum Floor Jacks
Image
Product
Features
Price
Pro-Lift F-767 Grey Low-Profile Floor Jack

Low-profile option
Budget-friendly price
Large lifting range

Check Price
Blackhawk B6350 Black/Red Fast Lift Service Jack

Fast-lift option
Comes with an internal valve and vent plug
Ideal for heavy-use

Check Price
BIG RED T83006 Torin Hydraulic Floor Jack

Single-piston, quick-lift jack
Long neck for saddle
3-ton weight capacity

Check Price
Liftmaster 2.5 Ton Low Profile Jack Ver. 2

Larger lifting range
Low-profile option
Affordable price

Check Price
NOS NSJ0302 3-Ton Aluminum Service Jack Pro Style

Made from lightweight aluminum
3-ton weight capacity
Lift range between 3.75 and 19 inches

Check Price
K Tool International 3.33 Ton Low Profile Service Jack KTI63133A

Lightweight aluminum construction
3.33-ton weight capacity
Valve for protection from over-extension

Check Price
7 Best Aluminum Floor Jacks Review
The Pro-Lift F-767 is an aluminum floor jack with an extra-low profile that allows you to get it underneath lower cars without any trouble. The model is ideal for use on the lowest vehicles that could get scratched by taller floor jacks.
This jack comes with a lifting range from 3.5 inches up to 14 inches. Therefore, you can use it for lower and higher lifting. Also, the patented bypass device will protect you and the jack from pumping too much. There is also an included safety valve that will give you overload protection.
Meanwhile, the tough aluminum construction gives you great durability and offers the longevity you need for a business or just working at home. Even if you don't need the longest-lasting option, it is always that you can pass down to the young men in your family.
The Pro-Lift F-767 comes with gray color and a clear protective coating, helping it last longer without getting chipped or worn down.
PROS
Budget-friendly price
Low-profile option
Large lifting range
Includes bypass device
Durable materials
Overload protection
CONS
Requires assembly
Heavier than others
---
The Blackhawk B6350 is a fast-lift aluminum jack option with a 3 ½ ton weight capacity. This is great because it allows you to work with larger and heavier vehicles. It also has an internal valve and safety vent plug to keep you safe during use.
This model has a swivel saddle allowing you to position and re-position the jack as needed. The feature is especially helpful when you have multiple cars to work on, and you need to place the jack for each vehicle. There is also a universal joint that helps with precise control of the load. Using this would be helpful when the load is not 100% balanced.
This model is designed strictly for lifting and is not intended to bear the weight of the load. So, when using it, you will need to put jack stands to support the weight of the car. Nonetheless, this is a premium product that will last for a long time and will allow for plenty of heavy use when in your garage or body shop.
PROS
Fast-lift option
Comes with an internal valve and vent plug
Includes swivel saddle
Universal joint for better control
Ideal for heavy-use
CONS
Not designed for holding the weight
Higher-end of the price range
Read our in-depth review of the Blackhawk B6350 Fast Lift Service Jack here!
---
The Big Red floor jack is a hydraulic trolley floor jack made of heavy steel and aluminum that makes it a long-lasting choice. It has a weight capacity of up to 3 tons and can be used for lifting small to large-sized cars. This model is ideal for an auto body shop since it will be used for many different vehicle types.
Moreover, the jack has two large steel casters and two 360-degree casters that make it easy to move around as you need it. Therefore, it is ideal for larger garages and auto body shops. Meanwhile, the saddle has a longer neck, which allows you to lift higher vehicles, and can even save you time.
The pump is a single-piston; the quick-lift option makes it easy to raise the tool to the height you need without a struggle. This is great when you are tired or don't feel your best, since you won't have to use as much effort. Furthermore, there is also has a safety bypass system that will prevent overloading.
There is also a handle that allows for easy carrying so you can move the jack quickly. The manufacturer provides a 1-year warranty on the model.
PROS
3-ton weight capacity
Two 360-degree casters
Long neck for saddle
Single-piston, quick-lift jack
Protection from over-loading
CONS
It doesn't come pre-filled
The release is separate from the pump
---
The Arcan aluminum floor jack is an option that comes with a weight capacity of up to 3 tons. This premium-grade tool is made from lightweight aircraft-grade aluminum that makes it easy to handle and move. Therefore, it is great for larger garages with ample workspace. Also, this tool has dual-pump pistons that quickly raise the saddle for loading within seconds.
Moreover, there is a reinforced arm for better strength and control of the chassis, allowing you to have more control over the tool's movements, so you don't have any accidents. Meanwhile, the rubber saddle has foam on the handle bumper for higher safety.
This floor jack's handle is made from two different pieces that fit together to form one long handle. The long handle is great during operation, and you can take the two components apart and store them separately for easy storage. There is also a side-mount handle that makes the jack more maneuverable.
PROS
3-ton weight capacity
Aircraft-grade aluminum
Dual-pump pistons
Reinforced lift arm
Tow-piece handle
Foam handle bumper
Rubber saddle
CONS
Pumping the handle can sometimes be difficult
Heavier than other aluminum floor jacks
Read our in-depth review of the Arcan ALJ3T 3-Ton Aluminum Floor Jack here!
---
The Liftmaster floor jack is a low-profile option with a lifting range that starts at 3.15 inches and goes up to 14.5 inches. The low-profile design makes it usable for vehicles closer to the ground. It also comes at an affordable price, suitable for those on a tight budget.
Meanwhile, the aluminum and steel construction ensure it is robust, even though it weighs less than fully-steel jacks. It also has safety valves that make it a safer alternative that won't overload. This is great for those who haven't had much experience using jacks and want added protection.
This floor jack's hydraulics are upgraded and have a longer lifespan than the previous models of this brand. Therefore, it is an excellent choice for someone who wants to have a long-lasting jack. Moreover, you won't need to spend money on another one. It also comes with a 3-year warranty that covers the hydraulics.
PROS
Low-profile option
Larger lifting range
Affordable price
Has safety valves
Upgraded hydraulics
3-year warranty
CONS
Size is small for an auto body shop
Lightweight, not for heavy-use in a shop
---
The NOS NSJ0302 service jack is a high weight capacity model capable of lifting up to 3 tons. It should work for most cars, though some trucks and SUVs may be too heavy. The lifting range is between 3.75 inches to around 19 inches. As a result, it will allow you to lift vehicles for all sorts of reasons, like to change a tire.
This jack is made entirely out of aluminum. Because of that, it weighs less and won't hurt your back. At only 58 pounds, I think it's ideal for those on the petite side, but still want to have a tough jack to work with. It also comes with a unique color scheme of orange and black, which will help you tell it apart.
The handle can be lengthened since it comes in two pieces. Just add the second piece when you want to have a longer handle. The design is also great for storage since you can take it apart and put away in a smaller space. This jack also comes with a bumper pad that keeps the saddle from hitting the handle. As a result, it is excellent for jobs where you might be working quickly and slam the jack a bit too hard.
PROS
3-ton weight capacity
Lift range between 3.75 and 19 inches
Made from lightweight aluminum
Two-piece handle for storage
Comes with a bumper pad
CONS
Wheels are not very durable
Bearings need to be lubricated before use
---
The K Tool service jack is another low-profile one. The lifting range for this tool is between 3 ¾ inches and 21 3/4 inches. It has a higher weight limit than most options with a 3.33-ton capacity, allowing it to lift larger vehicles like trucks and SUVs.
There is a built-in valve that protects the jack from the over-extending of the hydraulic ram. This is great because it can stop the unit from being overused and getting damaged. Moreover, the tool can elevate heavier objects, though it is made from lightweight aluminum with steel accents.
The aluminum build allows this jack to be lightweight – it weighs only 97 pounds. Because of that, it is terrific for those that want a lighter second jack, which is also easily maneuverable. With this jack, you will be able to take care of most cars in an auto body shop or even for home use.
The price for this jack is in the middle range, which is ideal for those with tight budget that still want a durable tool.
PROS
3.33-ton weight capacity
Low-profile option
Valve for protection from over-extension
Lightweight aluminum construction
Affordable for most customers
CONS
Steel accents do make it a bit heavier
Jack does tend to leak
---
Read more: Best 3 Ton Floor Jacks – Reviews and Buying Guide
Aluminum vs. Steel Floor Jack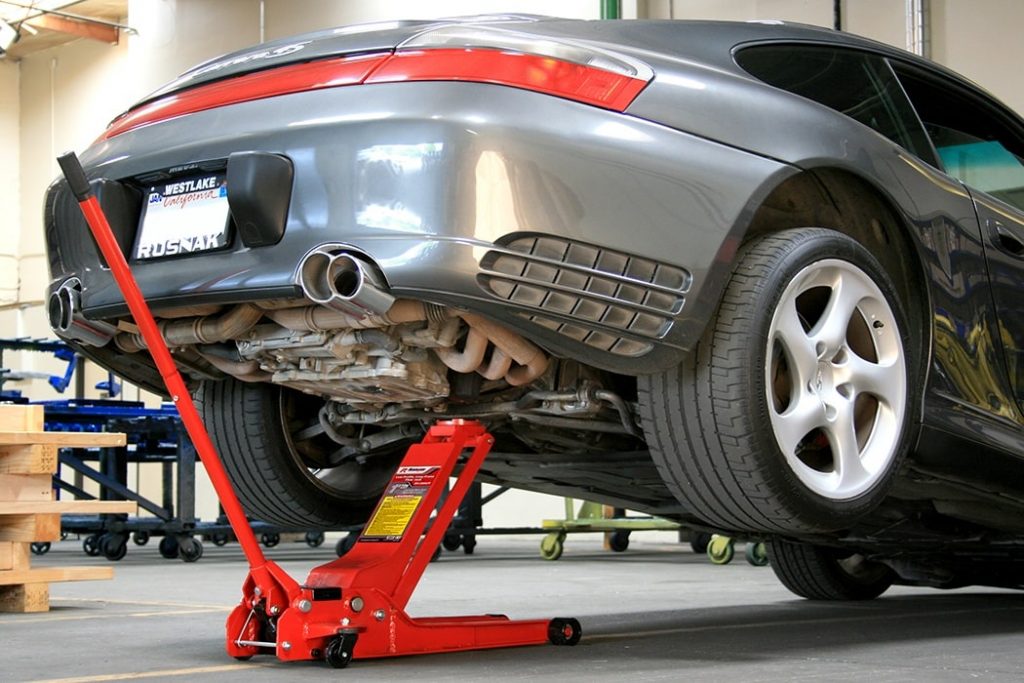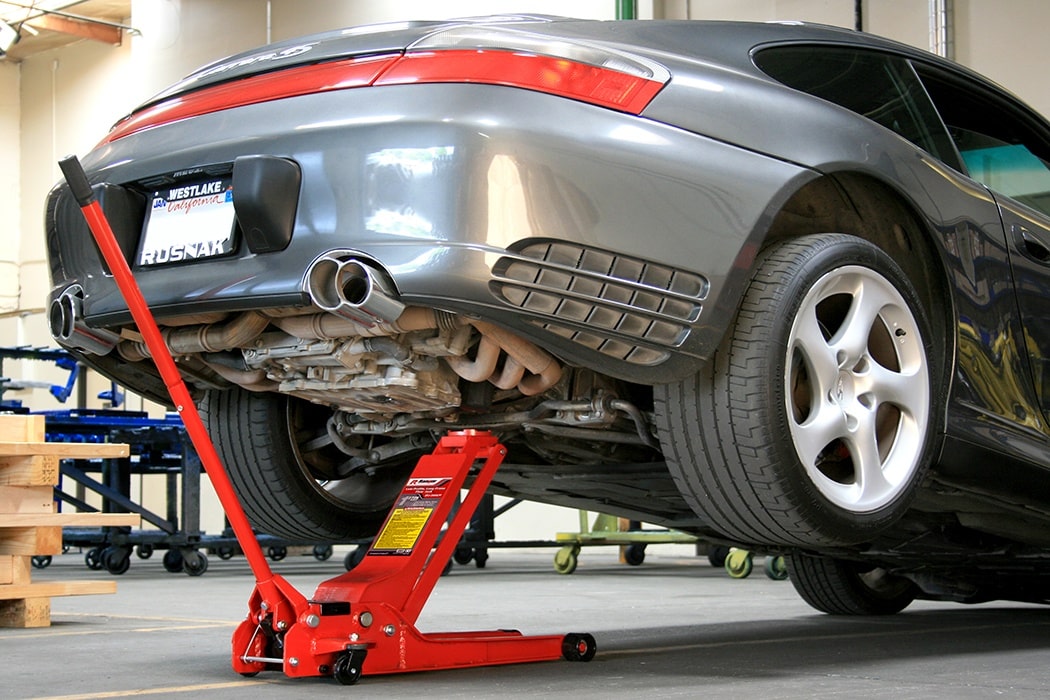 Photo: bendpak.com
When shopping for a floor jack, you will see several different materials used to make these tools. Aluminum and steel are two of the top options, but they each come with some advantages and disadvantages. First, steel jacks weigh much more than the aluminum ones. This is because steel is heavier. After all, it is much denser than aluminum.
Steel jacks will also get rusted over time, which will leave them with a reddish-orange appearance. Since aluminum doesn't rust, it won't have the same appearance as steel. Instead, there is often a slight dullness to the metal due to corrosion, though there are solutions that make it possible to clean that off.
Another difference is that aluminum is not as dense, which means that it is softer. Now, when thinking of metal, it is tough to think of it as soft. However, steel is much denser and harder to cut through than aluminum. Though not everyone makes adjustments to their tools, for those who do, aluminum is more pliable and soft so you can cut or drill through it more easily.
---
Buying Guide – Best Aluminum Floor Jack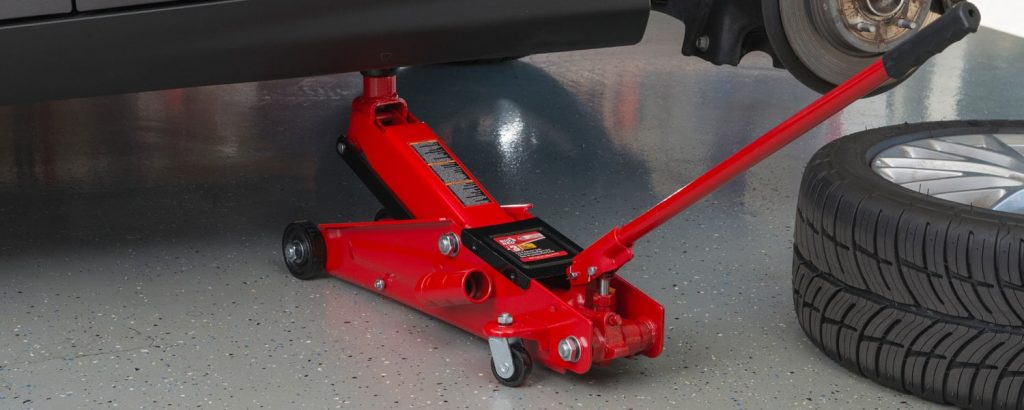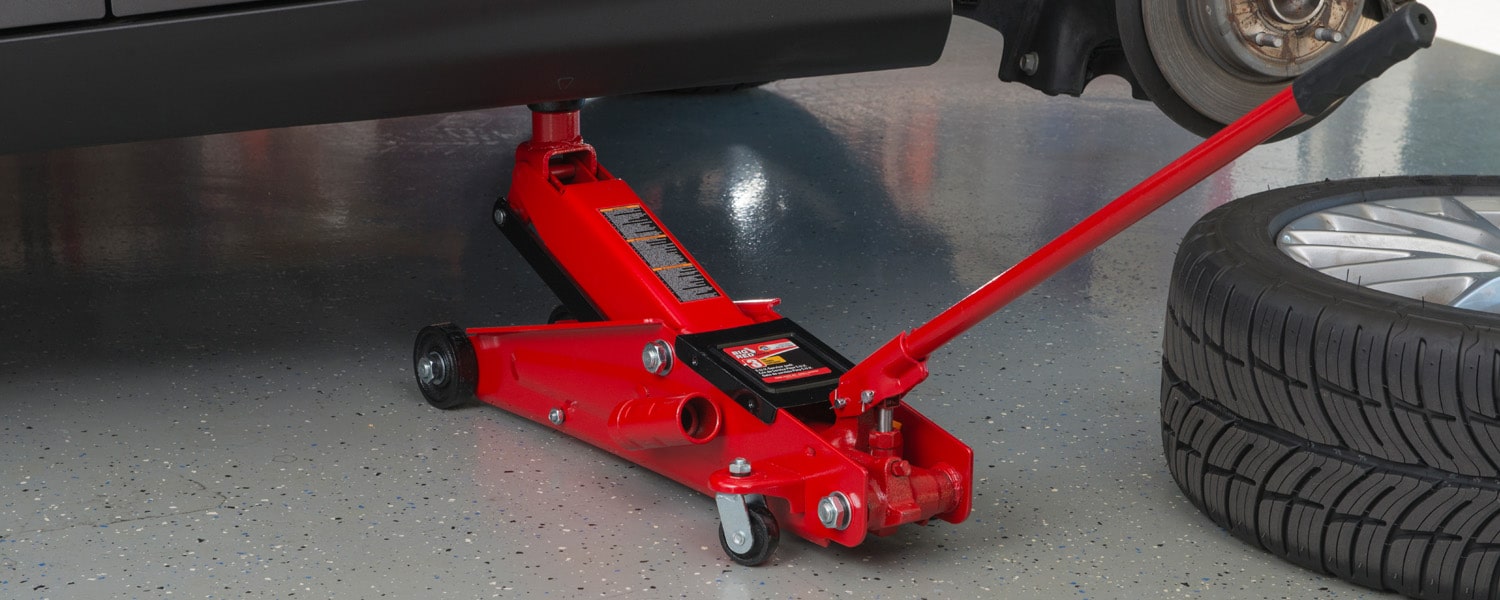 When you search for a new jack, you want to look at all of your options. There are a few main categories to cover when going shopping. So, to figure out what model works best, I recommend using these guidelines.
Weight of the Jack
One of the most significant differences between an aluminum jack and other materials is that it is much lighter. Steel is much denser, making the metal more solid and heavy, but aluminum is not as dense and remains lighter.
Rust Resistance
Aluminum is metal is that doesn't rust the way the others do. Although it does corrode, it does not rust, making it a durable option for many metal tools. However, you might want to wash it with chemical sprays to keep it bright and shiny, since the corrosion will dull its shine.
Weight Capacity in Tons
Whether you are working on client's cars or your own, you want to look for an aluminum floor jack that can handle the weight of the vehicles you will service. If you need an option higher in weight capacity, you will want to do with an average of two tons. Meanwhile, if you're going to work on larger vehicles, getting at least a three-tone jack will do better.
Conclusion
When getting the best aluminum floor jack, you want something that will last, whether you are doing projects in your car or have an auto body shop.
Using the buyer's guide above, and the reviews of our top choices for jacks, you will narrow down the alternatives to the best choices. As a result, your final decision will be much easier, since you won't needto shop around and look at dozens of different aluminum floor jacks.
Come back to this review anytime you want a refresher on what to look for and ensure you are always getting the highest quality possible.
---
Featured image: flickr