EDITOR'S PICK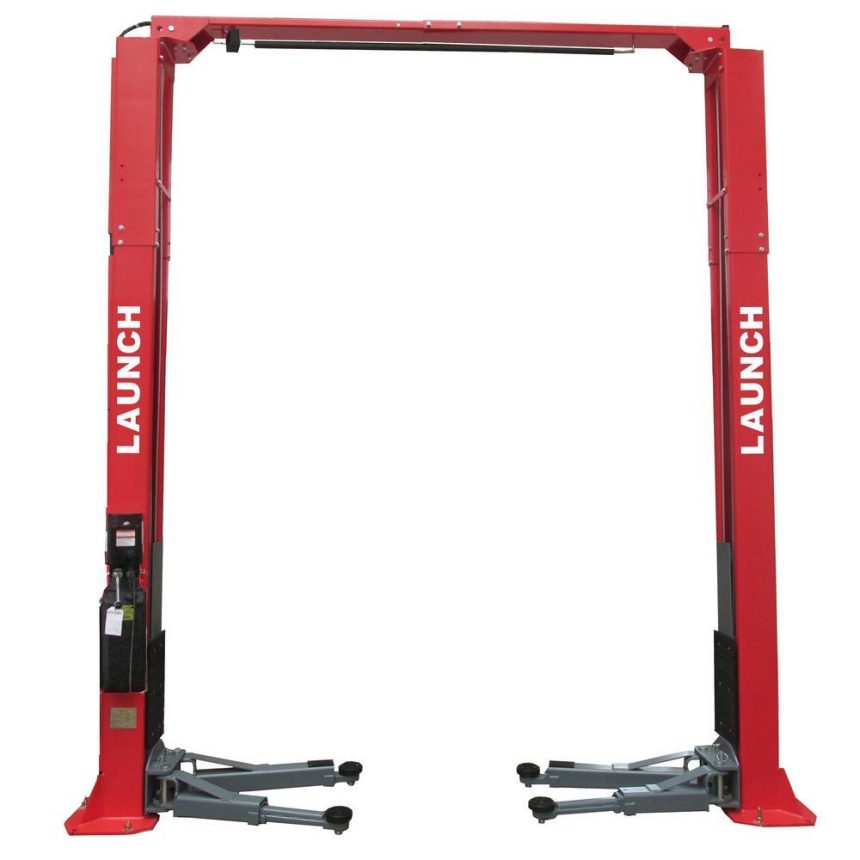 Launch TLT240SC – 9,000lbs
9,000lbs capacity
Clear floor structure
Rubber door guards
HD arm restraining
3 stage telescopic front arms
Stackable footpad extensions
Screw-type pads
PREMIUM PICK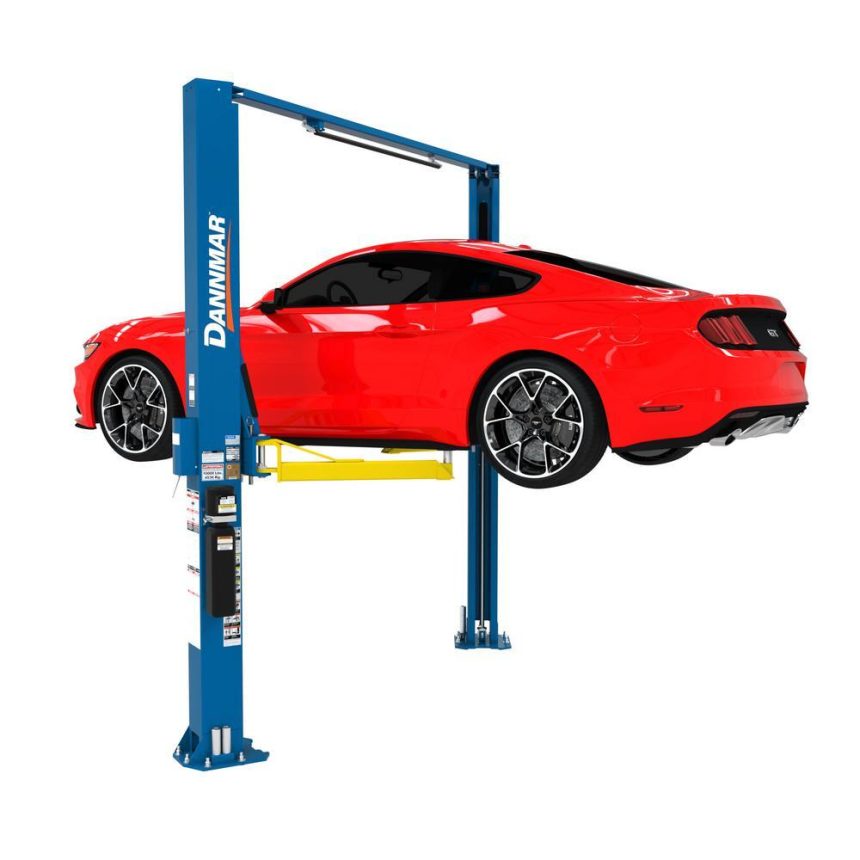 Dannmar D2-10A – 10000lbs
10,000lbs capacity
Drop-end arms
Single-point locking release
Two pairs of stackable adapter sets
3 stage triple-telescoping arms
Heavy-duty cables with large sheaves
Auto arm restraining
BUDGET PICK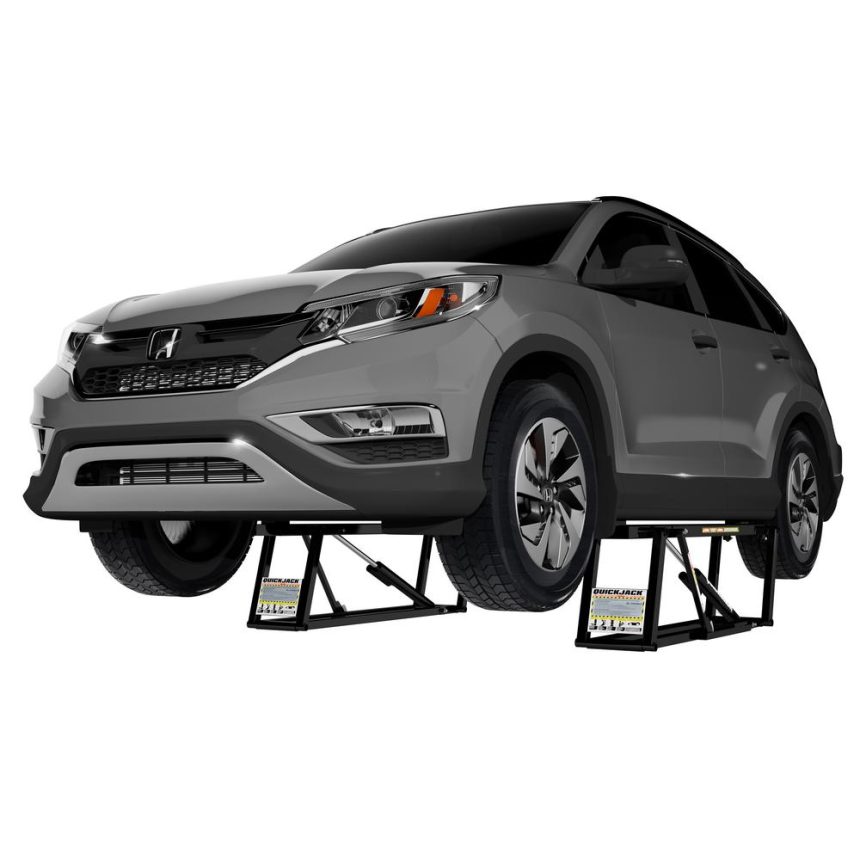 QuickJack BL-7000SLX – 7,000lbs
31-second lift time
7,000 lbs capacity
Dual-locking mechanisms
Smooth lowering
Portable
Equalizing flow divider
Comes with Lift blocks
Car lifts are a vital piece of machinery to have regardless if you're a gearhead working commercially or in your own home. However, there are many car lift models available today, with each offering different features.
Before getting one, you must understand that there are plenty of factors involved in choosing the right car lift. To make sure you get the most bang for your bucks, it is vital to evaluate your needs and budget as well as what's available on the market and how those features compare to each other.
We tried our best at including and reviewing different car lift models so no matter whether you are a beginner or a pro mechanic, have a huge garage, or one on the smaller side, there should be a car lift suitable for you below.
However, as every opinion is subjective, so is this list. Hence, if you think I've missed a model good enough to make the list, leave a comment below, and we'll do our best at reviewing it.
Garage Car Lift Reviews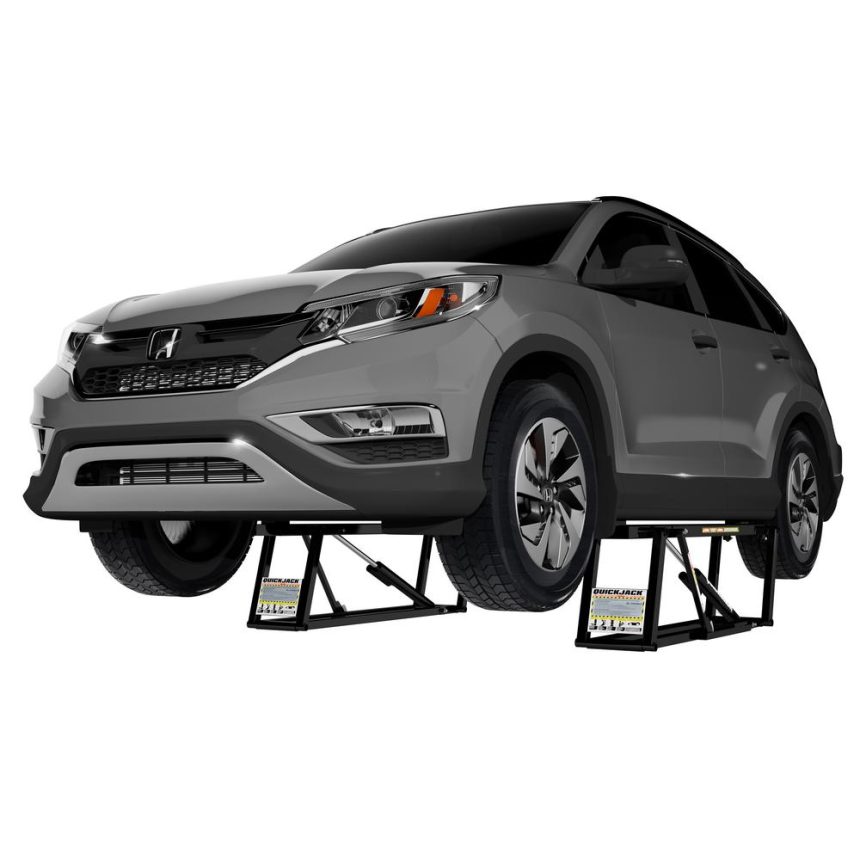 Starting with an entry-level portable half lift, the QuickJack BL-7000SLX is a perfect model for weekend DIYers who just need to do quick oil changes, replace tires, brake jobs, and other basic stuff. It has a clever open-center design instead of cross members, offering greater undercarriage access and overall versatility. The hydraulic flow divider ensures equalized lifting, and the low-profile jack frames roll under almost any car without a hassle.
Although cheap, it doesn't compromise durability, thanks to the versatile box-welded steel frame. The solid base is also reinforced using mobile lifting blocks.
Its dual-locking mechanisms engage after the full rise and are easily unlockable. Besides, the quick-connect fittings ensure a speedy setup and will also help keep your floor clear of any hydraulic fluid, even at maximum capacity.
However, these factors are all thrown out the window if you intend to tackle bigger tasks, like a transmission replacement, for instance. It can still be done, but you'll have to be a little more creative and may require a mechanic's creeper. Still, it's better than nothing when running on a small budget or limited space.
Highlighted Features
31-second lift time
7,000 lbs capacity
Dual-locking mechanisms
Smooth lowering
Equalizing flow divider
Comes with Lift blocks
Pros
No screw mechanisms
No air compressor required
Portable
Cons
Not recommended for heavy-duty tasks
Only 110-Volt AC power option
Floor inclination should be below 3°
See Also: Best Air Compressor For Your Home Garage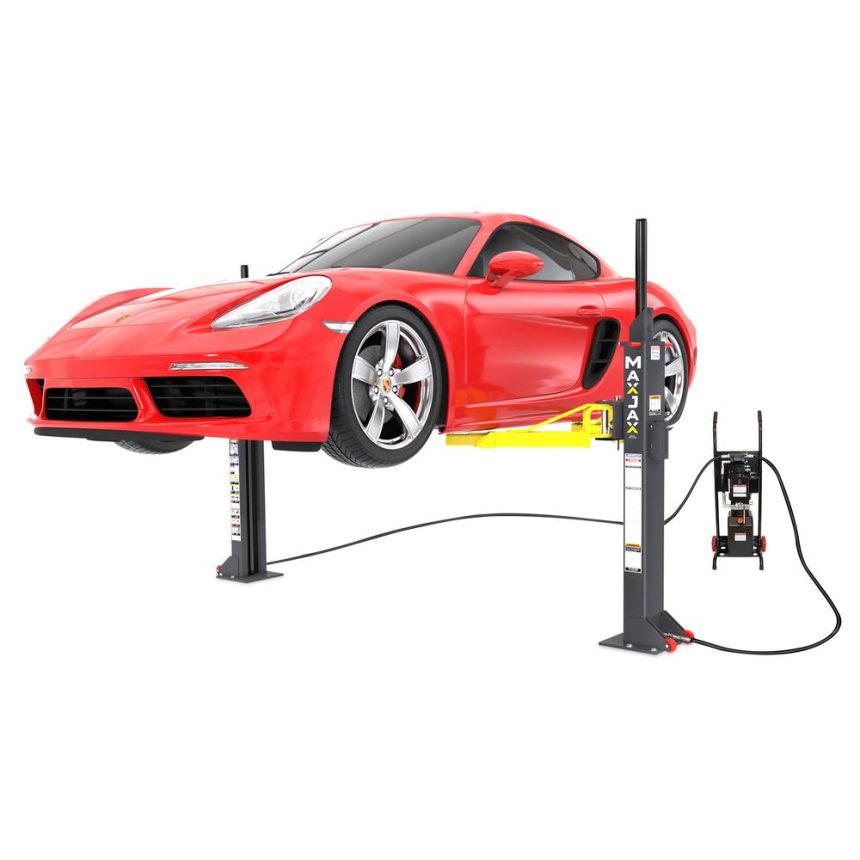 Dannmar's mid-rise car lift comes with a unique and portable 2-post design. While you still can't stand up under a car, the maximum height is a lot more convenient when doing tire changes and brake services; at least, the wheels are at the right height when standing up beside the vehicle. However, it's as good as it gets if you need your lift to be portable. Full-fledged, full-height models will need to be bolted down and hence can't be moved around.
You'll also get similar "quick-connect" connectors speeding up the assembly and lifting process while preventing fluid leakage. The steel piston with purpose-built seals further prevents leakage.
The MaxJax can also take care of unibody vehicles, hoisting them up with just the right arm positioning. Easy lift arm positioning is made possible with arm restraints that lock based on the lift's direction. Moreover, the MaxJax uses long-lasting UHMW load bearings, that don't require lubrication.
Now, while the MaxJax eases under-car access, you'll still need to use a creeper seat to work underneath the car. Plus, the maximum capacity is lower by a thousand pounds. Nonetheless, 6,000 lbs is usually more than enough to work on cars, SUVs, and pickup trucks.
If height or portability is a concern, the Dannmar MaxJax is probably your best bet.
Highlighted Features
30-second lift time
6000 lbs capacity
Superbly machined chrome-rod to lengthen cylinder life
Storage area for hydraulic hoses
Internally threaded anchors

110V or 208V to 230V power outlet options

6ft long industrial-grade power cord
Pros
Simple quick-disconnect hoses
No lubrication needed for bearings
Low and medium stackable adapter sets included
Extra durable columns manufactured using single-piece construction
Optional motorcycle adapter kit
No lifting chains
Cons
Creeper seat still needed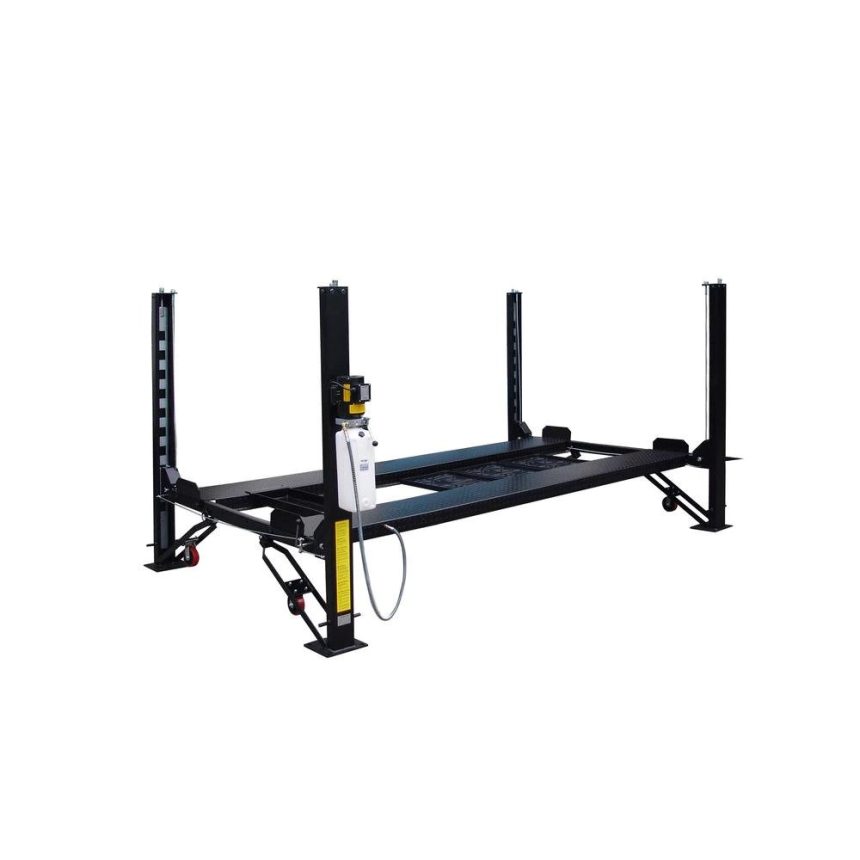 Now, this one's a little different; the Tuxedo FP8K-DX is actually a storage lift that'll allow you to have a multi-story car parking in your garage! Indeed, if you own two cars and struggle with space, the Tuxedo 4-Post Automotive Deluxe Storage Lift can store cars on top of each other.
But that's not all! You can also work on your vehicle's underside thanks to the open bottom design. For that, you will need to install a jack on the built-in jack plate.
While adding additional car storage space in your residential garage is a perk, the lift also offers a higher capacity of 8000 lbs. It also comes with two easy access ramps so you won't scratch the front bumper on your slammed JDM. And even better, the two pairs of casters make it portable as well. Of course, it's not as "portable" as the two previous lifts as this one can be moved but cannot really be packed in the back of your truck. So let's say it's "moveable" more than actually portable.
While the 4-post setup helps bring more stability, it also has its own set of drawbacks. For instance, since there's only one jack plate, you can only lift either the front- or the rear-end once at a time. While it may not be that big of a drawback for most jobs, it might be a bummer when changing tires and such.
However, it is a really good compromise between storage space and usability.
Highlighted Features
8,000lbs. capacity
4 posts
Adjustable locking positions
Slack cable safety
Includes drip trays, jack tray and poly caster kit
Pros
Perfect to store vehicles
Comes with steel approach ramps
Fits in most residential garages
Cons
Costly
Usable only with a 110-Volt outlet
Can't lift 4 tires at once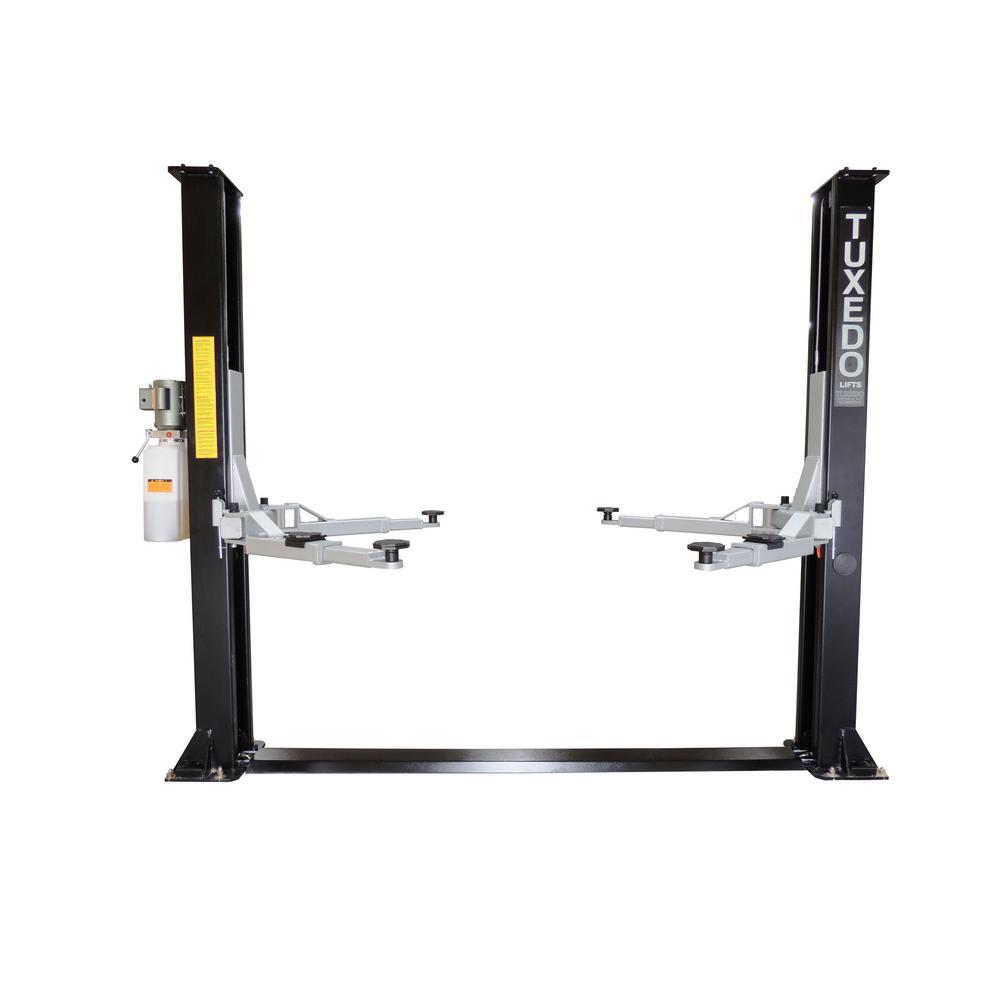 The second entry from Tuxedo is a budget-friendly open top/floor plate vehicle lift, meaning it has top plates instead of a top post. Hence, it can be bolted to the floor, and the top of the garage provided the ceiling's low.
One of the major selling points is the symmetrical system, which will keep your vehicle in the center so that its body is divided almost evenly across the post. The symmetrical configuration makes it a great fit for pickups and most SUVs, whose doors would otherwise open by hitting the post.
Moreover, the 1-piece column combined with chain drive cylinders makes it a good service lift for pickup trucks and most SUVs. It is also priced well, has auto-arm restraining, and a durable powder-coat finish as standard.
Therefore, It's a great choice for standard ceiling house garages but doesn't work for garages with a higher ceiling. Also, the symmetric part comes to bite back when you've got a sedan car, as the doors won't open as easily due to the post's position.
If you are shopping for a professional lift that will fit in a smaller garage, this is starting to look like it. However, the dual-locking mechanism might be a bit annoying if you wrench on cars 40 hours a week. On the other hand, if you only need a lift to do your occasional oil change, there's no need to pay more for a single-lock system.
Highlighted Features
9,000lbs. capacity
Automatic arm restraining
Chain drive cylinders
Dual point lock release
Pros
Comes with height adapters
Symmetric system works well for SUVs and pickups
Low-profile lift pads
Comes with saddle pad adaptors
Quite affordable for a professional model
Cons
Doesn't work with high ceilings
Not ideal for sedan/saloon usage
Chain drive cylinders
Dual point release system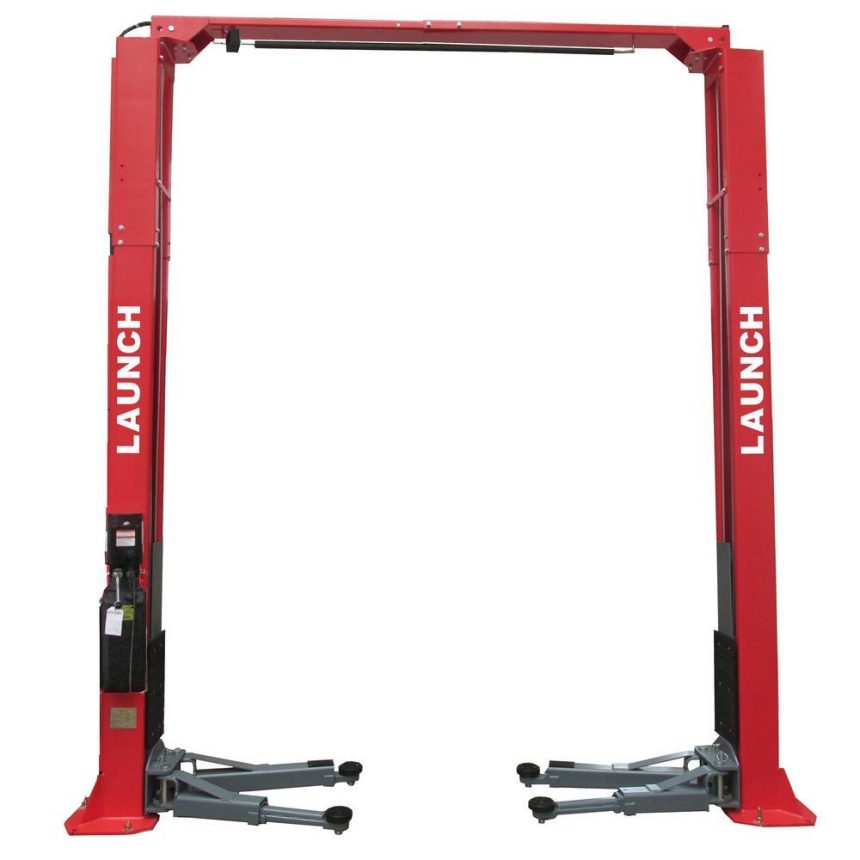 If you'd like to use the same equipment as the pros, then you'll go for the industry-standard—the Launch 9,000lb 2-Post Clear Floor lift. It is built well, economical, and the clear floor system makes it easier to maintain and you won't risk tripping in that floor plate (I personally hate those).
While the capacity is still 9000lbs, a big quirk is that this rust-resistant car lift can be used in a standard asymmetric (straight column) or rotated asymmetric (turned column) position. You can even call it bisymmetric!
It also comes with steel pulleys and rugged cables for equalization, accommodating from the smallest cars to the largest SUVs and light-duty trucks. Meanwhile, the double telescoping screw pads coupled with rubber pads adjusting up to 2.5 inches help cover the entire vehicle.
When it come to pad types, there's basically two school of thoughts. Some people prefer height extenders while others would rather have screw-type pads—I personally prefer the latter. However, if you work in a snowy area, dirt and water will gradually fill the threads and make the pads jam in the arms. In this case, just make sure to put tons of multipurpose grease inside the threads and you should be good to go.
Still, the dual-point lock release might feel cumbersome to engage/disengage.
Highlighted Features
9,000lbs capacity
Clear floor structure
Rubber door guards
HD arm restraining
Pros
Bisymmetric
3 stage telescopic front arms
Stackable footpad extensions
Screw-type pads
Cons
Needs a high ceiling
Dual point release system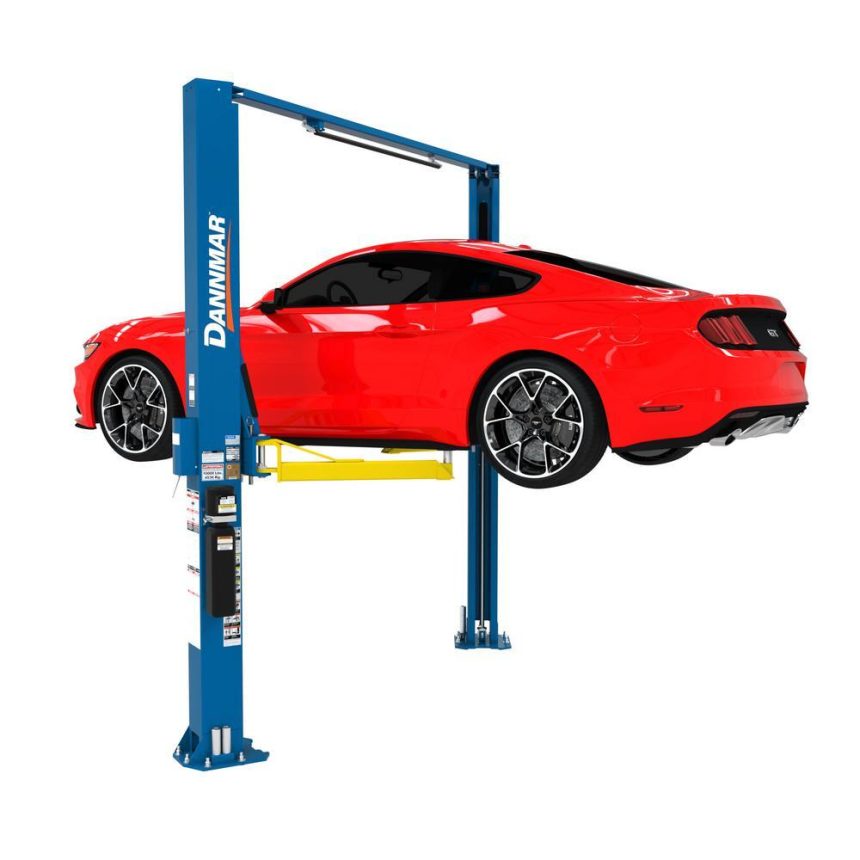 Dannmar's premium car lift is Maxjax's upscale cousin. It is an asymmetric unit with a tubular steel carriage. The hoses and cables run overhead, and the system is protected by an overhead shutoff safety bar. It screams heavy-duty with its rugged equalization cables and huge sheaves to help reduce wear.
The single-piece constructed D2-10A is rated at 10,000lbs maximum lifting capacity. It has rotated asymmetric columns and Tru-Metric arms to ease up the doors of sedans, vans, and even full-size trucks. Furthermore, the versatile drop-in contact pads come with 4 stackable adapter pins.
While potential buyers will frown upon its price, the Dannmar D2-10A should be the first choice for truck owners or anybody intending to do serious auto mechanic work due to its heavy-duty construction. It also has the best warranty here, at 3 years for the structure, and 1 year for the hydraulic cylinders, operating, and electrical components.
And it also comes with a single-point locking mechanism. So yes, it's pricier. However, if you want the same lift you would find in any repair shop in your own home, get this one; you won't regret it.
Highlighted Features
10,000lbs capacity
Drop-end arms
Single-point locking release
Two pairs of stackable adapter sets
3 stage triple-telescoping arms
Heavy-duty cables with large sheaves
Auto arm restraining
Pros
Higher weight capacity
Easy-to-maintain UHMW bearings
Single-point locking mechanism is a blessing
The best warranty on this list
If I had to buy another one, this is the lift I'd get!
Cons
On the expensive side
Nothing much else to say here. When it's good, it's good.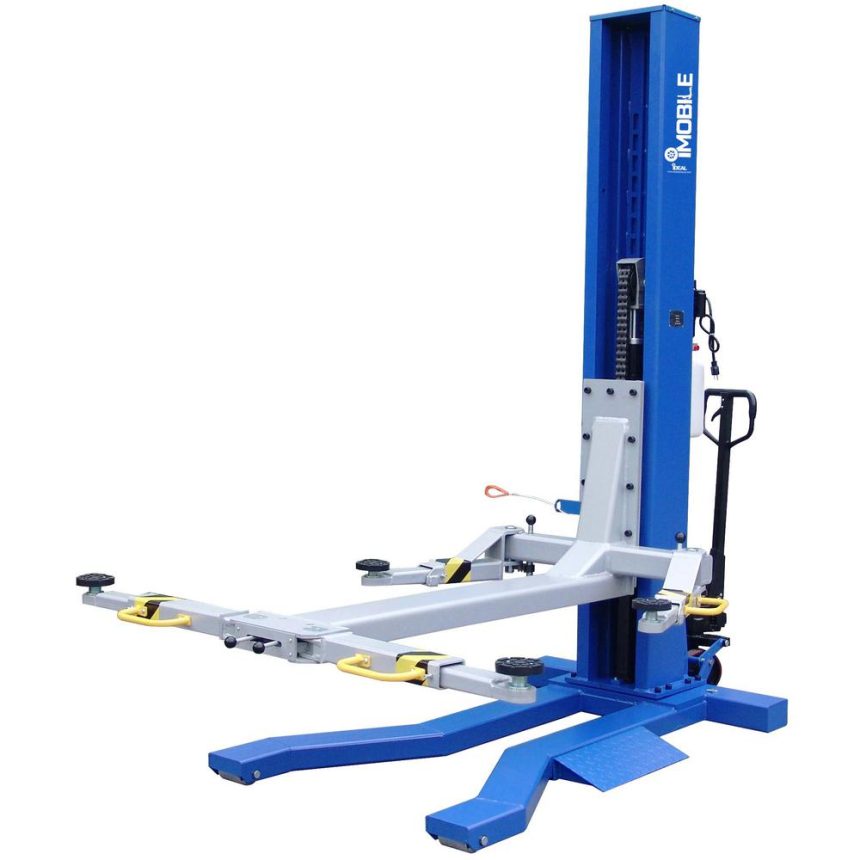 If you've got a highly cramped garage and somewhat deeper pockets, then this low-profile portable single-column automotive lift is the perfect fit. It has been specially designed for use in restricted-space settings.
The innovative single-column design and mobile pallet jack system will allow the lift to travel towards the car if the car can't move on its own. On the other hand, having only one column significantly brings down the weight capacity, now sitting at 6000lbs. However, 6,000lbs is still more than enough to lift most cars, SUVs, and pickups—and it's also more expensive than a comparable two-post model.
Eyebrows are also raised when it comes to safety and stability due to the single column. But in some cases, a full-fledged twin-post lift might simply not fit your garage. Everybody would want a really huge garage that could fit 4 cars wide and both a twin-post and 4-post lift side by side—but most rarely do. So if you are short on space and need a powerful lift that you can still store when not in use, this is the one!
Keep in mind that the pallet jack style platform could be a real hassle to remove and replace exhaust systems. In this case, you would have to raise the car, unscrew everything, bring the car down, remove the exhaust, place the new one and lift the car again to tighten all the bolts. On the other hand, if you mostly use your lift for periodic services and suspension/steering/brake jobs, it will do just fine.
Highlighted Features
6000lbs capacity
Low profile design
2-stage telescoping swing arms
Dual telescoping screw pads
Stackable footpad extensions
Pros
Portable
21 locking positions

Drive-over ramps

Durable powder coat finish
Cons
Lower maximum capacity
On the expensive side. But if you need your lift to move around, that's to be expected.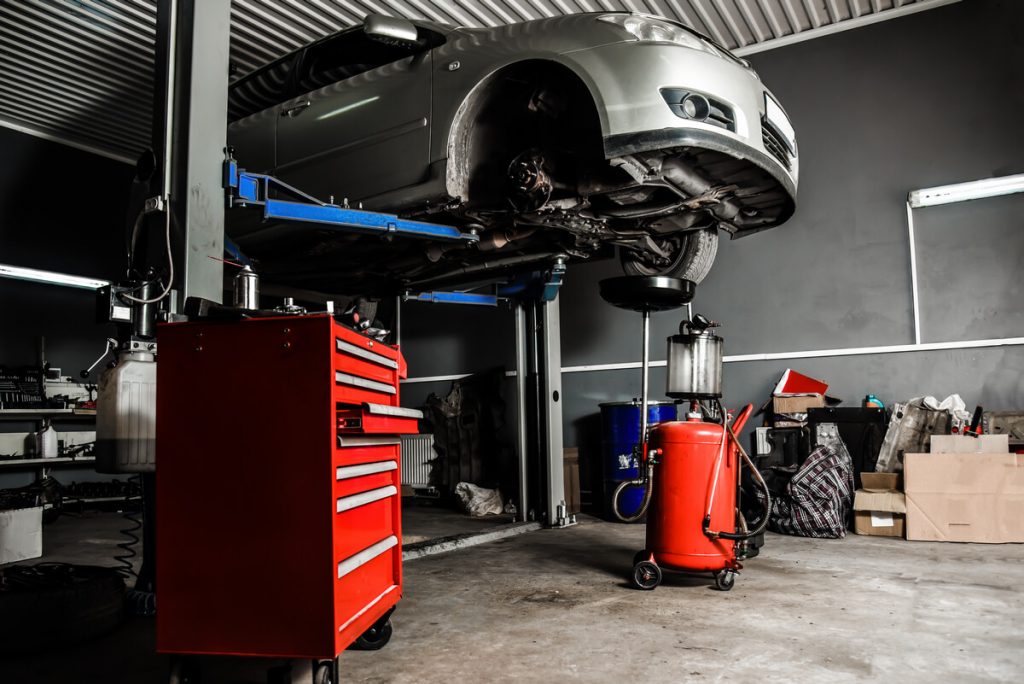 How to Choose the Right Car Lift for Your Garage
Before purchasing, it's key to know what kind of lift works for you. There's a number of lifts available in the market, and the following considerations should narrow down the options for you.
Purpose of Installation
The very first step is to determine if you need a lift for storing two cars due to limited garage space or a lift for working on your car. The basic automotive lift is aimed at lifting your car so that you can work under it, and it is present in all repair shops.
Storage lifts are primarily aimed at stacking one car above another to fully use the garage's internal height. They, too, allow you to work on your car, but you might struggle with some complications while doing so.
If you need to make full use of your garage's surface area, get yourself a four-post lift. However, the other lift types are better for auto mechanic work, especially when working on the wheels, suspension, and brakes.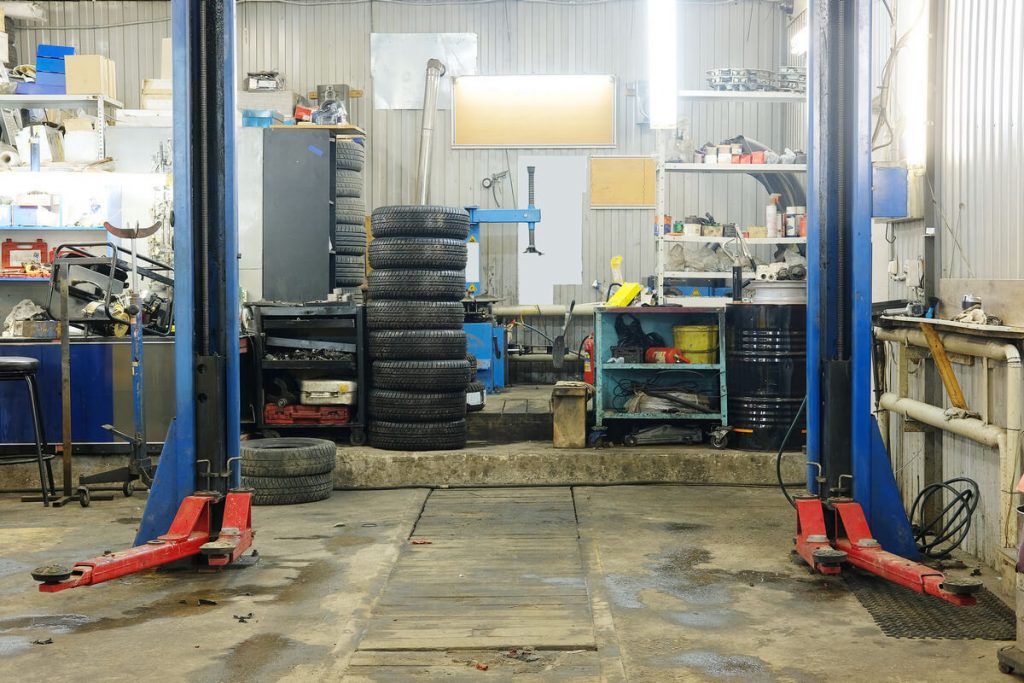 Your Garage's Dimensions
Always get a lift that fits and also leaves some space for you to walk around (if you're not planning on an expansion).
The garage's height is the second key point, and there are specific lift types that cater to low and high ceiling garages.
Another crucial factor is the thickness and inclination of the concrete floor in your garage. The minimum concrete thickness should be between 4 to 5 inches. Also, most lifts have a maximum inclination value that you shouldn't cross.
Type of Vehicle to Be Lifted
The vehicle's weight is a vital factor in your decision. Without sufficient weight capacity, the car lift won't be able to raise your vehicle. Secondary factors include the ground clearance and the size of the vehicle.
If you own a large pickup truck, make sure your lift is wide enough. Otherwise, you might not be able to open the doors once the truck is in place. I know for a fact that it's exactly what happened when Toyota refreshed its Tundra in favor of a larger model. We had to get out of the truck and push it before lifting it. No need to mention that it was quite a bummer.
The same thing applies for lowered vehicles. Some lifts, especially models with a higher weight capacity, have really thick arms that simply won't fit under your body kit. In this case, you might need to by optional arms or use a jack to slightly raise the car first.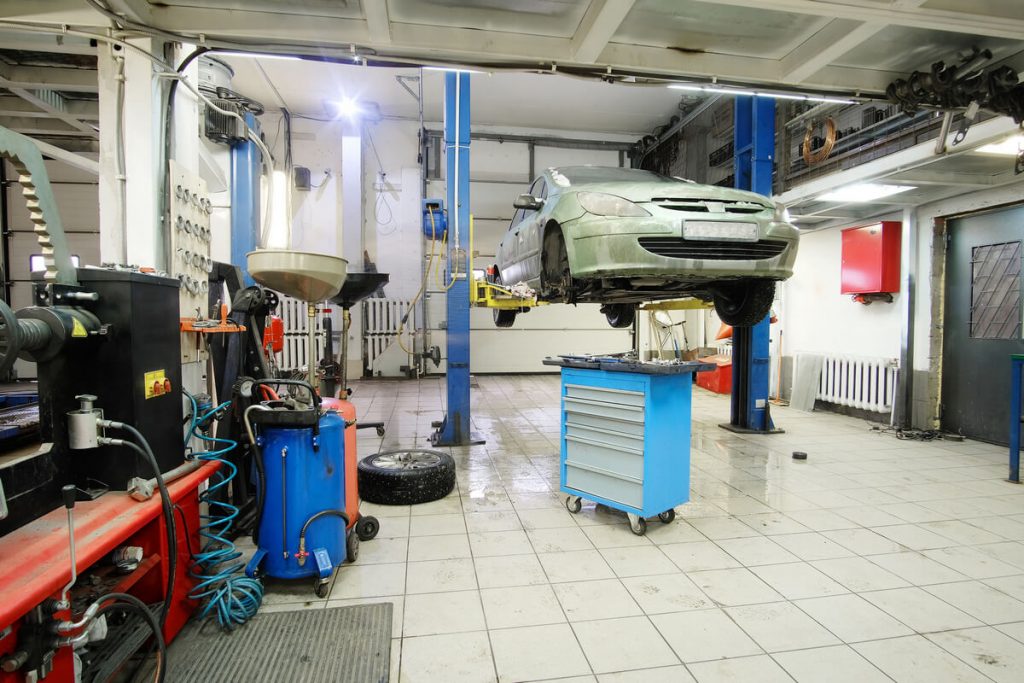 Features in The Market
Car lift technology has come a long way, and after considering the factors above, you'll need to look at the hottest and most useful features offered. You might not even have the same vehicle(s) the next day, so be on the safe side and pick the lift with the most viable features, options, and accessories.
You need to understand terms such as lift height and width, asymmetrical and symmetrical, clear floor and floorplate lifts. Compare differences in lift time, portability, maintenance, and weight.
Look for the lift with the most options available so that you can adapt if you buy a pickup truck tomorrow or need to work on your mother's Smart. Adapters for larger and smaller vehicles, jack trays, purpose-built contact pads, telescoping arms, frame extensions are some optional extras that can evolve with your vehicles.
Price and Warranty
Apart from the technical knowledge gained, one can save hundreds of dollars in repair costs annually by fixing and maintaining their car at home. Hence, as you can potentially save a lot of money long term, do not shy away from paying more for a good lift. It will all be worth it in the end.
Brand Reputation
Now that you've narrowed down your choices, it is time to see what people are saying about the brands you've selected. The first thing to know about is how long the brands in question have existed, as this can also decide how long they'll exist and provide you with a warranty and repair. Make sure the lift is ALI certified as well.
Secondly, any company can write big cheques they can't cash with their marketing. But when you look at consumer reviews and unfiltered opinions found on websites (specifically online lift-based message boards), you might hear some different stories about their quality and customer support.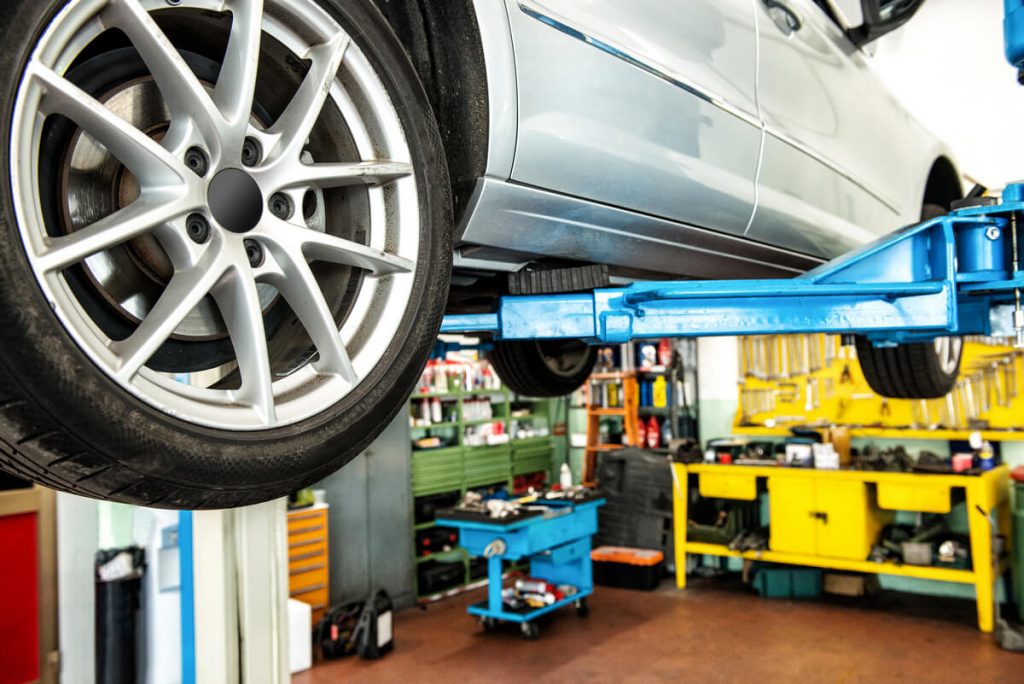 FAQs
Clear floor or floorplate lifts?
Floor plate models exist for consumers with low ceilings, as clear floor ones stand taller. However, clear floor models come with a direct-drive design, saving you money and time on repairs while improving safety.
Chain-drive or cable-drive?
Cable drive models are designed to be safer, as the hydraulic cylinders are tucked up underneath the runway. Another disadvantage of chain-drive models is the cylinder placement that can be impractical if you leave the car's door open while the lift is rising.
Full-rise, mid-rise, or low-rise?
Full-rise models allow you to stand underneath the car, and they raise to about 70 inches, give or take. Midrise lifts, with their rise height of about 50 inches, are the most popular.
There are numerous low-rise lifts available that could raise your car by 30 inches. These are for consumers with lower budgets.
What's the difference between a symmetric and an asymmetric lift?
In symmetric lifts, the post "symmetrically" divides the vehicle by keeping it balanced in the center. There's a greater distance between the columns, and the vehicle can be hoisted while facing backward as well. Asymmetric lifts keep two-thirds of the vehicle behind the post, so the doors can open without any obstruction from the post.
Should I pick a 4-post or 2-post lift?
As far as vehicular support and better weight capacity are concerned, you'll go for a 4-post lift as it has four posts instead of two. However, it does take up more of your garage's horizontal space and is costlier.
With 2-post lifts, you can work on the wheels and underside more efficiently. As mentioned above, they also consume less horizontal space. However, a 2-post lift requires proper anchorage to adequately support your vehicle. They're also not recommended for larger vehicles.
Are scissor lifts right for me?
Only if you seriously lack space. The scissor lifts are designed for portability, as they can be folded and kept anywhere on the side to free up horizontal space. A disadvantage is that the lift is placed directly under the vehicle's center of gravity, so the vehicle cannot be accessed directly underneath at the center.
Verdict
All these lifts made it to the list because they're good. Besides, there is no winner here—every car lift is designed for different users.
The Dannmar and the iDeal lifts cater to a premium level. However, if you're not a spender, then the QuickJack BL-7000SLX will do just fine with its low price and good capacity. The TP9KF-TUX should be a safe zone for people with low garage ceilings. If storage is your priority, then nothing on this list will cut it like the Tuxedo FP8K-DX.
That leaves the main competition between the MaxJax and the Launch TLT240SC. The M6 works for the 'average joe' as it has a decent capacity and is easy to maintain.
However, for only a hundred dollars extra, you can get a lot more with the Launch lift, with some features that you might not even need. But it is a machine that brings the best out of all worlds, and there's no surprise it's the industry standard.