EDITOR'S PICK
CRAFTSMAN V20
Longer battery life
Balanced
LEDs on the front
Variable speed trigger
PREMIUM PICK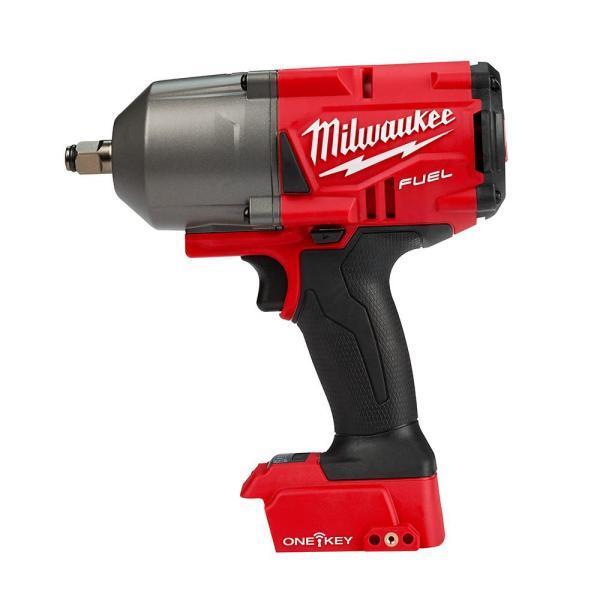 Milwaukee M18 FUEL w/ONE-KEY
One of the most powerful options
Option to connect it to a smartphone via Bluetooth
Built-in GPS for easy tracking
Four programmable modes
BUDGET PICK
Makita XWT15Z
LEDs on the front
Compact
XPT protects it from water and dust
4-speed settings
Throughout the years, impact wrenches were tools mostly sold for auto repair shop use. The main reason was that they were air or pneumatic powered, and not a lot of people had big enough compressors laying around, or even the space to store one. Even if you did, the overall process of installing the system and using it was often far too expensive for weekend DIYers.
However, for the past decade or so, batteries became more efficient, compact, and reliable. Consequently, tools like cordless impact wrenches, powerful enough to change tires, became available to the masses.
No matter whether you are a weekend DIYer, a car enthusiast, or a professional auto mechanic, you definitely have a couple of cordless tools in your tool chest. And, to help you find the right one for you, we have outlined 7 of the best cordless impact wrenches for changing tires, currently on the market.
Enjoy!
Reviews of the Top Cordless Impact Wrenches for Changing Tires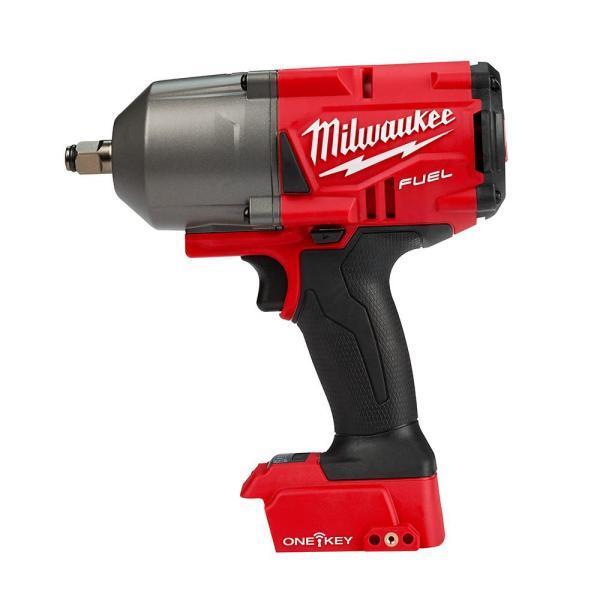 The first one on this list is the Milwaukee M18 FUEL. It is a one-key operated impact wrench that can deliver fastening torque of up to 1000 ft-lbs and a nut-busting torque of 1400 ft-lbs. These numbers make it the most powerful impact wrench on the list. However, that much power also means a slightly bigger and heavier machine. With a length of 8.39 inches and a weight of 5.9 pounds, you are looking at one of the heavier contenders here.
The M18 features a clip-on 18-volt battery on the bottom of the handle, powering a brushless electric motor. There is also a friction ring at the end of the shaft, ensuring that the sockets don't fall off while spinning.
A unique feature the Milwaukee M18 has is the one-button control. It enables you to connect the impact wrench via Bluetooth with your phone and control it from there. You can control the speed and power you need based on the application. The Milwaukee M18 impact wrench enables you to preprogram up to 4 different torque settings for quick use.
This function is especially useful to select different torque settings for repetitive operations. If you are a professional mechanic, you'll like this one. You can pre-select the first setting at 90 lbs and another at 110lbs, so you can quickly change tires on cars and trucks. No reason to buy an expensive set of Accutorq anymore!
And another nice touch; the Milwaukee M18 also has a built-in GPS tracker to help you find it. Yeah, it happens to me too.
That's personally the model I've been using for the past 5 years and there's no going back to my old air-powered impact wrench now.
In-depth review of the Milwaukee M18 FUEL here!
Pros
One of the most powerful options
Option to connect it to a smartphone via Bluetooth
Built-in GPS for easy tracking
Four programmable modes
Cons
Not the lightest
More suitable to remove lug nuts and big suspension bolts than delicate jobs
Next on the list is the Makita XWT15Z, good enough for a tightening torque of 240 ft-lbs and a nut-busting torque of 430 ft-lbs. This one is a bit on the smaller side but not every job requires 1,000lbs of power.
The motor is powered by an 18-volt 5 Ah battery, which, combined with the technology used to build it, provides longer run-time. Furthermore, the package is reasonably compact, with a length of a little under 6 inches, weighing around 3.5 pounds.
The XWT15Z has a selector switch changing the speed and three forward and reverse modes, each for improved efficiency. For example, one of the settings reduces the trigger travel when you need to use full power.
Unlike the previous impact wrench, this one has a detent anvil to keep the socket on the shaft. The detent is really a question of taste. I personally prefer friction rings but some might say I'm wrong. You be the judge.
The Makita XWT15Z also comes with front LEDs that will help you work in darker environments, and, luckily, it has a dedicated on/off button. I don't know about you but I really hate models with LEDs that only light up when the trigger is pressed. We need some light before the socket is on the bolt! Anyway, I digress. Moving on.
The Makita is designed with XPT or Extreme Protection Technology, meaning it provides additional protection from dust or water, so it's great for use in non-ideal environments.
The XWT15Z is a good impact wrench for beginners, weekend DIYers, and as a second impact for professional mechanics. It's simply perfect for everyday work when you still need a little more power than a 3/8-drive impact wrench but doesn't want to strip every bolt in your way.
Pros
LEDs on the front
Compact
XPT protects it from water and dust
4-speed settings
Cons
Not the most powerful one
When it comes to light and long-lasting impact wrenches, Dewalt MAX XR is the one to go. Yes, it's a 3/8-drive model so it might not be suitable for professional mechanics changing tires all day. But if what you need is a smaller model to change tires once every 6 months, this one might be a good idea.
The brushless electrical motor in this puppy can put out up to 150 ft-lbs of torque in both directions, drawing power from a 20-volt battery. And it's quite compact, measuring only 5.5 inches long and weighing just 2 pounds.
The Dewalt MAX XR comes with different power settings and the trigger is variable. Just like you'd expect, there are several speed variations you can use. The good news is that the speed at which it will run will depend on how much you press the trigger, which has an excellent weight. Just like the Milwaukee model above, the Dewalt MAX XR is a 3/8-inch impact wrench that has a hog ring anvil that keeps the sockets in place.
Moreover, the 3 LEDs on the front help with non-illuminated spots, while the lightweight and ergonomic handle makes it easy to maneuver. In the package, you get the tool, along with two batteries, a charger, a belt clip, and a tool bag.
You simply can't go wrong with this one!
Pros
One of the lightest on the market
Long battery life
Compact and easy to handle
Variable speed with a pressure trigger
Comes with two batteries
Cons
The direction switch has some play
On the opposite side of the torque spectrum, we have the Ingersoll Rand W7150-K1. This massive impact wrench comes with a 3 Ah 20-volt battery that powers a motor capable of putting out 780 ft-lbs of tightening and 1100 ft-lbs nut-busting torque.
However, the increased power means that it is significantly heavier and bigger. The head length measures a little under 10 inches, and with the battery installed, it weighs 6.8 pounds. At the tip of the shaft, you have a 1/2-drive friction ring anvil to hold sockets in place.
Even though it is over three times heavier than its competitors, the rubberized handle makes it comfortable to hold.
Since it's longer than the others, Ingersoll Rand designed the inside components to be evenly balanced, reducing strain on your wrist. The W7150-K1 also has a soft-mount system on the motor and an impact system reducing vibration.
If you really need an impact wrench that's on the bigger side while being smooth enough to be used all day, the Ingersoll Rand W7150-K1 is what you need.
In-depth review of the Ingersoll Rand W7150-K1 here!
Pros
Powerful
Bigger battery
Variable speed
Soft mount system for reduced vibration
Great balance
Cons
In many ways, the CRAFTSMAN V20 has a few similarities with the Ingersoll Rand W7150-K1. However, it's several inches shorter, measuring only 7 inches, and considering the size, the weight is also lower at 4.66 pounds. Meanwhile, the brushless motor can put out a maximum torque of 350 ft-lbs.
It comes with a 4 Ah 20-volt battery, ensuring that you get decent power and longer battery life than others. As a bonus, the included charger can top it off in about 60 minutes. The CRAFTSMAN V20 also has a variable speed trigger for better control and preventing over-tightening.
Considering the size, it may not fit in the tightest places as other impact wrenches on this list. However, the CRAFTSMAN V20 is not designed to be used for that anyway. If what you need is a powerful impact wrench to change tires all day, get this one. If what you need is a lightweight and compact model, get another one on this list.
Simple as that!
Pros
Longer battery life
Balanced
LEDs on the front
Variable speed trigger
Cons
Heavier
The trigger is a bit sensitive
The PORTER-CABLE 20V MAX comes with a 20 V 4Ah battery that powers a motor capable of putting out 260 ft-lbs of torque. The combination will get you a well-powered impact wrench with longer battery life.
Furthermore, the motor can spin the shaft at 1650 RPMs and 2500 IPMs, while the variable speed trigger will help you control the speed with greater precision. At the end of the shaft, you get a hog ring, making socket replacement relatively effortless while keeping them firmly attached when spinning.
The 20V MAX impact wrench has a specially designed protective housing, shielding it from liquids and dirt. Also, considering the length, the internal components are evenly balanced, reducing strain, while the molded handle will provide excellent grip.
The PORTER-CABLE 20V MAX is a direct competitor to the CRAFTSMAN V20. Dimension-wise, the PORTER-CABLE's head measured at 9.9 inches, weighing 6 pounds with the battery attached. It's a bit bigger than the V20 but a little smaller than the Ingersoll Rand W7150-K1. Let's just say that it's a good mid-level option.
Pros
Big and powerful battery
Comfortable to hold
Protective housing
Molded handle
LED light
Cons
The biggest head out of all impact wrenches on this list
Last but not least is the Ridgid R86011B OCTANE 18V churning out 485 ft-lbs of tightening torque and 620 ft-lbs of nut-busting torque. It also has a hog ring anvil like most models on the list.
When it comes to size and weight, it closely matches the CRAFTSMAN V20. The head's length is 7.7 inches, and the weight is a little under 4 pounds with a battery. Unlike the previous models, it comes with an 18V battery. It's not the best but should suffice for most use-cases. On the other hand, if you were planning to use it 40 hours a week at work, maybe choose a different one or buy 2 batteries, just in case.
You can operate the speed via a 4-speed button on the side. There is also an auto mode that turns off the tool as soon as you tighten the bolt to prevent overtightening.
The last 3 impact wrenches on the list are somewhat similar. It's really a question of taste. As I said before, I prefer the Milwaukee one, but I know a couple of mechanics who prefer to have a bigger model when changing tires.
Pros
Die-cast gearbox
Relatively light for its size
Auto mode
Cons
Not ideal for tight spaces
See Also: 6 Best Cordless Impact Wrenches For Automotive Mechanics
Things to Consider When Buying A Cordless Impact Wrench for Changing Tires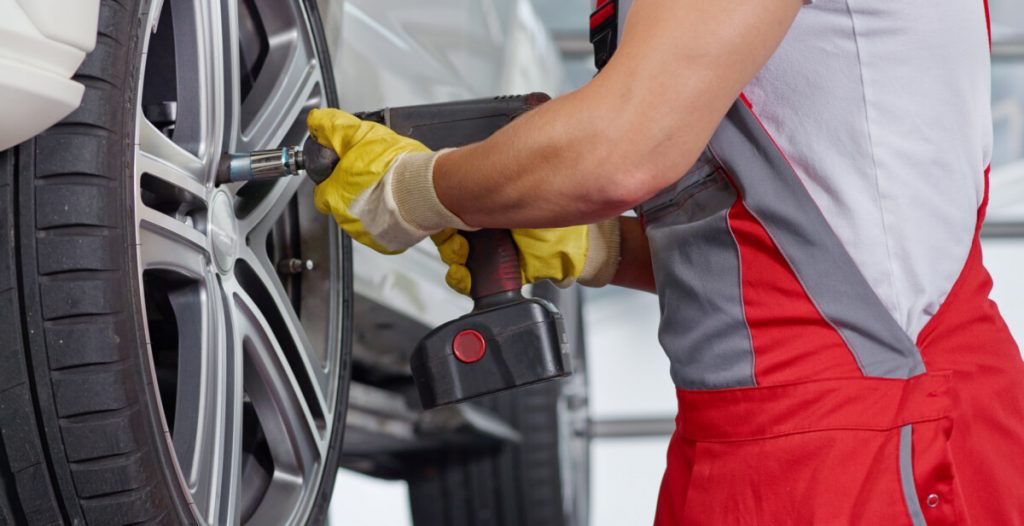 When you are on the market and looking to buy a new or replace your existing impact wrench, there are several things you should consider.
Torque, RPM and IPM
As you can see from the products' outline in this article, the torque numbers vary significantly, while the RPM and IPM numbers don't. These are the most important consideration you'll probably need to make.
Overall, for home or construction use, you will probably be fine with any of the impact wrenches on this list, even the smaller ones. On the other hand, if you are a mechanic and change tires professionally, you should aim for the more powerful ones.
Sockets
In most cases, impact wrenches don't come with the sockets included. While some manufacturers can sell you a bundle, it is more likely that you only get the tool.
If you are replacing your old impact wrench, you might already have the sockets. However, you need to make sure that the anvil size is the same. Just make sure that you buy an impact wrench fitting the sockets you have.
On the other hand, if you are a mechanic, you already know what you need – one of each!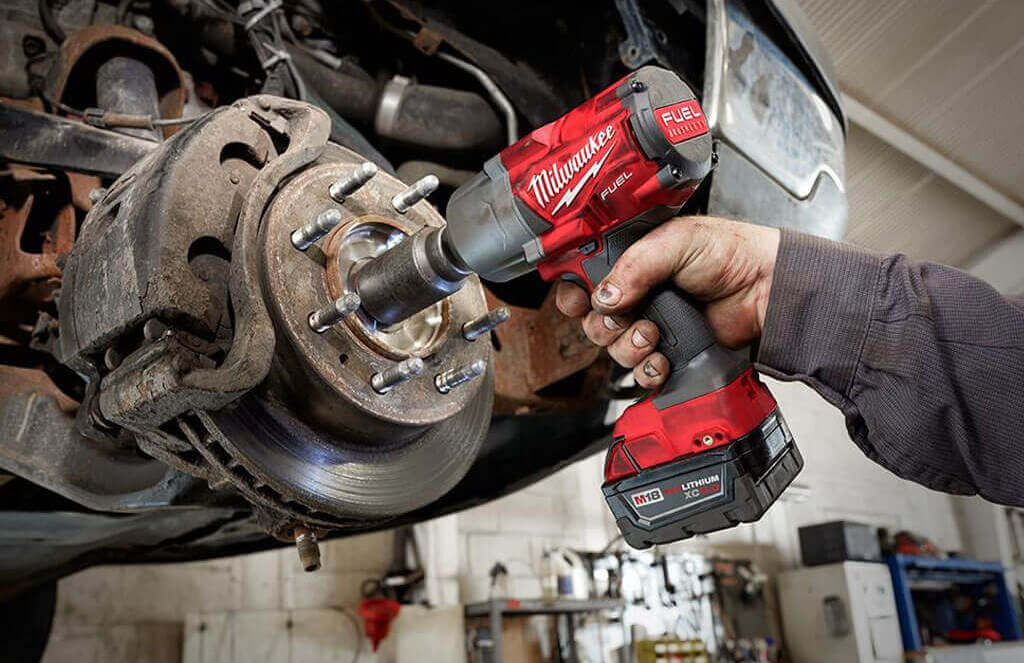 Battery size
Considering that these are wireless impact wrenches, the battery will limit you regarding run-times. The size of the battery can drastically change your usage time. It shouldn't really be a problem if you only use your impact on weekends and only change one set of tires. However, professional mechanics should aim for at least a 20V, or buy more than one battery pack.
Keep in mind that some manufacturers sell more than one battery in the package. Doing so is extremely handy since you can use one battery while you charge the second one and switch when it's dead.
Since the batteries are removable, you have the option to get a bigger battery. While most impact wrenches in this article come with either 3 or 4 Ah batteries, you can check the manufacturer to see if they offer more powerful ones. Alternatively, you can try to find a third-party manufacturer that sells compatible kits. However, keep in mind is that using a bigger battery will also increase weight.
Weight and size
Weight is not something you should take lightly when shopping for an impact wrench. The lightest one on the list is 2 pounds, while the heaviest is well over 7 pounds. When you work with a heavier tool, your wrists will get exhausted faster.
Even though the impact wrenches here are used to remove lug nuts, if you have them in your garage, you will most likely use them for other jobs. The sheer size plays no role in removing the nuts on your tire, but it can be a problem for tight spaces. Impact wrenches with longer heads will be more difficult to maneuver into certain places. Unfortunately, more powerful models often come in bigger sizes.
There's always the right tool for the right job. Smaller jobs require a smaller impact while tough work do better by a larger one.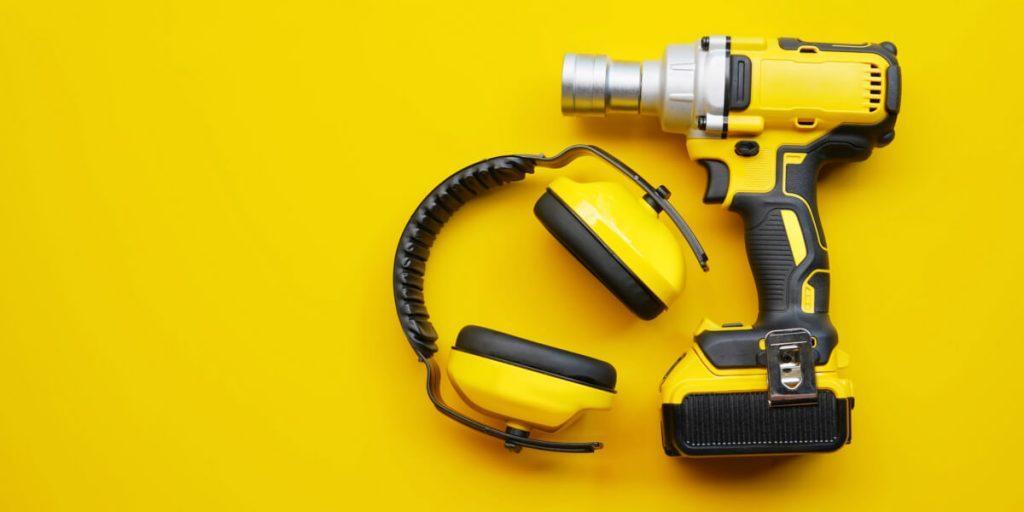 Additional features
No additional features will ever make an impact wrench reach the top of the list. However, model-specific features might sometimes be a deciding factor.
LEDs on the housing are a great addition that will help you see in front of your impact wrench. This might be especially useful if you frequently work in a dim-lit area. Unfortunately, not all impact wrenches have them.
Another thing to consider is how the speed of the shaft is controlled. Some of them have a dedicated button with several speed options, while others have a pressure-sensitive trigger. In this case, it boils down to personal preference.
Garages are not a place for delicate tools, and most manufacturers know that. While all of them will have no problem dealing with regular use, some are designed with casings that could protect them from water and dust. If you work in an especially dusty location such as an auto body repair shop, dust protection might be worth considering.
Final Verdict
While all the impact wrenches on this list are very capable to tackle pretty much anything you'll throw at them, some are more suited for a specific type of person or type of work. If you are buying your first impact wrench and only use it occasionally, the Makita XWT15Z might be the one for you. On the other hand, the DEWALT 20V MAX XR is perfect for ATVs and UTV and any smaller equipment.
That being said, if you are a professional auto mechanic, removing and reinstalling tires all day, every day, the Milwaukee M18 FUEL is what you need! Trust me; it's a little more expensive than most but you'll thank me later.
Of course, this isn't an exhaustive list and it's super suggestive. If you are using a different model and think it's even better than the ones I pulled out here, make sure to leave a comment below. I'd like to see what you guys use!