EDITOR'S PICK
Sportz Dome-To-Go Tent
Equipped with a gear loft and two pockets for storage
Two entrance doors for easy access
Fits smaller vehicles
PREMIUM PICK
Napier Sportz SUV Tent
Super easy to set up
Can function as a standalone tent
BUDGET PICK
Napier Sportz Cove 61500 Tent
Universal fit canopy shade
Incredibly easy to set up
Simply put, SUV tents can turn your vehicle into an extended camper without breaking the bank, making them an ideal choice for the frequent camper and Overlanding enthusiasts alike. Simply fasten it to your SUV, and you're all set for a night under the stars.
Furthermore, most SUV tents are multipurpose, meaning that they can also be used as standalone units or attached to your cargo area as a normal trunk tent.
They offer much more versatility, allowing you to switch between your car and the tent. And when it attaches to your vehicle, it doubles up space. You can use it to house additional people or store gear.
An SUV tent is an added option when camping; you can always move into your car when it gets cold and uncomfortable at night!
Additionally, they are usually better protected from wind and rain as compared to regular tents. And if it gets too stuffy, the tent's mesh windows let air in and keep the temperature at acceptable levels.
Read more: What is Overlanding? | Off-Roading Encyclopedia
Even if you prefer to sleep in your car, these tents still come in handy for storing gear and trekking equipment or as a dressing room so you don't have to dress up all jammed in your car in the morning. All in all, It's a great companion when you want to travel long distances.
Use it however you like, but it's bound to make your camping trips that much easier!
SUV Tent Reviews
Choosing the right SUV tent is not always easy and it really depends on your budget and needs. To help you with that, we narrowed down the five best high-quality multipurpose SUV tents we could find. Of course, this is not an exhaustive list. If you use a different one and think it's pretty good, don't hesitate to leave a comment below and we'll make sure to add them to the list.
That being said, if you plan to buy an SUV tent soon, make sure to check out our picks first. Our list is still a pretty good starting point and we've added a couple of buying tips and tricks at the end. Just in case, you don't really know where to start.
The Napier Backroadz SUV Tent is a spacious model that can comfortably accommodate up to five people, thanks to its 10 x 10 area. Besides, its universal sleeve ensures that it can easily fit onto any SUV, minivan, or hatchback without any problem. If it has a rear hatch, it works. Simple as that!
The sleeve straps fasten securely to the car's cargo storage, providing added shelter from the elements while giving ample storage space.
Additionally, this tent allows for seamless switching between the car and the tent itself, letting you move to the car when it gets chilly or arrives an unwanted critter.
On the good side, this configuration also allows you to use the car's power outlets to power electric small appliances and electronics from inside the tent. On the other hand, keep in mind that unless your car has dedicated power outlets in the cargo space, you'll need to bring quite long power cords. The safest bet here is to bring a power inverter that you'll connect into the front 12v power outlet, which you'll then place near the tent area and then plug your appliances into it.
The tent comes equipped with three mesh windows and a door for easy ventilation. Additionally, the windows feature built-in storm flaps and a rainfly to keep you sheltered during storms.
Also, setting the tent up is a walk in the park, thanks to the fiberglass tent poles.
This tent is the perfect accessory to take along for a weekend down at the state park or a cross-country trail.
In-depth review of the Napier Backroadz SUV Tent here!
Pros
Maximum ventilation with three windows
Full coverage rainfly
Easy setup
Cons
Not the best waterproofing
The Rightline Gear tent is constructed with quality water-resistant fabric and tape-sealed seams to keep you dry during the worst rain and storms.
It features a sewn-in bathtub floor that keeps insects out and provides a warm, dry base for you and your gang to camp on.
The Rightline Gear SUV tent can comfortably accommodate up to 4 people and an additional two people in the vehicle cargo area.
Compatibility issues are also non-existent since it comes with a universal vehicle sleeve. And even better, all of this can be done without the need for a ground tarp.
And if all this was still not enough for you, you also get a rainfly and a carry bag with a sewn-in setup guide.
If you need to drive off to get supplies, disconnect the tent. It will remain freestanding until you come back. Then you can hitch it up to your vehicle again.
Furthermore, if you bring another standalone tent, you can also use the Rightline model to store your gear, as a sleeping space for your dog, or as a dressing room.
Special attention to detail has been given to its waterproof design, featuring a rainfly, a bathtub floor, and tape-sealed seams with hydrophobic fabric.
In-depth review of the Rightline Gear SUV Tent here!
Pros
Universal fit
Sewn-in bathtub floor
Cons
Zipper catches during zipping and unzipping
With a spacious 9 x 9 interior and headroom of 7 feet, Napier's sporty tent is a handy accessory to have around for your cross-country travels.
Why book a huge RV when you can make do with this cozy tent? There is no need to zip and unzip tent doors when you can attach this to your cargo area and make your car a mini-camper.
The Napier Sportz tent also fits any car with its custom vehicle sleeve just like the first two. However, this one comes with Napier's "ultimate GoBe Dry rainproof" feature that will keep you dry even during a storm.
Its bathtub floor keeps you warm and safe from wet and murky surfaces. It also comes with an expandable carrying bag for safe storage.
Moreover, this tent comes with sturdy steel and fiberglass poles that offer support and durability; there are four of each kind for added strength.
It has a 6 x 6 awning that features a sturdy 1200 PU fabric compatible for three seasons.
And here's what sets this tent apart from others – it features a cyclone venting system and two skylights to provide unmatched ventilation and much-needed natural sunlight.
If you want a standalone tent, remove the vehicle sleeves, and you've got yourself a standalone tent.
Setting it up is also quite straightforward; you can have the tent up in 10 minutes by yourself.
In-depth review of the Napier Sportz SUV Tent here!
Pros
Super easy to set up
Can function as a standalone tent
Cons
Suitable for 3 season only
If your small car was holding you back from going on an outdoor weekend excursion, this tent is the answer to your woes.
While the others on the list are suited for larger cars, this is the only overlanding tent specifically designed for smaller crossover and hatchbacks.
Furthermore, the tent is constructed with high-quality polyester taffeta and polyethylene that is incredibly durable.
Even though the sleeve is meant to fit snugly to smaller cars, don't think it's smaller than the others. In fact, it's incredibly spacious from the inside, boasting an interior space of 8.5 x 8.5 and headroom of 6.5 feet.
Additionally, it comes with two shock-corded fiberglass poles and pole sleeves that make it incredibly easy to set up. Best believe you'll have the tent standing in 10 minutes!
Remove the vehicle sleeve, and it converts into a standalone tent that you can use to set up camp wherever you require.
Pros
Equipped with a gear loft and two pockets for storage
Two entrance doors for easy access
Fits smaller vehicles
Cons
Fits only smaller vehicles
Read more: How to Build the Ultimate Overlanding Vehicle | Off-Roading Encyclopedia
The Napier Sportz Cove is less a tent than a space extender. In fact, it's the ultimate tent for overlanding enthusiasts planning to actually sleep in their vehicle's cargo area but would like a little more space. You know, when you plan to just sleep in the car with the rear hatch open but kinda fear it could rain?
Well, in that case, the Napier Sportz Cove Tent is what you need. Made with high-quality polyester taffeta and polyester mesh, it's incredibly durable and will last you for a very long time.
The Sportz Cove is also great for the beach as it comes with a 2 feet awning that will keep you sheltered from the sun. No need to worry about rain either since it's completely waterproof.
Furthermore, the mesh screen door has a built-in storm flap that will keep insects and rain away from you when you rest.
The tent's awning attaches to the back of your vehicle and keeps you cozy no matter what time of the day it is. If you want to head out for a picnic, fishing trip, tailgating, or camping excursion, this tent will help designate space for your camping radius.
And even better, even if you don't plan to head out, you can set it up in your backyard for a fun night under the stars with your children or your significant other.
Pros
Universal fit canopy shade
Incredibly easy to set up
Cons
More a space extender than a full-fledged tent
What To Look For In A SUV Tent?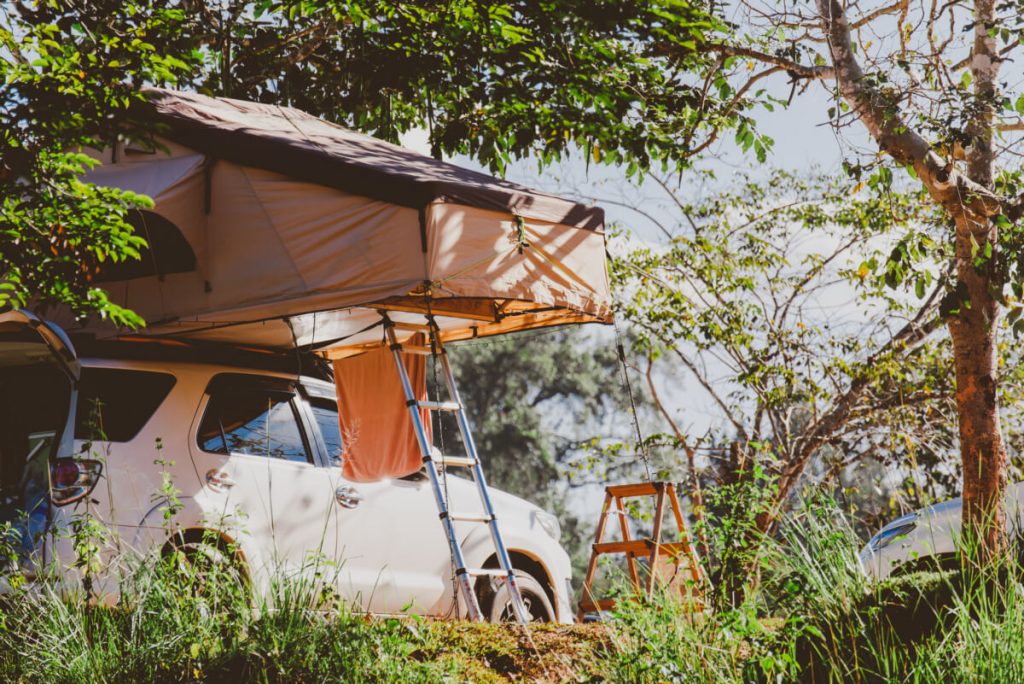 SUV tents come in many shapes, sizes, and styles. Naturally, the many choices confuse the best of us — picking the best one for you can be quite an overwhelming experience.
Luckily, this is where we come in. To help you out, we have highlighted a few factors to consider when on the market to buy an SUV tent:
Size
What should be the tent's size depends on how big your vehicle is, but generally speaking, tent manufacturers try to ensure that their tents fit the widest range of cars.
Most tents can accommodate many different car models, from hatchbacks and sedans to minivans and SUVs. In the previous list, only the Sportz Dome-To-Go Tent is made especially for small cars.
However, before buying a tent, do your due diligence. The best practice is to consider its maximum capacity and how many people you plan to fit in the trunk and the tent area.
Some tents can accommodate up to six people, while some can barely fit three. That being said, it's always a good idea to choose a larger tent. Trust us, you'll thank us later.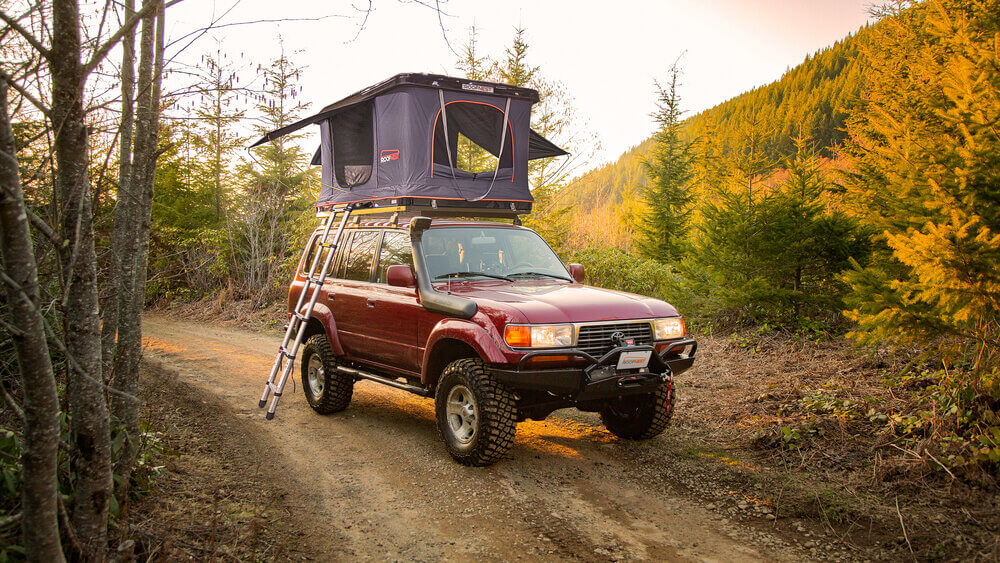 Material
When choosing a tent, you want a material that will stand the test of time.
You can find many cheap tents around the market, but those will be flimsy sheets that barely last a year.
Furthermore, tent poles that can't bear the tent's weight will result in drafty and uncomfortable camping at best. Also, they need to be strong enough to withstand extreme wind or rain. And to make matters worse, a wet or soggy tent may damage your expensive vehicle.
Polyester and nylon blends are a popular choice for tents because they are lightweight, waterproof, and easy to clean. If durability and strength are a concern, they can always be fitted with thick bases to safeguard them from tearing.
As for sealing the gap between the car and the tent, large elastic bands can do the job. Add some heavy magnets between the transition gap for a near-perfect seal, and you're good to go.
Lastly, when choosing the tent frame, consider fiberglass and steel because these are the best and most durable materials. Out of the two, fiberglass ranks higher since it doesn't rust and is relatively cheaper.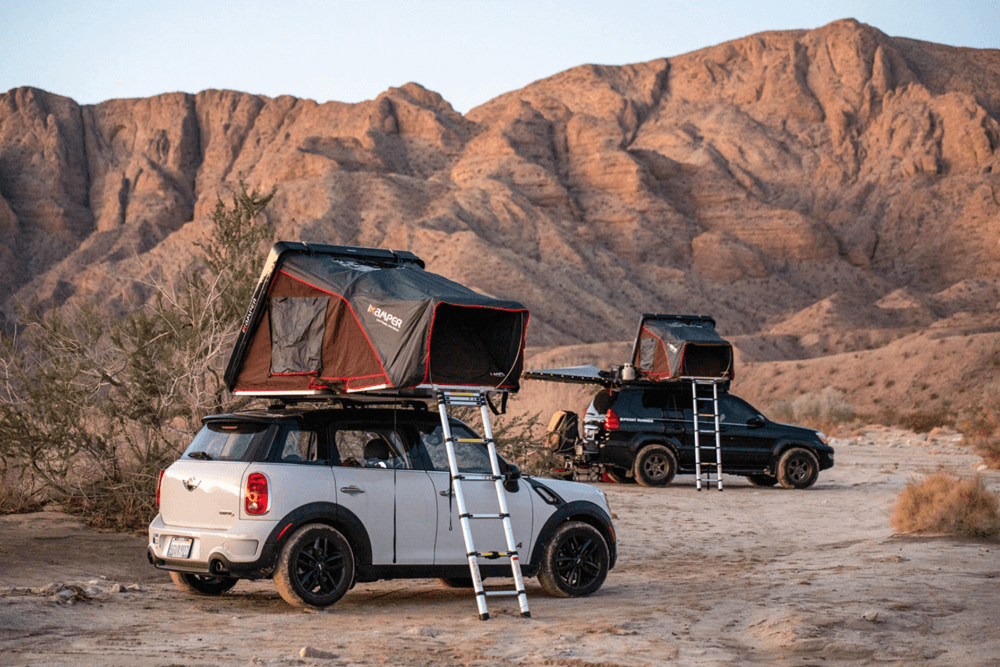 Ventilation
Any decent camping tent needs to have sufficient ventilation. Sitting in a polythene tent, sweating in the heat, is not the best experience for any campers.
Ventilation your tent cool by circulating fresh air. And since we're talking about an SUV tent, ventilation is all the more necessary because of the accumulated carbon monoxide.
Though no car tent is completely airtight, carbon monoxide accumulation is a risk, which can cause breathing difficulties. For that, it's necessary to allow air to pass through.
Mesh ventilation windows do the job perfectly. The mesh gaps are enough for air passage while also effectively keeping insects and critters at bay.
Most car tents use mesh windows that attach to the open trunk of your vehicle. Ideally, three mesh windows along with a mesh door are enough for adequate circulation of fresh air.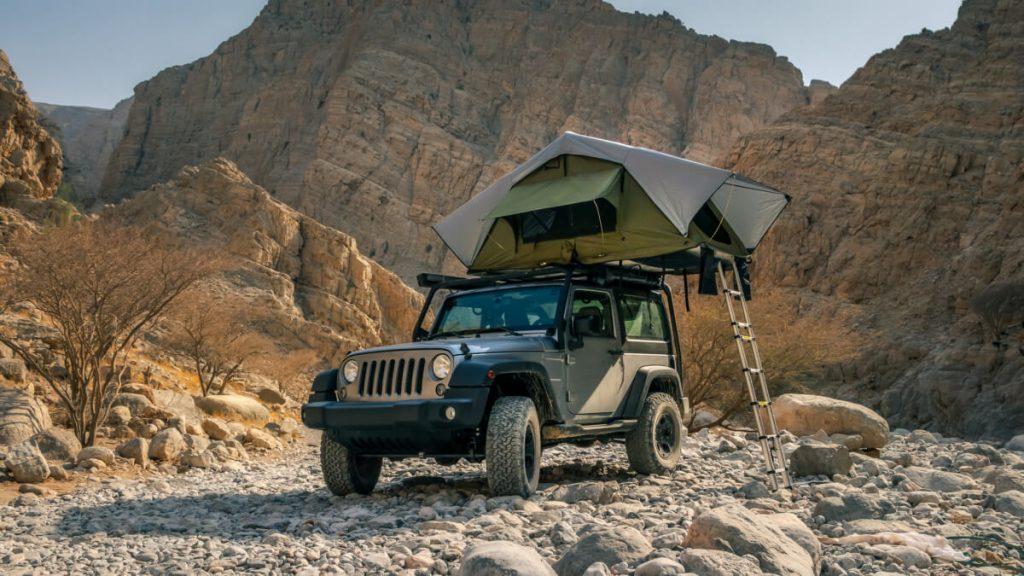 Waterproof
Any decent car tent must be effectively waterproof; you never know when there's a dark cloud approaching.
The extent of waterproofing in SUV tents may vary, but it is safe to assume that most tents are waterproof. Plus, having waterproofing capabilities is essential to protect your car against damage–excess moisture is known to do serious damage to the interior of your vehicle and its electrical units.
The waterproof rating of a tent denotes the level of moisture protection it offers.
If you wish to keep your vehicle completely dry, choose a tent with a high waterproof rating. However, you can expect these to be a bit pricy. The higher the rating, the more water pressure is required to penetrate the fabric.
Also, if you have a tent with a low waterproof rating and you find yourself stranded in a thunderstorm, seal off your tent from the vehicle to avoid moisture build-up.
Additionally, a rainfly also offers protection from the rain. Most tents come with a built-in rainfly, though not all of them will cover the tent's complete roof.
Furthermore, a magnet seal that binds the tent to the car can help seal your vehicle from inclement weather.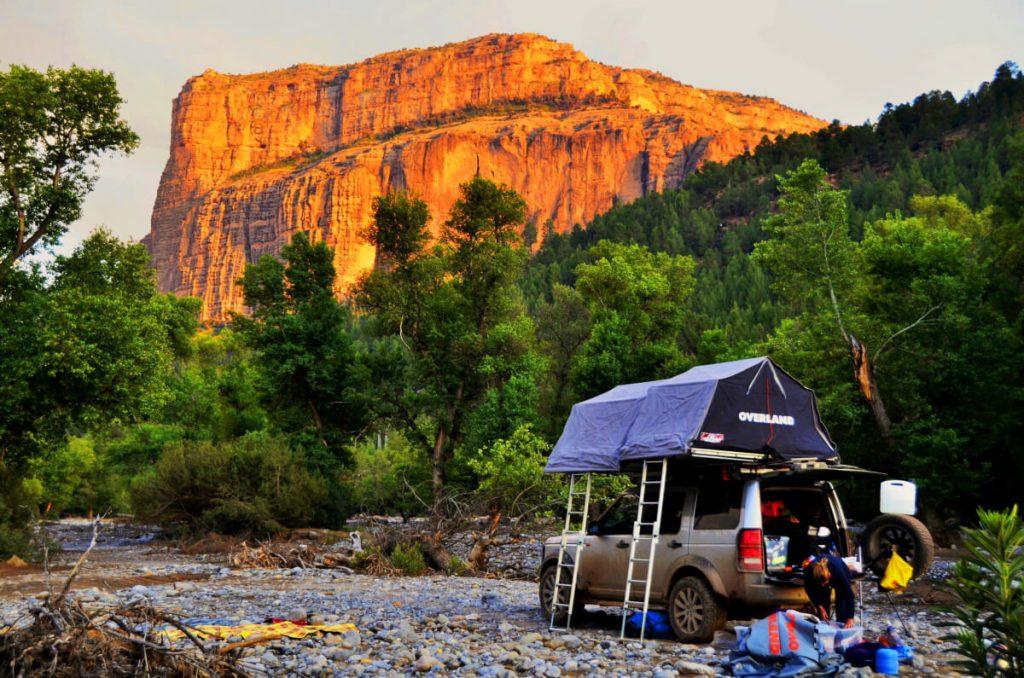 FAQs
What Is An SUV Tent?
An SUV tent – also known as an overlanding tent – is a covering meant to be set up on a vehicle's trunk.
It was formally manufactured and sold for the first time in 1990; however, truckers have been making makeshift tents from conventional tent material for a long time.
SUV tents are usually built to accommodate 2-6 people and are meant to be fastened to several strategic points on the vehicle's trunk. They come with support poles and are relatively easy to set up like a regular tent.
Many people are ditching RVs and campers for SUV tents, especially overlanding fans. They provide a camping experience that is closer to nature and also allows you to move from camping spots to camping spots.
Why Should I Buy An SUV Tent?
What's so special about an SUV tent, you might say?
It allows you to camp out in the wilderness and get the same camping experience without carrying around heavy tents and camping equipment.
It attaches to your SUV and makes it function as an extended tent.
If you feel stuffy inside your car, move into the tent. And when campers don't feel like sleeping on the ground, the cargo area can function as a sleeping area with a little shuffling of supplies.
It's also a great place to store your gear and supplies when commuting without cramping your SUV. Most of the models can also work as standalone tents.
Read more: Thule Tepui is a Compact Rooftop Tent to Change Overlanding Forever
How Does An SUV Tent Attach To My Vehicle?
SUV tents attach to the back of your vehicle using restraining straps made out of Bungee cords or Velcro that attach to wheel arches and roof racks.
The vehicle sleeve fixes to the trunk, almost functioning as an extension of the cargo area.
They are also compatible without roof racks, using magnets that lock the tent onto the car frame.
Additionally, most tents can function as standalone tents if you remove their vehicle sleeve. An SUV tent gives you the best of both worlds and provides numerous advantages over a conventional freestanding tent.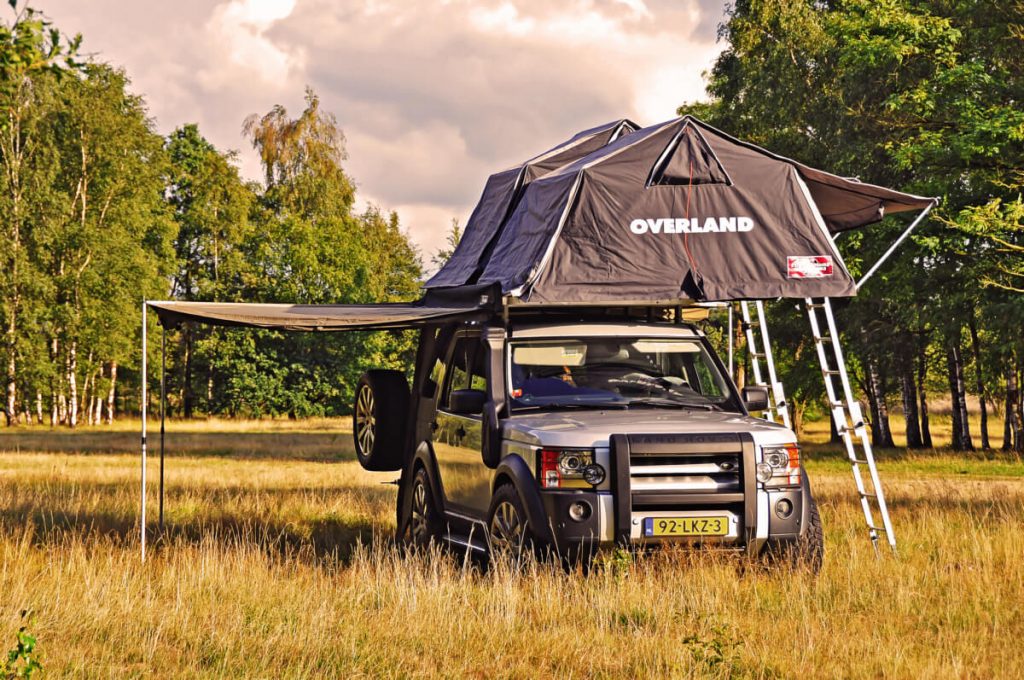 What Is A Standalone Tent?
Standalone tents, or freestanding tents, can hold their shape by themselves without the need to be staked out or attached to a car.
They are supported by tent poles and can be moved around without losing their shape.
Standalone tents are much easier to set up than support-dependent tents, and that's why they are much more popular with overlanders and campers alike.
However, it's important to know that while standalone tents can do without stakes, it's still a good idea to stake out a tent to ensure that it is protected during a windstorm or rain.
Consider anchoring your tent tightly, even if you are using a standalone tent, for maximum safety and protection.
How Much Does An SUV Tent Cost?
Simple SUV tents that accommodate one to two people can cost you less than $75 with basic features. On the other hand, tents with more features can be costlier, up to $200.
And, of course, larger and more luxurious tents, suitable for up to four-five people can start from $100 and can go up to $500.
In Brief…
Finding the perfect SUV tent might sometimes seem like a daunting task. However, once you take the time to establish your needs, what you absolutely need, and what you can live without, and determine your budget (and stick to it), it gets a lot easier to choose by elimination. Do you own a small crossover? Get the Sportz Dome-To-Go Tent. Only want a small tent to extend your car's cargo space? Get your hands on the Napier Sportz Cove tent.
All the other tents on the list will fit pretty much every SUV on the market. You really can't go wrong. At this point, it's really a question of specific features and price.
If you are already using a different SUV tent than those on the list and think it's even better, make sure to leave a comment below. I'd sure like to see what you guys are using.
Happy overlanding!