EDITOR'S PICK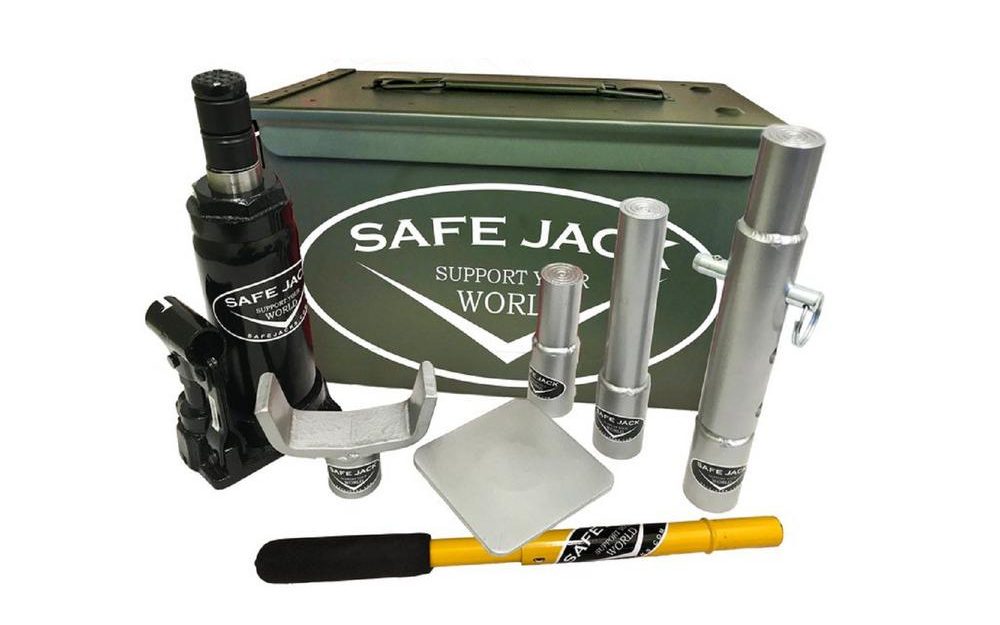 Lifting capacity: 6 tons
Lifting range: 8 – 36 inches
Size: 11.5 x 6 x 7 inches
Weight: 24 lbs
Warranty: lifetime warranty
PREMIUM PICK
Lifting capacity: 4 tons
Lifting range: 5 – 25.75 inches
Size: 53 x 11.63 x 18.63 inches
Weight: 219 lbs
Warranty: 2 years
BUDGET PICK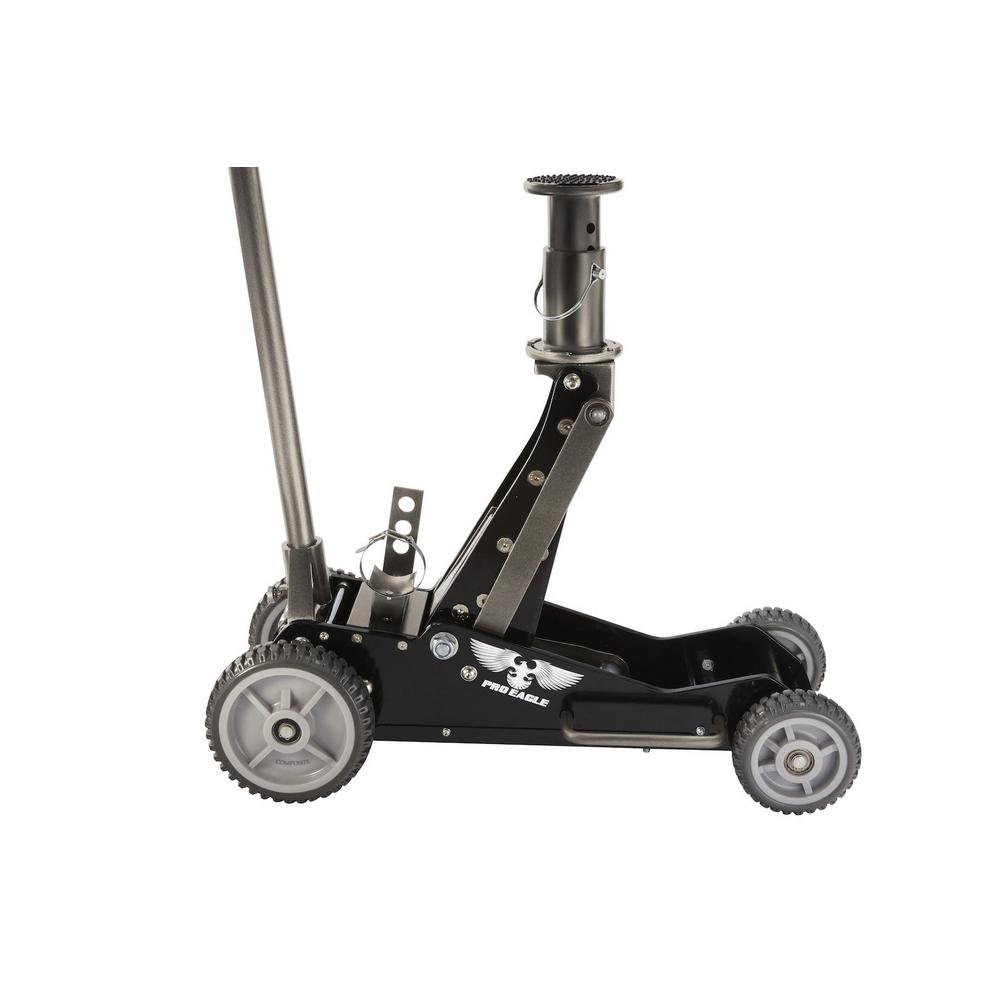 Lifting capacity: 3 tons
Lifting range: 6 – 28 inches
Size: 31 x 13 x 6 inches
Weight: 60 lbs
Warranty: 2 years
If you drive a lifted truck, you'll need more than just an average floor jack. Indeed, you'll not only need a jack with a high enough lifting range to get your truck off the ground, but you'll also need it to be strong and sturdy enough to handle the weight. Besides, if you lifted your truck, we can safely assume that you'll probably take it off the beaten paths from time to time, right? In that case, you might also need a portable jack that can be used on various types of terrains.
Put simply, the best floor jacks for lifted trucks are easy to operate, work quickly, and have a proven track record of durability. But, with all the jacks out there, how would you know which one checks all boxes?
That's where we chime in! To help you find a jack that will fit your needs and budget and won't let you down when you need it most, we scoured our sources to find the best floor jack for lifted trucks that money can buy.
We created this guide to be a life-saver for anyone looking to buy a floor jack suitable for their higher-than-normal truck. Maybe you just bought a lifted truck, or maybe you've owned a jack for years but now think it might be time to buy a more recent model? This post is for you!
As usual, we tried our best to find a little something for everyone, selecting jacks for different budgets and suitable for various use. Whether you just bought your first jacked truck, are an experienced off-roader, or even a pro mechanic specializing in massive vehicles, you should find a suitable model here.
From basic models you can keep at home to hardcore off-roading jacks you can use in the mud, we've got you covered!
So without further ado, here are the 7 best floor jacks suitable for lifted trucks we could find!
Best Floor Jacks For Lifted Trucks Review
Floor jacks are the safest and easiest models to use on the market. And despite not being the most mobile option, if you are a beginner mechanic or need a car jack in case of emergency, it's by far the most convenient type.
And yes, I can already hear you here, "What does a low-profile jack even has to do with lifted trucks?" Interestingly, while it's true that most low-profile floor jacks usually have a limited lifting range, Safeguard's model actually shines in that respect. Indeed, the lifting range of up to 24 inches is higher than most "regular" floor jacks will go and will be enough for a good number of lifted trucks. Of course, if your drive an off-roader rolling on 35s, it might be a bit short. But no worries, we've got much bigger models below.
Still, a notable feature of this floor jack is its chassis length, making it much easier to lift a truck under the axles. With a 2-ton lifting capacity, it's powerful enough to lift most trucks, but just in case it's pushed beyond its capacity, the safety bypass valve will keep both you and the jack safe. Oh, and because it's also a low-profile jack, you can easily slip it under the rear seats of your pickup truck or drop it in the back of your SUV and bring it with you on the trail— a perfect all-rounder, if you ask me!
Also, thanks to the industrial-grade casters and double-layer bearings, Safeguard solves the weak point of most floor jacks — the wheels. These wheels are so well built that they will probably outlive the jack itself, which can't be said of more jacks out there.
However, it's important to mention that, due to how they are designed, floor jacks commonly have one other flaw: the weight. Indeed, this model weighs 104 lbs, so keep that in mind if you are looking for a jack to bring around with you — this one is far from light! Still, thanks to the thick and highly resistant powder coating finish, if you do decide to carry it with you, you won't have to worry about getting it dirty.
In short, the Safeguard 2-Ton Low Profile Floor Jack is rather heavy but will do what you expect it to do for years to come, rain or shine. And if you'd prefer something a little lighter, have a look at the next model instead.
Highlighted Features
Lifting capacity: 2 tons
Lifting range: 2.75 – 24 inches
Size: 36 x 15.1 x 6.75 inches
Weight: 104 lbs
Warranty: 1 year
Pros
Easy and safe to use
Wide lifting range
Low-profile design makes it easy to store in your truck
Safety bypass valve
High-quality wheels
Respectable lifting capacity
Powder-coated
Cons
Not the best for off-road use
Quite heavy
See Also: Best Floor Jacks for Trucks & SUVs
Have you ever tried to use a floor jack in the dirt? If yes, you probably know it takes a little ingenuity to get it under the truck. Luckily, the Pro Eagle Kratos 3 Off-Road floor jack is here to save the day!
The massive, oversized composite wheels make it easy to get the Kratos 3 through sand and mud, right to where you need it. The wheels also offer greater stability on soft terrain, helping to lift your truck no matter the surface it's on. Furthermore, the heavy-duty aluminum chassis has a full-length steel skid plate underneath to prevent damage to the piston when the jack is in the sand. And of course, while this design was obviously intended for trail use, it's fairly easy to see how convenient those big wheels would be in a driveway too.
Meanwhile, the unique front end of the chassis allows the jack to reach a rather low starting position, down to only 6″ of clearance, so you won't need another regular jack to work on your daily driver. And when it's time to work on your lifted truck, he'll be more than ready for the job! Indeed, the Kratos can reach a maximum lift height of 2'4″, more than enough to get even the droopiest of suspensions off the ground. The convenient high-lift extension is one of those unique details setting this floor jack apart (aside from the wheels of course) and making it ideal for lifted trucks. On the other hand, with a capacity of three tons, and a 6″ entry point, it's also ideal for small and medium-sized lifted trucks and SUVs.
Overall, the Pro Eagle Kratos 3 is a great pick for drivers who need a true off-road jack for those weekends in the woods and mechanics just tired of their floor jack getting hung up on pebbles.
Highlighted Features
Lifting capacity: 3 tons
Lifting range: 6 – 28 inches
Size: 31 x 13 x 6 inches
Weight: 60 lbs
Warranty: 2 years
Pros
Easy to use
Huge composite wheels
Sealed ball bearings
Impressive lifting range
High lifting capacity
Relatively lightweight
Skid plate included
Cons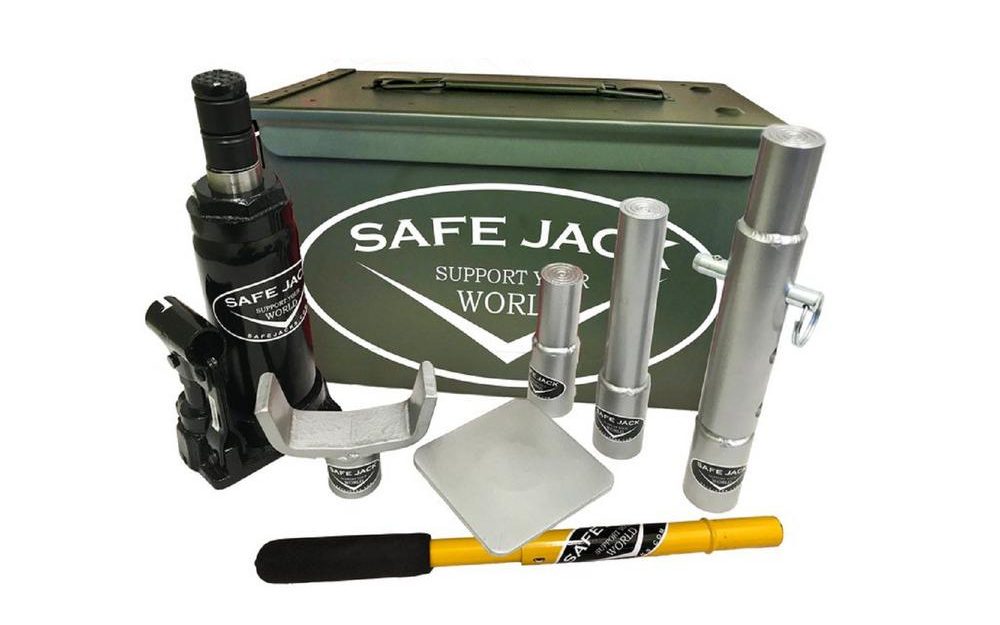 Bottle jacks pack a ton of lifting power into a compact package that's easier to store in your off-roader than a traditional floor jack. However, a common problem with bottle jacks is that they don't always lift high enough to get the tires off the ground. But with a lift range between 8″ and 36″, the Sergeant off-road kit by Safe Jack will take care of that, no problem.
Indeed, Safe Jack put together a high-quality, American-made accessory kit making the whole package one of the best jacks for lifted trucks, especially as an onboard model to get you out of troublesome situations. It includes extensions and plates allowing to jack lifted trucks from the frame rail, axle, or any other lifting points safe and simple.
Included in the kit are an extension screw collar, 3-inch and 6-inch extensions, and an adjustable extension that ranges from 8.5-inch to 12-inch heights for super high trucks. Safe Jack also tossed in a flat jack pad and a round jack pad to ensure you've got the best support possible.
Another nice touch is that the entire kit fits nicely into a waterproof .50-caliber steel ammo can, which is certainly not to neglect. It's powerful and reliable while compact and rather light at only 24 lbs, and the whole thing looks quite good — what more could you ask for?
However, it's also worth mentioning that "The Sergeant" is most suitable for heavily lifted trucks since it requires a minimum of 8″ of clearance. But if you own a bigger truck and frequently take the less-traveled path, this is the jack you need. On the other hand, if you only need a jack for home use, a standard floor jack might be a better choice. Although bottle jacks do the job just fine in most situations, the smaller footprint makes them a little less stable. If you don't plan on bringing your jack with you, floor jacks are almost always a better alternative.
Highlighted Features
Lifting capacity: 6 tons
Lifting range: 8 – 36 inches
Size: 11.5 x 6 x 7 inches
Weight: 24 lbs
Warranty: lifetime warranty
Pros
Compact
Lightweight
High lift capacity
36-inch lift height
Lots of extensions and pads
.50-caliber steel ammo case looks pretty neat!
Cons
Requires a minimum of 8 inches of clearance
This model is a professional-level service jack that you'll see in a lot of truck shops — and for good reasons. The distinctive blue paint and extended chassis are instantly recognizable as one of the best pro truck jacks out there. However, Hein-Werner's jack has one big downside — it's the second-most expensive floor jack on this list. But when it comes to jacks that big, cheaping out is never a good idea anyway.
Nonetheless, the extended chassis is a must for working on lifted trucks, letting the operator get the jack into position while having plenty of range in the handle, even when working on long-wheelbase vehicles. Furthermore, the long chassis allows for an extra-long service arm, translating into a higher total lift range. Indeed, Hein-Werner's 4-Ton service jack has a maximum lift height of 20 ¾-inches, while only requiring 5-inches of clearance.
Moreover, three handle positions make it easy to control the speed of your lifting action. The jack also uses dual rams for quick pump-up to contact and stable lifting. Meanwhile, the hydraulic unit is fully sealed, providing a lifetime of protection from grime and dirt.
And if you are worried about the sheer size of this thing, you'll be happy to learn that the T-handle provides excellent control and makes moving the jack around the shop pretty straightforward, despite being quite bulky. Furthermore, the jack features a release knob, instead of the regular release valve, making the lowering of vehicles much safer (it takes a bit of getting used to, but once you get the gist of it, it's a blessing to work with).
The Hein-Werner 4-Ton is ideal for professionals needing a high-quality heavy-duty floor jack for bigger trucks than usual. Of course, it's pretty huge, weighs a lot, and might be a bit much for most. But when it comes to heavy-duty lifted truck jacks, this one is hard to beat.
Highlighted Features
Lifting capacity: 4 tons
Lifting range: 5 – 25.75 inches
Size: 53 x 11.63 x 18.63 inches
Weight: 219 lbs
Warranty: 2 years
Pros
High-quality construction
Respectable lifting range
Sealed hydraulic system for durability
Long chassis
Cons
Expensive
At 219 lbs, it won't go that far from your garage
With ARB's model, we get to the first jack explicitly designed for very specific off-road use. Even though you can still use it as a service jack, we've got much better options for that in this list that are simpler to operate and much safer. But when it comes to really sticky situations far away from civilization, there is hardly a better design than this one.
Mechanical recovery jacks (see next model below) are arguably the most dangerous type of jacks to use, with plenty of videos online proving this statement, such as hands getting caught between the body and the handle or people getting struck by the handles. Keeping this in mind, ARB's engineering team came up with a solution and developed an alternative significantly minimizing safety hazards, designing possibly the best hydraulic recovery jack I've seen.
Indeed, what it might be lacking in versatility compared to its mechanical counterparts, it more than makes up for with a much safer design while also being lighter and more compact. The hydraulic system also allows for a higher weight capacity and makes lowering the vehicle a lot more straightforward, thanks to the dual-stage lowering system with a safety stop.
Since this recovery jack is all about safety, it doesn't come as a surprise that it also comes with overload protection and an optional jack base providing a larger footprint and preventing sinking or slipping on soft ground. As a result, it's perfect for beginner off-roaders but a valuable investment for the more seasoned ones too.
Highlighted features
Lifting capacity: 2.2 tons
Lifting range: 6 – 48 inches
Size: 35 x 8 x 6 inches
Weight: 23 lbs
Warranty: 3 years
Pros
Safer than mechanical alternatives
Lightweight
Versatile
Compact
Extremely high lift
Cons
The ultimate in affordable and adaptable lifting power, this Trail Jack from Smittybilt is tough and ready for the craziest adventures. Worth mentioning though, it's a mechanical jack, so it does take a bit of elbow grease on heavy vehicles. However, it can do one thing no other jack can do — lifting at various angles, even upside-down. You can even use it with a winch like a come-along to help rescue your truck from precarious situations.
Interestingly, the Smittybilt Trail Jack is the most affordable product on this list, but it's far from inferior. Notably, the all-steel construction and oversized footpad make it one of the safest bumper jack-style designs out there (maybe besides ARB's model above). Moreover, at only 37 lbs, you can easily add it to your off-road gear or buy brackets to secure the Trail Jack to your bumper, hood, or inside the bed.
The Trail Jack also provides a total of 54-inches of lift — the highest range on the list — using a lever-type gear and a long ladder-type rod. The release pin lets you lower the jack one tooth at a time until the truck's weight is off. It's not the most convenient jack to use but it does what it's supposed to incredibly well. Indeed, thanks to the peculiar design, it can lift your Jeep or truck from the bumper or frame rail (given you have metal bumpers — don't try to lift your jacked Jeep Patriot with plastic bumper covers with this one). In addition, it's capable of supporting 2.3 tons and up to 7,000 lbs of lift-and-pull weight using a winch.
All in all, this jack is a critical piece of equipment for anyone taking off-roading seriously. Moreover, a Trail Jack can be immensely useful for a wide range of other tasks, from pulling trees and stumps to pulling your truck out of a ravine when you don't get the line right.
Ok, they aren't the most convenient nor easiest to use, but it's hard to beat a Smittybilt Trail Jack when you are miles away from the pavement.
Highlighted Features
Lifting capacity: 2.3 tons
Lifting range: 5.12 – 54 inches
Size: 54 x 6 x 8 inches
Weight: 37 lbs
Warranty: Lifetime warranty
Pros
Most versatile jack out there
Highest lift range on this list
Can be used to recover vehicles
Lightweight
Doubles as a winch
Cons
Not the most user-friendly model
When you own a monster truck, you need a monster jack. This professional service jack can handle 10-tons, so it's the de facto choice for anything from huge trucks to RVs and heavy-duty equipment. And obviously, when you need a jack this powerful, you can't really expect it to come cheap — yep, this one is quite pricey.
Of course, there is a reason for the hefty price tag. Indeed, Hein-Werner's 10-ton jack features a sturdy chassis made from heavy equipment-grade steel and heavy-duty casters, so it won't fail, even if you need to lift a bus, RV, or tractor. Moreover, the cast-iron lift arm provides excellent stability and resists distortion that could otherwise lead to dangerous situations, while the extended-length chassis helps reach difficult spots.
The T-handle is also sturdy and provides mechanics with a secure lifting operation. Hein-Werner opted for a dual-piston design providing rapid rise action, helping speed up the lifting process. Meanwhile, the release knob on the T-handle allows to safely control the lowering speed, an essential feature when working on massive vehicles. No need to mention that, just like with everything Hein-Werner makes, every component of this jack is heavy-duty and specifically designed for professionals.
You'll want this jack if you are servicing heavy-duty trucks and anything with huge wheels and extra-long suspension travel. It's also a good choice for working on heavy equipment, including tractors and other farm machines. The lift height is not as great as other jacks on this list at only 25 ½-inches, and it's not as fast, but when you are working on seriously heavy-duty stuff, you need a seriously heavy-duty jack.
Highlighted Features
Lifting capacity: 10 tons
Lifting range: 4 – 25.5 inches
Size: 56 x 12.75 x 25.35
Weight: 430 lbs
Warranty: 2 years
Pros
High lift capacity
High-quality construction
Suitable for anything from lifted pickups to dump trucks
Long chassis
Easy and safe to use
Cons
With that much weight, consider it a stationary jack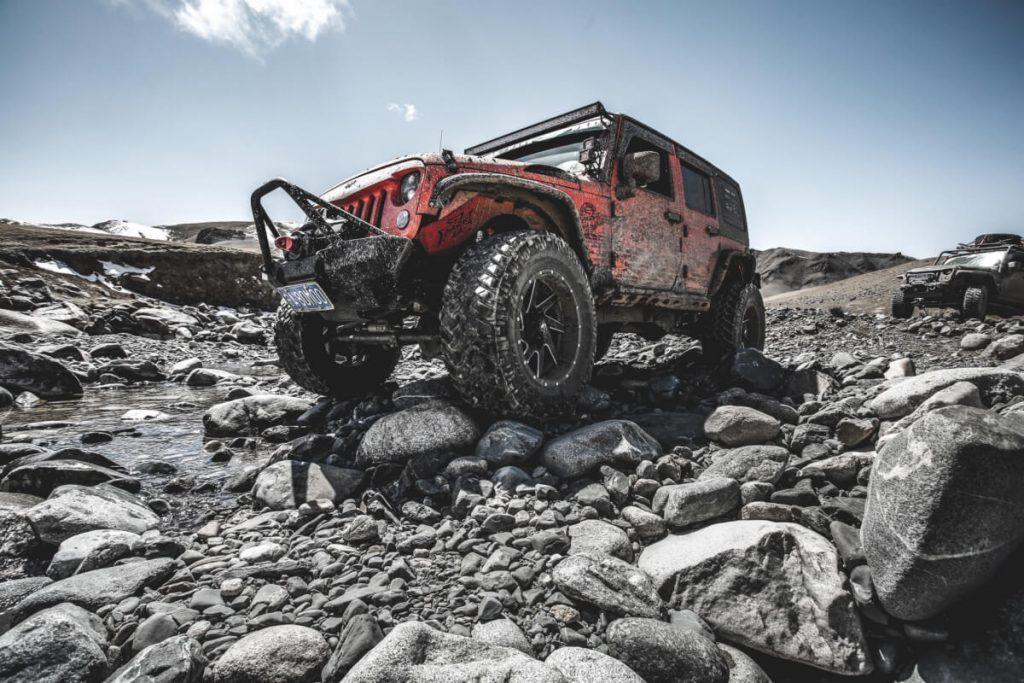 Frequently Asked Questions (FAQs)
How big of a jack do I need for my truck?
The answer to this question really depends on the size of your truck. Still, a rough way to find out is to divide the truck's total weight by two, then select a jack capable of lifting more than that.
Are aluminum jacks as strong as steel jacks?
Aluminum floor jacks sure are lighter, but that doesn't mean they're flimsier than steel models. Indeed, the maximum capacity rating determines the capacity of each jack. If it's rated for 3-tons, it will be able to safely lift 3-tons — no matter whether it's made of steel or aluminum.
Can a floor jack work sideways?
No, a hydraulic floor jack must be oriented horizontally to function properly. Only bottle or bumper jack like the "Sergeant" or Trail Jack above are appropriate for non-horizontal lifting.
What happens if you put too much weight on a jack?
Unsurprisingly, most jacks will fail when exceeding the lifting capacity. When under too much weight, it's common for hydraulic seals to fail, necessitating a rebuild of the hydraulic ram. However, a few options on our list include built-in release valves to prevent them from collapsing. That being said, even with a safety valve, it's always a very bad idea to lift a truck weighing over the capacity rating. Not to mention that the heavier a trucks get, the more dangerous it is if it falls.
Play safe and buy a jack that can lift more than your truck weighs.
Verdict
Choosing the best floor jack for your lifted trucks depends on several factors, but mostly depends on your needs and budget. Keep in mind that opting for cheap alternatives will usually leave you disappointed in the end.
Thus, always consider how you'll plan to use your floor jack first. If you are going to use it primarily in a garage with concrete floors, floor jacks will provide you with the lowest jacking clearance and better stability at a reasonable price. Our Premium Pick, the Hein-Werner 4-ton Service Jack, is by far the best floor jack for lifted trucks, providing enough lifting capacity and range as well as the sturdiest construction on the list.
However, if you need something suitable for your next weekend on the trail, try our Budget Pick, the Pro Eagle Kratos 3 instead. This model offers most of the advantages of a traditional floor jack with added off-road capability.
Nonetheless, if you are serious about off-roading, Safe Jack's "The Sergeant" model is definitely worth looking at. It's easy to carry everywhere thanks to the lightweight construction, yet sturdy enough to lift heavy-duty lifted trucks — it's no coincidence that it's also our Editor's Pick!
As usual, we can't try every jack out there — even though we would really like it. If you use a different model than those above and think it's good enough to make the list, make sure to leave a comment below, and we'll make sure to review it too!
Happy off-roading, y'all!