EDITOR'S PICK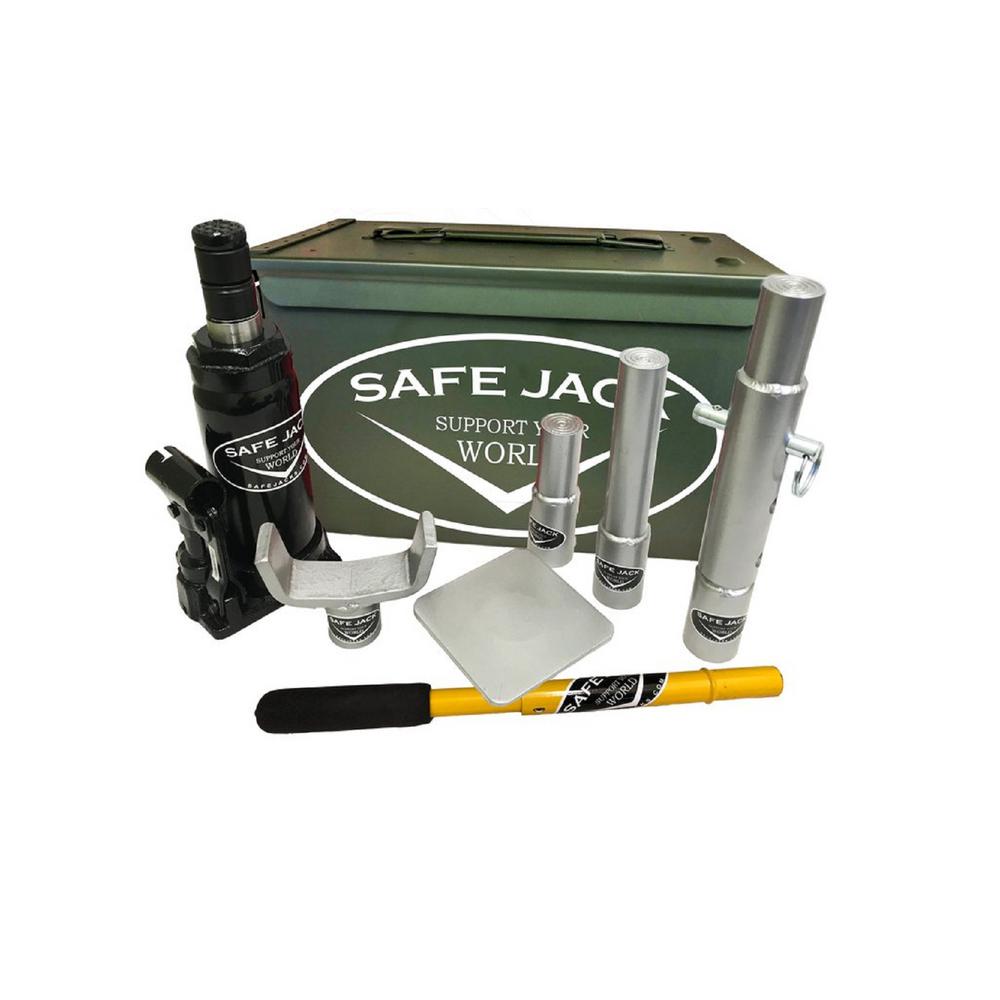 Safe Jack "The Sergeant" Off-Road Jack Kit
PREMIUM PICK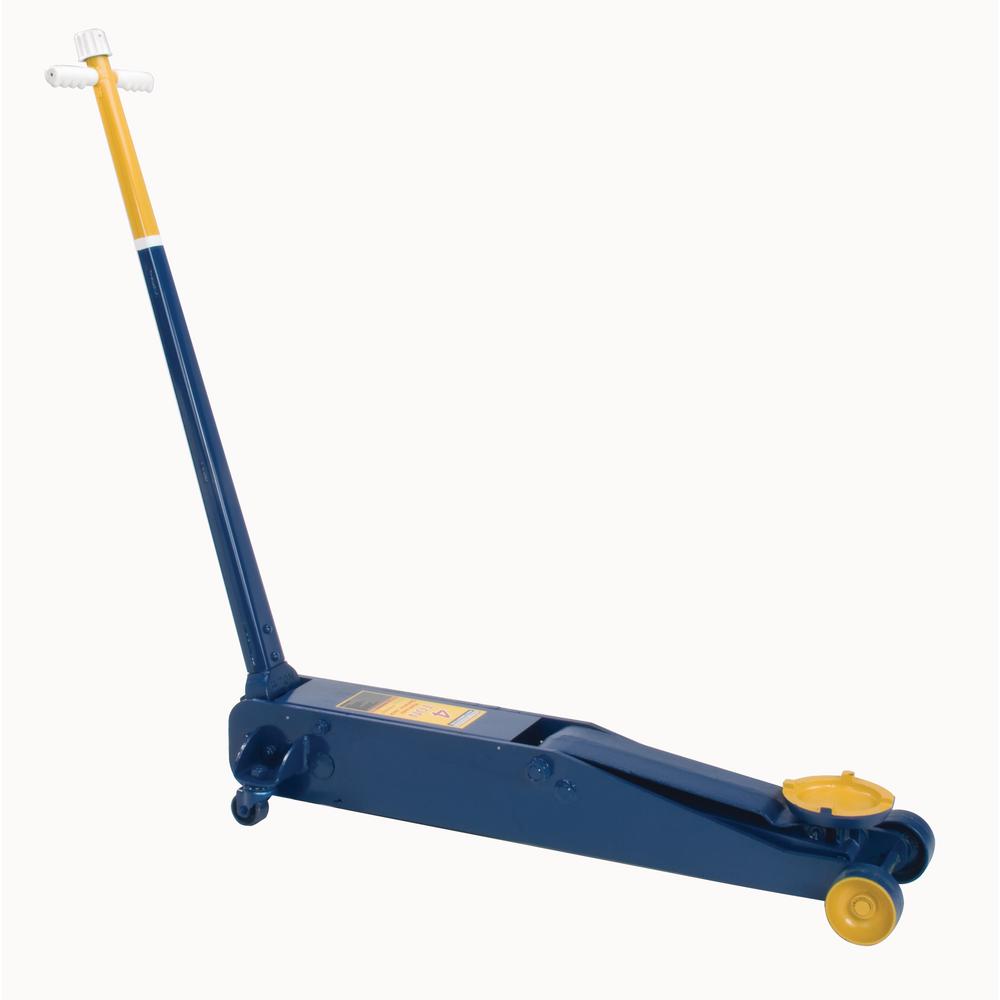 Hein-Werner 4-Ton Service Jack
BUDGET PICK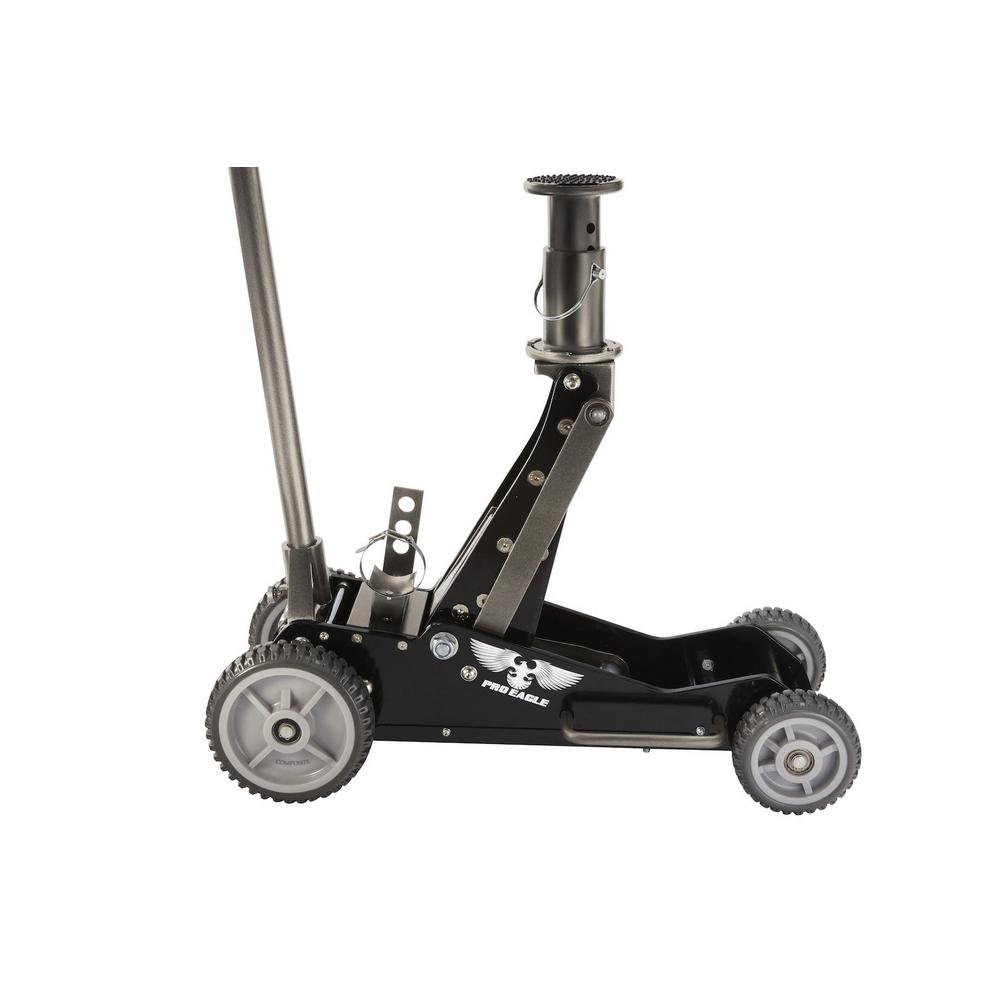 Pro Eagle Kratos 3 Off-Road Floor Jack
If you drive a lifted truck, you're going to need more than just an average floor jack. Indeed, you'll not only need a jack with enough height to get your truck off the ground, but you'll also need it to be strong and sturdy enough to handle the weight. Besides, if you lifted your truck, we can safely assume that you'll probably take it off the beaten paths from time to time, right? In that case, you might also need a jack that is portable and can be used on various types of terrains.
The best floor jacks for lifted trucks are easy to operate, work quickly, and have a proven track record of durability. But, with all the jacks out there, how would you know which one checks all boxes?
That's where we chime in! To help you find a jack that will fit your needs and budget and will not let you down when you need it most, we scoured our sources to find the best floor jack for lifted trucks that money can buy.
We created this guide to be a life-saver for anyone looking to buy a floor jack suitable for their higher-than-normal truck. Maybe you just bought a lifted truck, or maybe you've owned a jack for years, but now think it might be time to buy a more recent model? This post is for you!
We tried to find a little something for everyone, trying to select jacks for different budgets and suitable for various use. No matter whether you just bought your first jacked truck, are an experienced off-roader, or even a pro mechanic specialized in huge vehicles, this post is for you.
We worked hard to find and test seven of the best floor jacks suitable for lifted trucks on the market. From basic models you can keep at home to hardcore off-roading jacks you can use in the mud, we've got you covered!
Best Floor Jacks For Lifted Trucks Review
The Omega Lift is a fantastic option for owners of lifted trucks. It features a long and wide chassis for increased stability and a cast-iron lift arm you can depend on when jacking your truck. The chassis is heavy-duty steel construction and uses flanged sides to improve rigidity.
Moreover, the Omega Lift floor jack can quickly rise to contact level. Each stroke of the handle will raise the swivel platform up to ¾".
The GQ035 needs 4" of clearance and can lift up to 21 ⅝". That's enough lift to get most trucks off the ground without using spacers. Of course, if your truck sits on 40″ tires, you might still need some. The swivel platform is 4 ¾" across and is made of heavy-duty steel to ensure safe and secure lifting point contact.
The release mechanism is smooth and easily controllable because of the metered release system and U-joint mechanism. Meanwhile, a patented bypass valve prevents damage to the hydraulic system. should the operator put too much weight on the jack.
Overall, the Omega Lift floor jack is a great choice for home or professional mechanics working on jacked trucks. The long chassis and wide stance make it ideal for most lifted trucks and SUVs, but you'll need a bigger jack if you are working on a heavy-duty full-size truck. Similarly, if you are looking for a jack, you can keep in your truck and use when stuck in the mud, that might not be the one. We'll cover those later.
See Also: Best Floor Jacks for Trucks & SUVs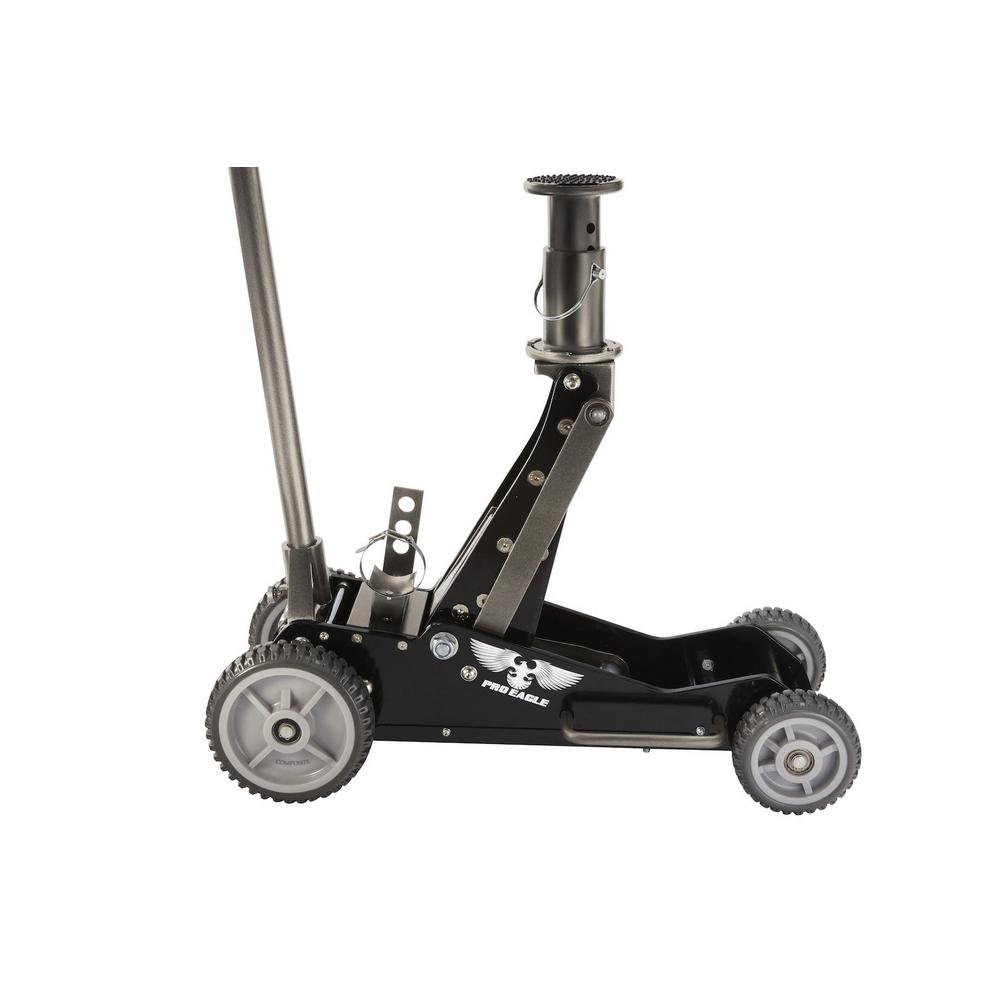 Have you ever tried to use a floor jack in the dirt? If yes, you probably know it takes a little ingenuity to get it under the truck. Luckily, the Pro Eagle Kratos 3 Off-Road floor jack is here to save the day.
Massive, oversized rubber wheels make it easy to get the Kratos 3 through sand and mud, right to where you need it. The wheels then offer great stability on soft terrain, helping to lift your truck no matter the terrain it's on. While this design is obviously designed for trail use, It's easy to see how convenient the big wheels would be in a driveway too.
Meanwhile, a unique design on the front of the chassis gets the jack into a low lifting position, down to 6″ of clearance. Besides, the Kratos gives you a lift height of 2'4″ for getting even the droopiest of suspensions up off the ground. The convenient high-lift extension is one of those unique details that set this floor jack apart and make it ideal for lifted trucks.
Furthermore, the heavy-duty aluminum chassis has a full-length steel skid plate underneath to prevent damage to the piston when the jack is in the sand. With a capacity of three tons, it's also ideal for small and medium-sized lifted trucks and SUVs. This one is a great pick for drivers who need a true off-road jack or who are tired of their floor jack getting hung up on pebbles.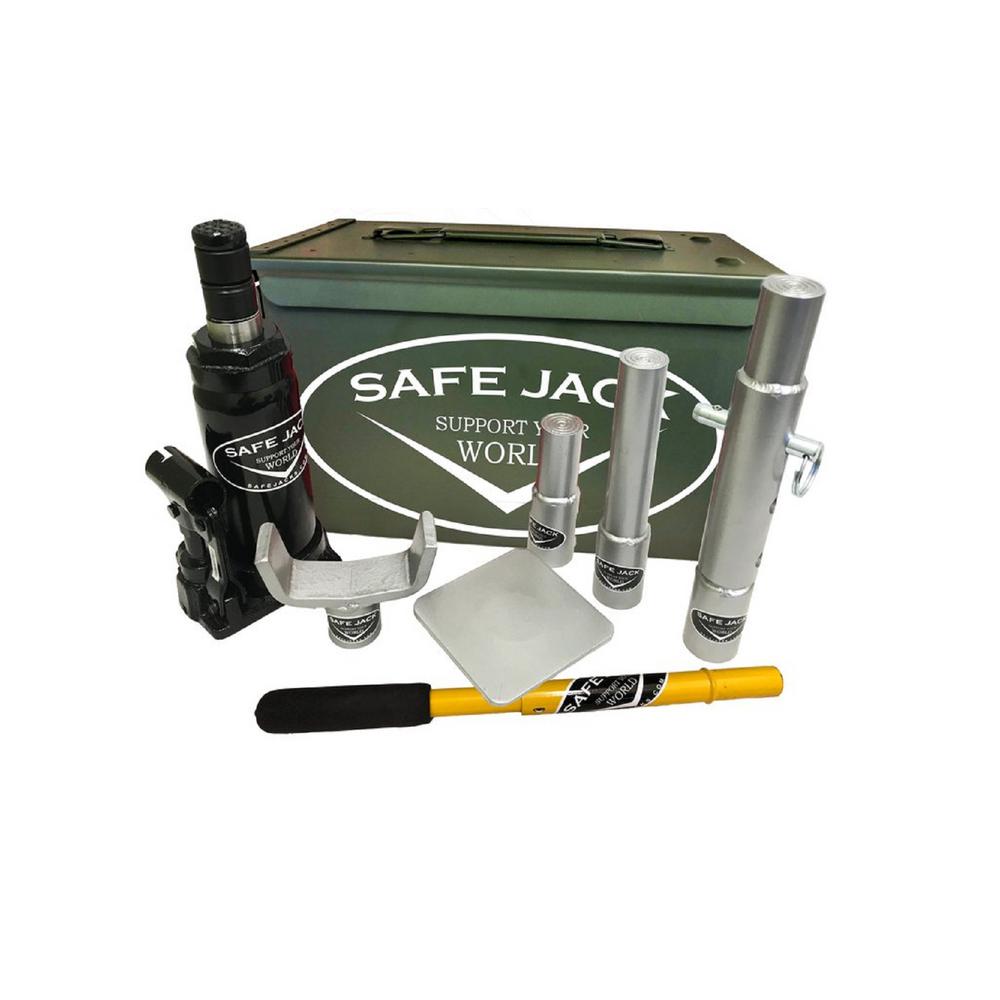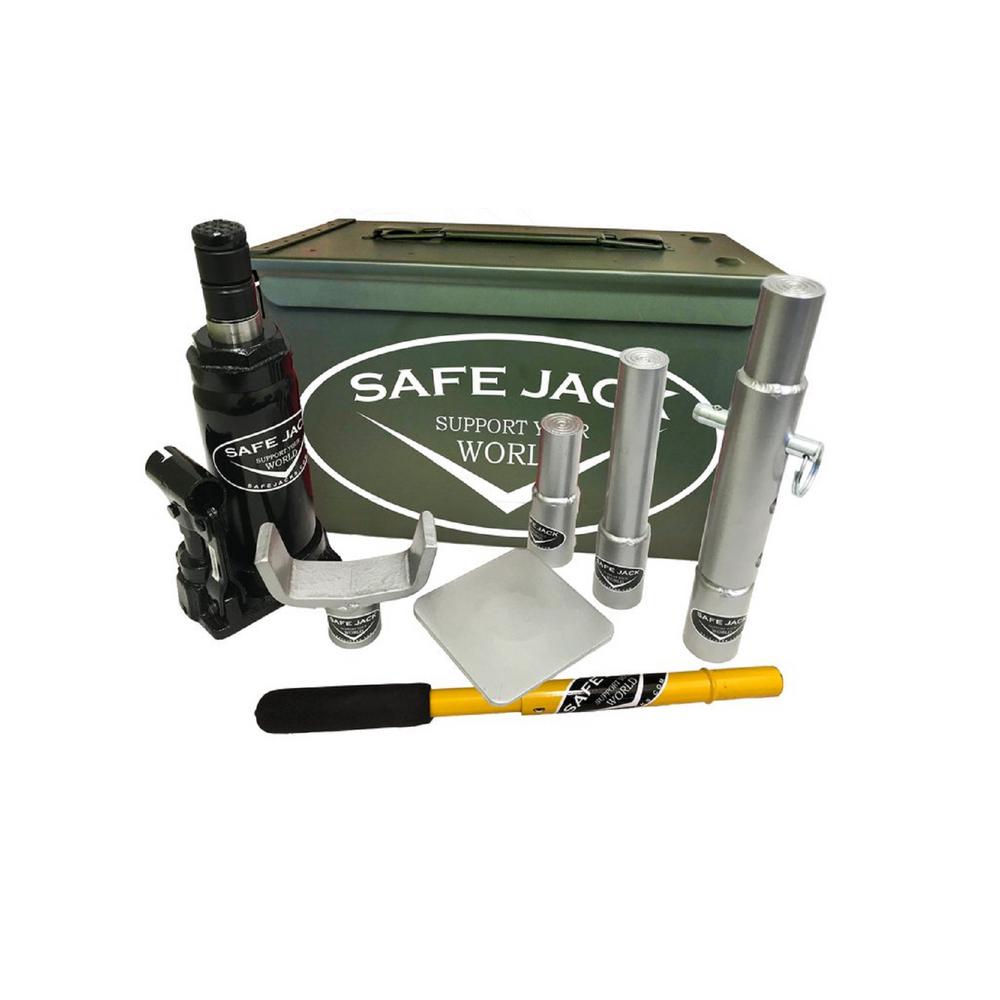 Bottle jacks pack a ton of lifting power into a compact package that's easier to store in your off-road vehicle than a traditional floor jack. However, the common problem is that bottle floor jacks don't always lift high enough to get tires off the ground or get enough clearance. With a lift range of 8″ to 36″, The Sergeant off-road kit by Safe Jack will take care of that, no problem.
Safe Jack put together a high-quality, American-man kit to make it one of the best floor jacks for lifted trucks, especially as an onboard model to get you out of troublesome situations. It includes extensions and plates that make jacking lifted trucks from the frame rail, axle, or any other lift points safe and simple.
Included the kit is an extension screw collar, 3-inch and 6-inch extensions, and an adjustable extension that ranges from 8.5-inch to 12-inch heights for super high trucks. Safe Jack also tossed in a flat jack pad and a round jack pad to ensure you've got the best support possible.
For a nice touch, the entire kit fits nicely into a waterproof .50-caliber steel ammo can.
Worth mentioning, "The Sergeant" is most suitable for heavily lifted trucks because it requires a minimum of 8″ of clearance. But if you own a big truck and frequently take the less-traveled path, this is the jack you need. On the other hand, if you only need a jack for home use, standard floor jacks might be a better choice. Even though bottle jacks do the job just fine, the smaller footprint also makes them a little less stable. If you don't plan to bring your jack with you, floor jacks are always a better choice.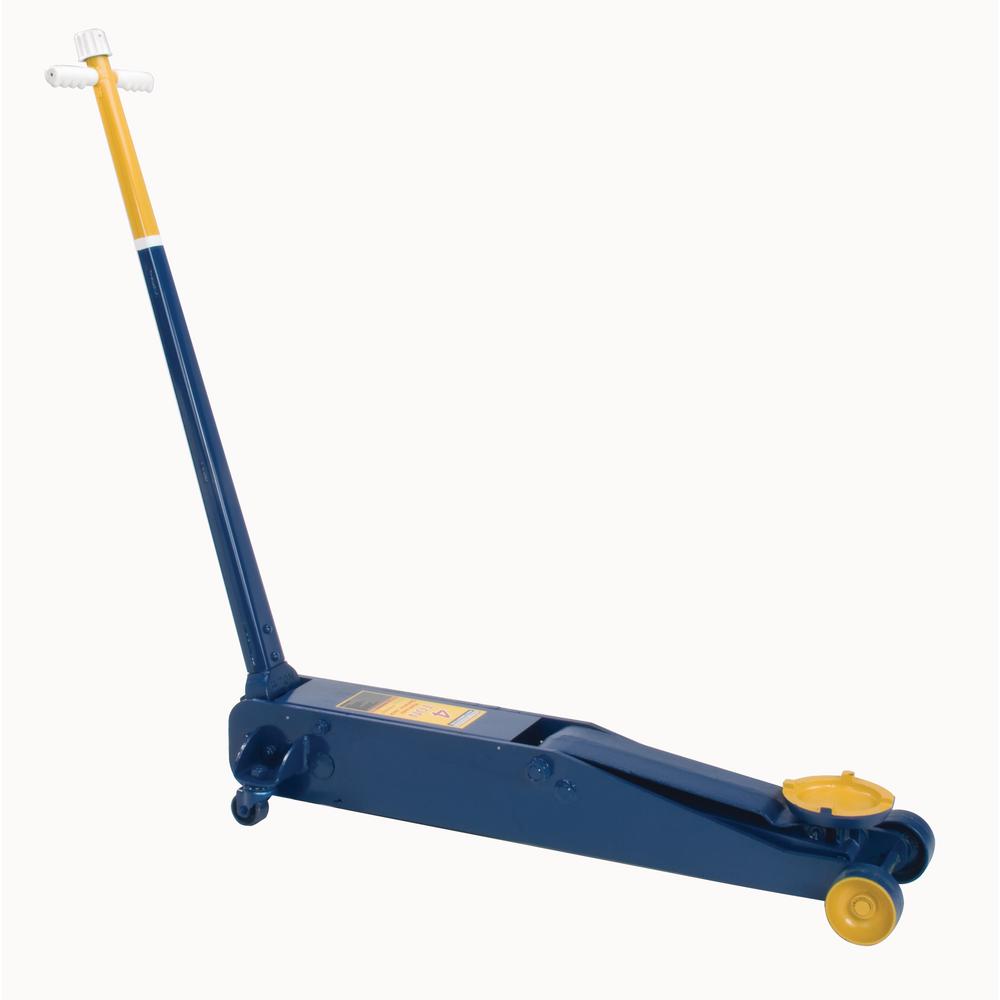 This model is a professional-level service jack that you'll see in lots of truck shops. Its distinctive blue paint and extended chassis are instantly recognizable as one of the best pro truck jacks out there. However, Hein-Werner's jack has one big downside—it's the second-most expensive floor jack on this list. But when it comes to jacks that big, cheaping out is never a good idea anyway.
Nonetheless, the extended-length chassis is ideal for working on lifted trucks. It lets the operator get the jack into position while having plenty of range in the handle. Furthermore, the long chassis also allows for an extra-long service arm, translating into a higher total lift range. Hein-Werner's 4-Ton service jack has a maximum lift height of 20 ¾-inches and requires 5-inches of clearance.
Moreover, three handle positions make it easy to control the speed of your lifting and lowering action. The jack also uses dual rams for quick pump-up to contact, then stable lifting. Meanwhile, the hydraulic unit is fully sealed, providing a lifetime of protection from grime and dirt. You'll also be happy to learn that the T-handle provides excellent control and makes moving the jack around the shop easy.
Furthermore, the jack features a release knob to make lowering vehicles safe and secure. The extra-long chassis is also particularly well suited to long wheelbase vehicles. Ultimately, the lift arm and hydraulic base are cast iron, providing long-term strength and stability.
The Hein-Werner 4-Ton is an ideal jack for professionals needing a high-quality heavy-duty floor jack for lifted trucks.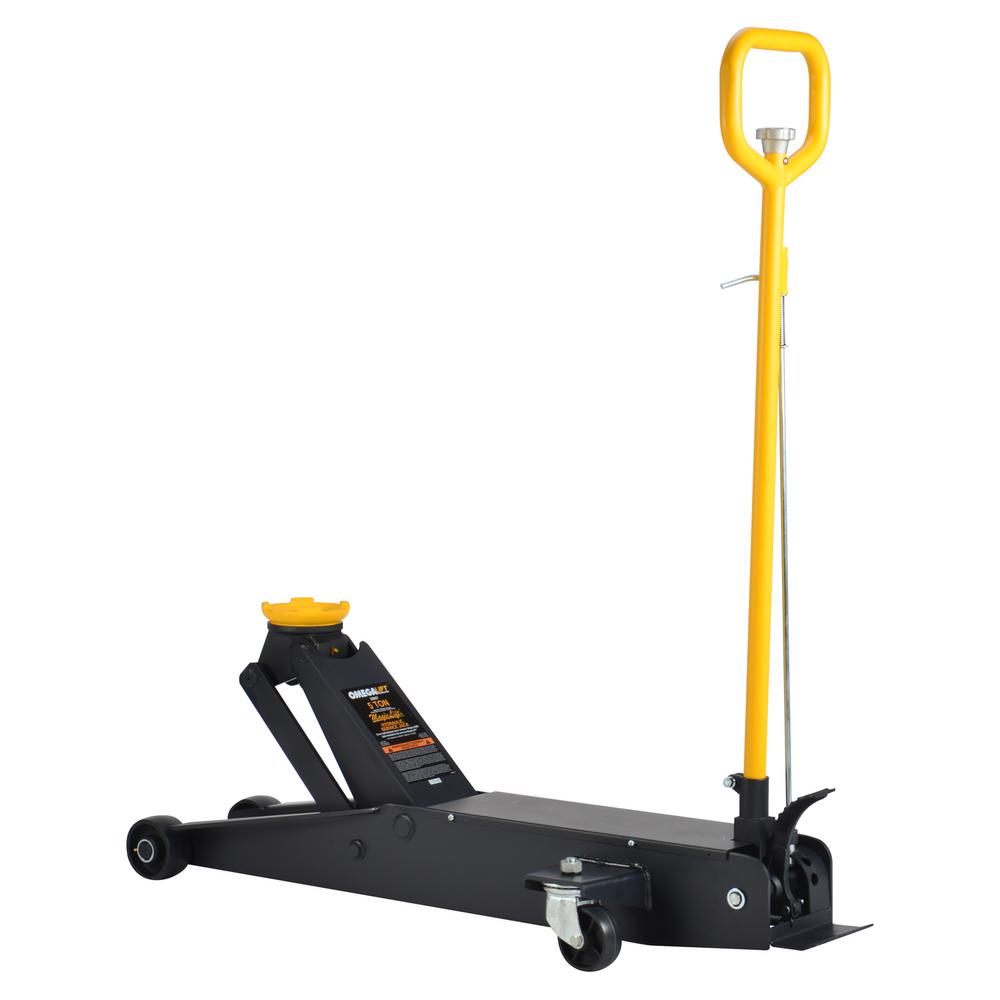 The Omega Magic Lift is a great option for the DIYer or shop mechanic in need of a serious jack with convenient features. This floor jack includes several patented components that set it apart from other floor jacks and make it desirable over more expensive options. On the other hand, yes, it's on the pricier side. However, you'll get a lifetime of jacking lifted trucks out of it.
The Magic Lift starts with an innovative and convenient foot pedal for quick-raising action. It's a simple feature, yet so handy. You'll wonder why every jack doesn't already have it. Making things even easier, Omega set this jack up to reach lifting height using only one stroke of the handle. And when it's time to bring the truck down, the universal joint and handle knob make lowering the jack easy and smooth.
Moreover, the Magic Lift jack features one of the fastest lift rates around. The hoop-style handle is also comfortable and provides excellent leverage when you need it. Meanwhile, the heavy-gauge steel frame resists twisting and distortion to provide a safe and stable floor jack ideal for lifting trucks. The jack requires 5 ½-inches of clearance and achieves a lift height of 22 ¼-inches.
The Omega Magic Lift 5-Ton floor jack is a perfect pick for home garage use and professionals. It has a low enough initial clearance to work on lower trucks and SUVs and is powerful enough for full-size models.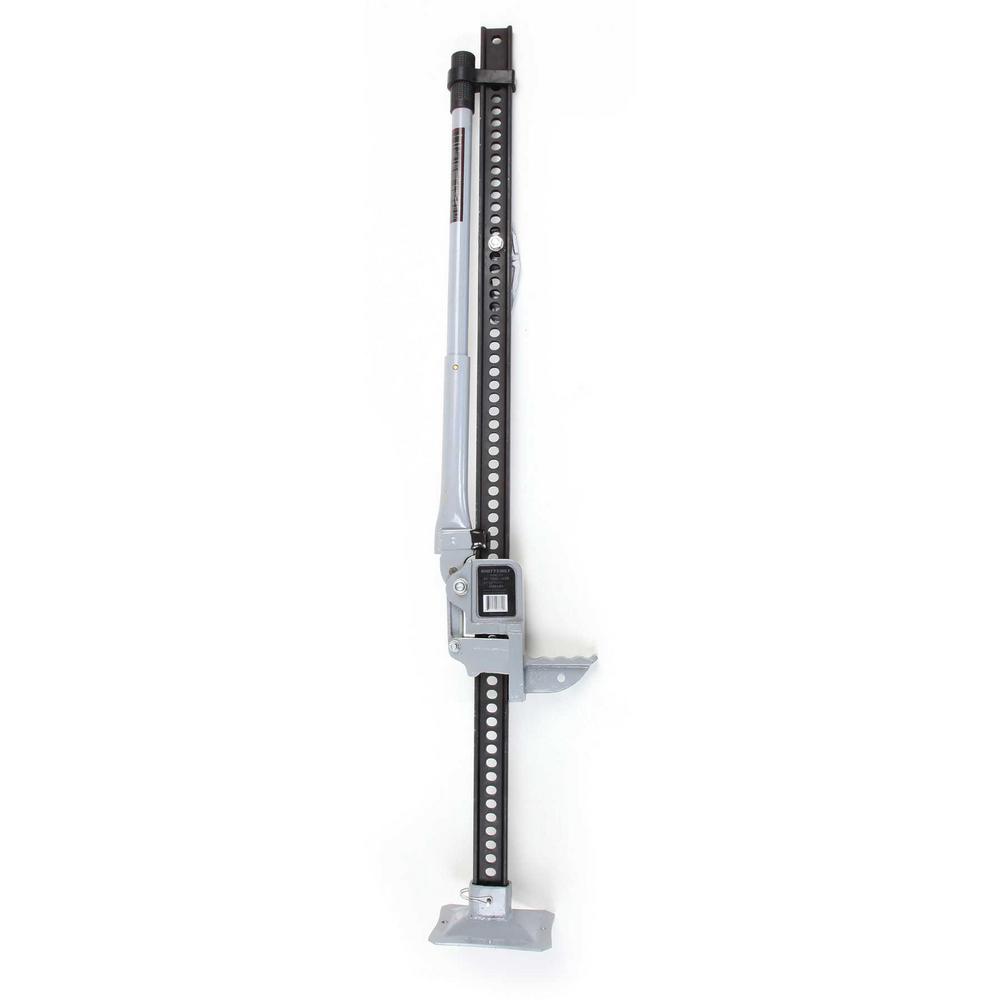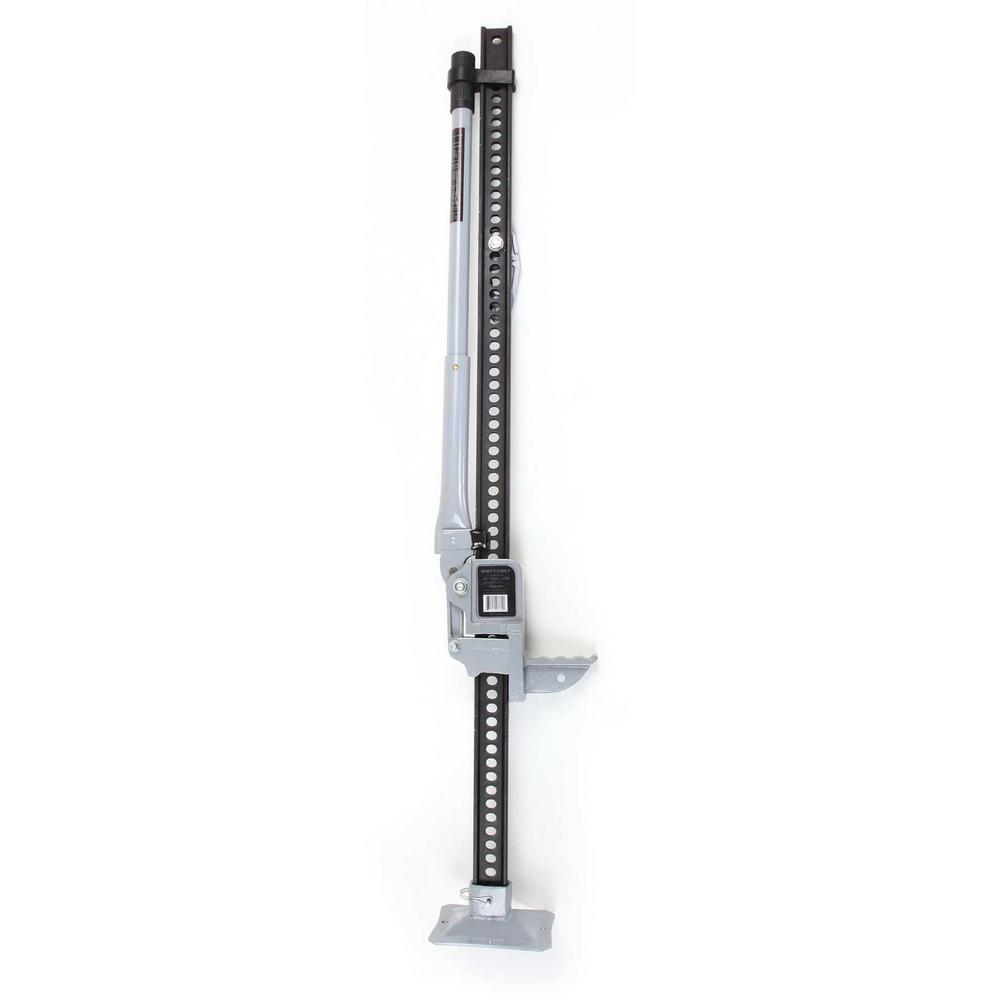 The ultimate in affordable and adaptable lifting power, this Trail Jack from Smittybilt is tough and rugged for the craziest adventures. Worth mentioning, it's a mechanical jack, so it takes some effort on heavy vehicles. However, it can do one thing no hydraulic jack can do—it can lift at various angles, even upside-down. You can even use it with a winch like a come-along to help rescue your truck from precarious situations.
Interestingly, the Smittybilt Trail Jack is the most affordable items on this list, but it's far from inferior. Notably, the all-steel construction and oversized footpad make it one of the safest bumper jack-style designs out there. Besides, at only 37 lbs, you can easily add it to your off-road gear or buy brackets to secure the Trail Jack to your bumper, hood, or inside the bed.
The Trail Jack also provides a total of 54-inches of lift—the highest range in the list—using a lever-type gear and a long ladder-type rod. A release pin lets you lower the jack one tooth at a time until the lifting weight is off. Thanks to its peculiar design, it can lift your Jeep or truck from the bumper or frame rail (given you have metal bumpers. Don't try to lift your jacked Jeep Patriot with plastic bumper covers with this type of jack). In addition, it's capable of supporting 2.3 tons and up to 7,000 lbs lift-and-pull weight using a winch.
This jack is a critical piece of equipment for anyone taking off-roading seriously. A Trail Jack is immensely useful at numerous tasks, from pulling trees and stumps to keeping your truck out of a ravine when you don't get the line right. While they aren't the most convenient nor easiest to use in the shop, it's hard to beat a Smittybilt Trail Jack when you are miles from pavement.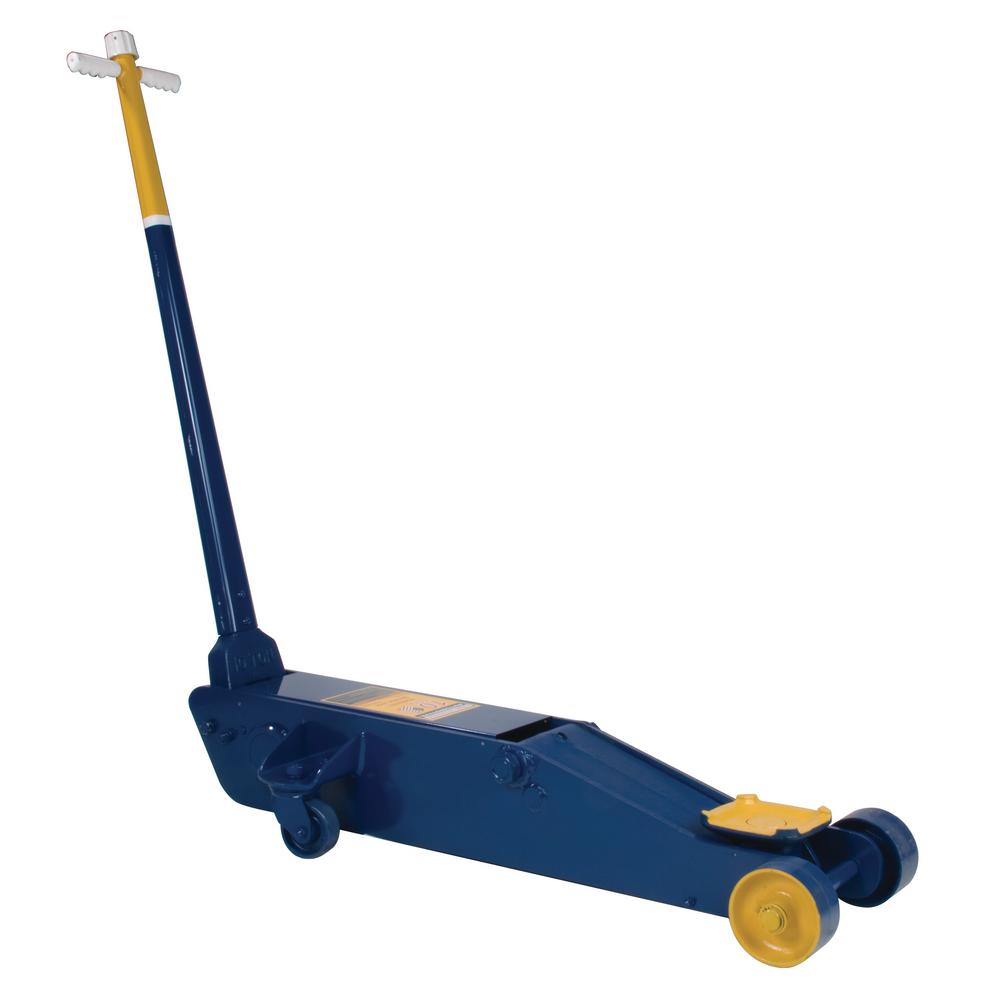 When you own a monster truck, you need a monster jack. This professional service jack can handle 10-tons, so it's the de facto choice for anything from huge trucks to RVs and heavy-duty equipment. When you need a jack this powerful, you can't go cheap, so don't let Hein-Werner's price tag shock you.
And there is a reason for the high price. Hein-Werner's 10-ton jack features a sturdy chassis made from equipment-grade steel and heavy-duty casters so it won't fail, even if you need to lift a bus, RV, or tractor. Moreover, the cast-iron lift arm provides excellent stability and resists distortion that could lead to dangerous situations, while an extended-length chassis helps reach difficult spots.
The T-handle is also sturdy and provides mechanics a secure lifting action. Hein-Werner opted for a dual-piston design that gives the jack rapid rise action, helping speed up the lift. Meanwhile, a release knob on the T-handle allows to safely control the lowering speed. Every component of this jack is heavy-duty and designed for professional work.
You'll want this jack if you are servicing heavy-duty equipment, like dump trucks or busses or any massive lifted truck. It's also a good choice for working on work equipment, including tractors and other farm machines. The lift height is not as great as other jacks on this list at only 25 ½-inches, and it's not as fast. But when you are working on seriously heavy-duty equipment, this is the jack you need.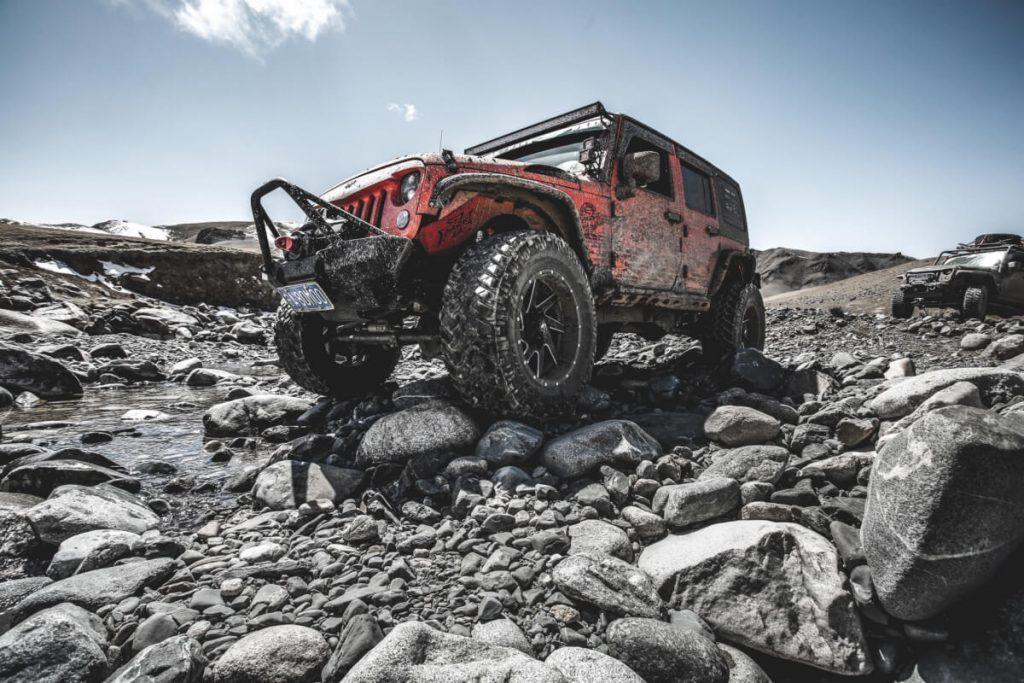 Frequently Asked Questions (FAQs)
How big of a jack do I need for my truck?
This depends on the size of your truck. A rough way to pick is to divide the truck's total weight by two, then select a jack capable of lifting more.
Are aluminum jacks as strong as steel jacks?
Aluminum floor jacks are lighter, but that doesn't mean they're flimsier than steel models. The max load rating determines the capacity of each jack. If it's rated for 3-tons, it will be able to safely lift 3-tons—no matter whether it's made of steel or aluminum.
Can a floor jack work sideways?
No, a hydraulic floor jack must be oriented in the proper position to function. Only bottle or bumper jack like the "Sergeant" or Trail Jack above are appropriate for non-horizontal lifting.
What happens if you put too much weight on a jack?
Most jacks will fail when they have too much weight on them. It's common for hydraulic seals to fail, resulting in the need to rebuild the hydraulic ram. However, a few options on our list include built-in release valves to prevent them from failing. That being said, even with a safety valve, it's always a very bad idea to lift a truck weighing over the capacity rating. Not to mention that the heavier a trucks get, the more dangerous it is if it falls.
Just make sure to buy a jack that can lift more than your truck weighs.
Verdict
Choosing the best floor jack for your lifted trucks depends on a few factors. Different people will have different needs and budgets. Keep in mind that buying cheap alternatives will usually leave you disappointed in the end.
Thus, you should consider how you plan to use your floor jack first. If you are going to use it primarily in a garage or shop on concrete floors, steel caster floor jacks will give you the lowest jacking clearance and great stability at a reasonable price.
However, if you need something when you are out on the trail, the Trail Jack or the Pro Eagle are better options. The Safe Jack unit is ideal in either situation and makes a convenient everyday carry jack.
As usual, we can't try every jack out there—even though we would really like it. If you use a different model than those above and think it's good enough to make the list, make sure to leave a comment below, and we'll make sure to review it too!
Happy off-roading, y'all!