EDITOR'S PICK
OTC LDJA2 2-Ton Aluminum Racing Jack
Dimensions: 11.87" x 25.12″ x 6″
Weight capacity: 2 ton
Weight: 42lbs
Lifting range: 3.4″ – 18.5″
47.6″ padded handle
Lifetime warranty
PREMIUM PICK
OTC LDJ3 3-Ton Service Jack
Dimensions: 30″ x 16″ x 9″
Weight capacity: 3 ton
Weight: 77 lbs
Lifting range: 5.75″ – 18.5″
Padded handle
Dual pumps
BUDGET PICK
Torin BIG RED T10152 1.5-Ton Steel Scissor Jack
Dimensions: 4.82 x 14.9 x 4.13 inches
Weight Capacity: 3000lbs
Weight: 7.7lbs
Lifting range: 4.13″ – 15.13″
Foldable handle
Portable car jacks are an essential part of any mobile mechanic or weekend DIYer's tool kit. And even though several modern cars come with a tire repair kit instead of a spare tire, keeping a car jack in your trunk is still a pretty wise move, especially when going on long road trips. Moreover, there's no need to say that portable jacks are also vital for off-road enthusiasts — no matter how capable your off-roader is, you never know when you'll need a jack to get out of a ditch or perform quick repairs on the side of a trail.
However, there are also many different types of portable jacks out there, and each type caters to different customers and to different budgets. Luckily, you don't have to worry about anything here — we've already done all the heavy lifting for you! To help you find the right portable car jack for you, we've cherry-picked the best models we could find and reviewed them thoroughly below.
Let's dig in!
Best Portable Car Jack Reviews
Ok so yes, the Torin Scissor Jack is obviously an entry-level portable jack. However, that's not to say that it's not worth your hard-earned money. Indeed, Torin is a well-established car jack manufacturer, and this model, despite not having all the bells and whistles of the more premium models featured below, is still perfect for keeping in your car in case of emergency or occasional use, without breaking the bank.
Scissor jacks can sometimes be tricky because of the lower footprint reducing stability, but Torin counteracts that with a 4.8″-wide base, making it much safer than most. Furthermore, it's made from solid and durable forged alloy steel, and surprisingly, still weighs only 7.7 lbs — that's pretty much as light as portable car jacks go.
Another practical feature is the foldable handle for maximum storage efficiency in your car's trunk or garage. Moreover, since it can lift up to 1.5 tons (3,000 lbs.), you can use it on anything from a compact car to a medium-sized SUV. At its lowest height, the Torin scissor jack is only 4.13 inches tall, so it's suitable for reasonably low cars, and it can go up to 15.13 inches, which should be more than enough for average small to medium size SUVs or raising a car high enough so you can slide underneath to replace motor mounts over the weekend — pretty neat for such an inexpensive jack.
Put simply, if you need a car jack that you can rely on while still being cheap, practical, lightweight, and small enough to store in your car, this is the right jack for you. But of course, if you plan on using your jack 40 hours a week and all year long, we've got much better ones below!
Highlighted Features
Dimensions: 4.82 x 14.9 x 4.13 inches
Weight Capacity: 3000lbs
Weight: 7.7lbs
Lifting range: 4.13″ – 15.13″
Foldable handle
Pros
Forged alloy steel construction
Lightweight
Straightforward to use
Easy to store
Super cheap
Decent lifting range
1-year warranty
Cons
Scissor jacks are definitely not built for regular use
Bottle jacks' main advantage is their exceptional lifting capacity relative to their size and weight, and this Big Red 10-ton bottle jack is a prime example of that. Although it's a bit basic, it doesn't need much more to do the job. Moreover, it's quite easy to use, making it a great option for beginner mechanics — and the budget-friendly price tag is definitely a bonus.
Thanks to the 10-ton capacity, it can lift even the heaviest trucks or RV trailers. Nonetheless, while its size is quite convenient, its lifting range (8.81″ to 17.63″) is something to be wary of. Indeed, this range might be a problem for lowered sports cars or lifted trucks.
Have a lifted truck and need a much wider lifting range? Check this out!
7 Best Floor Jacks For Lifted SUVs and Trucks [2022 Review]
However, the total weight is a pleasant surprise though. At only 10.7 lbs, it's not much heavier than the scissor jack above, although its total weight capacity is much higher.
If you need a versatile and portable jack with all the capacity you might ever need without costing an arm and a leg, this is what you need.
Highlighted features
Dimensions: 11.61 x 10.83 x 10.24 inches
Weight capacity: 10 ton (20,000lbs)
Weight: 10.7 lbs
Lifting range: 8.81″ – 17.63″
Strong adjustable screw top extension
Safety bypass valve prevents overloading
Welded cylinder prevents leaks
Pros
Budget-friendly
Impressive lifting capacity
Lightweight
Compact
1-year warranty
Cons
Only suitable for vehicles with a relatively high ground clearance
Ok so now, we are starting with the serious stuff — The OTC LDJA2 aluminum floor jack has all the quality and reliability a professional mechanic might need. Indeed, it's versatile, rather compact, and really lightweight, making it perfectly suited for mobile mechanics and off-roaders. Moreover, it's also worth mentioning that OTC's customer satisfaction is one of the highest in the industry, which is not to neglect.
Thanks to the aluminum construction, the OTC LDJA2 only weighs 42lbs, which isn't exceptionally light for a floor jack, but definitely respectable compared to steel alternatives. And despite the weight being kept on the lower end of the range, the 2-ton lifting capacity is enough for any car or small to medium-sized SUV — of course, it won't do for larger pickup trucks but aluminum jacks are rarely designed for heavy vehicles.
That being said, the padded handle is a neat plus, preventing damage to your car in case you knock it against the body while pumping. And if you are worried about the car sliding off the saddle when lifting on uneven pavement, you'll be happy to know that OTC added a rubber pad, significantly increasing the grip between the vehicle and the jack. And, of course, if you drive a relatively low car, the pad can also be removed to achieve a minimum height of only 3.4″.
Overall, this jack is perfect for mobile mechanics working on a wide range of vehicles, weekend track days, and DIY'ers just working on their cars on weekends. The price tag is a bit steep, but it's worth every penny.
Highlighted features
Dimensions: 11.87" x 25.12″ x 6″
Weight capacity: 2 ton
Weight: 42lbs
Lifting range: 3.4″ – 18.5″
47.6″ padded handle
Lifetime warranty
Pros
Relatively lightweight
Longer warranty than most
Sturdy construction
Padded handle is very convenient
Versatile lifting range
Cons
Hydraulic cylinders tend to stick after about a year — but nothing a little lube can't fix.
ARB's Inflatable Bushranger X-Jack is purposefully designed for offroad use, being suitable to raise vehicles on any surface, be it mud, snow, or sand. However, it's important to keep in mind that this type of jack should really be kept as a last resort since it can be potentially dangerous to use. Let's just say that it can be a lifesaver in specific situations, but should definitely not be used as your go-to, daily-use jack in the shop.
On the other hand, thanks to the wide footprint, this jack provides the best chances of recovering your truck from a ditch or fixing it in nature, far from any service station. No need to mention that choosing a high-quality product is particularly important when selecting an off-road jack — you definitely don't want to have your jack drop your truck on you at any point, but even less when you are miles away from the closest hospital.
That being said, despite the several inherent flaws brought by an "inflatable" jack, it also brings several other advantages that regular jacks simply can't compete with. For instance, to make the most of a vehicle's cargo space, the size and weight of a jack are critical, and this is where the Bushranger really shines. Indeed, it only weighs 19.8lbs, and the whole package is not much bigger than a retracted scissor jack when deflated. Moreover, it can lift up to 4400lbs at only 10psi of pressure and can be inflated using a portable air compressor or your vehicle's exhaust pipe.
Meanwhile, the wide footprint ensures maximum friction between the ground and the vehicle while preventing it from sinking in soft ground — which would inevitably happen with a scissor or bottle jack, for example. Hardcore inserts are also there to prevent the jack from rolling away and increase stability. However, I would highly suggest using jack stands if you need to slide under there while your vehicle is up. Working under a car only supported by a jack is never a good idea but it's even worse when it's an inflatable model.
Overall, if you are an avid off-roader, you need one of those. It's not exactly cheap and you might not need it that regularly. On the other hand, you'll be quite happy you have it when all else fails.
Highlighted features
Dimensions: 9.1″ x 7.1″ x 9.1″
Weight capacity: 2 ton (4400lbs)
Weight: 19.8 lbs
Lifting range: 30"
Two-way inflation system
1-year warranty
Pros
Lightweight
Practical size
High lifting capability
Wide footprint
Suitable for various terrains
Reinforced top for added stability
One year warranty
Triangular spikes on the bottom to avoid slipping
Cons
Definitely not the safest jack out there. If you are using it for the first time, read the instructions carefully or ask someone experienced for help.
If an inflatable jack is not your cup of tea, the Pro Eagle Big Wheel is a floor jack specifically designed with off-roading-oriented trucks and SUVs in mind.
Indeed, its main advantage is the 28″ lift height, including an 8″ adjustable extension. Moreover, it's designed to be as durable as car jacks get, thanks to the big composite wheels with sealed bearings ensuring perfect functioning in any condition, including sand and mud.
The big wheels also ensure the jack can move in gravel and has enough ground clearance not to drag on loose or uneven surfaces — an excellent feature since it's not exactly light. Indeed, despite the all-aluminum construction, it still weighs about 60 lbs. But, of course, a higher weight is unavoidable with a jack that powerful.
Furthermore, to prevent the extra weight from causing it to sink into the ground, the manufacturer also included a full-length steel skid plate — a neat addition, to say the least.
Overall, the Pro Eagle jack will be of good service to anyone looking for a jack suitable to be used on a trail, while being just as safe and easy to use as any other regular floor jack.
Highlighted features
Dimensions: 31″ x 13″ x 6″
Weight capacity: 3 ton
Weight: 60 lbs.
Lifting range: 28"
Big composite wheels with sealed bearings
Full-length skid plate
2-year warranty
Pros
Easy to use
High lifting capacity
Good warranty
Very durable
Included skid plate is a must
Cons
Although it's easy to use, the overall weight makes it a bit cumbersome
Hi-lift jacks are often overlooked when going off-roading because of their inherent practicality problems, but the incredibly wide range of uses more than makes up for the cons. Indeed, you can use them to lift anything from SUVs and trucks to various farm equipment, but also to winch, hoist, clamp, spread — pretty much anything you have in mind.
And when it comes to the best hi-lift jacks on the market, this one sits right on top of the list. The Smittybilt trail jack is made of powder-coated solid cast steel and everything is also zinc plated to avoid rust and ensure it lasts for years to come. Meanwhile, Smittybilt equipped it with a 28 sq. in. base plate to help with stability, which is a neat addition, but won't completely solve the inherent stability problems due to the design — still, it's better than nothing.
However, with a 4,660lbs weight capacity and a 54″ high lift, it's up to the task for anything you will throw at it. On the other hand, it's not really compact at 56″ long, but mounting it outside of the vehicle is is always an option — no mentioning that it will also only make your truck look even better.
If you are serious about your off-roading game, you should always have at least one of those hi-lift jacks — it's not always the best option but might make the difference between a happy day on the trail and having to call for a tow truck. Still, if you choose to get one, Smittybilt's hi-lift jack is by far one of the best options you can find.
"Built by off-roaders, for off-roaders" — you just can't go wrong with this one!
Highlighted features
Dimensions: 56″ x 6″ x 8″
Weight capacity: 4660 lbs.
Weight: 30 lbs
Lifting range: 54"
28 square inch base plate
Steel 14 gauge tube handle
Pros
Good lifting range
Versatile
Quality material
Sturdy construction
Improved stability
Cons
Total length is far from practical
The LDJ3 is, for most people, all the floor jack they're ever going to need, and it will also find itself perfectly at home in most automotive repair shops. Indeed, it can lift anything from small hatchbacks and big sedans to full-size pickup trucks and SUVs, and will keep doing so for years.
The innovative dual-pump design can lift vehicles up to 3 tons with very little effort. For instance, it takes only three pumps to lift 1,750lbs to the jack's maximum height of 18.5″, and with a minimum height of 5.75″, it will fit under most cars, even if it's somewhat lowered. Moreover, it's light and compact, making it suitable for professional technicians and mobile mechanics.
Still, the 77 lbs overall weight might be off-putting for some buyers, but for others, it will be a good trade-off for a jack that will do everything they need it to do, day after day, 40 hours a week.
If you are looking for a floor jack that will be up to any task, or an excellent addition to your repair shop's current floor jack lineup, this is what we recommend — trust me; you won't regret it one bit!
Highlighted features
Dimensions: 30″ x 16″ x 9″
Weight capacity: 3 ton
Weight: 77 lbs
Lifting range: 5.75″ – 18.5″
Padded handle
Dual pumps
Pros
Easy to use
Suitable for a wide range of vehicles
Versatile lifting range
High weight capacity
Relatively compact
High-quality materials
Safe operation
Cons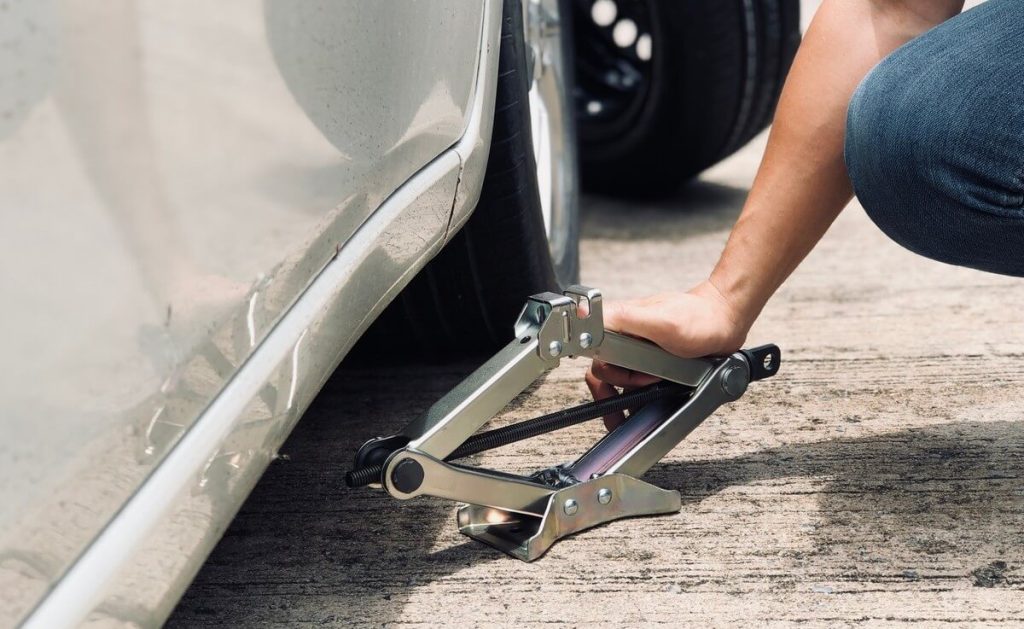 What to Consider When Buying a Portable Car Jack
Choosing the right portable car jack can be tricky with the wide range of different types, weights, height ratings, and manufacturers. So here are some of the factors to keep in mind when shopping for one.
What type of vehicle is it going to be used for?
No need to mention that you don't want to buy a car jack that won't be able to lift your vehicle. So, the first thing to determine is the clearance and weight of your car. Once you find out these values, it will be easy to confirm if a jack is powerful and slim enough to fit under there.
Quick tip: if you are not sure how much your car weighs or how high it is, take a look in your car owner's manual — you'll find everything you need in there.
On-road or off-road use?
Even though most car jacks will lift vehicles just fine in normal conditions, that doesn't mean they'll work as well in extreme conditions, like for example, when off-roading. A standard floor jack is good enough when lifting cars on pavement or concrete, but when on mud, snow, sand, and gravel, you'll need something a bit more purpose-built like a hi-lift or inflatable jack.
How often is it going to be used?
If you are a professional mechanic working day-in day out in the shop, buying a high-quality and durable product is essential, but that will naturally increase the price. So, if you only need a jack in case of emergency or for the occasional repair here and there, buying something a little more basic might be a better idea — why waste your money on something that you won't use to its full potential anyway, right?
Size and Weight
This is also an essential factor because different systems have widely different weights and sizes. For example, an inflatable car jack is smaller and weighs half as much as a standard trail jack. So if you drive a smaller SUV, a more compact jack might be better. On the other hand, if you drive a large pickup and can just drop your jack in the back, it might not be that important for you — you be the judge.
The same thing applies to the material. For instance, aluminum jacks are much lighter than their steel counterparts but also more expensive. To determine if it's worth the investment, it's best to figure out how often it's going to be used and what type of vehicle it's going to be carried in first.
Price
And on to our last and all-determining factor, the price. Once you have answered all the questions above, knowing how much you should spend on a jack shouldn't be that hard. Indeed, once you've determined the specifications and type of jack you need, you will have a good idea of the kind of prices you can expect to have to pay. Then it's down to how often you will use it — if you only use it every once in a while, go with a more basic product; if you use it every week, it might be worth investing a bit more.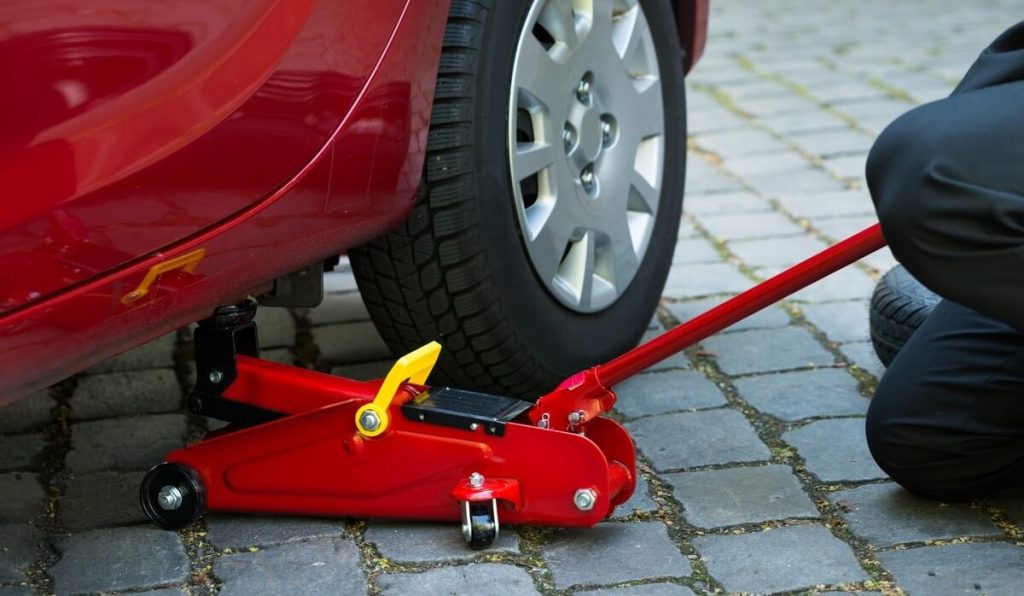 Frequently Asked Questions (FAQs)
What are the best portable car jack brands?
When it comes to quality portable car jacks, any of the manufacturers mentioned above are doing quality work. OTC, ARB, Smittybilt, and Torin are all names to remember, but of course, this list isn't exhaustive. Other manufacturers worth investing in include Safe Jack, ESCO, Hi-Lift, US Jack, and Brunnhoelzl (who actually builds jacks for the Nascar series).
Hein-Werner would also need to be cited here but their jacks are simply not very portable. Honestly, Hein-Werner is a specialist in big-ass pieces of metal made to lift cars — they are chunky, they are heavy, but they will last for years. But I digress…
Where to locate the car jack when changing a flat tire?
The jack should be placed on the car frame rail or rocker panel, just behind or in front of the wheel you need to remove. Look under your vehicle, and in most cases, you should be able to see either a stronger point or markings like an arrow or something similar. When in doubt, make sure to have a look at your car's owner's manual — you'll find the manufacturer's recommended lifting points in there.
Do I need jack stands?
Yes, you should absolutely use a jack stand. If you are doing some maintenance under the vehicle, no matter how strong your car jack might be, it could always drop unexpectedly if there was a fluid leak or it was to slip, bend, etc.
Trust me; if you are about to slide under there, play it safe and use a jack stand.
Does the car need to be on level ground?
It is highly recommended that the car is on level ground when using car jacks. Indeed, the vehicle could slip from the saddle or the jack could roll away, bend and twist.
And if you really need to lift a car on uneven or soft ground, there are jacks built for this. For instance, the ARB 72X10 Orange Bushranger X-Jack Kit is specifically designed to be used on trails, to get out of big holes, ditches, and so on.
Verdict
It's not always easy to find the right portable car jack and make sure you pay the right price for what you need it to do. If you are just beginning your research, I would suggest starting with the buying guide above and first identifying your specific requirements and budget.
That being said, if you just need a cheap portable car jack that does the job without breaking the bank, go for the Torin BIG RED Scissor Jack. It's easy to use, budget-friendly, and does what it's supposed to do.
If you are serious about your tool game and plan to use your jack quite regularly, I would suggest the OTC LDJA2 2-Ton Aluminum Racing Jack. It's light and provides a wide lifting range allowing you to work on various vehicles — everything a weekend DIY'er needs!
And if you are a professional tech or mobile mechanic and use your jack every day on the job, the OTC LDJ3 3-Ton Service Jack is a definite buy. It's reliable, well-built, and will take anything you throw at it and ask for more — you just can't go wrong with this one!