Looking to buy a reliable off-road jack to fix your truck in the middle of nowhere? Here are the best options on the market!
BUDGET PICK
Torin T90413 Big Red Hydraulic Bottle Jack
Load capacity: 8,000 lbs
Lifting range: 7.5″ to 14.3″
Off-road jack dimensions: 11" x 7.5" x 4.3"
Total weight: 6.24 lbs.
Drop forged alloy steel construction
Hydraulic lifting mechanism
EDITOR'S PICK
Hi-Lift Jack HL484
Load capacity: (rated) 4,660 lbs. (tested) 7,000 lbs.
Lifting range: 4.5″ to 37.24″ height range
Off-road jack dimensions: 48" x 5" x 9.63"
Total weight: 27.66 lbs.
Alloy steel construction
Mechanical lifting mechanism
PREMIUM PICK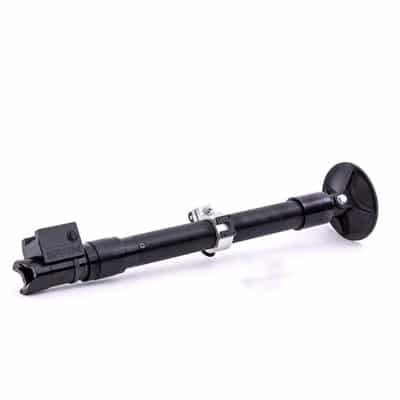 All German Motorsports "The Electric Jack"
Load capacity: 2,000 lbs.
14" of jack travel with 18" internal adjustment
Total weight: 17 lbs.
Modular farm-style off-road jack
Electric lifting mechanism
The most fun I ever have with my clothes on is when off-roading on a treacherous trail in the middle of nowhere. Of course, there was this time when the Jeep's front left tire was struck by a really well-camouflaged and also very sharp branch. Even worse, there was no one else in sight, and as the sun kept going down, so did the temperature. But thankfully, I had just the thing I needed to save myself: a trusty off-road jack. Sure, off-roading can be the perfect sport for a weekend in the woods, far away from the boring 9 to 5. However, it is essential to have the right tools, and in the middle of a trail, there is no tool more invaluable than a reliable off-road jack.
That being said, before beginning your pursuit for the best off-road jack, you must understand there isn't a specific set of rules making a jack "perfect" or not. Still, that doesn't mean there aren't some real duds out there — not in this article, though.
To help you with that, I have curated and reviewed seven of the best off-road jacks available online, so you don't have to waste time separating the wheat from the chaff. As usual, I tried my best to include a bit of everything, from basic bottle jacks to heavy-duty farm models and even one of those inflatable rubber things.
No matter whether you just want to be safe during your next overlanding trip or need something truly hardcore, we've got you covered!
Read more: How to Jack Up a Truck Like a Pro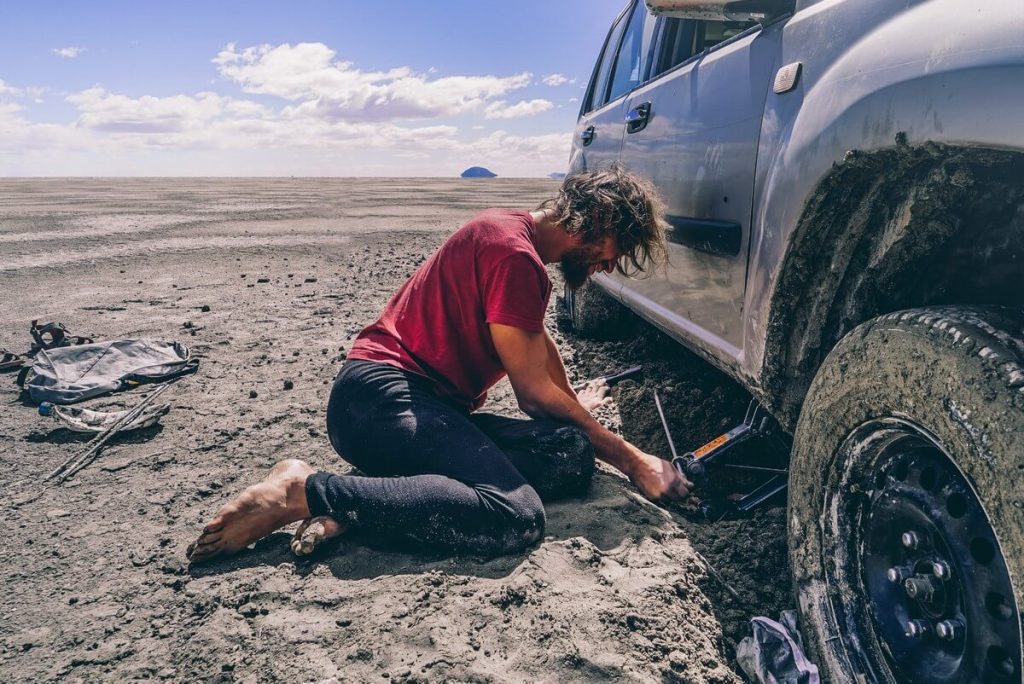 Best Off-Road Jack Reviews
In true GarageSpot tradition, I'll start with the cheapest model on the list: the Torin T90413 hydraulic bottle jack. Although Torin's model may not be designed especially for off-road applications, it is certainly up to the task, thanks to forged alloy steel construction for superior strength. That's not all; all parts are meticulously welded together instead of being screwed (pardon my French) to prevent anything from loosening up further down the line — the devil is in the details.
At just 7.5″ high, the T90413 looks relatively small, but don't let the compact size fool you. It can effortlessly lift up to 8,000 lbs, balanced safely on the heat-treated saddle surface. Moreover, the lifting range comes in at 7.5" to 14.3", enough to get light to medium pick-up off the ground with minimal effort.
If you are into some occasional light off-roading activities, Torin's T90413 hydraulic bottle jack is the perfect option for you. It is light, reliable, cheap, tough, and does not occupy any significant space in your vehicle — what's not to like? However, yes, it might come up a bit short for bigger and jacked trucks. If this is your case, we have much better ones below!
Highlighted features
Load capacity: 8,000 lbs
Lifting range: 7.5″ to 14.3″
Off-road jack dimensions: 11" x 7.5" x 4.3"
Total weight: 6.24 lbs.
Drop forged alloy steel construction
Hydraulic lifting mechanism
Pros
Serrated saddle surface for optimum grip
Hydraulic system uses high-quality oils for longevity
Extremely cheap
Welded seams provide leak-free operations
Integrated overload safety valve
Comes with a plastic carrying case for portability
Cons
Not specifically built for off-road applications
Only suitable for light trucks
The Hi-Lift HL848 is what most people refer to as a farm or "bumper" jack. Although not a common sight in most tool arsenals these days, they are quite popular in the off-roading community due to their specific design and superior versatility. For example, the HL484 comes with a winch connector clamp so you can rescue yourself or a fellow off-roader stuck somewhere on the trail — that's not something you would find on other jacks.
Hi-Lift, probably the most well-known manufacturer of off-road-oriented jacks, offers a diverse range of alloy steel farm jacks, but I chose the 48" model as it is the perfect size to deal with most trucks. Instead of delicate and expensive-to-repair hydraulic systems, the HL484 employs a simplistic mechanical linkage that does all the heavy lifting. And I do mean heavy; you can use the Hi-Lift off-road jack to lift up to 4,660 lbs. within a generous lifting range of 4.5" to 37.24". As a result, unless you've got a truck jacked higher than 3 feet, this model should do the trick — and if not Hi-Lift has even bigger ones.
That being said, it's important to mention that the HL484 jack is tested up to 7,000 lbs. but the rated capacity has been kept conservative for safety reasons. Still, the industrial-grade steel construction ensures it will be able to handle pretty much whatever you throw at it while the quality powder coating finish means it will do so for years.
And even better, a farm jack has many uses in addition to lifting your truck to change a tire. Indeed, you can use the Hi-Lift HL484 to uproot stubborn poles, rescue yourself when stuck on a rock, or even as a C-clamp on steroids.
Highlighted features
Load capacity: (rated) 4,660 lbs. (tested) 7,000 lbs.
Lifting range: 4.5″ to 37.24″ height range
Off-road jack dimensions: 48" x 5" x 9.63"
Total weight: 27.66 lbs.
Alloy steel construction
Mechanical lifting mechanism
Pros
Compact and portable
Desgined with off-road in mind
Can be used for a wide range of applications
Easy-to-maintain and simple mechanical linkage
Powder-coated finish for durability
Suitable even for lifted trucks
One-year manufacturer warranty
Cons
Not as stable as other jack types
Operation requires stringent safety precautions
More often than not when off-roading, you will come across loose surfaces like sand, slush, or snow. Chances of getting stuck when driving over such surfaces are significantly greater, and when the inevitable finally happens, traditional jacks will simply keep sinking into the ground. Enter the ARB Bushranger X-Jack — an off-road jack specially designed to get you out of sticky situations (pun intended). Simply stick that thing under your truck, inflate it, and voila!
ARB's Bushranger off-road jack is made from a specially formulated blend of highly elastic materials so the balloon won't suddenly burst while you are under there working on your vehicle. In fact, the material is so strong, it can lift nearly the same weight as any other off-road jacks. However, the advertised maximum height of 30″ entirely depends on the load.
The best part about ARB's model is that you don't need to spend hours inflating the jack manually or even shell out for a new air compressor. Simply connect the included hose to your vehicle's exhaust, and you're all set. Admittedly, a powerful air compressor would make the process a whole lot faster, though.
The idea of using a large inflatable balloon to jack up your vehicle may seem odd to laymen, but it's the ideal solution when dealing with uneven surfaces. And who better to buy such a specialized product from than ARB, a household name in the off-roading scene.
Highlighted features
Load capacity: 4,400 lbs.
Lifting range: 5″ to 30″
Off-road jack dimensions: 9" x 7" x 9"
Total weight: 17.96 lbs. total weight
Triple-layer rubberized material with solid core
Inflatable off-road jack
Pros
Collapses flat for easy storage and transportation
Perfect for sand, mud, snow, or other loose surfaces
Unique two-way inflation system
Kit comes with all required accessories
Comes with a patch kit to fix any punctures
Cons
Using the exhaust to inflate the balloon can take a long time
Large footprint not suitable for small off-roaders
Read more: Best Gas Can to Store and Carry Fuel in 2022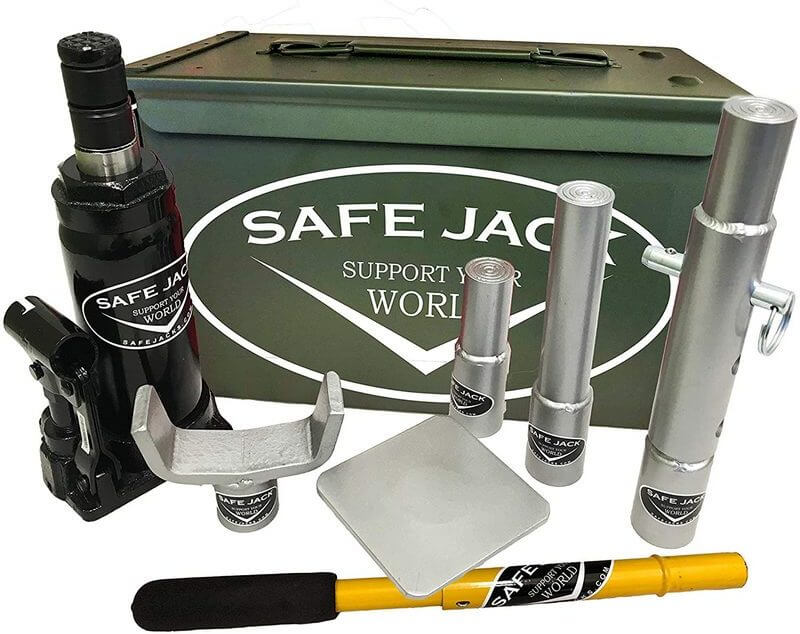 Safe Jack's "The Sergeant" kit is another bottle-style jack, but unlike Torin's model, this one is specifically built for off-road applications. Still, that isn't even its main feature; The Sergeant kit is entirely made in the USA, so if you are not so keen on Chinese-made tools, this one's for you!
If you're still worried about potential quality issues (not sure why you would be but just in case), perhaps the fact that Omega Lift manufactures the 6-ton steel bottle jack should put your mind at ease. The kit also includes a host of accessories to make your life easier while on a trail; you get three jack extensions, two jack pads, and a small two-piece handle.
The extensions are of particular importance here as they allow to lift different vehicles easily. Safe Jack will send two fixed extensions of 3″ and 6″, in addition to an adjustable unit (8.5″-12″), so you can go from jacking up stock SUVs to lifted trucks with just a few changes.
The Sergeant off-road kit may be the most expensive model on this list yet, but you can clearly see where your money is going. The beautifully machined steel components are a delight, and they come in a steel can similar to the ones used to store .50-cal ammunition — it doesn't get any more American than that!
Highlighted features
Load capacity: 12,000 lbs.
Lifting range: 8″ to 36″
Total weight: 29 lbs.
All-steel construction
Hydraulic lifting mechanism
Kit includes: bottle jack, 3" & 6" jack extension, 8.2"-12" jack extension, flat jack pad, extension screw collar, universal round pad, and handle
Pros
.50-cal steel ammo box for convenient storage
Durable and sturdy steel components
Suitable for low-clearance cars and lifted vehicles alike
Comes with all required accessories and attachments
Storage box is smaller than an average lunchbox
Made in the USA
Cons
None — when it works, it works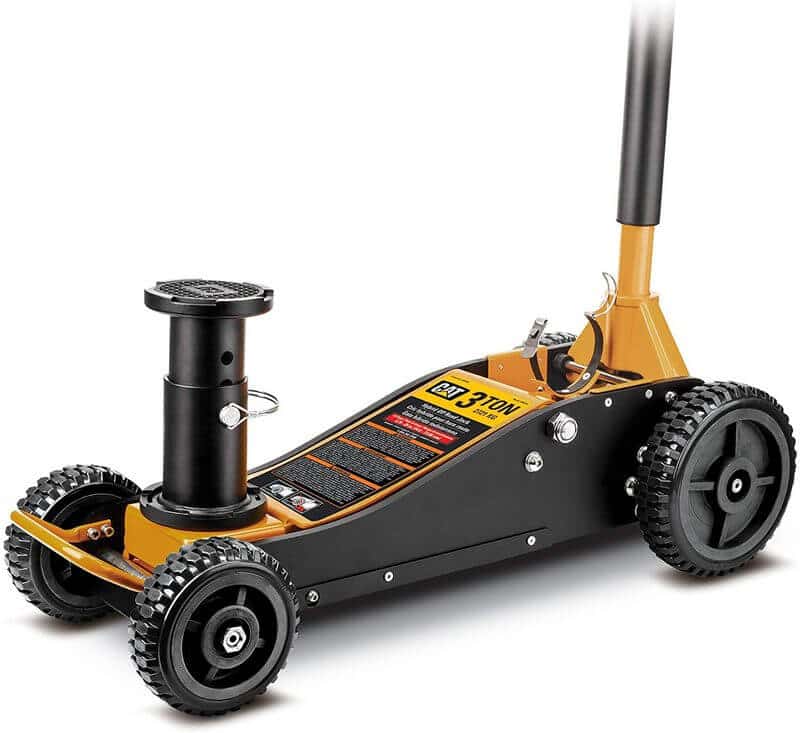 It's no secret that floor jacks are the best type of jacks out there for nearly all automotive applications. However, rocky terrain and the presence of obstacles found in most off-road environments means regular floor jacks with those tiny casters just won't cut it. To solve this problem, CAT developed an innovative solution — it replaced the small caster with massive composite wheels, significantly improving maneuverability over tricky surfaces, without risking getting stuck somewhere.
But wait — there's much more to this floor jack than just big wheels. Indeed, instead of the usual heavy steel construction, CAT opted for a unique hybrid body including several aluminum components to keep the weight in check. However, the most critical components are still made from steel to avoid compromising structural integrity. As a result, the jack is considerably lighter while providing a pretty decent 3 tons lifting capacity.
Of course, the rugged and robust body isn't solely responsible for this jack's incredible performance in off-road applications; the sophisticated dual-piston hydraulic system also deserves some credit. It can lift the saddle to its maximum height of 21.5" with merely seven pumps of the extra-long handle, and if you need a little more height, it can be increased by another 7.75″ using the included adapter.
The CAT 240330 big wheel floor jack is built for all-terrain use and gets the job done every time. If you have some space to spare in the back of your truck, this off-road jack will be your best companion on every adventure.
Highlighted features
Load capacity: 6,000 lbs.
Lifting range: 6″ to 21.5″ (29.25" with the adapter)
Total weight: 89.5 lbs.
Steel and aluminum hybrid construction
Dual-piston pump hydraulic lifting mechanism
Pros
Skid plate at the bottom prevents damage and provides support
Unique hybrid aluminum/steel body
Large composite wheels for better maneuverability
Included adapter for extra lift height
One-year limited warranty
Cons
Not the most compact model out there
ARB is back with another great product, a farm-style jack like Hi-Lift's. Only this time, it is a hydraulic model specially designed for off-road recovery operations. Yes, that's right — what looks like an oversized ultra-modern bicycle air pump is actually an innovative off-road jack capable of lifting over 4,400 lbs. to a maximum height between 28" to 48". All you have to do is mount the adjustable foot at the right spot and operate the hand-crank lever to start lifting; the hydraulic system will take care of the rest.
ARB's hydraulic jack is made from extremely tough aviation-grade aluminum finished with an attractive anodized look. The aluminum construction helps keep the weight down to just 23 lbs., meaning you can easily carry it around by hand. Add the incredibly compact dimensions to the equation, and you have yourself a clear winner.
Getting stuck when off-roading is part of the normal learning curve and nothing to be ashamed of. Still, I would rather use ARB's hydraulic recovery jack to rescue myself and get back to the fun instead of having to wait for a buddy to show up and keep hearing about it for weeks — and I bet you agree too!
Highlighted features
Load capactity: 4,409 lbs.
Lifting range: 6″ to 48″ (29.25" with the adapter)
Total weight: 23 lbs.
Aircraft-grade 6061 T6 aluminum alloy construction
Hydraulic lifting mechanism
Pros
Lightweight and compact off-road jack
Specially designed for off-road recovery operations
Polyethylene base available for purchase
Sleek design and attractive anodized finish oozes opulence
Adjustable foot provides greater flexibility
Cons
Costs more than other models
Farm-style jacks are inherently less stable
Jack may sink into loose surfaces due to the smaller footprint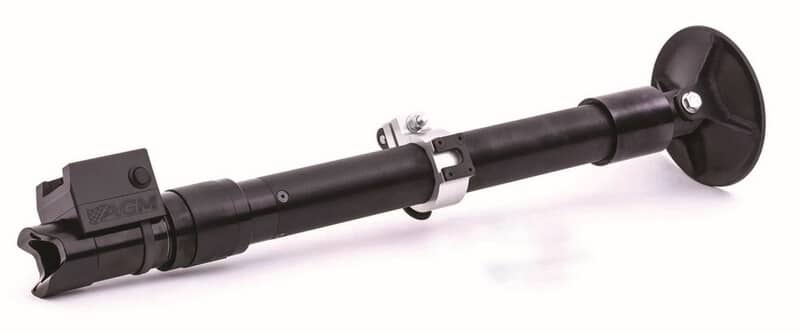 You can trust the Germans to think out of the box and come up with something truly different, especially when it comes to racing applications. All German Motorsports, a reputed name in many off-road motorsport events like the Dakar and Baja rallies, has developed a motorized off-road jack. "The Electric Jack" as it is known, uses a battery-powered electric motor to lift your vehicle off the ground. And interestingly, the motor can be powered by regular Milwaukee or DeWalt batteries, so you can use your Milwaukee impact wrench's battery to lift the jack then install it on the wrench to remove the wheel, killing two birds with one stone.
Moreover, the "Electric Jack" uses a modular system, allowing you to customize and fine-tune various aspects as per your requirements. Indeed, things like mounting points and battery compatibility can be changed depending on your needs, which is pretty convenient.
Even the notorious stability issues in farm-style jacks have been somewhat fixed, thanks to a unique articulated base. The base plate is free to tilt in any direction on uneven ground while the rest of the body remains unaffected — a gamechanger for the type.
Manually jacking up your vehicle is not really a problem for everyday applications, but in a high-adrenaline motorsports environment, each second saved is a second gained. If you often find yourself racing with your off-roader (or just get stuck a lot), the "Electric Jack" by All German Motorsports is by far the best off-road jack for you.
Highlighted features
Load capacity: 2,000 lbs.
14" of jack travel with 18" internal adjustment
Total weight: 17 lbs.
Modular farm-style off-road jack
Electric lifting mechanism
Pros
Perfect for motorsport applications
Can be used as a recovery and maintenance jack
Automatic operation
Modular platform with a suite of available attachments and accessories
Three mounting options
Articulated base plate for better stability
Cons
On the expensive side
Lifting capacity could be higher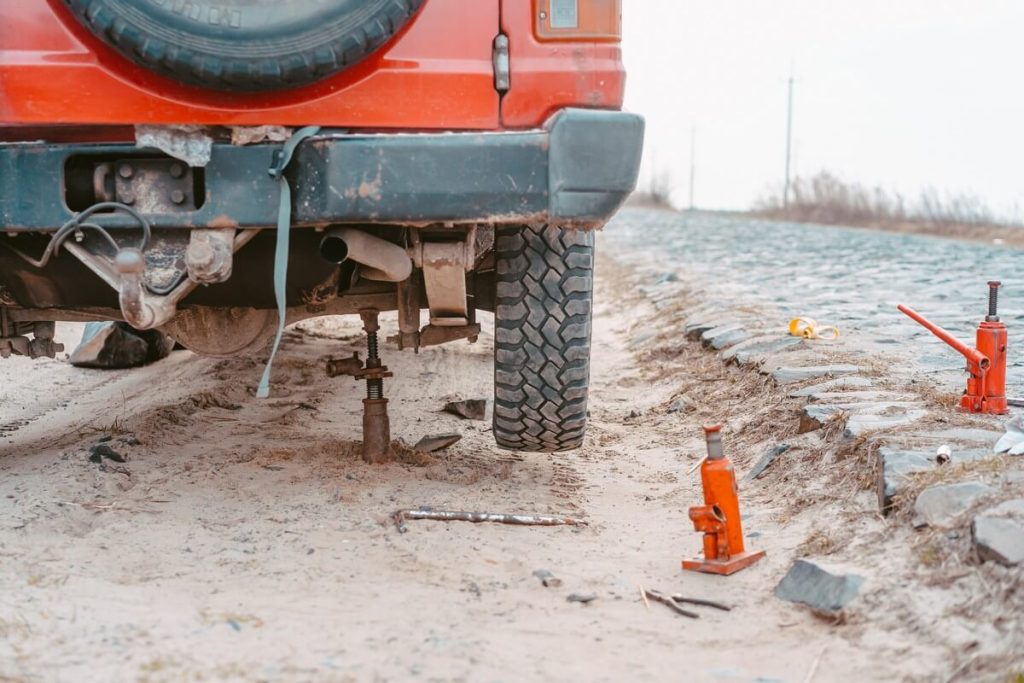 What to Consider When Buying an Off-Road Jack
Lifting capacity
When shopping for a new off-road jack, the first thing you need to decide is the minimum lifting capacity. That being said, since no jack will lift your entire vehicle at once, the rated weight capacity can be slightly lower than your vehicle's overall weight — no need to buy a jack able to lift the whole thing. However, it never hurts to have spare capacity. As a result, if you are hesitating between two models, I would suggest going for the one with a higher weight rating.
Lifting range
The "lifting range" refers to how high and how low a jack can go when lifting your vehicle. No need to mention that finding the right lifting range for your needs is quite important as you certainly don't want to end up with a jack that can't reach your lifted truck's underbody, even at its maximum height position. Since we are dealing with high-riding SUVs and trucks here, you can probably ignore the lower limit and focus entirely on jacks with a high maximum height.
If you are not sure, try lifting your truck at home with a regular floor jack and measure the distance required between the ground and the frame for a wheel to stop touching the ground. Of course, that's only the minimum height you'll need to change a tire so make sure to select a jack that goes at least a little higher than that — you never know what a trail will throw at you.
Construction material
Jacks meant to work away from the comfort of a warm and cozy garage need to be extremely tough and reliable. Off-road jacks will be regularly abused and could be exposed to the elements for days on end. For that reason, get a model built from rugged materials like aluminum and steel. As the CAT Big Wheel off-road floor jack demonstrates, both metals together can make up for a pretty good combination where steel provides the strength you need while aluminum helps keep the overall weight down.
Type of operation
Off-road jacks can be manual, hydraulic, or even electrically operated. Each type is pretty self-explanatory, and there is no "best" mode of operation when choosing an off-road jack. Sure, manual models require a lot more effort, but are usually the cheapest, while electric jacks are the exact opposite. If you are looking to get the best of both worlds, I recommend getting a hydraulic model. That way, the effort required is significantly lower, and the price tag is still quite reasonable.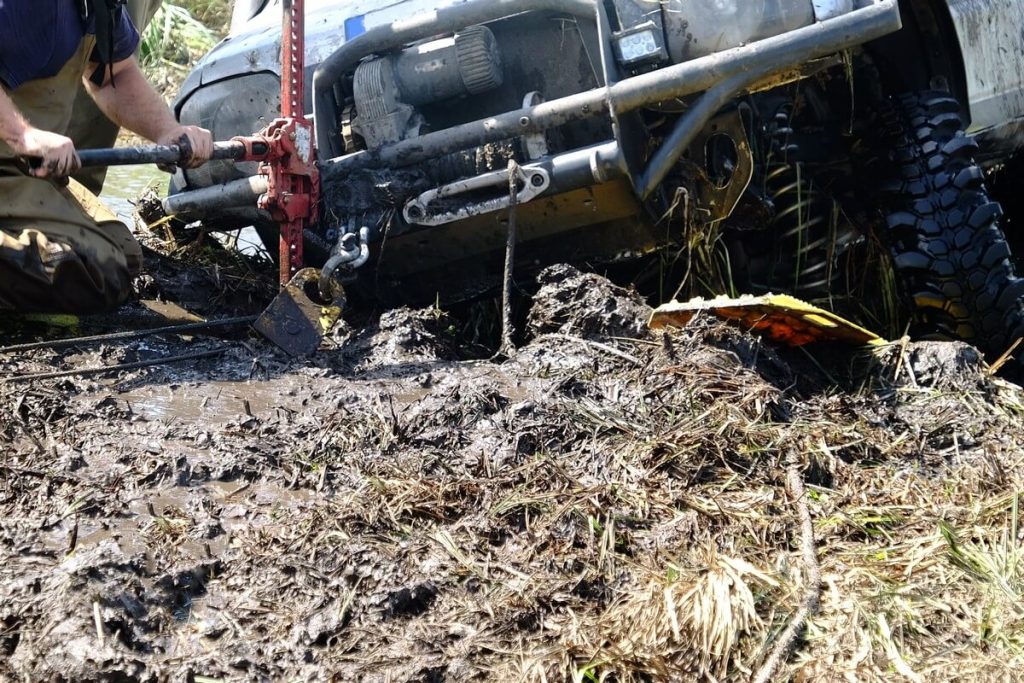 Frequently Asked Questions (FAQs)
How do I know what size jack to buy?
As explained above, the best way to decide your required jack size is to measure the distance to the ground from the mounting point on your truck and look for a jack capable of going a few inches higher. Of course, you will also need to consider suspension travel as the wheel will only lift off the ground when the shocks are fully extended.
Are farm-style jacks safe?
Farm-style jacks aren't the easiest to use as they only have one (relatively small) point of contact with the ground, resulting in serious stability issues. You should be very careful around these jacks, especially when working on uneven ground, as the risk of slipping is significantly higher.
Moreover, even if you think you know what you are doing, I wouldn't recommend going under your vehicle when sitting on a farm jack. And if you really don't have any other choice, make sure to place jack stands under there — better safe than sorry!
Read more: 9 Best Jack Stands for Cars, SUVs, and Trucks
Verdict
I hope this article has helped you pick out the best off-road jack for your needs and budget. As promised, I have included different types of jacks, giving you plenty of options to choose from no matter the type of off-roader you drive.
Sure, every model has its pros and cons, but in the grand scheme of things, Safe Jack "The Sergeant" Off-Road Kit is a great all-around model; you get a sturdy bottle jack complete with loads of accessories to jack up a lifted truck — and the best part is everything is made right here in the USA.
As always, though, not every model works for everyone, and I know some off-roading enthusiasts who bring various jacks on the most hardcore trips. For instance, you can have "The Sergeant" as your go-to solution, but also bring ARB's Bushranger X-Jack Kit for those muddy bits. That way, you'll have the best of both worlds and never risk being stuck again!