EDITOR'S PICK
Hein-Werner HW93503 Jack Stand
Wide and reinforced triangular base
Durable and rugged steel construction
3-ton weight capacity
Made in the USA
Comes in a pair
Two-year manufacturer's limited warranty
PREMIUM PICK
OTC S022 Jack Stand
High value for money
Wide base prevents sinking into the ground
High quality steel construction
High maximum weight rating
Reasonably priced considering the weight capacity
Portable
BUDGET PICK
Torin Big Red Steel Jack Stands
Strong and sturdy steel construction
Decent weight lifting capacity
Low cost
Comes in a pair
Lightweight jack stand
One year manufacturer's limited warranty
Whether you are a weekend DIYer or a professional mechanic, being able to lift vehicles is crucial. And unless you have access to a car lift, you'll need a floor jack for that. However, a jack only does half the job of lifting your vehicle—you should never use a jack to hold a car up. Jacks are hydraulic tools, and if there was a leak, the jack could drop suddenly. To safely hold a car once jacked, you'll need quality jack stands that are strong, robust, safe, and easy to use.
Jack stands are fairly simple and low-cost tools that should be a part of every house garage or mechanics shop. They come in different sizes, weight capacities, and operational types in order to fit different vehicles.
However, when looking for one online, it can be easy to get overwhelmed by the sheer number of options. To help you find the right model for you, we have come up with a detailed review of some of the best jack stands on the market. All models included in the list are good options and were carefully curated to cover a wide range of vehicles. Whether you intend to lift a small car, a lifted pickup, or a box truck, we've got something for you.
Enjoy!
Jack Stand Reviews
The Torin T43202 Big Red jack stands are as basic as it gets. However, they have a capacity of up to 3-ton or 6,000 pounds and are strong enough for use with small to medium cars and even most pickup trucks.
Moreover, Torin's jack stands have a strong base design for optimum support and a large and contoured saddle area that holds your car safely and securely. Built from forged steel, these stands are welded together to add strength and durability. Still, some may find the welds on some of these jack stands to be substandard compared to other higher-end models. Nonetheless, that's the type of jack stands most auto repair shops use, and I've never seen one fail until now.
Torin's T43202 (model on the left) have a ratcheting mechanism for height adjustment and offers a fairly decent lift range, between 11 ¼" and 16 ¾". The ratcheting mechanism acts as a safety lock, but those looking for additional peace of mind can go for the AT43002AB model (model on the right) with a double locking mechanism. Furthermore, the T43202 Big Red model is also available in 2, 6, and 12-ton capacity, more than enough to lift pretty much any vehicle you might have in mind.
If you need a set of reliable jack stands that won't cost you an arm and a leg, this model is a no-brainer.
Pros
Strong and sturdy steel construction
Decent weight lifting capacity
Low cost
Comes in a pair
Lightweight jack stand
Also available with double locking and a higher weight capacity
One year manufacturer's limited warranty
Cons
Construction may be slightly subpar when compared to more expensive models
OTC is a well-established brand with a rich heritage spanning nearly a hundred years. The brand specializes in producing high-quality automotive garage equipment such as electronic diagnostic tools, lifting equipment, and heavy-duty servicing equipment.
OTC's SA02 jack stands are high-quality tools made from aircraft-grade aluminum and are one solid notch up from the previous model. The all-aluminum construction may add to the total cost, but in addition to imparting a very attractive finish, the anodized aluminum body is also extremely strong and durable. Moreover, the material is also lightweight, which, when combined with compact dimensions, results in a pair of jack stands that are very easy to store and carry.
Unlike the previous model, this is a pin-type jack stand. It uses a pin-type locking mechanism that offers six preset heights ranging from 9 ½" to 15.16″. Furthermore, the SA02 model sits on a circular 7″ base plate and uses a 2″ saddle to support the vehicle. However, rated at just 2-ton, the OTC aluminum jack stands are only suitable for small to medium cars and compact SUV/crossovers.
If you need slightly better stands than the Torin model above and work in snowy areas, the OTC SA02 jack stands are the way to go. The anodized body will prevent rust when used in wet conditions, and the pin-locking mechanism is ultra-safe. Of course, they are more expensive, but the longer lifespan more than makes up for, the higher price tag.
Pros
Reliable aircraft-grade aluminum construction
Attractive anodized finish
Comes in a pair
Lightweight
Easily portable
Includes clear operating manuals in several different languages
Decent weight rating
Wide lifting range
Pin-type locking mechanism ensures safe-use
Cons
Costs more than ratchet-type jack stands
The T43004 Big Red model is strikingly similar to the previous model. Both jack stands feature an aluminum construction for added strength and durability but with a maximum weight capacity of 3-ton or 6,000 pounds. Hence, it is suitable for a wide range of applications, such as lifting cars, small SUVs, or even light pickup trucks.
Moreover, it features a hexagonal base plate made from thick aluminum, providing a strong foundation. You can even remove the base plate when not in use for easy carrying and storage and, tipping the scales at just 4.5 pounds each, it is also very portable.
Like the previous jack stand, this model also uses a pin-type mechanism, ensuring optimum safety and security. It comes with six different locking positions ranging from 10 ¾" to 15 5/8″. Although the pin mechanism provides fewer holding points than ratchet-type jack stands, it more than makes up by being significantly safer.
Pros
Strong and durable aluminum construction
Removable hexagonal base
Pin-type holding mechanism
Attractive anodized red finish
Decent maximum weight rating
Very portable and lightweight
Comes in a pair
Sufficient height range
One year manufacturer's limited warranty
Cons
Costs more than ratchet-type jack stands
The Hein Werner HW93503 is one of very few jack stands to be manufactured or assembled in the United States. It is a robust jack stand that features rugged steel construction and is pretty much a standard in the industry.
Moreover, thanks to the specific manufacturing process, the body is inherently stronger than cheaper alternatives. However, it's still only rated for a maximum weight capacity of 3-ton or 6,000 pounds. As you might have noticed at this point, a 3-ton rating is also pretty conventional. The reason is quite simple and is intended to avoid confusion. As a general rule, 3-ton jack and jack stands should be used for cars, SUVs, and light trucks while mechanics looking to lift anything bigger than that should look for a 5-ton model or up instead.
The HW93503 model comes with a carefully designed base that won't sink into pavements or leave marks on your garage floor. Optimum stability is also provided by a wide base measuring 7 ½" X 9″, while support to your vehicle is provided by a 1″ X 4 ½" saddle. Moreover, the saddle has curved edges to better grip the frame or beam of your vehicle.
The Hein Werner jack stand uses a traditional ratcheting mechanism that provides heights ranging from 12″ to 19″. With prices falling in the same range as pin-type jack stands with aluminum construction, the HW93503 model is certainly not cheap, but it is backed by a two-year warranty and will last you for years.
Pros
Wide and reinforced triangular base
Durable and rugged steel construction
3-ton weight capacity
Made in the USA
Comes in a pair
Two-year manufacturer's limited warranty
Cons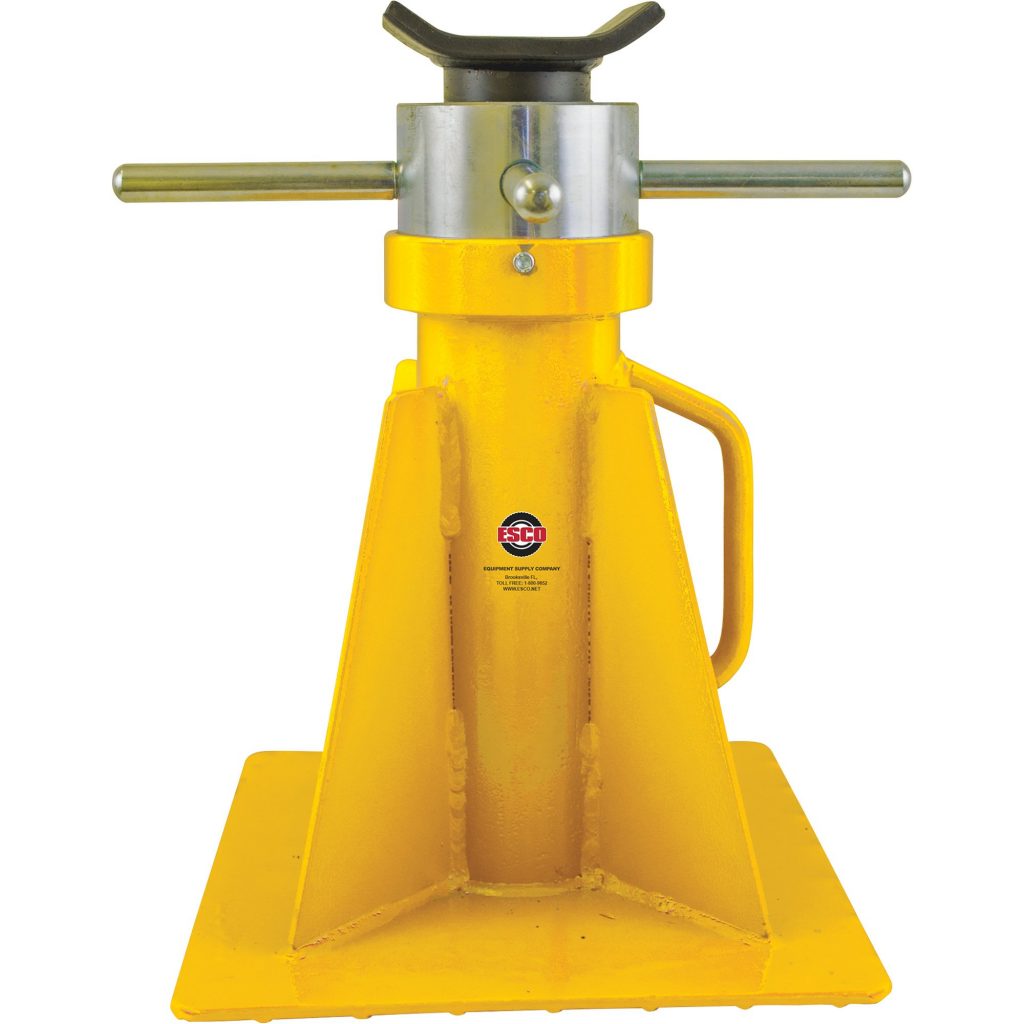 Our first entry in the extra heavy-duty jack stand segment comes the ESCO 10803 screw-style jack stand. Esco is a name that prominently stands out for its exceptional quality and reliability, and the 10803 model is no exception. Indeed, the whopping 20-ton or 40,000 pounds maximum capacity speaks for itself. With that kind of weight capacity, you can use it on almost anything, right from small hatchbacks to semi-trucks.
To lift such heavy loads, the Esco 10803 boasts a strong metal body combined with a robust design. Besides, it features a square base plate that houses the cylinder assembly, supported by four pylons.
The Esco 10803 is a screw-type jack stand and uses a threaded mechanism to go upward or downward. This is a win-win in our eyes as you get virtually infinite holding positions in addition to complete safety and reliability. Moreover, there is also a locking collar for complete safety.
The 10803 can hold your vehicle at heights ranging from 26″ to 46″, a wide range indeed that is predominantly focused on the higher side. Those looking for a jack more oriented for lower heights may consider the Esco 10802.
Of course, this model is significantly more expensive than the previous models. However, when lifting vehicles weighing over 10-ton, you really don't want to cheap out here.
Pros
High weight capacity
Strong and robust body
Ergonomic design with carrying handle
Safe and secure
Wide height adjustment range
Easy to operate screw-type mechanism
1-year limited warranty
Cons
On the expensive side
Weighs more than other models
If you thought the Esco jack stand was a beast, we are just getting started. Enter the OTC S022 jack stands with a maximum weight rating of 22-ton or 44,000 pounds; that is more than enough capacity to lift almost any vehicle you would find on the road.
The S022 boasts a strong all-steel construction supported by a thick 11″ square base plate. The plate is wide enough to maximize weight distribution on the ground without leaving behind any marks or scratches. Furthermore, on the base sits a square column that houses a pin-type holding mechanism. The mechanism features three holding positions, each being 3″ apart, allowing for a range between 13-7/8″ to 19-7/8″.
The saddle, which is the only contact point between your vehicle and the jack stand, has a distinct V-notch and measures 3″ X 3-3/4″. You might have noticed that the saddle doesn't feature rolled sides like the lower-capacity models. However, when it comes to 10-ton vehicles and up, the risk of seeing the vehicle slides off the saddle is pretty much inexistent. Once a semi sits on those stands, it simply won't budge due to the high weight.
Weighing around 20 lbs per jack stand, the S022 model is still fairly easy to carry and store, especially given the size. And to further enhance portability, the body features a sturdy carrying handle.
The OTC jack stand ranks high on the value for money scale. However, having only three pinholes might not be best when working on small cars and crossovers. If you don't plan on lifting vehicles over 10-ton, you might be better with a smaller, more versatile model.
Pros
High value for money
Wide base prevents sinking into the ground
High quality steel construction
High maximum weight rating
Reasonably priced considering the weight capacity
Comes in a pair
Portable
Cons
Only three holding heights available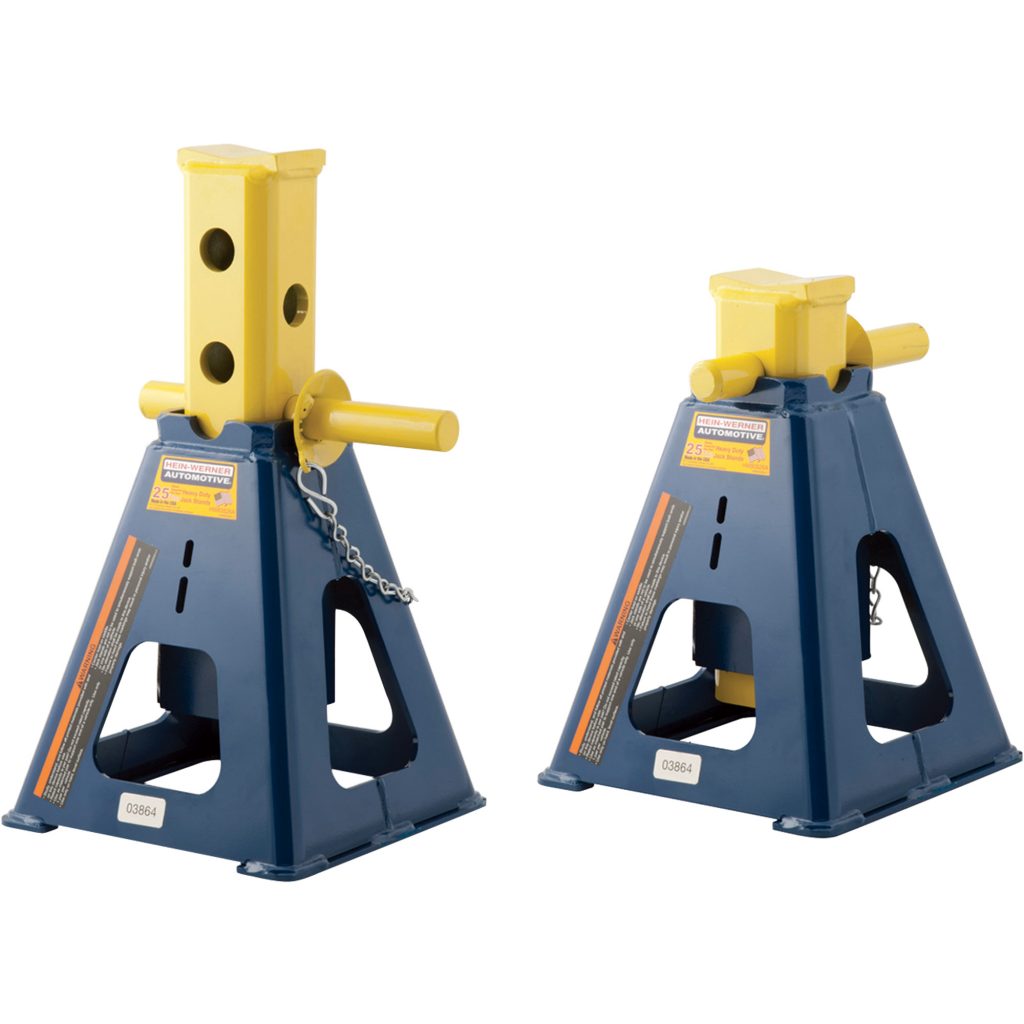 With a maximum weight rating of 25-ton, Hein-Werner's jack stands are true beasts. The HW93526's strong and robust all-metal body makes it one of the best heavy-duty jack stands around.
Moreover, it features a pin-type holding mechanism with a clever and unique design. For more holding positions, the main beam has holes to insert the pin on all sides. The result is a high-capacity jack stand with significantly more holding positions than most pin-type models (such as the OTC S022 model). Indeed, the Hein-Werner HW93526 provides a wide lift range between 12 ¼" to 20″, with intervals at every 1 ½".
Furthermore, the square 10″ X 10″ base is specially designed not to sink into the ground surface or leave scratches and marks on your garage floor. However, it's worth mentioning that when we say "won't sink into the ground," we really mean, "it won't sink into pavement." Of course, if you try to lift a semi-truck in mud, it will definitely sink.
Hein Werner's jack stand does cost more than others, but considering the fact that you get not one but two high-quality and high-capacity jack stands, it is hard to find any major disadvantages.
If what you need is some of the toughest jack stands out there while still being somewhat affordable, this is what you need.
Pros
Pin-type holding mechanism
Heavy-duty strong, and durable construction
More holding heights
Extremely high weight holding capacity
Large saddle to support the vehicle
Comes in a pair
2-year manufacturer's limited warranty
Cons
On the expensive side
Slightly heavier compared to other jack stands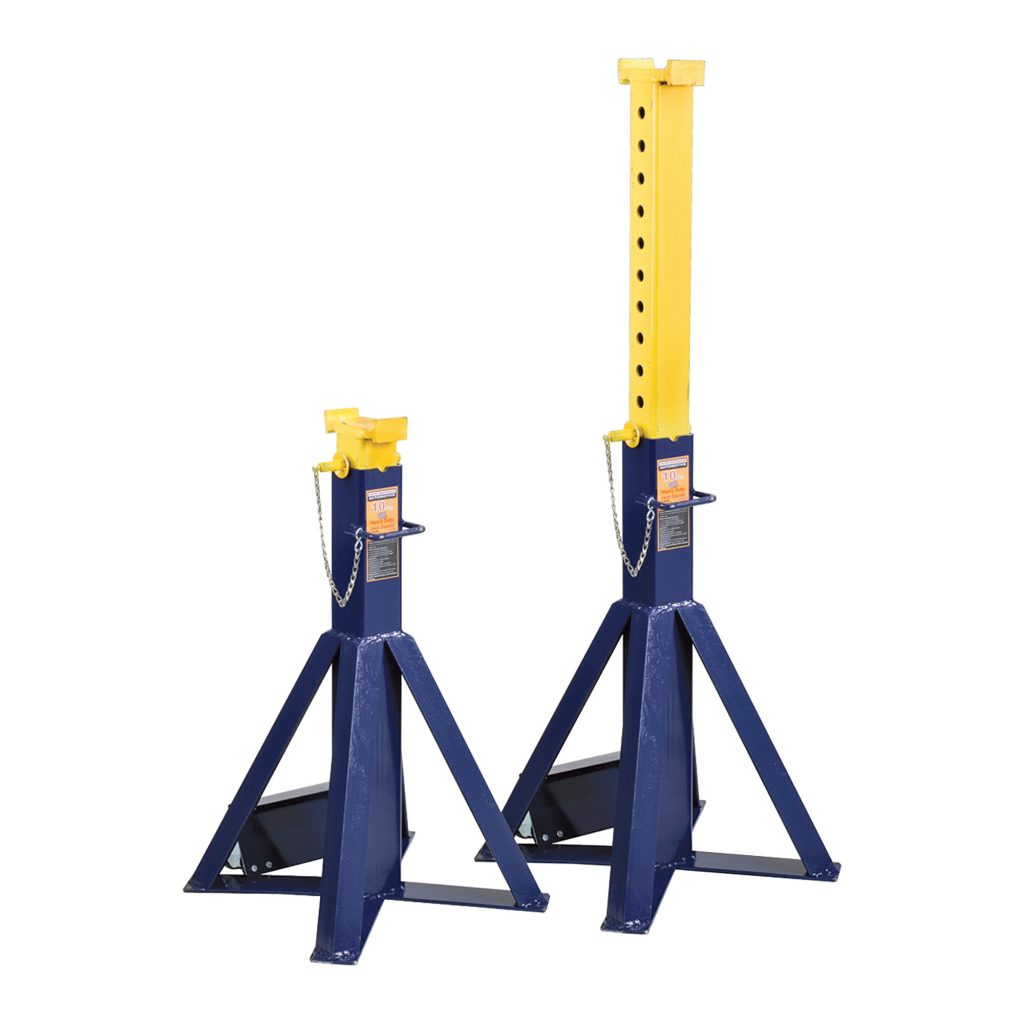 The last jack stand on our list is a unique high-reach model manufactured by Hein Werner. The HW93511 sports a strong all-metal construction body rated to hold a maximum of 10-ton. The jack stand is supported by a large square base measuring 18″ X 18″ and consisting of four pylons rather than a flat plate.
It's important to mention that while reducing the overall weight, the smaller surface area may make it difficult to stop it from sinking into the ground when used on loose surfaces like sand or gravel. However, I would really not recommend lifting a 10-ton truck on anything else than concrete or pavement anyway.
The 10-ton weight capacity may not be good enough for a jack stand labeled as "heavy-duty," but you can still use it for a wide range of applications. Besides, this jack stand's main advantage is something else altogether; it is capable of highly versatile holding heights ranging from 30″ to 52″ with intervals at every 2″. On the other hand, the Hein Werner HW93511's strong suit is high-lift situations and not really heavy weight capacity.
Tipping the scales at nearly 75lbs each, these jack stands are by no means lightweight. But since this is special equipment required only in certain cases, one can overlook this fact. If you need to raise a 10-ton truck 50″-high, you can't really use lighter jacks stands anyway.
Pros
Wide and solid base
Pin-type holding mechanism
High reach capability
More holding heights
Comes in a pair
High maximum weight rating
Strong and sturdy metal construction
2-year manufacturer's limited warranty
Cons
On the expensive side
Not as portable as other jack stands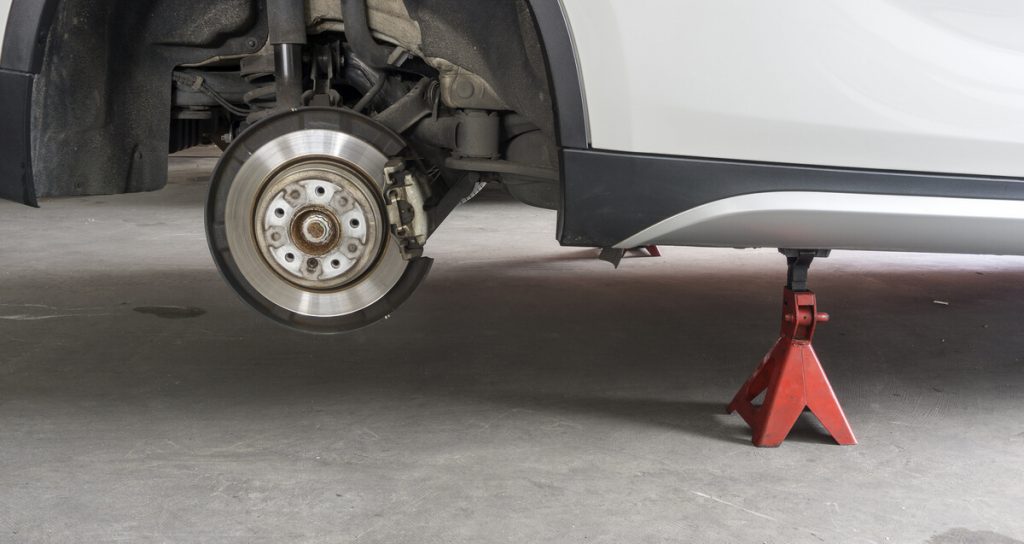 What to Consider When Buying A Jack Stand
Safety is probably the most important factor and the sole reason one buys a jack stand. The units you buy should be entirely safe to operate; now, several factors contribute to that, listed below.
However, price should not be one of them. The last thing you would want is to end up in the hospital with a serious injury because you chose a lower price over good build quality. Of course, there' no need to shell out big money only to buy stands with a much higher weight capacity than you'll really need, hence why you should correctly evaluate your needs before committing to buy.
Maximum weight rating
The weight rating refers to the maximum weight a jack stand can safely hold. This figure varies for each model, and it is very important to consider before operating your jack stand. Most low-end models are rated to carry 2 to 3-ton, while heavy-duty jack stands can be rated to hold as much as 25-ton.
However, there are several things to consider when looking at maximum load ratings. Firstly, you should keep in mind that in most cases, manufacturers mention load ratings for a pair, meaning each individual stand is rated for half the capacity.
Furthermore, there are established standards and rules that mean manufacturers have to make jack stands that can withstand considerably more weight than they are rated at for safety purposes. If your jack is rated at 3-ton, it can easily hold a couple more hundred pounds—although it's not recommended to try.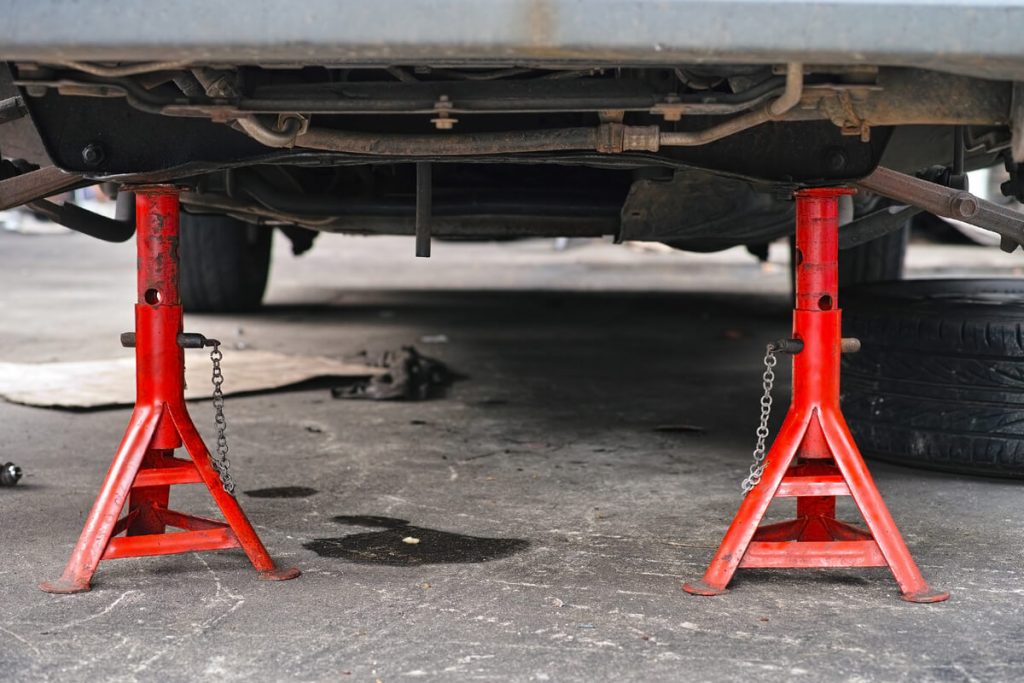 Holding height range
Most models offer holding heights ranging anywhere from 10″ to 20″; this may be enough for most applications, but those looking for higher holding heights should consider specially-built high-reach stands like Hein Werner's model.
Holding mechanism type
In our list of the 9 best jack stands, we have covered models having mainly three types of holding mechanisms: ratcheting, pin-type, and screw-type. Each mechanism has its own advantages and disadvantages. For that reason, evaluate your needs and pick a jack stand that suits your work environment the most.
Construction quality and material
Modern jack stands can be broadly divided into two categories regarding their construction material: steel and aluminum. Steel is inherently stronger and sturdier compared to aluminum. However, it is also susceptible to corrosion. Meanwhile, aluminum is much lighter than steel, allowing for a lightweight and portable jack stand.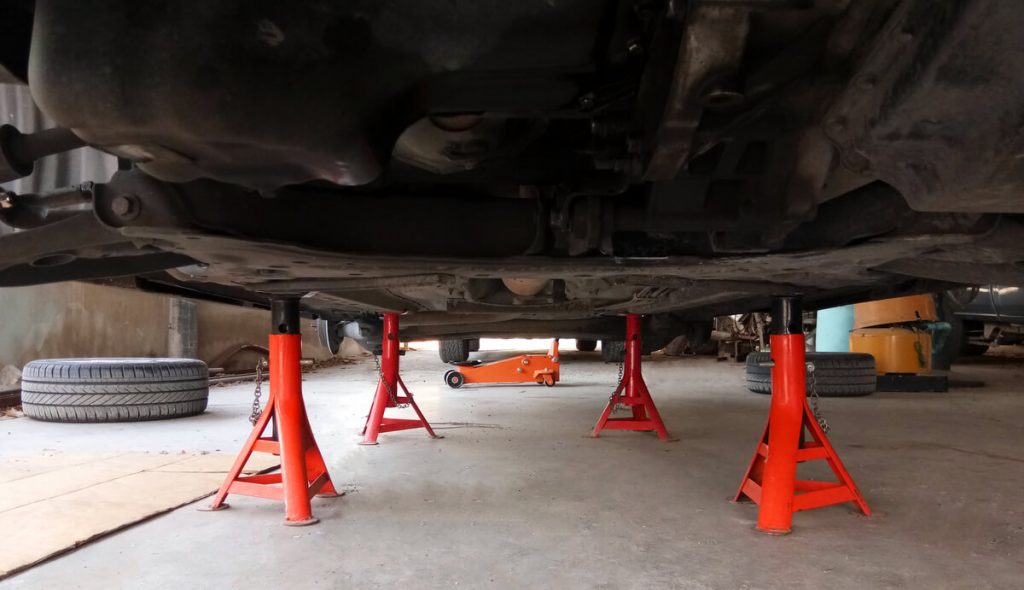 FAQs
How do I create a safe working environment when using jack stands?
Lifting a vehicle is a much more difficult task than it first seems—assuming you want to do it safely. Many things could go wrong and result in catastrophic consequences for the mechanic working under the vehicle. Therefore, you must ensure complete safety before starting.
First, make sure that the vehicle you intend to lift is parked on flat ground. Next, use a jack with an appropriate weight rating to lift the vehicle while ensuring the wheels that are in contact with the ground are placed between chocks.
Then find an appropriate position and place your jack stand under the vehicle and lower the jack; make sure that the jack stand's saddle has a good grip on the vehicle's underbody. Lastly, repeat the same procedure on your vehicle's other end before sliding under it.
How do I determine the weight rating I need?
Determining the required weight capacity is one of the most common and difficult questions that beginners face. As a general rule, we would recommend you to buy a jack stand having the same maximum weight capacity as your vehicle's curb weight (you can find a vehicle's curb weight either by a quick Google search or from the owner's manual). Doing so will leave ample wiggle room as the jack stand usually only supports half of your vehicle. So, in theory, you can use a 2-ton model on a car weighing slightly more than that. However, these calculations can be a little tricky to get right, especially when the stakes are that high.
When it comes to professional mechanics, it is better to purchase a high-quality unit with a sufficiently high weight rating. Both are valuable features that will come in handy in a shop that requires you to work on various vehicles every day.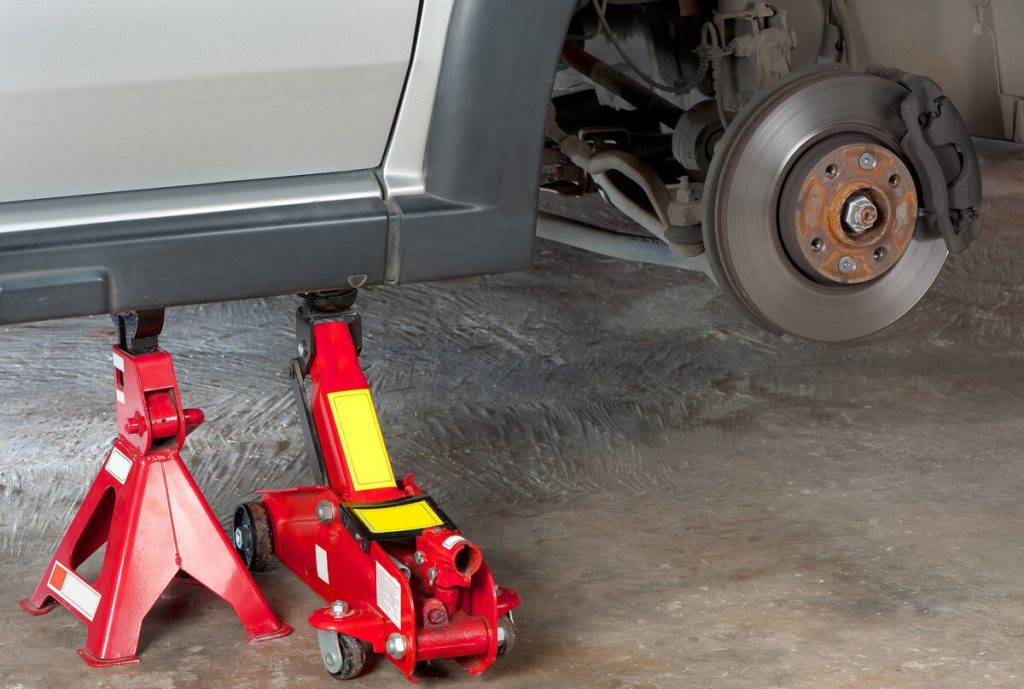 Where should I place jack stands?
Most new vehicles have dedicated lift points on the underbody. You can usually find these points near the front and rear wheels. Recognizing them should not be too difficult, and you can always look in the owner's manual if you are having trouble finding them.
Verdict
So there it is; a comprehensive review of some of the best jack stands available to buy. We would also like to restate that you, as the operator, need to exercise extreme caution during use and ensure complete safety at all times. Jack stands may reduce the risk of failure, but they are not foolproof.
Now, there is no clear winner from the mentioned list as all models serve a specific purpose. But if we had to choose, we would have to go with the Hein Werner HW93503 for general use due to its reliability and the use of high-quality materials in its construction. You simply can't go wrong with this one!