Are you looking for a great American-made floor jack for your garage? Have you purchased a cheap Chinese-made model in the past that just didn't fit the bill?
Well, lucky you! In this article, we'll tell you just what you should look for in a quality US-made jack, where to find them (there are not too many of them out there), and how to differentiate the real stuff from cheap rip-offs. Not all jacks are created equal, and your best bet is always to buy one that was made locally.
But first, we've got a couple of things to clear off first!
The Truth About US-Made Jacks
Before we get on with this comprehensive and detailed review of some of the best floor jacks made in the USA, there is something you should know. The unfortunate truth is that there are not many manufacturers still making floor jacks here in the US. While researching products to review, we checked with dozens of manufacturers, third-party websites, called retailers, but all we had at the end of that process were just a handful of brands.
Since the 1970s, a significant portion of the entire world's manufacturing sector gradually started shifting to China. Yes, many US brands also outsource their manufacturing to other countries, but China accounts for the biggest share, by a significant margin. That does not necessarily mean that all "Made in China" products are inherently bad or of lower quality—but a lot of them are.
So if outsourcing manufacturing to other countries leaves a bad mark on the average American customer, then it begs the question – why do brands, even American brands, do it? The answer to that question is quite obvious—money. Countries like China, Japan, Taiwan, India, etc., offer much lower manufacturing costs than the U.S. Add to that lower labor costs, relaxed government regulations, and tax incentives, and making a move to shift manufacturing overseas becomes a highly profitable option.
Of course, it's important to differentiate tools that were made by Chinese manufacturers from those made in China by American manufacturers. Indeed, several manufacturers built their own manufacturing plants in China. Let's say that this is a good middle ground—the workforce is Chinese but the quality standard is American. This way, tool manufacturers can keep production costs as low as possible while making sure the tools are well made and the materials used are high quality. However, it's quite challenging to get information on which is which and your best bet is often to just buy 100% American products.
If you are serious about your tools, American-made is the way to go!
"Made in the US" vs. "Assembled in the US"
Of course, big corporations realize that outsourcing their manufacturing somewhat decreases their product's desirability and risks reducing the overall quality. To avoid all the harmful PR surrounding foreign-made and outsourced products, some manufacturers have come up with a new idea: producing all or a fraction of the required components overseas but doing the final assembly process in the US.
That way, they can badge the finished product as "Assembled in the US," which may fool the client into thinking it's the same as "Made in the US." In fact, this practice is so widely spread, that most floor jacks sold today, even those from US tool manufacturers are only "Assembled in the US"—not actually produced here.
While those floor jacks are still better than those entirely made using cheap labor, they often have a hard time keeping up with true American-made models. Don't be fooled by those tags. To be considered as a true "Made in the US" floor jack, all components need to be made and assembled on American soil.
Worth mentioning, certain leading brands like Hein-Werner have both types of floor jacks. Its HW93652 3 Ton service jack is assembled in the US with "US and global components," meaning that some of the parts were made elsewhere. On the other hand, its 4 Ton long chassis service jack (model HW93657) is 100% made in the USA. All credit goes to Hein-Werner for clearly mentioning the facts so buyers can make an informed decision.
Also worth mentioning, Hein-Werner is a really good example here. I've worked with various Hein-Werner jack in my career and I actually had no idea that some had outsourced components. After verification, turns out that two of my HW jacks were only assembled in the US and one was 100% made locally—and I can assure you that you couldn't tell the difference. I've had them for over 10 years and they still serve me every day in the shop. This example goes a long way in explaining that the country of origin matters a lot less than the manufacturer itself. Hein-Werner simply doesn't sell low-quality tools, no matter where they were manufactured.
Watch out for misleading claims
While researching this topic, we browsed the web for hours. And while at it, we noticed that literally every "Best Jacks Made in the US" article out there is basically promoting jacks that aren't even close to being made in America. Turns out, many tool-oriented websites don't seem to make an effort to conduct thorough research (let alone actually testing anything) and end up including foreign-made products in their lists. We will refrain from commenting if they are just innocent mistakes or deliberate attempts to mislead American buyers and to name anyone here—look it up, you'll see what I mean.
However, we at GarageSpot believe that such practices are unethical and complete transparency is the only option for us. Of course, we won't claim to have tested each of the jacks on this list. You'll see that the list of US-made jacks is so short and include mostly really small manufacturers that aren't that often sold online. In fact, if it's sold on Amazon, it's probably not made in the US.
Here are some of the most common floor jacks that are often claimed to be made in the USA by other blogs, but are actually manufactured abroad:
In fact, for most of them, a super quick investigation will point out that they are not even close to being made in the US. Anyone who knows anything about tools knows that Pittsburgh Automotive is a sub-brand of Harbor Freight and is made in China (sometimes Taiwan) and for the JEGS model, you can even see "Made in China" straight on the sticker. Same for Blackhawk: "Engineered in the US, Made in China".
So beware of such false and misleading claims made by other websites. This shows how some websites out there are basically just promoting whatever they can find on Amazon, just to make a quick buck. Always make sure to cross-check any product's origin or any additional information for that matter by either calling the brand's customer care or visiting its website. After all, if you decide to pay the big buck for American-made tools, first make sure it's actually American.
Now that we cleared things out, let's get on to our list!
American Made Floor Jack Reviews
When it comes to high-quality American-made lifting equipment, Hein-Werner is a name that stands out. The brand's HW93652 model is a heavy-duty cast-iron floor jack rated to carry up to 3 tons, making it perfect for cars, SUVs, and light trucks. The wide frame and flanged side plates ensure it is sufficiently safe and stable when lifting heavy loads. You also get a longer-than-usual chassis that makes it extremely easy to access your vehicle's lifting points even when they are further away, such as lifting your pickup from under the rear diff for example.
The HW93652 model has a versatile lifting range of 5" to 23 ½". However, it's important to mention that the 5" minimum height means there are chances you may struggle while using this floor jack on low ground clearance vehicles. If you need to lift a sportscar, this one might not be the best choice. On the flip side, the high maximum height makes Hein-Werner's model much better suited for trucks and SUVs.
If you own or regularly work on larger vehicles and the slightly higher price tag is not an issue, get this one. With such solid and durable construction, it will be a long time before you will need a replacement. And after all, if you wanted a cheap jack, you wouldn't be looking for an American-made model, right?
Highlighted features
3 tons or 6,000 lbs maximum weight capacity
5" to 23 ½" lifting range
Cast-iron components
U-joint load release mechanism
Single piece handle
Long-lasting model
Pros
Assembled in the US but trust me, it's even better than most 100% US-made ones
Versatile lifting range
Rugged and reliable construction
High maximum height makes it perfect for SUVs and trucks
Pressure relief valve for safe operation
2 years manufacturer warranty
Cons
On the heavier side
Costs slightly more than other models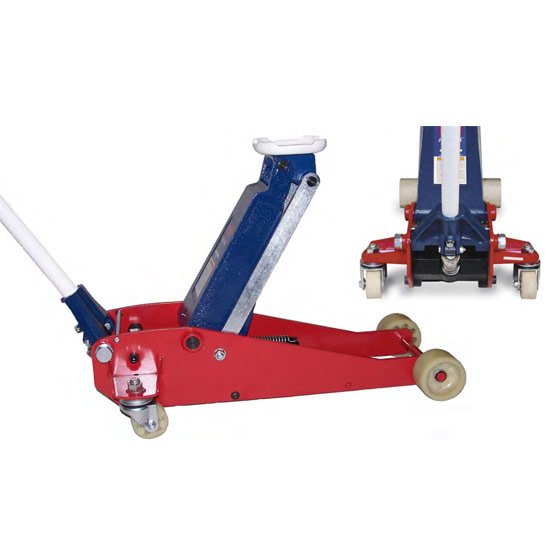 When talking of "Made in the USA" hydraulic floor jacks, we simply can't overlook US Jack. It is a brand known for taking pride in its 100% US-made product range and supporting our troops with high-quality and reliable equipment.
US Jack offers an impressive selection of floor jacks with varying weight ratings (between 2 and 20-ton) to suit different needs. Each model can raise loads above 20", making them all suitable for a wide range of vehicles. These jacks may not score that many points in the aesthetic department, but you can certainly count on them when the work gets tough. Additionally, all models have a low-profile design, so you can also use them on road-hugging vehicles such as sports cars, hot rods, etc.
Worth mentioning, US Jack's models come equipped with a robust safety mechanism that prevents your vehicle from lowering suddenly, just in case. All you have to do is engage the safety latch on the positive release lever, and you are good to go.
We are not doing a conventional review of these jacks because US Jack does not sell a majority of its products online. I'm not sure why but they apparently only sell bottle jacks online and not floor jacks. To get your hands on one of those, you will have to find one of the brand's many authorized distributors or service centers by going to usjack.com.
[Edit] Thanks to our dedicated readers, it was brought to our attention that US Jack's floor jacks were no longer made in the USA, but in Taiwan instead. While I still stand behind the fact that their floor jacks are really well-built and totally worth the investment, they are not US-made anymore. On the other hand, it's important to point out that their bottle jacks are still marked as 100% American-made.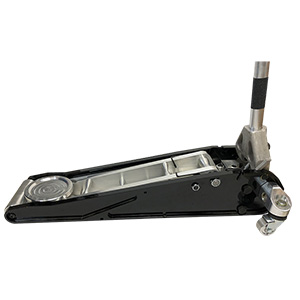 Low Profile Garage Jack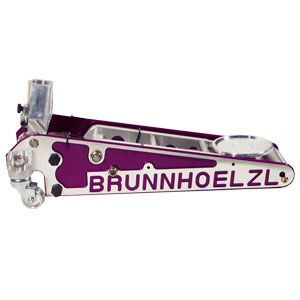 Pro Jack 2 Pump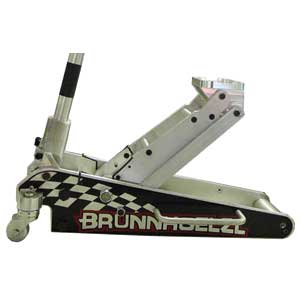 Black Warrior Jack 3 Pump
Brunnhoelzl is a brand developing lightweight lifting equipment for the last 20 years. Its main aim is to increase its product's efficiency as much as possible. That makes sense since Brunnhoelzl lifting equipment is specially designed for use in racing events and championships. Be it a multi-million dollar spectacle like Formula One or the World Rally Championship; all motorsport events have one thing in common: time is of the essence.
Racing is not limited to the race track; keeping pit stops as quick as possible is equally important, and that is where Brunnhoelzl comes in. The brand offers a diverse selection of lightweight floor jacks that can be brought to the right height in much fewer pumps than regular models.
To keep the weight down to a minimum, Brunnhoelzl makes their floor jacks from aluminum billets. As a result, these floor jacks weigh around 30-40 lbs while being much stronger and durable than other models that weigh almost thrice as much.
They do cost a lot more than other models, though, but that is to be expected when buying pretty much the best thing out there. However, being such a niche manufacturer, Brunnhoelzl also sells most of its tools through distributors and tool salesmen. Nonetheless, a quick google search will present several independent e-commerce websites that sell Brunnhoelzl floor jacks. Behrents.com is a personal favorite as it has many options, spare parts, and accessories—just saying.
The second Hein-Werner jack on our list is an extended chassis model with a 10-ton weight capacity. If you think that's impressive, wait till you hear the lifting range. The HW93660 model will lift your vehicle to a maximum height of 25 ½". On the flip side, it can only go as low as 6 ¾"—make sure you factor that in if you intend to get one. It's definitely not intended to lift low-riding cars.
To safely support all that weight, Hein-Werner's unit is equipped with a competent hydraulic system that is tightly sealed to prevent any contaminants like dirt, grime, or moisture from getting mixed with the internal fluids.
Thanks to its extra-long chassis and high weight capacity, the Hein-Werner HW93660 is perfect for use on large vehicles like trailers, trucks, buses, caravans, RVs, etc. If you own or find yourself regularly working around such vehicles, this is the jack for you. The price may seem a little steep at first, but this will probably be the last floor jack you ever buy. Additionally, unlike the previous Hein-Werner model, this jack is entirely made in the USA.
Highlighted features
Made 100% in the USA
10 tons weight capacity
6 ¾" to 25 ½" lifting range
Load-bearing components made from cast iron
Long chassis model
Sealed hydraulic mechanism
T-bar single-piece handle
Jack weight: 420 lbs
Pros
The extended chassis model is perfect for trucks, trailers, buses, etc.
Impressive weight rating
High lifting height
Ball-bearing casters for easy mobility
The release knob on the handle allows precise positioning
2 years manufacturer warranty
Cons
Not as portable as other models
On the expensive side
Which Manufacturer Actually Makes Floor Jacks in the U.S.?
Alright so, as explained before, since most tool manufacturers producing jacks in the US typically don't sell their products online that much (I assume shipping huge jacks might be a problem for them), we've created a list of some of the manufacturers we were aware of or were able to find during our research. Some of them sell jacks on their independent websites while others only use distributors. In all cases, we've added their websites here so you can check that out for yourself.
Argo Manufacturing is another brand that specializes in lifting equipment for motorsport purposes. In addition to lightweight aluminum floor jacks, the brand also makes suspension components, brakes and steering parts, tooling equipment, and other accessories. All components are made at the Argo plant in Wasco, Illinois, using state-of-the-art processes.
The Hein-Werner Automotive brand is a sub-division of the Shinn Fu Company of America Inc. (SFA). Under the SFA umbrella, Hein-Werner has gained an impeccable reputation for manufacturing high-end lifting equipment that is dependable and long-lasting.
As mentioned earlier, Hein-Werner produces "Made in the USA" and "Assembled in the USA" lifting equipment. As a general rule, its regular floor jacks are assembled in the US while the long chassis models are 100% US-made. Luckily, they are all very clearly identified.
Milwaukee Hydraulics
Not to be confused with the famous Milwaukee Tool Company, Milwaukee Hydraulics is a brand manufacturing high-grade lifting equipment in America since 1946. Milwaukee Hydraulics makes bottle jacks, jack stands, floor jacks, system extensions, universal jacks, and entire lift systems from its headquarters in Milwaukee, Wisconsin.
US Jack, or as they like to call themselves, "A Jack of all Trades," is a proudly American manufacturer of high-quality and reliable lifting equipment. The brand has a long history of working with the US military and supplying our heroes with the good stuff.
US Jack sells most of its products to civilians with the help of a vast network of dealers, service centers, and authorized distributors. However, approximately 80% of its business is under contract with the US Government.
(Editor's note: see edit in US Jack's section above)
Weaver Jack Corporation is one of the oldest companies in America that still makes all its equipment in the country. Established in 1910, Weaver has gained a lot of experience in the industry. Now the brand is known for its service jacks available in 2, 4, 10, and 20-ton models.
Verdict
Yeah, that pretty much it! I know; there are not that many jack options available if you want to buy US-made. In the end, it's interesting to see that this article turned more into a critic of the American lifting equipment industry than a full review of the best jacks made in the USA. We did what we could — there's honestly not that many tool manufacturers producing tools on US soil anymore…
Still, even though we reviewed just a handful of models, these are really good — easily some of the best jacks out there. However, as mentioned above, while several manufacturers slowly shifted production to foreign countries, it doesn't mean that all of them now sell sub-par products. Many of them did so while keeping their integrity and standards as hard as ever. But yes, it's trickier now than ever to separate the wheat from the chaff.
Looking for mostly non-US-made jacks that are still worth the money?
Take a look here!