EDITOR'S PICK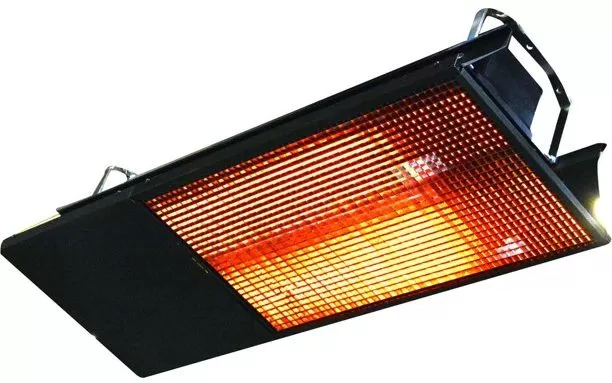 HeatStar Infrared Ceramic Heater
Gas-powered infrared ceramic heater
Wall- or ceiling-mount
Propane conversion kit available
Can use aftermarket thermostats
PREMIUM PICK
Modine Hot Dawg
Ceiling-mount gas garage heater
Built-in thermostat
Requires venting
45k BTUs
BUDGET PICK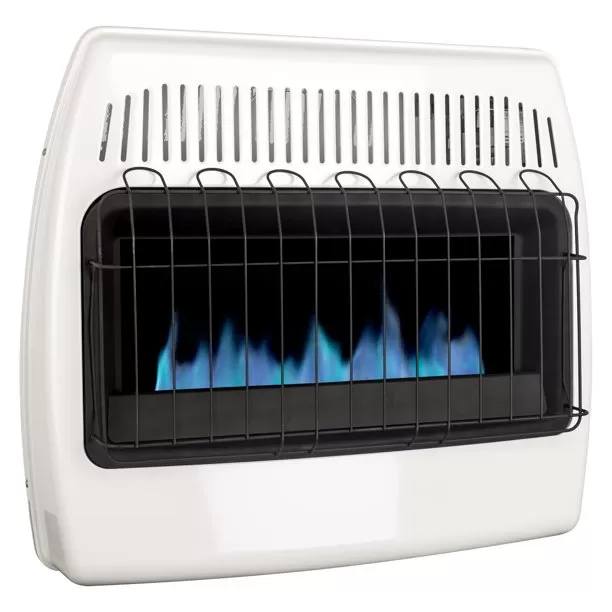 Dyna-Glo Blue Flame 30k BTU Gas Heater
Variable 15k-30k BTU wall heater
Natural gas only
Includes wall mounting hardware
Built-in ODS sensor with carbon monoxide detector
Every year, there's always that feeling when summer ends and the time to put the car in the garage draws near. However, winter is the best time of the year to make repairs that you've put off in favor of doing something else, whether it's driving your vehicle around or going on an off-road adventure. Still, that icebox of a garage just isn't inviting when you've got to get dirty. Fortunately, you can install a gas garage heater to warm up your workspace to finally get to those pushed-off projects you want to enjoy next spring.
Of course, there are several factors that go into choosing the best gas garage heater. To help you with that, we spent some time looking at the most popular products on the market today and picked the heaters we think will best suit your needs, without breaking the bank.
To make it easier for you to navigate the sea of offerings when it comes to gad garage heaters, we broke down our top picks by budget and specific needs. Our list contains everything from premium choices suitable for pro mechanics and small shops to more affordable alternatives, perfect for weekend DIY'ers and home garages.
Hope it helps!
Best Gas Garage Heater Reviews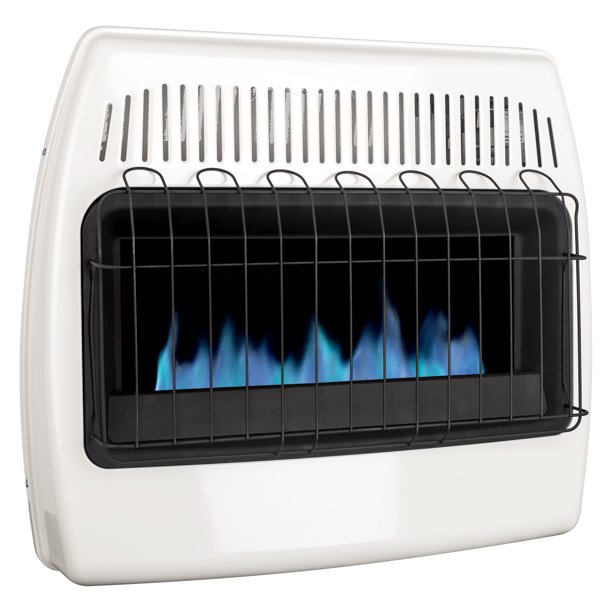 The Dyna-Glo Blue Flame is a basic affair that doesn't offer much in terms of options. However, it does what it's supposed to do, is quite cheap, and still provides up to 30k BTUs, enough to warm up most standard garages. On the other hand, it also isn't thermostatically regulated, so you'll want to ensure you don't leave it on when closing shop for the night. Still, it's equipped with a Lo-Med-Hi switch to control the amount of heat it produces—better than nothing.
It might not seem like much but this is a safe and dependable gas garage heater that doesn't cost a fortune. And even better, it also comes with a carbon monoxide/low oxygen sensor to safely shut down the device when dangerous conditions are met, making it perfect for a smaller house garage. Of course, it might not be the best option for bigger garages and repair shops. If you need something more powerful, we've got that below!
Key Features
Variable 15k-30k BTU wall heater
Natural gas only
Includes wall mounting hardware
Built-in ODS sensor with carbon monoxide detector
Pros
Affordable option for small to medium garages
Easy to install using the included hardware
Cons
No thermostat to regulate temperature
Not suitable for larger garages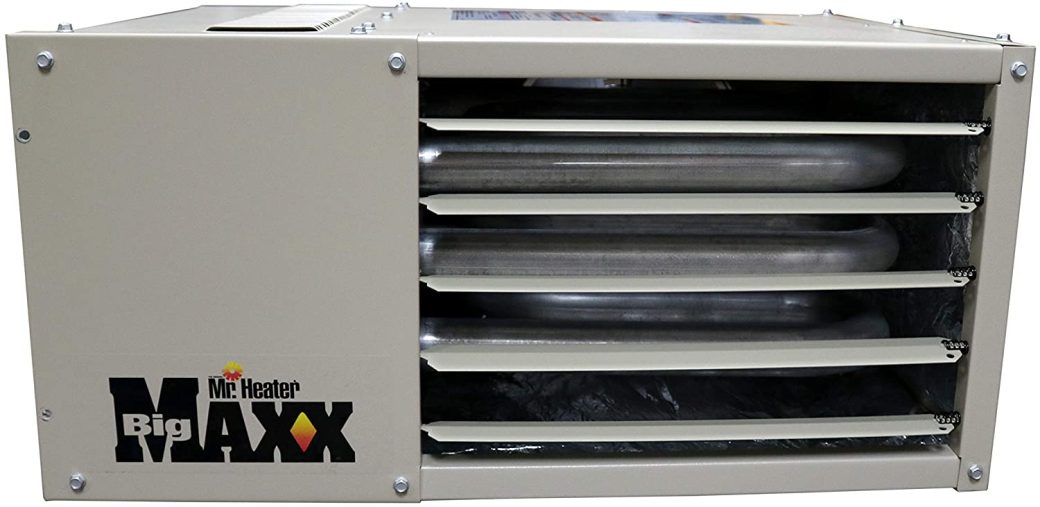 We selected the Big Maxx for its superior performance, price, and safety. Simply put, this is easily one of the best garage heaters you'll find, satisfying the needs of virtually every garage owner out there.
The Mr. Heater Big Maxx has a maximum output of 50k BTUs, which is more than enough to heat up to 1,250 square feet of space. It also uses a forced-air exhaust system that prevents fumes from building up in the shop—however, it will require a separate exhaust vent for that. Still, a very interesting feature is the 115v power connection, which is more commonly found in residential garages than the higher voltage required by 220v units.
However, the Big Maxx is designed only for a ceiling mount installation, although it allows for left- or right-side pipe inlets. In addition, you'll need a tubular heat exchanger and spark ignition venting kit for the installation, both not included with the purchase.
All in all, the Big Maxx is better than most heaters but does come with a slightly complicated installation process. but of course, if you got this far, we can safely assume you are somewhat of a DIY'er yourself, right? Nothing to be afraid of then!
Key Features
50k BTU ceiling-mounted garage heater
Works on natural gas or propane
Includes LP conversion
Heats 700-1,250 sq. ft.
Flexible installation
May requires additional parts depending on the setup
Pros
Provides an outstanding source of heat for up to a three-car garage
Forced air vent is the safest way to use a gas heater
Moderately priced option that outperforms more expensive alternative
Cons
Installation and additional parts add to cost and complexity
Does not include a thermometer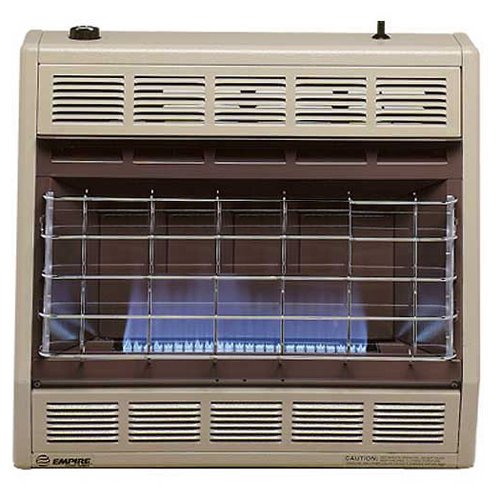 Empire's model offers the convenience of a ventless configuration, but you'll need to take certain precautions when installing it in your garage. It's also not as powerful nor nearly as affordable as the previous model. Still, we had to add it to the list due to the simple installation process, and the built-in thermostatic regulator is a nice addition too.
It's a wall-mounted model, making it perfect for house garages where the lower ceiling is already barely high enough to lift a pickup truck, while the ventless exhaust design means you don't have to run a separate vent, saving you a bunch of money in the end. However, it is essential to remember that these heaters require a well-ventilated space to work safely and correctly.
As for fuel, it runs on natural gas only and does not require any electricity input. Hence, it produces a blue flame and can be adjusted between 8,500 and 30,000 BTUs to accommodate different heating needs. And thanks to the thermostat, you can turn this one on, set it and forget it—pretty neat!
Overall, Empire's Blue-Flame garage heater is an excellent choice for DIY'ers looking for a reliable heater, simpler to install than more vented models. However, keep in mind that several states prohibit the use of ventless gas heaters due to the potential health risk they may pose. Just make sure it's allowed where you live if ventless designs tickle your fancy.
Key Features
Natural gas ventless wall heater
Adjustable between 8.5k and 30k BTUs
Thermostatic regulator
Made in the USA
Pros
Excellent design for small to medium spaces
Thermostat provides efficiency that most units don't provide
Easy wall-mount design speeds up installation
Cons
Dated almond color lacks the flair of more modern units
No fan option available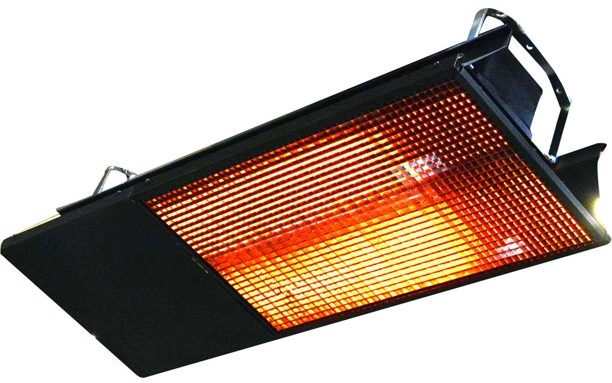 Most gas heaters create a flame that puts off heat to warm the air, but not this one. Instead, the HeatStar warms ceramic grates to provide dense radiant heat. This is the type of heater you find in outdoor patios at restaurants and hotels.
The HeatStar is an excellent option for garages and workshops, along with patios and backyards. Mounting is easy, thanks to the built-in brackets, providing ceiling or wall-mounting options. Besides, the company offers a propane conversion kit, so you can create a portable heat source, ideal for working in your barn, shed, or whatever.
HeatStar's ceramic burner produces up to 30,000 BTUs and is compatible with most aftermarket thermostats and environmental control systems. And while it's on the costlier side, it provides a blend of style and performance that you'll rarely find in other garage heaters. Hence, it's an excellent choice for anyone who also uses their garage as a living space.
Key Features
Gas-powered infrared ceramic heater
Wall- or ceiling-mount
Propane conversion kit available
Can use aftermarket thermostats
Pros
Unique and attractive design with high-end potential
Radiant heat is more efficient and comfortable
Cons
When your garage deserves only the finest, and you want the most advanced heater out there, turn to Modine. This brand has an outstanding reputation in the HVAC world and produces durable and reliable equipment that you can count on.
The Hot Dawg is a gas-powered, vented design — what you would expect for the best performing heater around. It can produce up to 45,000 BTUs and is sufficient to heat a three-car garage with ease. Moreover, the built-in thermostatic control makes this an easy-to-live-with unit.
However, this model is designed for a ceiling mount. As such, it requires an electrical connection and a proper venting system — no need to mention that a professional installation is highly recommended here.
Still, if you want nothing but the best, this is the one!
Key Features
Ceiling-mount gas garage heater
Built-in thermostat
Requires venting
45k BTUs
Pros
Manufacturer with a well-proven track record
Effective for heating a large garage
More powerful than most
Sturdy construction
Cons
Dated paint described as "prison colors" by some buyers
More expensive than most
More complex installation than other units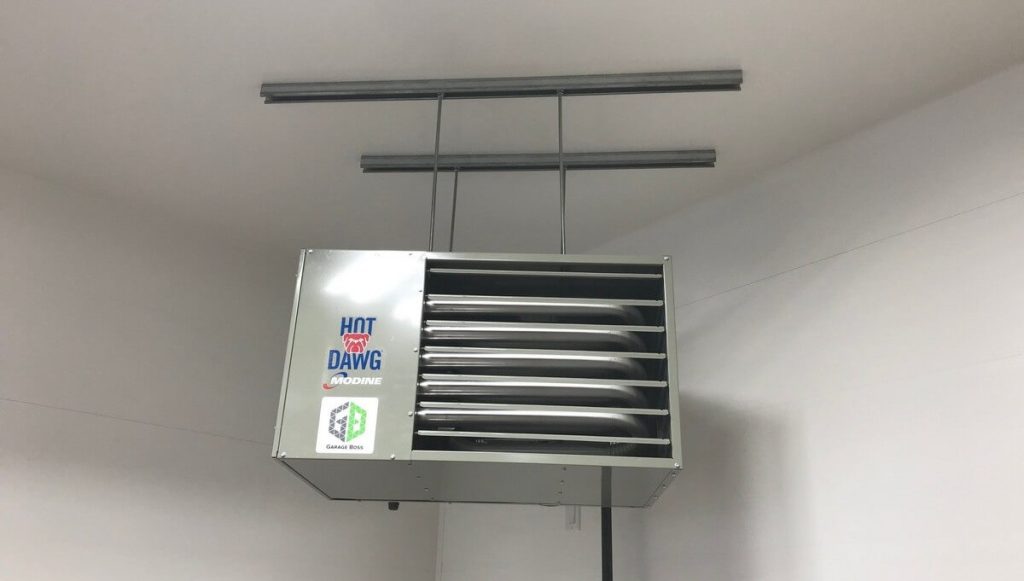 What to Consider When Choosing the Best Gas Garage Heater
A gas garage heater can make a massive difference in the amount of work you can get done during the winter times. From quickly knocking off the chill to warming it enough to do paint and bodywork, there are lots of ways a gas heater can help make your life in the shop a lot easier.
Locating Gas Lines
Before buying a gas heater, one of the first steps will be to identify where the closest gas line is located. Often, garages have gas lines already plumbed for water heaters, clothes dryers, and other appliances. You can tap into these existing lines for your new gas heater. However, if gas lines aren't already installed, you'll need to run them—which brings us to the next point…
Installation Skill Level
Working on gas lines involves a certain amount of inherent danger, and a professional installation is recommended. Gas leaks are fire hazards and an improper installation can even cause an explosion. Thus, you should consult with local authorities to determine if a permit is required to install a gas heater in your area. It's also important to keep in mind that several US states and Canadian provinces prohibit anyone not certified to even touch anything related to the gas system so make sure you keep an eye on that.
Systems that require venting also have specific code requirements relating to the type, size, and placement of the vent. Improper venting is a significant safety hazard that can cause severe fires and carbon monoxide intoxication. Professionals will ensure that the vents work correctly, so you don't have to worry about a thing.
Installation Cost
One of the things that often drives the desire to DIY a project is the installation cost. And indeed, professional work doesn't come cheap. You can expect to pay between $249 and $824 for new gas lines, plus another $285 on average to install an electrical outlet for designs that require one (if you need 220V to be installed in your garage, for instance). Venting may also be necessary, costing between $100 and $500.
Vent-Free Designs
Vent-free garage heaters are banned in California and Canada due to the toxic fumes resulting from the combustion process and the potential health and fire risk they pose. And even if they are permitted in your area, make sure that your garage is properly ventilated (if you are a mechanic, a good ventilation system is a no-brainer anyway).
Moreover, installing carbon monoxide and low oxygen sensors in your garage is always a good idea, even when the unit you buy is already equipped with some—better safe than sorry, right?
Heater Size
You'll notice that most of the models on our list produce around 30,000 BTUs — a ballpark heat figure to warm most average garages. However, if you are looking to heat a one-car garage, you won't need anywhere near this much power. Meanwhile, for large garages or unorthodox designs, you may need to use larger heaters or more than one to get the temperature you seek.
The size of the heater will also depend on the use you have for your space. If you are going to be working on cars, building projects, or doing other things that mean you'll spend more time in your garage, you'll want to be able to adjust the temperature quickly. Thus, models equipped with a thermostat are significantly more convenient.
Read also: Garage Heater Sizing — How to Find The Right Heater for Your Garage
Increasing the Efficiency of Your Garage Heater
There are a few ways you can improve how well a garage heater performs. For instance, finished, insulated walls retain heat better, leading to lower operating costs and greater efficiency. You should also make sure that the seal around the garage door is functioning efficiently, and if it's not enough, think about insulating the garage door. It's super cheap and really easy to install. If you live in a cold climate, there's really no reason why you shouldn't get your hands on a proper garage door insulation kit.
Frequently Asked Questions (FAQs)
Are gas garage heaters safe?
Yes, gas heaters are safe—they simply wouldn't be allowed to sell them otherwise. But of course, just like a barbecue, you'll still need to keep an eye on it and make sure there are no cracks or leaks. Ventless designs are also banned in some areas due to the higher risk of toxic fume accumulation. And even if it's allowed where you live, we would highly recommend only using it in well-ventilated areas.
Can I use a gas heater in my bedroom?
No gas heater is appropriate for use in your bedroom. These products are intended for garage and patio use only.
Is installing a garage heater an easy DIY project?
Some heaters are easier to install than others. Notably, ventless designs don't require running additional venting pipes but will still need a gas connection.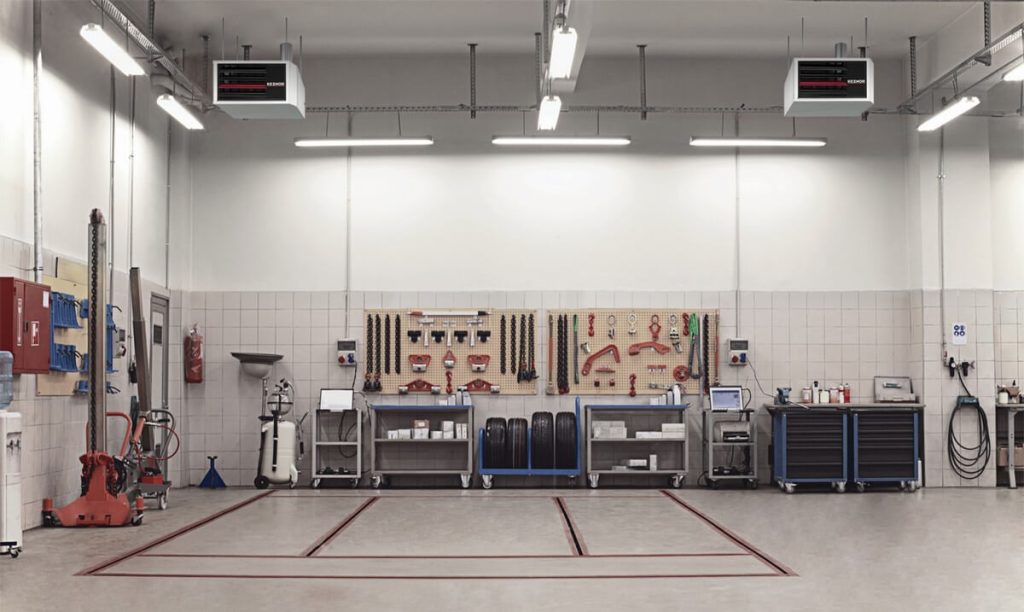 What does BTU mean?
BTU, British Thermal Unit, is the amount of energy it takes to heat one pound of water by one degree F. As a general rule, the higher the value, the more powerful the heater is.
How long will a gas heater last?
Gas heaters have a shorter lifespan than electric models and may require more maintenance. You can expect to get anywhere from five years for a budget model to around 25 years for a high-end one.
How much does it cost to run a garage heater?
Since natural gas prices vary significantly depending on the location, this one is quite hard to answer—not to mention that they also fluctuate a lot throughout the year, reaching their peak in winter.
Still, natural gas can produce up to 1,037 BTU per cubic foot. The formula to estimate the cost goes as such:
Usage (hours or load) x (BTUs/100,000) x price per therm = Operating Cost
Verdict
The best gas garage heater will provide you with a comfortable working space, without breaking the bank—and all that while being safe, of course. See it as an investment; buying a quality garage heater will give you years of comfort through the brutal months of winters, allowing you to get even more done in the garage.
Each model on this list is the best at what it does. Some are more affordable and suitable for smaller garages while other more expensive ones may be better suited to bigger workshops Still, we'll leave the final pick to you, as only you really know what would work best for your specific setup and budget. Regardless, all of those in the list above were handpicked to the best of our knowledge—you just can't go wrong with any of them!
You might also like: