There I was, in my garage, with a pair of jack stands, an oil filter, a drain pan, and an oil filter wrench. Suddenly, it dawned on me: I had no way to get my Buick up onto the jack stands. Three phone calls later, my friend was on his way with a floor jack to help.
If you need to do any automotive work, a floor jack is an essential tool. The Pittsburgh 3 Ton Low Profile Floor Jack is a big, beefy one, priced just right for the casual mechanic. Let's take a closer look!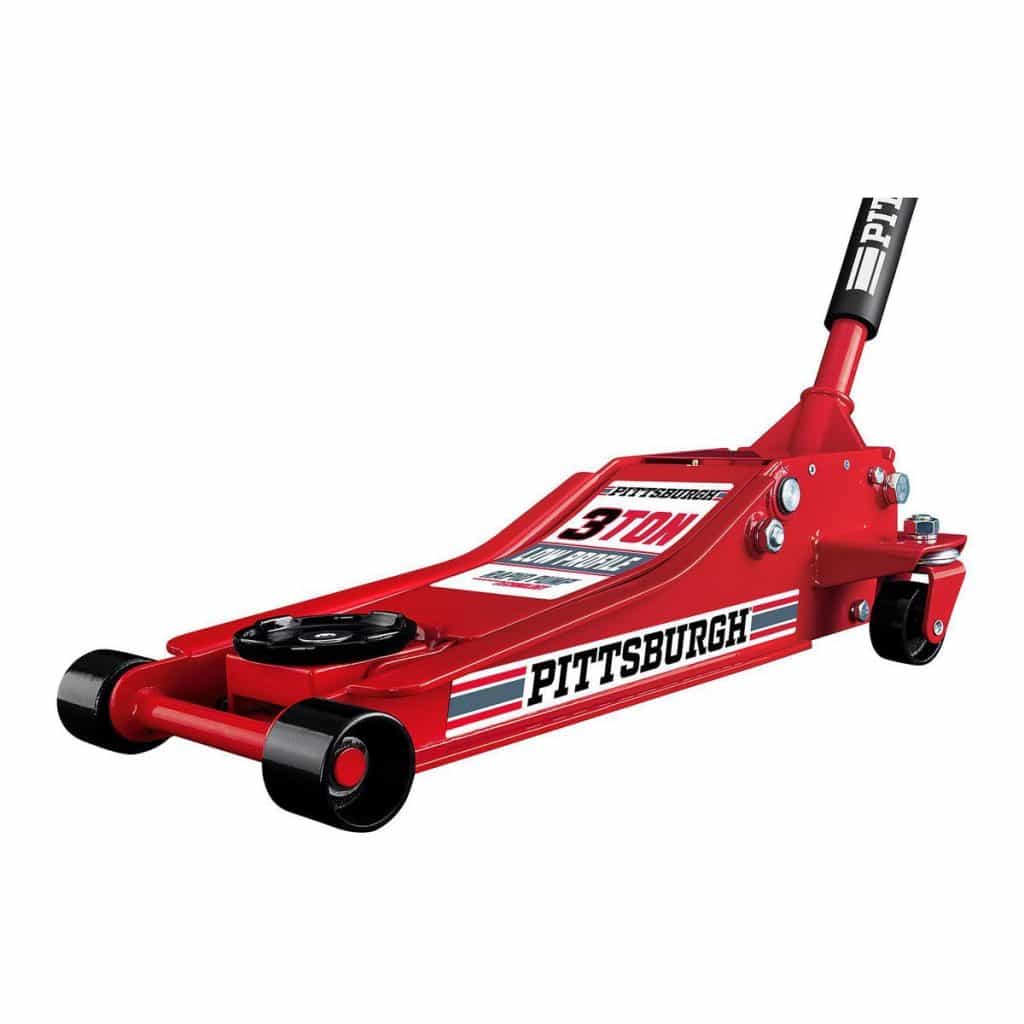 Who is it Made For?
The Pittsburgh 3 Ton Low Profile Floor Jack is ideal for homeowners who occasionally need to do some automotive work. It's a Harbor Freight product, so we wouldn't recommend it for continuous, heavy use. But for a few lifts a year, it's a great choice.
Features of the Pittsburgh 3 Ton Low Profile Floor Jack
Heavy-Duty, Welded Design
The first thing you'll notice about the jack is that it doesn't look like your average Harbor Freight tool. It's actually very well built. The heavy-duty steel construction and precision welds are barely even noticeable under the paint.
Unfortunately, this rugged design comes with a downside. The total weight of the stand is 79 pounds, which is on the heavy side. It's easy enough to roll around, but it's no fun to carry.
Tall Lift Height
The Pittsburgh 3 Ton Low Profile Floor Jack has a maximum lift height of 19 ¾ inches. This allows it to lift even relatively tall vehicles. Exactly how tall depends on many factors, primarily how far your vehicle has settled on its shocks and leaf springs.
Despite its tall maximum height, the lift is surprisingly slim. When fully collapsed, it's just over 2 ¾ inches thick. Even if your car rides very low to the ground, you should still be able to slip it underneath.
Fast Pumping Action
When you want to get under your vehicle, you don't want to wait around. Maybe it's an emergency. Or, you're just in a hurry. Regardless, huffing and puffing at a car jack is nobody's idea of fun. The Pittsburgh 3 Ton jack will lift most vehicles in just a few pumps, allowing you to move forward with the repair.
Large Weight Capacity
The weight capacity of this floor jack is no mystery; it's in the name. What does this equate to in terms of what it can handle?
Let's assume you need to change the tire on your brand new 2020 Ford F-350. The F-350 is one of the heaviest passenger vehicles and can weigh up to 7,737 pounds depending on options. Considering that most of the weight will remain on the other tires, the jack can handle even this monster truck.
Wide, Stable Base
The base of the Pittsburgh 3 Ton Low Profile Floor Jack measures 12 inches in width. This is more than strictly necessary from an engineering perspective, but the wide outriggers provide a high degree of stability. You don't have to worry about this floor jack tipping from side to side.
>>Check Latest Price and Customer Reviews<<
Product Benefits
Rugged enough to take a beating
Can lift vehicles with a very high or very low clearance
A fast and easy pumping action
Can lift even weighty vehicles like full-ton pickups
Stable base helps to avoid tipping
The Negative Things
Some parts, such as gaskets, are cheaply-made
You still need jack stands to support your vehicle once lifted
At 79 pounds, it's a bit heavy to move around
Highlighted Features
Heavy-duty construction
Tall, 19 ¾-inch lift height
Pumps very quickly
Powerful, 3-ton capacity
A wide, 12-inch base
Frequently Asked Questions
Do I Still Need to Use Jack Stands?
For most purposes, yes. Floor jacks are only designed for temporary use, while no-one is under the vehicle. The reason for this is that even the best floor jack poses two safety risks. First off, the jack stand is sitting on wheels. If it rolls around, the vehicle will drop. If you're under the car when that happens, your loved ones will soon be cashing in your life insurance check. Secondly, the hydraulic tube may spring a leak. Once again, the vehicle will drop.
In other words, a floor jack is more than good enough if you're changing a tire. But if you're going to go underneath the vehicle or leave it unattended, use it only to lift your vehicle. Then, put jack stands in place. Anything more than that is a severe safety hazard.
See Also: Best Floor Jack For Trucks
Do I Need to Bleed the Hydraulic System Before Use?
Yes. Under ideal circumstances, every hydraulic pump will leave the factory ready to work. Unfortunately, small air bubbles are occasionally left in the pump during manufacturing. When this happens, the air can compress under pressure, causing the pump to fail catastrophically. In other words – you guessed it – the vehicle will drop. Bleeding the pump before you use it for the first time will prevent this from happening.
The instructions for bleeding the pump are in the manual, and the process takes only a few minutes. We're talking about a safety issue here, so read carefully and follow the instructions in the letter.
What is the Diameter of the Saddle?
The saddle measures 4 ¼ inches from lip to lip. However, there's a raised shoulder around the lip that measures a little over ¼ inch in thickness. If you're installing a rubber pad, a 3 ½-inch pad is your best bet. Anything wider is likely to be too tight of a fit.
Final Verdict
The Pittsburgh 3 Ton Low Profile Floor Jack isn't perfect. It's heavy, and Harbor Freight makes it. That said, it's very powerful, and it can lift just about any vehicle. For your average home auto repair, it's more than good enough to get the job done. And if you take good care of it, it will last you for years.