EDITOR'S PICK
Midea Compact Refrigerator
Eco-friendly
High-quality materials
Has a freezer
Low-noise operation
Practical
Suitable for all spaces
PREMIUM PICK
Danby Compact Refrigerator
Removable shelves
Eco-friendly
Easy to clean with smudge-free doors and auto defrosting
A thermostat that allows tracking of the temperature
Great for smaller spaces
BUDGET PICK
RCA Mini Fridge
Adjustable shelves
Great design for convenient storing
Fits into all spaces
Features a freezer
Made of durable materials
Thermostat for easier adjustment
There is nothing I hate more than drinking a warm beverage on a hot summer day. After a day out, all I need is a cold soda.
However, my kitchen refrigerator did not have enough space for storing vegetables, dairy, meat, and all of my favorite cold beverages, so they were always sitting in the cabinet – warm and tasteless.
That is when I decided to buy a refrigerator for my garage, not only to hold all of my drinks but other necessities as well.
Thus, whenever I throw a big gathering, I know I have space for all the food and drinks.
So if you want to make your life easier by purchasing a garage refrigerator, I can help you find the right one.
I have prepared a few recommendations along with a list of pros and cons of owning a garage fridge, so there won't be any surprises.
Let's begin!
Best Refrigerator for Garage Review
In the world of refrigerators, Danby is quite a popular name.
The Danby model is a bit smaller, with a capacity of only 96 liters, so it could be a great fit for everyone that needs just a little extra storage space.
Also, because it is a mini-refrigerator, it is great for smaller garages – you will expand your pantry without overpacking the garage.
The fridge features stainless steel doors that are smudge-free and easy to clean.
It even has auto-defrosting, so you do not have to worry about the maintenance of its interior.
Speaking of the interior, the fridge has two full shelves and a half-shelf. All of the shelves can be taken out and placed on different heights so that the fridge meets your needs.
The two full shelves can fit large water bottles and offer plenty of space for food and snacks.
There is even a clear box for storing vegetables and fruits.
With the CanStor holder, keeping the fridge organized is much easier.
The biggest advantage of this garage refrigerator is the thermostat that allows tracking of the temperature.
It features seven settings and with a good energy rating, you won't have to worry about huge electrical bills.
Pros:
Removable shelves
Eco-friendly
Easy to clean with smudge-free doors and auto defrosting
A thermostat that allows tracking of the temperature
Great for smaller spaces
---
The Midea refrigerator is a great option because it features a freezer as well so you can store meat and other food for even longer periods.
Midea is another famous brand of house appliances – they make high-quality fridges and freezers, so getting this model is an investment that will surely pay off.
It is also known for creating eco-friendly kitchen equipment, and this fridge is no exception – it meets all requirements when it comes to energy saving, which means lower bills.
The fridge is made of stainless steel, so you can forget about fingerprints, scratches, or other marks on the door.
This model is all about practicality and you will certainly enjoy using it. It weighs just under 55lbs, and with 8.50" W x 19.37" D x 32.95" H in size, it will take just a tiny bit of your garage space.
And thanks to the reversible doors, it will fit even in a smaller garage!
With the temperature range of 32F to 50F, be sure that your beer's going to remain cold. You can separate the fruits and veggies in a clear box, and store drinks on the holders placed on the doors.
Also, there is a freezer for additional space and a really nice cooling temperature that goes from -11.2F to 5F.
Pros:
Eco-friendly
High-quality materials
Has a freezer
Low-noise operation
Practical
Suitable for all spaces
---
Last, but not least, here's the RCA garage refrigerator by RCA.
This model has a capacity of 3.2 cubic feet and comes with a freezer, which makes it a versatile garage fridge choice.
It is easy to install in any garage and it can probably fit anywhere since its dimesnions are just 17-1/2" D x 18.5/8" W x 31.5/8" H.
It has 2 interior racks, fully adjustable, and shelves – pull them out and change their position as desired. Doors have beverage holders that make everything neat and compact.
Use them to fit large water bottles, beers, or keep your butter in there.
There is also an adjustable thermostat so you can easily adjust temperature to your preferring.
The fridge is designed to be eco-friendly and save energy, but keep in mind that it does not have any energy-star certificate or an equivalent, so the electrical bills might be a bit higher than other models.
Pros:
Adjustable shelves
Great design for convenient storing
Fits into all spaces
Features a freezer
Made of durable materials
Thermostat for easier adjustment
---
Benefits and Drawbacks of a Garage Refrigerator
If you are still uncertain about whether or not you should get a refrigerator for your garage, consider these benefits and drawbacks.
Benefits:
1. Extra space (for everyday use, leftovers, or planed meals)
This is the most significant advantage of garage refrigerators – the extra storage space.
When many people live under one roof, there is a lot of food and drinks to be kept cold.
Just one fridge in the kitchen might not be able to hold everything you need. Also, it can get quite cluttered.
With a refrigerator in the garage, you can store all necessities and have enough space for extra drinks, meat, and vegetables.
Also, many items, such as cans or bottles, are quite bulky and take up a lot of space. If you place them in a kitchen fridge, there might not be enough space left for other things.
You can move these items to the garage fridge so that you can keep more important things in the kitchen near the family.
Besides, that extra space could come in handy when you are throwing a larger gathering or a house party.
On those occasions, you are probably preparing a lot of food, and the garage fridge can keep it fresh. Once the party is over, you can also use it to store leftovers.
As you can see, the sizes and capacities of garage refrigerators vary (from mini to full-size fridges), so finding a model that will fit into your garage shouldn't be a problem.
2. Most of them are eco-friendly
You maybe weren't thinking so much about the planet when you were buying your kitchen refrigerator. Now you can fix that mistake by purchasing an eco-friendly garage fridge.
As you can see from our recommendations, many of them are Energy Star certified, which means that they are friendly for the environment and use less energy.
Your new house appliance will be earth-loving without significantly raising electrical bills.
3. Less tempting
Most of us have to spend a significant amount of time in the kitchen.
While cooking, you are always tempted to take a bite of something, and at the end of the day, you might be mad at yourself for not restating those temptations.
By moving a fair amount of food from the kitchen to the garage, you won't be as tempted.
All of the sodas, cans, and sweets can be stored in the garage, so they are out of your reach.
That piece of cake from last night's birthday celebration won't seem so delicious when stored in another part of the house.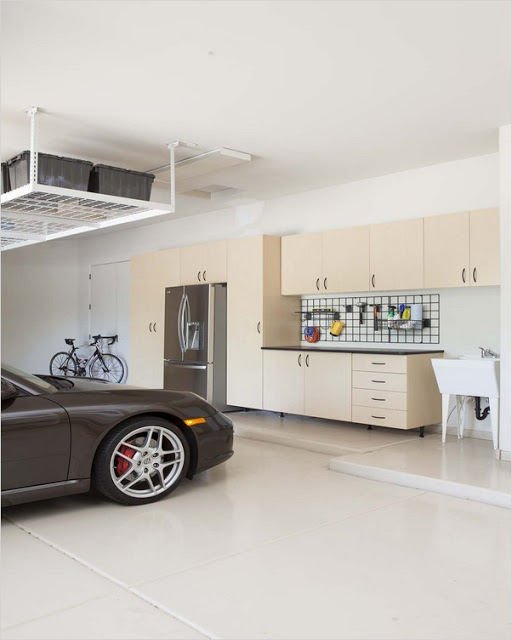 Drawbacks:
1. Higher bills
As said, many fridges have energy-saving features. However, they still use electricity, so expect higher bills.
Before you buy the extra refrigerator, do your research!
See whether it is environmentally friendly and how much it raises the bills.
Then decide whether you have a budget big enough to cover the increase in cost or not.
If the answer is no, find some storage tips for the kitchen fridge.
Also, keep in mind that these fridges sometimes break down, which means extra costs for repairs.
2. Installment
Even the smallest fridge can be hard to install if there isn't a proper power source.
Another thing you should do before you start looking for the right model is to check the dimensions of the garage, find a place, and see whether it has a proper power source.
You do not want your fridge to arrive and then discover that there is no outlet near, or that it doesn't fit into the envisioned space.
So, grab a tape measure and write down the size of the space. Then start browsing through Amazon for the right model.
---
FAQ
Is the garage a good place for a fridge?
Yes, it is!
Garages are usually quite wide and tall, so they offer plenty of storage space, and, in most cases, even a full-size fridge could fit.
Keep in mind that garages can get quite hot during summer, though, so make some modifications before adding a fridge.
What are garage-ready fridges?
These fridges are typically slightly modified from regular models. Modifications can include better insulation, which goes hand in hand with improved energy efficiency.
Also, garage-ready fridges frequently have a narrower range of working temperatures.
Does my fridge need a garage kit?
This isn't necessary, but it could expand the lifespan of your new appliance. During winter, by warming the thermostat area, the coil tricks the compressor into working more.
My garage gets too hot during summer – what should I do?
Hot temperatures can cause the malfunctioning of the refrigerator. To prevent the negative influence of hot air, try one of the following:
Insulate the entire space
Purchase a model with higher energy efficiency
Do not use the fridge or open its doors so frequently
Control the environment temperature
---
In Brief…
Adding an extra appliance into your garage could help you declutter your regular fridge and organize items better.
All of our recommendations are a great fit for any garage because they offer plenty of storage space, versatility, and good energy efficiency.