Have a track car and need to change tires frequently? Or maybe your workshop needs a new tire changer? Here are the best ones we could find!
EDITOR'S PICK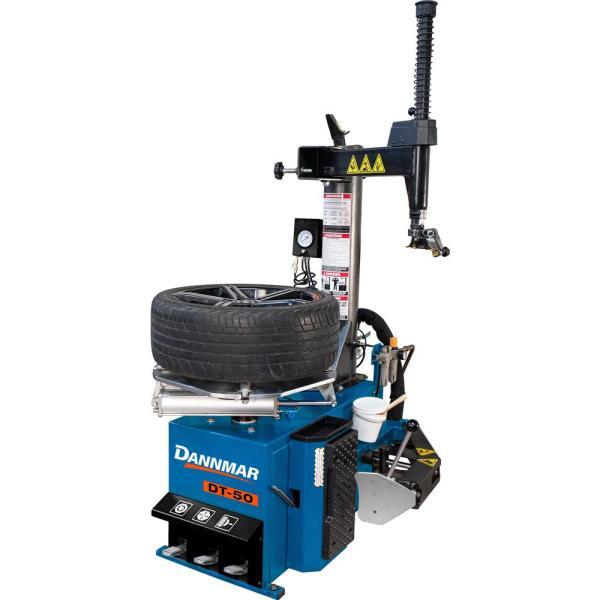 Dannmar DT-50 Tire Changer
Electro-pneumatic swing-arm style tire changer
Max. tire diameter: 47"
Max. wheel diameter: 12"-22" (o.d.) and 14"-26" (i.d.)
Operating pressure: 110-175 PSI
Tire changer dimensions: 76" x 47.25" x 50.78"
PREMIUM PICK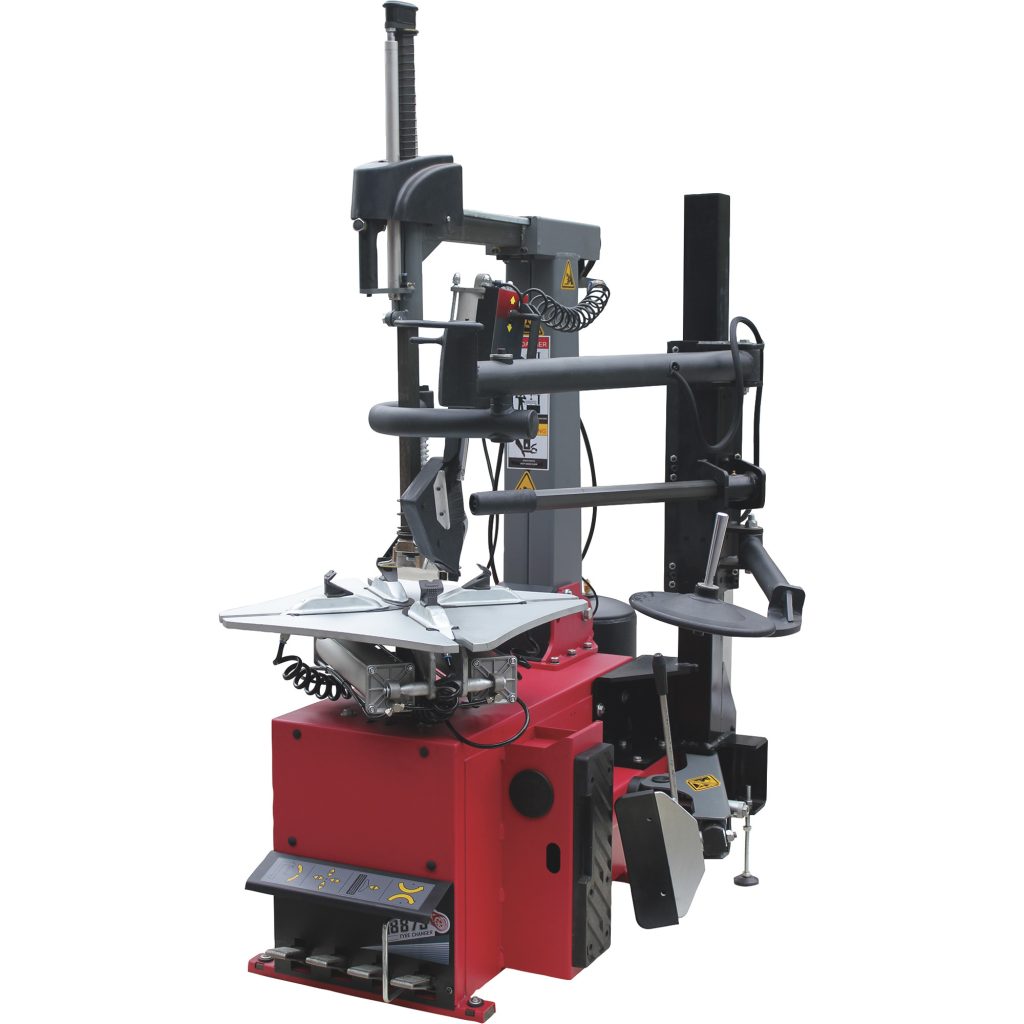 Tuxedo TC-1300 Leverless Tire Changer
Electro-pneumatic tilt-back style leverless tire changer
Max. tire diameter: 41"
Max. wheel diameter: 11"-24" (o.d.) and 13"-26" (i.d.)
Operating pressure: 115-145 PSI
Tire changer dimensions: 58.2" x 41.3" x 41.3"
BUDGET PICK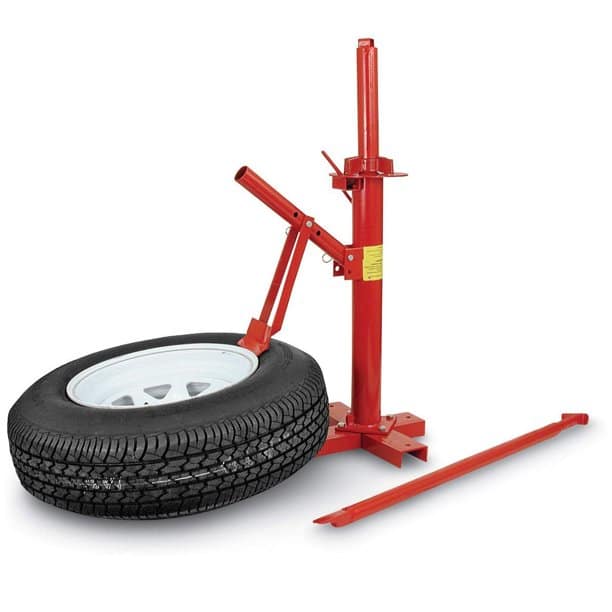 XtremepowerUS 65056 Manual Tire Changer Tool
Manual tire changer
Fits almost all car and light truck tires
Heavy-duty steel construction
Tire changer dimensions: 38" x 15" x 18"
If you live in a cold-weather climate, know your way around cars and own a garage, it's very likely that changing tires is part of your scheduled maintenance a least twice a year. And of course, the same goes for professional mechanics working in independent repair shops and dealerships — installing winter tires on new cars sold or replacing them on returning customers' cars is an important source of income, being a large part of the workload, especially before and after winter.
Consequently, being able to rely on a good tire changer can really make the difference between a good and a bad "tire season." Indeed, specific models come with several features aimed at speeding up the process, increasing the user's productivity, and in all honesty, just making your life much easier. Installing low-profile tires on big and shiny 18″ wheels is already a hassle enough not to have to do it using an old piece of machinery, always on the verge of scratching that precious chrome finish. Thankfully, those days are behind us now, and you can easily pick up a tire changer more than capable to do most of the heavy lifting for you.
However, tire changers aren't cheap, and when making such a significant investment, it is essential to take a minute to think about what you really need and how much you can spare. Hence, we have curated and reviewed 7 of the best tire changers available online to ensure your hard-earned money doesn't go to waste.
As usual, we tried hard to include models from all ends of the spectrum and ensure there is a little something for each and every one of you — no matter whether you change tires twice a year or 40 hours a week in the shop.
Enjoy!
Best Tire Changer Reviews
The Titan Lifts XL TC350 is a swing-arm style tire changer designed for home garages and light use in repair shops. It employs an electro-pneumatic system to assist you in changing tires efficiently. So, in theory, all you have to do is press a few pedals and watch the magic happen (it's a bit more complicated than that but you get the point).
More specifically, the TC350 comes with four pneumatic clamps and a side-mounted bead breaker capable of exerting 5,500 lbs. of force to separate even the stickiest beads from any wheel. It also comes with all the other parts and hardware for the pneumatic system, including a water separator, lubricator, and pressure regulator to ensure it lasts for years to come.
Worth mentioning, you can use Titan's tire machine to change tires up to 37.8″ in diameter, provided the wheel diameter is between 12″-21″ for inside mounting and between 10"-18" for outside jaw mounting — pretty much a standard in the automotive industry.
Titan's TC350 tire changing machine is super easy to use, thanks to the common but quite efficient swing-arm design and rugged clamps to hold the tire securely at all times. Of course, this design is nothing new and if you've worked in a repair shop before, you've probably used one like this at some point.
The XL Tool is your standard run-of-the-mill tire changer for personal and occasional professional use and that's pretty much all there is to say about it. Still, it may not come with fancy features, but it does the job and doesn't cost an arm and a leg. If you are looking for a pretty decent model for a small repair shop or a residential garage, this model is well worth considering. On the other hand, if you run a tire shop and change tires day in, day out, we have better ones for you below.
Highlighted features
Electro-pneumatic swing-arm style tire changer
Max, tire diameter: 37.8"
Max. wheel diameter: 10"-18" (o.d.) and 12"-21" (i.d.)
Operating pressure: 116-145 PSI
Tire changer dimensions: 71.5" x 38" x 31.5"
Pros
Comes with a water separator, lubricator, and pressure regulator
Easy to operate
Four pneumatic clamps for secure mounting
Budget semi-automatic tire changer
One-year limited replacement parts warranty
Cons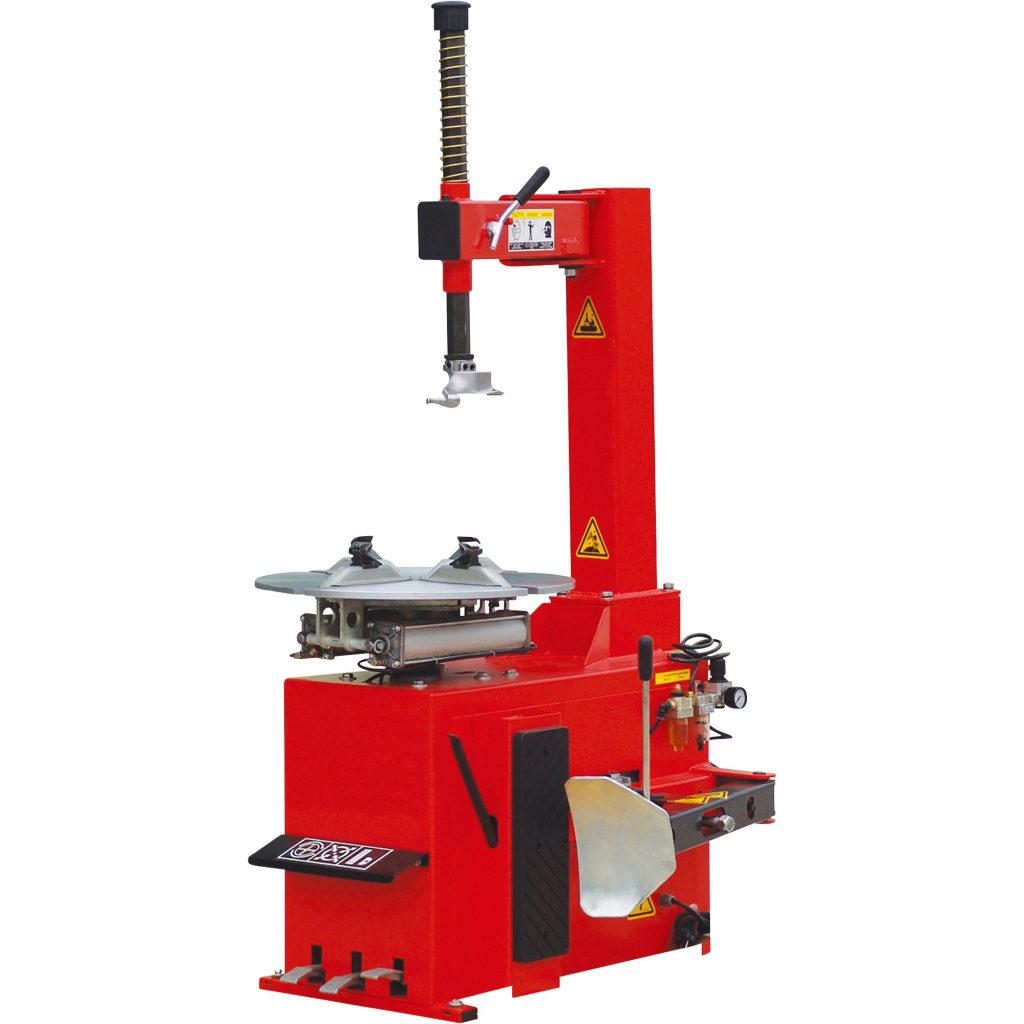 In many ways, Tuxedo's TC430 tire changer bears a striking resemblance to the previous model; both use a swing-arm style architecture with four pneumatic clamps and accept the exact same tire sizes. The similarities don't stop there; even the pneumatic system is pretty much the same, with double-acting cylinders mounted below the turntable to operate the clamps. You also get a bead breaker attachment on the side to separate the tire from the wheel before mounting it on the turntable surface.
The TC430 tire changer can accommodate tires up to 38″ in diameter with wheel width falling anywhere between 3″-11″. You can clamp the wheel from the inside if its diameter is between 12″ and 21″ and outside clamping is also possible within the 10″-18″ wheel diameter range — I told you they were quite similar, right?
To be honest, those two are pretty much interchangeable. They are both good at what they do and are some of the most common models in repair shops out there. The design may be a bit outdated but it's been more than tested and retested again.
Overall, the Tuxedo TC430 tire changer is extremely easy to use, won't break the bank, and will last you for years. I wouldn't really recommend it for heavy-duty industrial use, but it is perfectly suited for home garages and small repair shops looking for a budget tire changer.
Highlighted features
Electro-pneumatic swing-arm style tire changer
Max. tire diameter: 38"
Max. wheel diameter: 10"-18" (o.d.) and 12"-21" (i.d.)
Operating pressure: 125 PSI
Tire changer dimensions: 74.33" x 33.46" x 49.21"
Pros
Great budget option
Perfect for home garages or light-duty use
Comes with necessary accessories
Tested-and-true swing-arm design
Easy mounting and dismounting of the tire
Add-on accessories available
High-pressure bead breaker on the side
Cons
Cannot change motorcycle or ATV tires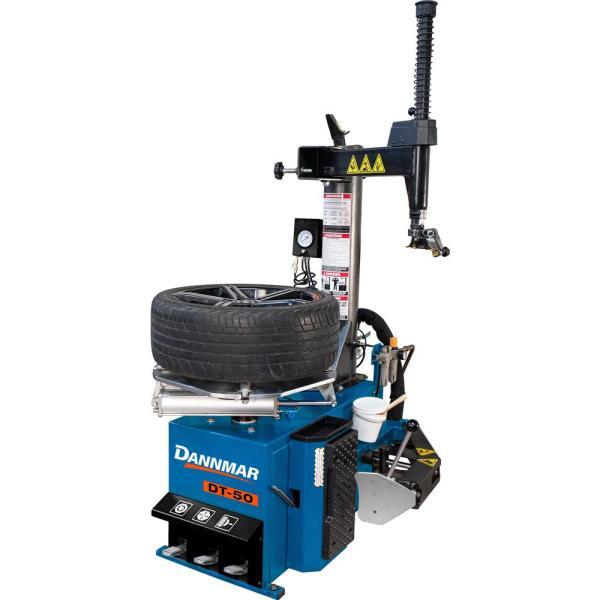 We end our selection of swing-arm style tire changer machines with the Dannmar DT50, a model prioritizing build quality and longevity above everything else. As a result, the DT50 features high-pressure polyurethane tubing to ensure the pneumatic system runs smoothly at all times. Additionally, the arm that holds the duckhead is constructed using hardened steel to ensure there is little to no play during operation and that it stays like that for years.
Also worth mentioning, Dannmar's tire changer comes with a large electric turntable capable of working on much larger tires, than the previous two, up to 47″ in diameter, which should be more than enough for pretty much anything that might come through the door of your shop. Moreover, below the high-torque turntable, sit two shiny, dual-acting rust-resistant aluminum pneumatic cylinders operating four clamps, also rated to fit larger wheels than the previous models.
All in all, the Dannmar DT50 is easily one of the best tire changers in the swing-arm model category, assuming the premium price tag still fits in your budget. On the other hand, if you need a tougher model that can accommodate significantly larger tires than most, the range of options is significantly smaller and a higher price is to be expected. After all, quality never comes cheap.
Highlighted features
Electro-pneumatic swing-arm style tire changer
Max. tire diameter: 47"
Max. wheel diameter: 12"-22" (o.d.) and 14"-26" (i.d.)
Operating pressure: 110-175 PSI
Tire changer dimensions: 76" x 47.25" x 50.78"
Pros
Impressive build-quality with sturdy materials
Ergonomic design
Heavy-duty construction
Large electric turntable
Suitable for larger wheels and tires
Several accessory kits available
One-year limited manufacturer warranty
Cons
Costs more than other swing-arm style models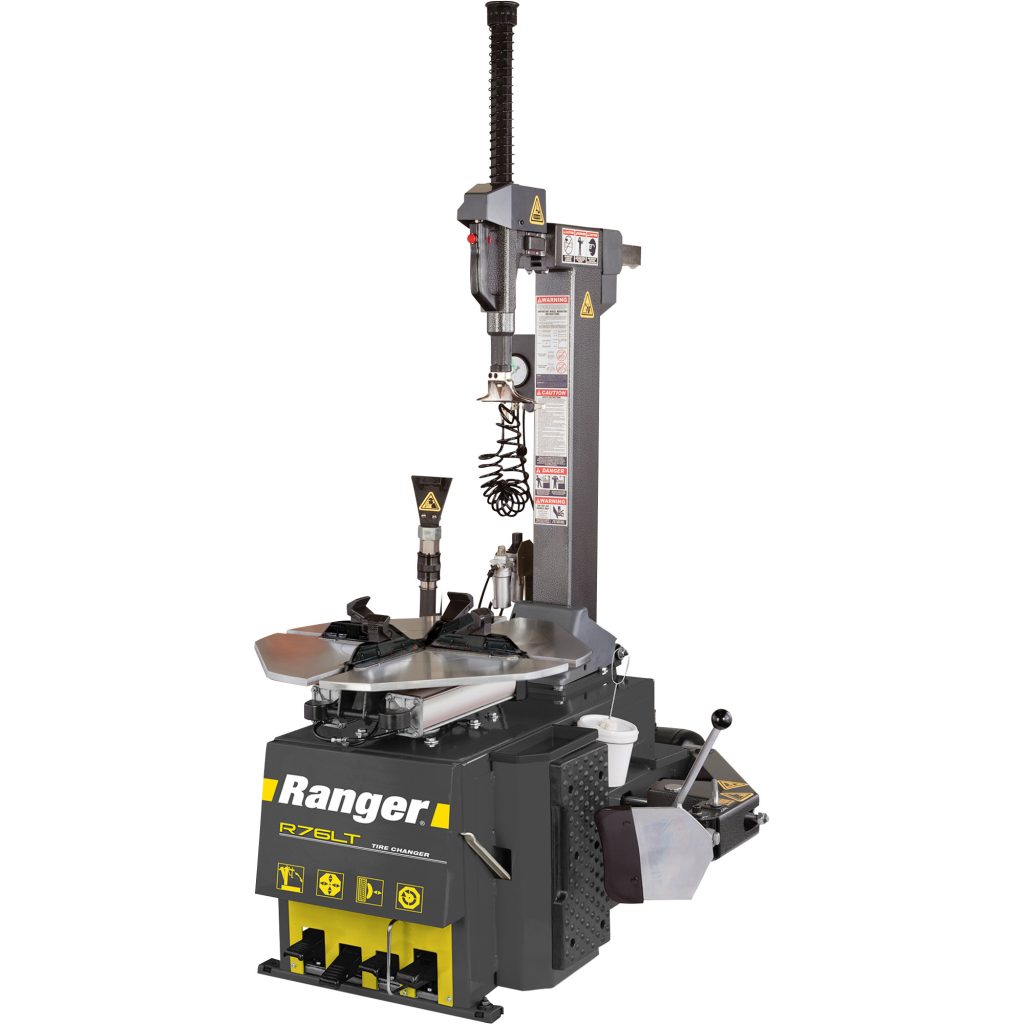 In contrast to the tire changers we have seen so far, the Ranger R76LT is a tilt-back style model, offering several advanced features to make your life a lot easier. For instance, in addition to all the familiar bits and pieces like a bead breaker, pneumatic clamps, and an electric turntable, you also get a turbo bead blaster to ensure beads are seated in place safely and in an instant — this will come in especially handy when installing low-profile tires and some that were kept stored horizontally for too long and now the sides don't want to stick (trust me; that turbo blaster is a blessing during the tire rush).
However, the R76LT's main talking point is really the clever tilt-back design meaning that you won't have to re-adjust the duckhead (or whatever else you might be calling this thing) between tires, saving you considerable time and effort. Simply press the foot pedal to tilt the tower back and remove the tire, and press again when you are ready to install the next one — the duckhead will move right back to its previous position, ready and waiting.
And that's not all; Ranger also did an excellent job covering the basics as well. Indeed, it's really the minute attention to detail that sets the R76LT apart from the competition. The built-in tool storage trays, soft clamp attachments to protect expensive wheels from scratches, and a dedicated place to keep the soap bucket, may seem like trivial additions but make the whole process significantly more convenient.
Put simply, the Ranger R76LT tire changer is the best tilt-back model on the budget end of the scale. It is especially well-suited for use in repair shops where the tilt-back design will help reduce lead times, thereby increasing productivity in the workplace and making a world of difference in the long run.
Highlighted features
Electro-pneumatic tilt-back style tire changer
Max. tire diameter: 43"
Max. wheel diameter: 9"-28" (o.d.) and 10"-30" (i.d.)
Operating pressure: 110-175 PSI
Tire changer dimensions: 79" x 41" x 66"
Pros
High-quality steel construction
Adjustable and scratch-free RimGuard™ wheel clamps
Built-in portable bead blaster
Place for soap bucket and tools
Powerful 3 hp electric motor
One-year limited warranty
Cons
Costs more than swing-arm models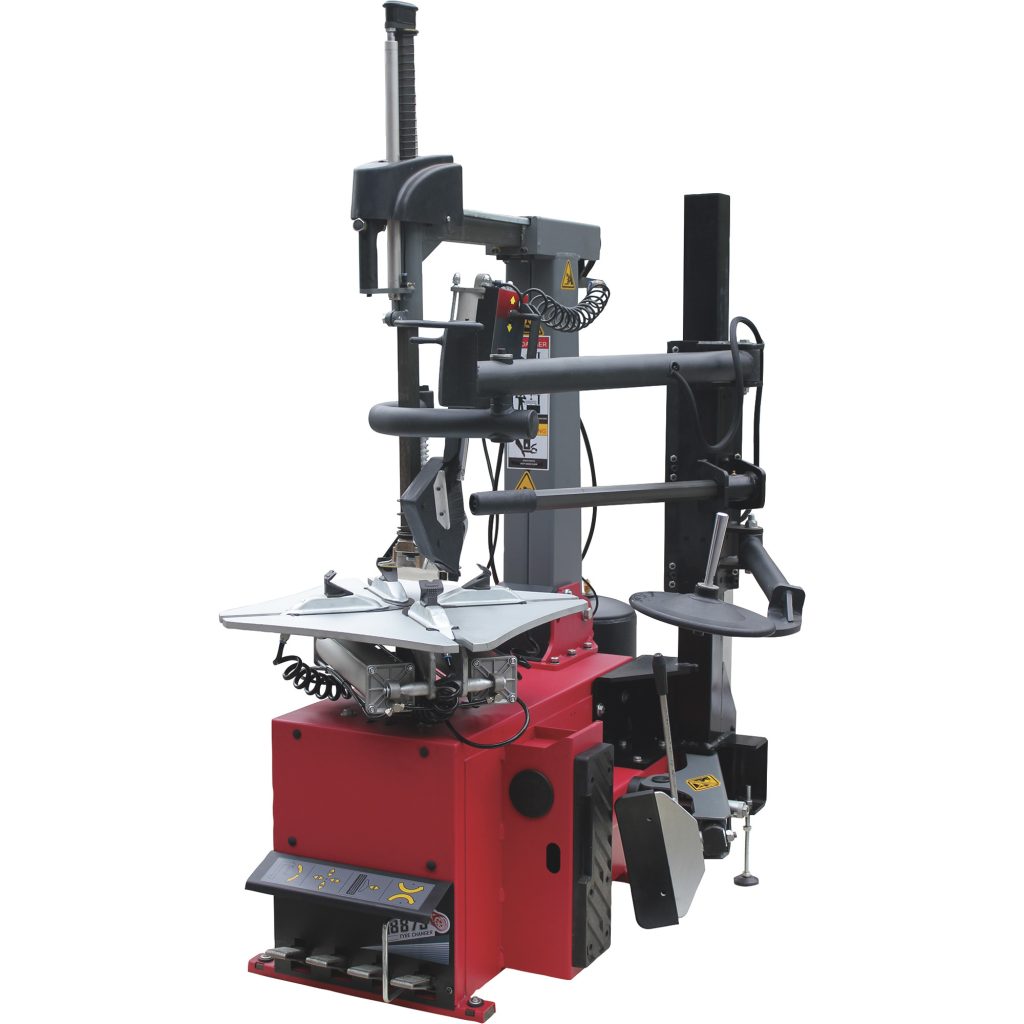 The Tuxedo TC1300 is as close as you can get to a fully-automatic tire changer and features a three-function assist arm to help you dismount low-profile and other challenging tires in a jiffy. Indeed, while other tire changers require the use of a metal bar to pull out the tire from under the lip (which can be quite dangerous at times), the synthetic rollers present on the support arm will hold the tire wall back while the duck seats or unseats the bead from the wheel — magic!
If you still aren't impressed by the TC1300, wait till you hear about its party trick. Just like every other model, Tuxedo's tire changer comes with four pneumatic clamps to mount your tire securely; however, these clamps feature powerful integrated bead blaster jets to seat the bead after mounting the new tire — and yes, I know that every tire changer mentioned above also has integrated bead seaters, but they're not even close to this one. The powerful bead blasters on this model are just otherworldly and they work like wonders.
If your repair or tire shop specializes in working on low-profile, run-flat, off-road, or stretch tires, Tuxedo's leverless tire changer is by far your best bet. The additional assist arm eliminates the need for a loose metal bar and makes your work environment significantly safer for you and the expensive wheels.
Highlighted features
Electro-pneumatic tilt-back style leverless tire changer
Max. tire diameter: 41"
Max. wheel diameter: 11"-24" (o.d.) and 13"-26" (i.d.)
Operating pressure: 115-145 PSI
Tire changer dimensions: 58.2" x 41.3" x 41.3"
Pros
Convenient and easy-to-use tilt-back design
Three-function assist arm for effortless operation
Bead blaster jets integrated within all four clamps
5,500 lbs. of bead breaking force
Cons
Occupies significant real estate
On the pricier side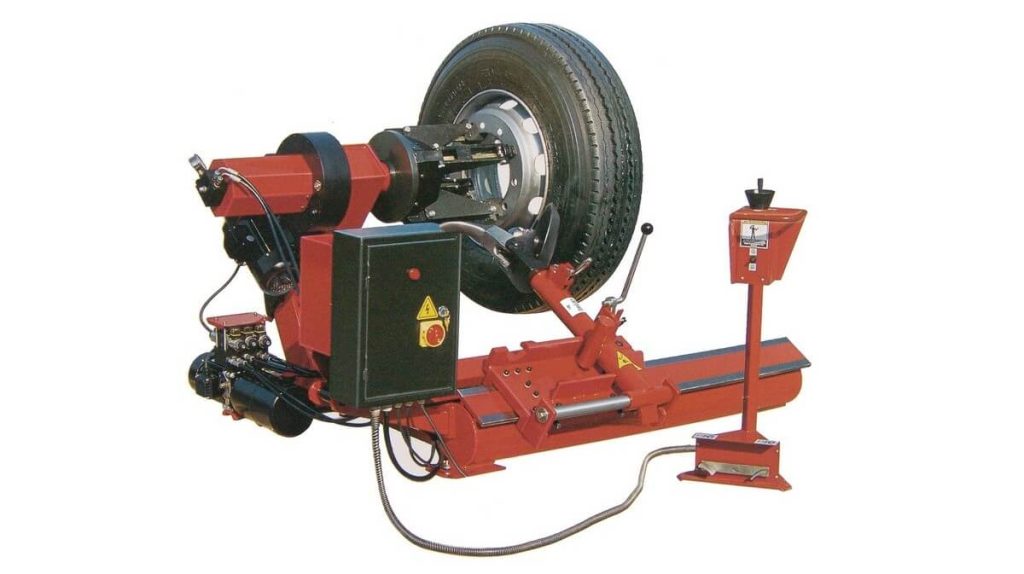 Regular tire changers are great, but none of them are useful for changing tires more than half the size of an SUV or pickup truck. To deal with semi-truck tires, you'll have to go big and that's where the Tuxedo TC770T truck tire changer comes in. Thanks to the innovative electro-hydraulic power system, it can change truck tires up to 64.5″ in diameter, without breaking a sweat.
While the basic layout may look entirely different from conventional passenger car tire changers, the fundamental operating principles remain the same, albeit bigger and a lot stronger. For instance, you still get a powerful bead breaker, but this time, it's powered by hydraulics and doubles as a tire mount/dismount arm.
Meanwhile, the large four-jaw chuck will hold your wheel still while the bead breaker works its magic and you can also choose between two rotation speeds, allowing for better control on tricky tires. Moreover, while all this is happening, you can stand at a safe distance, thanks to the wired control stand mechanism.
Tuxedo's semi-truck-oriented tire changer may be the most expensive model on this list, you would be hard-pressed to find anything better in this price range. The only potential downside is the lack of a bead seating mechanism but of course, that's because most tires that size will need to be placed in a cage before they can be seated anyway.
Highlighted features
Electro-hydraulic heavy-duty truck tire changer
Max. tire diameter: 64.5"
Max. wheel width: 31.5"
Max. wheel diameter: 11"-24" (o.d.) and 14"-26" (i.d.)
Tire changer dimensions: 83" x 65" x 37"
Pros
Four-jaw chuck for quick and secure clamping
Easy controls using the wired column
Suitable for oversized tires
Reliable hydraulic system to power the mounting/demounting arm
One-year limited warranty
Cons
On the expensive side
High maintenance tire changer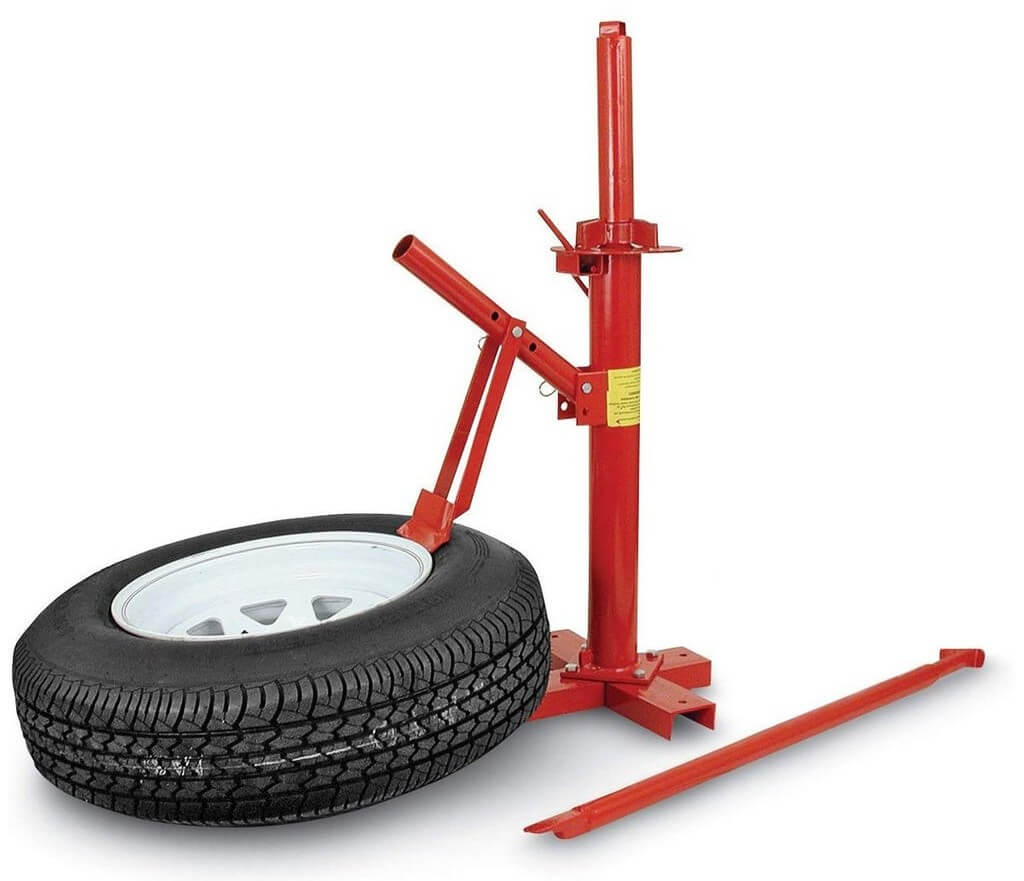 XtremepowerUS's manual tire changer is here to prove you don't need to spend thousands on a sophisticated and modern machine to change your tires. If you're willing to put a little more elbow grease into the process, you can do the same job at a fraction of the price.
Indeed, the 65065's industrial-grade steel frame mounts onto your garage floor using heavy-duty bolts to provide a solid foundation. You can then use the bead breaker arm on the side to prepare the tire for demounting. Once that's done, simply clamp the tire up top & use the metal lever to remove it from the wheel, and voilà.
If you don't fear a challenge or two when it comes to tire jobs or really can't invest that much for a tire changer, the XtremepowerUS manual tire changer might be a good option for you. However, be advised that nobody really uses these things anymore since they take a lot more time and effort to get the job done than regular models — and no need to mention that speed is of the essence in a repair shop where tons of clients all want their cars done as quickly as possible and profit is directly related to the number of jobs performed in a day.
As a result, we only recommend going for a manual tire changer if you plan to use it once or twice a year or have a car that you use for autocross and need to change tires on a regular basis. And even then, unless you intend to hit the track every weekend or have a huge car fleet, having your tires changed at your local tire repair shop might still be cheaper.
Highlighted features
Manual tire changer
Fits almost all car and light truck tires
Heavy-duty steel construction
Tire changer dimensions: 38" x 15" x 18"
Pros
Comes with the required mounting hardware
Finished with rust-resistant paint
Can be stored away without occupying too much space when not in use
Inexpensive and versatile tire changer
Cons
Takes significant time and effort
Not suitable for low-profile tires
Requires permanent changes to your garage floor
High chance of scratches or other damage to the wheel
Read more: Best Wheel Balancers For the Money [2022 Review]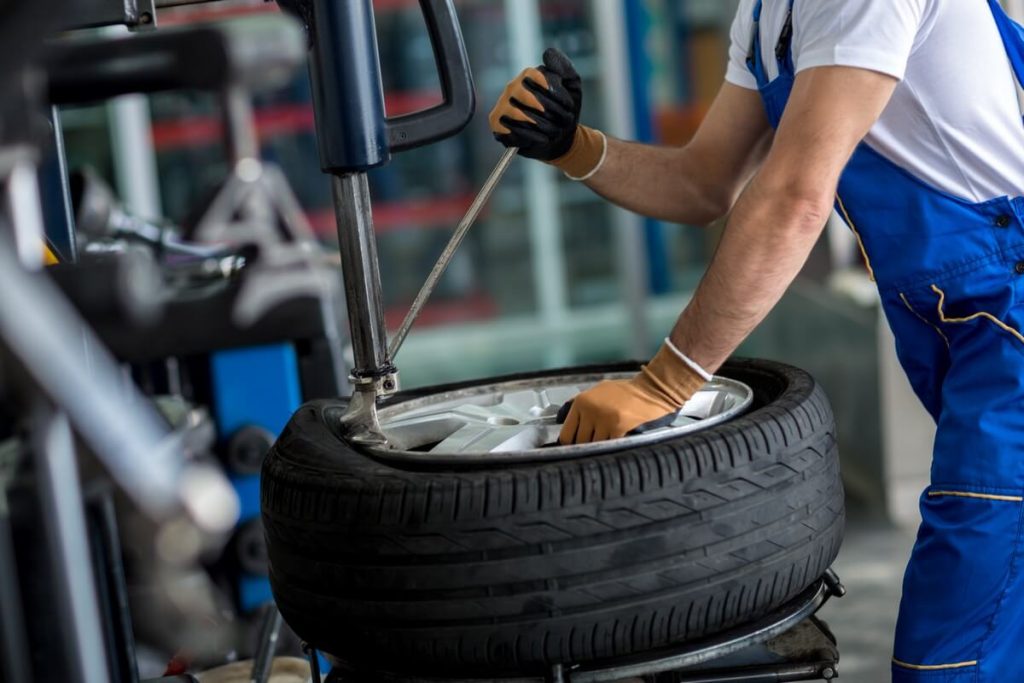 Types of Tire Changers
Tire changers generally fall into four main categories:
Swing-arm style
Swing-arm style tire changers are the cheapest and simplest semi-automatic models out there. As the name suggests, these tire changers feature a metal arm that swings in and out to make way for the tire. This type of tire changers was by far the most widely used model in the automotive industry until recently.
Tilt-back style
Once again, the title is pretty much self-explanatory, but for those still confused — in a tilt-back tire changer, the main metal column tilts backward instead of swinging from side to side. When using this type of tire changer, you don't need to adjust the boom after every tire change. Nonetheless, a significant downside is that the tilting boom will need more room than swing-arm tire changers.
This type used to be reserved to the more modern repair shop but are increasingly gaining grounds nowadays.
Heavy-duty
Heavy-duty tire changers are used to change tires from large vehicles like semi-trucks, buses, and more. These machines are usually hydraulically-powered and use a large chuck to hold the rim, while another arm uses a roller to remove the tire. Heavy-duty tire changers are significantly more expensive but also highly capable.
Manual
Manual tire changers don't feature any pneumatic, electric, or hydraulic assistance and as such are definitely not for everyone. They are tricky to use, not suitable for anything else than steel rims and take a lot longer than regular tire changers. Still, in some cases, like if you needed something portable or a tire changer you'll only use to switch burnt tires at the racetrack, they still have their use.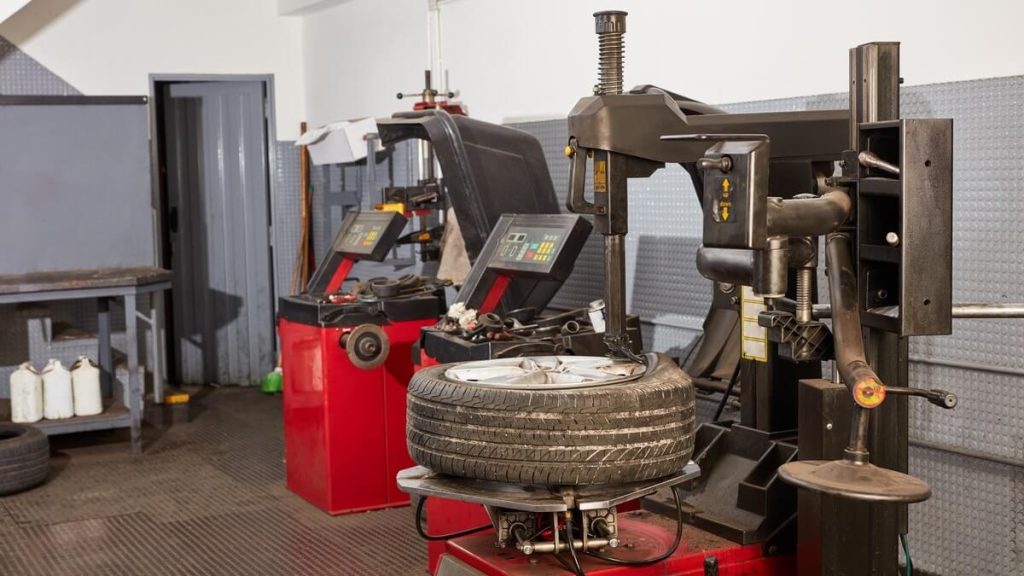 What to Consider When Buying a Tire Changer
Safety
Seating beads may not be that risky when it comes to passenger vehicles (gloves and protective googles should be more than enough here), but it's a whole another story when it comes to semi-truck tires. Heavy equipment mechanic often have to deal with high air pressures, and it doesn't take much for things to go south quite quick.
Never forget to keep safety as your top priority while looking for the best fit. Going fast is of no use if you are to lose a finger in the process. That being said, tire changers don't come with any special safety features per se. Still a strong body, high-quality components and ergonomic controls is what you should be looking for here.
Once that's taken car of, always remember to wear the appropriate safety equipment and tie your long hair back when working. However, and I cannot stress this enough, the most important point is to use tire inflation cages whenever required (only applies to the heavy truck industry, though). I personally lost a friend this way, as he was trying to save some time by skipping the cage step. So yeah, watch out for that — no mechanic salary is ever worth your life.
Servicing capabilities
Once safety is taken care of, your next priority should be deciding what size tires you usually deal with and picking an appropriate tire changer accordingly. This can be quite simple for DIYers and home garages as there are a limited number of cars and tire sizes. But in the case of tire shops, it is better to get a tire changer capable of working across many tire sizes, so you aren't forced to lose valuable business simply because your machine cannot handle truck or SUV tires. Hence, if your tire shop specializes in semi-trucks, buses, or other large vehicles, go with purpose-built heavy-duty tire changers.
Type of tire changer
As mentioned earlier, several tire changer types are available out there, and going eeny, meeny, miny, and moe isn't the best way to pick. Instead, let's look at this objectively. If money is a concern, swing-arm style tire changers are not only cheaper to buy but also cheaper to maintain since there are fewer moving parts.
Meanwhile, the tilting boom mechanism in tilt-back models takes much more room, which might be a problem in smaller residential garages. However, if you are after speed and ease-of-use, there's nothing better than a tilt-back tire changer.
Additional features
Along with all the usual capabilities, some tire changers also offer a selection of extra features for added convenience. It can be something as simple as a dedicated place to store your soap bucket at an arm's length to a powered mechanical arm to assist you in mounting/demounting low-profile tires.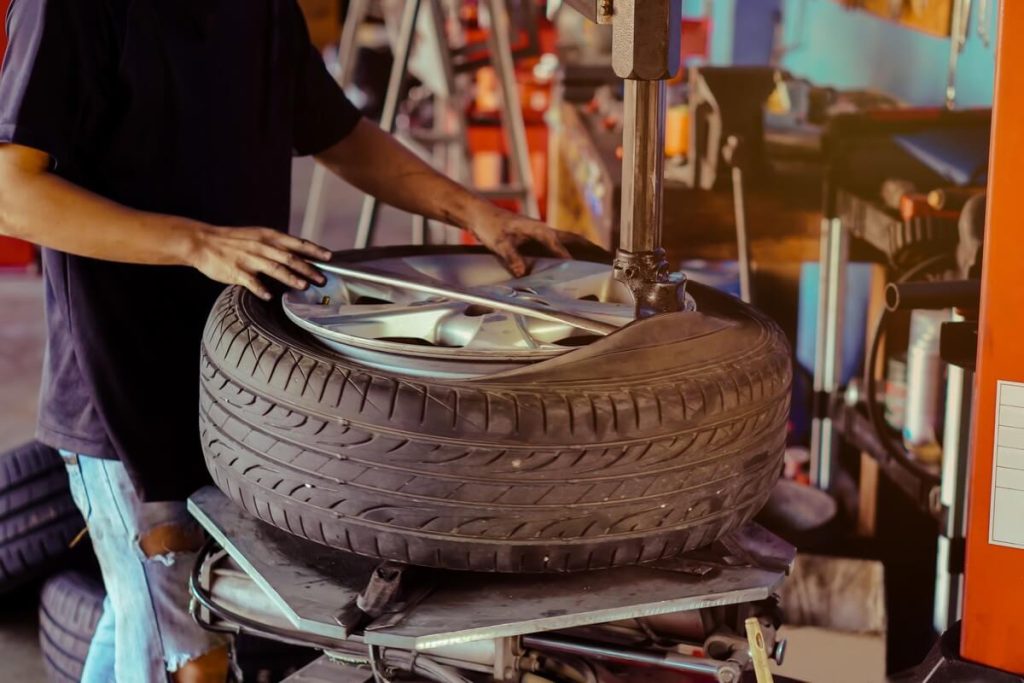 Frequently Asked Questions (FAQs)
Why are tilt-back tire changers generally more expensive than swing-arm models?
Tilt-back tire changers are designed to, well, tilt backward using air pressure or hydraulics to make way for the tires, while in swing-arm models, the boom needs to be pushed by hand to pivot from side to side, only requiring a simple mechanical linkage.
Put simply tilt-back tire machines cost more due to the higher cost of all the additional components. Besides, since tilt-back tire machines are also much faster and straightforward to use, it doesn't take an economist degree to understand that manufacturers can charge more for the added convenience.
What does it mean to "seat" or "break" the bead?
The bead in relation to a tire is the part coming directly in contact with the wheel. When changing a tire, you must first use the bead breaker to "break" the bead, allowing the tire to be easily removed from the wheel. Meanwhile, when the new tire is mounted back on the wheel, the bead must be seated in place to form a tight seal and allow you to inflate it. Once the bead is seated, and the tire is inflated, the air pressure will force the tire walls outward and keep the bead firmly locked in place.
Verdict
Over the last 15 years, I've work on tons of different tire changers; from old-school Coats 4040SA models always on the verge of killing someone if the metal bar decides to stick and shoot in the air, to ultra modern automatic ones found in high-end dealers and suitable to replace 22″ low-profile sportscar tires. Unsurprinsingly, newer models work a lot better, but unfortunately, they tend to cost an arm and a leg.
Of course, if you have pockets deep enough to get one of those, by all mean, get one. However, keep in mind that premium models also bring higher maintenance costs and a steeper learning curves, especially when dealing with grease monkeys and beginners in the field.
That being said, I don't want to imply that swing-arm tire changers should be avoided — actually the opposite in fact. These models have been used for years in the industry and have proven their value and reliable times before. Moreover, pretty much any beginner mechanic with even the slightest experience will know how to operate one from day one.
After giving it considerable thought, I think the Dannmar DT-50 is the best all-around tire changer for several reasons; it is reasonably priced, does what it's supposed to do, and is built to last. Nonetheless, if money is no object, go for the Tuxedo TC-1300 Leverless Tire Changer — trust me; it won't disapoint.