EDITOR'S PICK
OTC LDJ3 3-Ton Service Jack
Dimensions: 30" X 16" X 9"
Lifting range: 5 ¾" to 18 ½"
Weight: 77 lbs
Dual-pump action hydraulic system
Fast lifting floor jack
Foam 2-piece 39 ½" handle
4" steel crown saddle
All-steel construction
PREMIUM PICK
Hein-Werner HW93652 Blue Heavy Duty Service Jack
Dimensions: 31.5" X 15.5" X 7.25"
Lifting range: 5" to 23 ½"
Weight: 107 lbs
Sealed hydraulic system with precise load control
Single-piece extra-long 50" handle
6 ¾" saddle
Cast iron lift arm and pump base
BUDGET PICK
Torin BIG RED T83006 Hydraulic Trolley Service/Floor Jack
Dimensions: 24 7/8" X 9 ½"
Lifting range: 5 7/8" to 20 7/8"
Weight: 48.5 lbs
Hydraulic trolley floor jack
Single-piece 24 ½" handle
1 15/16" steel extra-long saddle
Heavy-duty steel construction
In 1851, inventor Richard Dudgeon filed the first patent for a portable hydraulic press. Since then, jacks have boomed in popularity and different models have flooded the market. As a result, there are now thousands of different models out there and it can be quite challenging to choose the best 3-ton floor jack.
And choosing just one won't do either. It is crucial to find one that will suit not only your vehicle but also one that fits your budget and will make your life easier. Auto mechanics is already a hassle enough as it is without having to deal with sub-par tools. To help you find the best model for you, we have created a comprehensive review of the 7 best 3-ton floor jacks on the market.
Of course, this article is based on my own experience in the field. And no need to mention, it would be absolutely impossible to test every single noteworthy floor jacks out there (although it might be quite fun). If you use a different model and think it's good enough that it should be on this list, make sure to leave a comment below and we'll review it too.
Enjoy!
3-Ton Floor Jack Reviews
If you need a highly efficient and sturdy floor jack, you will be interested in the Pro-Lift G-737. Although being somewhat of an entry-level model, it's strong enough for most jacking needs and comes with several additional features that make it user-friendly and more efficient than most.
For example, it has a rubber saddle protecting the vehicle while being lifted and comes with a Universal Joint release mechanism, which allows you to control the descent better, no matter the handle position. Moreover, it features a magnetic tray, perfect to keep lug nuts and bolts from rolling away and the Pro-Lift's Speedy Lift system significantly reduces the number of pumps required to bring your car to the desired height.
And thanks to the foam handle, it's super comfortable to use (not to mention that metal handles tend to get quite freezing when used in winter).
Of course, the Pro-Lift G-737 doesn't have all the bells and whistles that more expensive models would offer, but if you need a straightforward floor jack that will do what it's supposed to without breaking the bank, this is a strong contender.
Highlighted Features
Dimensions: 30.12" X 15.75" X 6.89"
Lifting range: 5 1/2" to 22"
Weight: 90 lbs
Speedy lift hydraulic system
Foam 2-piece 50 ¼" handle
Swiveling rubber saddle
High-grade steel construction
Pros
Highly durable
Metal construction
Suitable for heavy-duty jobs
3 ½ ton weight capacity
Can lift loads in 1 to 2 strokes
Convenient and useful additional features
Features a foam handle for comfort
Cons
Heavier than other similar models
Made in China
For those looking for the best 3-ton floor jack on a budget, the BIG RED T83006 Torin Hydraulic Trolley Service/Floor Jack might be the one.
The BIG RED T83006 is suitable for heavy-duty work and durable enough for long-term use. Equipped with two steel casters and two 360-degree swivel casters, a built-in handle, and tipping the scale at only 48.5lbs, this model is highly portable. Of course, it's not as light as aluminum floor jacks, but when it comes to steel models, this is pretty much as light as it gets without being flimsy. Moreover, with a lift range between 5 7/8″ and 20 7/8″, it's quite versatile, making it ideal for most cars, small trucks, minivans, and SUVs.
It's also very straightforward to use, thanks to the single-piston quick lift pump making it easy to raise to the desired height. Besides, the model also features a safety bypass system, which prevents you from overloading it when trying to lift a vehicle over the maximum weight capacity rating.
And even better, the BIG RED T83006 floor jack is super cheap. In fact, it is the most affordable model on our list, and still comes with a 1-year manufacturer warranty.
What's not to like?
Highlighted Features
Dimensions: 24 7/8" X 9 ½"
Lifting range: 5 7/8" to 20 7/8"
Weight: 48.5 lbs
Hydraulic trolley floor jack
Single-piece 24 ½" handle
1 15/16" steel extra-long saddle
Heavy-duty steel construction
Pros
Highly durable construction
Features a single-piston quick lift pump
Highly portable
More

affordable than most
Cons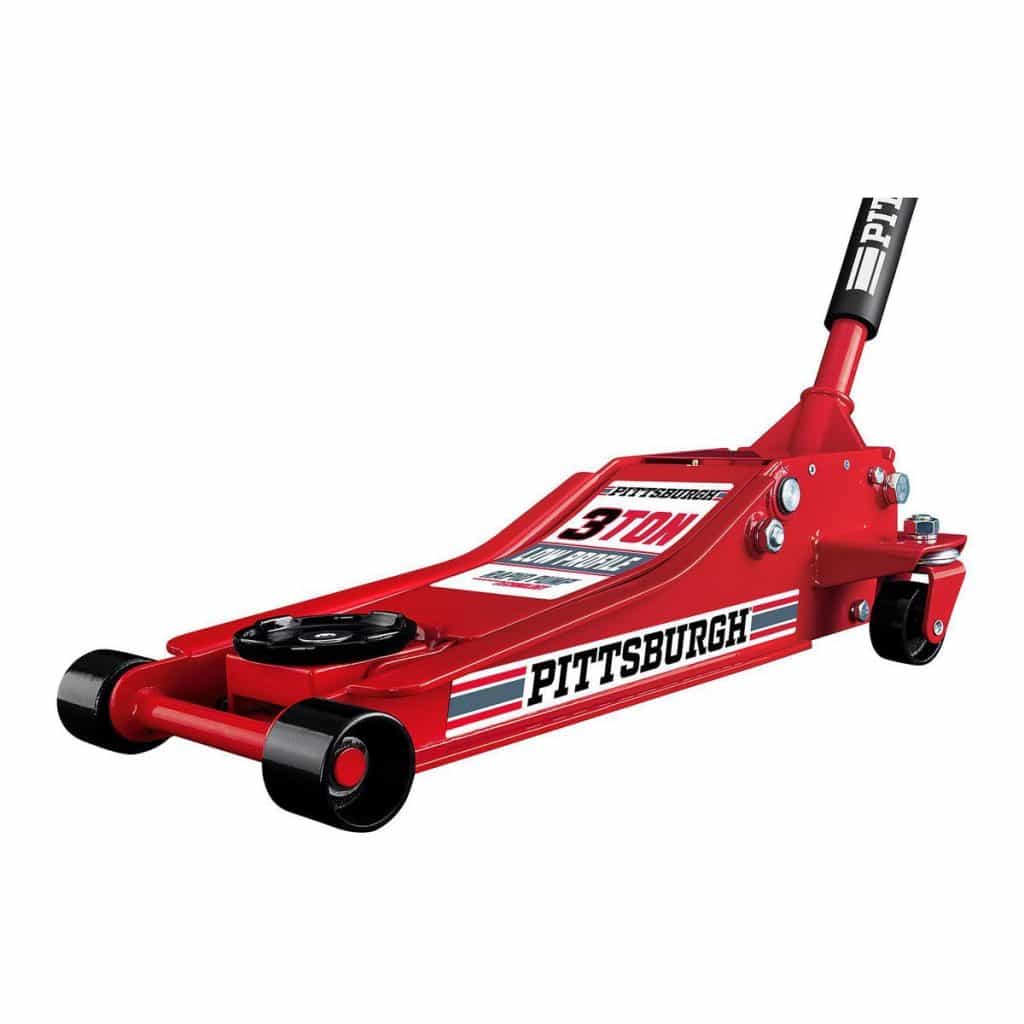 Another excellent entry-level floor jack is the Pittsburgh Automotive 3 Ton Heavy Duty Ultra Low Profile Steel Floor Jack. This floor jack is highly durable, built with professional-grade materials, and extremely easy to use.
The precision-welded steel construction and industrial-grade finish ensures that this jack is suitable for heavy-duty jobs and will last for years to come, no matter what you throw its way.
But what really sets it apart from the previous jacks on this list is that this one was built with lowered cars in mind. It has an extra-low profile, which makes it ideal for vehicles with low ground clearance.
Additionally, it is also perfect for track use. It comes with a dual parallel pump system, reducing the time needed to bring it up to working heights.
It's important to mention that the Pittsburgh Automotive floor jack is significantly heavier and larger than most. However, not everyone needs to frequently pick up their floor jack anyway. And the added weight extra-wide steel casters ensure both stability and durability. Of course, if you need a portable jack, this one might not be your best bet. But if you need a sturdy floor jack for professional use that you'll just push around the shop, it's definitely worth the look!
Read our in-depth review of the Pittsburgh 3 Ton Low Profile Floor Jack here!
Highlighted Features
Dimensions: 28" X 12" X 10"
Lifting range: 2 7/8" to 19 ¾"
Weight: 75.1 lbs
Dual parallel pump-action hydraulic system
Rapid lifting floor jack
Foam 2-piece handle
4 ½" steel saddle pad
All-steel construction
Pros
Durable steel construction
Industrial-grade finish
Extra-low profile makes it suitable for lowered vehicles
Easy to use
More stable than most
Cons
Not suitable for taller vehicles
The Arcan 3-Ton Quick Rise Aluminum Floor Jack is one of the lightest and most maneuverable models on this list, thanks to the aircraft-grade aluminum construction. However, don't let the lesser weight fool you, it is just as powerful as any other 3-ton steel jack.
Indeed, the aircraft-grade alloy is very durable (aluminum doesn't rust) and the reinforced lift arm increases strength, chassis torsion control, and sturdiness.
Moreover, the dual-piston hydraulic system significantly reduces the number of pumps required to lift your vehicle. floor jack lifts items quickly and efficiently. Meanwhile, the side handles allow for more convenient positioning and make it super easy to transport and move around.
All-in all, the Arcan 3-Ton Quick Rise Aluminum Floor Jack is perfect for weekend DIYers and track warriors. It's quite affordable for an aluminum unit and will last you for years. If you need an aluminum jack that won't break the bank, this might very well be the one!
Read our in-depth review of the Arcan ALJ3T Aluminum Floor Jack here!
Highlighted Features
Dimensions: 30" X 13.5" X 8"
Lifting range: 3.75" to 18"
Weight: 56 lbs
Dual-pump pistons hydraulic system
Foam 2-piece handle
4 ½" steel saddle with rubber padding
Aircraft-grade aluminum construction
Pros
Lightweight
Durable construction
Includes a reinforced lift arm
Lifts loads quickly
Easy storage option
Cons
Smaller cylinder than others
The OTC LDJ3 3-Ton service jack is a true heavy-duty workhorse; it boasts a rugged all-steel frame for exceptional strength and reliability. The upper flanged structure incorporated into the design further helps in increasing this floor jack's strength by providing sufficient resistance to twisting under heavy load. Furthermore, there is also an integrated safety overload system that guarantees the operator safety at all times.
OTC's 3-ton floor jack is equipped with a sophisticated dual-pump mechanism that is capable of lifting up to 1750 lbs to maximum height with just three full pumps of the 2-piece 39 ½" handle. It is also easy to maneuver to the most suitable lifting point under your car thanks to a compact design and 4 sturdy casters.
Once the floor jack is in position, the 4" round steel saddle will ensure no damage is inflicted upon your car. However, it's important to mention that, with an effective lifting range between 5 ¾" and 18 ½", it might not be the most versatile jack out there—but it is certainly enough for most applications.
The remarkable attention to detail and the use of high-grade materials make the OTC LDJ3 an excellent option in the 3-ton category. It has everything you would want in a floor jack and then some. You might have to shell out a few extra bucks, but it will be all worth it for a high-quality product such as this one.
Highlighted Features
Dimensions: 30" X 16" X 9"
Lifting range: 5 ¾" to 18 ½"
Weight: 77 lbs
Dual-pump action hydraulic system
Fast lifting floor jack
Foam 2-piece 39 ½" handle
4" steel crown saddle
All-steel construction
Pros
Strong and rugged frame
Flanged design for additional strength
Long pumping handle
Reliable and long-lasting hydraulic system
Takes only 3 pumps to reach maximum height (up to 1750 lbs)
Integrated safety overload protection system
Rear swiveling casters
Lifetime limited warranty
Cons
Fast pumping action is only applicable for lighter loads
Costs slightly more than other models
Tool manufacturers like Hein Werner, who still produce jacks in the United States, are the last of a dying breed. Hein-Werner decided against succumbing to corporate greed and taking the easy way out, as so many others did. The brand only makes high-quality equipment right here, and the HW93652 heavy-duty service jack is a fine example of that.
The HW93652 heavy-duty floor jack uses cast iron for critical load-bearing components like the lift arm and pump base to impart additional strength. Additionally, housed within the frame is a sealed hydraulic pumping unit to prevent dust, water, and grime from entering the system, thereby assuring a long service life.
Hein-Werner's 3-ton jack has a minimum height of 5" and can go as high as 23 ½", making it one of the most versatile floor jacks on this list. If you are looking for a reliable, heavy-duty jack, that you can use 40-hours a week in the shop and then some, you can't really do better than the HW93652. Yes, you might have to shell out a little more, but this will probably be the last floor jack you buy.
Trust me—got one like 10 years ago and it's still my go-to jack in the shop to this day!
Highlighted Features
Dimensions: 31.5" X 15.5" X 7.25"
Lifting range: 5" to 23 ½"
Weight: 107 lbs
Sealed hydraulic system with precise load control
Single-piece extra-long 50" handle
6 ¾" saddle
Cast iron lift arm and pump base
Pros
Versatile lifting range
Exceptionally strong and reliable floor jack
Sealed hydraulic pump for a long service life
Large wheels and casters for easy maneuverability
Integrated pressure relief valve
Flanged side plates for optimum stability even under load
Assembled in the USA
2 years limited manufacturer warranty
Cons
On the expensive side
No fast lifting functionality
Low-profile floor jacks are perfect for working on smooth garage floors to lift low to medium ground clearance vehicles and even some SUVs. However, there is simply no match for the mighty CAT 240330 Hybrid 3-ton floor jack when it comes to hardcore off-road applications. As made evident by the ginormous wheels, the CAT 240330 is specially designed for use out in the wilderness, where the chances of getting a tire puncture are much higher than on the tarmac.
The CAT 240330 boasts a lifting range of 6″ to 21 ½". However, if that seems to be on the lower side, you'll be happy to hear that it comes with an adapter that can instantly increase the overall lifting height an extra 7 ¾" more, making the 240330 suitable for a wide range of off-road vehicles.
Since you are more than likely to carry this floor jack around when going on off-road adventures, its weight must be kept low. To that end, the CAT 240330 features a hybrid steel and aluminum construction that delivers a perfect balance of lightness and strength.
Lastly, you get a dual-piston pump hydraulic system with fast lifting functionality. As a result, you can raise this jack to its maximum height with just 7 pumps, which is not a small feat considering the maximum height. If you often go off-roading, just get this one—you won't regret it!
Highlighted Features
Dimensions: 31" X 13 ¼" X 10"
Lifting range: 6" to 21 ½" with an additional 7 ¾" removable adapter
Weight: 89.5 lbs
Dual-piston pump hydraulic system
Fast lifting floor jack
Foam 2-piece handle
Steel and aluminum hybrid construction
Pros
Hybrid construction brings the best of both worlds
Reaches maximum lift height in just 7 full pumps
Specially built for SUVs, trucks, Jeeps, and other off-road applications
Bottom skid plate to prevent underbody damage
Extra-large wheels can tackle uneven ground with ease
Adapter included for increasing maximum lift height
1 year manufacturer warranty
Cons
See Also: 7 Best Floor Jacks For Lifted Trucks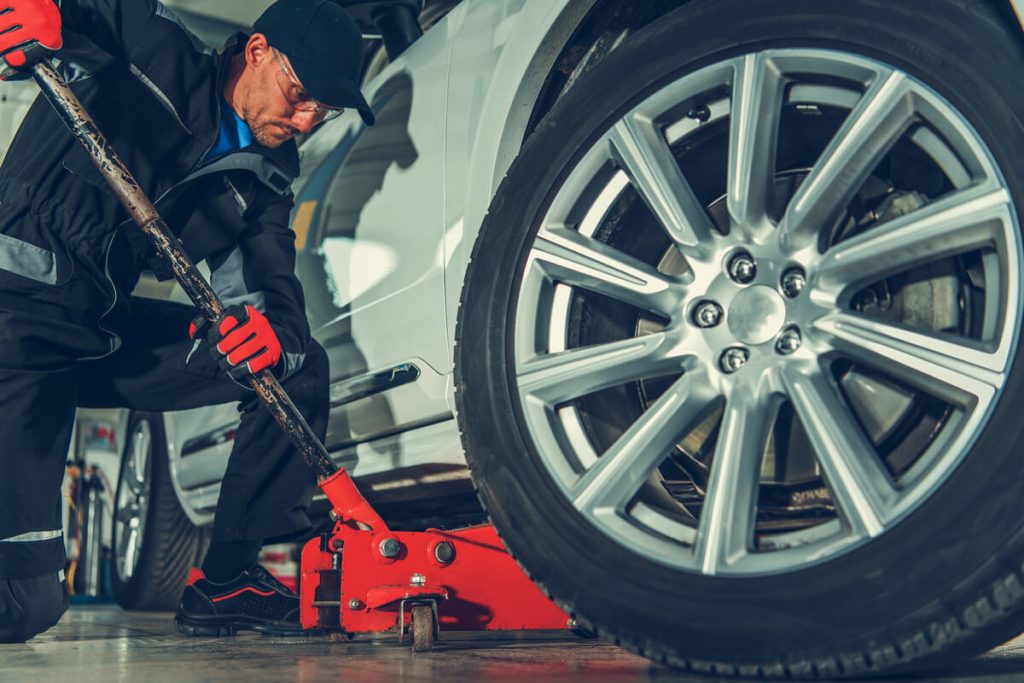 Factors To Consider When Buying A 3-Ton Floor Jack
Capacity
A crucial feature to consider when buying a floor jack is the capacity, which refers to how heavy the jack can lift safely. You always need to purchase a jack strong enough for your purposes, without it being exceedingly heavy or bulky.
If you get a jack that can't support the weight of your vehicle, it might not be able to lift whatever you are trying to lift, or even worse, succumb under pressure. Worth mentioning, some models even have a built-in safety valve that prevents the jack from lifting if the load surpasses its maximum capacity. However, that's not always the case.
At the same time, jacks that are overly strong will be heavy and bulky. As a result, they will be less maneuverable and difficult to transport.
A 3-ton floor jack is what most mechanics and automotive enthusiasts need. It is strong enough for most cars, small trucks, vans, and SUVs, while still being somewhat light and portable. However, if you own a big truck or regularly need to lift RVs or box trucks, you'll need something more powerful than a 3-ton jack.
Effective Range
Another factor to consider is the minimum height, which is the lowest possible height for the jack. Since many cars, especially sports cars, have low ground clearance, it is important to have a jack that accounts for their height.
In contrast, you might not worry about this if you only work on trucks or SUVs. Simply consider the typical car you will be lifting and select a jack that accounts for the lowest possible height you'll need.
Similarly, you will also need to consider the maximum height, which tells you how high the jack can lift the car. This measurement is important because you need to lift an automobile high off the ground so you can safely get under it.
For most cars, a maximum lift of 20-inches will suffice. If you plan to lift larger vehicles such as off-roaders, you will probably need a higher maximum elevation than that. If this is your case, we've created a post specifically about truck-oriented jacks here.
Platform Size
The platform size is another important aspect that determines the stability of the jack. The larger the platform, the more stable and secure the jack will be. As a general rule, the wider the platform the better. However, large jacks may not always fit under smaller cars so keep an eye out for that.
Material and Weight
Finally, the last factor to consider when purchasing a floor jack is the material and weight. The material is crucial because it determines the durability, strength, and overall weight of your jack. Steel is the most appropriate jack material, but it can be a little bulky. If you are looking for a more portable model, look for aircraft-grade aluminum floor jacks instead.
Verdict
If you've been shopping for a floor jack for a while now, you might have noticed that there are many 3-ton models on the market—and not all of them are created equal.
In my honest opinion, the Hein-Werner HW93652 Blue Heavy Duty Service Jack is, by far, the best overall pick. It is durable, has a large lifting capacity, and has a wide lifting range. However, it can be a bit bulky and might be a bit much for weekend DIYers that only need to raise their compact commuter to change the oil every once in a while. In that case, the OTC LDJ3 3-Ton Service Jack might be a better pick.
On the other hand, if you are on the hunt for a floor jack for off-road applications, the CAT 240330 Hybrid jack is probably your best bet. It is a light yet strong off-road-centric jack with oversized wheels for easy maneuverability, even on tricky surfaces.
If you are still unsure which floor jack to choose, it's okay. Simply remember to consider the capacity, minimum height, maximum lift, platform size, and material and weight. By contemplating these five factors, you are sure to get a perfect floor jack for your needs.