BUDGET PICK
PORTER-CABLE 7424XP Variable Speed Polisher
4.5 Amp
2,500 – 6,800 OPM Speed Dial
Lightweight
Detachable Handle
Upsell Options
EDITOR'S PICK
DEWALT DWP849X Buffer/Polisher
Reputable Brand
12.0 AMP
Variable Speed Dial
Wool Ingestion Shields
Lightweight (6.7lbs)
PREMIUM PICK
Makita 9237C 10 Amp 7-Inch Variable Speed Polisher/Sander
Kit Option
Easy To operate
Rubber Non-Slip Handle
Speed Dial & Trigger
Auto-Lock Feature
Cleaning your car is one thing, but polishing can completely transform its look and feel. Most people take their car to a professional detailer to get it polished, costing a substantial amount of money you could have otherwise saved.
You'll be happy to hear there's an alternative. You can achieve the same result by investing in a high-quality car polisher/buffer. If you choose the right one, your car will be looking brand new.
A car polisher removes scratches, restores paint, and adds a 'Glossy' look to your vehicle, similar to when you purchase a car brand new.
We've created this article to outline the best car polisher for beginners. We will provide you with five options to choose from and even show you how to polish your car if you've never done it before.
What Types of Car Polisher is Best for Beginners?
When it comes to car polishers, there are three types to choose from – Rotary, Dual Action, and Gear Driven polishers. If you're a complete beginner, we recommend sticking with a Dual Action Polisher.
The main reason is that dual action polishers tend to heat up less, meaning if something goes wrong, they won't cause as much damage. They're also more tender on your paintwork. Although this also means it might take a little more time to get the perfect polish.
Car Polisher For Beginners Reviews
If you're looking for the best car polisher for beginners, then Dewalt won't disappoint with this powerful 12.0 amp buffer/polisher. You have the option to purchase this polisher as cordless or corded. We recommend sticking with the cordless option as the last thing you want is to be tangled in leads while trying to polish your car.
The variable speed dial allows a speed between 600 – 3500 RPM, making it suitable for different polishing techniques.
Moreover, the polisher features wool ingestion shields, which increase the lifetime and prevent unnecessary repair costs.
You'll also benefit from a lightweight design (6.7lbs), which makes polishing your car for long periods a lot easier.
It has a bale handle, and a traditional side handle, allowing for superior grip and comfort. The rear handle is covered with a rubber layer that helps prevent your hand from slipping while further increasing comfort.
There is also the benefit of a 90-day money-back guarantee, a one-year free service contract, and a 3-year limited warranty. Purchasing this polisher is essentially risk-free. If you don't like it for whatever reason, return it within 90 days and get your money back.
Pros:
Reputable Brand
12.0 AMP
Variable Speed Dial
Wool Ingestion Shields
Lightweight (6.7lbs)
Cons:
Hard To Clean Square Areas
When purchasing this polisher, you'll have the option to add a pressure gauge or pad to your order. It's 4.5 Amp and has a variable speed dial ranging from 2,500 – 6,800 OPM, more than enough to give your car the polish it deserves.
It's extremely lightweight, weighing only 5 pounds. Thus, it's easy to hold up for long periods when polishing. You'll also be able to add 5/16 to 24 spindle thread accessories if required.
The handle is what makes this polisher shine. You'll be able to detach and reattach it on either side of the polisher – a great feature if you're left-handed or need a change after a while.
The pad that comes with this polisher is made of lambswool and ensures your car looks glossy and damage-free. It has a 6-inch diameter and is designed for a wide range of surfaces. You can also attach this pad to most regular orbit polishers.
The Porter Polisher comes with a manufacturer's warranty. However, you'll have to request it through Amazon.
Pros:
4.5 Amp
2,500 – 6,800 OPM Speed Dial
Lightweight
Detachable Handle
Upsell Options
Cons:
You can choose to buy this polisher by itself or as a kit. If you're looking to clean your car, we recommend buying it as a kit, ensuring it has everything you need to get the job done correctly.
If you choose the 503X kit, you'll receive a dual-action polisher, three pads, and a sample of 4 different compounds designed to help remove scratches from vehicles.
This polisher provides the 700W of power to ensure your car is looking brand new for months to come. It's easy to use for beginners and experienced detailing enthusiasts.
This machine can also wax, scrub, and clean your car all in one. Can it get any better? Yes, it can because you'll also be able to switch between different plates depending on the size of the area you're trying to clean.
The Torqx also comes with cooling vents that send air through the handle, cooling the motor and buffer head and ensuring durability.
A great benefit of the Torqx Polisher Kit is it features a safety support ridge into the top of the case, preventing it from falling over when not in use.
Pros:
Comes As A Kit
700W Power
Great For Beginners
Motor Stays Cool
Built-In Support Ridge
Cons:
This polisher has an 850 Watt motor that makes polishing your car effortless. That's enough power for an experienced car detailer but still safe enough for a complete beginner.
It has 6-speed settings that you can adjust using a dial. There is also a 10 ft power cord but no wireless option. The OEM cord is fine in most cases but could be an issue if you don't like dragging a lead around with you.
Griot is so keen on improving its products that it puts this polisher through several alterations based on customer feedback.
The handle is removable and features a rubber grip that prevents your hand from slipping after long periods of use – It's also great at keeping vibration to a minimum during use.
It can also get into small spaces and comes with a 6" hook-and-loop backing plate allowing users to attach and detach different pads.
Pros:
850 Watt Motor
Has 6-Speed Settings
Low Vibration
Rubber Grip
Great For Small Spaces
Cons:
You have three choices when it comes to buying this polisher. You can buy it as a kit, by itself, or as a kit with an extra pad. We recommend buying it as a kit because you'll save money in the long run.
Professionals use this polisher all around the world. However, It's also great for beginners as it's easy to operate.
The handle is made of rubber, which helps prevent your hand from slipping after long periods of use. You'll also be glad to hear this polisher has a variable speed dial and trigger, allowing you to clean a variety of vehicles, including boats.
The Makita 9237C features wire mesh covers to protect bits of wool from entering the motor, keeping it in pristine condition for years to come.
If your fingers begin to get tired, you can use the 'Auto-Lock' feature, which keeps the polisher running without needing to press the button.
Customers have said this polisher has lasted them years without any issues, even when using it for 5-8 hours a day – a proof of the quality Makita provides its customers.
Pros:
Kit Option
Easy To operate
Rubber Non-Slip Handle
Speed Dial & Trigger
Auto-Lock Feature
Cons:
Some Customers Say It's Heavy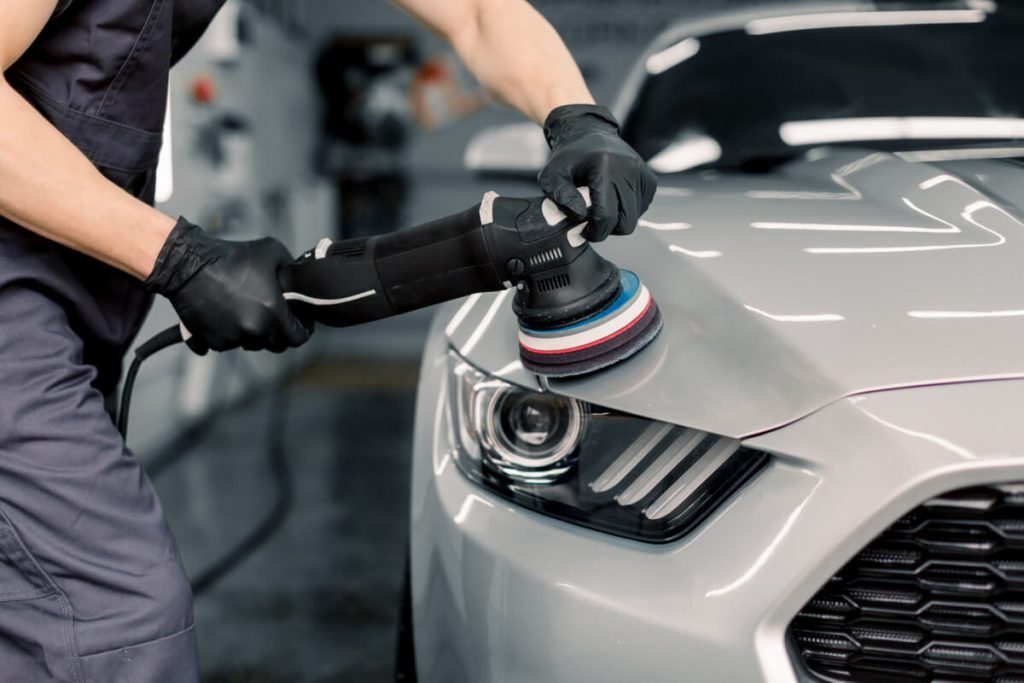 What To Look for When Choosing A Car Polisher
Quality
The most important thing to look for when choosing a car polisher is whether it's high-quality. The last thing you want is to spend your hard-earned money on a polisher that doesn't work. A good way to judge the quality is by checking the reviews (both negative and positive). Doing so will give you an idea of the pros and cons of the product. It's also worth checking if your polisher comes with a warranty.
Weight
If you're looking to polish your car, you're going to be holding your polisher for long periods. After a while, your arms may begin to ache, making it hard to continue. Accordingly, a lightweight polisher can significantly reduce muscle fatigue.
Speed
Speed is another important factor to consider. Most polishers allow you to adjust the speed from 2000 – 4000 rpm. Higher speed allows the polisher to target deeper scratches on your car. Keep in mind that the higher the speed, the more heat is produced.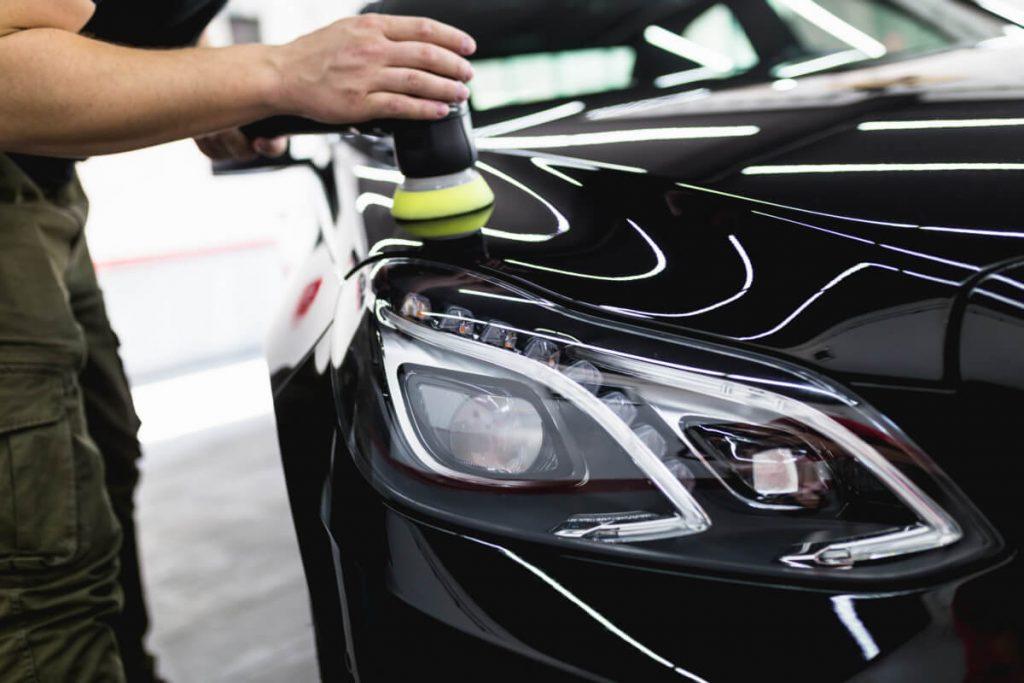 Vibrations
All polishers are going to vibrate. However, some may vibrate more than others. When looking for a polisher, we recommend choosing one that doesn't oscillate too much. Vibration might make it harder to polish and prevent swirls.
Handle
You'll want to look for a polisher with a strong handle allowing you to work multiple hours without your hands slipping. Most of the options listed in this article feature rubber grips to support this concept. Some handles can be removed and reattached on the other side, great if you're left-handed and find working the other way round easier.
Kit
With some polishers, you'll have the option to buy it as a kit rather than by itself. We recommend sticking with the kit option as it provides you with extra tools that may come in handy later on. In some kits, you'll also get sample liquids that help with scratches on your car.
Auto-Lock
After a while, polishing your car can become a tiresome job leaving your fingers fatigued and cramping. Some polishers offer an 'Auto-Lock' option allowing you to operate the device without needing to press the button. It is not essential but a great optional extra if you're going to be using your polisher for a long time.
Ingestion Shields
With the polisher pad rubbing against the body of your vehicle, it can sometimes cause little dust or wool particles from the pad to enter the motor, reducing the longevity. Luckily, some polishers have an ingestion shield preventing this from happening. It is not essential but a great feature to have, especially if you use your polisher professionally.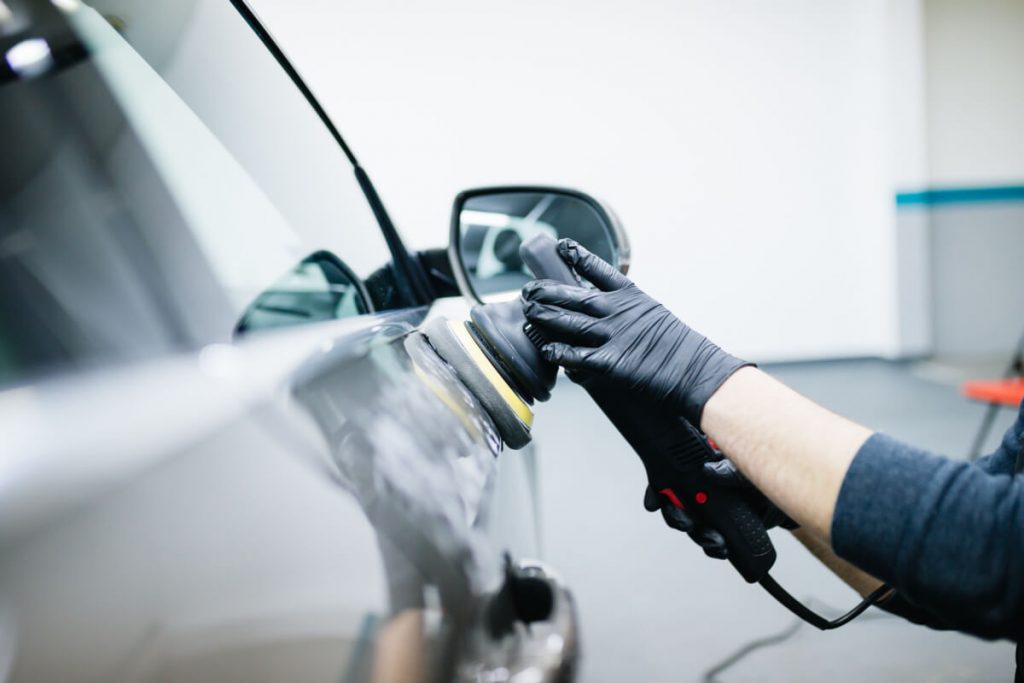 Types of Car Polisher / Buffer
There are three main types of polishers. These are Rotary, Dual-Action, and Gear-Driven polishers. Let's take a look at the differences between the three:
Rotary
Rotary polishers have been around for the longest time. They spin on an axis in a circular motion and can remove tough scratches from your car. Typically, they find use in professional car detailing shops around the country. These polishers are great for experienced individuals but can be difficult for beginners to use. The main benefit of a rotary polisher is it produces more heat making it easier to tackle deeper scratches. However, we recommend starting with a dual-action and moving onto a rotary once you have more experience as they take some getting used to.
Dual-Action
Dual-action polishers are slightly different from their rotary counterparts. Instead of spinning in a circular motion, the head oscillates to mimic hand-polishing. This method prevents too much heat from gathering between the pad and the paintwork, making it safer to use and beginner-friendly. Dual-action polishers also tend to be lighter. The main drawback of Dual-Action polishers is it takes you longer to polish your car compared to a rotary. However, we recommend starting with a Dual-Action due to ease of use.
Gear-Driven
These polishers are a combination of the 'Rotary' and 'Dual-Action' polishers. The difference is they won't stop spinning regardless of how much pressure you put on them, allowing for outstanding power that can handle any paintwork, no matter the damage. That being said, we still recommend sticking with a standard Dual-Action polisher if you're looking to polish your car for the first time – you can always upgrade in the future.
How to Polish Your Car?
Before you begin polishing your car, there's an important step you must take first. You need to ensure your car is clean and free from any dirt. We recommend using either a pressure washer or to clean it by hand. If you don't clean your car beforehand, you could cause more harm than good.
Step 1 – Use A Clay Bar
After washing your car, you'll need to spray soapy water on it and then go over it with a clay bar. Doing so removes any excess dirt that didn't come off during cleaning. This is an optional step but is highly recommended as polishing a car with dirt may cause more scratches.
After claying your vehicle, you'll need to dry it before you can start polishing.
Step 2 – Choosing A Speed
You need to select the right speed or risk a damaged car. When first starting, it's recommended to stick with a low setting – This prevents the polish from going everywhere. Once your polish is nicely spread out, you can increase the speed.
Step 3 – Technique
When polishing your car, the key is to move slowly. Many beginners make the mistake of trying to polish the whole vehicle as fast as possible, resulting in missed spots, leaving your car 'Half-Polished.' Make sure to use slow overlapping motions that go from side to side and up and down for best results.
Step 4 – Protection
If you've made it this far, your car should be looking nice and shiny. You're not done yet, though! Polishing your car makes it look good, but it doesn't protect it. You're going to need wax for that.
To get started, get yourself a microfiber pad designed for applying wax.
Next, choose your wax.
Once you've chosen your wax, it's time to apply it. Start by squirting three lines of wax on the microfiber pad and dabbing it onto the car.
Next, you'll need to use the pad to rub it in using an 'up and down' motion. The key is ensuring it's evenly spread out and no spots are missed.
After covering the whole vehicle in wax, you're going to need to take it off using a small microfiber towel.
Congratulations, your car is now polished and waxed!
FAQs
Is Polishing A Car Necessary?
Polishing your car isn't a necessity but will keep it in much better condition. You should aim to polish your car if you begin to see nicks and scratches in the paintwork. Polishing these scratches while they're new prevents them from becoming worse with time.
Can I Wax Without Polishing?
Yes, you can. In fact, it's recommended to wax your car every three months to prevent new scratches from forming.
How Often Should I Polish My Car?
We recommend aiming to polish your car twice a year – This includes claying and waxing. If you stick to it twice a year, you'll have a car that always looks in great condition.
What Is The Best Speed For Polishing A Car?
A Polisher's speed is measured in 'RPM's' (Revolutions Per Minute). A lower RPM creates less friction, which leads to less heat build-up. We recommend sticking between 1750 – 2400 RPM's when polishing your car.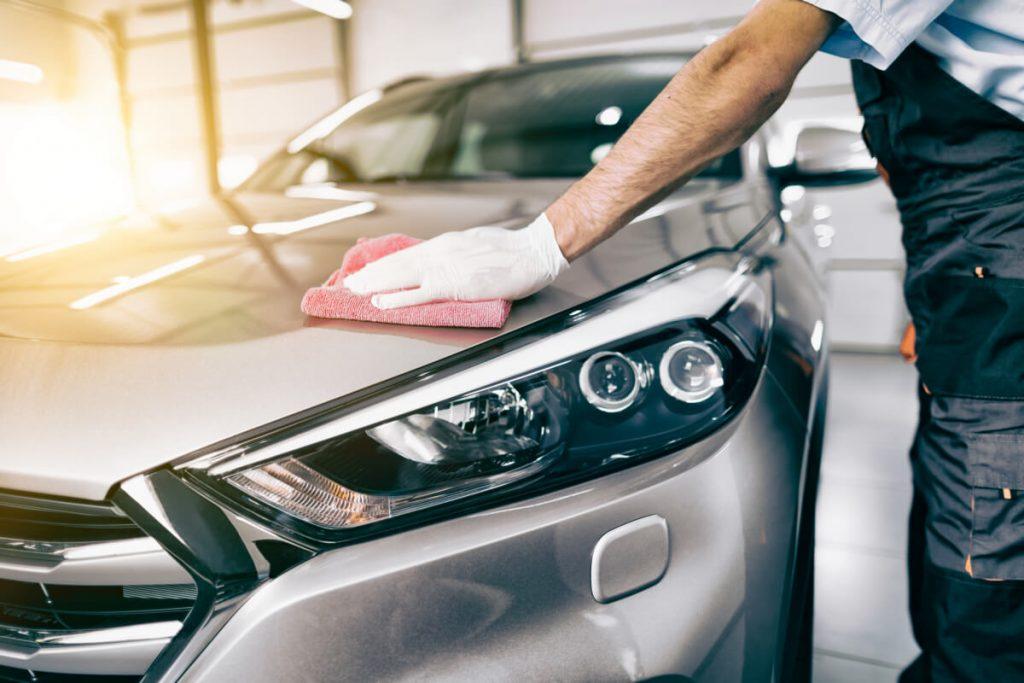 Is There Any Difference Between Buffing And Polishing?
Yes, buffing is the process of removing nicks and scratches from your vehicle, whereas polishing is when you apply wax to your car – Buffing restores your paint, and polishing protects it from future damage.
Will A Dual-Action Polisher Remove Scratches?
Yes, a dual-action polisher can remove most scratches. However, it won't tackle intense scratches as they don't tend to heat up as much as other polishers. If you're looking to fix deep scratches on a vehicle, a rotary polisher may be a better alternative.
In Brief…
Owning a car polisher comes with a range of benefits. You'll be able to transform your car without having to pay hundreds of dollars at the detailing shop.
While all the polishers reviewed are great, we recommend sticking with either the Dewalt Polisher or the Porter Cable Polisher. These are both great options that will provide your car with an amazing polish. We also have a more in-depth review of the Porter Cable Polisher if you're interested in buying it.
If we could leave you with one piece of advice, it would be to ensure your car is clean and dirt-free before beginning the polishing process – this helps prevent any damage to the vehicle.
If you have any more questions regarding car polishers, feel free to drop a comment below, and we'll get back to you as soon as possible.
Happy polishing!