EDITOR'S PICK
Liftmaster Ultra Low Profile Floor Jack
Versatile for low profile and high lift vehicles
Lifts up to 3 tons
Removable rubber pad
Dual pump system
PREMIUM PICK
Arcan Quick Rise Aluminum Floor Jack
Strength and control are promoted with stronger lift arm
Great lifting weight
Versatile lifting range
Light aluminum frame
BUDGET PICK
Torin BIG RED T83006 Trolley Floor Jack
Extra-long saddle neck great for high clearance
Can lift up to 3 tons
Neck removable for low clearance vehicles
Lightweight
When you are fixing up cars, you'll inevitably need to get underneath to perform maintenance. The basics of working on any car require a good floor jack. This simple device lifts your vehicle to help you perform repairs or change tires more easily.
Picking out the best floor jack on the market is not so simple. Several types come in a range of materials and prices. How you plan to use it will determine the pick that is perfect for you.
This list of the ten best floor jacks on the market is a good starting point. Each product has its pros and cons and can give you an idea of what to look for. Moreover, the buyer's guide at the end will dive even deeper into the world of floor jacks by defining terms and answering some common questions.
Top Rated Floor Jack Reviews
The Blackhawk is our top-rated floor jack pick because it is a solid, durable product at a reasonable price. It can lift to 3.5 tons, which is much more than your average car or truck. Thus, it is a suitable option for professional pursuits but at a price that an amateur would like.
This jack works quickly to bring your vehicle to the proper height. It features a saddle that can swivel to make positioning it more straightforward. The rubber pad is susceptible to falling off, though, so it can be annoying if you misplace it.
The construction is made entirely from steel. That means durability, but it also means weight. At 95 pounds, this is not the type of object you can easily carry from one place to the next. It is better suited for someone who is mainly working in one location.
Meanwhile, the minimum lifting height is 5.125 inches, making it a bad choice for low ground-clearance cars as it won't fit under them. It also lacks instructions. That may not matter to a seasoned veteran, but the set-up can be confusing for someone like me who needs some guidance.
PROS
Durable steel construction
Lifts to 3.5 tons
Swivel saddle
Safety valve
Pumps up quickly
CONS
Rubber saddle pad not secure
Not a good choice for low profile cars
Read our in-depth review of the Blackhawk B6350 Fast Lift Service Jack here!
---
The Arcan floor jack is versatile because its lifting range can go anywhere between 3.75″ and 18″. It has a low profile to lift lower cars, but can also lift high enough for a truck.
The Arcan is made from aluminum, so it has a much lighter frame than steel, coming in at 58 pounds. That means you can take it from one job location to the next without worrying about pulling a muscle. You can also separate the handle into two pieces to store it in small spaces.
For such a light frame, it can lift a lot. The weight capacity here is 3 tons, more than enough for a regular car or truck. If you are looking to raise a camper, it depends on the size and what is inside.
The Arcan jack should still be classified as a professional jack. While it is light for a jack that can lift 3 tons, there are even lighter ones with smaller capacities. The premium price tag reflects that. It is also on the slow side to get to full capacity.
PROS
Massive lifting capacity at 3 tons
Versatile lifting range
Light aluminum frame
Read our in-depth review of the Arcan ALJ3T Aluminum Floor Jack here!
---
The Torin Big Red jack is a heavy-duty jack for a reasonable price. It is made entirely of steel and is an excellent option for lifting SUV's or trucks. It can bear up to 3 tons, which should be more than enough for the average SUV.
What makes this especially useful for large vehicles is that it has an extra-long removable saddle neck. You can use this piece when you are jacking up higher-clearance vehicles. If you are working on a low profile car, you can remove the neck, so it works for smaller vehicles as well.
Furthermore, the saddle can rotate for easier positioning. For something that is made out of steel, it is also relatively lightweight. It comes in at just under 50 pounds.
Besides, it doesn't require much right out of the box. You should be able to use it right away. But be wary, this jack involves a lot of pumping to get it to full capacity. Be prepared to put some work in to lift your vehicle.
PROS
Extra-long saddle neck great for high clearance
Can lift up to 3 tons
Neck removable for low clearance vehicles
Lightweight
CONS
Requires a lot of pumping
---
The Sunex is for someone who doesn't need to lift a lot and wants a portable jack. It can lift to 1.75 tons, which works for the average car but may have trouble with a hefty pick-up truck.
The trade-off is that it is very lightweight at under 40 pounds. The aluminum frame certainly helps with this. Moreover, it can be folded up and stored away with a collapsible handle. I would probably use this as a compact back-up that I leave in my car for emergencies while driving. Although you can certainly use it for more than that.
The Sunex jack has dual pump pistons and gets to full capacity quickly. It has a range of 3.5 to 16.5 inches so that it can work for various car profiles, including lower ones. The handle is adjustable when you use it to lift your car, giving you better leverage.
The one issue here is the springloaded handle. Its design allows you to fold and clip down the handle. And, as soon as you release, the handle springs right back to its position. If you forget about this feature, it could be an accident waiting to happen.
PROS
Portable with a collapsible handle
Lightweight
Dual pistons
Suitable for low or high profile vehicles
CONS
The springloaded handle could be dangerous.
---
If your car sits low to the ground, you need a low profile jack to fit beneath it. The Powerbuilt model is excellent for this because its lowest height is 2.75 inches. Besides, it can go up to 15.5 inches, a good height for most vehicles.
The Powerbuilt jack can hold up to 2 tons of weight, making it usable for most cars. However, it weighs 60 pounds, which is pretty heavy. You would want it to be stationary for the most part, but it is moveable.
What I like most about this one is the added safety feature. Once you lift your car, you usually have to put jack stands as the jack itself is not intended to hold up that weight. Fortunately, the Powerbuilt has a safety bar that will lock into place.
This feature keeps you from needing additional jack stands, and it is also a safety measure from having the pressure release while you are under the car. This is great because it can start to have trouble coming to pressure as it ages. The price is right in the mid-range for everything this floor jack offers.
PROS
Designed for shallow profile cars, but also works with standard vehicles
Holds up to 2 tons of weight
Safety bar to keep it in place
CONS
Can have trouble keeping pressure as it ages
---
The Performance Tool is heavy-duty. Made with a steel frame, it is a whopper at 73 pounds. A heavy jack like this is good for durability but not as friendly if you need to move it around a lot. It can handle lifting to 2 tons of weight.
This jack's design fits under low profile cars. Its lowest height clearance is 2.75 inches, which should work for almost anything. It's also very versatile and can raise a vehicle up to 20 inches, covering standard cars. For someone working on a variety of vehicles, this one is an excellent option.
The lift comes up quickly thanks to the dual pistons. Moreover, the saddle has a rubber pad to protect the integrity of the car and the jack itself. It can also swivel, which makes placing the jack easier on the user.
I really like the safety feature here as well. The inherent risk of putting yourself under a car to do repairs cannot be understated. This jack has an overload protection bypass valve to recognize when it has too much weight to keep the vehicle from coming down on top of you.
PROS
Heavy-duty steel frame
Works with low profile cars and most other vehicles
Holds up to 2 tons of weight
Dual pistons
Overload protection valve
CONS
Could have more features or abilities at the price point
---
I love a good deal, and I would consider the Pro-Lift F-767 as falling under that category. It is the best floor jack for the money on this list. At under $60, you could keep it in your car as a back-up if you have a premium jack in your shop.
This one is another low profile jack and can lift anywhere from 3.5 to 14 inches. That is fine if you are working with cars. Nevertheless, it might prove unusable for large trucks and SUVs.
This model also features a safety valve to protect against overload. Moreover, it is made of steel but extremely light at 30 pounds. It can lift up to 2 tons of weight and is easy to pump up to its full reach. The other safety feature here, a bypass device, stops you from pumping beyond its weight limit.
The tool would be best for occasional or light use, especially for those with a low-profile vehicle. Its longevity and durability may not be on par with some of the more expensive models, but for something lightweight that you can use in a pinch, the Pro-Lift jack is the one you need.
PROS
For low profile vehicles
Very light
Easy to pump
Protects against overload
CONS
Won't work for SUV's and trucks
Not very durable
---
The SUNOCO can handle a wide array of vehicles. It can fit under most low profile cars with its minimum lift height of 2.95 inches and take trucks and SUVs with a maximum height of 19.6 inches. If you are lifting various vehicles, or just want the option, this is something to look at.
It's made from heavy-duty steel, which means it can take a beating and stick around for a while. It also means its 70 pounds.
You will have a hard time getting it from place to place, so it is probably best to use this as a stationary jack in your garage. The small wheels also make it difficult to maneuver around.
Nonetheless, it can lift up to 3 tons of weight. That covers cars, SUVs, trucks, and maybe even campers. The dual-piston pump is a great feature because it lifts the vehicle quicker than single-piston models. Given its capabilities, it would be a good option for professionals.
PROS
Versatile for low profile cars to trucks
3-ton weight capacity
Dual-piston pump
Durable
CONS
Heavy
Difficult to maneuver wheels
---
The Liftmaster is billed as a jack for low-profile vehicles, but its service reach extends far beyond that. The minimum entry point is 3 inches high, but its maximum height can get up to 20 inches for high lifts like trucks and SUVs.
This jack is made from steel for the frame and handle. It weighs a solid 70 pounds, so you should not anticipate taking this one from place to place with ease. It can lift 3 tons, so its versatility extends to its weight-bearing capacity.
The dual pump system makes lifting a faster affair, with a removable rubber pad on the plate to protect against slipping or friction. It also has a foam bumper on the handle to prevent scratching your car.
The only big issue here is the price. It costs well over most other products on this list, without offering anything substantially different. If Liftmaster enhanced the features in some way, it might have made it farther up the list. It could prove its worth in reliability, however.
PROS
Versatile for low profile and high lift vehicles
Lifts up to 3 tons
Removable rubber pad
Dual pump system
CONS
Expensive
Not enough features to justify the price.
---
The last jack to make it on the list is the K Tool International. It has a broad lifting range, managing anything from 3.75 to 21.75 inches. That means it can handle a lot of low profile vehicles and a lot of high lift vehicles.
The built-in valve here keeps it from extending beyond its limits. Given the potential for issues without the valve, it surprises me that all options don't have this feature. The frame is made from heavy-duty steel with plastic wheels that move around well.
This jack can lift up to 3.33 tons, second only to the Blackhawk. That might make up for its back-breaking weight of 97 pounds. You can keep this on wheels at your shop or garage, but at nearly 100 pounds, this is clearly not a good option for something you need to take from place to place.
Dual pistons help it lift faster and should come to full height in 8 pumps. The extended handle also ensures more comfortable pumping. While there are some nice features here, this is a jack best suited for a professional or someone who requires this kind of capacity.
PROS
Can lift up to 3.33 tons
Dual pistons
Extended handle
Built-in valve
---
Things To Consider When Buying a Floor Jack
Floor jacks are a standard tool for any kind of automotive maintenance and repair. Without a proper floor jack, you can't expect to get anything else done. And, keep in mind, vehicles weigh literal tons. Given the potential for a lethal situation, it's essential to get things right.
What makes a floor jack worth the money? Let's investigate all of the considerations to account for during the buying process.
Vehicles
The place to start has to be with the vehicles you are servicing. Every jack can handle a certain amount of weight before it can no longer perform.
If you only service small vehicles, you won't need to spend extra money on something that can lift a pick-up truck. But if you expect to need to raise your camper, a jack with a smaller weight limit won't work for you.
The ground clearance of your car also matters. You want to measure the profile and make sure the jack you are considering can make it underneath. Some low profile jacks can handle high lifts like SUVs, but not all. If you have a variety of needs, make sure your jack is versatile.
Weight
Floor jacks are made of different materials and perform a wide range of services, so the weight varies. Consider how mobile you need your jack to be.
If you plan to keep it in the garage and need something heavy-duty, a 100-pound jack on wheels might be sufficient for you. But if you need to be able to throw your jack in the back of your car or bring it back and forth from your shop, you likely need something lighter.
Floor jacks with an aluminum frame will typically be lighter than steel. They will not be as durable, however. Anything flimsier than those two materials would probably not be able to hold your car well. Figure out what your priorities are for your final pick.
Read Also: 7 Best Low Profile Floor Jacks in 2021
Storage
Some jacks take up a lot of real estates, particularly the heavier ones. Some models can stow away compactly, though. Typically the issue is the handle, and these versions will have a removable or foldable handle for storing.
Jack Stands
It is essential to remember that you should only use jacks to lift your vehicle. They are never intended to hold it in place while you crawl underneath. That is where jack stands come in to play.
After lifting your car, make sure to secure it with jack stands. If your jack loses pressure, the stands will continue to hold your car up, and you can crawl out safely.
Price
It is often the case that cheaper products aren't as durable or as useful. This is not always true, though. You can find some excellent budget floor jack options that can perform as well as premium ones.
Ultimately, it comes down to your needs. If you are working with a budget, you can find excellent choices that stay within your range. Sometimes you need better features or more solid construction, and you may have to pay extra for that.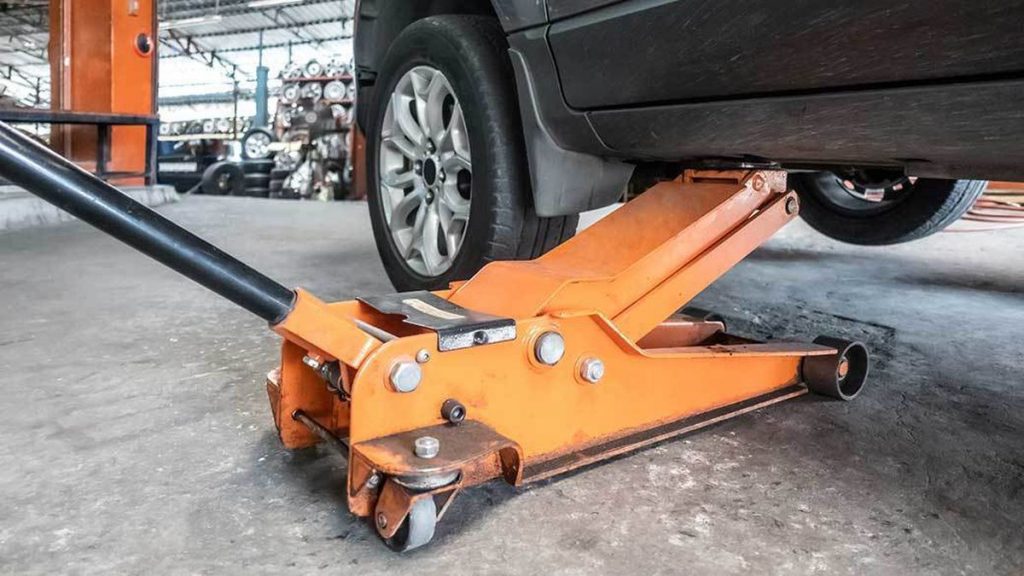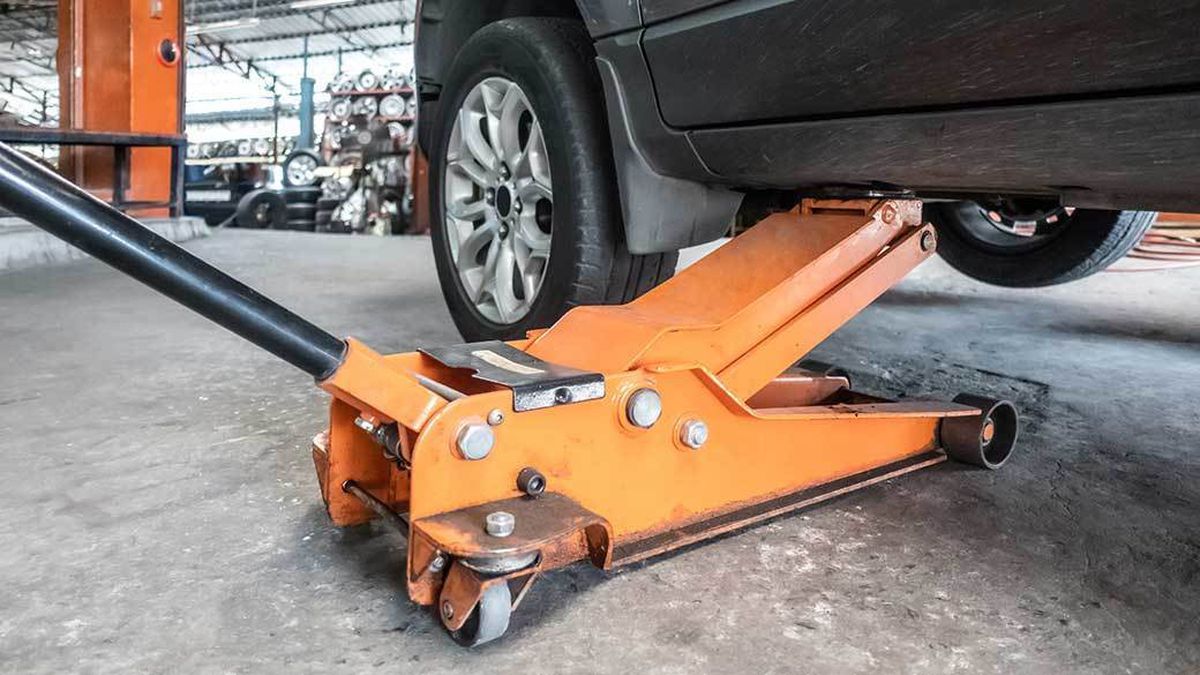 Image credit: Chicago Tribune
Types of Floor Jacks
When choosing a car jack, you should be aware that there are three major types out there. While all essentially perform the same task, they have different ways of getting there.
Hydraulic Floor Jacks
Hydraulic floor jacks are probably the most common jack available now. The way they work is through oil pressure. The lever pumps oil between two pistons, which creates the pressure to lift the vehicles off the ground.
Hydraulic jacks can lift a lot of weight. But they can also weigh more than the other types of jacks and are therefore not as mobile.
Scissor Jacks
These are the original car jacks. They are lightweight and easy to throw in the back of your car, so you will often see them being used on the road's side.
The scissor jack has a central screw. Using an Allen key to turn the screw clockwise, the scissor jack will rise and lift the car with it. Rotating the screw in the opposite direction will bring everything back to the ground.
Bottle Jacks
Also called pistol jacks, these jacks operate using hydraulics. Because of how the cylinders are placed, though, they look entirely different from floor jacks. Bottle jacks are vertical and come high off the ground. For this reason, you can't use them for cars with a low profile as they won't fit underneath.
They weigh significantly less than a hydraulic jack but give out the same amount of force, so they are great portable options. Because of their height, they are a perfect option for high-lifted cars like trucks and SUVs.
How Does a Hydraulic Floor Jack Work?
I have briefly touched on how hydraulic jacks work compared to scissors and bottle jacks, but let's explore this a little deeper.
Physics Lesson
The hydraulic jack is an excellent lesson in the study of physics. It applies Pascal's law to use liquid inside the cylinder to create pressure. Pascal said that pressure on any part of a fluid affects the entire entity equally. When pressure is applied, all of that liquid has to go somewhere.
In a hydraulic jack, pumping the lever arm creates pressure, sending the piston down, causing the hydraulic fluid in the cylinder to get forced through the check valve.
As you pump the lever arm, that pressure builds, causing the large piston on the load arm to move up and lift your vehicle.
Read Also: 7 Best Floor Jacks for Trucks & SUVs
How to Use One
While it's essential to use the instructions for your specific model and consult with professionals, here is a general overview of how to go from a stationary car to a lifted car.
Once you have your car in a safe position, you need to locate where the lift points are on your vehicle. This is the spot your manufacturer has designated to avoid damaging your car – a real risk with car jacks.
The floor jack goes underneath your vehicle with the handle pointed back towards you. Get the saddle into a position right between the lift points. As you pump the lever arm, make adjustments until it perfectly aligns underneath the points.
Continue to pump the lever arm until it lifts the vehicle to the proper height. Position the jack stands underneath and lower the car until it is resting on the jack stands.
You can lower the jack entirely at this point until you are ready to lower your vehicle, which is done in basically the same way.
There are many issues to look out for, but especially take note if your jack stand is leaking or broken somehow. Leaks may indicate that it won't be able to maintain pressure, which could result in your car falling or an injury occurring.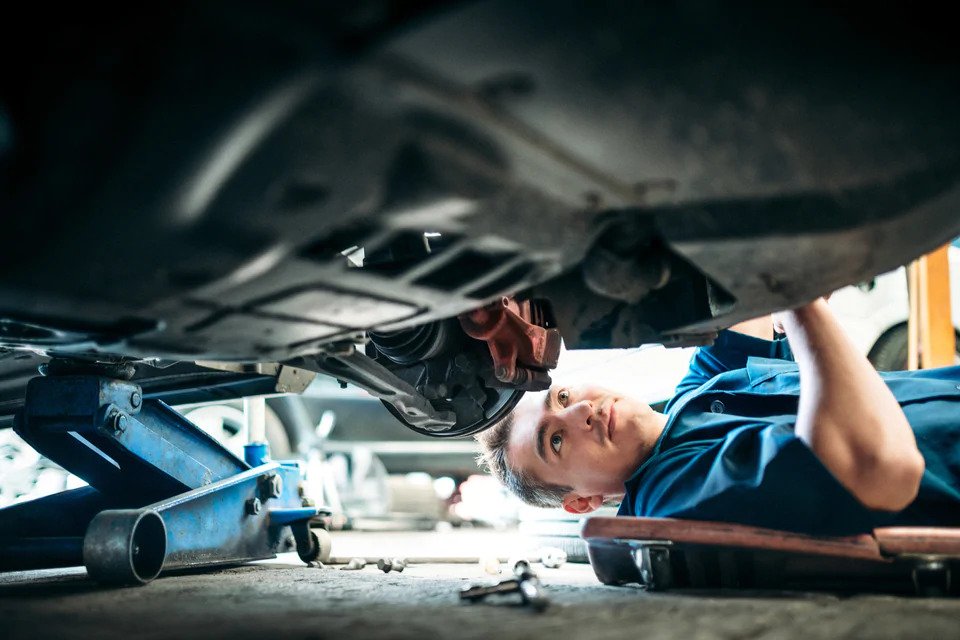 Image credit: Riley Volvo Cars Stamford
FAQs
What is the right floor jack size for me?
Floor jacks have a variety of weight capacities that they can comfortably bear. On the lower end, some can handle 1 or 1.5 tons. On the higher end, there are floor jacks that can hold 3 or more tons.
Cars are not like humans. You can't get out a giant scale and tell it to jump on. But there are some basic averages to be aware of when making your assessment.
Cars can range anywhere from approximately 2600 to 4400 pounds. That comes out to about 1.3 to 2.2 tons. It depends on whether you have a small, medium, or large-sized car.
Trucks and SUVs could range in size from 3300 to 6600 pounds. That is about 1.65 to 3.3 tons. And campers and minibusses could exceed that.
You also want to keep in mind that if your car weighs about 1.3 tons, you don't want to get a car jack whose absolute limit is 1.3 tons. If there is any discrepancy, it might not work. Find an option that exceeds your car's weight to give you some wiggle room.
What are floor jacks used for?
You can use floor jacks for all kinds of maintenance issues. The most common one you'll see is when something goes wrong with a tire, and it needs to be changed. You might use one to do an oil change or check for damage underneath the car.
Which type of car jack is best?
This is another question that can only be answered when you know what you will need it for.
Hydraulic floor jacks have a large weight capacity and can work for low profile cars. Bottle jacks are perfect for bigger high-lift vehicles and useless for low riders.
Scissor jacks can't hold the hydraulic jacks' weight, but it is the best option to throw in your car and have for emergencies because of its lighter weight.
Once you understand your needs, you can single out the one that will work.
Last Words
After getting to know the world of car jacks better, you might have a clear understanding now of why the Blackhawk B6350 Fast Lift Service Jack was our top-rated floor jack.
The reliability was a significant factor. The Blackhawk jack is a very durable product that holds up well to pressure. Besides, it has the highest weight capacity of any other option at 3.5 tons. It also works quickly to come to its full height. We also love the safety features built in to avoid dangerous situations.
It's not the most versatile of all the products, but what makes this jack stand out is how well it performs its job. Reliable operation outweighs tons of features or versatility for us. At under $200, it also delivers on affordable pricing for a good return.
However, this product may not work for you because it doesn't meet your needs. That's okay, though. There are a lot of solid options on this list to investigate further. Hopefully, you were able to take away some tips to streamline your search and find the perfect floor jack for your vehicle.