EDITOR'S PICK
OTC LDJ35 Service Jack
3.5 tons or 7,000 lbs maximum weight capacity
5.2" to 21.9" lifting range
Total weight: 92 lbs
Dual-pump hydraulic system design
Rapid lifting option
Rubberized 6" saddle
50" spring-loaded padded handle
High-grade steel construction
PREMIUM PICK
Hein-Werner HW93652 Blue Heavy Duty Service Jack
3 tons or 6,000 lbs maximum weight capacity
5" to 23.5" lifting range
Total weight: 107 lbs
Single-piston hydraulic system
6.75" metal saddle
50" single-piece handle
Cast iron lift arm and pump base
BUDGET PICK
Torin BIG RED T83006 Trolley Floor Jack
3 tons or 6,000 lbs maximum weight capacity
5 7/8" to 20 7/8" lifting range
Total weight: 48.5 lbs
Single-piston hydraulic system
Integrated safety bypass system
Extra-long saddle extension
Short one-piece handle
Heavy-duty steel construction
When you are fixing up cars, you'll inevitably need to get underneath to perform maintenance. And for that, you'll need a good floor jack. However, picking out the perfect floor jack is not so simple. There's a ton of them out there, and each is designed to fill specific needs, fit different cars and be suitable for different types of mechanics.
To help you find the best model for you and ensure you get the most bang for your bucks, we have handpicked 10 of the best floor jacks on the market. Each product was carefully reviewed and we have also added a quick buying guide to help you figure out which features and characteristics you should be looking for depending on your skill level and the kind of work you intend to do with it.
I hope it help!
Top Rated Floor Jack Reviews
Up first, we have the Torin Big Red T815016L hydraulic floor jack. It is a low-profile model specially designed for racing applications. Since racing cars usually have very low ground clearances, the Big Red's 3.5″ to 14″ lifting range is perfect for a lovely day at the track. Furthermore, with a 1.5-ton maximum weight capacity, you will have absolutely no problem lifting a wide range of racecars. However, if you own a bigger vehicle, 1.5-ton might not be enough. In that case, look for our Top 7 Best Floor Jacks for Trucks here instead.
The racing world is all about using exotic materials to achieve maximum weight reduction while ensuring high strength and reliability. Similarly, in order to fit into that racing DNA, the Torin floor jack employs a clever hybrid steel/aluminum construction to achieve the perfect balance between weight savings and strength. As a result, this racing floor jack weighs a puny 33.6 lbs.
The Big Red T815016L floor jack does not fail to impress with performance specs either; it is equipped with a high-tech dual-piston hydraulic system for smooth lifting. And thanks to the fast lifting technology, you can raise this floor jack to the highest position with just a few strokes of the knurled handle. Furthermore, the integrated safety overload system will protect the operator and your car at all times.
If you are looking for a floor jack to bring with you to your next track day, the Big Red T815016L low-profile hybrid jack is probably your best bet. It has everything you need for a lighting fast pit stop, such as optimum lifting range, weight capacity, lightweight construction, and fast lifting functionality.
Highlighted features
1.5 tons or 3,000 lbs maximum weight capacity
3.5" to 14" lifting range
Total weight: 33.6 lbs
Dual-piston hydraulic system
Fast lifting functionality
Rubberized saddle surface
Foam handle with knurled grip
Steel/aluminum hybrid construction
Racing-oriented
Pros
Clever hybrid construction provides the best of both worlds
Fast lifting feature is a boon for racing applications
Lightweight frame and ergonomic design
Side carrying handle for portability
Built-in safety overload system
Knurled handle for optimum grip
Attractive blue and silver color scheme
1 year manufacturer's limited warranty
Cons
Not suitable for SUVs or lifted vehicles
The Arcan floor jack is a reliable and versatile model, thanks to the lifting range between 3.75″ and 18″. It has a low-profile entry allowing it to lift lowered cars, but can also lift high enough for SUVs, minivans, and small trucks.
The Arcan ALJ3T is made from aluminum, so it has a much lighter frame than steel models, tipping the scale at 58 pounds. That means you can take it from one job location to the next without worrying about pulling a muscle. You can also separate the handle into two pieces to store it in small spaces.
For such a light frame, it can lift a lot. The weight capacity here is 3 tons, more than enough for a regular car or truck. However, if you are looking to raise a camper van, it will really depend on the size and what's inside. When in doubt, play safe and get a jack with a bigger weight capacity—you really don't want to realize it's not tough enough when you are under it, right?
Read our in-depth review of the Arcan ALJ3T Aluminum Floor Jack here!
Highlighted features
3 tons or 6,000 lbs maximum weight capacity
3.75" to 18" lifting range
Total weight: 56 lbs
Dual-pump hydraulic system
Fast lifting option
Rubberized saddle surface
2-piece foam handle
Aircraft-grade aluminum construction
Pros
Reliable
Sturdy construction
Versatile lifting range
Light aluminum frame
Cons
The Torin Big Red jack is a heavy-duty jack for a reasonable price. It is made entirely of steel and is an excellent option for lifting SUVs and trucks. It can bear up to 3 tons, which should be more than enough for your average SUV.
What makes it especially useful for larger vehicles is the extra-long removable saddle extension, specifically designed to jack higher-clearance vehicles. And if you are working on a compact car, you can easily remove the extension, allowing it to go low enough to fit under smaller vehicles as well.
Furthermore, for an all-steel jack, it's also relatively lightweight, coming in just under 50 pounds. However, although being tougher than most and ultra-reliable, the Torin Big Red is still somewhat of an entry-level model, as demonstrated by the price tag. Consequently, it doesn't have a highly advanced hydraulic system like some of the most higher-end models out there. So be ready to pump significantly more to get it up to the proper height than other more expensive floor jacks on this list.
Nonetheless, if you need a jack that does the job and allows you to work on your car every once in a while without breaking the bank, this is the one!
Highlighted features
3 tons or 6,000 lbs maximum weight capacity
5 7/8" to 20 7/8" lifting range
Total weight: 48.5 lbs
Single-piston hydraulic system
Integrated safety bypass system
Extra-long saddle extension
Short one-piece handle
Heavy-duty steel construction
Pros
Extra-long saddle neck great for high-clearance vehicles
Perfect for weekend DIYers
Reliable
Super affordable
Lightweight
Cons
Requires a lot of pumping
Owatonna Tool Company or OTC is a name that has proudly stood out in the world of floor jacks and lifting equipment for consistently developing high-quality products—and the OTC LDJ35 is no different, being built to the highest quality standards.
The OTC LDJ35 is a 3.5-ton floor jack constructed entirely from high-grade steel for optimum strength and reliability. In addition, you get a 6″ diameter steel saddle with a rubberized surface that will lift your car within an effective range of 5.2" to 21.9". It's worth mentioning that it doesn't go as low as the other low-profile models on this list but also goes higher than most. So it might not be your best option if you frequently work on sports car but will be perfect for anyone dealing with conventional cars and trucks
OTC's floor jack features a sophisticated dual-pump hydraulic system for easy and efficient lifting. Furthermore, the implementation of rapid lifting means you can raise this floor jack to its maximum height with just 7 pumps, even when fully loaded. On the off chance that you think 7 pumps isn't quite rapid enough for you, keep in mind that it only needs 3 pumps to raise a 1750 lbs load to 19".
The LDJ35's high maximum weight rating and versatile lifting range make it perfect for a wide range of cars, SUVs, and even some trucks. And with OTC's lifetime limited warranty, there isn't much that can stop you from purchasing this excellent floor jack right away.
If you are a pro mechanic and need a good all-around jack that will take years of abuse with flinching, look no further and get this one. You just can't go wrong with OTC!
Highlighted features
3.5 tons or 7,000 lbs maximum weight capacity
5.2" to 21.9" lifting range
Total weight: 92 lbs
Dual-pump hydraulic system design
Rapid lifting option
Rubberized 6" saddle
50" spring-loaded padded handle
High-grade steel construction
Pros
Manufacturer with proven track record
Long-lasting and robust floor jack
Versatile lifting range
Suitable for cars, SUVs, trucks, etc.
Large casters allow for easy mobility on the garage floor
Lifetime limited warranty
Cons
On the expensive side
Steel construction results in a higher overall weight than most
If your car sits low to the ground, you don't really have any other choice than to go for a low profile jack. If this is your case, you'll be happy to hear that Powerbuilt's low-profile floor jack can go as low as 2.75 inches high, which should be good enough for most lowered cars considering that even a Lamborghini Aventador SVJ sits 4.5″ high. On the other hand, it can go up to 15.5 inches, a good height for most vehicles but maybe a bit low for long-travel equipped trucks.
However, the Powerbuilt jack can only hold up to 2 tons, so while it's good enough for most cars, it's definitely not designed to be used on SUVs and trucks anyway.
A neat feature is the built-in safety bar, effectively removing the need for jack stands. Simply jack the car to the proper height and insert a locking bar below the lifting arm. Once it's locked, the jack will stay up even if there was a leak in the hydraulic system. Pretty smart, right? This feature is pretty handy for mobile mechanics and racing enthusiasts that would otherwise need to bring jack stands wherever they go.
Nonetheless, it's important to keep in mind that the steel construction, although making it quite tough, also adds to the weight. Fortunately, the innovative front roller, replacing the conventional casters, significantly improves maneuverability.
All in all, the Powerbuilt 620479E Xtra Low-Profile Floor Jack isn't the most versatile jack out there, but what it does, it does really well. And thanks to the reasonable price tag, it's suitable from beginners to hardcore weekend DIYers and even professional frequently working on low-clearance sports cars.
Highlighted features
2 tons or 4,000 lbs maximum weight capacity
2.75" to 15.5" lifting range
Total weight: 58.7 lbs
Fast lifting option
Rubberized large saddle surface
Ultra low-profile floor jack
Pros
Sturdy

Reliable
Designed for lowered cars, but also works with standard vehicles
Handy safety bar removing the need for jack stands
Cons
Not the highest weight capacity
Coming in at number 6 is the Performance Tool W1640 garage jack. It is a true heavy-duty floor jack constructed purely from steel. However, the cleverly designed flanged steel frame may provide excellent strength and durability, but also results in a higher weight, tipping the scale at 72 pounds. However, the front wheels and swiveling rear casters go a long way in making up for the extra weight and ensuring it's easily maneuverable.
The W1640 trolley-style floor jack has a maximum weight rating of 2.5 tons or 5,000 lbs, making it suitable to lift cars, SUVs, and small trucks. The heavy lifting is taken care of by a powerful hydraulic system built to last a long time without leaks or failures. Moreover, there is also an overload protection bypass valve to prevent you from lifting more weight than this floor jack is rated for.
Worth mentioning, you get a reasonably short lifting range of 5″ to 15.5″, which is enough for nearly all regular road cars but might not be suitable for low- and high-riding vehicles. If you are looking for a cheap yet durable floor jack for personal or professional use, the Performance Tool W1640 trolley-style floor jack is the one for you.
Highlighted features
2.5 tons or 5,000 lbs maximum weight capacity
5" to 15.5" lifting range
Total weight: 72 lbs
Single-pump hydraulic system
Steel saddle surface
Single piece short handle
All-steel construction
Pros
Heavy-duty trolley style floor jack
Integrated safety overload valve
Solid and reliable flanged steel frame
Sufficient weight capacity
Low-cost option
High value for money
90 days warranty
Cons
Quite bulky
Shorter lifting range
I love a good deal, and I would consider the Pro-Lift F-767 as falling under that category. It might not have all the bells and whistles that higher-end models have but it's one of the best floor jack for the money on this list. At under $80, you could even keep it in your car as a backup if you have a premium jack in your shop.
However, being one of the cheapest jack out there also comes with its own set of drawbacks. For instance, it's a low-profile jack with a slightly shorter lifting range than most, only ranging between 3.5 and 14 inches. It will do just fine if you mostly work on compact cars but might be a bit short for larger trucks and SUVs.
Nonetheless, it wouldn't have made it to this list if it had more cons than pros. Indeed, the Pro-Lift F-767 floor jack also features a safety valve to protect against overload and a bypass valve preventing overpressure. Moreover, it is an all-steel model but still extremely light at only 30 pounds. On the other hand, the lighter frame also limits the maximum weight capacity at 2 tons.
Due to the fact that it's an entry-level jack, it's best for occasional or light use, especially for those with a low-profile vehicle. Its longevity and durability may not be on par with some of the more expensive models, but for something lightweight that you can use in a pinch, the Pro-Lift jack is the one you need.
Highlighted features
2 tons or 4,000 lbs maximum weight capacity
3.5" to 14" lifting range
Total weight: 30 lbs
Dual-pump hydraulic system
Metal saddle surface
Integrated safety overload valve
Single-piece short handle
Solid steel construction
Pros
Suitable for low-profile vehicles
Very light
Easy to pump
Protection against overload
Super affordable
Cons
Won't work for SUVs and trucks
Hein-Werner is a brand known for manufacturing high-quality tools in the United States even at a time when most competitors are outsourcing production to cut costs. For example, the Hein-Werner HW93652 floor jack is assembled right here in the US, ensuring superior build quality and longevity.
The 93652 is a highly capable floor jack with a 3-ton weight rating. To make sure this jack is as safe as possible, Hein-Werner constructed load-bearing components such as the lift arm & pump base from cast iron to impart exceptional strength and the ability to resist twisting under load.
Securely hidden underneath the blue frame is a sealed hydraulic system for smooth and efficient lifting. In addition, the system is equipped with several safety features like a pressure relief valve to prevent overloading and a U-joint for precise lowering.
The HW93652 service jack has a versatile lifting range of 5″ to 23.5″, making it suitable for conventional vehicles but also high-clearance vehicles such as SUVs, light-duty trucks, and even trailers. Moreover, the 6.75″ saddle will lift your car without leaving behind any dents, marks, or scratches.
When it comes to US-made floor jacks, few other models can beat the Hein-Werner HW93652 heavy-duty service jack. If you value locally-made tools (and are willing to shell out the extra bucks), make sure to check out our Best Floor Jacks Made in the USA review for more options.
Highlighted features
3 tons or 6,000 lbs maximum weight capacity
5" to 23.5" lifting range
Total weight: 107 lbs
Single-piston hydraulic system
6.75" metal saddle
50" single-piece handle
Cast iron lift arm and pump base
Pros
High weight rating
Versatile lifting range
Robust and durable floor jack
Integrated pressure relief valve
Sealed hydraulic system to prevent foreign objects from entering
Assembled in the USA
2 years manufacturer warranty
Cons
One-piece handle not easily portable
On the expensive side
The Liftmaster is billed as a jack designed for low-profile vehicles, but its service reach extends far beyond that. The minimum entry point is 3 inches high, but its maximum height can get up to 20 inches for high lifts like trucks and SUVs.
This jack is made from steel for the frame and handle. It weighs a solid 70 pounds, so you should not anticipate taking this one from place to place with ease. It can lift 3 tons, so its versatility extends to its weight-bearing capacity.
The dual pump system makes lifting a faster affair, with a removable rubber pad on the plate to protect against slipping or friction. It also has a foam bumper on the handle to prevent scratching your car.
The only big issue here is the price. It costs more than most other products on this list, without offering anything substantially different. If Liftmaster enhanced the features in some way, it might have made it farther up the list. It will prove its worth in reliability, though.
Oh and one last thing; the wheels are made of plastic. While this might seem like a drawback at first, they make this jack surprisingly easy to move in a shop with older, uneven, and sometimes cracked cement floors. And no need to worry, the plastic wheels can hold up the weight without a problem.
Highlighted features
3 tons or 6,000 lbs maximum weight capacity
3" to 20" lifting range
Total weight: 72.6 lbs
Dual-pump hydraulic system
Fast lifting option
Wide rubberized saddle surface
2-piece knurled padded handle
Steel construction
Pros
Versatile for low-profile and high lift vehicles
Lifts up to 3 tons
Removable rubber pad
Dual pump system
Interesting plastic wheels
Cons
Conventional floor jacks are all well and good for working on smooth garage floors, but when the pavement get rough (or there's no pavement at all), none of the other models in this list will work as they are meant to. But that is no cause for concern because we've got you covered. Meet the CAT 240330 off-road hybrid jack; it is a purpose-built floor jack equipped with massive wheels, allowing it to tackle rough terrain with absolute ease. Its 3-ton maximum weight rating is also good enough to be used on a wide range of off-road vehicles.
The CAT 240330 features a steel and aluminum hybrid construction to extract advantages from both materials. The use of aluminum helps keep the overall weight down, while steel imparts exceptional strength and toughness. Furthermore, since you will predominantly use this floor jack on rough surfaces such as dirt and gravel, an underbody skidplate protects the precious hydraulic system. Speaking of which, this floor jack is equipped with a sophisticated dual-piston pump setup capable of achieving maximum lifting position with merely 7 full strokes of the 2-piece padded extra-long handle.
The best part about this off-road floor jack is its lifting range. Indeed, the CAT floor jack has a nominal lifting range spanning 6″ to 21.5″. However, unlike most models, this one has a detachable saddle adapter that increases the maximum lifting height by 7.75″. Thanks to this feature, you can even use this floor jack on lifted trucks.
The CAT 240330 off-road hybrid floor jack may cost more than other conventional models, but when it comes to usability in extreme off-road conditions, nothing else comes even remotely close. If you plan on jacking your truck on dirt, this one is probably your best bet.
Highlighted features
3 tons or 6,000 lbs maximum weight capacity
6" to 21.5" lifting range (without 7.75" attachment)
Total weight: 89.5 lbs
Dual-piston pump hydraulic system
Fast lifting option
Rubberized saddle surface
2-piece padded handle
Hybrid aluminum and steel construction
Pros
Takes only 7 pumps to reach maximum lift height
Hybrid construction keeps weight in check while ensuring superior strength
Versatile lifting range
High maximum weight rating
Large wheels can tackle rough terrain with ease
Bottom skid plate for added protection
Carrying handle for portability
Removable adapter to instantly increase lifting height
1 year manufacturer warranty
Cons
Things To Consider When Buying a Floor Jack
Floor jacks are a standard tool for any kind of automotive maintenance and repair. Without a proper floor jack, you can't expect to get anything done. And, keep in mind, vehicles weigh literal tons. Given the potential for a lethal situation, it's essential to get things right.
What makes a floor jack worth the money? Let's investigate all of the considerations to account for during the buying process.
Vehicles
The place to start has to be with the vehicles you are servicing. Every jack can handle a certain amount of weight before it can no longer perform.
If you only service small vehicles, you won't need to spend extra money on something that can lift a pickup truck. But if you expect to raise your camper, a jack with a smaller weight limit won't work for you.
The ground clearance of your car also matters. You want to measure the profile and make sure the jack you are considering can make it underneath. Some low-profile jacks can handle high SUVs, but not all. If you have a variety of needs, make sure your jack is versatile enough.
Weight
Floor jacks are made of different materials, so the weight varies. Consider how portable you need your jack to be.
If you plan to keep it in the garage and need something heavy-duty, a 100-pound jack on wheels might be sufficient for you. But if you need to be able to throw your jack in the back of your car or bring it back and forth from your shop, you'll most likely need something lighter.
Floor jacks with an aluminum frame will typically be lighter than steel, although more expensive. On the other hand, aluminum doesn't rust so that might be an important characteristic if you often use your jack in the snow.
See Also: 7 Best 3 Ton Floor Jacks
Storage
Some jacks take up a lot of floor space, particularly the heavier ones, while others can be quickly disassembled or might come with a removable or foldable handle for easier storage.
Jack Stands
It is essential to remember that you should only use a jack to lift your vehicle. They are never intended to hold it in place while you crawl underneath. That is where jack stands come into play.
After lifting your car, make sure to secure it with jack stands. If your jack's hydraulic system was to leak and pressure to drop, the stands would hold your car up safely while you can crawl out safely.
It's worth mentioning that some jacks features a safety locking pin. Of course, it' better than nothing, especially if you use your jack at the track or work as a mobile mechanic. In that case, the locking pin could do just fine for short periods. However, that may be just me but I still prefer to use jack stands anyway.

Always keep in mind that a manufacturer's "lifetime" warranty really only applies to the jack's life—not yours.
Price
As a general rule, cheaper products aren't as durable or as practical as more expensive ones. However, this is not always true. You can find some excellent budget floor jack options that can perform as well as premium ones. The main difference will usually lie in the materials used, and extra features.
But not everyone necessarily need an high-tech jack with every possible features there is. If you are running on a tight budget, and only need a jack to lift your car so you can change your brake or engine oil, you can easily find excellent choices well within your range. However, if you are a pro mechanic and use a jack 40 hours a week, you might be better investing a little more and ensure you get a jack that will last you for years.
Always keep in mind that buying two cheap floor jack is still more expensive than buying one high-end model. But of course, this is really a question of personal needs.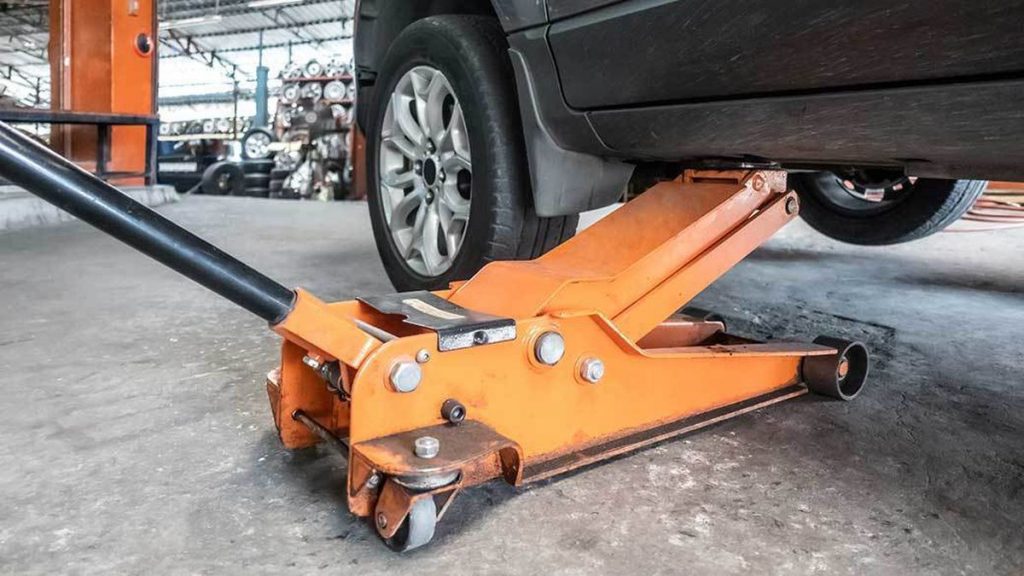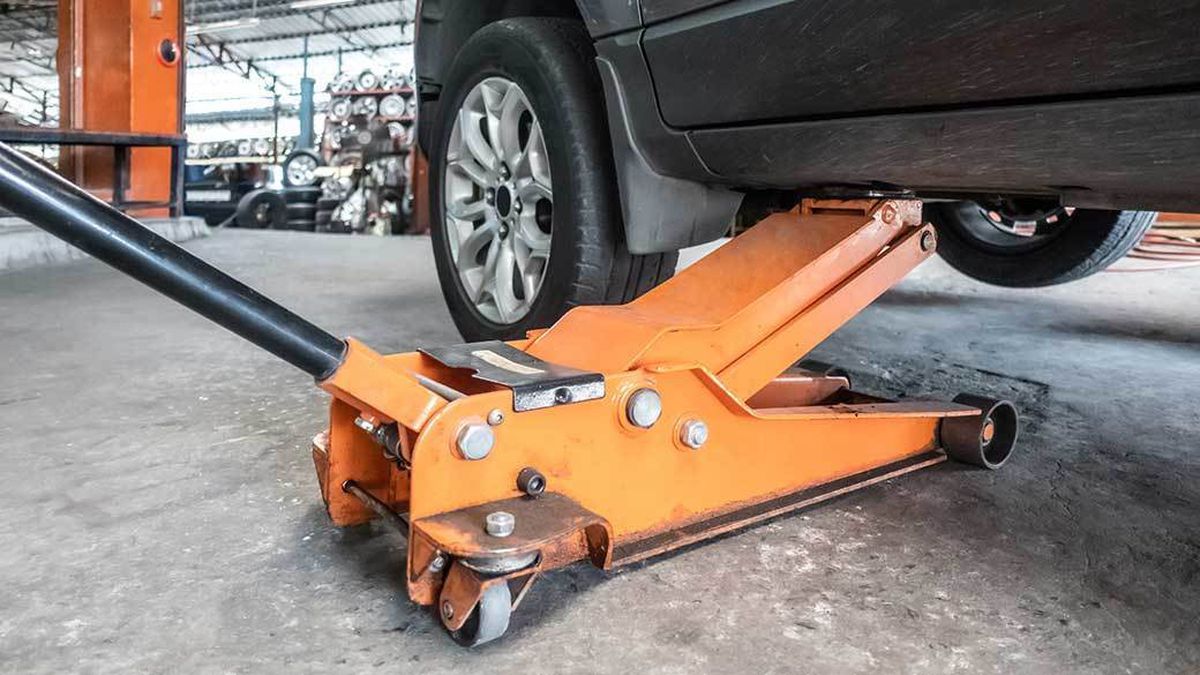 Types of Floor Jacks
When choosing a car jack, you should be aware that there are three major types out there. While all essentially perform the same task, they have different ways of getting there.
Hydraulic Floor Jacks
Hydraulic floor jacks are probably the most common. The way they work is through oil pressure. The lever pumps oil between using a piston, which creates the pressure to lift the vehicles off the ground.
Hydraulic jacks can lift a lot of weight. But they can also weigh more than other types and won't be as portable.
Scissor Jacks
These are the original car jacks. They are lightweight and easy to throw in the back of your car (in fact, that's usually the type of jack you'll find in your trunk).
Scissor jacks are pretty straightforward. When turning the central screw clockwise, the scissor jack will rise and lift the car. Rotating the screw in the opposite direction will bring everything back down.
They are definitely not as convenient as regular hydraulic floor jacks but it wouldn't make sense to carry a 90 lbs jack in your trunk at all times, just in case something happens. If this is the kind of jack you have in your trunk, think about taking it out and greasing the central screw every once in a while since these often tend to rust and jam, which won't help at all next time you need to use it and it's raining like hell outside, and you have an appointment you can't miss, etc. —you get the point!
It's also worth mentioning that aside from potentially saving your life the next time you get a flat tire while going to work, scissor jacks are often used to level RVs, caravans, trailers, and campervans.
Bottle Jacks
Also called pistol jacks, these jacks also use hydraulics. Because of how the cylinders are placed, though, they look entirely different from floor jacks. Bottle jacks are vertical and come high off the ground. For this reason, they aren't really suitable for low-riding cars as they simply won't fit underneath.
They weigh significantly less than a hydraulic jack and are usually much stronger (it's not unusual to see bottle jacks with a weight capacity over 10-20-tons), Because of the higher lift range and much higher weight capacity, they are a perfect option for lifted trucks and SUVs or even semi-trucks and farm equipment.
How Does a Hydraulic Floor Jack Work?
I have briefly touched on how hydraulic jacks work compared to scissors and bottle jacks, but let's explore this a little deeper.
Physics Lesson
The hydraulic jack is an excellent lesson in the study of physics and more specifically Pascal's law. Pascal said that pressure on any part of a fluid affects the entire entity equally. And since liquid cannot be compressed (like air can, for example) When pressure is applied, all of that liquid has to go somewhere.
In a hydraulic jack, pumping the lever sends the piston down, creating pressure and causing the hydraulic fluid in the cylinder to get forced through the check valve.
As you pump the lever arm, that pressure builds, causing the large piston on the lifting arm to move up and lift your vehicle. Super simple, yet super effective.
See Also: 7 Best Floor Jacks for Trucks & SUVs
How to Use a Floor Jack
Once you have your car in a safe position, you need to locate where the lift points are on your vehicle. On most cars, you should be able to notice some kind of arrow, notch, or any other indication that this is where the jack should go. In other cases, like BMW's for instance, you might need to remove plastic caps to uncover the rubber lifting points. When in doubt, take a look in your car's owner manual.
The floor jack goes underneath your vehicle with the handle pointed back towards you. Place the saddle into position right under the lifting point. As you pump the lever arm, make adjustments until it perfectly aligns underneath the points.
Continue to pump the lever arm until it lifts the vehicle to the proper height. Position a jack stands underneath another lifting point and lower the car until it is resting only on the jack stands.
You can lower the jack entirely at this point but I prefer to leave it there, about an inch lower than the car. When you are working under a car, you really don't want to have the jack stand slip or whatever so just leave the jack there if possible—just in case.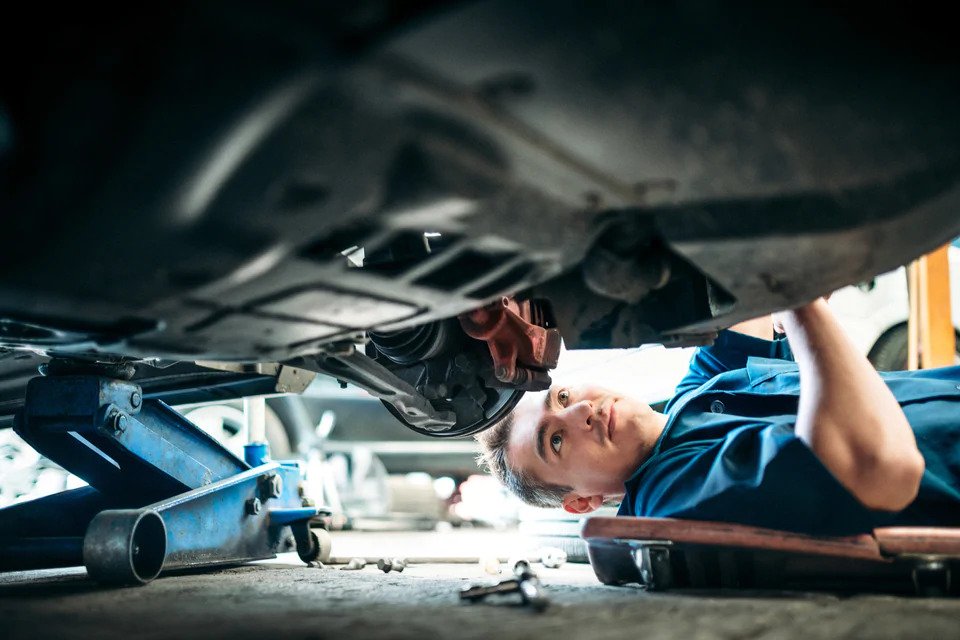 FAQs
What is the right floor jack size for me?
Floor jacks have a variety of weight capacities that they can comfortably bear. On the lower end, some can handle only 1 or 1.5 tons but they are not that common. 3-ton is pretty much the standard when it comes to conventional floor jacks.
Of course, cars are not like humans. You can't get out a giant scale and tell it to jump on it so you can see how much it weighs. Luckily, there are some basic averages to be aware of when making your assessment.
Cars can range anywhere from approximately 2600 to 4400 pounds, which is about 1.3 to 2.2 tons. So a 3-ton jack should be more than enough for most applications.
However, trucks and SUVs could range from 3300 to 6600 pounds. That is about 1.65 to 3.3 tons. However, campers and minibusses could easily exceed that. In this case, a 3-ton model might be a little tight, especially if you aren't quite sure exactly how much your truck weighs.
You also want to keep in mind that if your car weighs about 1.5 tons, you don't want to get a car jack whose absolute limit is 1.5 tons. If there is any discrepancy, or your jack is aging, it might not be exactly as powerful as it first was when you took it out of the box. Always play it safe and make sure to leave some wiggle room.
What are floor jacks used for?
You can use floor jacks for pretty much everything. Most people would tell you that floor jacks are mostly used for oil changes, brake services, and basic suspension and steering component replacement. However, when you don't have a proper car lift at home, you can use them for literally any job.

Hell, I even replaced transmissions using only floor jacks and jack stands so, if I can do it, you can too!
Which type of car jack is best?
This is another question that can only be answered when you know what you will need it for.
Hydraulic floor jacks have a large weight capacity and can work for low-profile cars. Bottle jacks are perfect for bigger high-lift vehicles, huge trucks, and such and simply useless for low riders.
Scissor jacks can't hold the hydraulic jacks' weight, aren't as stable and are kind of a pain to use but it is the best option to throw in your car and have for emergency situations.
As a general rule, if you need a jack to do some maintenance on your car at home, a floor jack is what you need!
Verdict
Of course, there is no "one size fits all" for floor jacks, as each model is great at specific things. Nonetheless, if you are just beginning in the field or a weekend DIYers that needs an affordable jack to do oil changes, rotate tires, service brakes, and such, the Torin BIG RED is probably your best bet. It's quite cheap, sturdy, reliable, and will last you for years, especially if you only use it occasionally.
On the other hand, if you are a pro mechanic and need a versatile jack that will survive being used day-in, day-out in the shop, go for the OTC LDJ35 Service Jack, it's incredibly well-built and OTC is a no-brainer here.
However, if you only want the best of the best, don't hesitate and get the Hein-Werner model. It's even tougher than the OTC model and more importantly, it's assembled and tested right here in the US. It simply doesn't get any better than this!