EDITOR'S PICK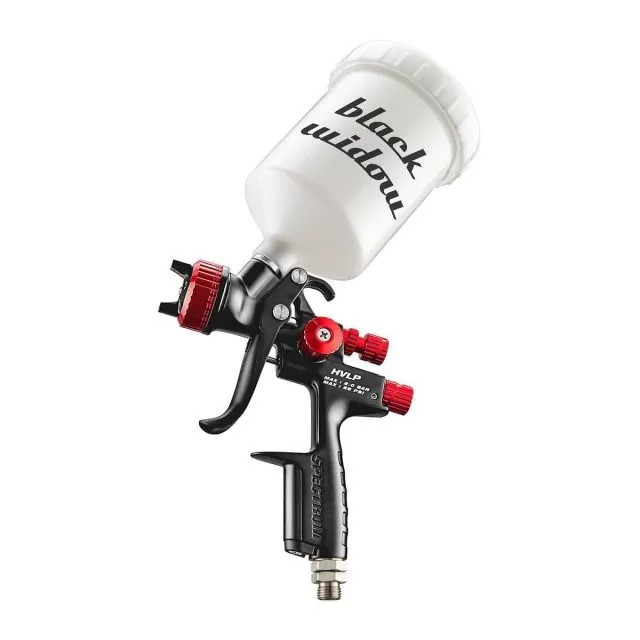 Spectrum Black Widow 56152 Spray Gun
Performance at par with premium paint guns
Lightweight construction and ergonomic design
Accessories like cleaning brush, replacement air cap seals, and hex keys are included
Coated gun internals for easy cleaning
Adjustment knobs allow precise flow and spray control
High value for money
90-days manufacturer guarantee
PREMIUM PICK
Tekna 703567 Prolite Spray Gun
Comes with two different air caps
Box includes three different fluid tips suitable for various applications
Feels great in your hand
Lightweight construction (2 lbs total weight)
Non-stick coating inside and out
Easy to use and clean
Excellent atomization
Highly versatile
BUDGET PICK
Astro Pneumatic Tool 4008 Spray Gun
Lightweight body
Ergonomic design
Adjustable spray fan width
One-year warranty
Anti-spill feature
Instructions included for beginners
Aluminum paint canister
Are you looking to buy a paint gun and confused by the plethora of models available online? Or simply not sure what specifications mean and which one would work best for you?
To help you find a paint gun fitting your budget and needs, we have prepared a list of the top 10 automotive paint guns currently available in the market. And of course, we made sure to include something for everyone, no matter the experience or budget. Whether you are still beginning in the field, only looking to paint your project car and save money or work as a professional painter and need the best paint gun possible, we've got something for you!
What Are Automotive Paint Guns?
Automotive paint guns, also called spray guns, are devices used to spray a fine coat of paint on a vehicle's body. They are an efficient way of painting as they waste little to no paint, and the operator doesn't have to worry about brush strokes or other irregularities in the paintwork. Moreover, paint guns have numerous advantages compared to different ways of painting body panels. Notably, these devices can easily apply paint in varying surface contours and spray paint even through tight spaces.
It's worth mentioning that, while cars were painted using paintbrushes in the 1900s and that it's still possible to use the same process today, nobody would even consider doing it that way—unless you own an off-road-only Jeep or an old mat black Honda civic. Besides, back then, the process was much longer due to the need to sand brushstrokes afterward, often requiring over 40 work hours. If you want to paint a car the right way, you'll need a spray gun. Period.
Also, paint guns help improve the job's quality by spraying an even layer on the body. The only skill required from the operator to obtain a perfect finish is steady hand movement and some practice.
Although paint guns can be somewhat expensive, there are also more affordable options available. However, keep in mind that, especially when it comes to spray guns, you'll get what you pay for. While cheaper models will do just fine for weekend DIYers and beginners alike, professional automotive painters will need to shell out a little more.
If you paint cars 40hours a week, cheap models will simply not cut it. Less expensive guns are usually less user-friendly, feature fewer adjustments, and have a shorter lifespan. Still, if you only plan to paint your beloved project car, rest assured that even the more affordable ones in this list still work just fine—no need to bring out the big bucks if you'll only use it once.
Different Types of Automotive Paint Guns
Since their invention, paint guns have gained massive popularity in the automotive world. Besides, they have been improved consistently to make the operator's life easier, now spanning multiple different designs.
As a result, paint guns can be broadly classified into the following:
Gravity Guns
As the name suggests, this type of gun uses gravity to function. The paint container is mounted on top and uses gravity to supply the paint, which is then atomized and pushed out through the nozzle using compressed air. This type of gun is preferred by beginners and the most widely used model overall.
Siphon Guns
This type of tool has a paint container mounted to the lower end and uses vacuum to suck the liquid up, which is then blasted out through the nozzle. To properly suck the liquid, siphon guns consume a higher quantity of compressed air. However, unlike gravity guns, these tools can be used at different angles since the force of gravity plays no role here. If you'll spray truck underbodies and in positions other than standing upright, this is the model you need.
HVLP & LVLP
Both types mentioned above are available in two configurations: HVLP and LVLP. HVLP stands for High Volume, High Pressure and, as the name implies, is used for a high-volume output using less pressure.
HVLPs or 'Low Volume, Low Pressure' give a narrower and easy to control spray pattern. This configuration makes the gun spray faster with minimal waste while leaving a superior finish quality on the painted surface.
Now, it's important to mention that the right type for you will depend on a wide range of factors, including the type of work at hand and personal preference.
Best Paint Gun – Budget Options
Astro's pneumatic gun is a small, cheap, easy-to-use, and perfectly designed for smaller jobs. As evident from the paint canister's placement, this gun is of the siphon configuration type with a canister of volume 1 quart (946 ml).
The 4008 Spray Gun features a unique anti-spill feature that prevents the paint canister from dripping no matter the fill level or angle at which it's held.
Moreover, Astro's spray gun has a 1.8 mm nozzle that allows for adjustability of the fan size up to a maximum of 11-inch when spraying from an 8-inch distance.
The Astro 4008 requires 7-12 cubic feet per minute of air (CFM) from a compressor rated for 3 horsepower (compressor not included). With that kind of air power behind it, this product pushes out paint at 50-60 psi, making it capable of handling dense liquids without compromising on the quality of the finish.
Meanwhile, the ergonomic design combined with a mere 2.54-pound weight makes it very comfortable to operate. The red stainless steel handle mechanism not only makes it look good but also adds durability. And if you are currently looking to buy your first paint gun, you'll be happy to know that the Astro spray gun also comes with a detailed instruction manual.
Get this one if you are still beginning in the field or just need a cheap gun to spray on weekends.
Pros
Lightweight body
Ergonomic design
Adjustable spray fan width
One-year warranty
Anti-spill feature
Instructions included for beginners
Aluminum paint canister
Cons
Not ideal for professional use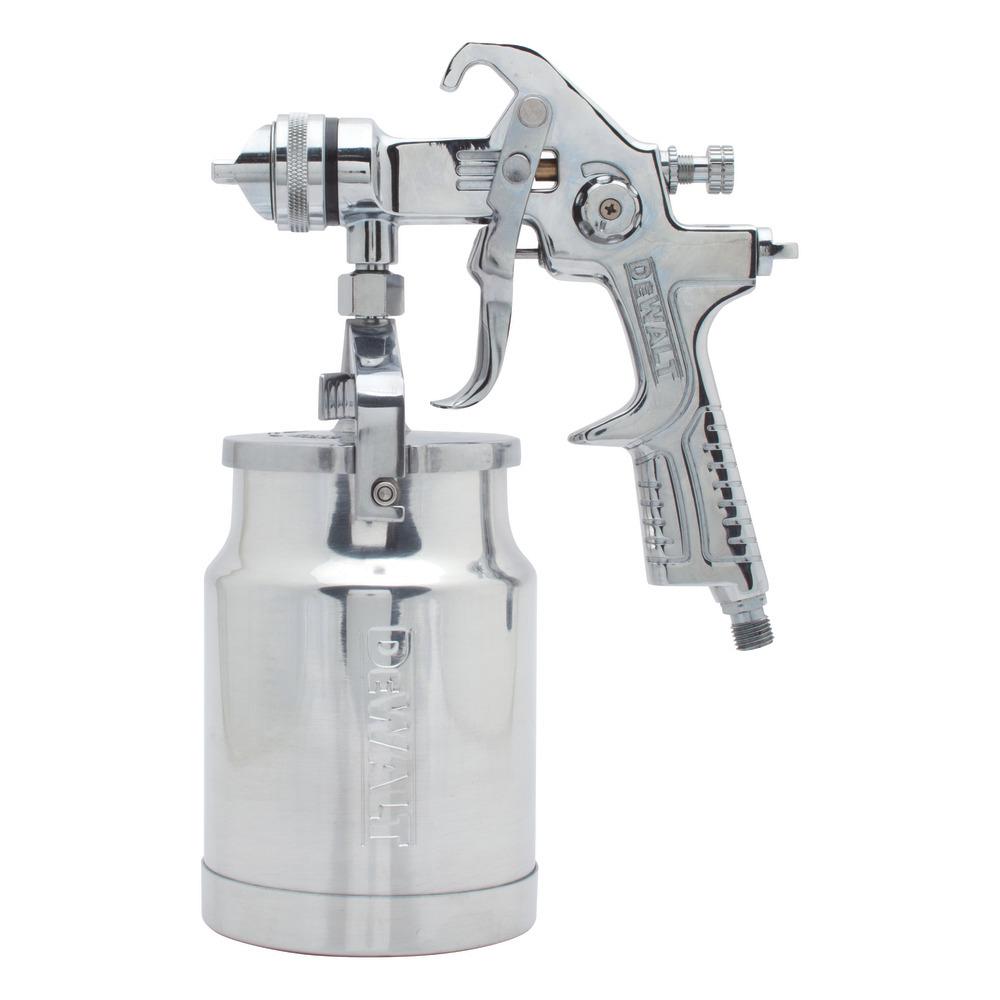 DeWalt DWMT70779 Siphon paint gun is of the High Volume, Low Pressure (HVLP) type, meaning it uses a setup that sprays an easily manageable pattern on the surface. As a result, it's perfect for inexperienced operators willing to learn the trade.
It comes with a 1.4 mm nozzle that sprays paint at 45 psi, sufficient for getting a good quality surface finish. The gun also consumes an average of just 3.8 CFM, allowing it to provide a maximum spray pattern length of 6.5 inches (165 mm), making it more suitable for small jobs such as repainting small spots and blending paint into adjacent panels.
However, that does not mean it is not capable of painting large parts too. The 32 oz (1000 ml) aluminum paint canister gives the tool enough capacity for a wide range of automotive painting applications and even full-body jobs.
Furthermore, thanks to its all-aluminum lightweight construction (2.4 lbs) and ergonomic design, the DeWalt DWMT70779 allows for a comfortable grip that does not cause fatigue to the user.
Oh, and it comes with a 3-year limited warranty, a 1-year free service warranty, and a money-back guarantee that allows customers to return their tool within the first 90 days of purchase.
Like the model above, this one is also perfect for beginners, weekend DIYers, or as a second gun. Professionals always need to buy two of everything, right?
Pros
Lightweight aluminum body
Easy to use ergonomic design
3-year limited warranty
Free service for one year
90-day money-back guarantee
Cons
Campbell Hausfeld's paint gun spray kit is a highly usable solution that includes everything you need to paint a vehicle. The kit consists of two guns, one with a spray tip diameter of 1.4 mm and another one of 0.8 mm.
These guns require compressed air at 2.1 CFM and 0.7 CFM, respectively. Although the guns consume such little air, they shoot atomized paint out through the nozzle at 40 psi. Both guns also come with their own dedicated paint canister; the larger gun has a canister of 550 ml capacity, while the smaller gun, mainly intended for touch-ups, has a 120 ml canister. Moreover, both are gravity-fed guns, meaning there will be less waste than siphon-fed models.
Campbell Hausfeld's is an exceptionally good value for money as buyers get a wide range of accessories as part of the kit that costs about the same as a gun from another brand. In addition to the two paint guns, the kit also includes two adjusting valves, a coupler, five in-line paint filters, ten paint filters, three cleaning brushes, a metal file, PTFE thread tape, and a wrench. Even though some accessories are not always of the best quality, this kit has everything a beginner needs to start painting.
If you are starting from nothing, the trick is to start with this kit and then build on it. Several accessories and the cleaning kit will also fit your next and more professional spray gun later.
Pros
High value for money
Two spray guns
Organized kit for easy portability
Accessories included in the box
Gravity feed for minimal waste
Cons
Slightly low-quality accessories
Parts are too tightly fitted in the casing (I'd suggest throwing out the cheap plastic case and storing everything in your toolchest anyway)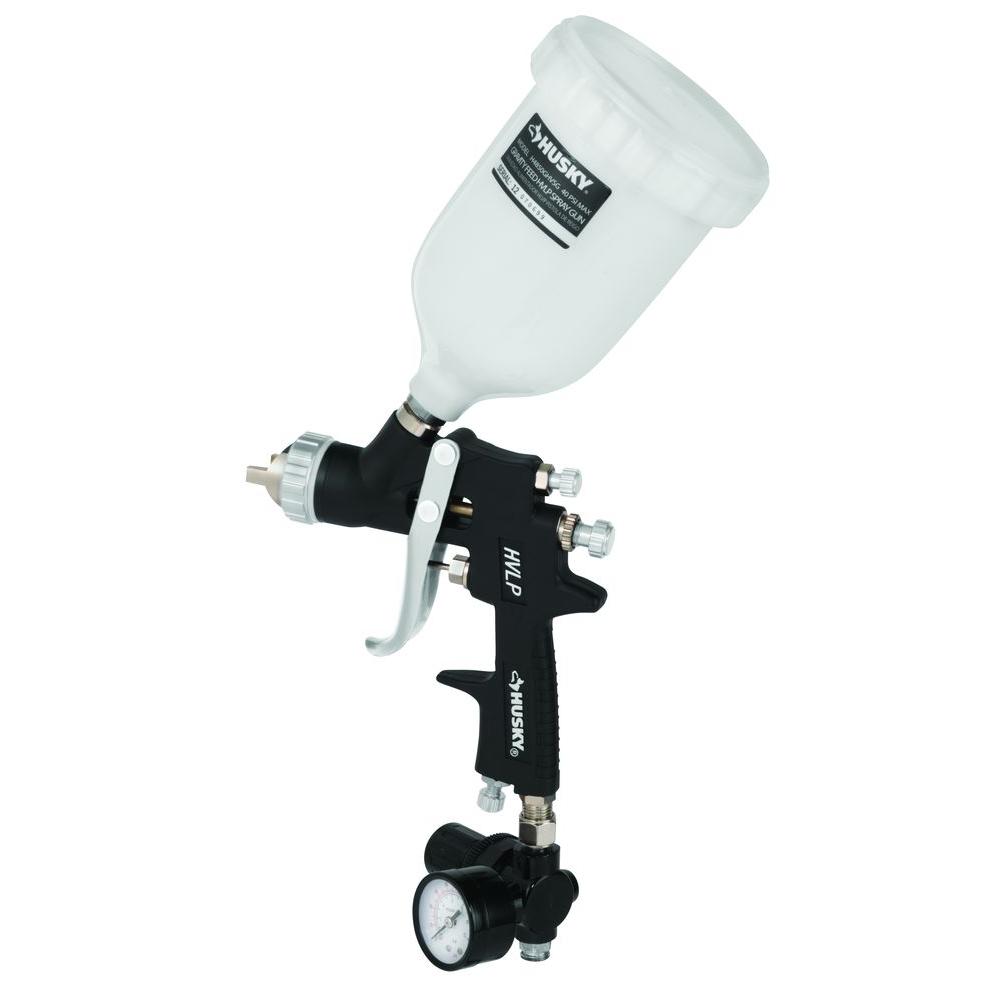 The product on our list is another gravity-fed paint gun made by Husky, a Home Depot sub-brand. Interestingly, Husky's spray gun has its body made out of a composite material rather than metal, allowing it to weigh merely 1.17 lbs.
Moreover, it comes with two different nozzles, 1.4 mm and 2.2 mm, which you can switch to suit various applications. Husky's paint gun is an HVLP-type, operating at a maximum of 40 psi at 4.3 CFM.
The gun can be easily adjusted, thanks to the whopping 30 different spray settings for a fan range between 1.2 to 9.2 inches. Thanks to the wide fan range, it's useful for various operations, from small touch-up jobs all the way up to painting an entire car. Since it's a little higher than an entry-level model, this one also allows for control of flow through the nozzle.
The Husky spray gun has a smaller paint canister than most, at just 600 ml. It somewhat limits its use as the operator will need to refill more frequently during prolonged use. However, thanks to its gravity feed configuration, it leaves no waste behind.
Pros
Lightweight materials used
Ergonomic design
30 spray settings
Adjustable spray characteristics
180-day return policy
2-year manufacturer warranty
Cons
Low output pressure
Small paint canister
No cleaning equipment included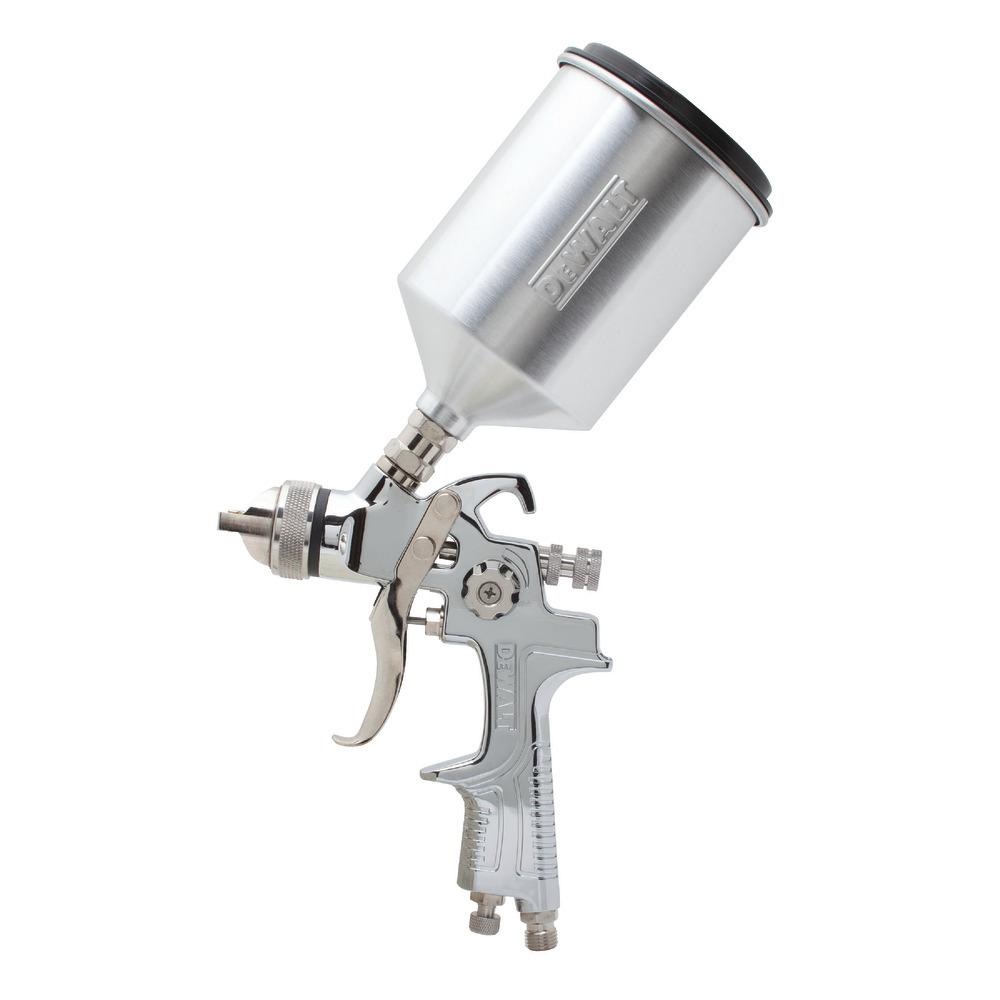 The second DeWalt product on this list is the brand's gravity-fed paint gun. This product is made entirely out of aluminum, making it not only lightweight (2.79 lbs) but also durable and reliable. It features a 1.5 mm tip spraying atomized paint at a maximum of 30 psi at 3.5 CFM. You can also control the airflow exiting the nozzle using the mini air regulator dial on the gun's body.
DeWalt's gravity gun features an aluminum paint canister of 600 ml capacity, similar to the previous paint gun. Since the gun is gravity fed, the operator has to be careful not to tilt it, as it might result in loss of liquid flow.
Moreover, there are three dials you can use to control critical operating parameters; airflow, spray width and paint flow.
Just like the DeWalt siphon-fed gun above, it also comes with a 3-year limited warranty, one-year free service, and a 90-day free return period, no questions asked.
Pros
Reasonable price
Perfect for beginners
Easy to use
Easy to clean
Wide spray width of 1 to 10 inches
Cons
No anti-spill mechanism
Low capacity paint canister
Best Paint Gun – Professional Options
For slightly experienced painters looking to improve their skill or professionals looking for a reliable spray gun that doesn't cost an arm and a leg, Ingersoll Rand's 270G is a no-brainer. It features a high-quality metal body and a reliable mechanism for a relatively low cost. Moreover, it operates at a maximum of 40 psi at 8 CFM and uses a 1.5 mm nozzle—pretty much a standard in the industry.
Ingersol Rand's gravity gun provides a perfect surface finish with exceptional control over paint, air, and spray width adjustment. It even comes with an air regulator that allows you to monitor the airflow coming in the gun at all times. You can then make suitable modifications using the air adjustment valve to obtain the desired effect.
The Ingersoll Rand 270G comes with a non-drip 1,000 ml paint canister, preventing spillage. Moreover, the paint coming out of the nozzle goes through a filter to ensure the thorough removal of any impurities.
Tipping the scales at just 2.7 lbs, the 270G has an ergonomic design with a large trigger that does not put a strain on the operator's fingers and allows for a comfortable grip.
Pros
Anti-drip paint canister
One-year warranty
Ergonomic design
Easy to use and handle for extended periods
Suitable for beginners as well as professionals
High quality and sturdy construction
High capacity paint canister
Cons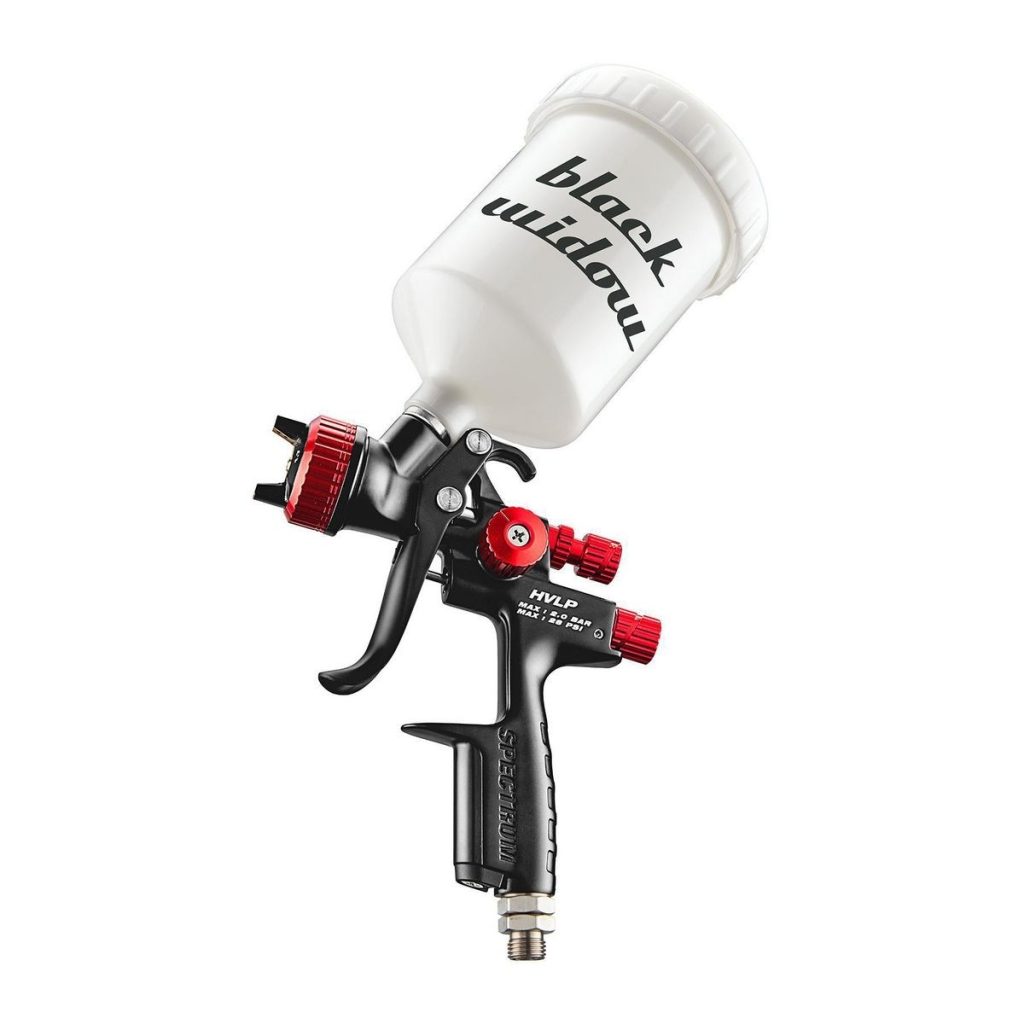 Spectrum's Black Widow 56152 is a professional gravity-fed, HVLP paint gun designed specifically for base coat and primer application while achieving a flawless surface finish. Furthermore, high-quality work is made possible by Spectrum's precision adjustment knobs, granting you greater control over the spray pattern. And when your job's done, the gun's coated interior surface makes cleaning a breeze, reducing lost time and increasing work efficiency.
Since it's a professional model, Spectrum kept painters in mind, going for an ergonomic design and lightweight forged aluminum body that is kinder to your wrist even after prolonged use. It's really hard to explain but Spectrum's paint gun provides an excellent in-hand feel—try it and you'll see what I mean.
If you are looking for a professional paint gun, going above and beyond what other cheaper models provide, this is what you need. Of course, the Black Widow costs more than other comparable spray guns, but the quality of the finish speaks for itself.
Pros
Performance at par with premium paint guns
Lightweight construction and ergonomic design
Accessories like cleaning brush, replacement air cap seals, and hex keys are included
Coated gun internals for easy cleaning
Adjustment knobs allow precise flow and spray control
High value for money
90-days manufacturer guarantee
Cons
Limited replacement parts available
Container is slightly smaller than other spray guns
Another popular paint gun among experienced mechanics is the Bellaria by Anest Iwata. The Bellaria comes with a 1.3 mm nozzle tip that sprays paint up to a maximum width of 11 inches at 29 psi/9.53 CFM. The gun itself is made of high-grade metal that is not only lightweight (1.04 lbs) but also of outstanding quality.
Thanks to its lightweight nature combined with the comfortable grip and soft trigger, you can use the Bellaria for medium to large projects without much fatigue. Moreover, the 1.3 mm fluid tip is just the right diameter required to spray paint or other automotive fluids.
However, this gun is slightly costlier than other entries as it is a professional tool with a robust body, excellent surface finish, and greater control. On the other hand, you'll get what you pay for. It's just awesome.
Also, this particular variant does not come with a compatible paint canister, let alone any cleaning equipment, meaning you only get the main paint gun. But, being a professional model, the manufacturer considers that you already have tons of containers and paint gun brushes laying around. Of course, if you don't, all the accessories can also be purchased separately.
Pros
Lightweight body
High-quality materials used
Easy to clean
Painted tool
Easily available spare parts
Cons
High cost
No paint canister included
High air consumption
If you strive for the perfect surface finish and money is no object, look for the Iwata 5905 WS400 Super Nova paint gun. The Super Nova is an ultra-premium spray gun built using only the finest materials and modern atomization technology. The gun was designed by Pininfarina, a famous Italian design house known for its remarkable work in designing more than 200 Ferrari supercars—so yes, this is literally the Ferrari of paint guns!
In combination with the exemplary design, Iwata has also implemented its patented LV technology. The advanced system pre-atomizes the paint before leaving the nozzle, resulting in lower air consumption and eliminating the need for a bigger air compressor. Additionally, the delivered droplets are consistent in size and composition, resulting in a flat and even spray pattern, significantly reducing the risk of orange peel.
The Iwata 5905 Super Nova is perfect for masters in the field looking for the ultimate go-to spray gun providing a mirror finish every time. However, it doesn't come with any cups, and replacement parts are relatively expensive, so be prepared to spend more on maintenance here—basically like any other Ferrari.
Pros
The most advanced spray gun on this list
Automobile-inspired design by Pininfarina
Uses state-of-the-art LV spray technology
Provides perfect finish almost every time
Superior atomization leads to flat and even spray
Cons
On the expensive side
Cups are sold separately
The Tekna Prolite made by DeVilbiss is the most expensive paint gun on this list. If the previous model was the Ferrari of paint guns, this one is the Lamborghini. Hence, it's really just for master painters (or master painters in training?), looking to up their spray gun game and make coworkers jealous. And of course, it's not just good-looking; it's also very reliable and provides an exceptional surface finish on every job.
It comes with three different tips, 1.2, 1.3, and 1.4 mm, and operates at 40 psi/13 CFM, making it suitable for a wide range of jobs involving paint of various thicknesses. Not only that, but the gun also comes with two high-efficiency air caps, thereby adding to its versatility.
It also features all the bells and whistles possible, including an adjustable airflow, paint flow, and fan width.
If you can afford it, this is the one you want. Do you need it? Probably not. Do you still want it? Oh yes!
Just like a Lambo, in fact.
Pros
Comes with two different air caps
Box includes three different fluid tips suitable for various applications
Feels great in your hand
Lightweight construction (2 lbs total weight)
Non-stick coating inside and out
Easy to use and clean
Excellent atomization
Highly versatile
Will make everyone jealous
Cons
Quite expensive
No paint canister included
No cleaning kit included
Coworker might ask to borrow it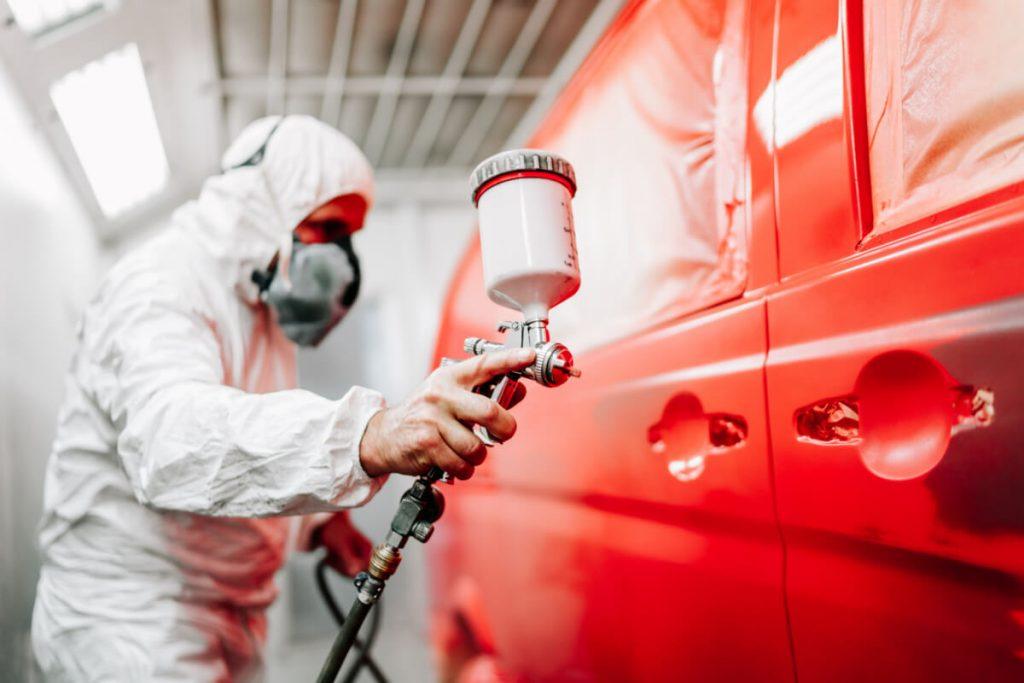 What To Consider When Choosing An Automotive Paint Gun
Buying the right paint gun for the job is essential to obtain a quality finish within your budget. A good gun should be suitable for the job at hand and be comfortable for the operator. Thus, a compact and ergonomic design and easy controls are essential. Here are some other things to consider when choosing an automotive paint gun:
Air compressor specifications
Different paint guns require different air pressure settings. For that reason, it's vital to have an air compressor capable of feeding the gun with the right pressure. If you already have a compressor, make sure the gun you choose does not need more air than the compressor can give.
Also, spray guns being used for extended periods require a much larger air tank. You really don't want to run on empty in the middle of a job. Weak air pressure will cause uneven passes and might drip and start to shoot droplets onto your paint—and you really don't want that!
Properties of liquid
A paint gun employs several components to spray paint evenly. That being said, the most essential parts are the spray tip and air cap. These are available in different sizes to suit different types of liquids and spray patterns. Some products come with different air caps and spray tips, while others only have one. Make sure it comes with tips and caps for your job.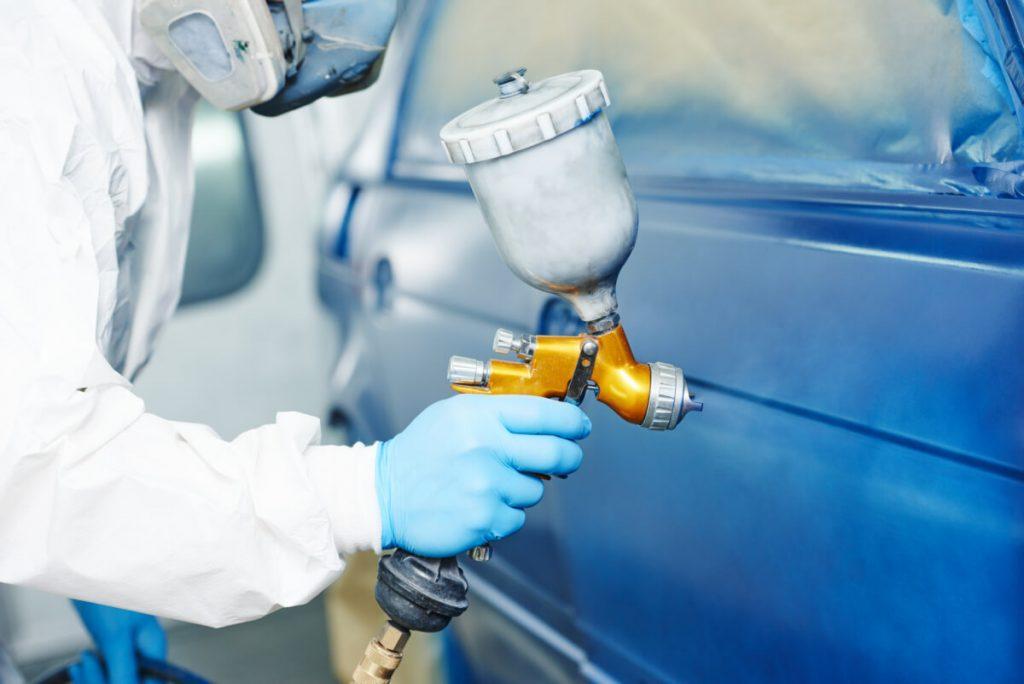 Type of feed
Automotive paint guns are available in siphon and gravity feeds. Both give good results, but gravity feed guns are inherently better at providing a good quality surface finish. Having said that, both types have their advantages and disadvantages, and one might perform better in a particular situation than the other. Therefore, you should choose by evaluating your needs and based on the work environment.
Weight and design of the gun
Painting an entire car takes quite a while, even when using a paint gun. A good paint gun should have an ergonomic design and lightweight construction, making it easy to hold even on big projects.
Value for money
This review includes products belonging to a broad spectrum when it comes to their cost. Some products, like the Campbell Hausfeld spray gun kit, offer a lot for the money, while others are quite expensive with no included accessories. If only a paint gun is included in the box, you will have to also purchase other accessories like the paint canister, cleaning equipment, etc.
Just make sure you don't buy an expensive gun you'll never use to its full extent or choose a more affordable model that won't do what you need it to. When it comes to tools, cheaping out is never a good idea.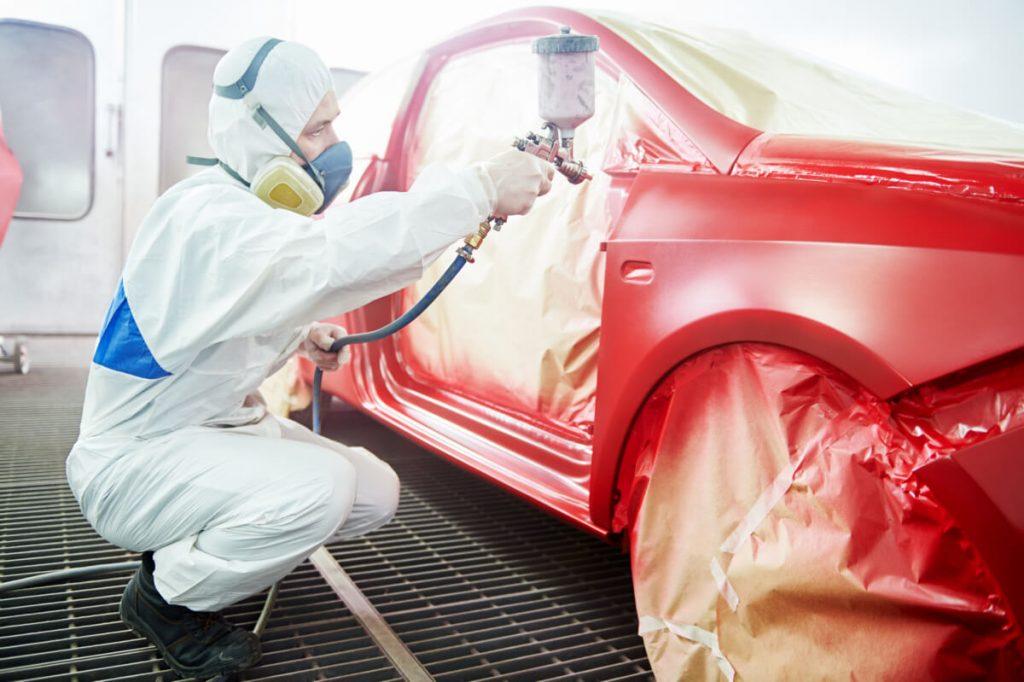 How Do Automotive Paint Guns Work?
All types of automotive paint guns, be it LVLP, HVLP, gravity, or siphon-fed, work on the same basic principle: the venturi effect. Namely, compressed air enters the gun from the bottom while paint enters much later. At one point inside the gun, the air mixes with the paint and atomizes it. Specifically, the paint is broken down into fine particles and then exits through the nozzle.
There is a lot of science that goes into designing these guns, and that is why it is important to do your research and buy one providing great atomization to obtain a good finish on the surface. Of course, all of the guns in this list are good options.
Frequently Asked Questions (FAQs)
In addition to a paint gun, what else do I need to start painting my car?
To start painting, you will need a lot more than just a paint gun. After you have bought a gun, you still need to get more stuff like an air compressor, an air hose, cleaning equipment (if not included), an oil/water separator, a coupler, and a dust-free environment, ideally a painting booth. Once you get your hands on all that, you must familiarize yourself with your gun's various control and just get a feel for it in general.
What size air compressor do I need to operate paint guns?
Different paint guns require different types and sizes of air compressors, and there is no one-size-fits-all approach here. Meanwhile, most paint gun brands specify the power rating or size of the air compressor required for the smooth operation of their paint guns in the instruction manuals. If not, you can easily determine the compressor capacity if you know how much air the gun consumes in CFM. Moreover, as a general rule, it is recommended to get an air compressor of at least 20 gallons.
How often do I need to clean my paint gun?
You must always clean your gun after use to prevent the paint from drying and clogging up, which might render it unusable or really really hard to clean back later. Besides, cleaning a gun is not a tedious process, and some products even come with the required cleaning equipment making your life a lot easier.
Verdict
So there it is; a handpicked selection and detailed review of 10 of the best automotive paint guns on the market. Of course, the final decision will be different for everyone, as it depends on a lot of factors such as the level of experience, budget, use, etc.
Hence, you should carefully evaluate your needs and pick the right option before committing. For example, if you are just starting in this field, there is no reason to pay big bucks for a high-quality unit like the Tekna Prolite. Instead, the wise decision would be to pick a cheaper option and learn the basics first—it's a lot more about skill than money here.
Automotive painting is more art than science and developing your skills requires a lot of practice. Still, with a bit of dedication and a good spray gun, everyone can learn.
Have fun!