For some, working on and taking care of their car is a highly relaxing and fulfilling experience. However, even a simple job, such as an oil change, requires you to go under the vehicle. In that case, not being able to lift your vehicle can be a very off-putting ordeal. Yes, you can sometimes crawl under it but most suspension and steering work, or any job where you need to remove a wheel for that matter, will require you to jack the car anyway.
A car jack is the most basic prerequisite for performing car repairs, and the Arcan ALJ3T is the perfect example of an ergonomic, easy-to-use, and reliable floor jack for all your DIY car repairs.
See Also: 7 Best Aluminum Floor Jacks in 2021
Who is it Made for?
The Arcan ALJ3T is perfect for various applications. It can be useful for car enthusiasts, mobile service mechanics, weekend DIYers, and professional auto mechanics. Floor jacks are a great alternative to hydraulic lifts, especially for quick jobs and you can buy one for a fraction of the cost. Besides, you also get the added benefit of portability.
Features of the Arcan ALJ3T 3-Ton Aluminum Floor Jack
Lightweight and clever design
The Arcan ALJ3T features an all-aluminum body that utilizes strong aircraft-grade materials. Weighing just 58 pounds, it is portable and highly versatile. The ALJ3T's clever design also incorporates a two-piece removable handle, making it easy to transport while taking less space when stored.
To further aid its portability, the body has handles that make the jack easier to carry and when trying to position it correctly under a car. There is also a large pad of softer material to avoid scratching or damaging the vehicle's underbody.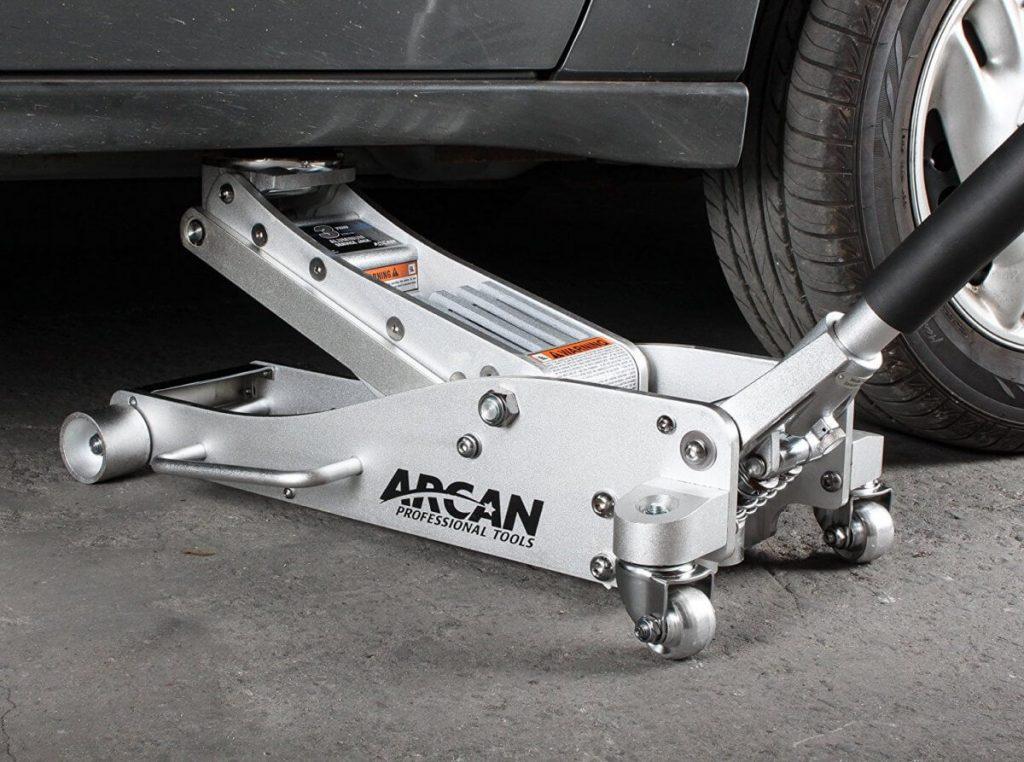 Great range of motion
The ALJ3T boasts a maximum lifting height of 18 inches, better than most of its competitors. Minimum height comes in at 3.75 inches, which translates into a highly versatile range of 14.25 inches.
With that kind of flexibility, this jack will handle vehicles of almost all shapes and sizes with ease. You can even lift SUVs with high ground clearance to change wheels or work on the underbody.
See Also: Best Floor Jacks in 2021
High lifting capacity
Where most floor jacks can lift up to a maximum of 2 tons, the ALJ3T can lift a 3-ton truck without a hiccup. The high lifting capacity is thanks to the dual piston technology and aircraft-grade aluminum in its construction.
The material not only contributes to its lightweight nature but also imparts exceptional strength. Most cars weigh far less than the ALJ3T's maximum limit, but just in case you need to lift a loaded truck at one point.
Better safe than sorry!
Easy to operate
When it comes to tools, ease of operation is of utmost importance. I mean, who wants to work with inconvenient tools? Arcan has considered that and came up with a truly user-friendly design. Just place the jack at an appropriate position and pump a couple of times to lift the car. 10 pumps are usually enough to reach the required height. To bring the vehicle down, simply twist the lever counterclockwise.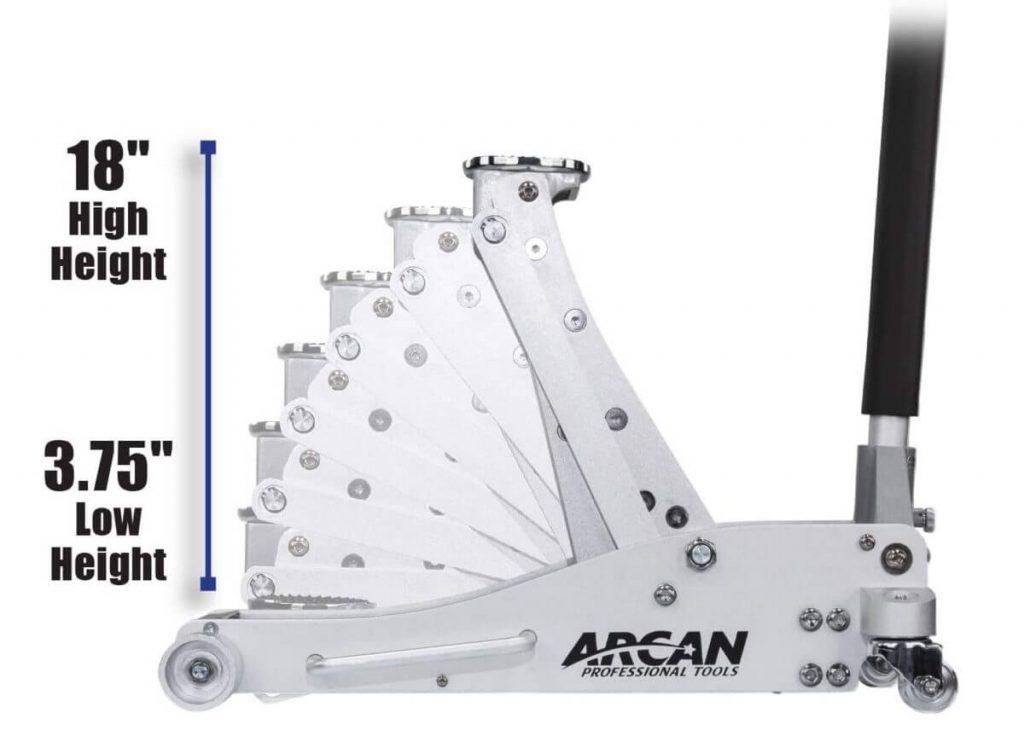 Safety locking mechanism
No one wants a jacked car to drop. To make sure the ALJ3T does not slip, it features counterweighted pawl locks that ensure it's not going anywhere. Moreover, additional support is provided by a large contoured saddle. And even better, if the jack is mounted on soft surfaces, the base is designed to prevent it from sinking.
That being said, never forget to put jack stands under the car once it's up. Never work under a vehicle held up only with a jack, no matter how tough the manufacturer claims it's locking mechanism is.
Benefits
Ergonomic design
Removable handle
High lifting capacity
Lightweight
Superior quality build
Drawbacks
Slightly expensive
Rubber pad may wear out after a few uses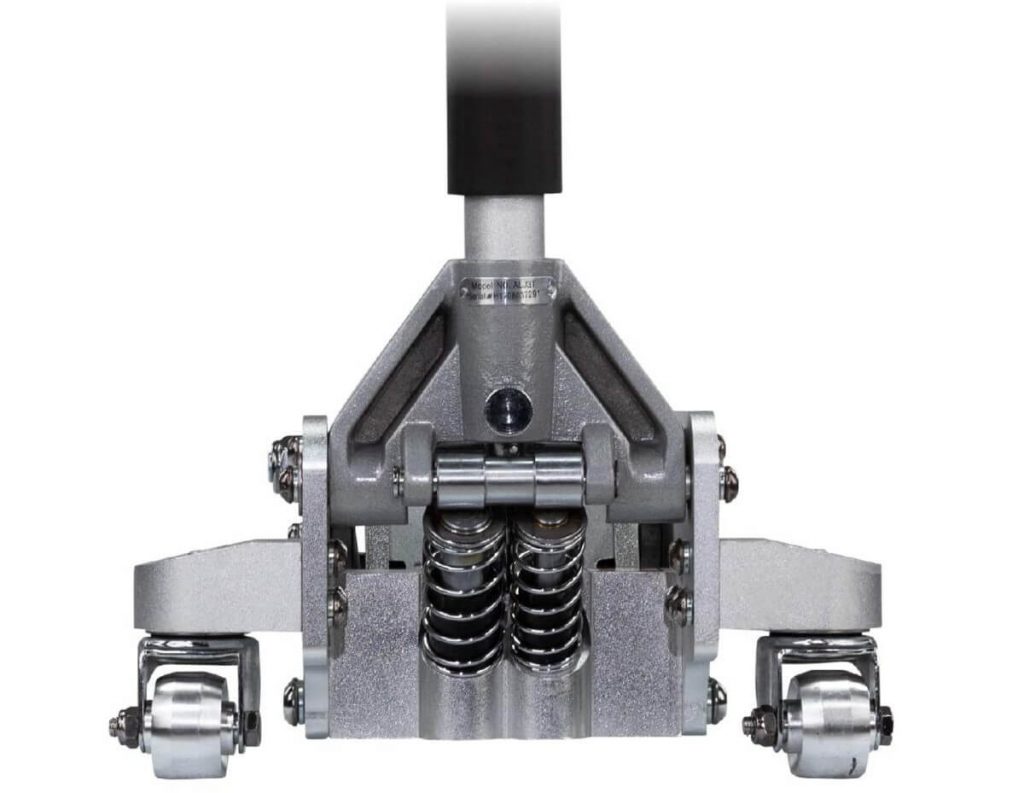 Highlighted features
3-ton lifting capacity
Dual pump piston hydraulics
18-inch maximum height
Aircraft-grade aluminum construction
1-year manufacturer's warranty
Removable two-piece reinforced lift arm
See Also: Best Floor Jacks for Trucks & SUVs
FAQs
What are floor jacks?
Car jacks are mechanical devices used to lift heavy loads by applying a fraction of the effort. Floor jacks employ hydraulics and a hand lever to perform their functions. They are used where there isn't enough space for hydraulic lifts and are much safer than scissor jacks.
Is the Arcan ALJ3T floor jack good for personal use?
Yes, it is! This jack works flawlessly for both professional and personal use. It is incredibly easy to operate as well, and it can lift your vehicle in a few pumps of the lever.
Do I really need this jack?
You absolutely do! This product by Arcan has one of the best price-to-quality ratios out there. Of course, there are always more expensive models, some have a higher range, others have a higher lifting capacity.
However, unless you plan to work on commercial trucks or lifted Jeeps, you don't really need 30″ of lift or a 5-ton capacity rating anyway. If you'll use your jack to work on hatchbacks, sedans, SUVs, minivans, and pickup trucks, the Arcan ALJ3T is more than ready to tackle whatever you'll throw at it.
Is this jack reliable and safe?
Yes again!
This product uses dual-piston hydraulics to lift your vehicle. Moreover, it has safety mechanisms that prevent it from slipping off the garage floor. I personally have had mine for the past 3-4 years and it's still in pretty good shape.
Of course, being used daily in a repair shop, it's scratched and chipped but it doesn't leak and still pumps fine. And even the wheels still work like charms (if you've used floor jacks professionally before, you know what I mean).
Is it made in the USA?
Unfortunately not, the Arcan ALJ3T is manufactured in China. However, since Arcan is an American tool brand, you can be assured that all the tools they make are tested and inspected in the US, according to US standards.
Final verdict
No matter whether you are just a car enthusiast occasionally working on his car on weekends or a full-fledged auto mechanic, the Arcan ALJ3T is the jack for you. It is a reliable and time-tested product that is also easy to use. The price might feel a bit steep at first, but for a high-quality product such as this, it's totally worth it.
Sale