EDITOR'S PICK
Ingersoll-Rand Garage Mate 20g
Powerful enough for most air tools while being relatively easy to transport
A great choice for professionals and serious DIYers in need of a compact and portable compressor
PREMIUM PICK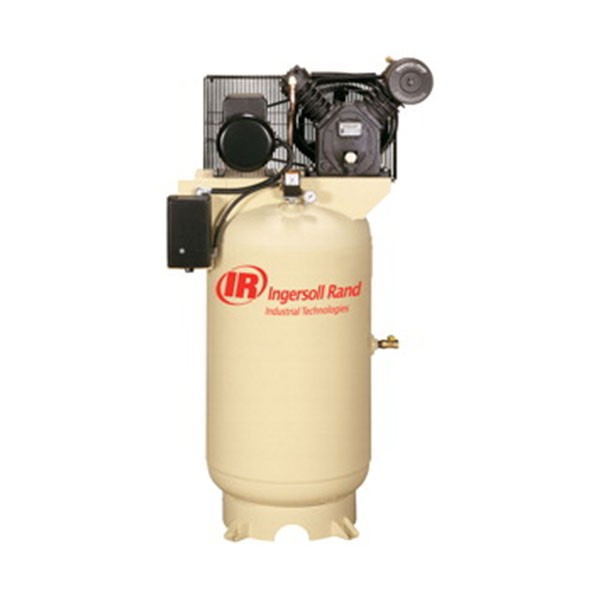 Ingersoll-Rand Two-Stage 80-Gallon
Perfect compressor for shop use where constant air is needed
Durable and reliable motor and pump are regarded as among the best in the industry
BUDGET PICK
Makita Mac320Q air compressor
Ideal for home garage use because of the quiet motor and compact size
Low amp draw prevents tripped breakers
An air compressor is one of the most useful tools for your home garage. After all, it's what will power every one of your air tools. However, just buying any compressor won't do, and picking the perfect air compressor will depend on a wide range of factors. How you plan to use it, the space available in your home garage, the kind of tools you have, the frequency of use, etc., are all variables that will have an impact on the type of air compressor you'll need.
Besides, there are many different sizes and styles available. Some can be very noisy and better for a standalone garage, while others are designed to be as quiet as possible. But no matter the type you need, we have reviewed some of the best models currently on the market to help you find the right air compressor for your home garage, no matter how big it is.
Of course, we made sure to include a little something for everyone, from smaller portable models to full-fledged professional air compressors that I have personally used either on the job or in my own home garage. Furthermore, we crafted a handy buyer's guide that you'll find towards the end of this article, explaining the different terms manufacturers use to describe their products and what you should be on the lookout for when shopping for a new air compressor.
If you still have some questions after reading our buying guide, don't hesitate to leave a comment below, and we'll do everything we can to help you.
Enjoy!
Best Air Compressors for Home Garage Reviews
Best Tire Inflator
Okay, this one is not exactly an air compressor. But if all you need is to inflate your tires and don't really need to operate air tools, this one should be more than enough. The Craftsman V20 is one of the best portable compressors to inflate tires, fill up an air mattress, or blow up pool toys. As part of the V20-line, this portable tire inflator can use battery power, your car's 12V outlet, or any regular home outlet.
If you are an off-roading enthusiast, you'll be happy to hear that it'll even inflate oversized off-road tires in minutes. It's compact, lightweight, reliable, and quite inexpensive. However, it's definitely not intended to power any kind of tool whatsoever.
Key Features
Automatic shutoff at user-specified PSI
Powered by V20 battery, 12V AC, or 110V DC
Switchable high pressure or high volume
Pros
Portable and versatile inflator
Three-way power source
Cons
Best Pancake Air Compressor
Pancake compressors are compact and portable. However, they have a smaller tank and less powerful motors than other full-sized models. On the other hand, if you need your compressor to be portable, you'll need to make some compromises.
Weighing only 30 lbs, this compressor is easy to use in various locations and is ideal for numerous tasks. Another great feature is the quick recovery time of only 3-5 minutes to fill the 6-gallon tank. Hence, this is a perfect compressor for small jobs that don't require continuous pressure.
You can use it to inflate car tires, operate an impact gun or air ratchets, but it won't provide enough pressure for sustained work. In some cases, it might not be that much of a problem, while in others, it could be a significant drawback. For example, if you use your compressor to power a sander, it will only stop working once the tank runs out, and you'll be able to resume work as soon as it's filled back up. However, running out of air pressure when spray painting a car would create drips and drops on the paint, and you would have to start over.
Meanwhile, the Craftsman CMEC6150K uses an oil-less electric pump that is maintenance-free and comes with an added 13-piece accessory kit, including a blowgun, various air chucks, and a basic hose.
The big bonus with this compressor is the startlingly low weight for the capacity. It's light enough that you can climb ladders and scaffolding carrying it, and it works great when you are running a nail gun while replacing roof shingles. It's also one of the best models for mobile mechanics.
Key Features
150 PSI max
6-gallon capacity
2.6 CFM @ 90 PSI
120V oil-free pump
13-Piece accessory kit
Weight: 32 lbs
Pros
Ideal compressor for small jobs
Quick recovery time makes it convenient to use
Made in America
Cons
On the louder side at 84db
Best "Quiet" Air Compressor
Air compressors can be quite loud, which can quickly get annoying when working in a garage annexed to your home. Luckily, Makita designed this compact compressor to run at only 60db—that's pretty much the lowest noise rating you'll find for a decently sized compressor.
Besides, the 1.5 hp motor quickly fills the 3-gallon tank, providing plenty of pressure for small tasks and short-use tools. Keep in mind that Makita's model has only half the capacity of the previous model. Thus, it's good for impact wrenches, ratchet wrenches, and basically any air tool you don't need to operate for extended periods.
The 120V oil-free motor draws only 8.5 amps, reducing tripped breakers. You'll find this compressor to be an ideal companion in your garage for light-duty tasks.
It's also a great choice for DIYers that do nailing and framing; it'll run a nailer or stapler all day without trouble. Furthermore, the Makita Mac320Q also comes with a complete roll cage to protect your investment from accidental damages on the job site.
Key Features
1.5 hp oil-free motor, 120V
135 PSI max
3-gallon capacity
2.6 CFM @ 90 PSI
Complete roll cage protection
Quiet 60db pump
8.5A draw
Weighs 56 lbs
Pros
Ideal for home garage use because of the quiet motor and compact size
Low amp draw prevents tripped breakers
Fills up in only 65 seconds
Cons
Heavier than many competitors
Fittings are difficult to replace due to factory thread locker
Not as powerful as some other options in the price range
Best Portable Air Compressor
A major limitation of the three first compressors is the lack of power for big consumers, like sanders and spray paint guns. But not this one. The Ingersol-Rand Garage Mate compressor is pretty much the best of both worlds and thus is the ideal portable job site compressor. It has enough capacity for extended use, a powerful 2 hp motor while still being portable enough, thanks to the air-filled tires and ergonomic handle.
Moreover, it operates on 120V and produces 77db of noise, making it even quieter than some of the smaller, less powerful compressors on the list. On the other hand, like other full-fledged models, it will require regular oil changes and maintenance to ensure the cast iron motor has a long life.
This is a great choice for weekend DIYer and professional auto mechanics looking for a compressor similar to what is used in auto repair shops while still being able to move it around. Due to the slightly higher weight, it can be difficult to load and unload, but when you're on a job and relying on your air compressor, this unit can't be beaten.
And even if you only plan to use it in your home garage, being able to move it will come super handy if your garage is on the smaller side. Bigger compressors need to be bolted to the ground, and bigger tanks can be bulky. If you need a professional model but have limited space, this is the one you need.
Key Features
2 hp belt-driven, oil-lubricated cast iron pump, 120V
135 PSI max
20-gallon capacity
5.5 CFM @ 90 PSI
77db operational noise
16A draw
Weight: 200 lbs
Pros
Powerful enough for most air tools while being relatively easy to transport
Durable powder coat finish ensures the tool looks great for longer
A great choice for professionals and serious DIYers in need of a compact and portable compressor
Cons
Higher weight makes it difficult to load in a truck
Best Air Compressor for Weekend DIYers
For serious projects, like running a spray paint gun or power sander for hours on end, you need a serious compressor capable of providing plenty of pressure. DeWalt's electric vertical compressor fits the needs of most DIYers and could even be enough to be used in an auto repair shop.
The pump is a cast iron oil-lubed unit producing 3.7 hp, providing 11.5 CFM @ 90 PSI, paired to a 60 gal tank. If you aren't sure of what these numbers mean, simply know that it's good enough to run just about any air tool you have.
The DeWalt Electric Vertical is powerful, reliable, and easy to install, though there are a few safety steps you'll need to take. This model is not portable and thus will need to be bolted to the ground. Besides, the motor also needs a 230V power supply. If you don't have a feed to your garage, you'll need to do a little house wiring.
However, if you need a professional air compressor but don't have enough room for a standard model with horizontal tanks, this is probably your best bet.
Key Features
3.7 hp oil-lubricated cast iron pump, 230V
155 PSI max
60-Gallon capacity
11.5 CFM @ 90 PSI
Three mounting feet
Weight: 247 lbs
Pros
Ideal for almost any task in your home garage
Vertical design is compact, so the compressor leaves more space in your garage
Plenty of capacity for extended use
Cons
Requires some special installation attention
Best Air Compressor for Professional Auto Mechanics
When you need something a little more than a basic air compressor, this Eastwood unit provides professional-level air supply and durability. This one is powerful enough to run any tool and, thanks to the 80-gallon capacity, it'll take a lot to drain the tank. And if you ever reach that point (I highly doubt it, but it could happen when operating multiple air-powered tools at the same time for an extended period), the powerful 7.5 hp two-stage pump will ensure a quick refill.
The Eastwood model is the type of compressor you want when painting cars or working on anything that involves running impact tools all day. It produces a beastly 22.1 CFM of pressure @ 100 PSI and can go up to 175 PSI. Moreover, the cast iron two-stage pump is designed for long service life but will require periodic oil changes. Meanwhile, you'll need a 230 V supply and bolt the unit down for a safe operation.
Eastwood's price point puts it squarely between professional and amateur air compressors. If you plan on running demanding tools, like paint sprayers and sanders, this is a good choice over other options. You'll get the type of air supply professionals have but on a budget.
Key Features
7.5 hp cast iron, oil-lubricated two-stage pump, 230V
175 PSI max
22.1 CFM @ 100 PSI
80-gallon capacity
Three mounting feet
31A draw, Minimum 40A breaker recommended
83db operational noise
Weight: 715 lbs
Pros
Powerful enough to run any tool
Huge 80-gallon tank for long working sessions
Powerful 7.5 hp two-stage pump for quick refills
Strong 22.1 CFM of pressure at 100 PSI
Fair price for the performance you get
Cons
Must be bolted in place to operate safely
The 230V power supply might be restrictive for some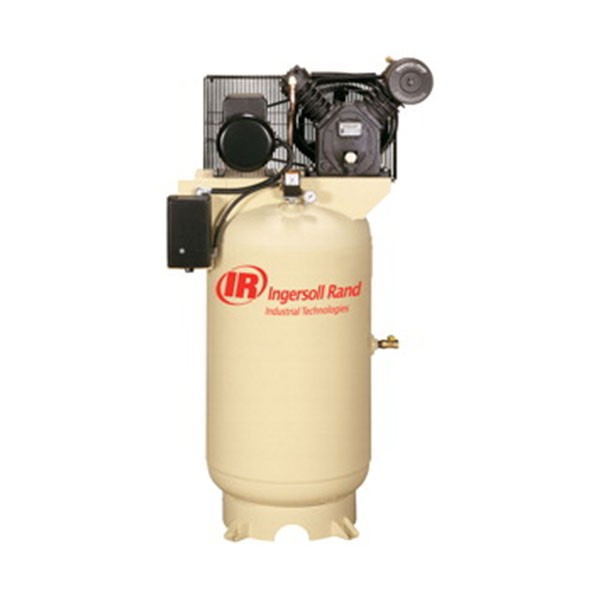 One of the best air compressors out there is this monster from Ingersoll-Rand. This thing will run any air tool all day for years, which may explain why I've seen it in many professional repair shops before.
It's got tons of air capacity, a generous tank, and an incredibly powerful pump to generate enough air for your shop. Besides, it's designed to handle 100% continuous duty, which you might need when running several tools at once 40 hours a week.
The cast iron two-stage pump and 7.5 hp motor can produce a maximum of 175 PSI, which is more than you will ever need in the automotive industry (most professional systems work between 120-140psi). Hence, this is a tool you can count on for years to keep air supply fed to several mechanics at once running all types of air tools.
Furthermore, there is an air-cooled after-cooler that removes 70% of the water from the air, and an electric purge valve drains any moisture accumulating in the tank. As a result, this air compressor features an improved service life and reduces the risk of damaging power tools.
However, it is also significantly bigger than anything else on this list. You'll also need a professional installation. It even requires a heavy-duty breaker and needs to be securely mounted to ensure it doesn't fall. However, once installed, you'll be able to power tools, air-powered car lifts, and pretty much anything you might dream of.
Key Features
7.5 hp 220V cast iron pump, oil-lubricated, 220V
175 PSI max
24 CFM @ 100 CFM
80-Gallon capacity
Rated for 100% continuous use
Weight: 500 lbs
Pros
Perfect compressor for shop use where constant air is needed
Durable and reliable motor and pump are regarded as among the best in the industry
Cons
Too much compressor for most households
Should be professionally installed to prevent injuries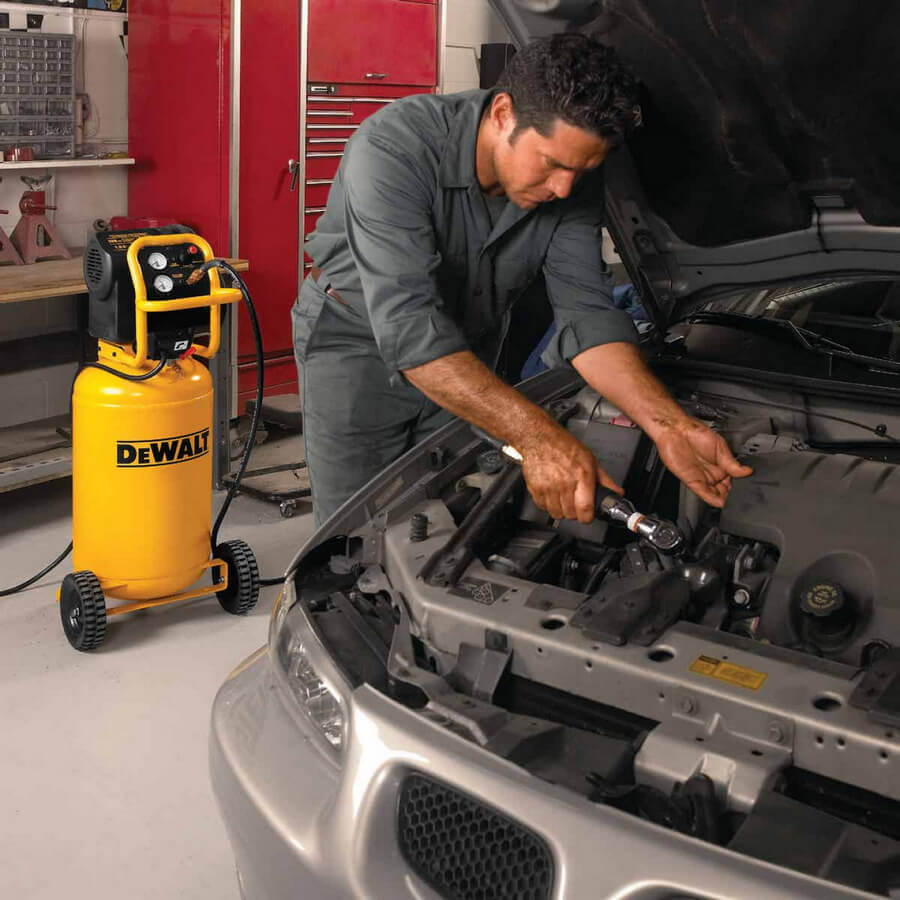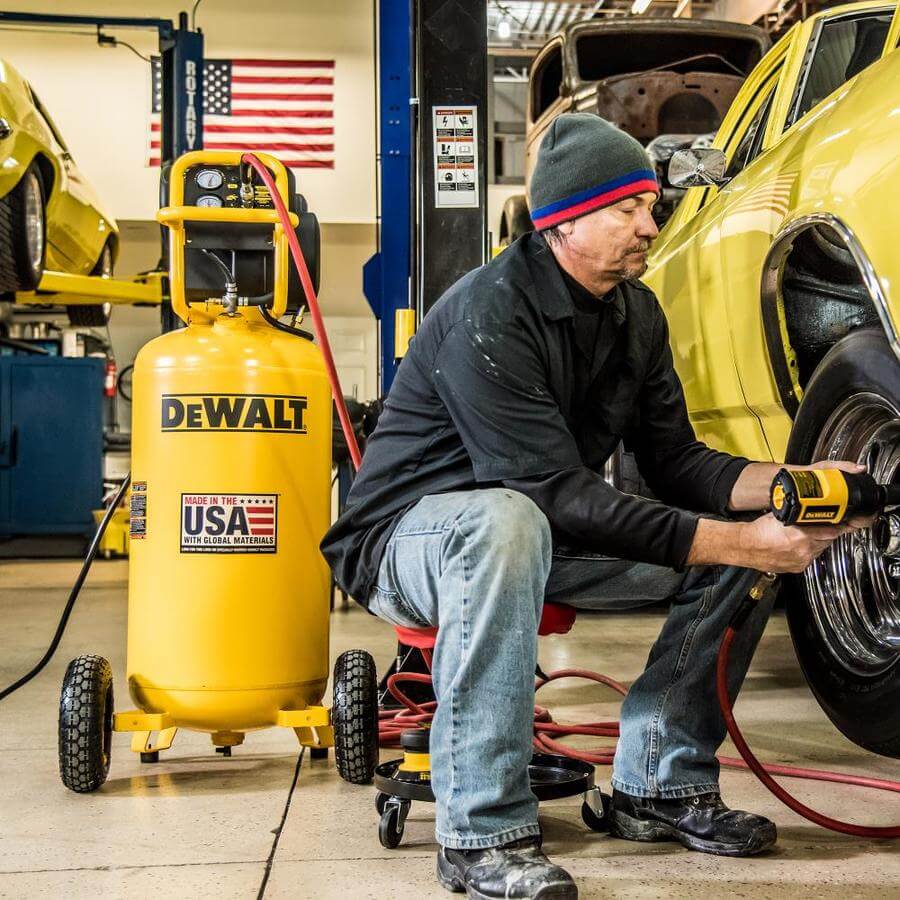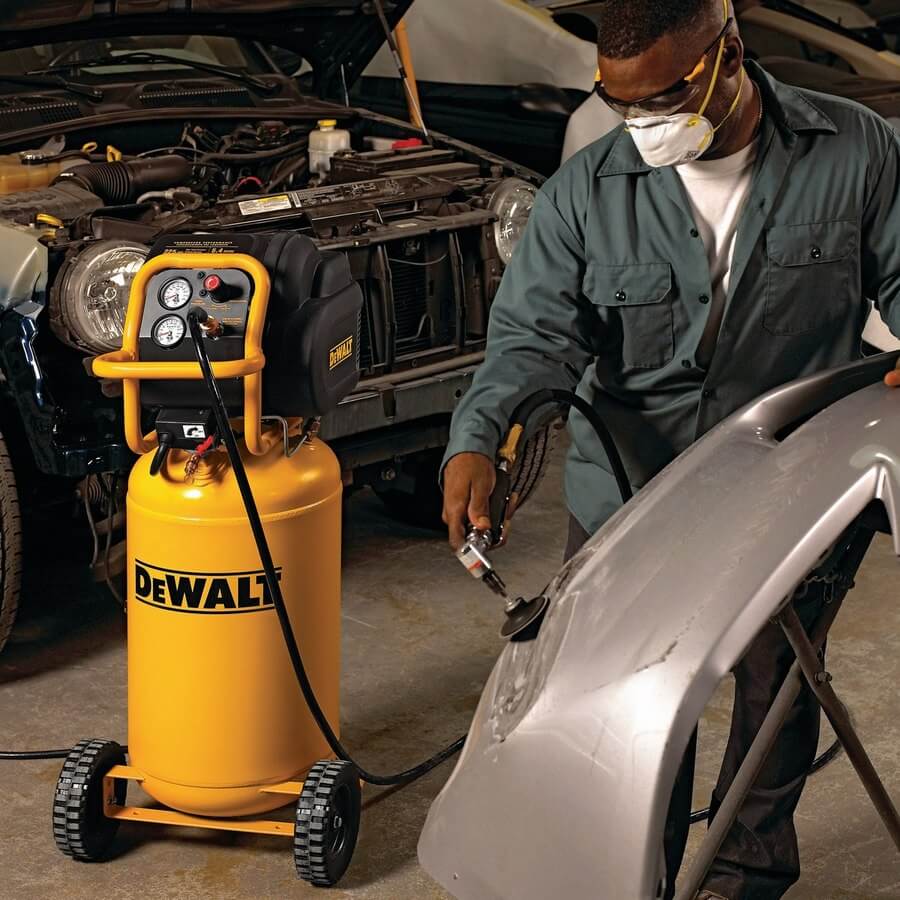 What to Look for When Choosing an Air Compressor for Your Home Garage
When buying an air compressor, you'll need to understand some of the terms that manufacturers use to describe their products' performance. Only so can you grasp the capacities and limitations of the air compressor you are buying and prevent wasting money on a model that will underperform.
PSI
PSI stands for Pounds per Square Inch and is the measuring unit used to describe air pressure. PSI is one of the two main considerations when selecting an air compressor. Most tools will require between 70 and 90 PSI to operate, but impact wrenches can require significantly more. Simply make sure the air compressor you have your eyes on is powerful enough to power your tools.
CFM
CFM stands for Cubic Feet per Minute, and it relates to the volume of air produced. In addition to PSI, CFM is an important factor when picking your compressor. The CFM needs of an air tool vary according to what the tool does.
If you know your way around cars, think of it as the relationship between horsepower and torque.
Examples of Air Tool Demands
| | |
| --- | --- |
| Angle Grinder | 7-9 CFM@90PSI |
| ⅜" Impact wrench | 4.5-5 CFM@90PSI |
| Paint Sprayer | 3-11.3 CFM@90PSI |
| Framing Nailer | 2.2 CFM@90PSI |
| Tire Inflator | 1-4 CFM@90PSI |
Power Supply
You will also need to figure out the power supply for your air compressor. By nature, these are power-hungry devices, and hooking one up to a circuit with too small of a breaker or other items drawing power can cause the breaker to trip.
You can figure out how big a breaker your compressor requires using a little math. To convert horsepower to watts, multiply the hp by 746 to get watts. Then, find the power supply demand of the motor. Finally, divide the result of the first equation by the motor's voltage requirement to get the required running amperage. You'll need a breaker with a larger capacity, so size up.
However, this is only true for the bigger air compressors running on 220-230V. Small pancakes models running on 110V should work just fine in any wall outlet.
Operational Noise
Air compressor motors are usually very loud. Hence, if you plan on operating your air compressor indoors, you should consider the noise output measured in decibels (dB).
Most compressors will operate between 60db and 90db. That's the difference between a "normal" conversation and a power lawnmower. For comparison purposes, most state laws consider exhaust noises to be illegal over 85dB.
It's worth mentioning though that decibel levels are exponential. The difference between lower and higher volumes intensifies rather quickly.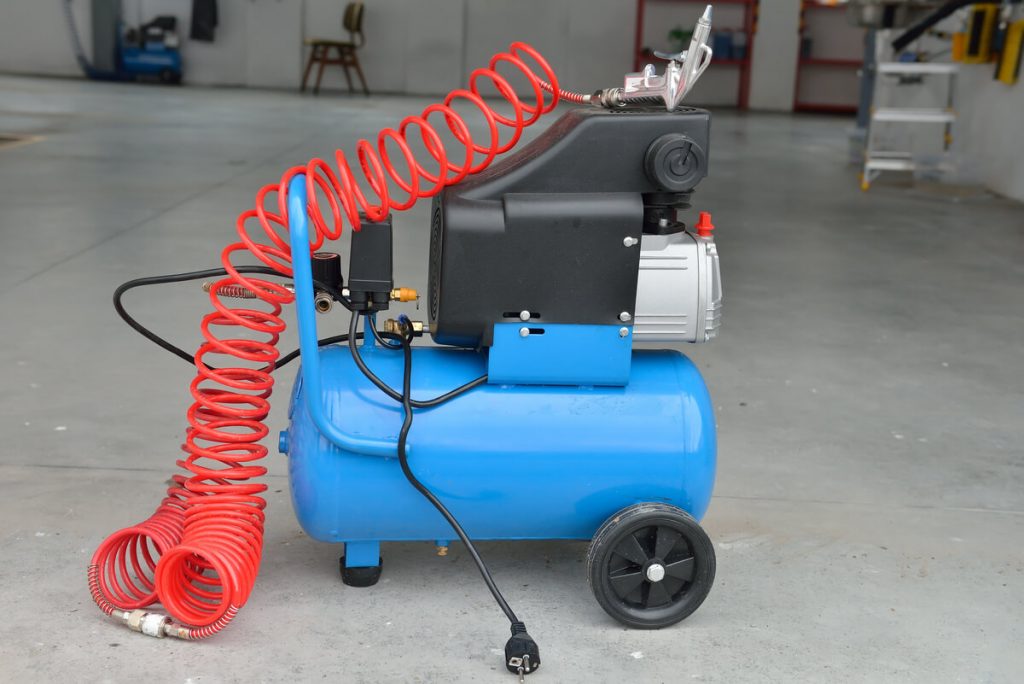 Capacity
The compressor's air capacity determines the duration you can run air tools before the tank must be refilled. Larger tanks are heavy and must be safely mounted but can operate for longer periods without refilling. The refilling rate is determined by the tank and pump's size, in addition to the PSI and CFM rate.
Air Compressor Size
When selecting an air compressor, you should identify the tools you are most likely to use and buy a unit that meets those needs. Many times, a bigger than necessary air compressor does you no favors and will just take more space than needed. The best way to determine the right air compressor for your garage is to select a model capable of handling the most demanding tool you use.
Keep in mind that tools that are used for longer continuous periods, such as spray paint guns and sanders, will require a bigger tank capacity, while impact wrench will require a more powerful output but could do fine with a smaller tank.
Additional Considerations When Buying an Air Compressor
One of the key things to consider before buying an air compressor for your home garage is the additional parts essential to the tool's operation. For instance, all compressors need a pressure regulator, a safety check valve, and a pressure switch. Most models will come equipped with those from the factory, so just make sure it does.
Also, when using an air compressor, water contained in the air will accumulate in the tank. It is then forced into your tools, causing inconsistent performance and potential damage to the tool. Consequently, you should install an in-line air dryer to prevent moisture problems.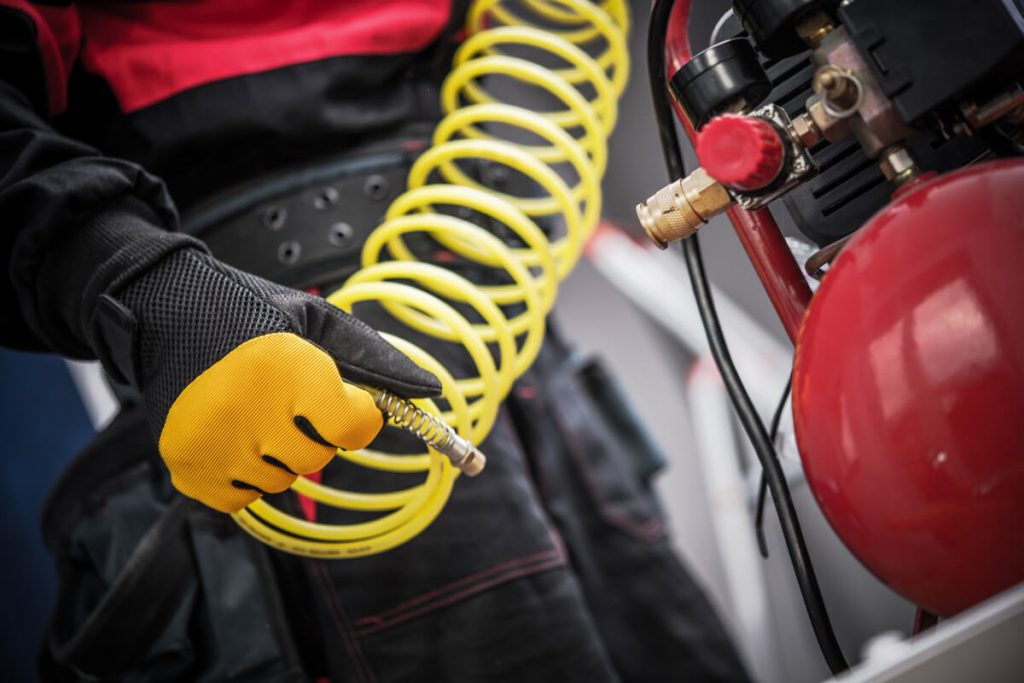 Frequently Asked Questions (FAQs)
What are the advantages of using air-powered tools?
Air tools are often less expensive, longer-lasting, and more versatile than electric counterparts.
Are air tools more powerful than electric tools?
Electric tools lose efficiency during operation while 100% of the rotational force is available to an air tool, providing better power and torque.
Are portable air compressors worth it?
One of the best things about portable air compressors is the ability to take them to other areas. Often, you may only be going to the other side of the yard, but a mounted air compressor would require a tremendously long air hose.
Can I use a portable air compressor to paint a car?
Yes. In fact, our top pick for the best portable air compressor can run an HVLP spray gun rather well and for a good length of time without losing pressure. However, if it was me, I would run a couple of tests beforehand and make sure to monitor how long it takes for the tank to run out.
I will never mention it enough; you really don't want to have the air pressure go down while spray painting a car.
Do I have to drain the water from my air compressor?
Yes. Over time, your compressor will accumulate water. Hence, if you use your compressor regularly every day, you should drain it weekly. Also, it's a good idea to install water removing device to prevent water from being forced into your tools and potentially causing the internal mechanism to rust.
Verdict
Finding the perfect air compressor for your home garage depends on several critical factors. However, once you have a good idea of how you intend to use your compressor, picking the right one is relatively easy. The list we prepared today gives you the line on the best air compressors for different types of use and covers the needs of most people.
If you need a portable and quiet model to use inside your home garage without making a fuss and annoying everyone in the house, get your hands on the Makita Mac320Q. On the other hand, if you want a good all-arounder that won't cost you an arm and a leg, I'd go with the Ingersoll-Rand Garage Mate (in fact, I did. That's the model I have at home). And if you only want the best of the best, no need to look any further, the Ingersoll-Rand Two-Stage compressor is your best bet. It's slightly more expensive, but it could be the last air compressor you'll ever buy!