EDITOR'S PICK
Milwaukee 2457-21 M12 Cordless Ratchet Kit
35 ft-lbs of torque and 250 RPM
Variable trigger
Durable M12 battery with 30-minute quick charge
Built-in LED light helps in dark areas
Precise onboard fuel gauge
PREMIUM PICK
Makita RW01R1 12V max CXT Cordless Ratchet Kit
Reputable brand
Very powerful motor – 800 RPM and 35 ft-lbs of torque
Extremely versatile design
Interchangeable 1/4 and 3/8 anvils
BUDGET PICK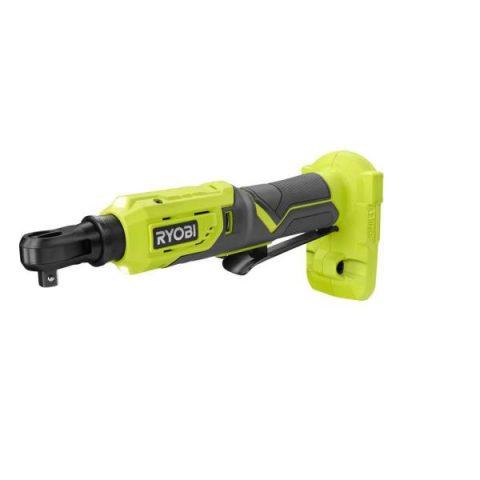 Ryobi 18-volt ONE+ Cordless Ratchet
35 ft-lbs of torque and 230 RPM
Rugged plastic housing
Interchangeable batteries
Unique rotating head
Built-in LED light
Are you looking for an electric ratchet that perfectly suits your needs and makes working around cars easier? For years, amateur and professional mechanics have relied on traditional hand-operated ratchets when working with nuts and bolts. Although these are just fine, their usage can be time-consuming and unsuitable for operations in tight places.
Power tools may be a better option, especially when performing repetitive tasks. However, until recently, power tools were usually air-powered, making them a little less suitable for home use. Compressors are expensive, and unless you have a big garage, there's much chance you simply can't get one. Nonetheless, thanks to battery technology improving at full speed these days, battery-powered tools are now more affordable and more reliable than ever. And even better, they don't require complex infrastructure, making them ideal for amateur and DIY users but also professional auto mechanics.
That being said, with the wide range of battery-powered tools out there, it's not always easy to select the right one. To help you with that, we have tested and reviewed some of the best cordless ratchet currently on the market. We will also explain the main differences between various types of ratchets, outline the pros and cons of each and give out a couple of tips and tricks to help you choose a model that will fit your needs while also making sure you get the most bang for your bucks.
Cordless Electric Ratchet Reviews
Milwaukee is a famous name in the business, with its cordless impact wrenches being an unavoidable part of most auto repair shops. Taking a share in the growing electric ratchet market segment is a logical step for a firm with such heritage.
The Milwaukee M12 Cordless Ratchet is a capable tool that offers a wide range of applications. With an electric motor that delivers up to 35 ft-lbs of torque, it can take on even the most demanding jobs. The maximum speed it produces is 250 RPM, and a variable-speed trigger will ensure better control while fastening any fastener you come across.
Furthermore, this ratchet comes with a durable M12 battery and a fast 30-minutes charger. The combination of prolonged battery life and short charging times makes it perfect for professionals and heavy-duty applications.
Meanwhile, the built-in LED light is helpful when working inside engine bays, as it gives a better overview of the work area. Another useful feature is the precise battery life indicator, providing a clear insight into the remaining battery capacity.
However, all products have one or more flaws, and this Milwaukee ratchet wrench is no exception. With a weight that exceeds 4 lb, this ratchet is among the heaviest on this list.
Regardless of this minor downside, the Milwaukee 2457-21 M12 Cordless Ratchet is a well-balanced tool capable of tackling all sorts of work.
I've said it before, and I will say it again; you simply can't go wrong with Milwaukee's cordless tool lineup. If you work as a professional auto mechanic, this is the one you need.
Pros:
35 ft-lbs of torque and 250 RPM
Variable trigger
Durable M12 battery with 30-minute quick charge
Built-in LED light helps in dark areas
Precise onboard fuel gauge
Cons:
Can be heavy for some users
On the pricier side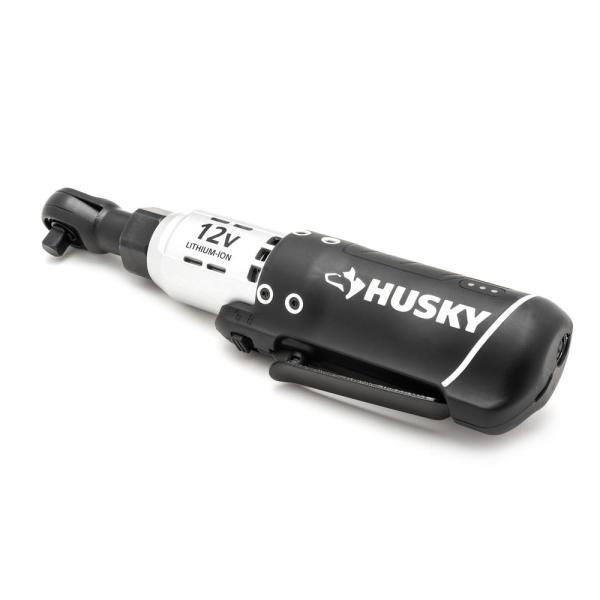 Although the name has been around for a while, Husky is now an exclusive in-house brand by Home Depot. Big store chains teaming up with manufacturers to create more affordable products are quite common today. Thus, Husky Cordless Ratchet proves that tools like these may even compete with devices from more established manufacturers.
A short glance at the numbers reveals a maximum torque of 30 ft-lbs and output speed going up to 230 RPM. With specs comparable to other class-leading models, this ratchet is more than enough for most users and usual applications.
Thanks to the ergonomic and non-slip zone, the middle section provides sufficient grip. Adjusting and maintaining the speed is also quite easy, thanks to the precise variable speed control lever.
When it comes to downsides, both battery life and charging time stick out as the most notable ones; not only does the battery drain rather quickly, but it will also take up to 1.5 hours to fully recharge it. It can be a real drawback when performing constant work for hours on end.
Other than that, the Husky cordless ratchet is a well-rounded and capable tool that offers superb value for money. It's especially well-suited for beginners looking for a good first cordless ratchet and weekend DIYers.
Pros:
30 ft-lbs of torque and 230 RPM
Comfortable to hold
Anti-slip grip
Precise control lever
Strong LED light
Very affordable
Perfect for beginners
Cons:
Battery life is average
Takes 1.5-houts to recharge
The G12 Series from ACDelco shows that a powerful electric ratchet doesn't have to be heavy or bulky. With an output torque that goes up to 57 ft-lbs, this is the most powerful model on this list. It's specially designed for heavy-duty applications, such as working on suspension or drivetrain components.
Meanwhile, the durable aluminum housing also helps it to be lighter than most, weighing slightly above 3 lbs. Maneuvering in tight spaces is also easy, thanks to a clever design that makes the whole ratchet quite slim and compact.
Nonetheless, with a maximum output speed of just 160 RPM, this cordless ratchet is not among the fastest on this list. Still, this is not something that may represent a problem for most users. Unless you are working as a rally mechanic, you probably won't see the difference between 250 and 160 RPM on your timesheet anyway.
The real downside, though, is the battery, offering a quite limited capacity. But the fact that this ratchet comes with two separate batteries gives an easy way around this problem.
All in all, the ACDelco G12 Series cordless ratchet is a powerful tool that offers great value for money. It's a little more expensive than the Husky model mentioned above and, thus, might be better suited for automotive technicians. On the other hand, if you are an apprentice and you are lucky enough to have the budget for it, you can be sure it will last you for years to come.
Pros:
Compact and lightweight design
Very powerful (57 ft-lbs) electric motor
Easy to maneuver in tight spaces
Comes with two separate batteries
Great value for money
Cons:
160 RPM could be slow for some
Short battery life
Although being a relatively fresh name among electric tool manufacturers, Ingersoll Rand is well known for high-quality pneumatic tools, especially in the automotive industry.
However, it took a bit of a different approach to the cordless ratchet market with its R1130-K1 unit. Still, while the overall design might be different, the basic parameters are quite similar to other models on this list. Delivering 30 ft-lbs of torque and spinning up to 260 RPM, it's comparable to leaders in this class, such as the Milwaukee 2457-21 mentioned earlier.
Meanwhile, an aluminum body and well-design mechanism help keep the weight just over 3 pounds, making it very light. That being said, the most notable feature is the unique upper-body design, which is quite slim and slender, ideal for use in tight spaces.
Unlike most sets, this ratchet is available as a separate unit or in combination with the battery pack and charger. The short battery life is also the main downside of this ratchet. Compared to other devices, it will drain at a much faster rate, especially under heavy loads.
It's also worth mentioning that the middle section is a bit wider, resulting from the unique slim design. Some users claim this causes issues when engaging the ratchet, as the trigger may be difficult to operate.
Overall, the Ingersoll Rand R1130-K1 Cordless Ratchet is as powerful as the Milwaukee 2457-21 while being as light as the ACDelco ARW1201. Unfortunately, it's also a bit more expensive. However, if you work 40 hours a week in the shop, you know that cheap tools simply won't do the job. If what you want is a cordless ratchet that is as powerful as reliable, the Ingersoll Rand R1130-K1 is a no-brainer.
Pros:
30 ft-lbs of torque and 260 RPM
Lightweight and slim
A great choice for tight areas
Designed with pro mechanics in mind
Cons:
Short battery life
Trigger might be difficult to operate
More expensive than most (but totally worth every penny!)
Makita is another reputable cordless tool manufacturer, renowned among all those who work with power tools on a daily basis. Its experience of building capable and reliable tools is something that spans more than a century.
With the RW01 model, Makita aims at mechanics and builders looking for a versatile electric ratchet. The maximum torque of 35 ft-lbs sets it among the more powerful units on this list. Meanwhile, the variable and easy-to-control output speed, which goes up to 800 RPM, ensures fast and precise fastening of bolts and nuts.
Users who spend a lot of their time working with long threads may find it quite helpful. However, the availability of two interchangeable anvils is what really sets it apart. With a 1/4-in drive for smaller sockets and 3/8-in for larger ones, it's easy to find the best combination — not to mention that you'll also save yourself the hassle of having to buy two different electric ratchets.
Another distinctive feature of this ratchet is the ability to tighten bolts by hand while the power is off. It can prove quite worthy in certain situations, such as starting a thread or tightening bolts by feel.
The only notable shortcomings include the weight that exceeds 5 lbs and an unusual battery design. Its elongated shape makes the whole assembly a bit bulky, which can be an issue when working in tight spaces.
Still, with no other flaws worth mentioning, this is a cordless ratchet that does a great job covering all the bases.
Pros:
Reputable brand
Very powerful motor – 800 RPM and 35 ft-lbs of torque
Extremely versatile design
Interchangeable 1/4 and 3/8 anvils
Cons:
On the heavier side at 5 lbs
Bulky design and unusual battery shape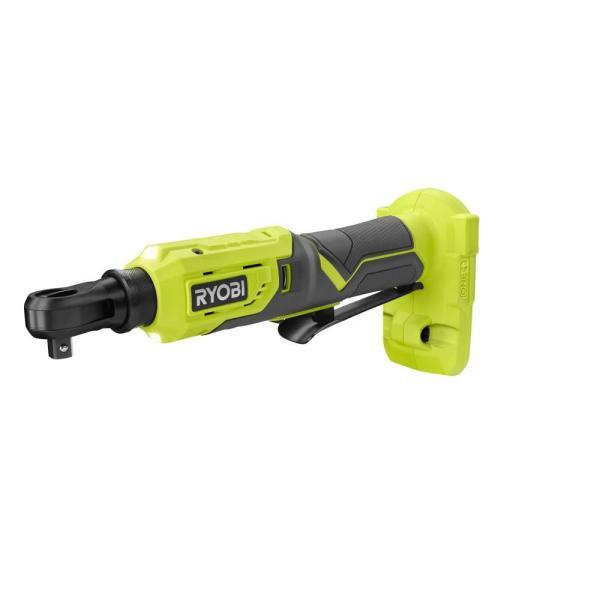 Being a manufacturer specializing in cordless power tools, Ryobi shouldn't have a problem making a good electric ratchet. And judging by what it has to offer, its 18 ONE+ model lives up to the expectations.
With 35 ft-lbs of torque and a maximum speed of 230 RPM, it's powerful and fast enough for most jobs. Although many users prefer devices made out of metal, the rugged plastic housing proves to be quite durable. Moreover, the middle section is very ergonomic, making handling easier and more comfortable than most.
The Ryobi 18-volt ONE+ ratchet is the only one here that comes without the battery, only available as a separate unit. However, the fact that batteries are interchangeable with other Ryobi tools could be a big upside for some users. That being said, the battery's shape and placement make the bottom part quite bulky, which can be a problem in tight spaces.
Still, a unique rotating head with four positions makes up for this shortcoming to some extent. Moreover, the Ryobi features a LED light and a very competitive three-year warranty.
On the whole, it's a perfect and affordable choice for amateur and DIY users, especially given its very affordable price tag.
Pros:
35 ft-lbs of torque and 230 RPM
Rugged plastic housing
Interchangeable batteries
Unique rotating head
Built-in LED light
Cons:
No battery included
Bad battery placement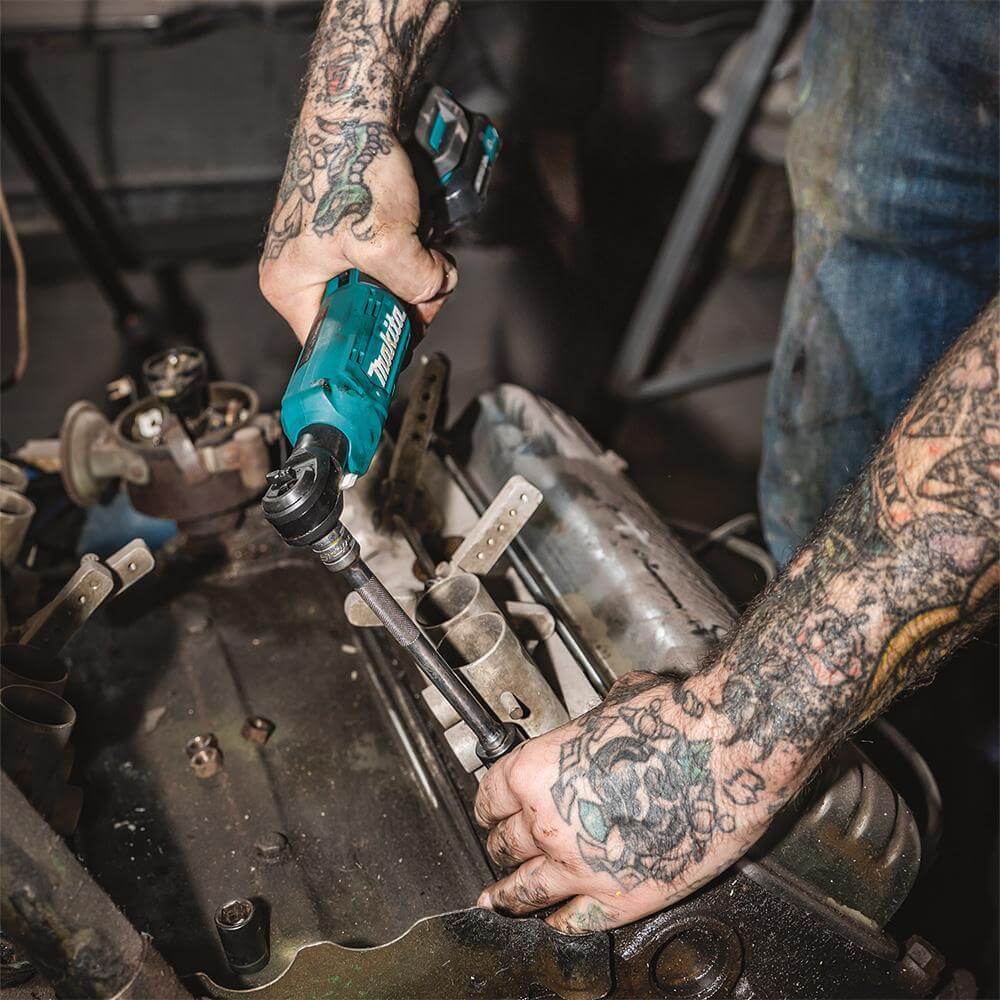 Types of Power Ratchet Wrenches
A traditional hand ratchet is a simple and reliable device that is a part of almost any toolset. Its most important feature is the ability to transfer torque in one direction while moving freely in the opposite one. During this return movement, the ratchet creates a characteristic sound, resulting in its name.
It was once one of the most advanced tools whose application enabled significant increases in productivity and work comfort. However, hand ratchets are tools that still may be labor-intensive and require sufficient space for operation.
Pneumatic Ratchet Wrenches
Pneumatic ratchets represent the next level in compact socket tools. While the shape may be similar to hand-operated counterparts, pneumatic ratchets have a turbine mechanism inside. Not only does this make work easier, but it also enables operations in very tight spaces. However, the downside of these ratchets is the need for a constant source of compressed air. It is not something that all worksites or DIY-er have access to.
Cordless Ratchet Wrenches
Electric ratchets keep all the strong points of their pneumatic siblings while eliminating the need for compressed air. The main idea behind both types of ratchets is very similar, with driving power being the only real difference.
Instead of a turbine, electric ratchets use a strong motor that spins the socket. Just like any other electric motor, it is efficient and easy to control. Moreover, recent versions use powerful and efficient batteries, making them portable and even easier to use.
With no hoses or extension cords on which somebody can trip over, cordless electric ratchets are also much safer. All these upsides helped cordless ratchets to become popular among both professional and amateur users.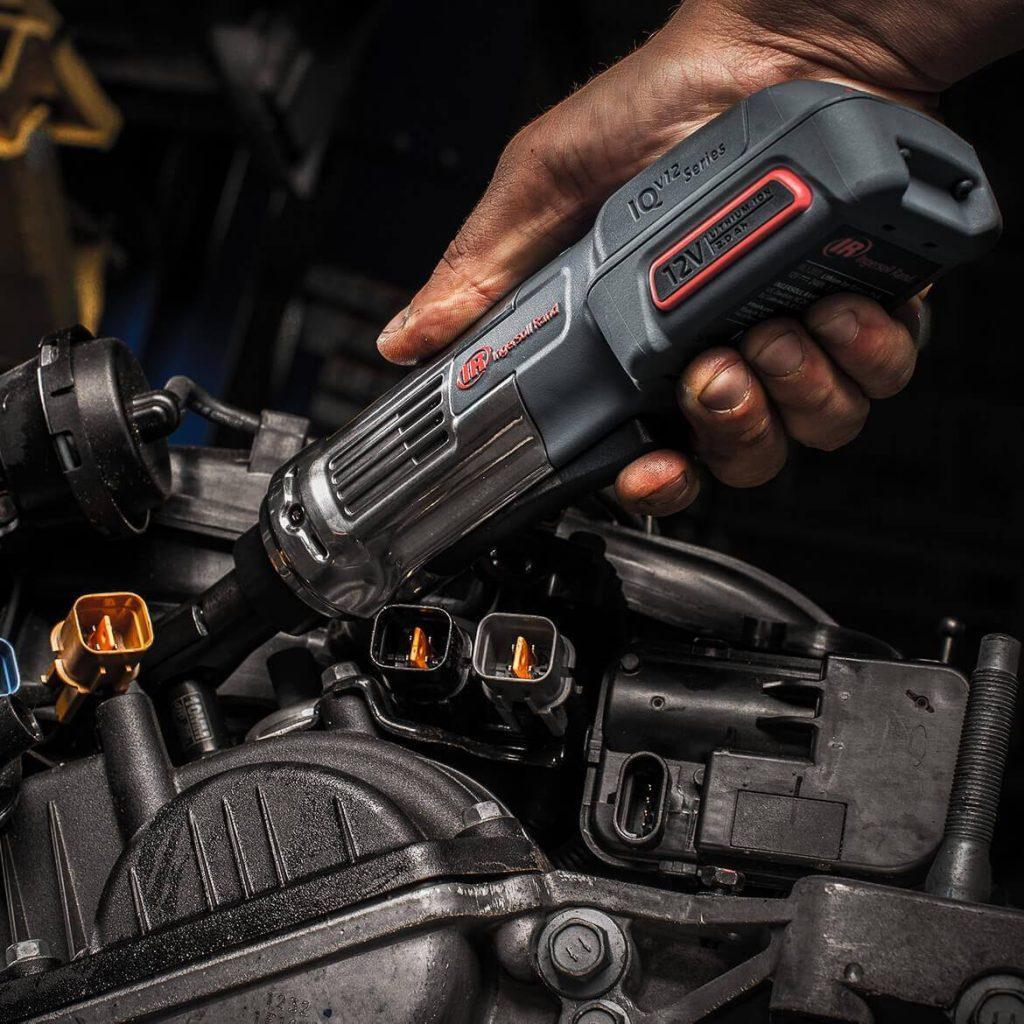 How To Choose A Cordless Electric Ratchet Wrench
Like any other tool or piece of equipment, choosing the right electric ratchet depends on several factors. Finding numbers and other specs are easy, as most of them are available on the internet or in brochures. However, deciding on which factors are most important can be a much harder task. Thus, it's essential to consider the work you will do with the ratchet and how often you will use it.
Choose a Tool That's Powerful Enough for Your Needs
Choosing a tool with enough power is the first step, as this ensures the ability to perform its intended purpose. The maximum torque it can produce shows how powerful it is.
However, deciding how much power you need from your ratchet depends on how you plan to use it. As a rule of thumb, bigger nuts and bolts will require more torque when fastening them down.
If most of your work is around drivetrain or suspension components, you should choose a strong ratchet. Still, even the most powerful ones have their limitations, and sometimes impact guns or breaker bars might be the only solution.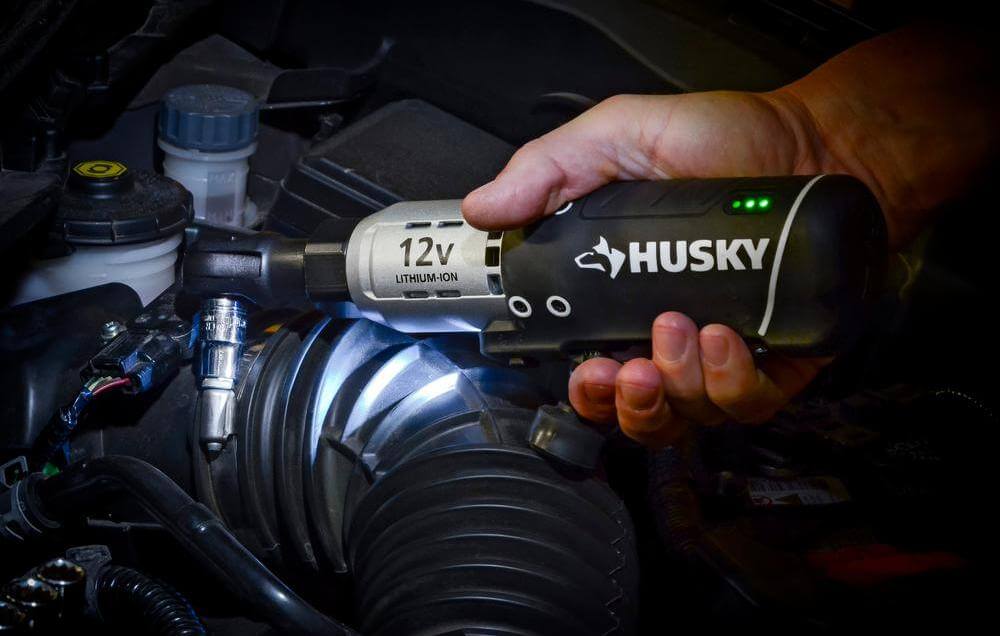 Higher RPM Means Quicker Fastening
One of the major advantages of any electric ratchet is the ability to fasten nuts and bolts faster. Besides saving time, it also reduces fatigue and makes the whole process more effective. It is especially true when there are a lot of long threads involved or multiple small bolts to remove and reinstall. If you frequently replace oil pans or remove dashboards, you know what I mean.
But as the famous proverb says, "speed is nothing without control." The ability to adjust the speed at any moment and without delay can prevent over-tightening or thread damage. You will find this very important when working with aluminum or plastic components that are easy to damage.
Battery Life and Quick Charging
Things like battery life and charging times are significant factors with all cordless devices. Not only should the battery last long enough, but it also needs to recharge at a fast rate.
Professionals who use these tools a lot and mobile mechanics away from the workshop will find this especially crucial. Some applications may require two batteries, ensuring one of them is always at a full charge.
However, amateur and DIY users may choose among electric ratchets with shorter battery life and longer charging time. Most of them use their tools occasionally and with limited durations. Unless you think you might use your cordless ratchet for more than one hour at a time, battery life might not be as crucial.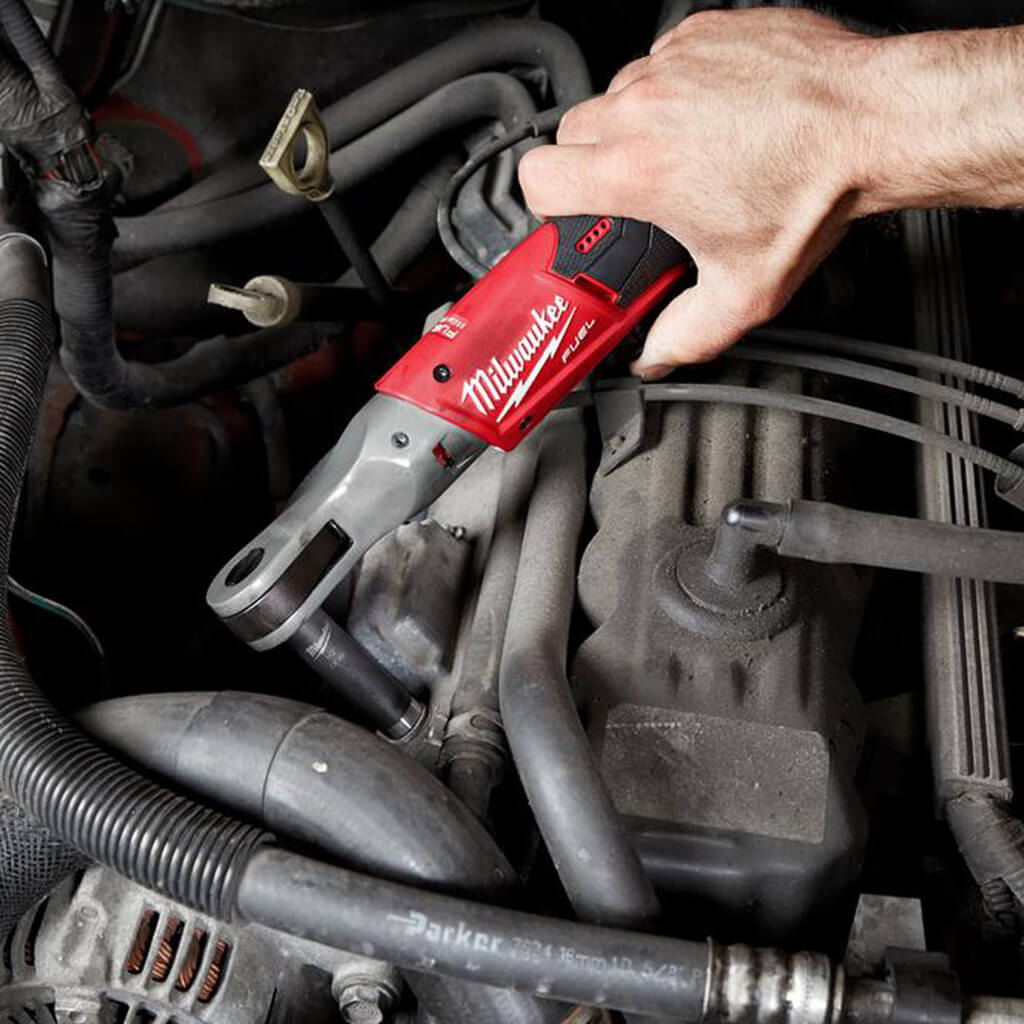 Size and Ergonomics
One of the most distinct differences between electric ratchets and other power tools is their characteristic look and configuration. Having the layout and overall shape that mimics the traditional ratchet ensures usage in spaces with limited access.
Nonetheless, there are noticeable differences between various models, as some are more compact than others. It can be a deciding factor when working on small and compact cars, whose engine bays offer limited access. Notably, having a slim ratchet will allow the user to maneuver it into position and get the job done a lot quicker. Depending on the kind of work you do, size might be more important than power or battery life.
You be the judge.
Verdict
As we have seen in this article, there is a wide selection of cordless ratchets available today. Besides the manufacturer itself, differences between devices range from power and battery capacity to overall shape and size.
When selecting the tool, it is important to consider all requirements that are necessary for its application. For instance, electric ratchets from Milwaukee and Makita are well-balanced tools covering all bases, although a bit more expensive.
ACDelco offers a device with considerably higher output torque, while the one from Ingersoll Rand is much thinner than others. In the end, Ryobi and Husky bring in more affordable alternatives that might be the best pick for amateur users.
| | | | | | | |
| --- | --- | --- | --- | --- | --- | --- |
| | Milwaukee | Husky | ACDelco | Ingersoll Rand | Makita | Ryobi |
| Maximum output torque (ft-lbs) | 35 | 30 | 57 | 30 | 35 | 35 |
| Maximum speed (RPM) | 250 | 230 | 160 | 210 | 800 | 230 |
| Drive size (in) | 3/8 | 3/8 | 3/8 | 3/8 | 1/4 – 3/8 | 3/8 |
| Voltage | 12V | 12V | 12V | 12V | 12V | 18V |
| Battery capacity (Ah) | 1.5 | 1.8 | 1.7 | 2.0 | 2.0 | N/A |
| Battery and charger included | YES | YES | YES | YES | YES | NO |
| Weight (lbs) | 4.7 | 2.1 | 3.1 | 3.5 | 5.1 | 2.4 |