EDITOR'S PICK
OTC 9320 Stinger Series Bottle Jack
Rated for 20 tons
6-7/8" stroke length
All-metal construction
Stainless steel pump piston
Three-part handle
Hydraulic lifting mechanism
2-15/16" screw extension
PREMIUM PICK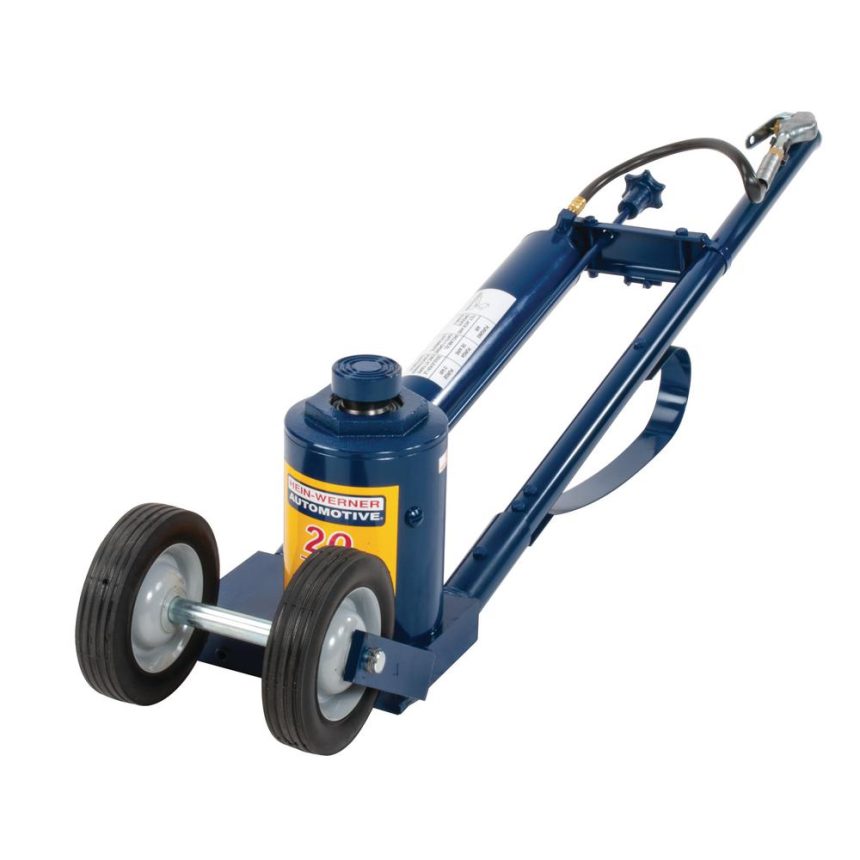 Hein Werner HW93731 Air/Hydraulic Truck Jack
20-ton weight rating
9-1/2" to 17-1/2" lift range
It comes in a wheeled cart configuration
39-1/2" long handle
Steel construction
2-1/2" screw extension
BUDGET PICK
Torin T91003B Big Red Hydraulic Bottle Jack
10 ton or 20,000 lbs lifting capacity
9-1/16″ to 18-1/8″ lifting range
Drop forged steel welded body
Hydraulic lifting mechanism
Integrated overload valve
A good quality bottle jack is something that every mechanic or weekend DIYer should have. Even though a bottle jack performs the same basic functions as any other floor jack, it has several advantages that make it a superior option in certain situations.
The biggest and most obvious advantage is portability. Thanks to their compact dimensions, bottle jacks are easy to carry or store, making them perfect for mobile mechanics and road-side breakdown scenarios. These jacks are also considerably cheaper than their larger counterparts and possess a simpler design.
However, just like any other jack type, there is a ton of models available out there. And unfortunately, I have used a ton of them in my career and not all bottle jacks are equals. To help you find a bottle jack that will both fit your needs and budget and that you won't regret buying, we have prepared a list of 7 of the best bottle jacks available on the market.
Of course, all jacks on this list were handpicked after a tough and rigorous selection process. We also tried to include diverse products catering to a wider audience. No matter whether you are a professional mechanic busting his ass in the shop 40 hours a week or just wrenching on the side, there's one for you in there.
Enjoy!
Bottle Jack Reviews
Torin's Big Red T91003B model is as basic as a bottle jack can be. Nonetheless, it's a great bottle jack that is not only quite inexpensive but also very easy to use. It is the perfect option for those with limited use or beginners in the field. With a 10-ton or 20,000 lbs lifting capacity, this bottle jack will lift anything from small hatchbacks to heavy-duty pickups with absolute ease. Moreover, if you need either more or less weight capacity, you can choose from a range of 2 to 50-ton bottle jacks offered by Torin.
In terms of lifting range, the T91003B model is quite versatile with a maximum height of 18-1/8". However, watch out if you drive a lower car since it can only be used on vehicles with 9-1/16" minimum ground clearance. There is an adjustable screw extension on the top side that further improves usability. Mounted atop the screw mechanism is a serrated saddle that provides a secure gripping point onto your vehicle. The saddle has also been heat-treated to impart optimum strength.
If you only plan to use your bottle jack only a couple of times a month, this one is cheap and will do the job just fine. No reason to shell out the big bucks if you aren't using it that frequently. However, if you are a professional technician, we have better models below.
Highlighted features
10 ton or 20,000 lbs lifting capacity
9-1/16″ to 18-1/8″ lifting range
Drop forged steel welded body
Hydraulic lifting mechanism
Integrated overload valve
Pros
Low cost
Suitable for a wide range of vehicles
Adjustable screw top allows room for flexibility
Strong and durable construction
Easy to operate
Sufficient weight lifting capacity
Safety mechanism prevents lifting beyond limits
Meets all ASME standards
1-year manufacturer warranty
Cons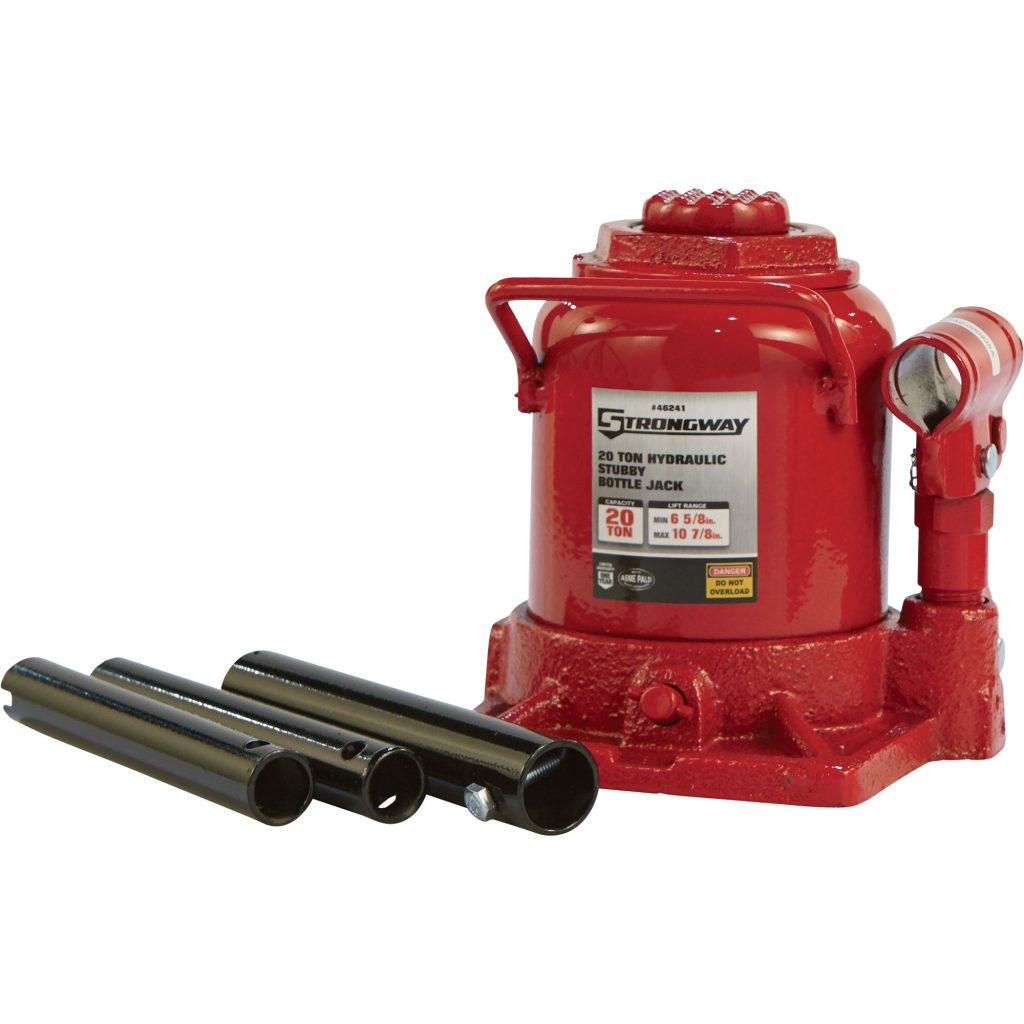 The second bottle jack on our list is the Strongway 46241 model. Since it is a stubby model, it is perfect for lifting vehicles that sit lower to the ground.
The Strongway 46241 has a lifting range of 6-5/8″ to 10-7/8″, which may not seem like much, but you can lift up to 20 tons within that range. Such a high weight rating allows you to use this bottle jack for a variety of heavy-duty applications.
Buyers are ensured complete peace of mind regarding strength and reliability thanks to the all-steel rugged construction. The body is supported by a wide base that acts as a secure foundation. Moreover, you also get a heat-treated saddle that sits atop an adjustment screw mechanism for added flexibility. The saddle is also knurled to ensure optimum grip when engaged.
Tipping the scale at around 20 lbs, this bottle jack is quite portable. Carrying it around is no hassle either, thanks to the steel lifting handle.
If you are looking for a more powerful bottle jack than the previous model but still need it to be on the cheaper side, this is the one.
Highlighted features
20 ton or 40,000 lbs lifting capacity
Steel construction
6-5/8" to 10-7/8" height range
1-1/4" adjustable screw top
Treated and polished piston ram
Pros
Lightweight considered the size
Impressive weight capacity
Stubby design makes it perfect for vehicles with low ground clearance
Ergonomic steel carrying handle makes transportation easy
Compact dimensions make it extremely easy to store
Strong and durable body with a wide base
Low cost
Long-lasting and attractive exterior paint finish
1 year limited warranty
Cons
If you ask me, OTC's 9320 model is one of the best bottle jacks available in the market. No joke. And no matter how big the truck you want to lift is, OTC has a jack for you. Indeed, the 9320 bottle jack is part of OTC's Stinger Series that also has other options available with weight ratings ranging from 2 to 50 tons.
This particular model is rated at 20 tons and features a strong and sturdy metal body with forged components. And for better durability, the hydraulic system's vital components, such as the pump piston and ram, have been chromed to impart anti-corrosion properties.
In most cases, hydraulic jacks tend to develop certain internal problems after a few years of use. However, OTC will send you a seal kit in the box to save you the repair costs. You can use this kit to replace all seals of your bottle jack and significantly extend its life.
In its lowered position, OTC's jack sits 10-5/8" above the ground and has a 6-7/8" stroke length in addition to a 2-15/16" screw extension. Atop the screw extension sits a saddle responsible for gripping the vehicle's underbody.
If you take your tool game seriously, OTC's bottle jack should be at the top of your list—and they aren't that expensive. Yes, they cost slightly more than the previous ones but they are well-worth every extra penny.
Highlighted features
Rated for 20 tons
6-7/8" stroke length
All-metal construction
Stainless steel pump piston
Three-part handle
Hydraulic lifting mechanism
2-15/16" screw extension
Pros
Wide base provides a secure foundation
Chromed parts to impart rust-free qualities
High weight rating
Impressive height range
Lightweight bottle jack
Convenient metal carrying handle
Includes a replacement seal kit
Cons
28 strokes required to raise the jack by just one inch
Torin's TA92006 is the first bottle jack on this list capable of operating not only manually, but also without the operator's effort. If you have an air compressor, you can hook it to this jack, thereby eliminating the need to pump strokes manually. Quick note, though; you'll need a compressor that can supply air at or above 110 PSI for smooth functioning—a portable tire inflator won't do the trick here. However, if you have a compressor powering your air tools, it should be more than enough.
This bottle jack features a rugged steel body, making it durable well beyond the 1 year warranty period. Important components such as the ram have been hardened for additional strength. Moreover, you get a wide base that houses the main bottle jack unit in addition to a large pneumatic system component.
With a 20-ton lifting capacity, there is hardly anything the TA92006 model cannot lift. Besides, you also get a versatile lifting range of 10-7/16″ to 20-1/16″. This is the kind of jack heavy-duty equipment mechanics should be looking for.
Highlighted features
20 tons or 40,000 lbs weight rating
10-7/16″ to 20-1/16″ lifting range
Hydraulic as well as pneumatic capability
High-grade steel construction
100-175 PSI operating pressure
Pros
High value for money

The addition of pneumatic hardware allows greater versatility
Strong and sturdy body
Versatile lifting range
Impressive weight capacity
Chromed piston and rams
The spring-controlled mechanism ensures a prompt return to the retracted position
1-year manufacturer warranty
Cons
Starts to be slightly heavy and definitely not as portable as previous models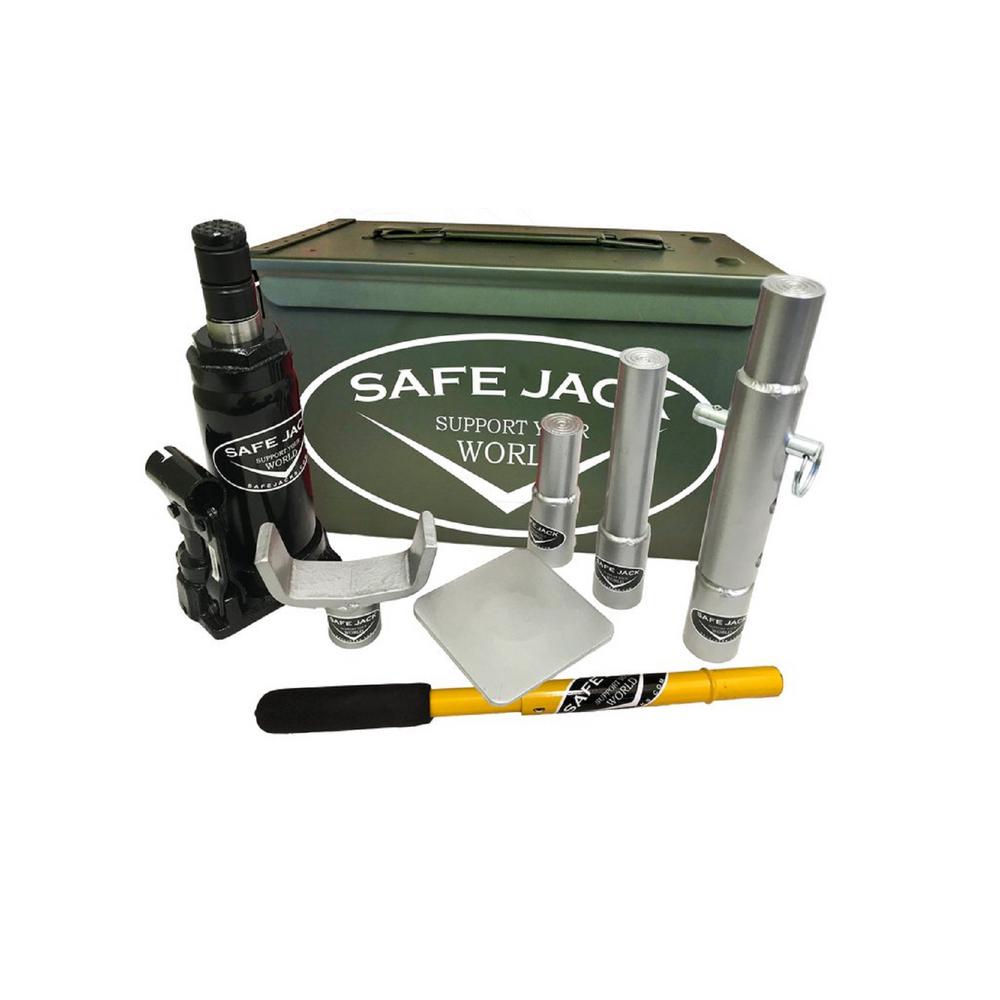 Amid the sea of China-made bottle jacks, the Safe Jack Sergeant 37M model proudly stands out as a rare option with certain components made in the USA. All components feature strong and durable steel construction with a powder-coated finish for a long-lasting appearance and corrosion resistance.
Also, unlike other models, the Sergeant is a lifting kit that includes several attachments making it perfect for off-roading enthusiasts. The 37M kit includes a 3" jack extension, a 6" extension, an adjustable 8.5"-12" extension, two jack pads, a screw collar, and a two-part pumping handle. And the best part is that all of this is packed in a 50 Cal. steel ammunition box made; it doesn't get any more American than that.
Using the included extensions, you get an effective lift range between 8" to 36", making this bottle jack kit one of the most versatile out there and suitable to use in a wide range of scenarios. Moreover, the 6-ton weight rating allows it to be used for off-roaders, farm equipment, trailer homes, etc.
If you own an off-roader and regularly drive off the beaten paths and need a more compact design than traditional jacks for lifted trucks, this is the one you need.
Highlighted features
6 tons maximum weight rating
8" to 36" lift range
Comes in a 50 cal. Ammo box
Includes several extension units and jack pads
Steel construction with powder-coated finish
Pros
Made in the USA
Very versatile lifting kit
Attractive silver and matte black finishes on the attachments and bottle jack, respectively
Ammo box as a carrying case is an excellent addition
Easy to use and transport
Great for off-road situations
Cons
On the expensive side
The bottle jack could use a base plate to secure the foundation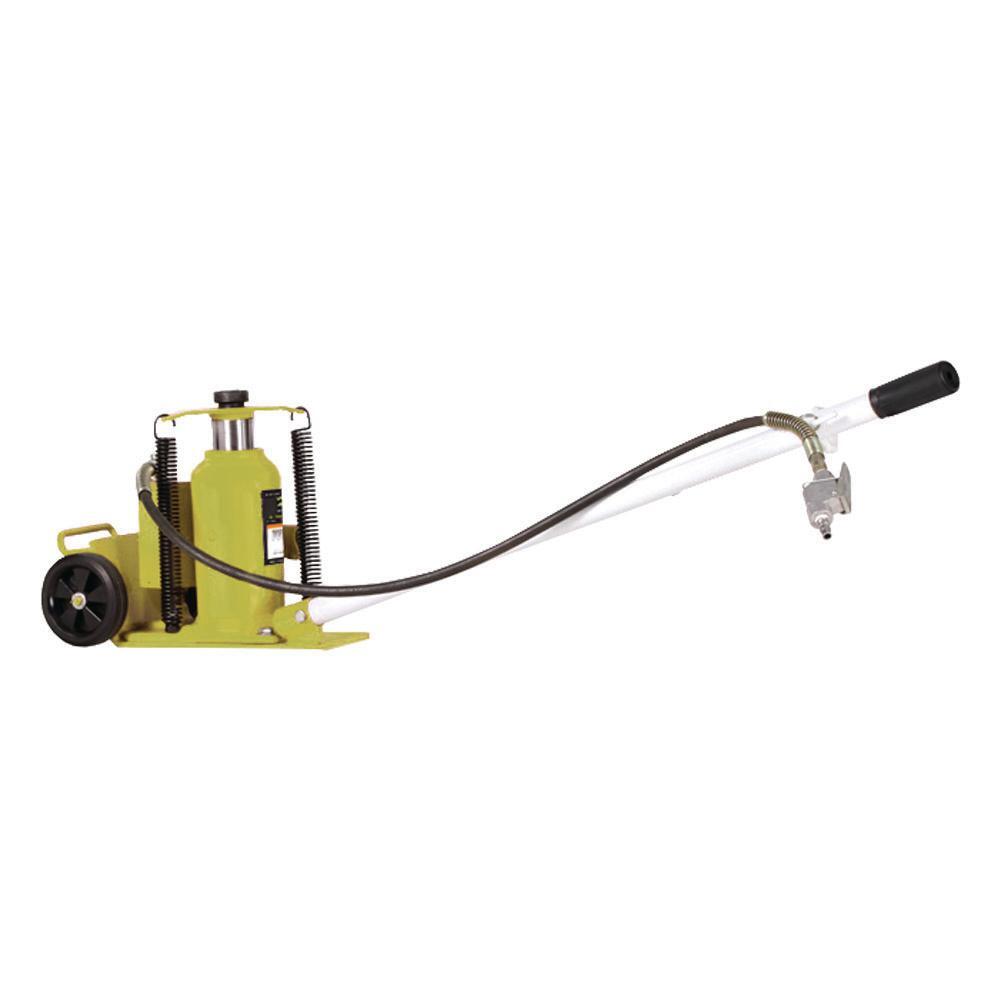 The Esco 10447 is another hybrid bottle jack that can be manually and air-operated. Another unique characteristic of this 20-ton jack is that it comes in a wheeled cart configuration with an extended stroking handle. This makes the operator's life a lot easier by allowing him/her to just wheel the unit under the vehicle without a hassle. Even the handle is of great help as, unlike most other models, you don't have to lie on the ground in an awkward position to access it.
Esco's bottle jack will lift your vehicle to a maximum of 19″ when the adjustable screw top is set to its highest position. Meanwhile, the minimum height comes at 10″. You also get a pair of return springs for a smooth and quick descent to the retracted position.
This bottle jack may come with a comparatively higher price tag, still, when considering the ease of use brought by several unique features, it is hard to find any major downsides.
Of course, this one might not be a jack for weekend DIYers. It's definitely not a bottle jack for weekend DIYers. On the other hand, if you work on heavy machinery all week, it's worth every buck invested.
Highlighted features
20 tons lifting capacity
10" to 19" lifting range
Equipped with return springs
Comes with a wheeled cart
Hydraulic or pneumatic capability
Steel construction
Chromed pump piston and ram
Pros
Lightweight bottle jack
Impressive weight rating
Heat-treated saddle ensures optimum grip
Extra-long handle allows for effortless operation
Long-lasting and strong construction with aluminum air motor
1-year manufacturer warranty
Cons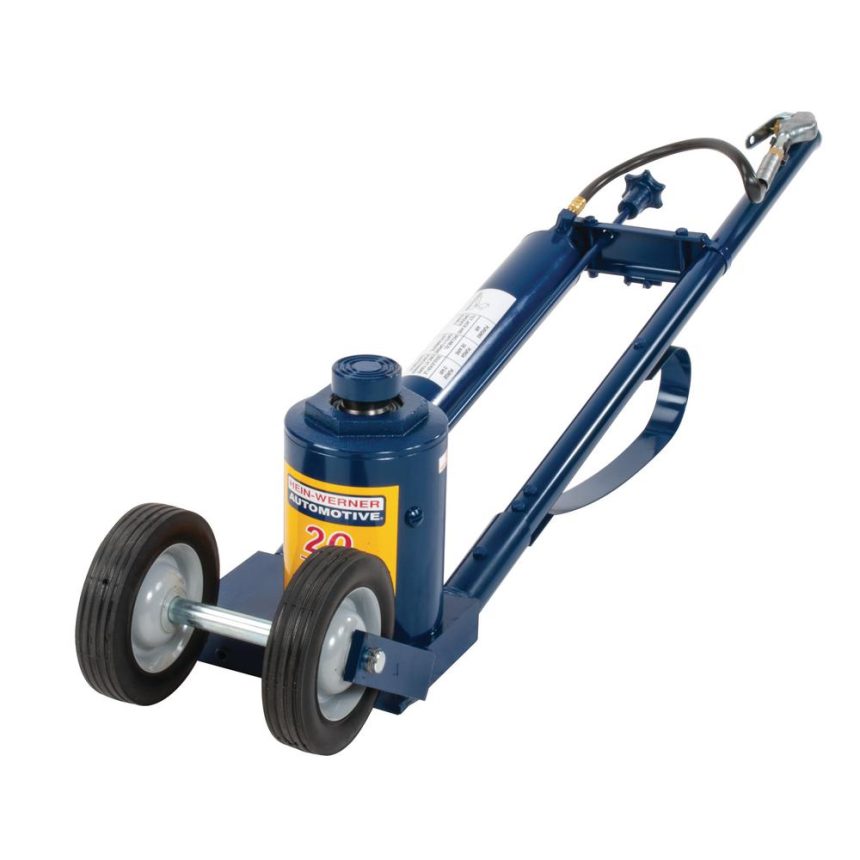 When it comes to heavy-duty bottle jacks, Hein Werner's HW93731model is pretty much the top-level model. It is capable of working under pneumatic as well as hydraulic power, it's incredibly reliable, and it also employs a cart-type configuration similar to the previous model. However, unlike the ESCO jack, you get high-quality rubber wheels instead.
This model features an all-steel heavy-duty body capable of lifting up to 20 tons (or 40,000 lbs), making it suitable for a wide range of automotive and industrial applications.
Hein Werner's bottle jack may cost more than other models, but you also get a lot for your money. Aside from a high weight rating, it is loaded with convenience-enhancing features such as the ability to run on pneumatic power alone, a versatile lifting range (9-1/2″ to 17-1/2″), and protective coating on the ram, among other things. The fact that it is assembled in the USA is icing on the cake.
If you want a bottle jack that can take whatever you throw at it while lasting you for years, look no further, this is what you need!
Highlighted features
20-ton weight rating
9-1/2" to 17-1/2" lift range
It comes in a wheeled cart configuration
39-1/2" long handle
Steel construction
2-1/2" screw extension
Pros
Assembled in the United States
The extra-long handle allows easy reach in tight spaces
Strong and durable construction with ergonomic design
Mobile bottle jack thanks to large wheels
Impressive weight capacity
Very versatile and portable bottle jack
1-year manufacturer warranty
Cons
Pricier
Pneumatic operation requires a professional compressor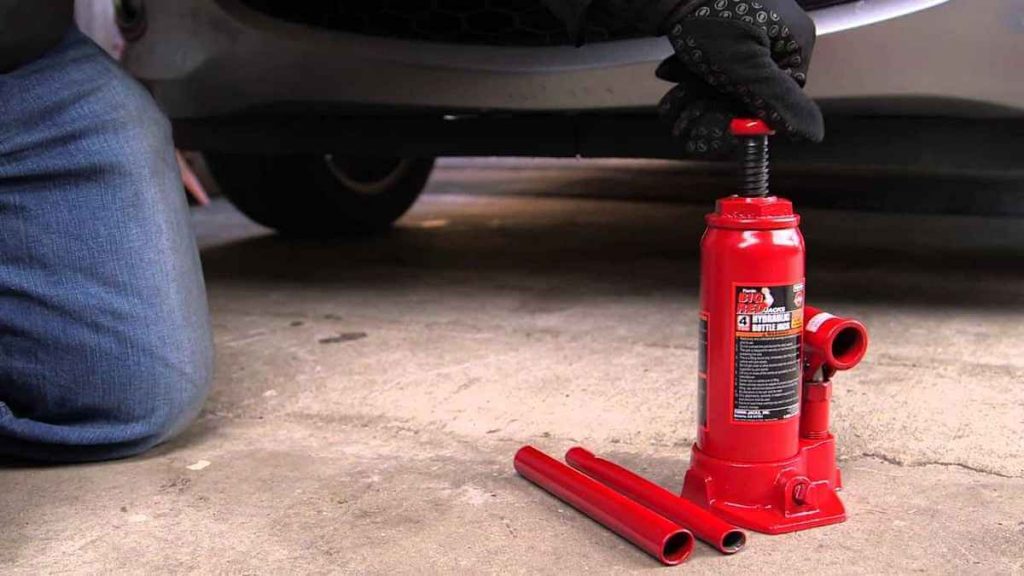 Things to Consider When Buying a Bottle Jack
Weight rating
The weight rating of any bottle jack is the maximum load it can safely lift. Each jack has its own limitations in this regard, and we would advise you to never exceed your model's weight rating. Therefore, it is important to select a bottle jack with enough weight lifting capacity to suit your needs.
Keep in mind that when a bottle jack is lifting a vehicle, it only bears a fraction of the vehicle's weight. However, in the interest of your safety, we would recommend only using a model with a weight rating equal to or less than the vehicle's curb weight. After all, if you are lifting a 5-ton truck, you really don't want to see it drop to the floor.
Construction material and strength
Bottle jacks last for a long time. Unless a seal starts to leak (and that can be easily repaired). there's no reason why you might need to buy another one in the next decades. Thus, you should pick one with strong and robust construction and a thick layer of paint to protect it from rust for years to come.
On the other hand, it's important to mention that there are not many choices here. Most bottle jacks are made from steel as it possesses sufficient strength and hardness characteristics. I'm not even sure I have ever seen an aluminum one. However, added perks like a treated/polished piston ram can significantly extend the seals' durability and be well worth the higher price tag in the long run.
Lifting range
The lifting range is a very important factor that pertains to how high/low the bottle jack can lift your vehicle. Deciding on a suitable lifting range depends on the intended use. For example, bottle jacks intended to be used on sports cars should have a low minimum height, while those intended for use on trucks or off-roaders should go as high as possible.
It's worth mentioning that bottle jacks are not usually intended to be used with low cars, or even just cars for that matter. If you only plan to jack compact cars, you are probably better with a conventional floor jack. If you drive a sports car or a lowered/slammed tuner, look for low-profile jacks instead.
Lifting Method
Most cost-effective bottle jacks use hydraulics to lift a vehicle; this requires human effort by pumping the handle. On the other hand, some high-end models also give you the option of using pneumatic power. However, it's important to keep in mind that you will need an air compressor for those, they are usually much bulkier and come with a significantly higher price tag.
Versatility
The versatility of any bottle jack pertains to its ability to perform diverse operations. Versatility can be enhanced by several useful features such as a high weight rating, large lifting range, and pneumatic capability but also a wide range of attachments and accessories.
Of course, if you only plan to use your jack to change the tires on your own car twice a year, versatility might not be as important. However, if you work in a shop, you might be better with a versatile model since you never know what the day will bring.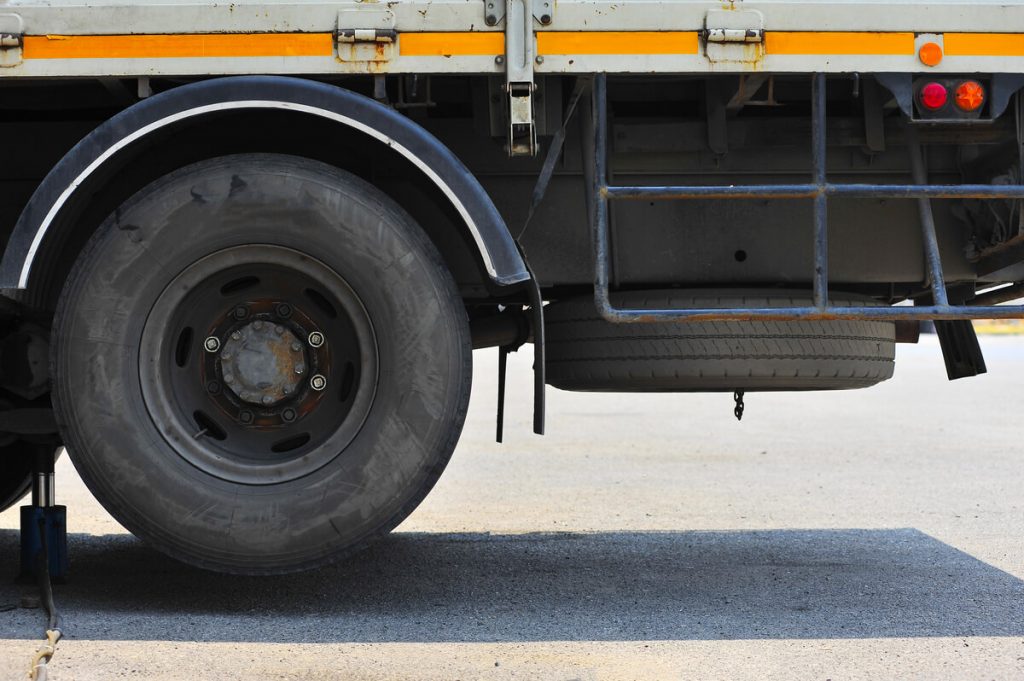 FAQs
What is a bottle jack?
In the broadest sense, bottle jacks or all hydraulic jacks, for that matter, work in compliance with Pascal's law. A bottle jack's internal structure consists of a series of valves and cylinders filled with appropriate hydraulic fluid. When the operator pumps the handle, the fluid is pressurized into the main cylinder. The main cylinder is connected to the saddle via a piston or plunger arrangement. So, the more you pump, the higher the saddle lifts.
The bottle jack gets its name because it closely resembles the external figure of a regular water bottle. They are usually more compact and typically have a higher weight rating than conventional floor jacks. On the other hand, the smaller footprint also comes with its own set of drawbacks. However, if you need to lift something heavier than 10-tons, or a portable jack that you can just keep in the back of your truck in case you get stuck next time you go off-road, bottle jacks are usually your best bet.
Do I need jack stands when using a bottle jack?
Yes, you absolutely do.
For safety reasons, always use jack stands while working under your vehicle. Bottle jacks, or any other type of lifting tool, may be strong and durable, but none of them are completely safe. Even if you were to buy the sturdiest, toughest jack out there, it could always sink into the pavement, slide sideways and drop the vehicle. Jack stands are there to prevent that, just in case. Better safe than sorry!
The correct procedure for lifting a vehicle is to jack it up, place jack stands at appropriate locations, and slowly lower the vehicle onto the stands. Ensure you are placing the jacks or jack stands on the dedicated mounting points given by the manufacturer. Of course, you can always leave the jack there as extra protection but never let the vehicle's weight on the jack—always on the jack stands.
When the repair work is done, use the bottle jack to slightly lift the vehicle again, remove the jack stands when the vehicle is high enough, and gently lower the vehicle onto its wheels.
How do I get rid of the excess air in the hydraulic system?
If your bottle jack is experiencing some issues such as being unable to lift loads, not coming back to the retracted position, etc., then there is good chance air bubbles are trapped in the hydraulic system. Now, that is no cause for concern as bleeding a bottle jack is a fairly simple process.
First, make sure the jack is in its lower-most position and open the release valve. Now, pump around 10-12 strokes using the handle. Close the release valve and locate the jack's oil filler port. Using a flat-head screwdriver, attempt to open the port's rubber sealing. After a few seconds, close the seal, and voila! Your jack should function normally again.
It is important to note that the procedure mentioned above is a general one, and some manufacturers may have different procedures to perform the same task. We would recommend reading the instructional manual or contacting the brand's customer care for further information.
Verdict
All things considered, there is no one-size-fits-all when it comes to choosing a bottle jack. Rather, you must evaluate your needs based on the factors to be considered and pick the jack that best fits you. For instance, off-road enthusiasts should look for the Safe Jack Sergeant kit, while those with an air compressor can go for the pneumatic options.
That being said, if I had to pick just one (in fact, I did), nothing comes close to OTC's model. With a strong metal body, an impeccable reputation, and an extra seal replacement kit included, this bottle jack is sure to last a long time without any problems. But, of course, that's just me. You could very well work on very different vehicles than I do so make sure to evaluate your needs before making up your final decision.
And don't forget to think far in the future, bottle jacks last for years!