EDITOR'S PICK
Eaz-Lift Olympian 48830 24″ RV Stabilizing Scissor Jack
Easy installation methods
High weight rating
Mammoth lifting range
Strong and robust body
It can also be used for lifting vehicles for maintenance purposes
A wide base provides optimum stability and support
Rust-resistant paint for additional durability
Reasonably priced
It can be used for a wide range of applications
PREMIUM PICK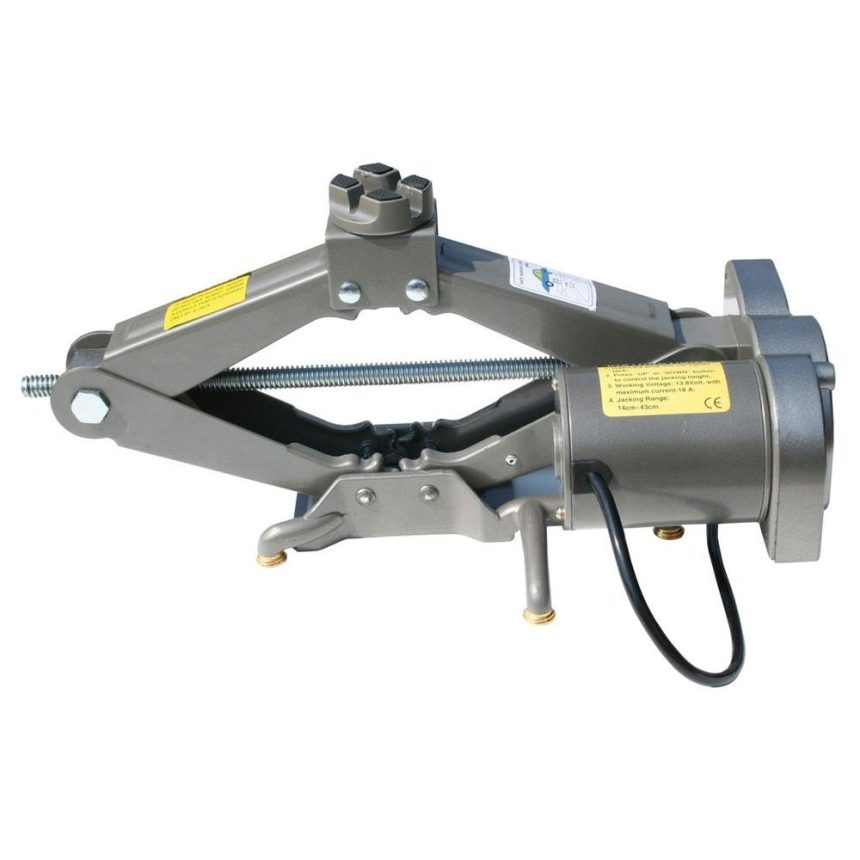 Black Bull 804348 12-Volt Automatic Electric Car Jack
90 days manufacturer warranty
Lightweight scissor jack
Requires almost no human effort
Quiet and quick motor operation
Easy controls for effortless lifting
Compact and portable design
Strong frame with a solid base
Sufficiently long corded controller
Suitcase provides organized and efficient storage
Reasonably priced
BUDGET PICK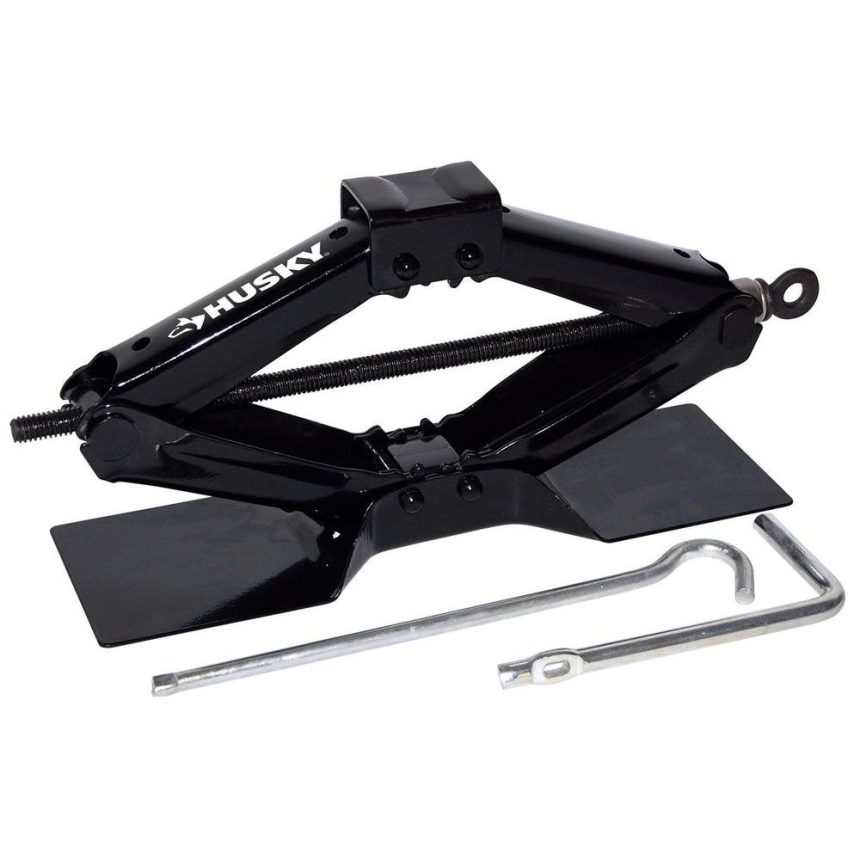 Husky HD00113 Scissor Jack
Lightweight
Strong and robust construction
Decent weight lifting capacity
Ideal for small to medium-sized vehicles
Quite a versatile lifting range
Portable
Easy to store
Low cost
1-year manufacturer warranty
No one wants to be stranded on the roadside asking for help from fellow motorists after a puncture. To make sure you don't find yourself in such an embarrassing situation, all you need is a scissor jack and basic auto mechanic skills. Furthermore, scissor jacks are also extensively used to stabilize and level recreational vehicles (RVs) and trailers. Even though we included models specifically designed as "stabilizer jacks" in the list, all of them can pretty much be used for both purposes, unless mentioned otherwise.
Nowadays, not all new vehicles come with a scissor jack, and those that do almost always have sub-standard equipment that doesn't function that well or end up rusting due to the humidity in the trunk. And even if it does, having an extra scissor jack is always a good idea.
Now, no matter the reason why you might need a scissor jack, you'll see that it can get quite grueling to decide which model to buy from the plethora of options available online. To help you with that, we have curated the 7 best scissor jack we could find. We made sure to include different models and designs so there should be one that fits your need in there, no matter what you plan to use it for.
Scissor Jack Reviews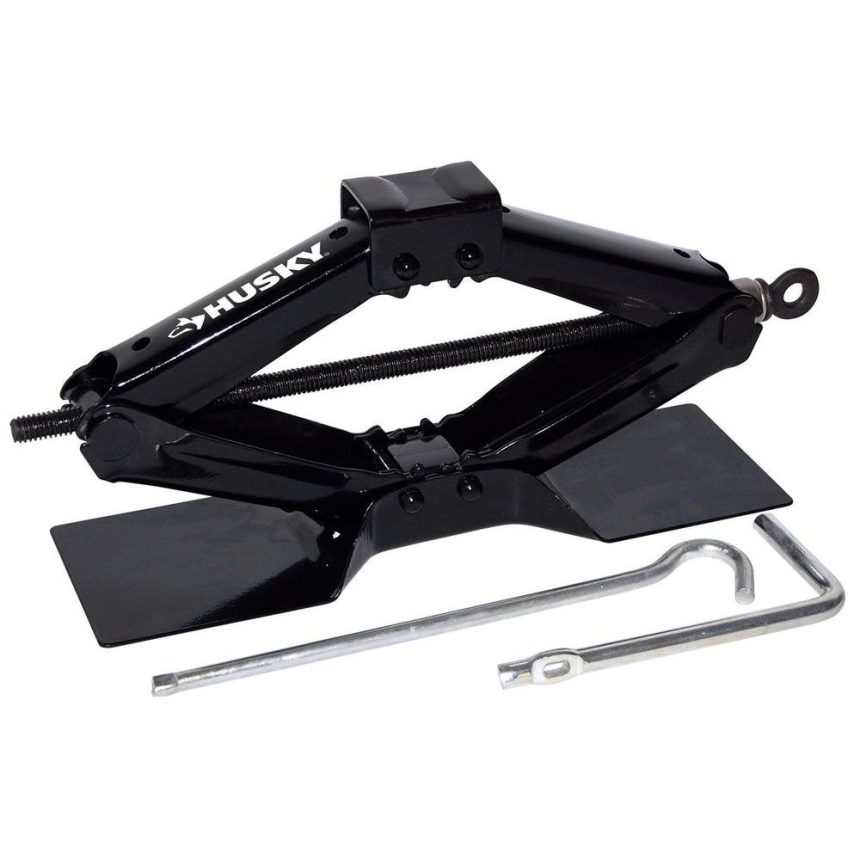 Let's start with a very basic scissor jack. Husky's HD00113 model is a 1-1/2 ton jack with a very affordable price tag and featuring solid and reliable steel construction with a precision threaded shaft for easy lifting. To support your vehicle's weight, Husky's model employs a 15" X 4 7/8" base made from stamped sheet metal; this not only gives it a solid foundation but also prevents sinking into the ground when working on hot asphalt.
You get an effective lifting range of 4.125″ to 15.125″, making it perfect for use on small to medium vehicles and even sports cars with low ground clearance.
Tipping the scale at just 7.3 lbs, this scissor jack is exceptionally lightweight. Likewise, its compact dimensions make the HD00113 model quite portable. On account of such qualities, we would recommend you to carry this jack in your vehicle at all times for use in emergency situations.
If you need a basic scissor jack, this is the one. It's as basic as it gets but will do everything it's supposed to—without breaking the bank!
Highlighted features
1 & ½ tons or 3,000 lbs weight capacity
4.125" to 15.125" lifting range
Steel construction
Comes with two-part handle
Rust-resistance protective coating
Pros
Lightweight
Strong and robust construction
Decent weight lifting capacity
Ideal for small to medium-sized vehicles
Quite a versatile lifting range
Portable
Easy to store
Low cost
1-year manufacturer warranty
Cons
Doesn't lift high enough to be used on off-roaders or vehicles with oversized tires
Ironton's 46212 model is another cost-effective manual scissor jack. It boasts a high-grade steel frame capable of withstanding up to 1 ton or 2,000 lbs. Unlike the previous model, this scissor jack comes with a single-piece handle; hence, it's convenient and easy to use, and faster to operate. In addition to using this jack to change tires, brakes, etc., you can also use it as a stabilizing unit for trailers or recreational vehicles.
The 46212 also features a low minimum height of 3 5/16″; this may seem like an insignificant improvement, but makes a lot of difference in the real world, especially if you are trying to lift a lowered vehicle. On the other hand, the 15" maximum lift height makes for a versatile lifting range, making it suitable for a wide variety of vehicles.
Thanks to a detailed and meticulous paint application process, this scissor jack has a long-lasting and attractive finish resistant to rust and easy to clean against other contaminants such as dust or grease.
Highlighted features
One ton or 2,000 lbs weight capacity
3 5/16" to 15" lifting range
Single piece handle
High-quality steel body
Anti-corrosion chemical painting process
Pros
Low minimum height
Lightweight and compact scissor jack
One-piece handle makes it easy to use
Easily portable
Low cost and high value for money
Corrosion and stain-resistant paint finish
1-year limited warranty
Cons
Smaller base area compared to other models
When it comes to good quality lifting equipment, Torin's Big Red brand is a well-established name in the market, known for consistently producing top-notch products with little to no drawbacks. Of course, the T10152 is no exception.
It features a heavy-duty forged steel frame capable of holding 1.5 tons. Besides, the extra-wide flat base helps to distribute the weight and prevents the frame from marking your garage floor and provides a secure and stable foundation for better load management.
Buyers also get a versatile lifting range from 4 1/8″ to 15 1/8″, making Torin's model suitable for lifting vehicles for repair work and even stabilization. To operate this jack, you get a one-piece handle that is super easy to use. The handle is also foldable, allowing for easy storage while taking up minimal space. Moreover, weighing a meager 7.7 lbs, the Big Red T10152 is the perfect scissor jack to keep in your car for emergencies.
Highlighted features
1.5 tons maximum lifting capacity
4 1/8" to 15 1/8" lifting range
Extra-wide base
7.7 pounds total weight
Forged steel frame
Pros
One-piece folding handle allows for easy and quick operation
Robust and reliable steel body
Impressive lifting capacity
Versatile lifting range
Lightweight and compact
Low cost
Wide base ensures optimum stability and safety
Attractive red paint finish
High value for money
1-year manufacturer warranty
Cons
Slight tendency to bend if used on uneven ground (however, you should never use a scissor jack on uneven ground so…)
Those looking for a little more weight capacity should consider the ATD Tools 7462 scissor jack. It is a heavy-duty model constructed from good quality steel for optimum strength and durability. You also get a broad base that not only acts as a stable and robust foundation but also prevents the jack from sinking into loose surfaces. Furthermore, this jack boasts a unique frame design that bears a striking resemblance to jacks used by the US army back in the day.
Along with a 2-ton weight rating, you get a black one-piece handle that slides into the slot provided on the ¾" hex screw head. The main advantage of this configuration is that if you don't find the provided handle to be comfortable, you can replace it with a ratchet and a socket of the appropriate size, or even better, an impact wrench and significantly increase the lifting speed.
Highlighted features
2 ton or 4,000 lbs weight rating
5" to 13" lifting range
Steel construction
Weighs only 5 lbs
Base measurements: 4.25" X 7.25"
Dimensions when in collapsed position: 12.25″ x 4.25″ x 5.125″
Pros
Unique design results in compact dimensions
Impressive weight lifting capacity
Lightweight
High value for money
Low cost
Durable and rugged frame
The large saddle provides optimum support and also increases the scope of use
Cons
Slightly shorter lifting range compared to other models
If you really want the easiest scissor jack to operate, Rogtz offers a unique and innovative solution. This scissor jack kit comes in a well-organized suitcase with all the equipment you need to change your vehicle's tires.
Of course, the star attraction is the electric scissor jack itself. It looks just like other models on this list but with one key difference—it has a small electric motor to do the heavy lifting. You also get two saddle attachments included: a short saddle for low ground clearance vehicles such as hatchbacks or sedans and another high saddle for SUVs. The former attachment provides a lifting range of 5.5" to 14.6" while the latter is good for 7.5" to 16.5". And to suit larger vehicles, Rogtz's jack has a maximum weight rating of 3 tons.
You can plug the electric motor directly onto the battery or into your car's 12V outlet. You also get a wired remote-control system for the jack and three spare fuses for emergencies. I personally prefer manual jacks, only because they work in any given situation but to each their own.
If you need and electric scissor jack, this is one of the good ones.
Highlighted features
3-ton weight rating
7.5" to 16.5" lifting range on SUV attachment
5.5" to 14.6" lifting range on sedan attachment
Automatic scissor jack
Heavy-duty steel frame
It comes in an organized box
Pros
The reflective light strip on the suitcase can prove very useful at night
The kit includes all the necessary equipment to perform tire changes
Powerful electric motor
Versatile lifting range
Impressive weight rating
Waterproof motor
High value for money
Ergonomic design
Cons
Lack manual-operation mode
Eaz-Lift's Olympian scissor jack is what you get when ordinary manual models are cranked up a few notches. Even though the Olympian's primary purpose is to stabilize RVs and trailers, you can also use it for a broad spectrum of applications in the automotive world.
With a 7,500 lbs maximum weight capacity and nearly 24" maximum height, you can lift almost anything using this scissor jack. Besides, at just 4 3/8" minimum height, it sits low enough to fit under low ground clearance vehicles, thereby increasing its usability.
Eaz-Lift's 48830 model boasts an all-steel heavy-duty construction with a broad base for added strength and support. Moreover, the frame has been powder-coated to protect the finish quality for years to come.
Thanks to its unique base and saddle design, you can easily mount the 48830 model on your RV using appropriate bolts. Those looking for more permanent and secure mounting can also weld the jack in place.
Highlighted features
7,500 lbs weight capacity
4 3/8" to 23 ¾" lifting range
The main purpose is for RV stabilization
High-grade steel construction
Powder-coated frame
Sold as a pair
Pros
Easy installation methods
High weight rating
Mammoth lifting range
Strong and robust body
It can also be used for lifting vehicles for maintenance purposes
A wide base provides optimum stability and support
Rust-resistant paint for additional durability
Reasonably priced
It can be used for a wide range of applications
Cons
Not as compact as other models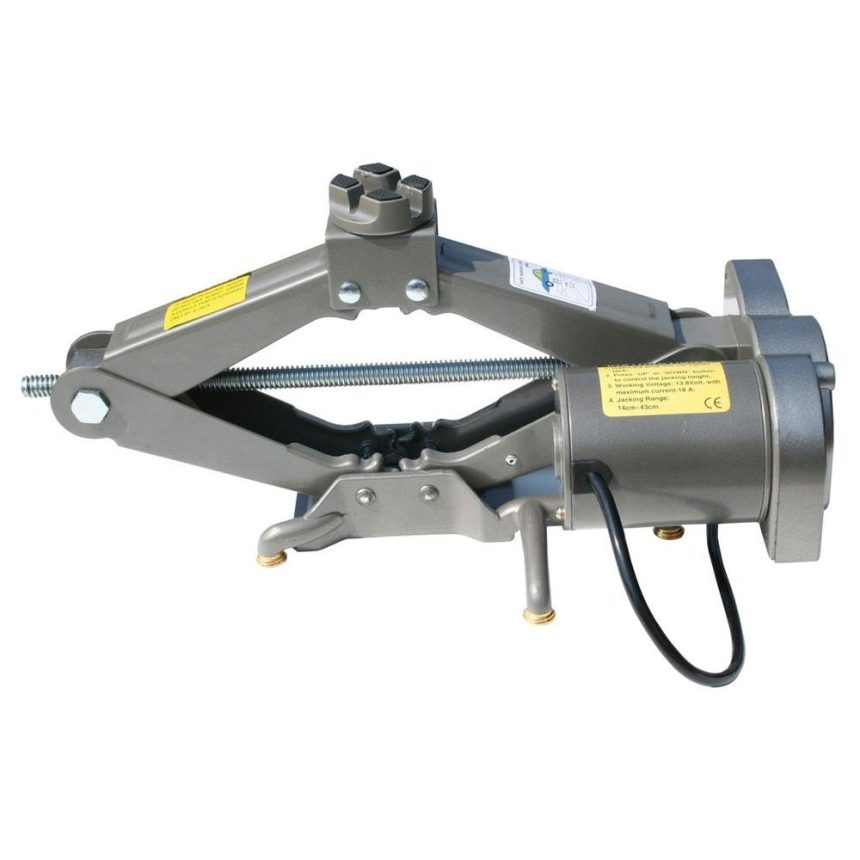 Last but not least, we have Black Bull's 804348 electric scissor jack. It is an automatic model capable of lifting vehicles weighing up to 1 ton or 2,000 lbs, making it suitable for lightweight sports cars, sedans, and hatchbacks.
Even better, the potent electric motor powered by your vehicle's cigarette lighter does all the heavy lifting. The motor is capable of effortlessly lifting the vehicle in just a couple of minutes. You have complete control over the operations from a safe distance thanks to a corded controller unit. Worth mentioning, once it reaches the 15″maximum height, the jack will automatically stop to prevent any malfunction.
Despite carrying the motor and related components' extra weight, the 804348 weighs just 11 lbs. Moreover, Black Bull also provides a plastic case with your purchase for storage and transport.
If you need a reliable electric jack, portable enough to be used on-the-go, this is what you need
Highlighted features
2.000 lbs or 1-ton weight capacity
5" to 14" lifting range
12V-powered electric motor
Only weighs 11 lbs
Pros
90 days manufacturer warranty
Lightweight scissor jack
Requires almost no human effort
Quiet and quick motor operation
Easy controls for effortless lifting
Compact and portable design
Strong frame with a solid base
Sufficiently long corded controller
Suitcase provides organized and efficient storage
Reasonably priced
Cons
Not rated for SUVs and trucks
Can't be connected to your car battery (at least not without splicing the cord and adding alligator clips in parallel)
Accessories
If you want the speed of an electric scissor jack but don't want to spend the extra money, don't worry; we've got you covered. There is an easy and inexpensive way to convert any ordinary manual jack into an automatic model. Indeed, you can find plenty of cheap accessories or attachments speeding up the overall process. All you need in addition to attachment is an impact wrench or a drill, and you are all set.
The way these attachments work is by connecting the threaded bolt to your impact wrench/drill. Once the connection is secure, with the press of a button, you can lower or raise your scissor jack in a matter of seconds. In a way, you can also view this configuration to be better than a motorized scissor jack for a couple of reasons. Firstly, it is pretty cheap if you already own an impact wrench and there's a lot more risk to see your impact wrench fail than an electric motor
Word of advice, make sure to buy the right adapter/attachment for your scissor jack. Besides, make sure your impact wrench is in the lowest speed setting to prevent jerks due to a sudden torque outburst.
Things to Consider When Buying a Scissor Jack
Weight rating
Depending on your intended use, a good scissor jack should have a high enough weight lifting capacity. Buy a scissor jack with a weight rating either equal to or higher than your vehicle's curb weight. Mobile mechanics and technicians should get a jack with a sufficiently high weight rating to cover a wide range of cars.
Also, remember never to overload the jack and stay within all safety limits prescribed by the manufacturer. Last but not least, always use a pair of jack stands when working under the vehicle.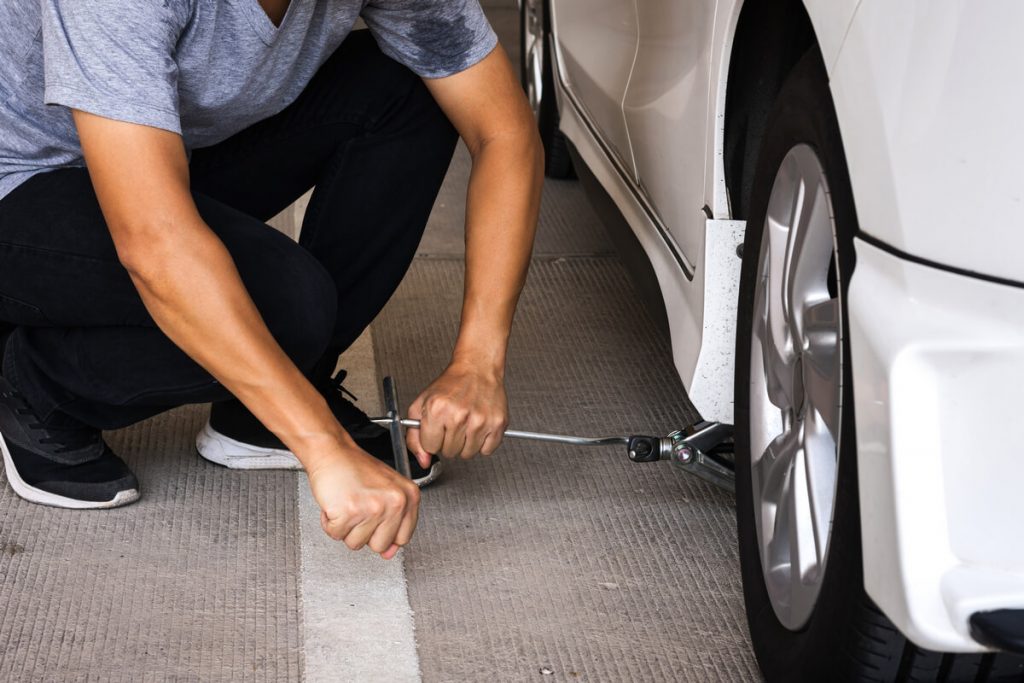 Lifting range
A scissor jack's lifting range pertains to various elevation levels it is capable of operating in. In addition to a wide operational range, it is also essential to consider the maximum and minimum heights. Buyers with low ground clearance vehicles should go for a scissor jack with a low minimum height, while truck or SUV owners should look for a high maximum height. Specific models like the Rogtz electric jack kit can be used for both vehicle types, thanks to separate saddle units.
Construction material and reliability
When it comes to construction materials, buyers don't get many choices as most models are made from steel. However, the steel's quality is also a critical factor as it directly impacts the jack's strength. Make sure to buy a scissor jack with a strong, durable, and long-lasting frame.
Portability
The main reason to buy a scissor jack is to store it in the car's trunk for use in emergencies. For that purpose, a good jack should be not only lightweight but also quite compact. Certain models that come in dedicated suitcases are preferable as they can be stored easily and in an organized manner.
FAQs
What are scissor jacks?
Scissor jacks are mechanical devices that employ a combination of links and mechanisms to efficiently lift a vehicle to a certain height limit for technicians to perform repairs. They can be either manual or electrically-powered automatic devices. Scissor jacks get their name from their unique design that, during operation, closely resembles movements like a pair of scissors. In addition to lifting vehicles, scissor jacks are also used to stabilize trailers, recreational vehicles, etc.
In their simplest form (manual jacks), scissor jacks are pretty cheap, dimensionally compact, and portable devices that perform a vital job. Every vehicle owner should own a scissor jack in the interest of their own safety.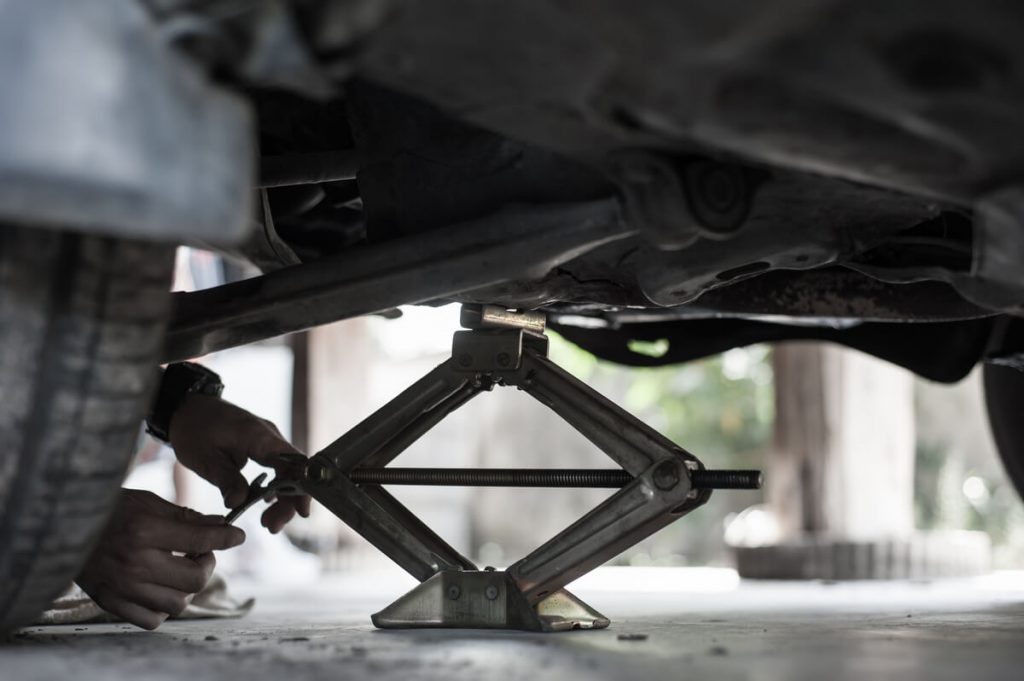 What is the difference between standard scissor jacks and the ones meant for stabilization purposes?
There is almost no difference between car and RV scissor jacks in most cases. However, some manufacturers design models specifically for stabilization purposes with subtle differences.
Let us take Eaz-Lift's model from the above list as an example; it looks like any other ordinary scissor jack to the untrained eye. Nonetheless, eagle-eyed readers would have instantly noticed subtle differences in the jack's base and saddle design. Notably, both have holes that allow them to be bolted onto RVs and trailers. Now, it doesn't necessarily mean that you can't use stabilizer jacks for regular applications or vice versa. Each model is unique in this regard. We would recommend you look into the instructional manual for more information.
How are scissor jacks better than other types?
Just like all things in life, scissor jacks also have their own set of advantages and disadvantages compared to other types. The main benefit, however, is portability. In their retracted form, scissor jacks take up very little space in your vehicle's trunk. Moreover, they are also relatively safe, reliable, and lightweight jacks. Due to these and valuable qualities, scissor jacks are the most common type of car jack, found in almost every vehicle on the road.
Verdict
There it is, folks! A comprehensive review of some of the best scissor jacks available on the market. Scissor jacks have become necessary as you never know when you can expect to find yourself in the middle of nowhere with a flat tire and no tools to change it. That is why make the smart choice and order yours soon by clicking the desired model's link.
As is the case with all mechanics equipment, no model is best for all kinds of usage. With that being said, we consider Rogtz's model to be a very versatile and capable scissor jack with an affordable price tag.
Happy Lifting!