If you work on cars, you will inevitably need a floor jack. While there are many brands to choose from out there, two of the most popular and reputable on the market are the Arcan and Pittsburgh models. But which one is best?
Let's go over both brands' features to find out which floor jack fits your needs.
Pittsburgh Floor Jacks
Pittsburgh floor jacks are typically rated to lift vehicles at a three-ton weight capacity. A feature that car enthusiasts love about the brand is the minimum height of just 2.8 inches, allowing the Pittsburgh jacks to be used with low-riding sports cars and slammed vehicles.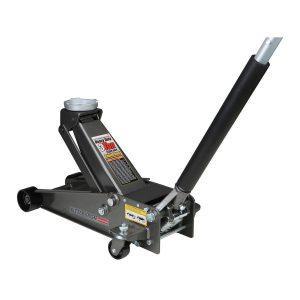 Read our in-depth review of the Pittsburgh 3 Ton Low Profile Floor Jack!
Moreover, these jacks have a maximum height of 19.75 inches, making it suitable for trucks and SUVs as well.
Made of industrial rated steel, Pittsburgh's jacks weigh in around a hefty 71 pounds. Thus, it can rust easily, but it's also very durable and can take a beating.
The extra-wide front wheels provide added stability and maneuverability while allowing to spread the load more evenly on soft surfaces such as asphalt or moveable floor tiles.
Pittsburgh's floor jacks feature dual-piston rapid pump technology, ensuring a fairly quick elevation with minimum effort. The handles are generally two-pieces components, allowing for easier transport and storage.
The major downsides of Pittsburgh jacks are the all-steel build, causing them to rust faster than aluminum ones for example, and the higher weight. However, if you plan to leave it in your garage, that shouldn't be a problem.
Arcan Floor Jacks
Arcan floor jacks also have a three-ton weight capacity. However, the light aluminum frames are a big plus, making them easier to transport than other steel models. Arcan jacks weigh around 56 pounds, so if you need to take it to the race track or help someone on the road, they are easy to just toss it in the truck and go.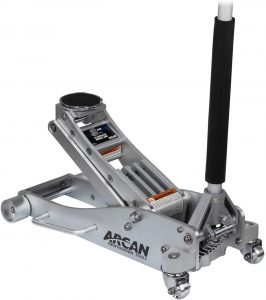 Read our in-depth review of the Arcan ALJ3T 3-Ton Aluminum Floor Jack!
Two-piece handles, similar to Pittsburgh models, make storage easy, while side-mounted handles aid in lifting and positioning the jack under the vehicle.
The minimum height on these jacks comes in at 3.6 inches, so it still suitable to be used with lowered cars, while the 19.4-inches maximum height is more than enough to lift SUVs, trucks, and other high-clearance vehicles.
Arcan floor jacks also boast a large padded saddle, perfect to support without risking to scratch the vehicle.
Arcan models also feature a universal joint mechanism allowing for precision control while lowering.
The dual-piston pump technology allows you to lift pretty much any vehicle quickly and easily, no matter whether it's an exotic sports car, a pickup truck, or an SUV. According to the manufacturer, only 12 pumps are required to get their floor jacks to their maximum height.
On the downside, Arcan floor jacks can be expensive and aluminum frames aren't as sturdy as steel models out there.
In Brief…
Both models have pros and a few cons. They differ mostly in size and weight because of the use of different materials.
So which is best depends on your needs and how much you want to pay. Arcan models are lighter and more portable but are pricier. Pittsburgh models, on the other hand, are cheaper and sturdier but also much heavier.