Impact wrenches are power tools that will make any auto mechanic's life easier. No matter whether you are a certified tech or just a weekend DIYer, if you work on cars, you need an impact wrench. After all, loosening jammed nuts is the first step of any car repair.
That is where the Ingersoll Rand W7150-K2 comes in. Its mighty prowess will overcome any hurdle and loosen that bolt in a jiffy. Besides, it is a highly efficient and versatile tool, rigorously time-tested for over eight years already. If you are on the market for a new cordless impact wrench, look no further, the W7150 is the one you need.
Who is it Made for?
The Ingersoll Rand W7150-K2 is useful for a number of applications, from occasional garage repairs to professional workshop applications. Since it runs on a removable battery instead of pneumatics, the W7150-K2 is also portable and you won't have that air hose constantly following you around.
See Also:
Main Features of the Ingersoll Rand W7150-K2
High-performance motor
The W7150 features a very powerful motor capable of achieving a max speed of 1,900 rpm. Moreover, to bust open rusty old stubborn nuts, it has a maximum loosening torque of 1,100 ft-lbs. With that much brute force, there is virtually no job that the W7150 cannot do.
Add to that a maximum tightening torque of 780 ft-lbs, and you would quickly understand why there isn't another impact wrench like it. This tool packs the punch of a pneumatic wrench without the sacrifices that come with it.
Lightweight construction and ergonomic design
Ingersoll Rand has thought of everything while designing its W7150-K2 impact. The tool weighs a mere 6.8 pounds, while the whole case comes in at 13.5 pounds. And the manufacturer apparently knows its target customer well. The lid of the case is also removable so it's super easy to slide in a chest drawer. That way, you can easily organize the different components without having them roll around every time you pull out the drawer.
Moreover, Ingersoll Rand knows very well that mechanics typically have their impact wrench in hand all day. Consequently, it designed an innovative over-molded soft-touch grip to increase comfort, making it perfect for extended use.
Portable nature
Unlike air impact wrenches, this tool doesn't require a feed of air from a huge compressor. The W7150 series of impact wrenches use small 20V batteries, making it much more convenient.
The product also comes with a portable charger that can recharge the empty battery while another one is in use. Moreover, the charging unit has a USB port to charge other devices such as phones or tablets when only one power outlet is available.
See Also: Ingersoll Rand 2235TiMAX Impact Wrench Review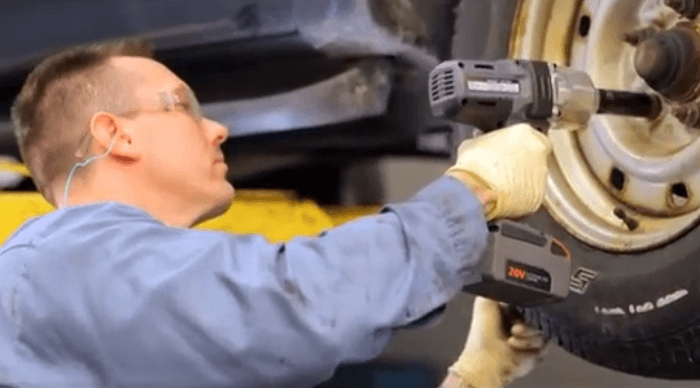 Long-lasting battery
Since the W7150 uses battery power rather than compressed air, it is imperative for the tool to have ample battery life for prolonged professional use. And it does. The 20-Volt lithium-ion batteries do the job just fine. With features such as high-charge capacity and low internal impedance, the two 3 Ah batteries that come in the K2 variant are more than sufficient. In case you need more capacity, the K22 model comes with two 5 Ah batteries.
Easy to use
This is arguably an impact wrench's most important quality, and we are happy to report that the W7150 passes the test with flying colors. The tool's soft handle reduces fatigue and makes constant use easier.
There is a speed control function that varies between two different speeds and depending on how much you pull the trigger. Above the trigger is a direction control switch that has three positions; both extreme positions are set for clockwise and counter-clockwise, while the middle position is a sort of safety switch. When the middle position is engaged, the user cannot pull the trigger.
See Also : Milwaukee 2863-20 M18 FUEL ½" High Torque Impact Wrench Review
Benefits
Powerful motor
Can be used in tight spaces
Extra battery for uninterrupted use
Durable case for safe transportation
Molded grip
Reliable batteries
Drawbacks
Absence of LED work light
Not the cheapest impact wrench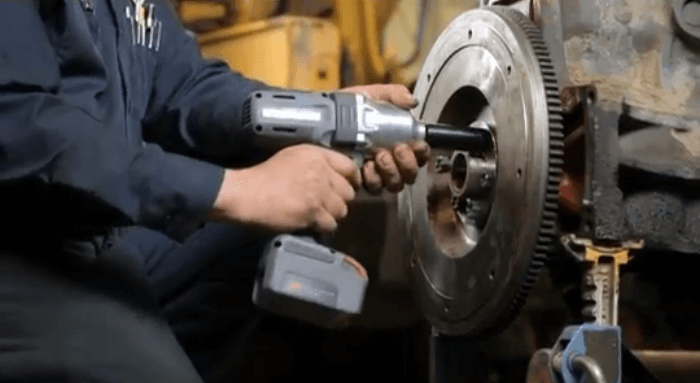 Highlighted Features
1,100 ft-lbs nut-busting (loosening) torque
780 ft-lbs maximum tightening torque
Two 20-Volt 3 Ah batteries
Weighs only 6.8 lb
Cordless
Charger with USB port
½-inch drive
Up to 3-year limited warranty
FAQs
Why is Nut-busting torque more than the maximum torque?
The term "Nut-busting" torque means the amount of torque available for nut loosening. It gets its name thanks to its ability to untighten any jammed or corroded lug nut, studs, etc.
However, keep in mind that the Nut-Busting setting might eventually break stuck nuts and bolts. You should obviously use this setting as a last resort.
See Also : Dewalt DCF894B Cordless Impact Wrench Review
What type of use is this tool fit for?
That's the best part! The Ingersoll Rand W7150-K2 fits all needs. It's obviously perfect for auto mechanics, otherwise we wouldn't be talking about it. But it's also suitable for construction and metal workers alike.
No matter the type of work you intent to use it for, if you've bolt to remove or tighten, it will do just fine. It has more power than you will ever need, and comes with an extra battery.
The W7150-K2's durable nature, tough construction, and long-lasting batteries make it fit for professional use. Meanwhile, its high-power motor will ensure you won't find a nut around the house that the W7150 cannot loosen.
Does it have speed control?
You can control W7150's speed via the variable trigger. Slightly pulling the trigger will make it run at a slower speed, while pulling the trigger fully, will make it go at maximum speed.
How do I know how much power does the battery has left?
Each individual battery comes with LED lights indicating the amount of charge left.
What is the country of origin?
The tool was made in China by Ingersoll Rand but inspected and tested in the US. Ingersoll Rand has been, by far, one of the most renowned automotive tool manufacturers for years now. If you have worked in the automotive industry even the slightest you've probably heard of it a lot already. The quality of the products manufactured by IR is always outstanding and, just in case something happens anyway, you can rest assured that the 3-years warranty and Ingersoll Rand's excellent customer service will make it worth your investment.
Final Verdict
All things considered, the Ingersoll Rand W7150 is definitely one of the best cordless impact wrenches on the market. Few other products come close to the raw torque of this one.
Moreover, since the tool is designed with the comfort of the operator in mind, it is great at providing optimum levels of comfort with minimal fatigue. The price may seem a bit steep, but thanks to its time-tested durability and reliable nature, it is definitely worth it.
And if you were a fan of Ingersoll Rand's older air-powered model like I was, you'll be happy to hear that its cordless model are even better. I got one for home-use maybe 3 years ago and it still works just as good as day one!
Ingersoll Rand W7150-K2 Cordless Impact Wrench Kit with W7150 1/2" Impact Wrench, 2 20v Li-ion...
COMPLETE KIT: This set comes with (1) W7150 Cordless Impact Wrench, (1) IQV20 Charger...
POWERFUL PERFORMANCE: The W7150 Impact Wrench delivers 1100 ft-lbs of nut-busting torque...
DURABLE DEPENDABILITY: High-efficiency rare earth magnet motor, high-capacity variable...
OPERATOR COMFORT: Optimized balance combined with an ergonomic handle and soft touch...
LONG BATTERY LIFE: 20v lithium-ion battery delivers high-charge capacity and low internal...