EDITOR'S PICK
Craftsman V20 Impact Wrench
Max 350ft-lbs
2,500 IPMs
Led light
Hog ring anvil
60 minutes charge time
PREMIUM PICK
Milwaukee 2767-20 M18 Fuel High Torque
8.39″ in length
Minimize fatigue
Prevents overheating
Bolt removal mode
LED light
BUDGET PICK
Makita XWT15Z Cordless 4-Speed Impact Wrench
240ft-lbs max torque
LED light
50% longer battery life
Prevents overheating
Charge 3x faster
No matter whether you're a professional mechanic or a weekend DIY'er, an impact wrench is undeniably a great addition to your tool kit, allowing you to unscrew tight and rusty bolts that cannot be done by hand.
Purchasing a high-quality impact wrench means you'll be able to take things apart at a much faster rate while also preventing fatigue. That being said, the problem with most impact wrenches is they aren't cordless, meaning you have to drag an extension cord or air hose around with you.
If you're looking for the best cordless impact wrench for automotive applications, you've come to the right place. In this article, we will review the 6 best automotive cordless impact wrenches available in 2022.
Reviews of Cordless Impact Wrench for Automotive Work
Founded in 1924, Milwaukee has become a leading expert in the development of power tools. Known for the quality they provide, all their tools are designed with durability in mind.
With 1000ft-lbs of fastening torque and 1400ft-lbs of nut-busting torque, you'll have no issues unscrewing the rustiest bolts. Not only that, but you'll be able to do it 2x faster than the competition.
Measuring only 8.39″ in length, it's compact, easy to use, and lightweight, minimizing fatigue. Moreover, thanks to 4-mode drive control, you'll have complete control when using this impact wrench.
Overheating isn't an issue thanks to the 'Redlink Plus' technology that prevents damage to the battery and tool. It also has a special 'bolt removal mode' allowing for maximum nut-busting torque.
You'll have the option to buy this tool by itself, with a battery, or with two batteries. If you're going to be using it daily, we recommend purchasing it with two batteries.
The premium rubber overmold helps fight against corrosion while increasing comfort and reducing fatigue.
If that wasn't enough, it also has a LED light that helps illuminate the working area, making it perfect for dark garages.
While this impact wrench is our top pick, it does come with a drawback – in rare cases, the battery can stop working. That's why we recommend purchasing this tool with two batteries to cover yourself.
Pros
8.39″ in length
Minimize fatigue
Prevents overheating
Bolt removal mode
LED light
Cons
Not the most reliable batteries
See Also: 7 Best Cordless Impact Wrenches for Changing Tires
When it comes to power tools, DeWalt is at the top of the game. Founded in 1924, they have grown over the years to become one of the best power tool companies globally.
Designed to be compact, the DeWalt impact wrench is easy to store and transport. It measures 5.70″ in length and weighs 3.4lbs, helping prevent fatigue after long periods of use.
Furthermore, it includes two long-lasting batteries, meaning you will never run out of charge. You'll also get a charger and carry case allowing for easy transportation.
The DeWalt impact wrench is very comfortable, thanks to the textured grip. It also has a variable speed trigger providing up to 2700 RPM without having to press any buttons.
Working in the dark won't be an issue due to the three-front mounted LED lights illuminating the area you're working on. The lights also have a 20-second shutdown delay, allowing you to grab loose bolts before it turns off.
Equipped with a battery life indicator, you'll be able to see when the battery needs recharging. While other tools may begin to lose power as the battery gets low, you won't have this issue with the DeWalt impact wrench, thanks to its high-quality design.
Besides, DeWalt will repair any defects for free up to three years after the date of purchase.
Pros
Reputable company
Long-lasting batteries
Compact
LED light
Battery life indicator
Cons
Could benefit from more torque
Makita has been supplying people with power tools for over 100 years and takes pride in quality. They have a research and development center in Japan where they constantly improve their products.
The high-quality brushless motor provides 240ft-lbs of max torque and 430ft-lbs of nut-busting torque.
If you're going to be working in the dark, the built-in LED light will help light up the area. There is also an on/off switch allowing the light to be turned off when you don't need it.
The motor and battery work together, providing you with up to 50% longer run time compared to other impact wrenches, allowing you to work for long periods without having to change the battery.
Moreover, if you're going to be working in harsh conditions, the Extreme Protection Technology prevents it from becoming damaged by water and dust.
Makita advises only using genuine Makita batteries to ensure optimal performance and battery life.
Besides, you won't have to worry about overheating thanks to the intelligent power management system.
The only negative is it doesn't include a battery, which is an inconvenience and will set you back more money than expected.
However, ending on a positive note, it does charge 3x faster and only weighs 4lbs making it perfect if you're going to be using it for long periods.
Pros
240ft-lbs max torque
LED light
50% longer battery life
Prevents overheating
Charge 3x faster
Cons
Doesn't include a battery
Ingersoll Rand has been around for over 100 years! They started producing compressors in 1872 and have been growing ever since. In fact, alongside power tools, they still design compressors to this day.
The Ingersoll High-Torque Impactool is designed for vehicle repairs, meaning it can withstand the harshest of environments.
Built for versatility, you can use it for many jobs such as changing a tire, heavy industrial bolting, and much more.
The team at Ingersoll Rand has put this impact wrench through rigorous testing, ensuring it can stand the test of time.
Weighing only 3kg with the battery attached, you also won't have to worry about fatigue after long periods of use. The 780 lb-ft max torque and 110 lb-ft of nut-busting torque provide you with enough power to tackle the hardest of jobs, making it one of the best power to weight ratios in its class.
Furthermore, the handle is ergonomic and features a soft-touch grip for ease of use. The grip also prevents your hand from slipping, thanks to the high-quality overmold.
You can purchase this impact wrench by itself or with multiple batteries and chargers. If you want to use it out of the box, we recommend purchasing at least one battery.
Ingersoll Rand's batteries are of great quality and use low internal impedance while providing maximum power, providing extended use times.
In-depth review of the Ingersoll Rand 20V Cordless Impact Wrench here!
Pros
Designed for the automotive industry
3.0 Ah battery attached
Strong grip
Extended battery life
Cons
Porter-Cable was founded in 1906, where they began selling power tools from a small shop. One hundred years later, and they're still doing the same thing on a much bigger scale. The great thing about the company is they focus all their efforts on power tools.
Fatigue shouldn't be an issue when using this impact wrench – it's cordless and weighs only 6lbs with a battery. You will also be free from any annoying leads that could pose a safety hazard.
The built-in LED light is great for areas with bad lighting, such as garages and repair shops. You'll also be able to use the light to find bolts that may have otherwise been lost.
With so many chemicals in garages, some impact wrenches can begin to deteriorate after consistent use. However, the Porter-Cable Impact Wrench is designed with chemical-resistant housing, preventing it from becoming damaged.
Using an impact wrench for long periods can become tiring and cause your hands to slip. Luckily, the Porter-Cable Impact Wrench has overmold grips for a strong and slip-free grip.
If you enjoy music while working, you can purchase this impact wrench with a Bluetooth speaker that connects to any mobile device.
The Porter-Cable also comes with a high-quality battery with pro-grade cells providing long life and maximum performance.
Pros
Chemical-resistant housing
LED light
Overmold grip
Can be purchased with a speaker
Maximum battery performance
Cons
Could use a better charger
Craftsman has been providing people with tools for almost a century. They hold the products to a high standard by testing in real-world situations before sending them out, making the need for returns very unlikely.
You will have the option to purchase the V20 impact wrench by itself or as part of a kit. If you decide to get the kit, it will include a battery and a charger. If you stick with the 'tool only' option, you will need to buy an additional battery and charger. Therefore, buying it as a kit is recommended if you use it straight out of the box.
With a max 350ft-lbs torque output, you can tackle a variety of jobs. It also has 2,500 IPMs allowing you to remove large fasteners quickly and effortlessly.
Like the other options on this list, it features LED light for low visibility areas, making it great if you're underneath a car. It also has a hog ring anvil for easy socket changes.
The battery is designed for a maximum run time while using as little energy as possible. When it eventually runs out, you can charge it fully in only 60 minutes using the fast charger.
All in all, the Craftsman V20 Impact Wrench is a great option for anyone working in the automotive industry. Although extremely unlikely, it even comes with a three-year limited warranty should it malfunction.
Pros
Max 350ft-lbs
2,500 IPMs
Led light
Hog ring anvil
60 minutes charge time
Cons
What to Consider When Choosing the Best Cordless Impact Wrench for Automotive Mechanics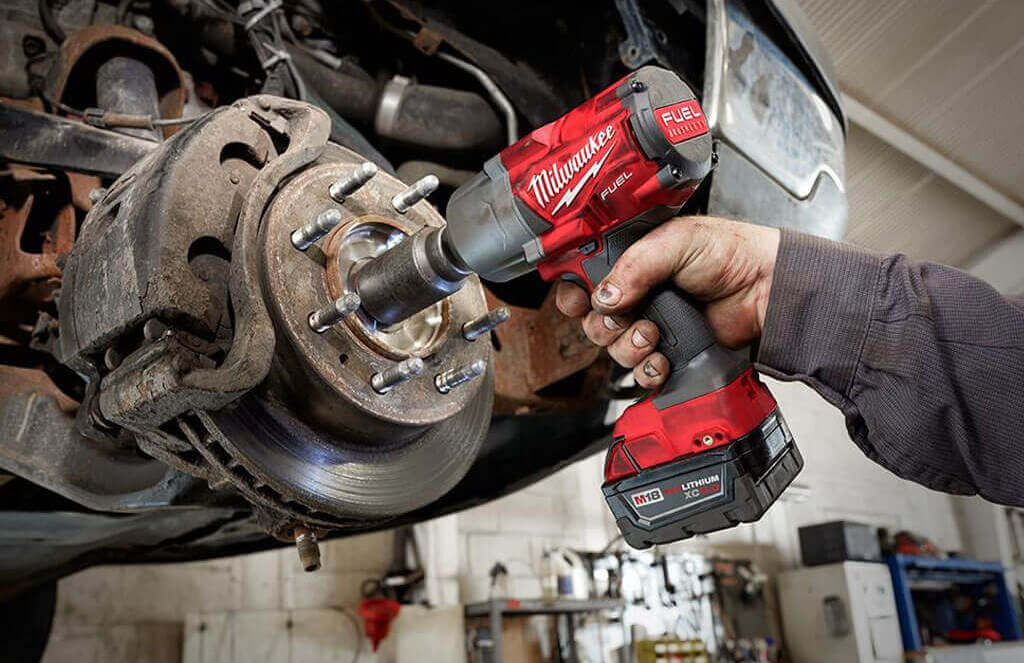 To ensure you get the best cordless impact wrench for automotive use, there are some things to consider. Of course, these will depend on your skill level and how you use it, but it's still a good starting point.
Lightweight & Compact
Holding an impact wrench for long periods can cause fatigue. That's why it's important you choose a lightweight model, so you don't have this issue.
Most of your time will also most likely be spent in tight spaces, which is why we recommend choosing an impact wrench that isn't too big.
Durability
If you're going to buy an impact wrench, chances are, you expect to be able to use it for years to come. That's why we recommend sticking with companies that have proven themselves over the years.
All impact wrenches on this list come from reputable companies and, in most cases, come with a warranty.
Torque
An impact wrench without power is like an airplane without wings. With rusty bolts being a common problem that mechanics face, it's important to choose an impact wrench that has a powerful torque and can tackle these types of issues.
Speed
Mechanics are constantly dealing with a range of issues that require various torque levels. We advise choosing an impact wrench that allows you to change the speed. Not only will this make your life easier, but it will also prevent the battery from using unnecessary power for certain jobs, providing you with a longer run time.
Battery
A lot of impact wrenches don't include a battery when purchasing. If you're looking to use your impact wrench straight out the box, we recommend sticking with an option that provides one.
Most impact wrenches allow you to pick between a 'tool only' option or with a battery and charger.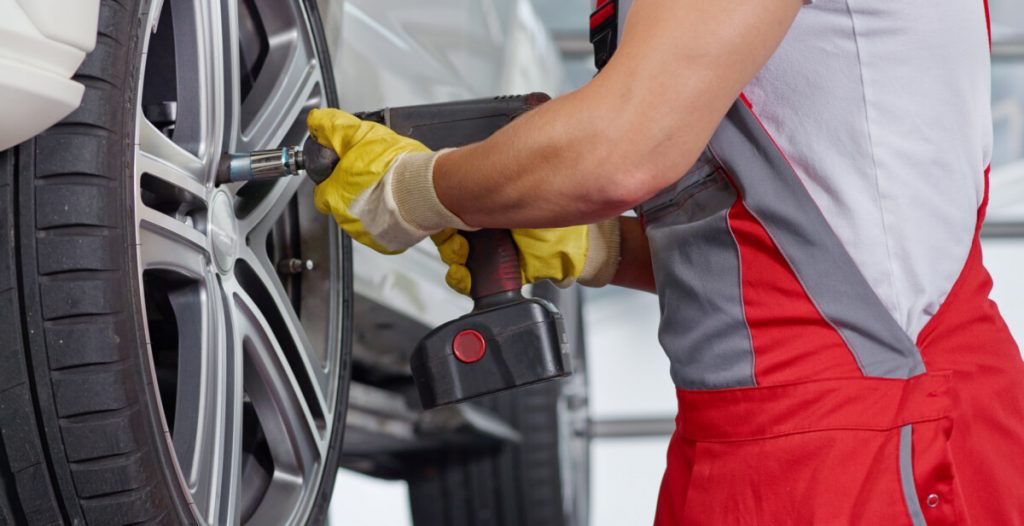 LED Light
When working on your car, you're going to be spending a lot of time in places with low light making a built-in LED light an optional extra. You will also be able to find bolts that you may have otherwise lost if you didn't have a LED light.
Overheating Prevention
If you're going to invest your hard-earned money in an impact wrench, it's important to look for one that has some built-in safety features. One of these features is 'overheating prevention.'
While overheating shouldn't be an issue for occasional use, it could be more of a concern for everyday use.
Similar to the LED light, overheating prevention technology is a great extra but is by no means essential.
Verdict
Impact wrenches are great tools that allow you to get simple jobs done at a much faster rate. If you have followed the tips in this guide, you should be able to choose a high-quality impact wrench that will stand the test of time.
If you're still unsure of what to choose, we recommend sticking with the Milwaukee 2767-20 M18 Fuel High Torque as it's the best option overall thanks to its power, bolt removal mode, and lightweight design.