If you intend to repair your car and do your own maintenance, one thing is sure. At one point, you'll need an impact wrench. In fact, the impact wrench is most probably any auto mechanics' most important tool. A quality impact wrench will allow you to easily and safely remove and re-install wheels but also help you with any rusty nuts and bolts.
That being said, not all impact wrenches are created equal, and finding the right one might not always be easy. As with most other tools, you'll need to factor in your budget, usage frequency, and skill level. Beginners and weekend DIYers can usually do fine with a mid-range impact wrench, while professional mechanics might be better with a more expensive model, built to withstand 40 hours of work a week.
If you are considering buying a budget-friendly impact wrench, good enough to tackle most auto mechanics-related tasks, the Dewalt DCF894B is what you need.
See Also:
Features of the Dewalt DCF894B 1/2-Inch Cordless Impact Wrench
Three Mode Settings
Different tasks require varying speeds when working on nuts and bolts. High speeds may strip rusted bolts, while low speeds provide more torque. Users must understand how to apply the two speeds depending on the task since they have a high fastening torque. High speeds are good for experienced mechanics and when tightening bolts in sequence, while really rusted bolts should be removed at a lower speed. Meanwhile, moderate speed is the optimal choice for most mechanical tasks and repairs.
It's really a question of taste here but the fact that it has multiple speed setting guarantee that you'll find one that you like.
See Also: Milwaukee 2863-20 M18 FUEL ½" High Torque Impact Wrench Review
LED light
When working in dimly lit areas (mechanics know what I mean), you'll need a source of light. Luckily, the DeWalt DCF894B comes with a handy LED light so you can actually see whatever you are working on. even in low or poor lighting.
Trust us, you'll thank us next time you work in your driveway, and the sun starts to set. The LED light is also perfect for bringing a little light in those tight corners where your regular shop light can't reach, well, because your impact wrench's there.
Variable speed trigger
The variable trigger prevents the impact wrench from jerking on and off when not pressing the trigger all the way down. This feature is actually what makes the DCF894B perfect for auto mechanics, plumbers, and construction workers alike.
Indeed, the variable trigger allows you to activate the impact wrench gradually. You can even use a reducer and work on smaller bolts, at powers similar to a smaller 3/8″ drive model, allowing you to fasten 10-12mm bolts without risking breaking them.
The fact that the speed can be adjusted turns the DCF894B into a real multitasking wrench. It is ideal for concrete anchor setting, pipe flanges, wheel lugs, grooved coupling, and many other applications that require a lot of torque in a compact space.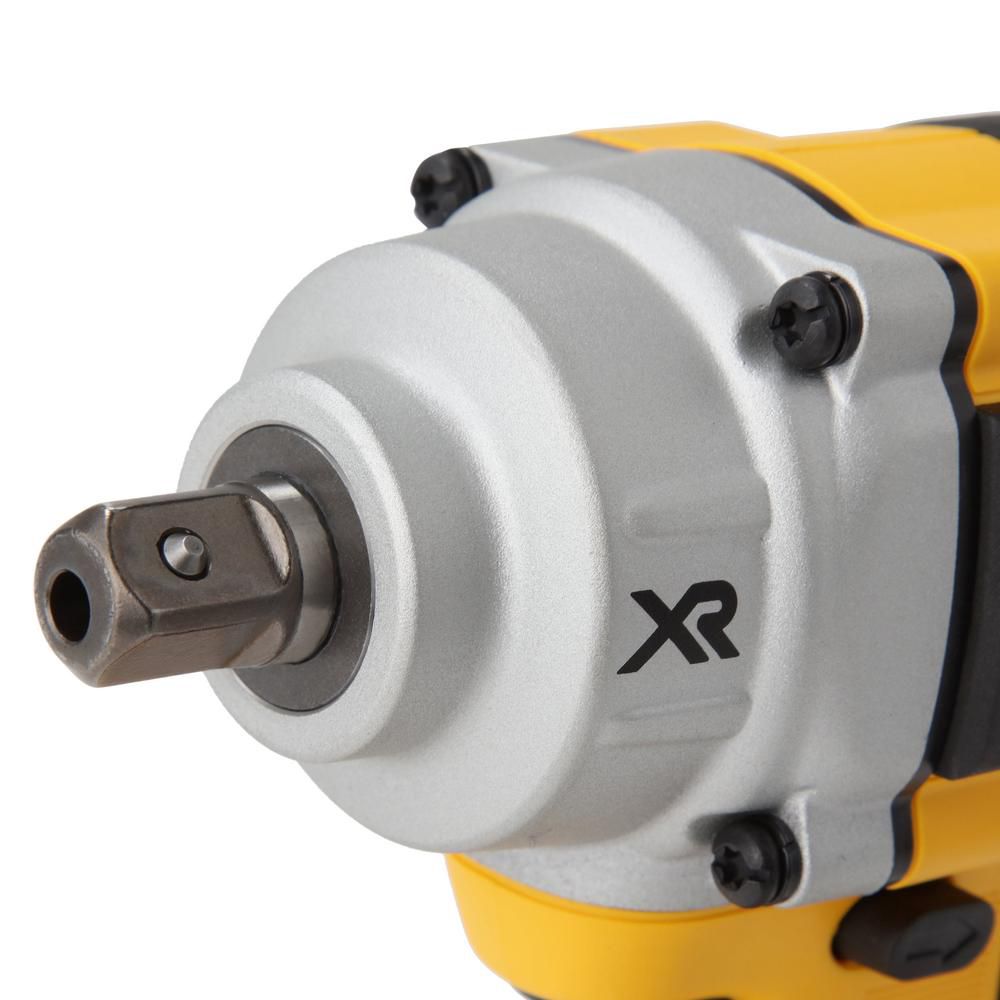 High torque
Though this impact wrench is small in size, it's still pretty torquey. At 330 ft-lbs of maximum torque, most cordless impact wrenches of the same size can't match the Dewalt DCF894B.
Or those that do, are usually more expensive than this one. That's not to neglect.
Precision Control Feature
We all love accuracy when working with a torque wrench. The precision control feature gives users additional control when using the impact wrench in reverse and forward. Specifically, the feature pauses the machine before impact to prevent over-tightening. Meanwhile, the wrench also automatically slows down once the nut is loose to prevent run-off.
Doing so will also prevent the wrench to wind up when spinning free and basically shooting the bolt or nut in the air. Yeah, we've all done it at some point…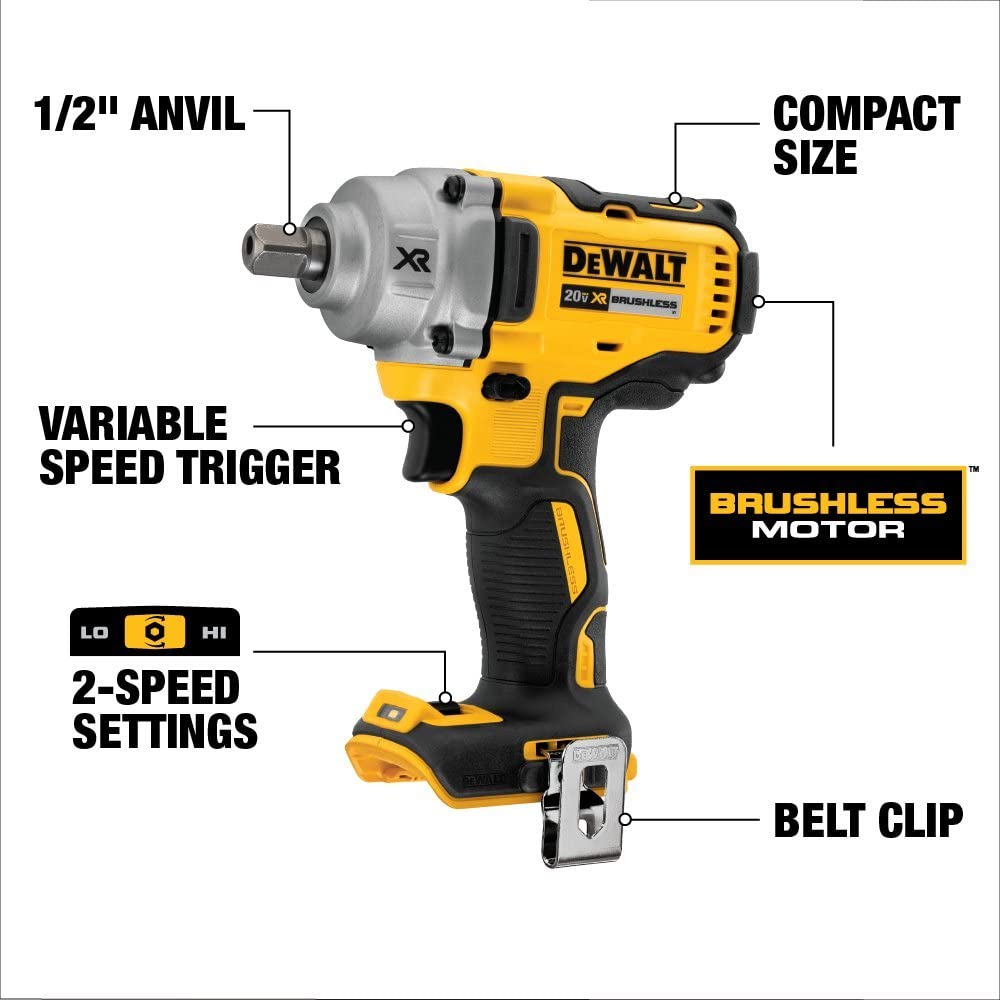 Pros
Delivers ample force for any task
Versatile with three-mode adjustments
Lightweight and easy to maneuver
Variable
Soft grip rubber handle
Compact size
Cons
Highlighted Features
Precision wrench control
Up to 330 ft-lbs max fastening torque
Three mode settings
LED light
Variable speed trigger
Brushless motor
Frequently Asked Questions
Does this impact wrench hold sockets?
The Dewalt DCF894B comes with a detent pin. If you are working on bolts of the same size, you should align the pin with the socket hole (only one of the four sides). If you have a job that requires a frequent change of sockets, just don't align the socket's hole with the pin of the gun and it will easily come off.
See Also: Ingersoll Rand W7150-K2 20V Cordless Impact Wrench Review
Is the DCF894B wrench good enough to replace SUV car tires?
Yes. It will perfectly work on your application. It has adequate power to loosen old rusty bolts. Since it consumes little power, you can use small batteries to keep the gun lighter.
Can I use the 20v 6.0ah flex volt battery with the Dewalt DCF894B impact wrench?
Yes, but it makes the gun a little heavier and it might be too big to fit in tight spots. The small 2.0 Ah battery is more than enough and is also a lot more compact. Don't forget that when using an impact wrench professionally, the heavier it is, the more fatigued your arm will get.
In Brief
The DeWalt's DCF894B impact wrench is perfect for beginners, weekend DIYers, soccer moms who need to change a flat tire, pro mechanics. It's suitable for pretty much everyone, in fact. It does everything it needs to do, and even better, it's quite affordable, especially when compared to other famous automotive tool manufacturers.
Oh, and don't forget to get a battery too, as it's sold separately. Pro mechanics might be better buying a pair of batteries to prevent down times due to charging. And if you want even more power, get your hands on a 9.0v Ah FlexVolt battery. Your DCF894B will only last even longer.