Keeping your car in top shape might seem like a lot of work. However, using the right tools will always make your life a lot easier.
Any auto mechanic would tell you; the impact wrench is by far the most essential tool in any serious mechanic's tool chest. But just any impact wrench won't do. You need to find one that fits your needs and budget.
If you are looking for a mid-level impact wrench that's just as good for weekend DIYers and professional auto mechanics alike while still being affordable, the Ingersoll Rand 2235TiMAX is a fine choice.
Nonetheless, if you are still unsure if it's the right one for you, read the review below and don't hesitate to compare it to the other models we have already covered. We'll never say it enough – finding the perfect impact wrench is not an easy task, but it's the only way to make sure you don't regret your purchase the next time you are faced with a stubborn bolt.
Enjoy!
Main Features of the Ingersoll Rand 2235TiMAX Impact Wrench
Outstanding torque
The 2235TiMAX is very powerful given its size. It uses Ingersoll Rand's patented twin-hammer system that gives it a max reverse torque of 1,350 lb-ft @ 8,500 rpm. These numbers translate into a multitude of applications, including loosening and fastening bolts and nuts of different shapes and sizes with high speed, precision, and performance.
Superior Build Quality
The impact wrench consists of a titanium hammer case, steel-wear plates, and composite housing, ensuring that the tool can endure a lot of abuse in demanding environments without breaking a sweat.
Furthermore, it features a rubber grip that is ergonomically designed to enhance user comfort while also being shock-resistant, making it ideal for working long hours.
It's also one of the lightest wrenches in its class at only 4.6 pounds, making it easy to hold and carry around the garage.
Four-way adjustable power regulator
The 4-position power regulator provides various speed and control levels depending on the user's skill level and work specifications.
Meanwhile, the smart trigger feature ensures continuity in fastening or removing nuts/bolts. Using a simple push-button, one can change the direction of rotation from forward to reverse with one hand.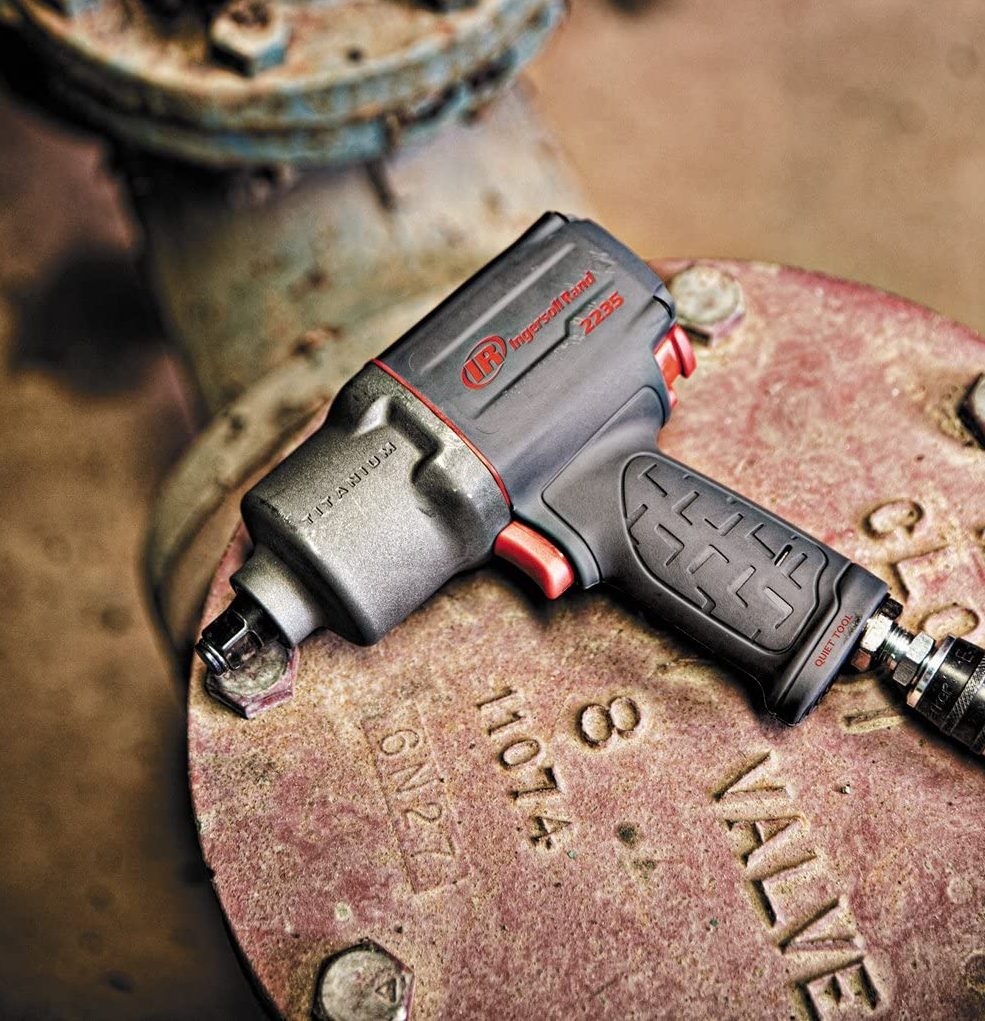 2-Year Manufacturer Warranty
Ingersoll Rand's confidence in its products means that it should last for a long time. As a result, the 2235TiMAX perfect for long-term use in your shop or your personal garage needs.
See Also: Ingersoll Rand W7150-K2 20V Cordless Impact Wrench Review
Pros
Powerful motor with more than enough torque for home and professional use
Four-way adjustable speed and control regulator
Rugged build and good ergonomics for easy operation
Compact and lightweight
Two-year warranty
Cons
The price is higher than comparable impact wrenches

. However, it's well worth its price.
Highlighted Features
Powerful motor
Four-way adjustable speed and control knob
Rugged build
Comfortable ergonomics
Lightweight and compact
Two-year warranty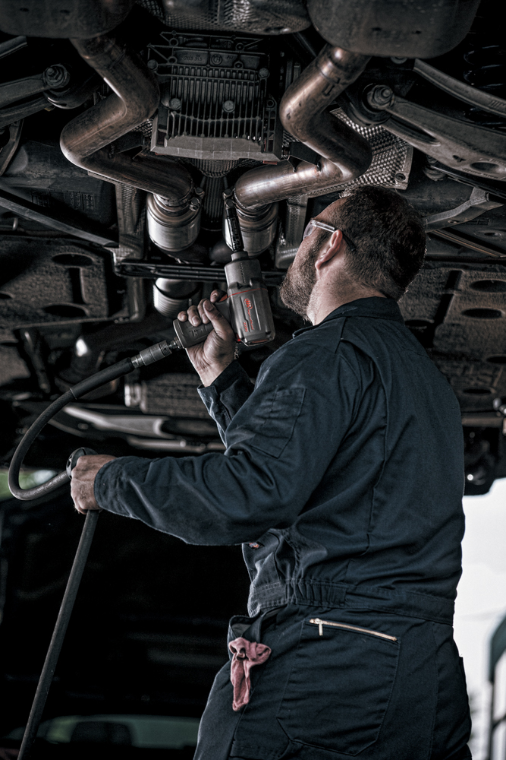 FAQs
What is the required air compressor rating for the Ingersoll Rand 2235TiMAX?
Since this is a pneumatic impact wrench, it is necessary to take into account the capacity of the air compressor. The key parameters used to calculate the strength of the compressor are the airflow rate, either in cc3/min or liters/min, and the pressure rate measured in kg/cm2 or kPa.
The required rating for the 2235TiMAX impact wrench, as specified by the manufacturer, is 6 CFM at pressures up to 125 PSI. So, in this case, a 60-gallon compressor or higher is more than good enough.
Is it battery operated?
No, it doesn't use a battery – the 2235TiMAX impact wrench is air-powered. If you'd prefer a battery-powered impact wrench, make sure to check out our Best Cordless Impact Wrench post here.
How often does it have to be lubricated?
Like any other air-powered tool, the Ingersoll Rand 2235TiMAX needs to be regularly lubricated. Lubrication of the internal components is to be carried out every 8 hours of usage (a couple of tool fluid into the air inlet should be enough) while greasing should be performed every 48 hrs (though I gotta admit I never grease mine and it's been doing fine for the past 5 years…).
Verdict
The Ingersoll Rand 2235TiMAX is an impact wrench powerhouse. The super-rugged titanium hammer casing, steel-wear plates, and outer composite housing make it suitable for use in extremely demanding environments. Moreover, it produces 1,350 lb-ft of max reverse torque at 8,500 rpm, which is more than adequate for home use and professional repair shops.
It is also versatile with 4-way power modes that can be changed via the regulator knob. With just one click of a button, the rotation direction reverses. Meanwhile, the lightweight and ergonomic build make it usable for technicians of different skill levels. The icing on the cake: it comes with a 2-year manufacturer's warranty!
No matter whether you intend to use your impact wrench every once in a while to install your winter tires or 40 hours a week in the shop, if you can afford the slightly higher price, the 2235TiMAX is the impact wrench you need. Trust me; you won't regret it!
Happy tinkering!
Sale
Ingersoll Rand 2235TiMAX 1/2" Drive Air Impact Wrench – Lightweight 4.6 lb Design, Powerful...
PRO PERFORMANCE: This Air Impact Wrench tackles heavy duty assembly and disassembly...
LIGHTWEIGHT DESIGN: Impact wrench tool is compact and light; Weighing only 4.6 lbs, it...
DURABLE RELIABILITY: Titanium hammer case and steel wear plate protect the tool from the...
SUPERIOR CONTROL: Using the four position power regulator, you can seamlessly switch...
DEPENDABLE OPERATION: Whether you operate an auto garage or a construction jobsite, you...