EDITOR'S PICK
OTC 1545 Ultra Low Profile Motorcycle Lift
1,500 lbs maximum weight capacity
3 ½" to 16 ¾" lifting range
Wheeled cart frame
Heavy-duty steel construction
Hydraulic operation using a removable T-bar handle
Lifting rail length: 17"
PREMIUM PICK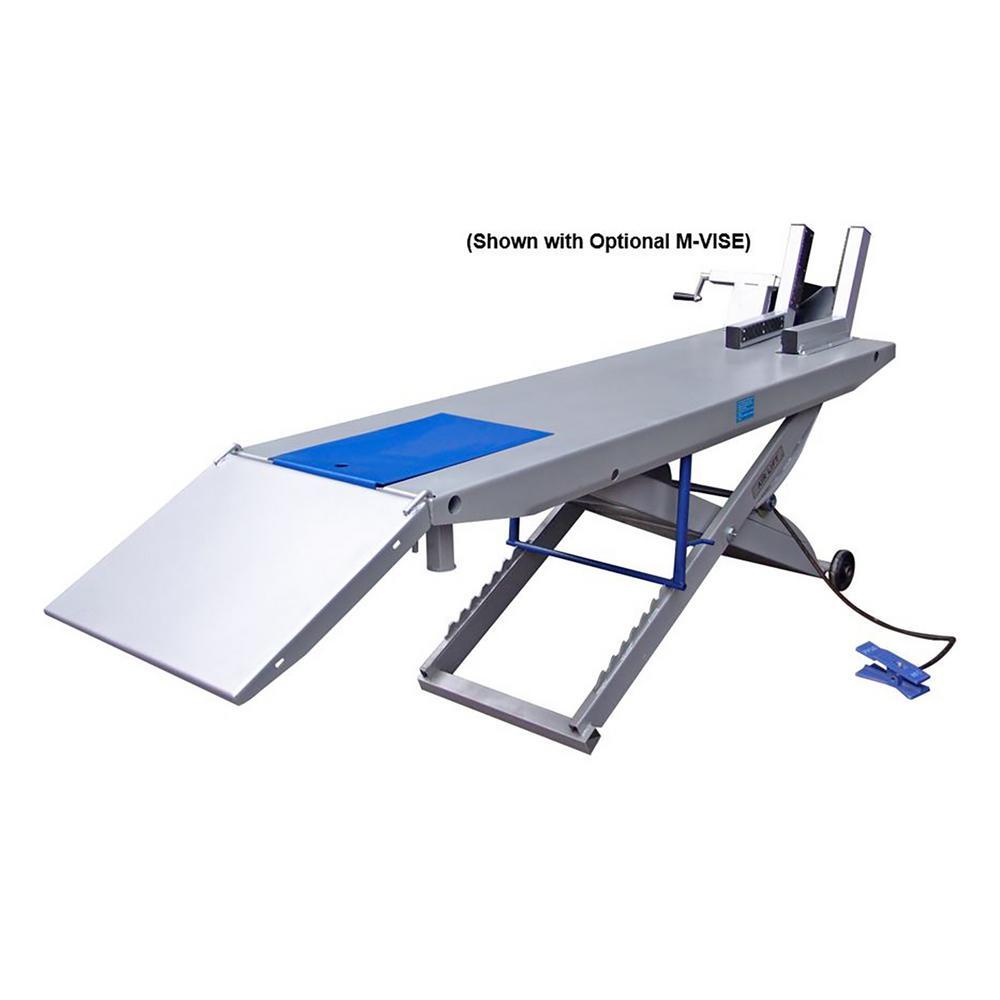 Tuxedo M1000C Motorcycle Lift
1,000 lbs weight capacity
3" to 30" lifting range
Multiple safe working positions
Integrated safety locking system
84" X 24" working platform
Steel construction
Air-powered lift
BUDGET PICK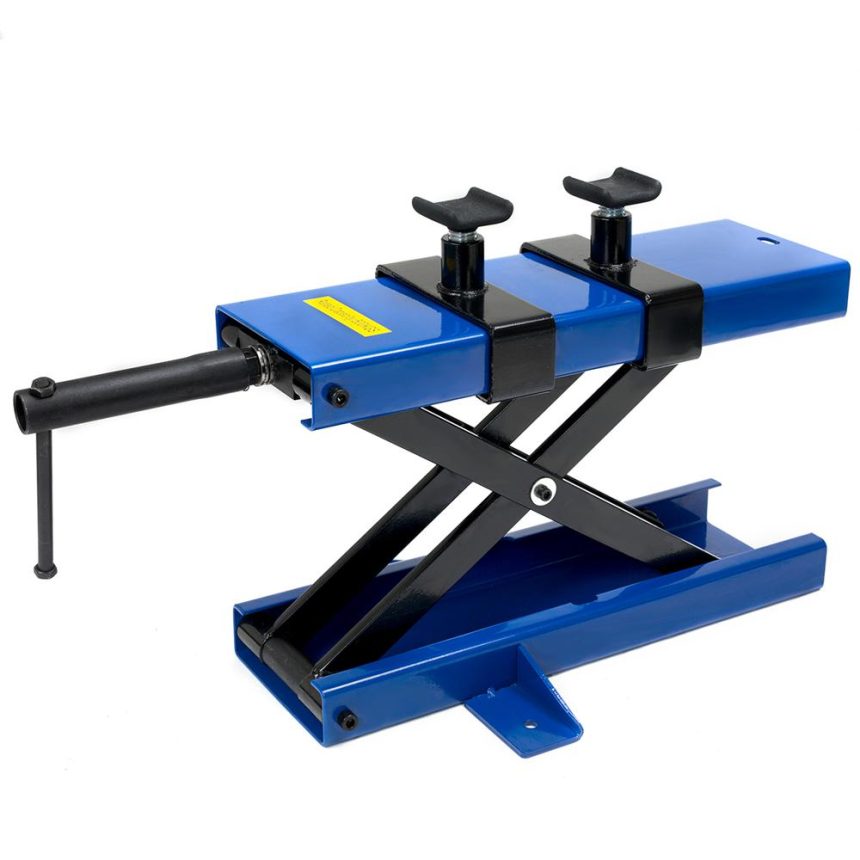 Stark 65124 Center Lift Motorcycle Scissor Jack
1,100 lbs weight capacity
3 ¾" to 15 ¾" lifting range
Steel frame
Scissor-type lifting mechanism
Manual operation
Comes with two detachable rubber saddle adapters
Much like cars, motorcycle repairs also require you to lift your two-wheeler off the ground. For that purpose, all you need is a motorcycle jack.
The way a motorcycle jack works is quite simple and not that different from regular car jacks. But instead of a round saddle, you get a flat platform where the motorcycle's underbody can sit. These jacks also offer incredible versatility levels, whether it is regarding the type of motorcycles you can use them on or the operation method.
When thinking about motorcycle jacks, the first thing that might come to mind is expensive and highly sophisticated hydraulic lifts you usually see in bike service centers. However, there are plenty of affordable options available, allowing weekend DIYers to work on their bike in their driveway or home garage and save money on maintenance and repairs. To help you with the process, we have selected 7 of the best motorcycle jacks currently on the market.
Of course, it would be impossible to cover every single noteworthy motorcycle lift out there. And quite frankly, we might have missed some too. We simply can't test them all either. But we worked hard to test and reviews different types and models in order to suit beginners and professional mechanics, either with a bigger budget or a tighter one and everything in between.
Of course, if you use a model we haven't covered and think it's good enough to make the list, don't hesitate to leave a comment in the box below and we'll do all we can to review it too!
Motorcycle Jack Reviews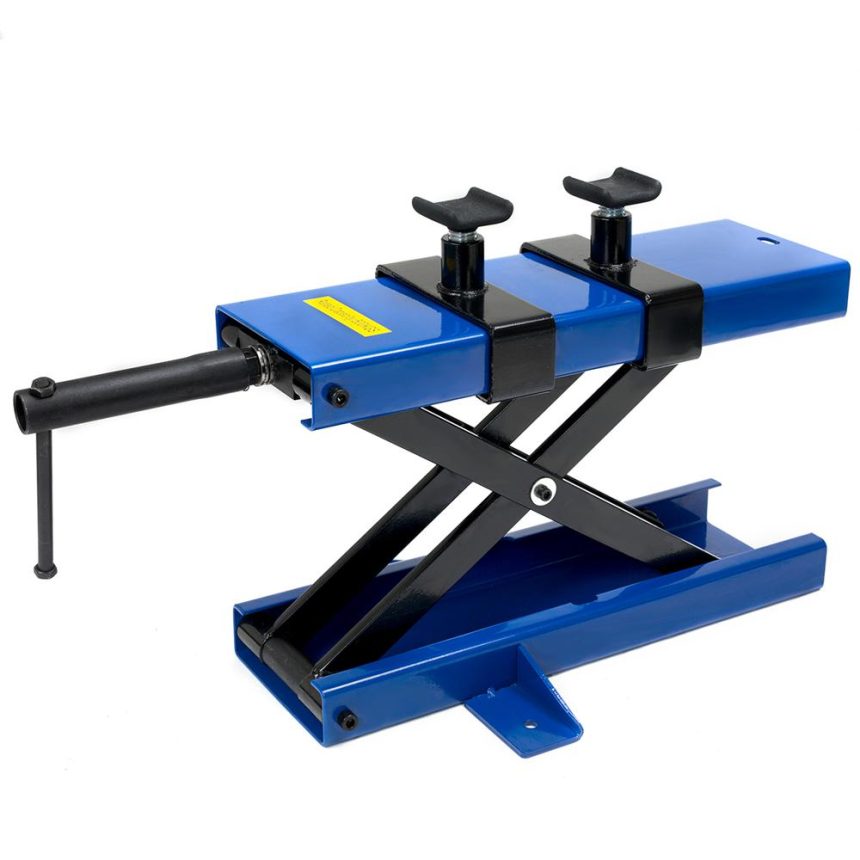 The Stark 65124 motorcycle scissor jack is a low-cost scissor-type motorcycle jack with a lifting capacity of 1,100 lbs. It features heavy-duty steel construction for optimum strength and a special anti-corrosion coating to ensure maximum durability.
Interestingly, this motorcycle jack comes with two saddle attachments that hold your motorbike safely and securely. And even better, each saddle has a rubberized contact surface to prevent any damage to your vehicle. Moreover, the saddle attachments are also adjustable, making it suitable for a wide range of motorcycles.
Stark's motorcycle jack has a versatile height range of 3 ¾" to 15 ¾". However, if it's still not enough, using the optional saddle attachments will get you another 2″-3″ lift. In all cases, it's very unlikely that you'd need to raise your bike higher than almost 2 feet high.
Unlike other models using a pump system that tends to require some elbow grease to raise your bike to the required height, the Stark 65124 uses a crank handle that makes it a lot easier. However, if you own a big-block custom motorcycle or any bike that weighs more than a racer, the reduced leverage may make it harder to lift than pump models with a longer handle.
Thanks to its low cost and simple design, the Stark 65124 is perfect for beginners and weekend DIYers in need of a compact lift they can use from time to time to change the oil on their bike at home. It could also be suitable for auto mechanics wrenching on bikes on the side. Professional motorcycle mechanics, on the other hand, might be better with another model listed below.
Highlighted features
1,100 lbs weight capacity
3 ¾" to 15 ¾" lifting range
Steel frame
Scissor-type lifting mechanism
Manual operation
Comes with two detachable rubber saddle adapters
Pros
Decent weight capacity
Lightweight and reasonably portable motorcycle jack
Easy to clean
Easy operation
Attractive blue and black color scheme with rust-resistant finish
Rubber saddles provide secure mounting without damaging the frame
30 days manufacturer's limited warranty
60 days parts warranty
Cons
Assembly required
Not the best for professional motorcycle mechanics
The Orion Motor Tech ZX09 model is similar to the previous model but with a few improvements. It is a motorcycle lift jack with a scissor-type treaded screw lifting mechanism that allows for an effective lifting range of 3 ¾" to 13 2/5". Moreover, the steel frame and the load-bearing X-bars have been strengthened to hold a 1,200-lbs motorcycle safely. So lower lifting range but bigger weight capacity.
The ZX09 boasts an extra-wide deck area measuring 9.8" X 15.8"; this allows the operator to find balance points that provide the maximum support efficiently. The deck area has also been padded with a rubberized material to provide additional grip and securely hold your motorcycle.
This motorcycle jack is perfect for use as a starter lift for those looking to gain experience before investing in a premium model. With a 1,200-lb weight rating, you can use this lift on light or medium motorcycles, electric scooters, ATVs—you name it!
Highlighted features
1,200 lbs maximum lifting capacity
3 ¾" to 13 2/5" lifting range
Heavy-duty steel construction
Top deck measurements: 9.8" X 15.8"
Rubber-padded deck surface
Scissor-type lifting mechanism
Manual operation
Pros
Lightweight motorcycle jack
Large padded deck prevents slip and ensures optimum safety
Decent lifting capacity
Easy to operate and clean
Rugged and durable frame
No assembly required
Low minimum height
Low cost and high value for money
Cons
Does not come with saddles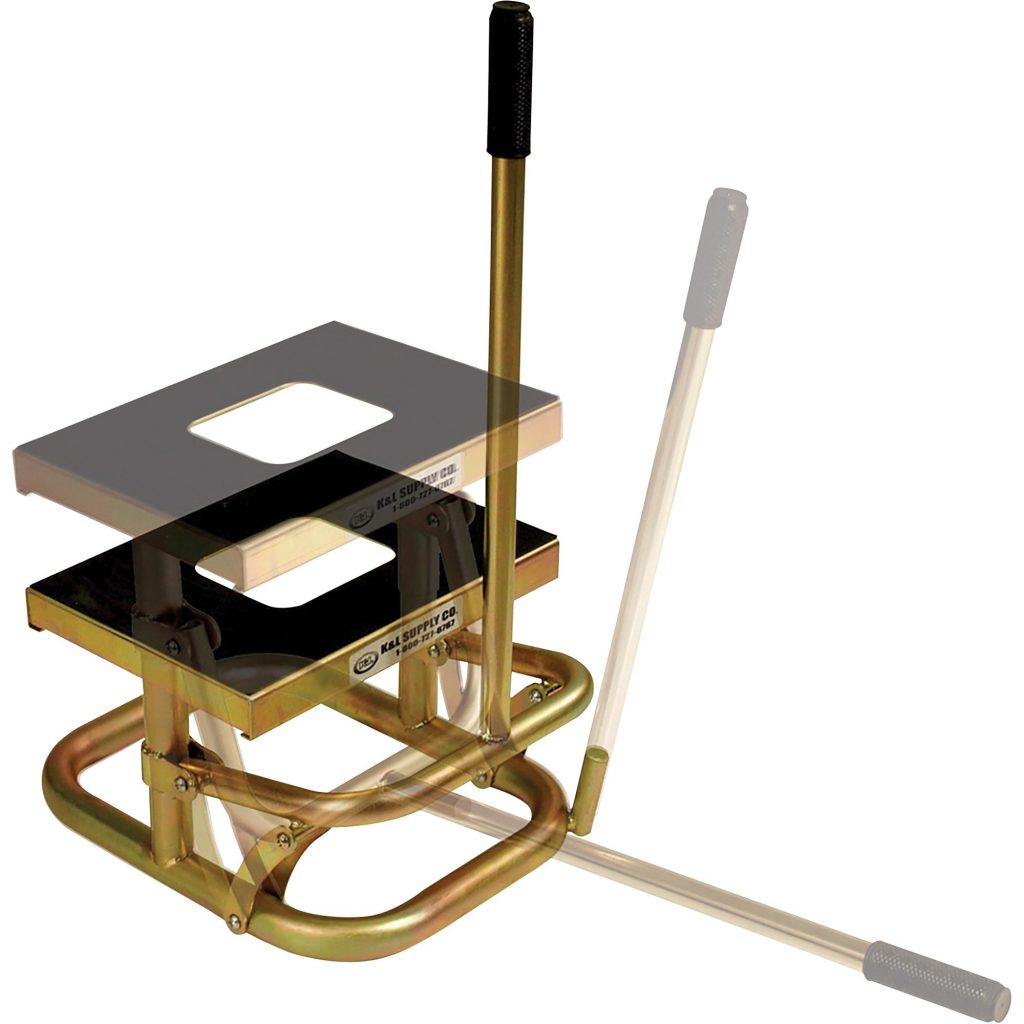 The K&L MC475 motorcycle jack is a unique model that is specially designed for lifting dirt bikes. Of course, you can still use it to lift pretty much any other lightweight bike model but the design simply makes it perfect to be used at your next track or trail day.
The model features a compact and highly ergonomic design that is a lot more advantageous in motocross championships. You get a large deck area to position your dirt bike securely in an instant. Furthermore, the deck surface has a small rectangular cutout measuring 6″ X 5″ through which mechanics can perform oil changes quickly and efficiently.
This dirt bike lift has a maximum weight rating of just 400 lbs, but that shouldn't be a problem as modern dirt bikes weigh much less than street-legal motorcycles. Another feature of the dirt bike-centric design is the lifting range, or rather, the absence of one. Time is of the essence in dirt bike championships, and it is not a good idea to use a jack with a crank handle that required numerous pumps or rotations to reach the desired height. Hence, the MC475 model is designed to reach its 15″ maximum height in just one long handle stroke. The handle is also detachable so that it doesn't hinder access when not in use.
If you are a dirt bike fan, this one is a no-brainer…
Highlighted features
Overall dimensions: 15" X 11" X 11"
11" minimum height, 15" maximum height
11" X 15" deck with a 6" X 5" cutout
400 lbs maximum weight capacity
Steel body
Long handle providing better leverage
Pros
Strong and sturdy construction
Portable motorcycle jack
Specially designed for dirt bikes
Cutout area acts as an easy and convenient access point for oil drainage or other repairs
Lightweight unit
Attractive black and gold color scheme
The detachable handle further adds convenience
1-year manufacturer's warranty
Cons
Unique dirt bike lift, not suitable for bigger other motorcycles
The Powerbuilt 620422E is a highly unique and innovative model. It may look like a slightly modified floor jack, but it is much more than that. Its patented design allows you to use it to lift pretty much anything, from cars to motorcycles, ATVs, UTVs… It will take pretty much anything you throw its way.
Firstly, the padded round saddle allows you to use the 620422E as a conventional jack and use it to lift cars, trucks, UTVs and anything in between. When removing the saddle attachment, you can use the padded rails for motorcycles and ATVs. And even better, the safety locking pin eliminates the need for separate jack stands.
When it comes to the technical side, Powerbuilt's Triple Lift Jack fares quite well, even when put against some of the best motorcycle jacks out there. Indeed, it uses a hydraulic system rated at 4,000 lbs, comes with a 40" long pumping handle for effortless operation and can lift your bike as high as 17 ¾" (which is slightly more than most). However, keep in mind that the lifting range depends on your use of the padded saddle.
You might want to get this jack if you regularly need to lift ATVs, motorcycles, and cars. Purchasing the Powerbuilt 620422E will also save you a significant amount of money and floor space. If you are a professional mechanics working with a wide range of vehicles and don't want to have a jack for each type, this is the one you need!
Highlighted features
4000 lbs weight rating
5 ¼" to 17 ¾" lifting range
Four-in-one lift jack
Floor jack based patented design
40" handle
Hydraulic operation
Pros
Versatile lifting range
Can also be used to lift cars and ATVs
Integrated safety lock mechanism
High value for money
Padded saddle and lift rails prevent damage to your vehicle
Comes with dedicated mounting hooks to secure the motorcycle
Basically replaces three different jacks
1-year manufacturer warranty
Cons
Less suitable for average motorcycles

… If you only need to lift motorcycle and never work on cars, trucks and ATVs, just get a dedicated motorcycle jack instead
Be it car or motorcycle lifting equipment, the OTC brand has a rich heritage of delivering high-quality products for almost a century, and the 1545 model is a prime example of that. Constructed from heavy-duty steel, this 1,500 lbs motorcycle/ATV jack is sufficiently solid and sturdy to life pretty much every bike out there (even the massive Boss Hoss BHC-3 only weighs 1,300 lbs).
The OTC 1545 has a low minimum height of just 3.5", ideal for low-riding motorcycles. On the other hand, it can lift as high as 16.75″, increasing this motorcycle jack's usability in the ATV segment. Moreover, it uses a sophisticated hydraulic system with a foot pedal release system for quick yet safe lowering—no jerky drops here.
And if you work in an environment that primarily deals with low-riding motorcycles or ATVs, the OTC 1545 is the perfect jack for you. It may seem expensive at first glance, but once you go into the details, it becomes apparent that you are getting more than your money's worth.
You just can't go wrong with OTC!
Highlighted features
1,500 lbs maximum weight capacity
3 ½" to 16 ¾" lifting range
Wheeled cart frame
Heavy-duty steel construction
Hydraulic operation using a removable T-bar handle
Lifting rail length: 17"
Pros
Integrated safety lock system
Handle arm is removable for better access
Easy to use
Impressive weight rating
Low minimum height increases versatility
The foot pedal release allows quick lowering
Wheeled configuration allows for easy mobility
2-year limited warranty
Cons
Not as portable as other models
On the expensive side (but totally worth every penny!)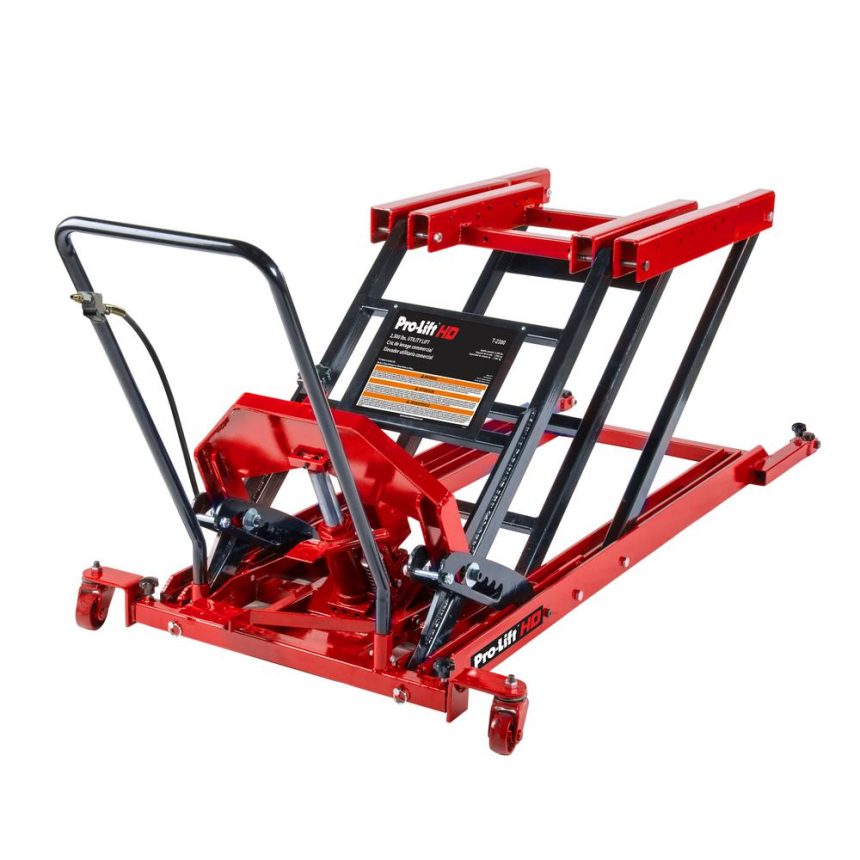 The Pro-Lift T-2300 is a genuinely heavy-duty motorcycle jack. Boasting a sturdy and durable all-metal construction, this model is rated to lift to a whopping 2,300 lbs. Not only that, but it also offers a highly versatile lifting range of 6 ½" to 32″. The best part is that if you have a spare air compressor lying around, the T-2300 will do all the lifting for you, thanks to its ability to operate automatically under pneumatic power.
However, it's worth mentioning that the entire assembly weighs almost 500 lbs. On the other hand, that should not be a problem as you get high-grade casters for mobility. Just be aware that it's not the kind of motorcycle jack you can just drop in the back of your truck for your next day at the track.
Due to the higher weight capacity and large saddle, the Pro-Lift T-2300 model can also be used to lift a wide range of vehicles such as motorcycles, ATVs, dirt bikes, snowmobiles, lawnmowers, and even smaller watercraft.
You should seriously consider investing in this bike jack if you look for a versatile and reliable model to last you the better part of your lifetime. Of course, it's more expensive than most but it should be the last motorcycle jack you'll ever need.
Highlighted features
2,300 lbs weight rating
6 ½" to 32" lifting range
Manual and automatic operation
Hydraulic and pneumatic functionality
Steel frame with patented design
Anti-corrosion protective coating
Pros
Wide lifting range
High maximum weight capacity
Versatile motorcycle jack
Heavy-duty and rugged construction
Foot pedal release for added convenience
The rust-resistant coating ensures a long life
High-quality casters allow easy mobility on the garage floor
1-year manufacturer warranty
Cons
On the expensive side
Heavier than other models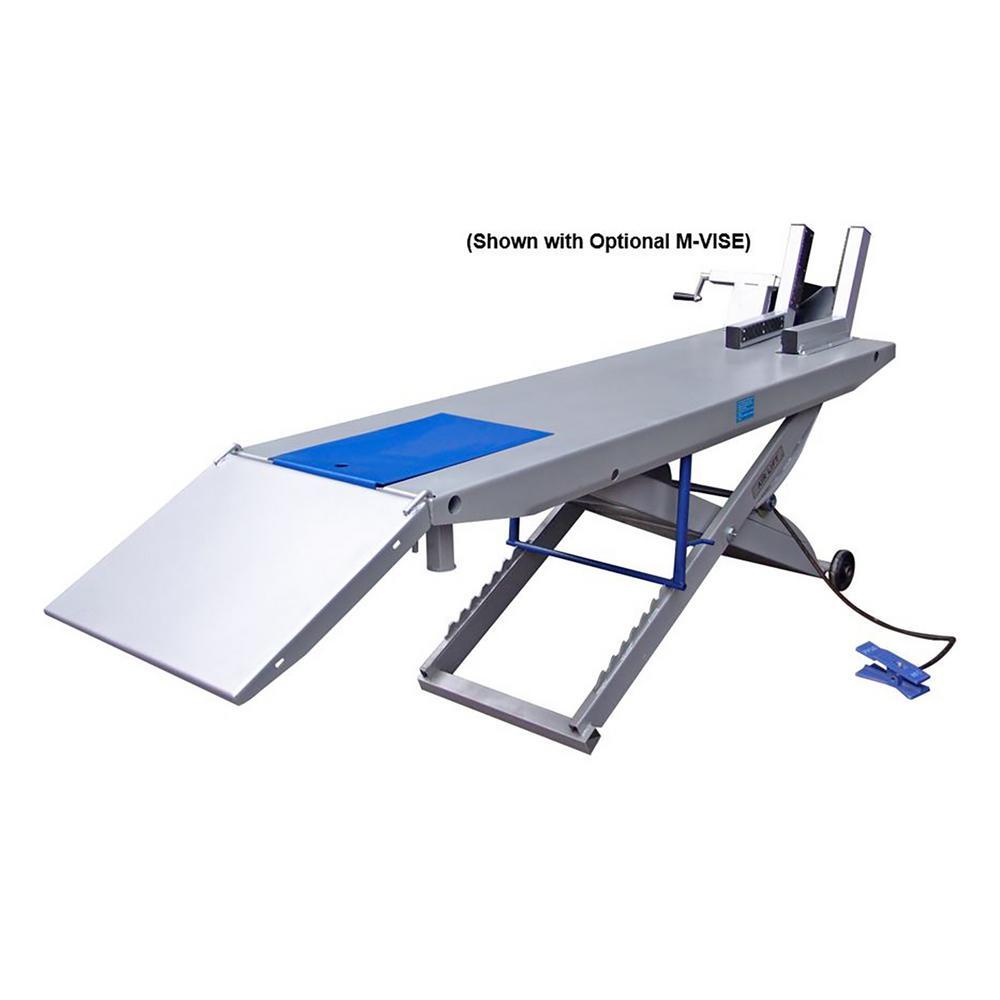 Alright, this one's not "technically" a motorcycle jack but a full-fledged bike lift instead. But if you have always wanted a high-quality motorcycle lift (and have room for one), then the Tuxedo M1000C model is the perfect option for you.
It features a large flat working platform measuring 84" X 24" for your bike; meaning, no more hassle trying to find your motorcycle's center of gravity and no question of chassis damage. Furthermore, this motorcycle lift is entirely automatic, so all you have to do is park your pride and joy onto the platform and press a button.
The M1000C is a long-lasting motorcycle lift constructed from heavy-duty steel. It is rated to carry a maximum of 1,000 lbs and go up to 30″ high. On the other hand, this lift can go as low as 3" in its collapsed position, making it perfect for cruisers or hotrod bikes.
However, it's important to keep in mind that this lift design actually lifts the motorcycle by the wheels and not the frame. So it's perfect for body and engine work, maintenance and such but if you want to change the tires, you'll need a regular motorcycle jack to do that.
If you are looking to buy the kind of motorcycle lift actually used in the industry, get your hands on a Tuxedo M100C. Trust me; you won't regret it!
Highlighted features
1,000 lbs weight capacity
3" to 30" lifting range
Multiple safe working positions
Integrated safety locking system
84" X 24" working platform
Steel construction
Air-powered lift
Pros
Very safe motorcycle lift
Easy to use
The high maximum height allows for comfortable repairs
Multiple lifting positions
The locking system guarantees safety
Strong and rugged body
Optional vise and other attachments available
1-year manufacturer's warranty
Cons
Works only on pneumatic power
On the expensive side
Definitely not as portable as other models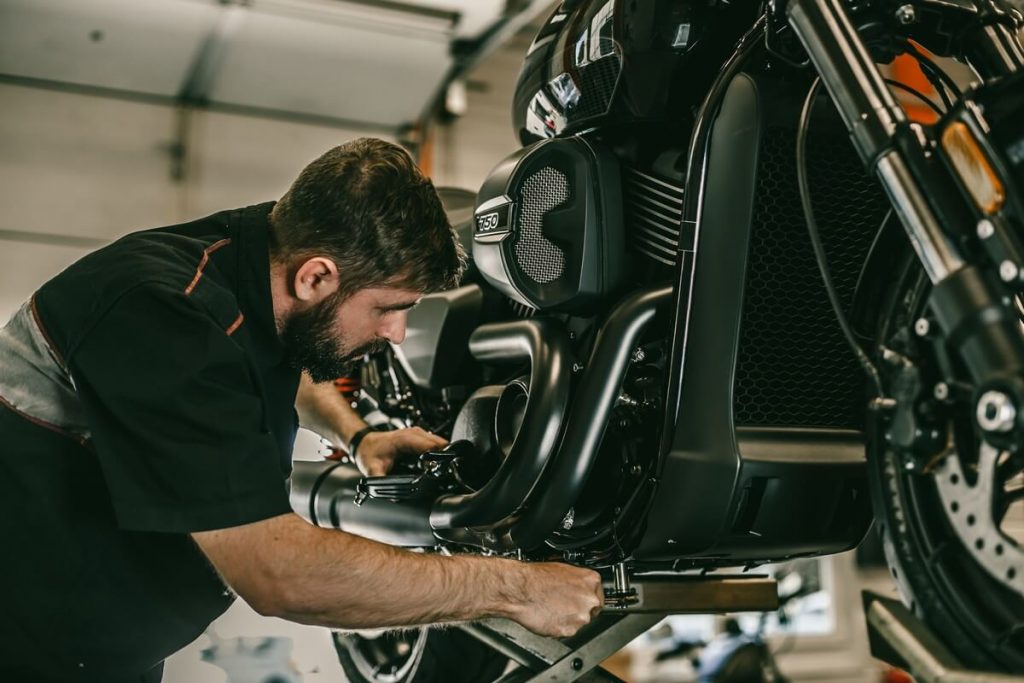 What to Consider When Buying A Motorcycle Jack
Maximum weight capacity
You can define a motorcycle jack's weight capacity or rating as the maximum weight it can lift. No need to mention that a good motorcycle jack should have a high enough weight capacity to satisfy all your requirements. On average, street motorcycles weigh up to a maximum of 900 lbs. Therefore, it is advisable to purchase a model with a weight rating of 1,000 lbs or higher. If your motorcycle or ATV weighs more, we have included models with a weight rating as high as 4,000 lbs.
Always remember, unlike car jacks, motorcycle jacks lift the entirety of your motorcycle's weight during operation and not just one corner at a time. For that reason, never, never exceed the manufacturer's weight rating in the interest of your safety—and the safety of your beloved bike!
Lifting range
The lifting or operational range of a motorcycle jack tells us about its minimum and maximum height. For use in garages and repair shops that see various motorcycles each day, it is essential to buy a jack with a wide lifting range to accommodate all incoming vehicles and various jobs they might need.
Owners having low-riding motorcycles such as cruisers should look for a model with a low minimum height. Meanwhile, dirt bike or ATV owners are better off looking for a high maximum height motorcycle jack.
It's also worth mentioning that the highest lift point will also dictate how you'll be working on the bike. When buying lower lifting models, you might need a mechanic's creeper seat if you don't want to work crouching. On the other hand, higher jacks will allow you to work standing. It's really a question of personal preference at this point.
Type of use
Although the name suggests otherwise, you can also use a motorcycle jack on a wide range of different vehicles such as ATVs, dirt bikes, lawnmowers, and in some cases, even cars. We recommend choosing a model based on the specific applications you most frequently work with.
However, keep in mind that specific models, like the one by K&L, are tailor-made for a particular type of vehicles.
Type of lifting mechanism
There are two main types of lifting mechanisms modern motorcycle jacks are fitted with—scissor or hydraulic. A scissor-type mechanism is almost identical to scissor jacks, (the same type that manufacturers include in most car trunks). It comprises a relatively simple x-bar structure operated manually by rotating a crank handle. They work quite well and are usually affordable and portable.
On the other hand, hydraulic mechanisms use a much more complex setup that includes cylinders, fluid lines, valves, and hydraulic fluid. Most models are operated using a lever and elbow grease but specific hydraulic models like the Pro-Lift T-2300 model are also capable of functioning on pneumatic power.
Level of experience
Buyers who are just starting in the field and looking for a motorcycle jack to get some experience under their belt should consider some cheaper models like the ones from Stark or Orion Motor Tech. Expert mechanics and technicians working 40 hours a week on motorcycles should probably look for more sophisticated jacks like the Pro-Lift T-2300 or the Tuxedo M1000C.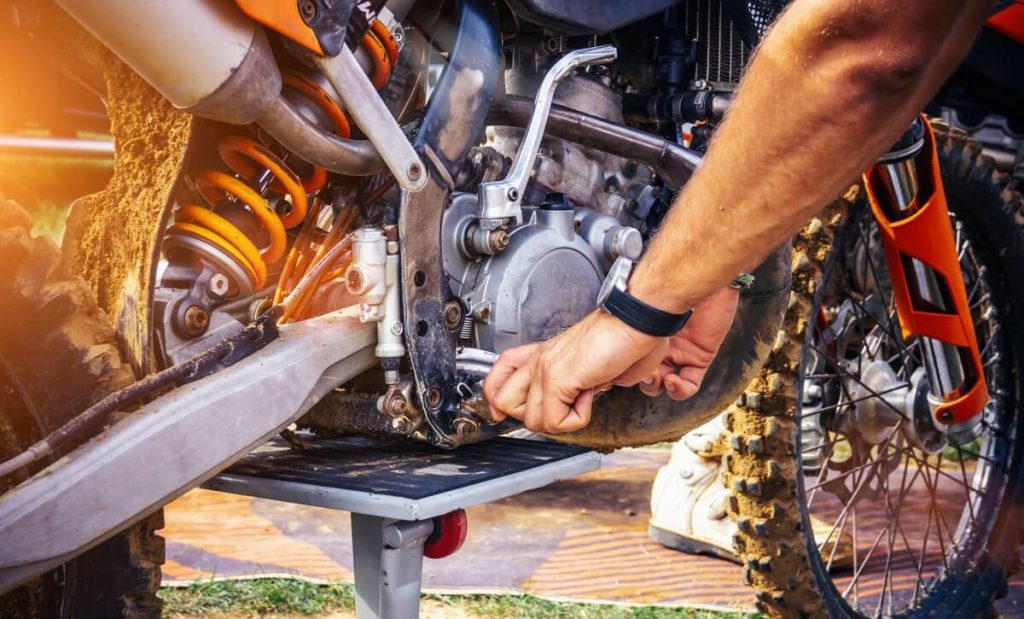 Frequently Asked Questions (FAQs)
Which is better, a scissor or hydraulic jack?
There is no such thing as a better option between a scissor and hydraulic mechanism motorcycle jack. Instead, one mechanism type may be better suited to a specific situation compared to the other.
Let us explain with an example: as a direct result of its design, scissor-type motorcycle jacks usually have a lower weight rating of around 1,000 to 1,500 lbs. For motorcycles weighing more than that, the best option is a hydraulically operated jack as they usually offer a much higher weight capacity.
However, hydraulic jacks are usually super heavy and might be a real hassle to move around. If you need a jack to bring to your next track day, you might be better off with a scissor-type jack that you can easily bring around with you.
What are the advantages and disadvantages of a pneumatic motorcycle jack?
Just like all things in life, pneumatic jacks have a specific set of advantages and disadvantages. However, a pneumatic motorcycle jack's actual usability is better determined on a case-to-case basis as it may better suit certain situations than others.
By far, the most significant advantage of an air-powered motorcycle jack is the effortless operation. Since compressed air is doing all the heavy lifting (quite literally), all you have to do is press a button. Moreover, even releasing the pressure to lower the platform is much easier.
On the flip side, pneumatic lifting requires much additional equipment such as air hoses, filters, an air compressor, and a storage tank, among other things. These things cost a significant amount of money, so unless you already have the appropriate pneumatic equipment in your garage or have the budget for the full setup, you might want to choose a manual model instead.
At one point, it's also a question of profitability. Like if you only use your jack once every month to change the oil on your bike, it might not be a good idea to bank a grand for a jack. On the other hand, if you fix motorcycles for a living, cheaping out and buying a $100 model may not be best either.
Do I need to put my motorcycle on jack stands while using a motorcycle jack?
No.
Since motorcycles weigh a lot less than cars, using a motorcycle jack is usually much safer (given that your jack is of the required weight capacity). Hence, you don't need to use special jack stands; the jack itself will suffice.
However, due to the way they are balanced, it can be easy to knock over lifted motorcycles unintentionally. For that purpose, most models come with ratcheting straps that help secure the bike for optimum safety.
Verdict
Since our list contains a wide range of different motorcycle jack models, it would not be fair to pick a single model over another. Almost every model serves a different purpose and has a unique skill set that can be advantageous in specific situations and not so much in others.
With that being said, if you ask me, the OTC 1545 motorcycle jack is a great all-around choice. In addition to the peace of mind that comes with OTC tools, you also get vital accessories such as ratcheting tie-down straps required to safely and securely hold your motorcycle during operation. If you aren't sure, just get this one. Full disclosure: that's the model I personally own so I might be a bit biased. Still, OTC tools just rock!