EDITOR'S PICK
TORIN Big Red APD2016AR Rolling Tool Chest/Stool
Basically a tool chest on wheels
High quality steel construction
Acceptable weight rating
High value for money
One-year manufacturer warranty
Cons
PREMIUM PICK
SHARPER IMAGE 206680 Rolling Toolbox Stool
No assembly required
Strong and heavy-duty steel construction
Adequate weight capacity
Lots of storage space
Comfortable cushion seat
BUDGET PICK
TORIN Big Red TR6300 Creeper Seat
Tool tray with three different compartments
Comfortable 2-inch thick padded seat
Strong and durable steel construction
Easy to assemble
One-year manufacturer's warranty
Have you ever experienced severe knee pain due to repetitive bending, squatting, or kneeling to work on a car? Or do you just like to be comfortable while detailing or sanding a vehicle? In either case, we have just the tool for you. All you need is a creeper seat (also known as a mechanic's seat), which is basically a stool with small casters attached to the bottom, allowing you to move around while seating comfortably.
In most cases, creeper seats are padded or covered in soft foam for better comfort, and some also have an integrated tool tray to store a couple of tools you need within a hand's reach.
Creeper seats allow mechanic and auto body repairmen alike to comfortably sit while doing certain jobs such as working on brakes, bodywork, etc. A creeper seat differs from a mechanics creeper as the latter is used exclusively for working under vehicles, while the former works best when working from the sides.
These days, creeper seats come in different shapes, sizes, and setups. To help you fit the right one for you, we have reviewed several models and came up with 7 of the best creeper seats available to buy (in no particular order).
As usual, this is not an exhaustive list. We simply can't review all of them. If you have a different creeper seat and think it should make a list, leave a comment in the box below, and we'll make sure to check it out!
Creeper Seat Reviews
The first creeper seat we have picked is the 73012 model by Wen—a rolling mechanics stool with a soft padded seat—can't get any more basic than this. Nonetheless, the multi-layered 1 ½-inch thick padding wrapped in vinyl will ensure optimum comfort even during an extended period.
The user can also adjust the seat's height using a pneumatic lever for an effective height range of 15 to 20 inches, making it suitable for a wide variety of automotive applications. However, padded back support would be a neat addition.
The Wen 73012 employs five 2 ½-inch swiveling casters for rolling around on your garage floor. It's important to mention that these wheels can experience slight difficulty while overcoming certain obstacles such as surface irregularities, dirt, or gravel.
This creeper seat also has a dedicated 15 inches storage tray, mostly suitable for portable lights and compact hand tools. It might not seem like much, but it can fit pretty much everything you might need for a full brake service.
With a weight capacity of 300 lbs, the 73012 can be used by a wide range of mechanics with different body styles. Besides, the creeper seat itself weighs around 10.6 lbs, making it especially suitable for mobile mechanics.
Pros
Adjustable height
Metal hand tool storage tray
Simple assembly procedure
Lightweight and portable
Decent weight capacity
Reasonably priced
Two-year manufacturer's warranty
Cons
Storage tray not suitable for bigger tools
No back support
When it comes to vehicle servicing equipment such as jacks or creeper seats, the Big Red sub-brand by Torin tools is a prominent name, and its TR6300 model stands as a proud testament to the brand's reputation.
Measuring 14 ½ inches in length and 8 ¼ inches in width, this seat is big enough for larger mechanics. However, unlike the Wen creeper seat, the Big Red TR6300 does not have any seat height adjustment functionality, a factor that limits this creeper seat's versatility. However, no hydraulic cylinder also prevents the risk of leaks. So yes, it has a fixed height, but it will last you for decades. And it's also almost half the previous one's price—that's not to neglect.
The Big Red creeper seat also has a special storage tray meant for hand tools, nuts, or bolts. Users should be careful as the three-compartment tray tends to develop cracks upon rough use. On the other hand, the manufacturer also sells replacement trays, just in case.
This creeper seat sports an all-steel heavy-duty construction that allows for a weight rating of 250 lbs which may seem less than other stools, but the frame's strong and highly durable nature more than makes up for it. Moreover, its compact dimensions and low weight, tipping the scale just over 8 lbs, make the TR6300 highly portable.
Pros
Tool tray with three different compartments
Lightweight creeper seat
Comfortable 2-inch thick padded seat
Strong and durable steel construction
Easy to assemble
One-year manufacturer's warranty
Cons
No height adjustment
Slightly lower weight capacity
Tool tray may crack if abused
This next creeper seat by DeWalt not only looks insanely cool in the brand's traditional black and yellow color scheme but also comes with a lot of impressive features. It has a soft padded seat with a small backrest for extra support and comfort. Even though the back support is quite short, it is enough to make a significant difference.
Furthermore, the seat is wrapped in a vinyl covering that also has anti-tear properties. The rest of the body is constructed entirely from steel to impart durability and long life, resulting in a maximum weight capacity of 300 lbs.
DeWalt's creeper stool comes with a pneumatic height adjusting cylinder ranging between 22.5 to 26.75 inches. The seat swivels 360-degrees, independently from the four casters. And if you just don't want your creeper seat to roll around, the manufacturer also provides four flat feet to replace the casters.
Lastly, like most creeper stools, the DeWalt DXSTAH025 also comes with dedicated hand-tool storage space. A cleverly designed wire mesh arranged in grid form is used for this purpose; the wire grid may work for most hand tools like pincers, wire cutters, or pliers but storing smaller components such as sockets, nuts, or bolts can get a bit difficult compared to other creeper seats. A neat trick here is to stick a magnetic tray to the wire mesh to store nuts, bolts, and smaller tools.
Pros
Height adjustment mechanism
Provides back support
Comfortable and durable vinyl-covered seat
Strong and sturdy steel construction
Requires very little assembly
Lightweight
Also comes with flat feet
Cons
Wire grid is not suitable for smaller tools
The second Big Red creeper seat on this list is quite unique, offering a lot more storage space than most. Torin's model features three built-in pull-out drawers for convenient and easy storage of hand tools and basically anything you might need while on the job. Furthermore, there is an additional exterior storage tray for other necessary equipment such as brake cleaner cans or even a cold beer if that tickles your fancy.
On top of those drawers is a thick foam padded seat that prioritizes comfort; the seat has a good quality vinyl cover, protecting it from ripping or tearing. A backrest or adjustable height functionality would have been icing on the cake, but we are not complaining.
This Big Red creeper stool's tubular frame and drawer components are constructed entirely from heavy-duty steel to impart exceptional strength and durability, allowing for a 300-lbs maximum weight rating. Meanwhile, four swiveling casters support the main body for smooth and uninterrupted mobility.
Its lightweight nature and compact dimensions—14.57 inches long, 15.75 inches wide, and 14.45 inches—make the Big Red APD2016AR a highly portable creeper seat.
Pros
Basically a tool chest on wheels
High quality steel construction
Acceptable weight rating
High value for money
One-year manufacturer warranty
Cons
Not as portable as other creeper seats
No back support
No height adjustment
On the heavier side, especially if loaded with tools
Omega Lift's 91305 model is a creeper seat with possibly the most quirky design functionality; its innovative design means this creeper seat doubles as a step stool, which comes especially handy when trying to reach inside modern pickup trucks' engine bays.
The way it works is simple yet smart; to turn this creeper seat into a step tool, all you need to do is tip it over to the appropriate side, and voila.
The 91305 uses a soft padded seat for superior comfort and five 3-inch casters for mobility when in creeper seat configuration. It also comes with a storage tray for hand tools. However, users should remember to empty the storage tray before using it as a step stool to avoid spilling the equipment all over the garage floor.
For use as a step stool, this model has a steel tread plate that provides additional grip. Moreover, the stool's fourth leg has an adjustable foot used to level it when used on uneven surfaces.
The all-steel heavy-duty construction of Omega Lift's mechanics stool allows for an impressive weight rating of 350 lbs, making it capable of handling big-boned individuals with absolute ease.
Pros
High on the value for money scale
Reasonably priced considering what it offers
Lightweight
Compact dimensions make it very portable
Includes storage tray
Soft padded seat for optimum comfort
Can also be used as a step stool
Higher weight rating than most
Cons
Non-adjustable height
No back support
If you are looking for a daily-use creeper seat and don't mind shedding a few extra bucks to get one that really offers more than most, you should consider the Powerbuilt 240036. It features an injection-molded heavy-duty plastic seat measuring 18 inches long and 10 inches wide. A plastic seat may not be as comfortable as a padded one, but the generous dimensions allow the mechanic more room to adjust and move around.
The Powerbuilt 240036 has a strong square steel frame combined with hard plastic body components; this combination is beneficial as steel imparts the necessary strength to the creeper seat while plastic parts help keep the weight down. The result is a mechanics stool that weighs just 13.82 lbs but can support individuals weighing up to 300 lbs.
Worth mentioning, this creeper seat sits significantly higher on the ground than others due to the large 4-inch swiveling rubber casters. Also, the bigger wheels make it much easier to move around without having the wheels get stuck on small rocks, dirt, wires, cords, or gravel.
Interestingly, out of the four wheels, two have a locking mechanism for use on inclined surfaces or when trying to put some pressure on what you are working on without having the seat go backward.
There are many storage options available as this creeper seat comes with two removable trays with dedicated compartments for different equipment and slide-out drawers.
Pros
Two locking wheels
Large wheels can easily tackle obstacles and surface irregularities
Strong and durable steel construction
Decent weight capacity
Slide-out drawers for easy storage
Two removable tool trays
Cons
Costs more than other creeper seats
No padding
Fixed height
Sharper Image's rolling toolbox creeper seat is a comprehensive model suited for professional mechanics and experienced DIYers. It has all the storage space you might need and then some.
First off, the 206680 model features a large and comfortable padded foam seat wrapped in vinyl for protection. It also boasts a high-quality steel frame for exceptional strength and durability, for a maximum capacity of 300 lbs.
The main body rests on four casters that allow it to move around freely in all directions. These casters measure 2 ½ inches in diameter and are made from Polyvinyl Chloride or PVC, a material known for having high hardness and durability. However, the smaller wheels also mean that your floor will need to be slightly cleaner, or it might get stuck on rocks and dirt.
That being said, the most impressive thing about the Sharper Image 206680 rolling toolbox is its storage options; it offers a ton of space to store all your essential equipment. Starting with the highest capacity, the creeper seat has three slide-out drawers to store hand tools such as wrenches, ratchets, and sockets. The other side has slots to hold smaller and more frequently used equipment such as pliers, screwdrivers, etc. Moreover, there are two collapsible magnetic trays on either side to securely store nuts and bolts.
Pros
No assembly required
Strong and heavy-duty steel construction
Adequate weight capacity
Lots of storage space
Comfortable cushion seat
Cons
No backrest
Fixed seat height
On the heavy side
Costs more than other creeper seats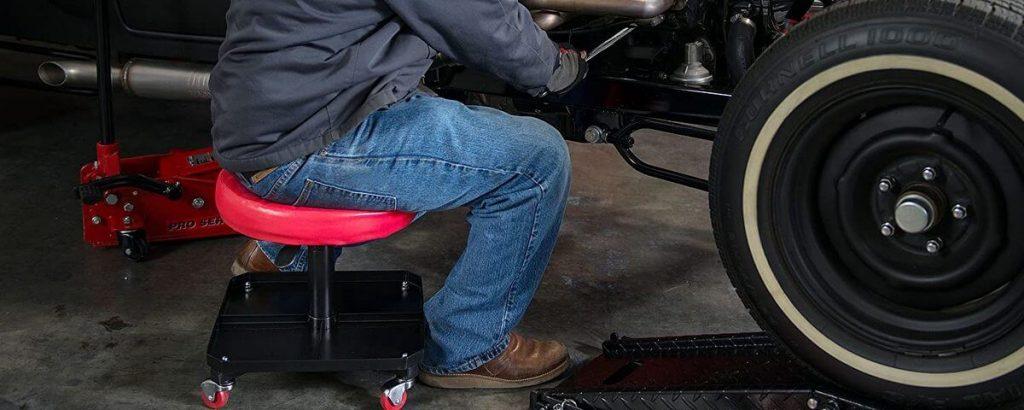 What to Look for When Buying A Creeper Seat
Comfort
The biggest and most important reason to buy a mechanics seat is comfort. A good creeper seat should provide optimum comfort to the operator by having features such as a soft foam padded seat. Some products also come with additional support for your back; this makes using the tool for longer periods a lot more bearable.
Operational height range
In the case of adjustable creeper seats, the height range means the lowest and highest point you can set it to. Certain jobs require the mechanic to be at a certain height for accuracy or precision purposes, while other projects may have other requirements; that is why having a long operating height range opens up the creeper seat to a plethora of different applications.
Additional features
Choose a creeper seat that offers a lot of features for less money. For example, most products come with a storage area for hand tools, but not all have dedicated slots, trays, or drawers for specific equipment. Other features like the ability to adjust the seat's height or a padded backrest are also desirable.
Portability
If you are a mobile mechanic, you should buy a creeper seat that can be easily stored or carried around. Therefore, a good seat should be lightweight and compact.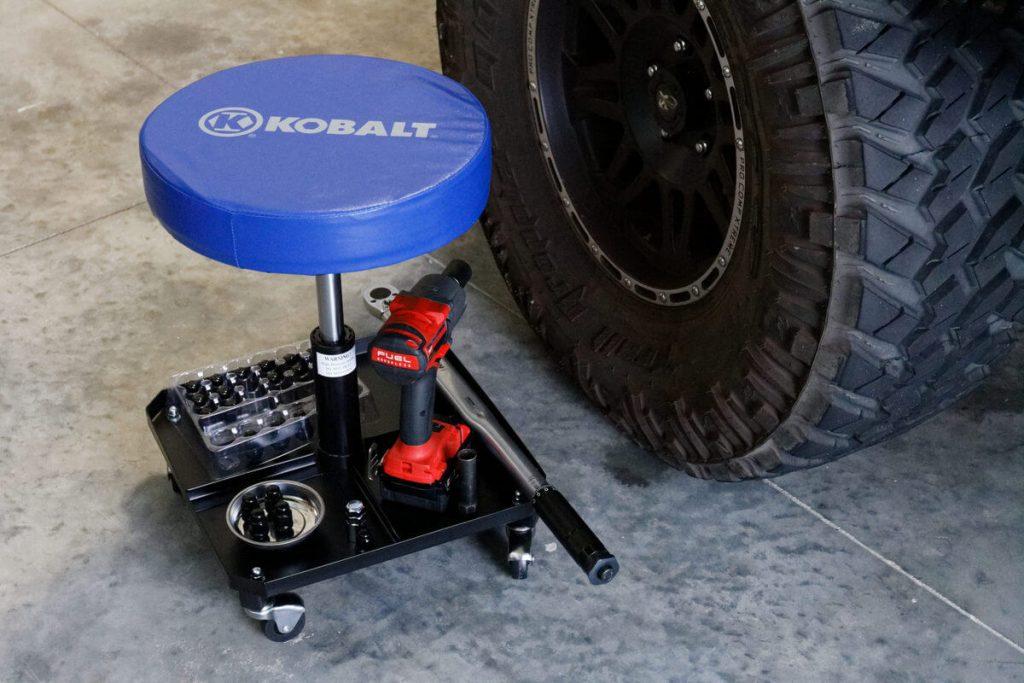 Mobility and caster quality
A creeper seat uses small wheels or casters attached to its body to move around. The casters should overcome certain small obstacles such as wires, hoses, pebbles, or gravel. For increased mobility, consider creeper seats with larger-diameter wheels.
A caster or wheel is a component that has the highest probability of breaking; that is why it is important to get a creeper seat with good quality casters. Moreover, get a creeper seat with an easily available replacement caster so that in case it breaks or a bearing fails, you can just replace it.
Weight rating
Each creeper seat is specifically rated to carry only a certain amount of weight. If you are a big-boned individual, make sure to buy a seat with a high maximum weight capacity; after all, you don't want to end up injuring yourself if the tool suddenly breaks. For comparison purposes, a creeper seat having a capacity of 300 lbs or more is adequate.
Last Words
All things considered, there's not just one clear winner here. We have selected products to cater to a wide range of mechanics with different needs and budgets. However, if we had to pick the best all-round creeper seat from the given options, the Powerbuilt 240036 would be the one. Its large wheels can get over most obstacles, and there is ample storage space for all your tools.
Meanwhile, the Torin Big Red TR6300 would make a good budget creeper seat, while professional auto mechanics will benefit from choosing the Sharper Image Rolling Tool Box.