From powerful gas models to convenient electric units, here are the best pressure washers for your car or truck currently on the market!
EDITOR'S PICK
Stanley SHP2150 Electric Car Pressure Washer
Pressure: 2150 PSI
Flow rate: 1.4 GPM
Power source: Electric
Size: 14.57 x 13.58 x 26.77 Inches
Weight: 25 lbs
Hose length: 25 ft
Detergent tank: 1.4L
Spray nozzles: 4 included
PREMIUM PICK
Simpson Cleaning MSH3125 MegaShot Gas Pressure Washer
Pressure: 3200 PSI
Flow rate: 2.5 GPM
Power source: Gas
Size: 26 x 18 x 35 Inches
Weight: 79 lbs
Hose length: 25 ft
Detergent tank: Siphon tube
Spray nozzles: 5 included
BUDGET PICK
Karcher K1700 Electric Power Pressure Washer
Pressure: 1700 PSI
Flow rate: 1.2 GPM
Power source: Electric
Size: 17.25 x 16.5 x 33 Inches
Weight: 20.7 lbs
Hose length: 20 ft
Detergent tank: 1.9l
Spray nozzles: 3 included
Like most people, you probably use your car every day. With bird droppings, leaves, dirt, and dust constantly in the air, it doesn't take long for it to become dirty. And nobody likes a dirty car, right?
You could use the car wash, sure. However, if you want to take better care of your car's paint and ensure it stays as good-looking as when it came out of the factory, going to the car wash is never a good idea — we'd suggest going for a pressure washer instead. Indeed, besides being useful for cleaning a wide range of other stuff around the house, using a pressure washer is quite fun and it will also allow you to clean your car much better while keeping the paint in good condition for much longer than a regular automatic car wash would.
However, with so many different types of pressure washers on the market, it can be quite challenging to choose the right one for your specific needs — you don't want to cheap out too much because then it won't last that long and you'll have to buy a new one in 3 years, and you don't want to pay too much for something you won't be using to its full capacity either. Also, keep in mind that some models may not be suitable for cars due to the extra high pressure — the last thing you want is to see paint chips flying off when moving the spray nozzle around.
Luckily, we've done all the hard work for you, and selected some of the best pressure washers we could find, listed and reviewed them thoroughly — you can be sure that any model on this list is well worth the money and won't do more harm than good here.
I hope it helps!
Car Pressure Washer Reviews
This one is an interesting one — despite being our "Budget Pick" and definitely an entry-level model, it's still manufactured by one of the best pressure washer manufacturers out there. Indeed, Karcher is a reputable German brand providing high-quality cleaning products, which was even once present in Formula One — a testament to its dedication to delivering nothing but some of the best cleaning machines on the market.
Karcher's electrically-powered K1700 pressure washer shoots water up to 1700 PSI, enough to wash most of the grime and dust. It's also very easy to use — you can turn the pressure washer on by pressing the on/off button located at the bottom using your foot, preventing back strain, which is a must if you are not getting any younger like me.
Moreover, you'll benefit from an extra storage compartment where you can store your high-pressure hose, nozzles, and personal items when cleaning your car, preventing them from being lost or water-damaged.
The Karcher K1700 can also apply detergent, and it comes with a removable detergent tank big enough to store up to half a gallon of soap. Hence, you can wash your car without ever using a mitt — pretty neat, right? Well, ok you might need to use a mitt if your car is very dirty but for a quick mid-week refresh, the pressure washer alone will be good enough.
And to top it all off, Karcher also offers a range of add-on accessories fitting this pressure washer should you want or need to clean a bunch of other things, like your pool deck, the exterior of your house, windows, and so on.
Of course, the Karcher K1700 is far from the best model on this list and will not last nearly as long or be nearly as powerful as the more premium ones below. But if you need an affordable pressure washer to wash your car every once in a while without costing you an arm and a leg, this one is definitely worth considering.
Highlighted Features
Pressure: 1700 PSI
Flow rate: 1.2 GPM
Power source: Electric
Size: 17.25 x 16.5 x 33 Inches
Weight: 20.7 lbs
Hose length: 20 ft
Detergent tank: 1.9l
Spray nozzles: 3 included
Pros
Reputable brand and German engineering
Solid 1700 PSI maximum pressure
Large half-gallon detergent tank
Handy storage compartment for the hose
Cons
20ft hose might be limiting if you own a large truck or SUV
Uses electric power — you'll need to carry the cord around
Read more: How to Clean Your Car With a Pressure Washer — Step-by-Step Guide
Sun Joe's SPX3000 electric car pressure washer can provide up to 2030 PSI of pressure, a significant bump over the previous model, and well enough to give your car a thorough clean without damaging the paint. The higher pressure also makes it extremely versatile, meaning it can target more than just your car — it can clean homes, concrete, buildings, RVs, boats, and pretty much anything you can think of.
Moreover, it comes with two 0.9L detergent tanks (so slightly smaller than the previous model but allowing you that can be filled with various cleaning fluids depending on the task at hand. Thus, this is the only tool you'll need to clean the whole vehicle. I personally still prefer to use a mitt to wash my car, but being able to apply the soap directly with the pressure washer definitely speeds up the process.
And for all of you conscious of the future of our beloved planet, you'll be happy to hear that the Sun Joe SPX3000 car pressure washer is also quite environment-friendly, only using 1.76 GPM (Gallons per Minute) of water at minimum pressure. It will also automatically shut off when the trigger isn't engaged, preventing from wasting precious water as much as possible.
Also included in the package are five quick-connect tips, each providing a different cleaning power level — the white one is perfect to clean your car, for instance — and a garden hose attachment allowing you to hook the gun to a regular garden hose and use it at a much lower pressure making it suitable for watering plants and vegetables in your backyard!
Besides, if your car pressure washer was to malfunction or experience any technical issues, it's covered under Sun Joe's two-year warranty. Simply send them a message, and they'll fix you right up!
Highlighted Features
Pressure: 2030 PSI
Flow rate: 1.76 GPM
Power source: Electric
Size: 15.6 x 13.5 x 33.9 Inches
Weight: 31 lbs
Hose length: 20 ft
Detergent tank: Two 0.9L tanks
Spray nozzles: 5 included
Pros
Excellent maximum pressure
Very versatile — you can clean almost everything with it
Two 0.9L detergent tanks
Uses only 1.76 GPM of water
Five quick-connect tips
Cons
The hose could've been longer
You'll need to carry the power cord around
With this model, we are starting to get real serious — Westinghouse's gas-powered car pressure washer can reach up to 2700 PSI @ 2.3 GPM, making it more than capable of cleaning even the dirtiest, mud-covered pickup truck, but also a wide range of other things, including concrete walls, garage doors, fences, driveways, etc.
Moreover, it comes with a 1.6L detergent tank (so slightly smaller than the previous two models) that you can fill with soap to speed up the cleaning process.
You can also adjust the pressure output depending on the nozzle you decide to use; the kit includes a 0°, a 25°, a 40°, and a soap nozzle). However, we strongly advise sticking with the white 40° nozzle when cleaning your car — using the maximum pressure might be a bit much for your car's paint.
Furthermore, the 25-foot abrasion-resistant hose should be more than enough to give most vehicles a thorough clean. It also helps that the spray gun is quite lightweight and easy to carry. On the other hand, it's important to mention that the hose might not be long enough for large SUVs and trucks, but in that case, you can easily move the whole unit around thanks to the large Never-Flat wheels.
Westinghouse also includes replacement motor oil, a nozzle cleaner (not so sure what it's for since there should be only water and soap coming out of there, but you know, better safe than sorry, I guess?), and an instruction manual, allowing you to get it up and running in minutes. It also has a 1-gallon gas tank that will last a long time before it needs refilling. There's nothing worse than having to refuel your pressure washer halfway while the soap is drying on your car — it won't happen with this one.
And just in case your Westinghouse WPX2700 was to malfunction, you'd be covered by a three-year limited warranty; one of the best in the industry. However, judging by the reviews, you'll most likely never need to use the warranty at all. This car pressure washer will clean everything you throw at it and keep asking for more!
Highlighted Features
Pressure: 2700 PSI
Flow rate: 2.3 GPM
Power source: Gas
Size: 21 x 19.5 x 39 Inches
Weight: 63 lbs
Hose length: 25 ft
Detergent tank: 1.6L
Spray nozzles: 4 included
Pros
Powerful
Sturdy construction
Comes with extra engine oil
Large 3.3L fuel tank
Better warranty than most
Cons
Gas-powered car pressure washers tend to be noisy
When it comes to reliable tools, Stanley needs no introduction and its SHP2150 car pressure washer is a good example of that. It includes a high-pressure foamer, which is great for quickly applying soap before cleaning. The foam attachment hooks up to the end of the wand and can be filled with snow foam, a perfect solution to take care of the most stubborn dirt.
Interestingly, while more entry-level car pressure washers can end up developing slight leaks after consistent use — not a big issue, but still annoying — the Stanley SHP2150 is designed with leakproof connections to prevent just that. This attention to detail shows Stanley's determination to build nothing but premium products that will perform better and outlast the competition (this is actually why the Stanley SHP2150 was chosen as our "Editor's Pick", in fact).
Furthermore, this pressure washer comes with a 25-foot pressure hose, which is the longest you can expect in this category. A minor annoyance is that the SHP2150 uses electricity (similarly to the first two models on this list), meaning you'll have to carry the power cord around. However, electric car pressure washers are less noisy, more efficient, and much easier to maintain. I guess this one is a question of personal preference, but I personally hate planning to wash my car on a sunny Sunday morning, only to realize my gas-powered pressure washer doesn't want to start because the spark plug is busted — electric pressure washers might require a power cord, but they work when you need them to.
You'll also find four quick connect nozzles and an O-ring replacement kit inside the package. Each nozzle will provide a different power level, depending on what you intend to clean. For vehicles, though, we'd recommend using the green "delicate" nozzle.
With a maximum operating pressure of 2150 PSI, the Stanley SHP2150 provides 43 times the pressure of a standard garden hose — no need to mention that it will be powerful enough to clean your vehicle's body, including the underside and the wheel wells, but even remove those nasty "dealer" decals from your trunk if needed.
At this point, the only real drawback is the slightly smaller 1.4L detergent tank, but you'll agree that, when buying a good pressure washer, the amount of soap you can fit in there isn't really a priority — maybe unless you plan to use it to wash RVs on a daily basis.
Still, if you are looking for a car pressure washer standing above the previous entry-level models, one that you can use day after day without any problem, this is the model you need. It's a bit more expensive, but it's well worth every penny.
Highlighted Features
Pressure: 2150 PSI
Flow rate: 1.4 GPM
Power source: Electric
Size: 14.57 x 13.58 x 26.77 Inches
Weight: 25 lbs
Hose length: 25 ft
Detergent tank: 1.4L
Spray nozzles: 4 included
Pros
Includes a foamer attachment
Versatile
Robust construction
Innovative leakproof design
Four included nozzles for cleaning and foaming any surface
Excellent maximum pressure
Cons
Slightly smaller detergent tank than most
Simpson Cleaning's MSH3125 car pressure washer is one of the best models currently on the market, mostly thanks to its incredibly reliable Honda engine. No need to mention that, Honda knows a thing or two when it comes to small engines and this one is a prime example of that, providing excellent efficiency, power, and reliability.
Thanks to Honda's GC190 (187cc) 6HP engine, the MSH3125 can produce a maximum of 3200PSI, more than enough to clean everything you might have to clean around the house. And since it's gas-powered, you don't have to worry about carrying an inconvenient power cord behind you.
This car pressure washer also comes with a wider range of nozzles, including a 0°, a 15°, a 25°, a 40°, and a soap nozzle, each providing a different nominal pressure, suitable for different jobs. Still, when cleaning your car, make sure to stick to the 40° nozzle; otherwise, you might damage the bodywork, as the MSH3125 is quite powerful.
However, it's important to mention that, while this pressure washer is great for your car, it works well to clean a ton of other stuff, such as driveways and patios. After all, you probably don't need a pressure washer that powerful just to clean your car once a week. On the other hand, if you already know you'll be using your new pressure washer for tougher jobs or every day in the shop, you might as well think ahead and buy a professional model right away.
Besides, thanks to the 10″ Pneumatic tires, transportation to and from your car (or around the garage) is quite straightforward. It's also rather lightweight for such a powerful model, so it's easy to store when not in use.
Moreover, the Simpson MegaShot Series is backed by a decent warranty should it malfunction. However, it's very unlikely as Honda's small engines are among the most reliable around. Still, a slight annoyance with this model is that it's loud and a tad unrefined, which might upset your neighbors.
But if you want one of the best car pressure washers out there, this is the one!
Highlighted Features
Pressure: 3200 PSI
Flow rate: 2.5 GPM
Power source: Gas
Size: 26 x 18 x 35 Inches
Weight: 79 lbs
Hose length: 25 ft
Detergent tank: Siphon tube
Spray nozzles: 5 included
Pros
Efficient, powerful, and reliable Honda engine
Professional-grade model
Outstanding maximum pressure
Multi-purpose pressure washer
Very lightweight and easy to carry around
2-year warranty on the engine, 1-year warranty on the pump
Cons
Briggs & Stratton is another trusted manufacturer when it comes to small engines and produces a wide range of different pressure washers, each targeted at very specific customers and uses. The model we chose to review here is powerful enough to shoot water at 2000 PSI, which is a bit lower than most models discussed previously, but more than satisfactory to wash your car. The main reason we decided to add it to this list (and keep it for last) is due to the manufacturer's incredible track record — you just can't go wrong with a B&S motor.
Moreover, this car pressure is also much more neighbor-friendly than, let's say, the Honda-powered model above. Indeed, this one is electric, keeping the noise to a minimum, and features a foldable design, making it easy to store in small spaces. If you ask me, I'd say that this pressure washer is especially well-suited for anyone living in an apartment, who doesn't necessarily have access to a garage or a shed to store it, but still wants a clean car when the weekend comes.
And if you need more power, it's still more than up for the task. Simply attach the turbo nozzle and clean up to 40% faster. However, we really don't suggest using this nozzle to clean your car — it's way too direct for something as delicate as a car's paint.
Like most of its competitors, Briggs & Stratton's S2000 car pressure washer is equipped with a detergent tank (2.3L this time) that can be filled with soap, making cleaning your car much faster and easier than the soap-and-bucket method. It's also one of the most efficient washers around, using only about 1.2 GPM of water. And if you are wondering about how tough it is, you'll be happy to hear that it comes with a special frame designed to protect, which even passed a military-grade drop test!
So in short, if you are looking for a premium model, the choice is basically between the Briggs & Stratton S2000 and the previous Honda-powered Simpson MSH3125 — it's really a question of power at this point. In both cases, they won't disappoint.
Highlighted Features
Pressure: 2000 PSI
Flow rate: 1.2 GPM
Power-source: Electric
Size: 13 x 37.5 x 17 Inches
Weight: 40 lbs
Hose length: 25 ft
Detergent tank: 1.9l
Nozzles: 5 included
Pros
Solid 2000 PSI maximum pressure
Well-known small engine manufacturer
High-quality construction
Lightweight
Equipped with a protection frame
Easy storage thanks to the foldable design
Quiet and smooth engine
Built-in detergent tank
Cons
It's not super-powerful (though still potent enough for automotive applications)
If you are looking for the best all-arounder for personal use, look no further than the Craftsman CMEPW1900. Its compact size makes it infinitely practical and quite easy to store in your garage. Furthermore, all the accessories you get with this package have onboard storage compartments, including the detergent tank.
Mobility is solid with this one, even for an electric pressure washer, thanks to the 35-foot power cable and competitive 25-foot high-pressure kink-resistant hose, though a gas unit would still be even more portable. Fortunately, the CMEPW1900 comes with large 8-inch wheels, helping you move it around on unpaved surfaces or the occasional passing over a power cable or a water hose.
Let's admit it, at 1900 PSI, it's far from the most powerful car pressure washer on this list. But for personal use, it will do most of the cleaning jobs just fine, and for automotive use, you really don't need more anyway.
However, the wand is made of composite materials, which is a drawback next to the competition's metal ones. Moreover, it's important to mention that this model wasn't meant for professional use. If you plan on using your pressure washer in the shop, you are much better with one of the previous models.
Still, with all of these features, plus a weight of 30 lbs that won't break your back and a price that won't break your budget, it is hard to find a pressure washer offering a better bang for your buck. Overall, if you are looking for a pressure washer to use at home and for occasional weekend use, the Craftsman CMEPW19000 is well worth looking into!
Highlighted Features
Pressure: 1900 PSI
Flow rate: 1.2 GPM
Power source: Electric
Size: 18.5 x 12.58 x 13.5 Inches
Weight: 29 lbs
Hose length: 25 ft
Detergent tank: 1.9l
Nozzles: 3 Included
Pros
One of the cheapest pressure washers around
Compact and easy to store
Long power cable
Relatively long hose for an electric washer
Big wheels for better maneuverability on rough terrain
Cons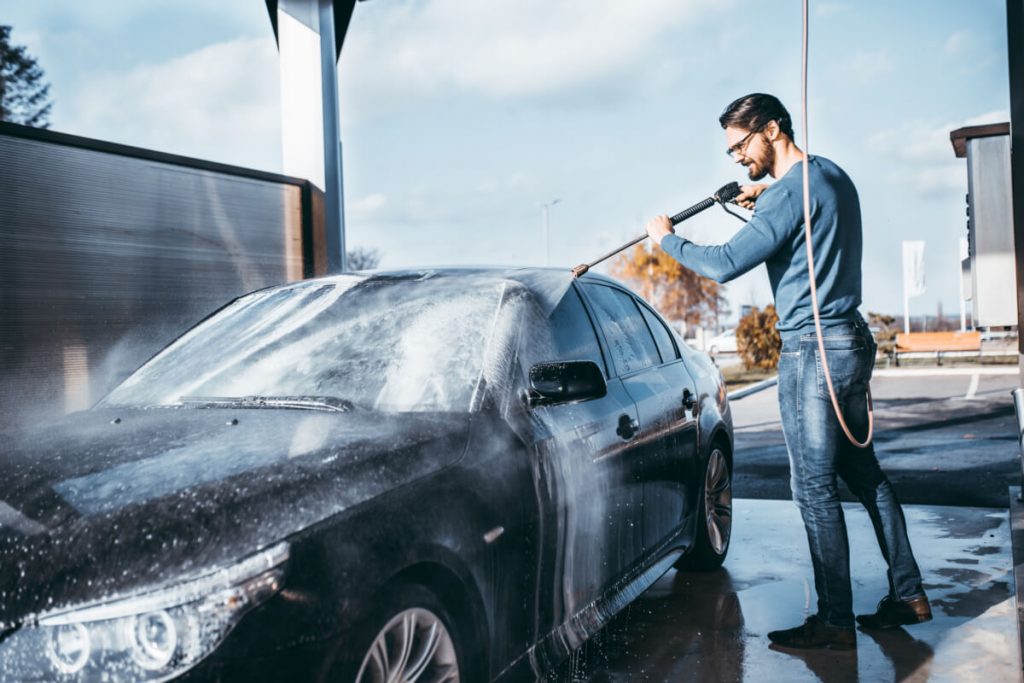 Benefits Of Car Pressure Washers
If you live in a dusty area, purchasing a high-quality pressure washer is essential to maintain your car clean. Here are some of the benefits of washing your car with a pressure washer:
Time — Cleaning your car with a sponge is a time-consuming job, especially on larger vehicles. So, why not invest in a pressure washer and have the job done in under 15 minutes?
Cost — If you're one of those who use a public car wash, you could save money and invest in a pressure washer. A high-quality unit will last you years and save you money in the long run.
Efficiency — Over time, your car might build up bird droppings, leaves, and other hard-to-remove debris. When cleaning by hand, these can be difficult to remove. However, a pressure washer can easily blast through all this gunk and remove it instantly.
Minimize Scratches — You may think washing a car by hand is the safest option. However, using a sponge can leave your car with scratches, causing more harm than good. Meanwhile, a pressure washer doesn't make contact with the paint, preventing your car from being damaged (considering you're using it correctly).
Get Rid Of Oil -—Using a sponge on oil could make it worse. With a pressure washer, though, you won't have this issue. You'll also be able to clean those hard-to-reach spots, such as the alloys and grilles.
Foam Cannon — You have the option to attach a foam cannon to your pressure washer, allowing you to cover your car with a layer of foam before you wash it. Doing so will allow for a deeper and more precise wash.
Types of Car Pressure Washers
When it comes to the different types of pressure washers for your car, there are two main types…
Electric Pressure Washers
Electric pressure washers are great if you're looking for a budget-friendly option. They are powerful enough to clean cars and tackle other jobs around your home. Moreover, they are relatively small, versatile, and easy to maintain.
Electric pressure washers tend to have a lower pressure limit of about 2000 PSI. However, it shouldn't be an issue unless you clean things that require high pressure, such as oil-stained concrete. For automotive use, that's more than enough pressure!
Another downside of an electric pressure washer is they aren't as versatile as gas-powered ones. Namely, you'll need an electric outlet close by, and you'll also need to carry a long cable around.
Gas Pressure Washers
No products found.
While electric pressure washers are great for home use, we would suggest sticking with a gas model for professional use. Not only are gas pressure washers more powerful, but they will also stand the test of time better compared to electric ones.
You can also bring a gas pressure washer anywhere without having to worry about finding a power outlet. And since there is no cable to carry around, they are easier to move around your garage or yard.
Pressure washing can be addictive, so you'll most likely start with your car and branch out to other areas of your home. With a gas pressure washer, you know it'll be able to handle the toughest jobs, whereas an electric model may not.
Features of Car Pressure Washers
Hose Length — You want to ensure the hose is long enough to reach each corner of your car without having to keep moving the pressure washer.
Nozzle Selection — Pressure washers can produce very high forces, making them dangerous to use on some surfaces. Thus, they come with different nozzles that you can attach to the end of the wand, each producing a different amount of pressure. For vehicles, we recommend sticking with the lowest pressure nozzle. In most cases, it's the white one.
Wheels — A pressure washer with wheels is more versatile and allows for easy transportation. Some wheels are made of rubber and are puncture-proof, which is the type we prefer. Some cheaper alternatives use plastic wheels, which don't provide smooth operation and are generally less durable. Finally, some professional washers use pneumatic wheels for smooth movement, but they can be punctured.
Storage — Pressure washing can be messy and leave you wet. Hence, it's a bonus if your pressure washer has a storage compartment for personal items, such as your phone and keys.
Soap Nozzle — If you're looking to buy a pressure washer for your car, it's good to ensure it has a soap nozzle, allowing you to spray your car with soap before applying pressure.
Frequently Asked Questions (FAQs)
Is It Safe To Wash A Car With A Pressure Washer?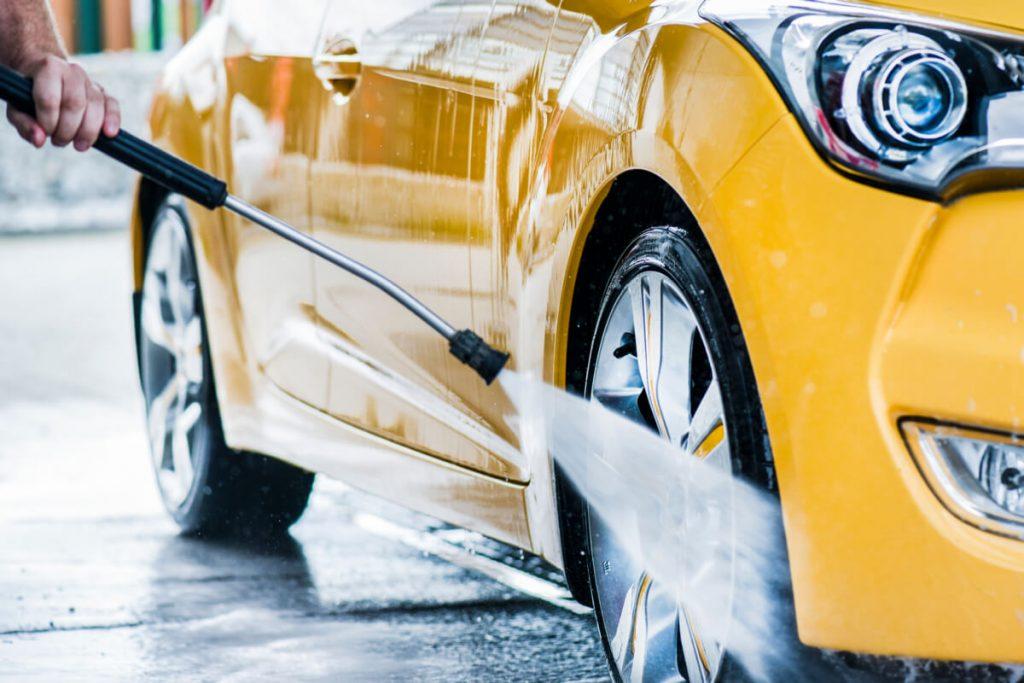 Yes, as long as you take the right safety precautions. Using a pressure washer the wrong way could end up damaging the paint or bodywork.
Most pressure washers come with five attachment nozzles, each delivering a different level of pressure. You'll most likely receive a red, yellow, green, white, and black nozzle as standard.
When cleaning your car, you can forget about the red, yellow, and green nozzles. The black nozzle is typically used to dispense soap through your pressure washer, while the white one is to clean your car.
Is 3000 PSI Too Much For A Car?
A 3000 PSI pressure washer is fine for your car, providing you use the correct nozzle. You'll want to use a nozzle that provides the lowest pressure — typically the white one. However, you should check the user manual that comes with the pressure washer to make sure.
Can I Use A Pressure Washer To Clean Other Things?
Yes. The great thing about pressure washers is they can clean almost anything! You'll be able to clean your driveway, walls, fences, patios, and much more.
However, keep in mind that every job is different and requires a different cleaning strategy. Some jobs may need more pressure and detergent, whereas other jobs may require low pressure and no detergent.
Verdict
Once you have a pressure washer, you'll never go back to cleaning your car by hand. Be warned; pressure washers are extremely satisfying and addictive, meaning you'll probably end up cleaning more than just your car.
But which one to go for? Our editor's pick, the Stanley SHP2150, ticks most boxes — it's powerful enough for automotive use, and its construction is impeccable. We are also confident it will be durable for frequent use, even though it uses an electric motor.
However, if the Stanley is expensive for you, then you can have German engineering at the cheap — the Karcher K1700 might only provide 1700 PSI, but that's more than enough to clean your car. Besides, you are getting a built-in detergent tank, just like the more expensive pressure washers on this list.
But if money is no object, the Simpson MSH3125 is really hard to beat. The fact that it has a gas engine, and a Honda one at that, makes it the best pressure washer for professional use. It's powerful, durable, and easy to carry around — what more could you want?
Regardless of which option you choose, ensure that you learn how to use the pressure washer first — you don't want to damage your car's paint while cleaning it. Here is our in-depth guide on cleaning your car with a pressure washer the right way!