EDITOR'S PICK
Stanley SHP2150 Electric Pressure Washer with Spray Gun
Multi-Purpose
Leakproof
4 Nozzles
2150 PSI
Includes Foamer Attachment
PREMIUM PICK
Champion 3200-PSI Dolly-Style Gas Pressure Washer
3200 PSI
224cc Engine
5 Nozzles
Plastic Tires
Designed For Long Life
BUDGET PICK
Karcher K1700 Electric Power Pressure Washer
1700 PSI
Half Gallon Detergent Tank
Storage Compartment For Hose
20ft Hose
Reputable brand
Like most people, you probably use your car every day. With bird droppings, leaves, dirt, and dust constantly in the air, it doesn't take long for your car to become dirty. When that happens, it's time for a clean.
You could use the car wash, sure. However, there's a better way, and that's by using a pressure washer. Not only it's fun, but it'll also make your car look brand new!
With so many different types of pressure washers available, it can be hard to choose the correct one. You have to keep in mind some pressure washers may not be suitable for cars due to the high amount of pressure – the last thing you want is a smashed window.
In this article, we will discuss the best pressure washers for cars and dive into the pros and cons of each one.
Car Pressure Washer Reviews
This pressure washer provides 2030 PSI, enough to give your car the best clean of its life! It's extremely versatile, meaning it can target more than just your car. It can also clean homes, buildings, RV's, boats, and much more.
Moreover, it comes with two 0.9L detergent tanks that can be filled with various cleaning fluids depending on what you're cleaning.
Using only 1.76 GPM (Gallons Per Minute), this pressure washer will automatically shut off when the trigger isn't engaged, meaning that it'll use as little water as possible and save you on your monthly bills.
Included with this pressure washer are five quick-connect tips, each providing you with a different cleaning power level. You'll want to use the white one to clean your car as it provides the lowest pressure – This set also includes a garden hose attachment.
Besides, if this steam cleaner malfunctions or experiences any technical issues, it's covered under Sun Joe's two-year warranty. Simply send them a message, and they will acknowledge the warranty and provide a refund.
Pros
2030 PSI
Versatile
Two 0.9L Detergent Tanks
Only 1.76 GPM
5 Quick Connect Tips
Cons
This pressure washer can reach up to 2700 PSI and 2.3 GPM. It's also multi-purpose, meaning it's great for cleaning a range of things, including cars, walls, garage doors, fences, and much more.
Moreover, it comes with a half a gallon detergent tank that you can fill with soap to enhance the cleaning process.
You can also change the pressure output depending on what nozzle you decide to use. It comes with a 0°, 25°, 40°, and a soap nozzle. However, when cleaning your car, we strongly advise sticking with the white one.
The 25-foot abrasion-resistant hose on this pressure washer is more than enough to give your car a full clean. The spray gun is also lightweight making it easier to carry.
The great thing about this pressure washer is it includes engine oil, tools, and a guide that allows you to get it up and running in minutes. It also has a 1-gallon gas tank that will last a long time before it needs to be refilled.
If the Westinghouse WPX2700 malfunctions, you'll be covered by a three-year limited manufacturer service. However, judging by the reviews, you'll most likely never need to use the warranty.
Pros
2700 PSI
Multi-Purpose
Half Gallon Detergent Tank
Includes Engine Oil
1 Gallon Gas Tank
Cons
Wand Can Have A Little Leak In Rare Circumstances
This pressure washer includes a high-pressure foamer, which is great for foaming the body before cleaning. The foamer attaches to the end of the wand and can be filled with snow foam.
It's also multi-purpose, meaning it can be used on various surfaces, including garbage cans, pavements, and walls.
Some pressure washers end up leaking after consistent use. However, the Stanley SHP2150 is designed with leakproof connections, so you won't have to deal with this annoyance.
Furthermore, it comes with a 25-foot pressure hose, four quick connect nozzles and an O ring replacement kit. Each nozzle will provide a different level of power, depending on what you're cleaning. For cars, though, we recommend using the white nozzle.
Meanwhile, the Stanley has an operating pressure of 2150PSI, providing 43 times the pressure of a standard garden hose.
You'll also benefit from a 2-year limited warranty, which will cover you if it malfunctions or needs to be repaired.
Pros
Includes Foamer Attachment
Multi-Purpose
Leakproof
4 Nozzles
2150 PSI
Cons
Karcher is a reputable brand that provides high-quality cleaning products.
This pressure washer delivers 1700 PSI and is electrically powered. Moreover, you can turn the pressure washer on by pressing the on/off button located at the bottom using your foot, which will prevent back strain.
You'll benefit from an extra storage compartment where you can store your high-pressure hose and personal items when cleaning your car, preventing your belongings from being damaged.
The Karcher K1700 also comes with a removable detergent tank that can store up to half a gallon of cleaning products.
Being such a well-known brand, Karcher has a range of accessories that can fit this pressure washer should you want to begin cleaning other things.
You can set up the K1700 in just five minutes with no tools required.
Pros
Reputable brand
1700 PSI
Half Gallon Detergent Tank
Storage Compartment For Hose
20ft Hose
Cons
This pressure washer is designed by Simpson and has a Honda engine, which is one of the best pressure washer engines around and will last you a long time.
It's 3200PSI and gas-powered, making it extremely powerful. It also comes with a 0°, 15°, 25°, 40°, and soap nozzle, each nozzle providing different pressure. When it comes to cleaning your car, make sure to stick with the 40° nozzle; otherwise, you might damage the bodywork.
While this pressure washer is great for your car, it also works well in other environments such as driveways and patios.
Besides, thanks to the 10" Pneumatic tires, transportation to and from your car is easy. It's also lightweight making it harder to strain your back while cleaning.
This pressure washer may contain fuel/oil residual as each unit is tested in the factory to ensure it works correctly before it's shipped.
The Simpson MegaShot is backed by a warranty should it malfunction. However, this is unlikely as Honda's engines are known for their quality.
Pros
Honda Engine
3200 PSI
Multi-Purpose
Lightweight
Warranty
Cons
Briggs & Stratton is another great brand that provides high-quality pressure washers. The model we chose from the company provides you with 2000PSI of power and comes in red and grey color.
Moreover, it's electric and has a foldable design making it easy to store in small spaces. The motor on this guy will keep the noise levels to a minimum while still ensuring your car gets a great clean.
If you decide to clean other areas, you can attach the turbo nozzle, and clean up to 40% faster. However, don't attach this nozzle while cleaning your car as you'll end up with a broken window.
This pressure washer has a detergent tank that can be filled with soap, making cleaning your car even easier.
The frame protecting the unit is also very durable and even passed a military-grade drop test!
Pros
2000PSI
High-Quality
Easy Storage
Quiet Engine
Detergent tank
Cons
This 3200 PSI pressure washer has a 224cc single-cylinder engine, making it powerful enough to tackle any job type. It also comes with five nozzles (0˚, 15˚, 25˚,40˚, soap), allowing you to adjust the pressure at any time.
The two half-gallon detergent tanks make cleaning your car even more effective. Meanwhile, the grip on the spray gun reduces fatigue in your hands after long periods of use, great if you're cleaning a large vehicle.
With 25 feet of hose included, you can even clean large vehicles or RV's. Additionally, this pressure washer comes with storage space for the hose, trigger gun, and wand.
Furthermore, the 12" tires allow you to effortlessly transport the unit without straining your back. They are also made of plastic and will never go flat.
Champion designed the Dolly-Style pressure washer's pump for long life if maintained correctly.
Pros
3200 PSI
224cc Engine
5 Nozzles
Plastic Tires
Designed For Long Life
Cons
Water Hose Can Be Hard To Connect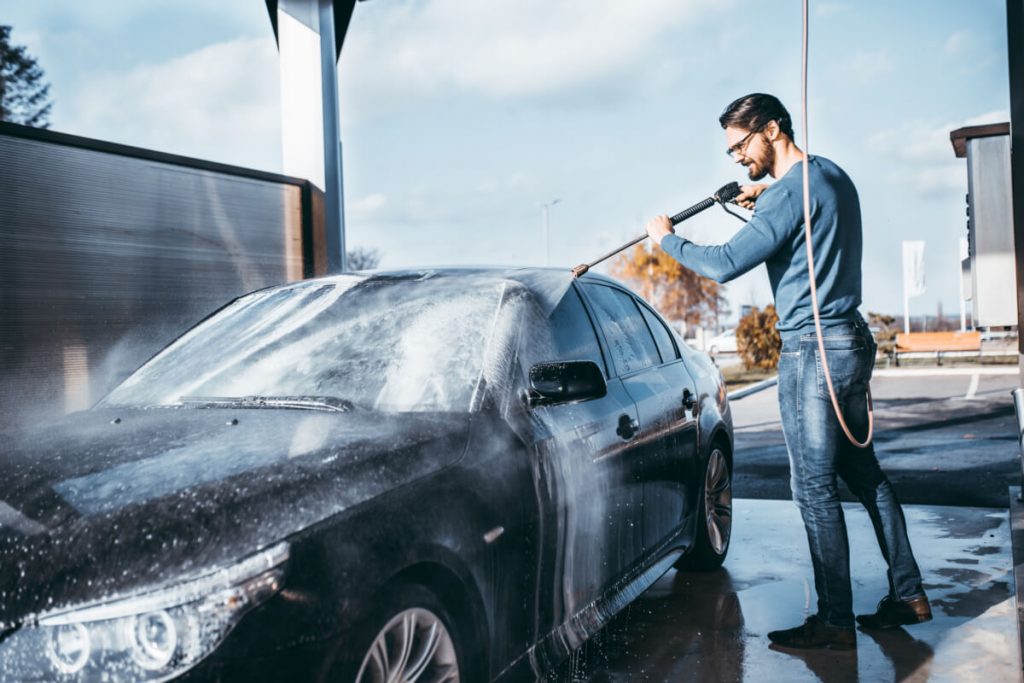 Benefits Of Car Pressure Washers
If you live in a dusty area, purchasing a high-quality pressure washer is essential to maintain your car clean. Here are some of the benefits of washing your car with a pressure washer:
Time – Cleaning your car with a sponge is a time-consuming job, especially on larger vehicles. So, why not invest in a pressure washer and have the job done in under 15 minutes?
Cost – If you're one of those who use a public car wash, you could save money and invest in a pressure washer. A high-quality unit will last you years and save you money in the long run.
Efficiency – Over time, your car might build-up bird droppings, leaves, and other hard to remove debris. When cleaning by hand, these can be difficult to remove. However, a pressure washer can easily blast through all this gunk and remove it instantly.
Minimize Scratches – You may think washing a car by hand is the safest option. However, using a sponge can leave your car with scratches, causing more harm than good. Meanwhile, a pressure washer doesn't make contact with the paint, preventing your car from being damaged (considering you're using it correctly).
Get Rid Of Oil – Using a sponge on oil could make it worse. With a pressure washer, though, you won't have this issue. You'll also be able to clean those hard to reach spots such as the alloys and grilles.
Foam Cannon – You have the option to attach a foam cannon to your pressure washer, allowing you to cover your car with a layer of foam before you wash it. Doing so will allow for a deeper and more precise wash.
Types of Car Pressure Washers
When it comes to the different types of pressure washers for your car, there are two main types…
Electric Pressure Washers
Electric pressure washers are great if you're looking for a budget-friendly option. They are powerful enough to clean cars and tackle other jobs around your home. Moreover, they are relatively small, versatile, and easy to maintain.
Electric pressure washers tend to have an upper-pressure limit of about 2000PSI. It isn't an issue unless you are cleaning things that require high pressure, such as oil-stained concrete.
Another downside of an electric pressure washer is they aren't as versatile as gas-powered ones. They require an outlet socket for power, meaning cleaning certain things may prove difficult.
Gas Pressure Washers
While both of these options are great for cleaning cars, we would suggest you stick with a gas pressure washer. Not only are gas pressure washers more powerful, but they will also stand the test of time better compared to electric ones.
You can also bring a gas pressure washer anywhere without having to worry about finding a power outlet.
Pressure washing can be addictive, so you'll most likely start with your car and branch out to other areas of your home. With a gas pressure washer, you know it'll be able to handle the toughest jobs, whereas an electric model may not.
Features of Car Pressure Washers
Hose Length – You want to ensure the hose is long enough to reach around your car without having to keep moving the pressure washer.
Nozzle Selection – Pressure washers can produce very high forces, making them dangerous to use on some surfaces. Thus, they come with different nozzles that you can attach to the end of the wand, each producing a different amount of pressure. For vehicles, we recommend sticking with the lowest pressure nozzle. In most cases, it's the white one.
Wheels – A pressure washer with wheels is more versatile and allows for easy transportation. Some wheels are made of rubber and are puncture-proof, while other models offer plastic wheels.
Storage – Pressure washing can be messy and leave you wet. Hence, it's a bonus if your pressure washer has a storage compartment for personal items, such as your phone and keys.
Soap Nozzle – If you're looking to buy a pressure washer for your car, it's good to ensure it has a soap nozzle, allowing you to spray your car with soap before applying pressure.
FAQs
Is It Safe To Wash A Car With A Pressure Washer?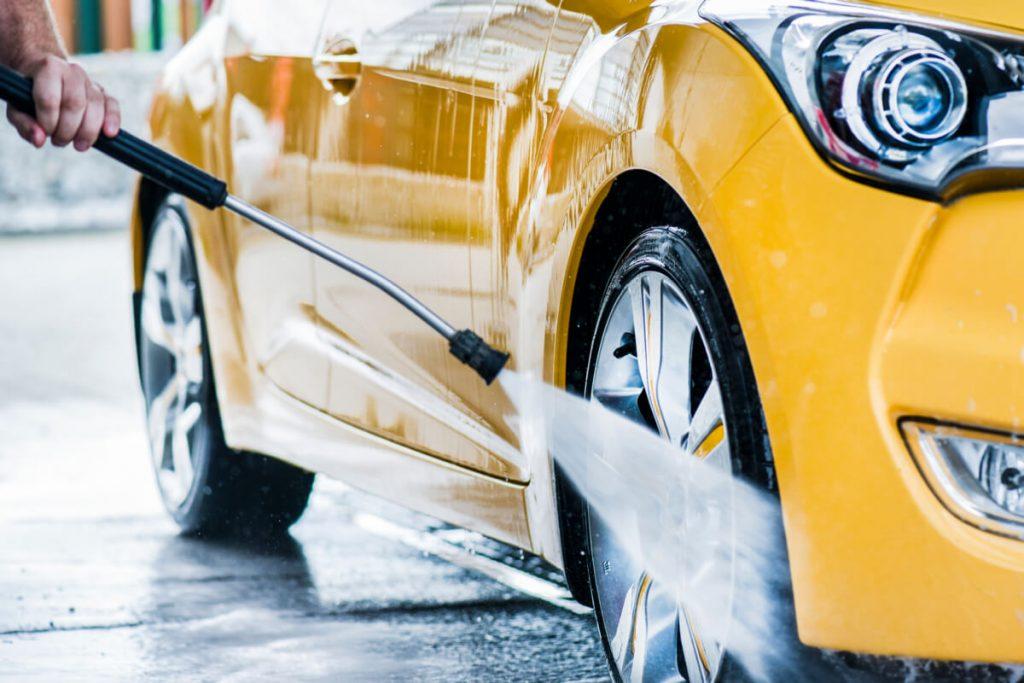 Yes, as long as you take the right safety precautions. Using a pressure washer the wrong way could end up damaging the paint or bodywork.
Most pressure washers come with five attachment nozzles, each delivering a different level of pressure. You'll most likely receive a red, yellow, green, white, and black nozzle as standard.
When cleaning your car, you can forget about the red, yellow, and green nozzles as you won't need them. The black nozzle is typically used to dispense soap through your pressure washer, while the white one to clean your car.
Is 3000 PSI Too Much For A Car?
A 3000 PSI pressure washer is fine for your car, providing you use the correct nozzle. You'll want to use a nozzle that provides the lowest pressure – typically the white one. However, you should check the user manual that comes with the pressure washer to make sure.
Can I Use A Pressure Washer To Clean Other Things?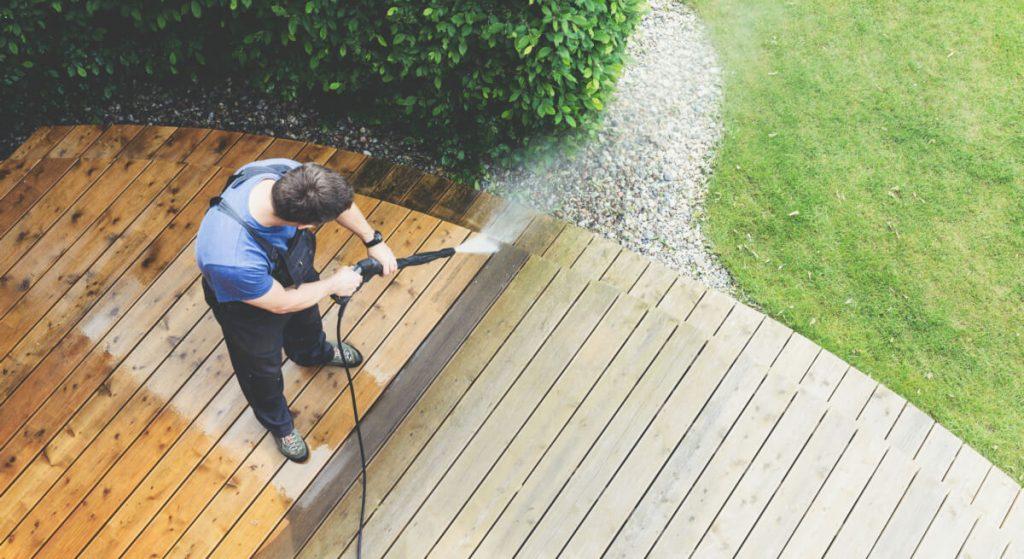 Yes. The great thing about pressure washers is they can clean almost anything! You'll be able to clean your driveway, walls, fences, patios, and much more.
However, keep in mind that every job is different and requires a different cleaning strategy. Some jobs may need more pressure and detergent, whereas other jobs may require low pressure and no detergent.
If you want a detailed overview of how to use your pressure washer, check out this video.
In Brief…
Once you have a pressure washer, you'll never go back to cleaning your car by hand. Be warned; pressure washers are extremely satisfying and addictive, meaning you'll probably end up cleaning more than just your car.
If we could leave you with one takeaway from this article, it would be to ensure you use the correct nozzle when cleaning your car. Also, make sure you're wearing some form of eye protection as pressure washing may cause small stones to fly up in the air.
If you choose one of the seven options we have provided, we believe you won't have any issues cleaning your car.