EDITOR'S PICK
Makita 9237CX3 Polisher
Lightweight body
Wire mesh ensures better durability
Brilliant versatility
Wide RPM range
PREMIUM PICK
Milwaukee 2738-20 M18 FUEL Polisher
Powerful brand name
Cordless design is rare in this range
Very light despite the battery packs
Excellent battery life, especially with the 9A-Hour optional pack
BUDGET PICK
PORTER-CABLE 7424XP Variable Speed Polisher
Compact design
Powerful motor
Comes with all the essentials
Have you ever asked yourself how some older cars still manage to shine just like they did when they rolled out of the assembly line? Yes, of course, some classics might have had a new paint job. But what about that shiny 2012 Camry? In most cases, these cars have been buffed, a process usually done by expert detailing shops.
However, with a bit of practice and the right tools, you too can buff your car's paint and bring back its original shine for a fraction of the price.
If you plan to save some money by buffing your car, or maybe you already work as a professional detailing technician and are looking for a new buffer, we have outlined the seven best car buffers and polishers currently on the market to help you find the perfect one based on your budget and skill level.
Worth mentioning, this is obviously not an exhaustive list. Tools are always a very subjective topic, and I also can't even hope to even try them all (even tho I'd kinda like that). If you use a buffer that's not on the list and you think it's even better than those, don't hesitate to leave a comment below, and we'll make sure to review it too.
Best Car Buffers and Polishers Reviews
We begin with the people's favorite, the DeWalt DWP849X Buffer/Polisher. DeWalt is famous for building high-quality and robust power tools, and the DWP849X is no exception. It has a 12A motor that can drive the pad to around 3,500 RPMs without any hassle. Of course, you can also control the motor's speed using a dial on the body, making way for more adjustments.
Another area where the DWP849X excels is ergonomics. DeWalt has made way for an additional D-handle, apart from the regular T-handle, allowing the user to tightly grasp the polisher's head for better control and precision. The D-handle also pivots forward or backward for a more customized experience.
In terms of performance, the DWP849X does a great job of getting rid of the heavy dirt, grime, and smaller debris. Furthermore, the motor performs well to remove light scratches and bring a deep shine to the surface.
However, the DWP849X polisher's motor might show signs of fatigue when working on larger projects, and if kept running for a long time at higher speeds, it might overheat. This fact may raise questions regarding the longevity of the motor if you use it at its absolute limit without interruption. That being said, unless you plan to buff a bus and never take a break, it shouldn't really be a problem.
The DeWalt DWP849X is a great choice for amateurs who are looking for a car polisher that does the job, featuring brilliant ergonomics and an adjustable motor without being too expensive. However, it might not be the best choice for professionals. If you work 40 hours a week in a detailing shop, take a look at the Milwaukee 2738-20 below instead.
In-depth review of the DEWALT DWP849X Buffer/Polisher here!
Pros
Excellent performance
Brilliant ergonomics
Wide speed range
Cons
Not suitable for 40hour/week use
The TORQX BUF_503X has earned a reputation for being a durable machine delivering brilliant results for those starting in the field of polishing and detailing, all for a decent price tag. It has a 680-watt motor, providing enough power even for sanding purposes, and its wide rpm range from 2800 RPMs to 7800 RPMs allows for several adjustments making it suitable for a wide range of different jobs.
Coming to ergonomics, the BUF_503X features an "outside-in" or "forward grip" design for a better grasp. The extension of the body allows for more surface area to hold on, aiding the user in changing the directions and the pad's angle. Unfortunately, unlike the DeWalt DWP849X, it doesn't feature the D-handle, and therefore it could cause some fatigue after long use. Also, it does tend to become a lot more ponderous to handle while working. However, that's really a question of taste. I personally prefer front handles as I find it easy to put an equal load on the head, but some people may disagree. To each his own, right?
The TORQX BUF_503X does offer a lot for the price tag, though, especially when considering its durability. The robust construction and a decently powerful motor make up for the not-so-favorable ergonomics. Currently, it's #1 in Body Repair Grinders and Polishers on Amazon, so it's already a people's favorite.
Pros
Powerful motor
Best value for money
comes with several pads and polishing compounds
Cons
Porter-Cable's polisher is specifically made for people who are still new to DIY car care, especially paint correction. The 7424XP comes in a kit featuring a polisher, buffer pads, microfiber towels, and spray bottles. It basically covers all beginner's needs to start working on their vehicles in a jiffy.
The 7424XP itself is quite compact and lighter than most. It comes with an adjustable motor, with the rpm band ranging between 2,500 to 6,800 orbits per minute, perfect for precise detailing work on sensitive areas.
The compact design does pack in quite a punch, but more importantly, it is quite easy to use and operate. However, the rather simple design means losing out on a T- or D-handle, resulting in awkward maneuvering in certain areas. Also, the speed knob is near one of the supporting hands, so accidental speed changes could occur sometimes.
The motor doesn't generate a lot of heat, and vibrations are quite acceptable. However, it does make quite a racket, so much that it can actually cause slight discomfort to the ears, especially when used for a longer period. On the other hand, if you work in a detailing or auto body shop and already use ear-muffs, it won't be the shop's loudest tool anyway.
Overall, the 7424XP is quite decent for beginners venturing into the DIY car care realm, owing to its reliability, reassuring warranty, and compact design. Still, it loses out in refinement and average ergonomics due to the lack of a handle and weird knob placement.
In-depth review of the PORTER-CABLE 7424XP here!
Pros
Compact design
Powerful motor
Comes with all the essentials
Cons
Lack of a T- or D-handle
Poorly placed speed-knob controller
Milwaukee has been widely regarded as an expert in the field of cordless power tools for some time now. Consequently, it is no surprise that a Milwaukee tool is featured in this list.
The M18 Polisher/Sander is different in many ways from other car buffers and polishers, making it stand out from the crowd as a definite favorite amongst DIY car care enthusiasts and detailing professionals.
Firstly, the brand claims that the M18 is the best cordless polisher of its class, built around three key aspects – speed control, weight management, and ergonomics. The speed goes as low as 2,200 RPMs, thus making it highly customizable and precise.
Then there's the design that ensures the weight is concentrated more towards the padded region. Also, Milwaukee has somehow managed to drop the weight off the M18 by 1 pound, even with the battery packs, thus ensuring better maneuverability.
Moreover, the 5A-Hour batteries are capable of delivering enough power to polish a full-size car. It also comes with a fast charger that can charge up the packs rapidly. Milwaukee even sells a larger 9A-hour battery, thus increasing the M18's working time. And worth mentioning, all M18 batteries are interchangeable, so if you already own a Milwaukee impact wrench (probably the best in the game) or any other Milwaukee cordless tool, this buffer is probably your best bet.
However, the motor is quite noisy – but that's also true with most professional buffers. It is also a bit more expensive for starters, but for the money, you get Milwaukee's stamp of quality, a well-designed polisher without the hassle of cords, and, without a doubt, one of the best car buffers and polishers on the market.
Pros
Powerful brand name
Cordless design is rare in this range
Very light despite the battery packs
Excellent battery life, especially with the 9A-Hour optional pack
Cons
Quite Noisy
More expensive than the competition
Makita is known for its quality power tools, and the 99237CX3 is no exception. The Dual-purpose polisher is a well-made machine with enough adjustments to make precise corrections. Besides, its powerful 10A motor has a range band that goes all the way up to 3200 RPMs.
The Makita 9237CX3 features a rubberized D-handle that can pivot forward and backward, resulting in improved handling and precision. For better durability, the 9237CX3 comes with a wire mesh that protects the motor from fibers or debris from entering and potentially damaging components. Furthermore, Makita has engineered the 10A motor to perform at the same RPMs no matter the load.
The 9237CX3 is also a versatile machine that you can use for polishing, sanding, and detailing with a simple disc change.
Overall, the Makita 9237CX3 is a lightweight polisher that promises excellent versatility and a well-built and durable motor that gets the job done in no time. If you are a professional and, for whatever reason, decided not to go with the Milwaukee model, this is probably the buffer you should get.
Pros
Lightweight body
Wire mesh ensures better durability
Brilliant versatility
Wide RPM range
Cons
Scratchable bail handle
On the pricier side
Griot's Garage is a high-level power tool manufacturer, and the 3rd generation 10813STDCRD random orbital polisher (what a name, right?) is a popular choice amongst professional detailers due to its great performance and ergonomics.
The 7A motor produces a decent 850 watts of power, which, when combined with the motor's torque delivery and 2500-6800 orbits/s range, ensures that any form of debris or grime on the body panel being worked on is removed with ease.
The10813STRCRD's body features an adjustable D-handle with added grooves for better finger grip. The rubberized texture of the handle further improves comfort, and in a way, reduces fatigue while working for long periods. Comfort is further improved with the motor's refinement, making it much quieter than the competition, such as the Porter-Cable XP7274. The only downside of the 10813STDCRD is vibrations, which can really tire out the user's arm after a while.
Overall, another brilliant option for beginners looking for a comfortable polisher promising good performance and average refinement.
Pros
Sturdy construction
Comfortable handle
Comes with a couple of pads
Cheaper than most
Cons
Tends to vibrate more than the competition
Meguiar's is a well-established manufacturer in the auto detailing world, and its reputation talks for itself. So much that I bet you can't find a detailing shop that doesn't use a single Meguiar's waxing compound or tool somewhere. And its polisher is just as good as everything else it produces and easily lives up to the expectation.
The MT300 is a beginner-friendly polisher with a pocket-friendly design, nicely-built housing, and capable of removing paint imperfections and swirls with no hassle.
The MT300 is built quite tough, yet it boasts a design that makes it easy to grip, thanks to the large grooved D-handle. It promises an outstanding user experience even after long periods of polishing. And one of its most interesting features is the lightweight body that weighs only 5.4 pounds. Holding this sleek body is way easier than the competition, making the experience much better, especially for less experienced users.
Furthermore, the 120V motor features a digital torque management system (DMT), which maintains the torque at higher speeds and provides a wide rpm band ranging from 3000-7500 orbits/minute. However, it only comes with a 1-year limited period warranty, which is a little less than the competition.
Overall, it is a reliable orbital buffer for beginners looking for a durable polisher.
Pros
Reasonably priced
Good Ergonomics
Lightweight Body
Cons
Features to Look for When Buying A Car Buffer/Polisher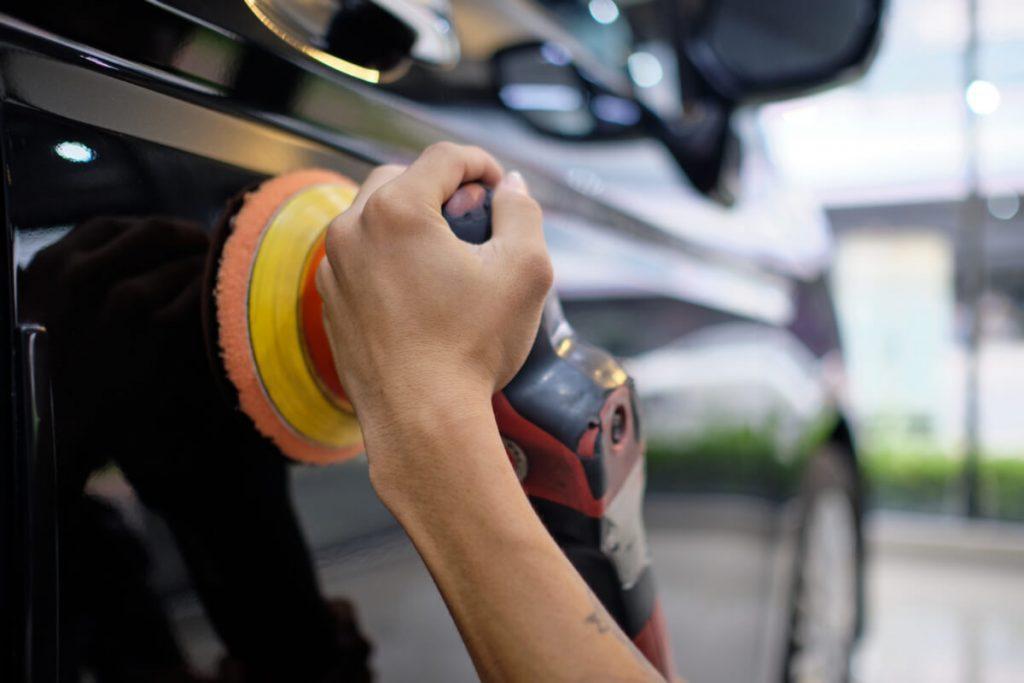 Getting a good car buffer/polisher is critical not only to achieve the best result possible but also for making the experience comfortable, therefore reducing fatigue. If you are shopping for new car buffers/polishers, here are some of the features you should look out for.
Power
Different buffer motors have different power ratings and different RPM ranges, usually between 3200 and 8000 RPMs. Paintwork that has a lot of visible scratches and swirls need more powerful motors, while other jobs might require slower RPMs. Besides power, refinement is also important as it makes handling easier and prevents any accidental movements due to harsh vibrations from the motor.
Even the motor's noise should be taken into account as noisy tools can damage your ears in the long term. However, since almost all car buffers and polishers are quite loud, you should always wear earplugs or ear muffs anyway.
Motor noise might not be a problem if you only buff 1-2 cars a week, but it can surely become a concern for professionals. You be the judge here.
Ergonomics
When it comes to polishing, patience is key. However, constant vibration can quickly leave you exhausted. Thus, the polisher's ergonomics should be suitable for long use, with well-designed handles and a lightweight body. A forward-balanced model will also do half the job for you, so you don't have to constantly put weight on the buffer's pad while you work.
Good ergonomics also involves the proper placement of controls on the body. Buttons and switches need to be easily accessible and prevent accidental changes while working. Well-designed car buffers and polishers also allow for better handling at higher speeds, therefore maintaining the consistency of the work across the body.
Maintenance
Long-term use can often lead to some of the internal components wearing out – especially motor brushes. If you intend to use your buffer professionally, it might be a good bet to choose a brushless model. These usually cost more but will also last almost twice as long.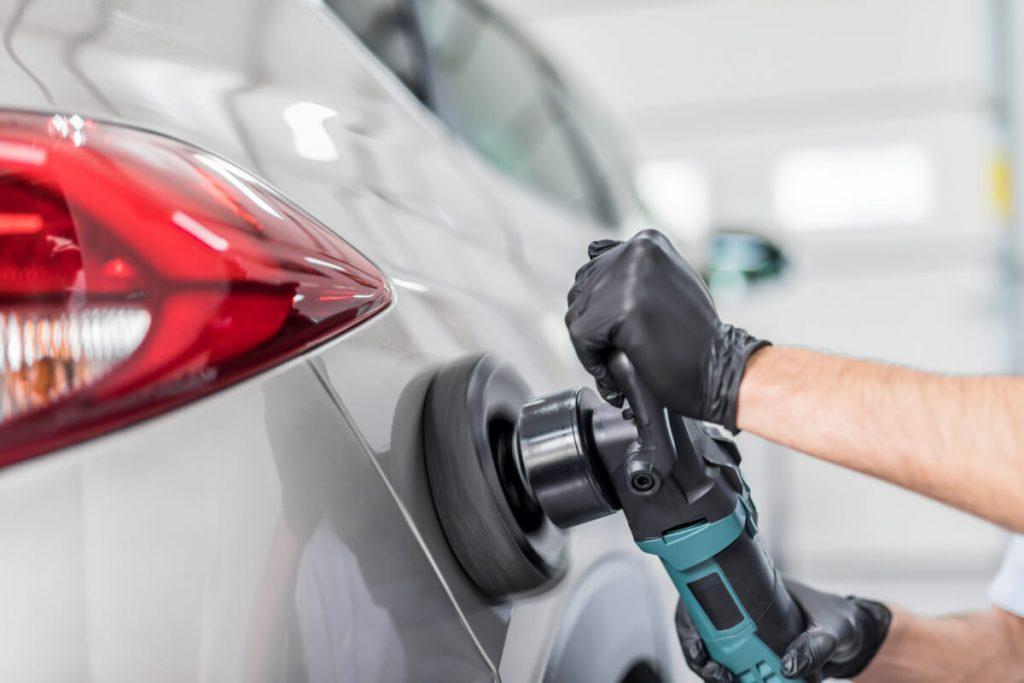 Types of Car Buffers and Polishers
Rotary
These have a direct drive motor that spins the pad in a clockwise direction. It is quite an effective type of buffer, but it might require going over the same area multiple times. Also, rotary car buffers and polishers spin around a single axis, meaning that you'll need to constantly move them around to prevent buffing the exact same spot for too long.
If not done properly, a rotary buffer can quickly cut through the clear coat and even all the way to the base layer. Hence it is more suited for professionals and might not be the best option for beginners.
Orbital
They are also known as random orbital or dual action buffers, as they spin the pads in two different ways. The pad rotates and also oscillates back and forth. Orbital car buffers and polishers typically cover a larger area than a rotary buffer. Albeit less powerful than rotary buffers, orbital models are the perfect type for beginners willing to learn.
It's also worth mentioning that orbitals come in two sub-types – random or not. The main difference is that random orbital buffers don't follow the same revolving pattern, mimicking hand polishing. Consequently, random models are even easier to use and usually do the job done quicker. On the other hand, they might be less suitable for really tough jobs such as removing tree sap and paint transfers from your car.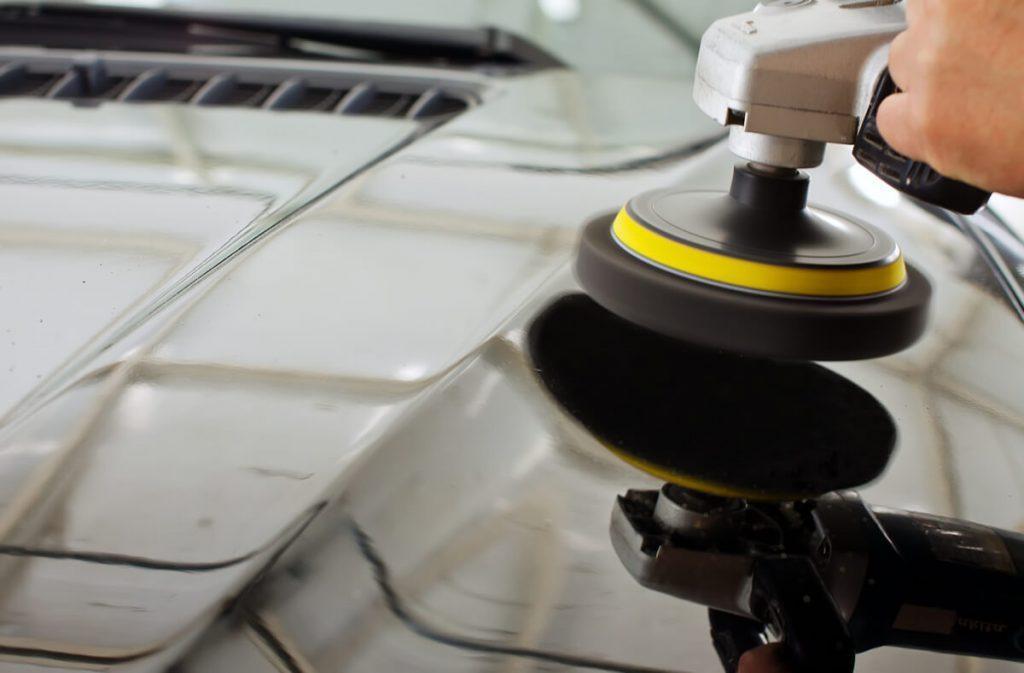 FAQs
What's the difference between "buffing" and "polishing"?
Both terms are somewhat similar and are often used interchangeably. However, the main difference is how deep the work is.
A car that was never waxed but washed regularly could only need good polishing to bring back the shine since it removes the contaminants and brings back some of the shine. A good waxing is usually the next logical step after polishing.
Buffing, on the other hand, could be seen as a really hard polishing. It's usually done at a higher speed than a typical polishing job, creating heat between the pad and the paint. The heat created will slowly melt and remove a thin layer of clear coat, bringing the original shine. A buffing job also takes a lot more time and can burn the paint if done incorrectly.
There is also a difference in the compounds you use. Polishing requires polishing compound and buffing requires buffing compound. As a general rule, the former is usually softer, and the latter has a higher grit.
Of course, it's also the same with the pads. Each process requires the right pad, or you might not appreciate the result.
Is it possible to polish car windows?
Yes, with a polisher set to lower speeds, car windows can be polished to eliminate small scratches and water spots. For the perfect crystal-clear look, the polishing is followed by a light addition of wax to the windows, similar to applying RainX.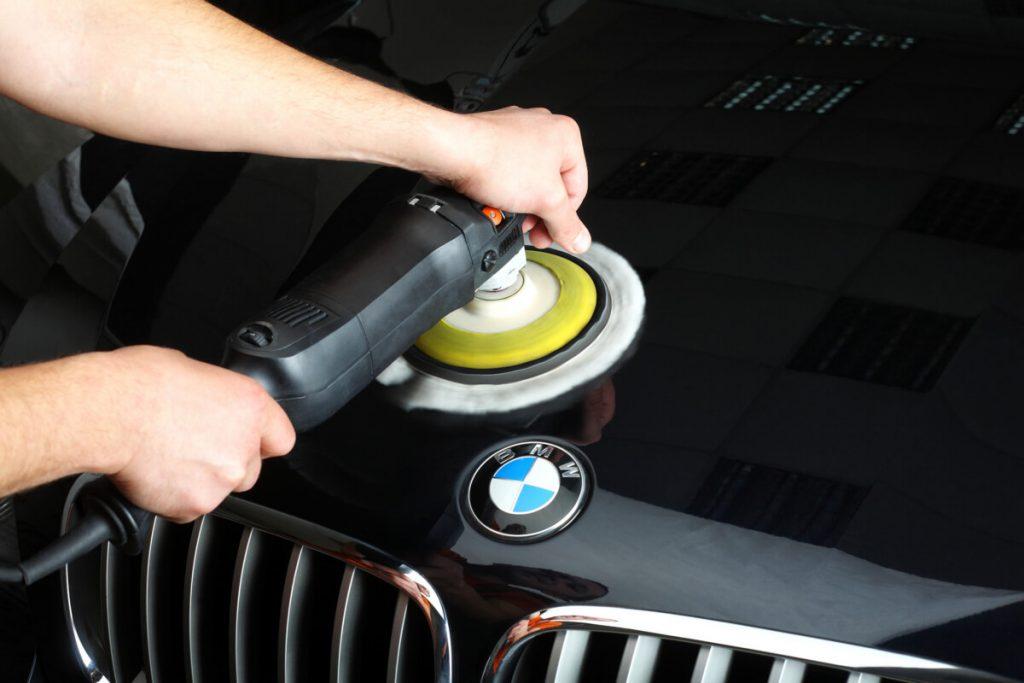 How do you use a car buffer?
Follow the steps below for buffing or polishing your car.
Wash the car thoroughly to eliminate any dirt, grime, and small debris from the surface, ensuring that they do not get embedded into the surface while buffing the body. Even a tiny rock stuck in the buffing pad can quickly scratch the paint as it spins.
Dry the car after cleaning it.
If you do not possess a well-lit garage or area, bring the car under bright sunlight. Then, mark the imperfections carefully so that you know where to buff.
Then, begin polishing the car with polish liquid or wax on the pad, using light to moderate pressure and a wide sweeping motion to spread the product nicely on a large area. Testing the product on a scrap piece of metal is advised.
When finished with a particular section of the car, switch to a cleaner pad, and buff the polish.
Can I polish my car by hand instead?
Polishing by hand is possible but is not suggested since the results may not be consistent throughout the bodywork. Also, manual polishing cannot match the speed and pressure of a polisher, therefore not suitable for getting rid of larger, prominent scratches.
However, there are times when the paintwork is very delicate that usually happens on cars that were already buffed 3-4 times. In these cases, using a mechanical polisher can cause the first layer of paint to uproot and expose the bodywork beneath. Check out AMMO NYC's YouTube video below on how he polished a Lamborghini Countach, which had just one layer of paint on it.
Should I clean my car after rain?
Given today's pollution levels, the rainwater has dissolved chemicals in it, making it acid rain. The chemicals and pollutants present in the rain are harmful to the paintwork and could ruin the paint's shine or finish. Also, watermarks can make the car look unattractive, and if left unattended, they may become much more difficult and troublesome to remove.
So, it is suggested to clean the car immediately after it rains. Also, it's always a good idea to clean the car after the monsoon period ends to prevent any form of rusting or unwanted growth of fungi on car parts. Same thing if you live in a cold area. Once winter is over, nothing beats a good detailing to make sure salt and dirt don't damage your paint in the long term.
Verdict
Detailing, like any other skill, comes with a learning curve and requires quite a lot of patience. Rushing it will always do more harm than good. However, the result of having your car look new for a fraction of the price of a professional service is well worth the hard work.
Professionals are undoubtedly capable of producing better results due to their high-end products and experience, but they are expensive. Plus, there are some excellent car buffers and polishers available out there that are both cheap and guarantee excellent results, making DIY car care much easier than before.
And worth mentioning, once you get the hang of it, it's very easy to make a little money buffing friends and family's car on the side. And the good thing is that considering the fact that a professional detailing job costs a pretty penny, your new buffer will pay for itself in no time.
Trust me; you won't regret it!