With time, any car paint will start to fade, no matter the brand or model. Polishing your car will basically give it its 'glossy' look back, similar to when you first brought it. In that case, you could always take it to the detailing shop and spend bags of cash, or buy a high-quality polisher and do it yourself. Don't know about you but we personally prefer the second option!
In this article, we are going to review the Porter-Cable 7424xp polisher, one of the best dual-action models on the market. The 7424xp is a great choice for professionals and amateurs alike, thanks to its easy-to-use but powerful design. You'll also have the option to purchase the 7424xp with a pressure gauge or buffing pad.
Features of the Porter Cable 7424xp Variable Speed Polisher
Dual-Action
The 7424xp is a dual-action polisher, meaning that it uses a 'circular' and 'spinning' motion when polishing your vehicle to mimic hand polishing. Dual-action polishers are easy to use, making them perfect for beginners. They also create little heat between the pad and bodypaint, significantly reducing the risk of burning through the paint, which is a common mistake beginners do.
The only drawback is that they tend to take a little longer to polish and cannot target deep scratches, or at least, not as quickly as other polisher types. If you need to remove deep scratches, we recommend sticking with a 'rotary' polisher instead. That being said, rotary polishers are typically for more experienced detailers and take some time to get used to.
6 Speed Settings
Depending on what you're polishing, you may need to adjust the speed of your polisher. Luckily, the Porter-Cable 7424xp has a speed dial allowing you to change the speed between 2,500-6,800 OPM (Operations Per Minutes). We recommend starting with a low speed (1500 – 3500) when first applying the polish and move up to a medium speed (3500 – 5000) once the polish is evenly spread out.
Removable Handle
The handle is removable and can be attached to either side, making it perfect for left-handed people. It also has a rubber grip preventing your hand from slipping during use. Designed with quality in mind, you'll enjoy supreme comfort and control that other polishers don't provide.
Lightweight
If you want your vehicle to be in great condition, you'll need to invest time polishing it, meaning you'll be holding your polisher for a long time. It can become tiring and leave your arm feeling fatigued. Luckily, the 7424xp weighs only 5.5 pounds, making it great for polishing large vehicles and boats with ease.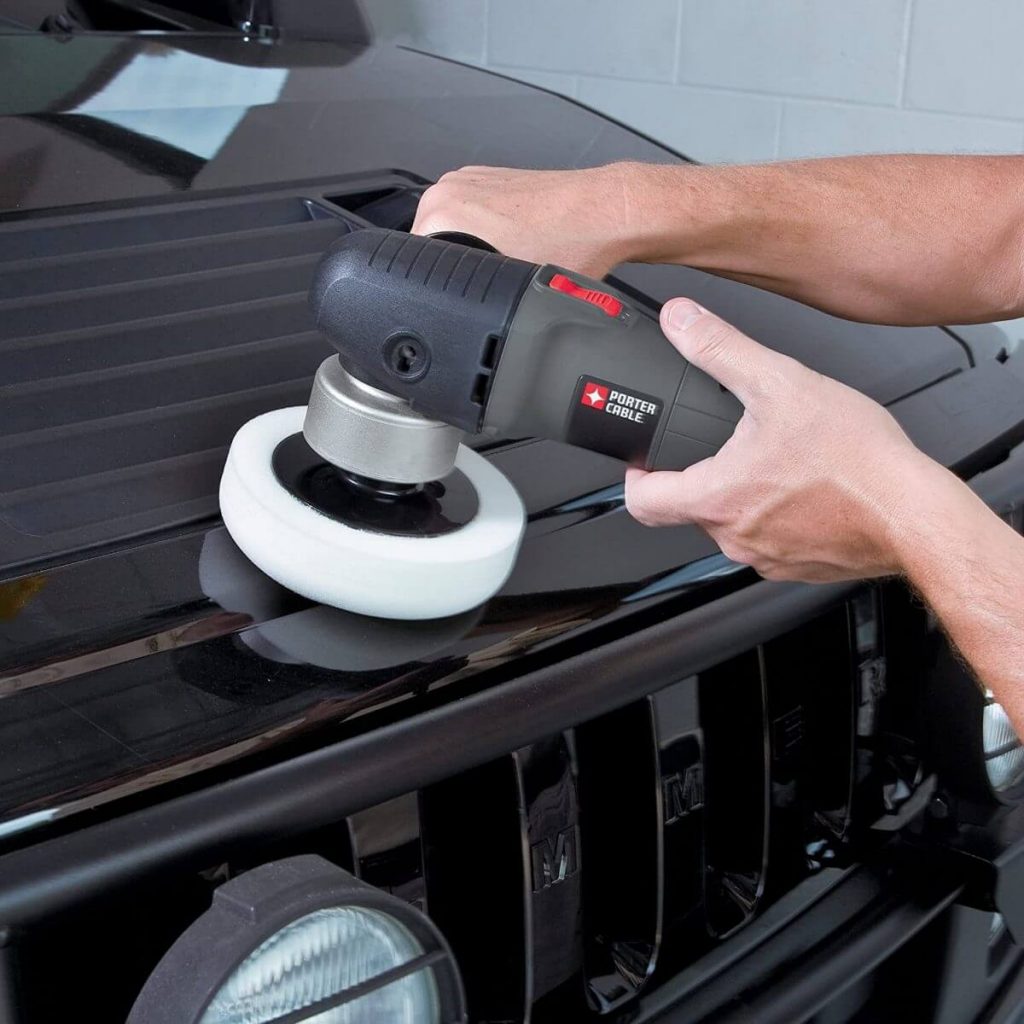 Includes Pad
When buying the Porter-Cable 7424xp, you'll have the option to get an extra pad made of lamb wool. The only issue is it doesn't last long and may need to be replaced after a few hours of use. While the pad provided may last long enough to polish your car, we recommend buying multiple pads if you plan to use your polisher for professional use.
Pros
Adjustable Speed
Lightweight
Removable Handle
Affordable
Made To Last
Cons
No Backing Plate
Not The Best Polishing Pad
No Hook And Loop Attachment
Specifications
Weight – 5 Pounds
Motor – 4.5 Amp Motor
Voltage – 120 Volts
Size – 14 x 6.5 x 6 Inches
Power Source – Electric
FAQ's
Does It Have A Warranty?
Yes, Portable Cable offers a three-year limited warranty and a one-year free service warranty should it malfunction or need replacing.
Can I Use This Polisher As A Sander?
Yes, providing you have the right backing head and sandpaper disk. However, be aware that using it as a sander may cause sawdust to scratch the surface of your car the next time you polish it. For this reason, we recommend only using each polisher for one specific thing.
If you ask me, I would use my polisher to polish and use my sander to sand.
Customers have said it's also great for polishing stone, making it perfect for kitchen countertops.
Can I Use This With Wax?
Yes. When applying wax, it's recommended to start by dampening the pad with warm water. Once it's damp, apply three strips of wax to the pad and begin working it into the surface, ensuring it's spread out evenly.
After applying the wax, wait for it to dry and remove any excess using a small microfibre towel. Your car should now be protected from any future scratches. Keep in mind that preventing your car from getting scratched requires it to be waxed every three months.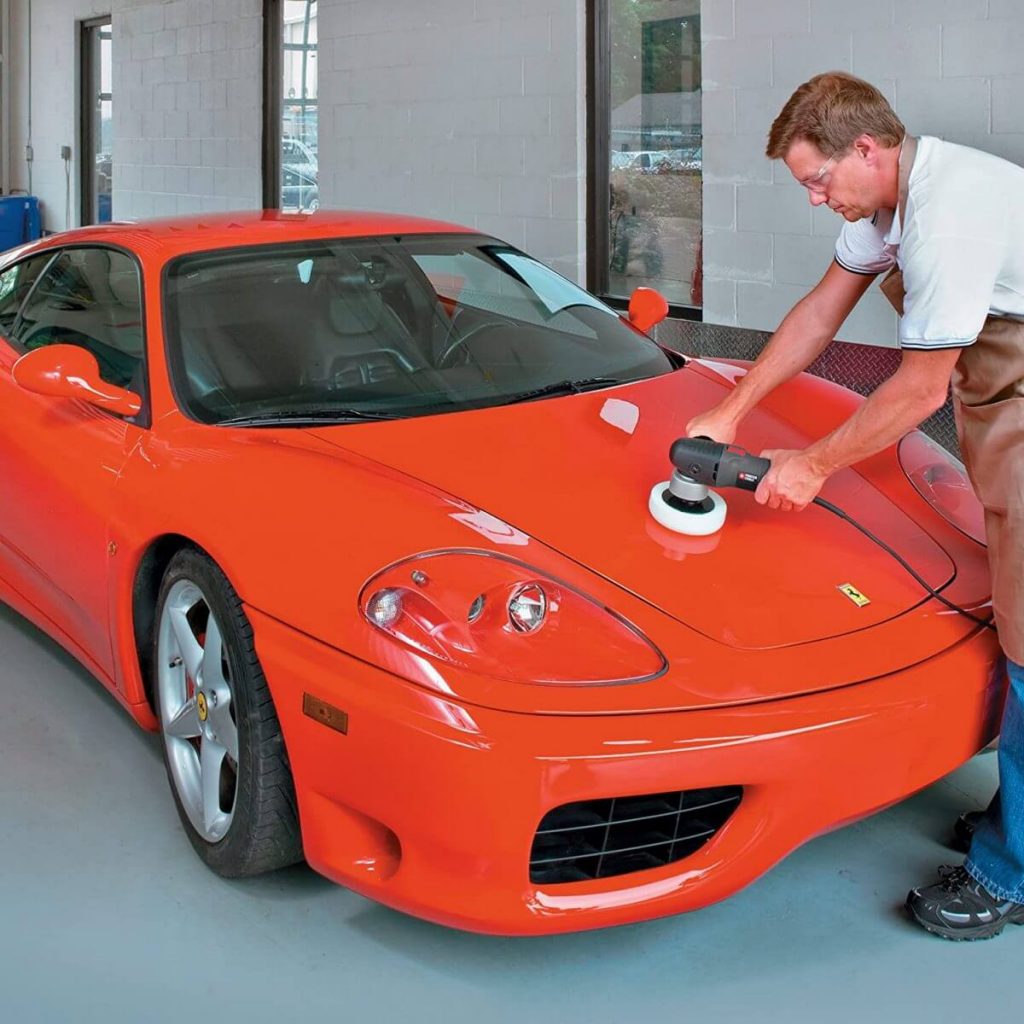 Does It Come With A Backing Plate?
Unfortunately not. However, it does come with a polishing pad.
Can I Use It On Car Windows?
Yes. As long as you use the correct tools for the job. We advise purchasing a glass polishing kit to ensure your windscreen doesn't get damaged.
Can I Use It Straight Out The Box?
You'll need to purchase polish before using the Porter-Cable 7424xp. We also recommend getting some wax, ensuring you'll be able to tackle a range of polishing jobs in the future. Your best bet here would be to buy a polishing kit with your polisher. Polishing kits will usually include polishing and buffing compound, wax, microfiber towels and basically everything you need from start to finish.
What Size Pads Can I Use?
We recommend going no bigger than a 6" pad. However, smaller pads will work fine as long as you match the counterweight with the pad you're using.
Final Verdict
Keeping your paint in good condition will not only make your car last longer by preventing paint scratches that could lead to rusting, but it will also ensure you get the most bang for your bucks if you plan to sell your car at some point. Nothing hurts more a sports car's resale value than a scratched paint job.
If you want the best-looking car on your street, the Porter-Cable 7424xp is the polisher for you. It's beginner-friendly while still providing enough power to be suitable to be used by professional detailers.
Trust us, no matter whether you just want to wax and polish your car on weekends or plan to use it on a daily basis at work, the Porter-Cable 7424xp won't let you down.
Sale
PORTER-CABLE Polisher, 6 Inch, 4.5 Amp, Speed Dial 2,500-6,800 OPM, 5" Counter Balance...
The Car Polisher Is 4.5 Amp, Ac Only
The Variable Speed Polisher Features Electronic Variable-Speed Dial 2,500-6,800 Opm
Random Orbit, Swirl-Free Sanding/Polishing Action
Includes 5-Inch Proprietary Counter Balance For Use With 6-Inch Sanding/Polishing Pad