EDITOR'S PICK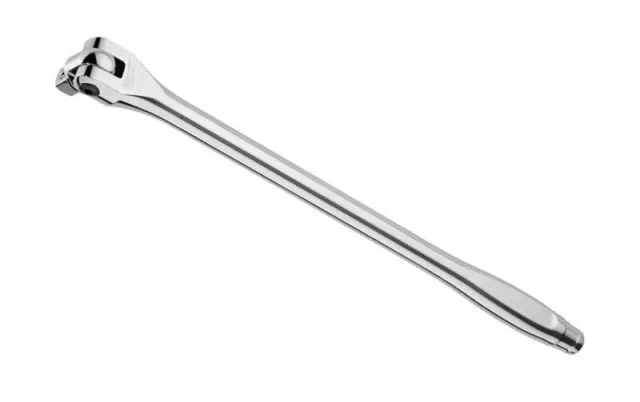 Milwaukee 1/2in Drive Breaker Bar
Sizes: 1/2″ drive X 15″ or 1/2″ drive X 24″
180-degree flex head
Steel body
Chrome-plated
Lifetime warranty
PREMIUM PICK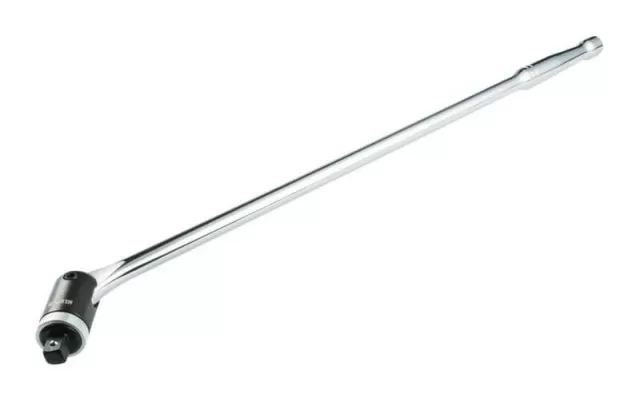 Northern Tool Klutch Ratcheting Breaker Bar
Sizes: 3/8″ X 15″, 18″; 1/2″ drive X 15″, 18″, 24″, 30″; 3/4″ drive X 20″, 24″, 40″, 1″ drive X 40″ bar
180-degree head rotation
Vanadium steel body
Chrome-molybdenum head
3-way ratcheting action (right- and left-handed, locked)
Lifetime warranty
BUDGET PICK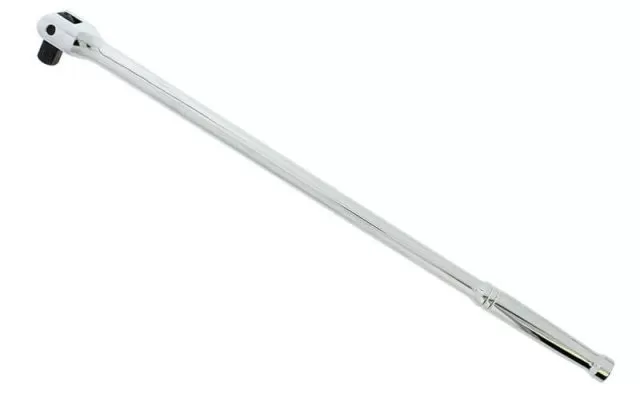 ABN Extension Bar
Sizes: 3/8″ drive X 15″, 1/2″ drive X 18″
180-degree flex head
Vanadium steel body
Chrome-molybdenum head
1-year warranty
One of the most frustrating things about being a mechanic is dealing with stubborn nuts or bolts that won't come off no matter how hard you try. These are usually super tight nuts or rusted old bolts that just don't want to cooperate. But what do you do when that happens? It's simple — get yourself a breaker bar.
A breaker bar is pretty self-explanatory; it helps you break things loose. It's a bit similar to a ratchet, as it has a steel bar attached to a head with a socket drive. However, unlike ratchets, breaker bars don't have a ratcheting mechanism that could potentially break under extreme force (those little teeth are really not meant to support hundreds of lb-ft of torque). Furthermore, the longer handles allow applying more torque with the same amount of energy, providing the leverage you need to loosen those seized nuts and bolts.
And even if you think you don't need one, you do! Sure a breaker bar is not a tool you'll use every day but you'll be darn happy you have one when you need it. It's really a "last resort" tool — it will be there for you when all else fails.
I have one in my garage and I won't lie, I don't use it that often. Battery-powered impact wrenches are incredibly powerful nowadays and they do just fine most of the time. Still, you'll eventually encounter that one bolt, stuck like hell and deep down in the engine bay, where your fancy impact gun just won't fit, or just that big 32mm axle nut on a car you bought from a junkyard that's been sitting in a field for years — that's when a breaker bar will come in handy.
Thus, although you won't use it as often as a ratchet, it's still a crucial item in any workshop. So if you are looking to buy a good breaker bar but don't really know where to start (yeah breaker bars really all look the same, don't they? lol), we've created this post to help you out. Here's my take on the best breaker bars available out there, along with an in-depth review for each and a complete buying guide.
Enjoy!
Breaker Bar Reviews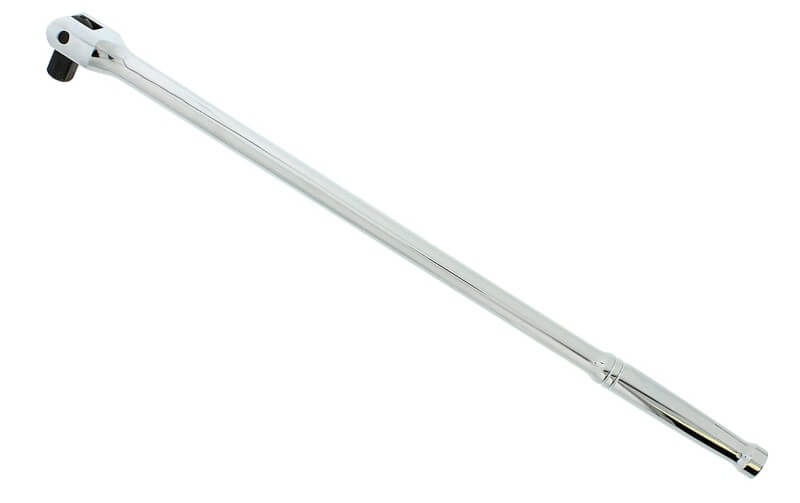 If you're looking for a cheap breaker bar "just in case", ABN might have the perfect solution for you. This entry-level model is available in either 3/8″ drive X 15″ or 1/2″ drive X 18″ — the most common sizes in the auto repair industry.
However, it's important to mention that despite having the lowest price tag on this list, it doesn't mean that ABN compromised on quality. Indeed, both variants feature a rigid vanadium steel body, with an even stronger chrome-molybdenum, 180-degree flex head keeping socket securely in place with a spring-loaded ball bearing.
However, you might find the handlebar slippery, especially if your hands are covered in transmission fluid. Still, I easily solved that with coated working gloves providing the necessary grip (of course, your regular ratchet's handle is probably very similar but you'll see that breaker bars are definitely more slippery due to the higher force applied).
In short, the ABN Extension Bar is decently strong, durable, and affordable — a perfect combo, right? And as long as you can forgive its slightly slippery handle, this one's simply the best budget-friendly option we've found.
Key Features
Sizes: 3/8″ drive X 15″, 1/2″ drive X 18″
180-degree flex head
Vanadium steel body
Chrome-molybdenum head
1-year warranty
Pros
Affordable price
Durable head and tough materials
Cons
Not as strong as other more premium model, but at that price, you can't really ask for more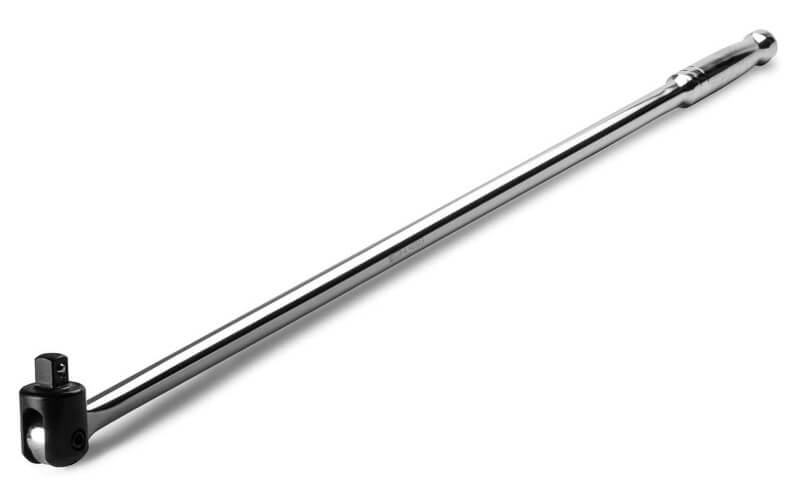 Are you looking for a longer-than-average breaker bar that won't break the bank? If so, check out the Capri Tools Extended Leverage bar — it offers plenty of sizes, including 18-, 30-, and 40-inch, which is longer than most bars on the market. Essentially, that translates into extra leverage and more torque to break loose those stubborn nuts in no time.
Another interesting feature is the head providing 230 degrees of movement — excellent for those hard-to-reach places. Besides, the head is made from durable chrome-molybdenum steel, while the body is made from the same rigid vanadium steel as the previous model.
Also worth mentioning, Capri Tools also offers a model with a rubber-grip handle if you fancy that, but only for the 18-inch bars. In my experience, it provided more than enough grip to handle the most stubborn nuts and bolts easily, though it would've been great if Capri Tools had offered it on the larger sizes (not so sure why it doesn't, but it is what it is).
Capri Tools offers a lifetime warranty too, and it makes a great deal out of it. It's perfect for anyone who doesn't use breaker bars daily but still needs one from time to time. Just keep in mind that while the extra length does generate more torque, it also makes them a little more challenging to operate in tight spaces and may sometimes be a bit much for smaller bolts. Make sure to choose wisely — or just buy one of each!
Key Features
Sizes: 3/8″ drive X 18″, 1/2″ drive X 30″, 3/4″ drive X 40″, 1″ drive X 40″ bar
230-degree flex head
Vanadium steel body
Chrome-molybdenum head
Lifetime warranty
Pros
Plenty of size variations
Longer handles than average
Wide flex angle
Rubberized grip handle available (for the 18″ bar)
Cons
Excessive torque resulting from the longer bars may crack smaller nuts and bolts
Read also: 7 Best Cordless Impact Wrenches [2021 Review]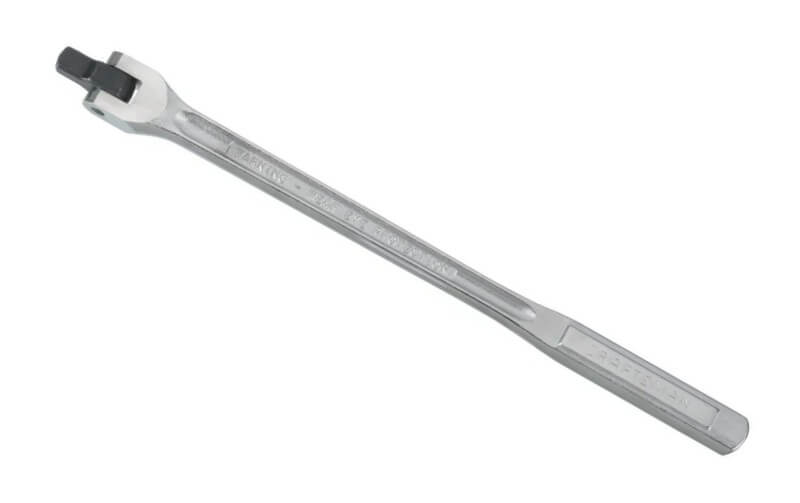 If you prefer the old-school, heavy-duty style, that's where Craftsman's breaker bar really shines — it's basically the same your dad had in his tool chest. The durable steel construction and thick design mean the handle is extra grippy and easy to work with (though there is no soft rubber option here, but they didn't have that in the olden days anyway, right?) and we have to admit, it looks quite cool too.
While the different lengths offered are pretty short compared to the competition (measuring only 6″, 10″, or 15″), it's not always a bad thing. Yes, it does produce less torque than bigger models, but the compact size and 180-degree flex head mean it can easily reach bolts located in tight spots (and you know that stubborn bolt is always deep down somewhere in the engine bay).
Craftsman's breaker bars are also some of the most affordable ones out there and the brand also offers an even better deal if you buy all three sizes as a set. Hence, if you're ok with the slightly shorter handles, this one's a no-brainer!
Key Features
Sizes: 1/4″ drive X 6″, 3/8″ drive X 10″, 1/2″ drive X 15″
180-degree flex head
Steel body
Lifetime warranty
Pros
Tested and true design
Ergonomic and steady grip handle
Can be bought individually or as a set (which is cheaper)
Old-school look is a must
Cons
Longer options would have been appreciated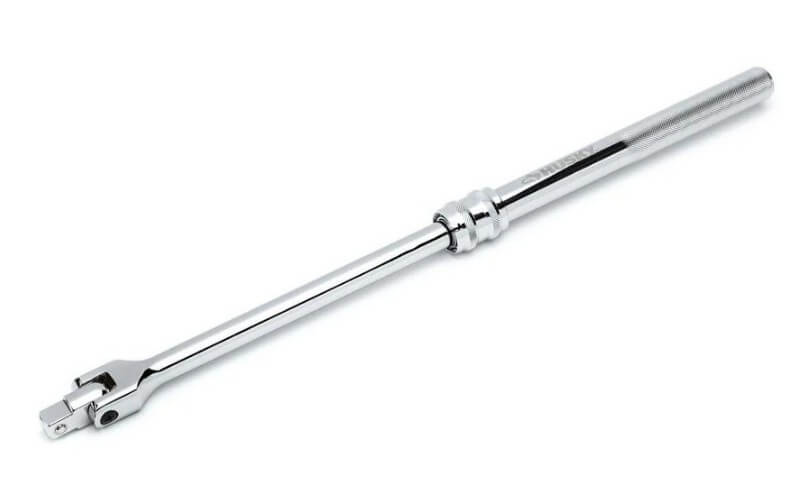 If you want a breaker bar for a wider range of scenarios, the Husky Extendable Breaker Bar might be what you are looking for. In its standard form, it looks, functions, and fits in the same spaces as a regular 18″ breaker bar. However, if you ever need a little more leverage, you can twist the bar and extend it up to 24 inches long!
That unique feature is complemented by an ergonomic knurled handle grip and a 180-degree flex head. Yet, although the body is made of steel, which is normally quite strong, keep in mind that the extendable handle makes it slightly less sturdy than a typical single-piece model. That doesn't mean that it won't last though, but it's not the kind of breaker bar you can just fit a 4-feet pipe over to get even more leverage if you know what I mean.
Still, an extendable bar like this one can give you that extra versatility when you need it and it's especially useful for those who don't think they'll use one regularly. It can reach tight spaces and can be extended if you're facing an unusually stubborn fastener. That said, since it's only available in one drive size, remember to get impact socket adapters so your breaker bar can support smaller and bigger sockets (never use regular chrome adapters on a breaker bar, the extra torque might be too much).
Key Features
Sizes: 1/2″ drive X 18″ — extendable to 24″
180-degree flex head
Steel body
Knurled handle
Lifetime Warranty
Pros
Extendable
Super versatile
Grippy handle
Lifetime warranty (no receipt, no questions asked)
Cons
No drive size option
Extendable mechanism reduces the bar's strength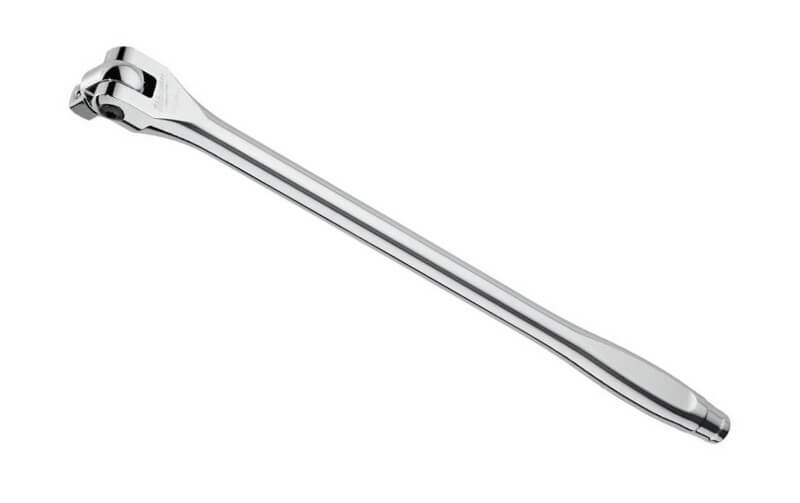 Milwaukee Tool doesn't need an introduction anymore — if you've been wrenching on cars even a little in the past 60 years, you already know the name. It has been around for almost a century now and makes some of the best automotive tools on the market.
It offers breaker bars in either 15″ or 24″ length, both with a 1/2″ drive. But don't worry about the single drive size available, as the brand also offers a complete socket set containing every size/fitment applicable for its ratchet and breaker bar lineup.
Like most premium breaker bars, the body is made of chrome-plated steel, the head can flex 180-degree and comes with a slightly higher price tag. Still, it's all worth the investment. Milwaukee's breaker bar is very well-thought-out and feels especially sturdy (it's also heavier than most but in a good way). As a result, Milwaukee offers a lifetime warranty — but of course, that's pretty much the case with every model on this list. Still, you risk having to use it a lot less with this one lol.
In short, if you want a strong breaker bar and don't mind spending a little more to get a higher-end model that will probably last a lifetime, this one is worth every extra penny.
Key Features
Sizes: 1/2″ drive X 15″ or 1/2″ drive X 24″
180-degree flex head
Steel body
Chrome-plated
Lifetime warranty
Pros
Comfortable handle
Sturdier than most
Kinda stylish handle
Cons
Only available in 1/2″ drive size
Slightly steep price (but worht every dime)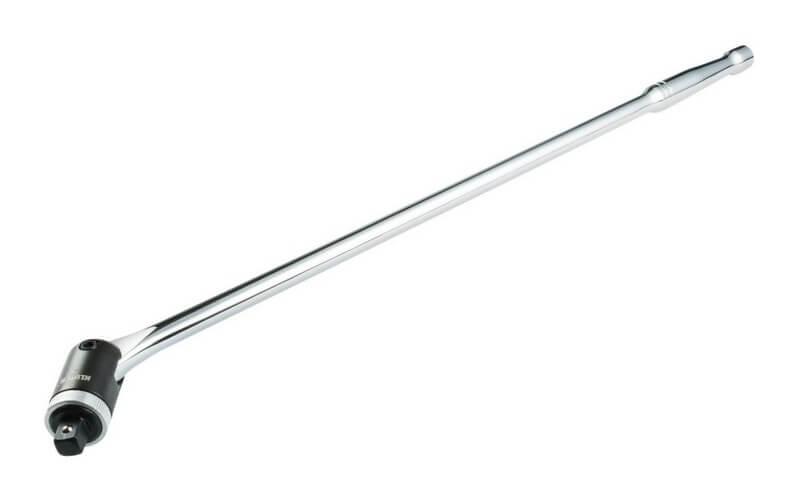 This breaker bar is really next-level — and probably the top one. Northern Tool truly went overboard with this one and flooded its Klutch breaker bar lineup with plenty of size and length variations as well as several features simply not found on other breaker bars.
Any size you need, it probably has it. The range starts with a rather small 3/8″ drive X 15″ bar and goes up to a massive 1″ drive X 40″ bar (more details on the complete lineup below). Also, it simply doesn't get any better than a vanadium steel body and chrome-molybdenum head when it comes to facing the worst a car can throw at you.
Moreover, if you've used breaker bars before, you know that their worst drawback is the fact that you have to take them out of the fastener every time you want to give another turn. Of course, that's for a good reason — the ratcheting mechanism on any ratchet is always the weakest link. Still, NT was able to develop a mechanism strong enough to withstand the torque that these breaker bars can provide! Yep, no need to switch to a regular ratchet once you've cracked that stubborn bolt. Simply keep going like you would do with a regular ratchet until you can remove the fastener by hand.
In my eyes, the only real con here is the slightly higher price (and maybe the bigger head but that ratcheting mechanism has to be fitted somewhere after all). However, if you are a professional mechanic and want a reliable breaker bar that's significantly more convenient than whatever you've used before, the Northern Tool Klutch series should be on top of your list.
It's as strong as a breaker bar should be and it ratchets — what more could you ask for?
Key Features
Sizes: 3/8″ X 15″, 18″; 1/2″ drive X 15″, 18″, 24″, 30″; 3/4″ drive X 20″, 24″, 40″, 1″ drive X 40″ bar
180-degree head rotation
Vanadium steel body
Chrome-molybdenum head
3-way ratcheting action (right- and left-handed, locked)
Lifetime warranty
Pros
Wide range of size available
Ratcheting mechanism
Ergonomic handle
Cons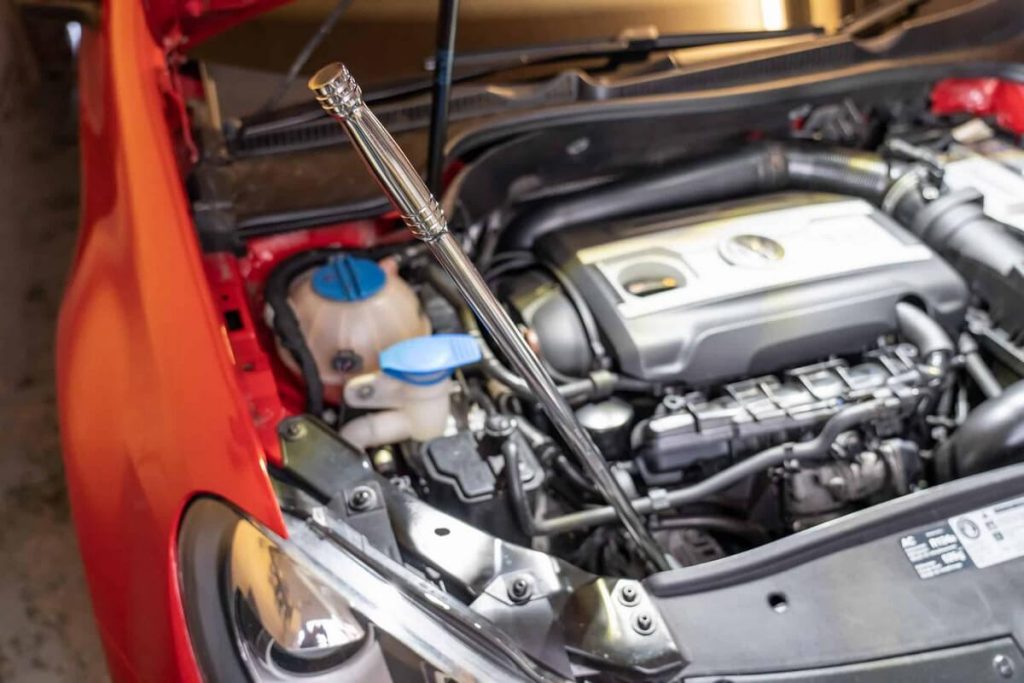 Buying Guide: What to Consider When Choosing a Breaker Bar
Length
Breaker bars are available in various lengths, usually from 10 to 40 inches. Their handles are longer than most ratchets and wrenches to create more torque using the leverage principle. Thus, breaker bars are better at freeing a seized nut than rachets, even when using the same amount of pressure.
However, keep in mind that longer bars aren't necessarily better, or should I say more convenient. For instance, an overly long breaker bar will be trickier to fit into tight spaces like engine bays or when working under a car sitting on jack stands.
It's also important to keep in mind that while a longer breaker bar means more torque, too much torque can easily break even a very sturdy bolt. Hence it's essential to get the correct length for what you'll be using it for.
Here are a few pointers:
10- to 15-inch Breaker Bar
10- to 15-inch breaker bars are shorter than most and typically used on lighter vehicles. They're powerful enough to deal with tight lug nuts and are compact enough to remove smaller bolts without necessarily breaking everything.
18- to 24-inch Breaker Bar
Breaker bars measuring 18 to 24 inches are more powerful and probably the most common ones in the automotive industry. They produce more torque, making it easier to budge seized lug nuts that are rusty or have been tightened with a pneumatic impact gun. Besides, they should still fit into a packed engine bay, even if it's a tad more challenging to do than using the shorter ones.
Worth noting, some breaker bars in this size range are also extendable, like the Husky Extendable Breaker Bar. Indeed, this makes it even more versatile, but remember that they won't be as strong as single-piece models. The twist-to-extend/retract mechanism makes the bar slightly weaker and prone to flex, especially when dealing with very stubborn nuts and bolts. Still, at least in my experience, a well-designed, high-quality extendable breaker bar should serve you fine for a long time — just don't go crazy with it.
30- to 40-inch Breaker Bar
30- to 40-inch breaker bars produce by far the most torque, but are less common when dealing with passenger cars, SUVs, and pickup trucks. Producing up to a staggering 1000 lb-ft of torque, these breaker bars are usually used to break lug nuts found on semi-trucks and tractors. The amount of torque these bars can create can easily break most smaller bolts and nuts, so I recommend using them only on heavy-duty vehicles — or as a very last resort.
Additionally, these lengths are ideal if the operator has to keep some distance from the bolt for safety purposes.
But that's it? There's nothing longer than that? Well, let's just say that if a nut won't come off under the pressure of a 30- or 40-inch bar, you're probably better just cutting it off.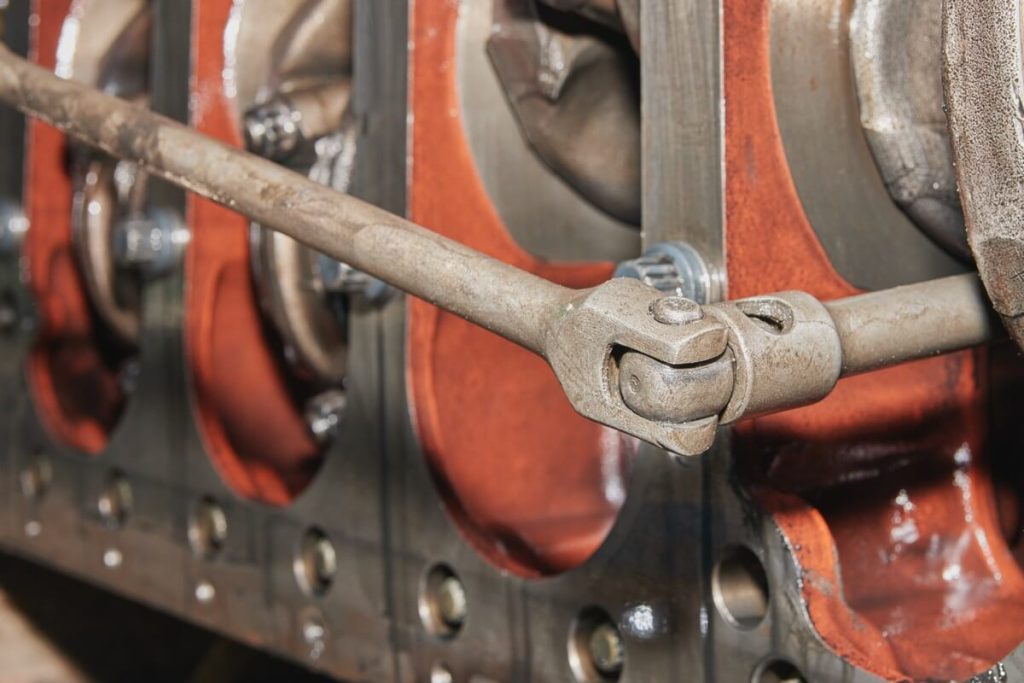 Drive Size
To deal with different situations, breaker bars are available in different drive sizes commonly used for automotive repairs — 3/8″ and 1/2″. Of course, there are bigger ones too but they aren't really used outside of the heavy-equipment field. And if you were to need a 1/4″ drive model to remove really small bolts, well, it's not a breaker bar you need but to eat your vegetables (I honestly don't know what those small ones always included in ratchet & socket kits are used for lol)
3/8″ is the size you'll use to free smaller nuts and bolts found under the hood and part of the braking, suspension, and steering system for instance (usually between 12mm and 19mm). Meanwhile, for dealing with wheel lug nuts, chassis bolts, and axle nuts, you'll need 1/2″ drive heads.
Fortunately, unlike handle lengths that are pretty much fixed, socket adapters can be used to fit 1/2″ sockets on a 3/8″ drive breaker bar and vice-versa. Just keep in mind that those adapters will add significant length to the head and socket setup and the breaker bar might not fit where you need it to fit anymore.
If you are a professional mechanic, just buy one of each — you'll thank me later!
Flex head
Breaker bars have a head attached via a hinge, allowing them to flex back and forth up to a certain degree — usually 180 to 240 degrees. This characteristic makes breaker bars flex and allow the user to find the right position.
That said, despite the increased versatility, the flexible head is also a breaker bar's weakest link. Indeed, the joint between the head and the bar creates a weak point that may break under excessive pressure. Of course, a breaker bar without a flex head would basically be unusable — or just convenient as any other tire iron, which is not convenient at all.
Material
Most breaker bars are made of chrome vanadium steel from top to bottom, which has excellent resistance towards bending or snapping off under intense use. Moreover, it's a medium-hard alloy known for its ductile, malleable, and corrosion-resistant traits. So with everyday use and care, this tool should last a long time.
But since the head is prone to failure, some higher-end models use chrome-molybdenum steel instead, which is tougher than vanadium and less likely to break under pressure.
Comfort
A comfortable handle is often underrated, but it's actually worth seeking. You won't be working with it every day, but you'll still apply a lot of pressure when dealing with a breaking bar, which can cause a lot of pain. Hence, I recommend wearing proper working gloves here.
In addition, most breaker bars nowadays have a shaped handle that's usually thicker at the end. It's designed to fit the hand's contour for easier control and should be comfortable for most users.
However, you can also choose a breaker bar with a rubberized handle grip as a more ergonomic option. As a result, it'll be less likely to slip out of your hands while also giving you a slight cushion effect, which is a nice touch. And if you think that you don't really need that, don't forget that a rubber grip is also a lot more fun to use in winter. If you live in a cold climate and frequently work either in a cold garage because the darn door opens every 15 minutes or outside in the cold (looking at you, mobile mechanics…), a rubber grip is definitely worth looking after.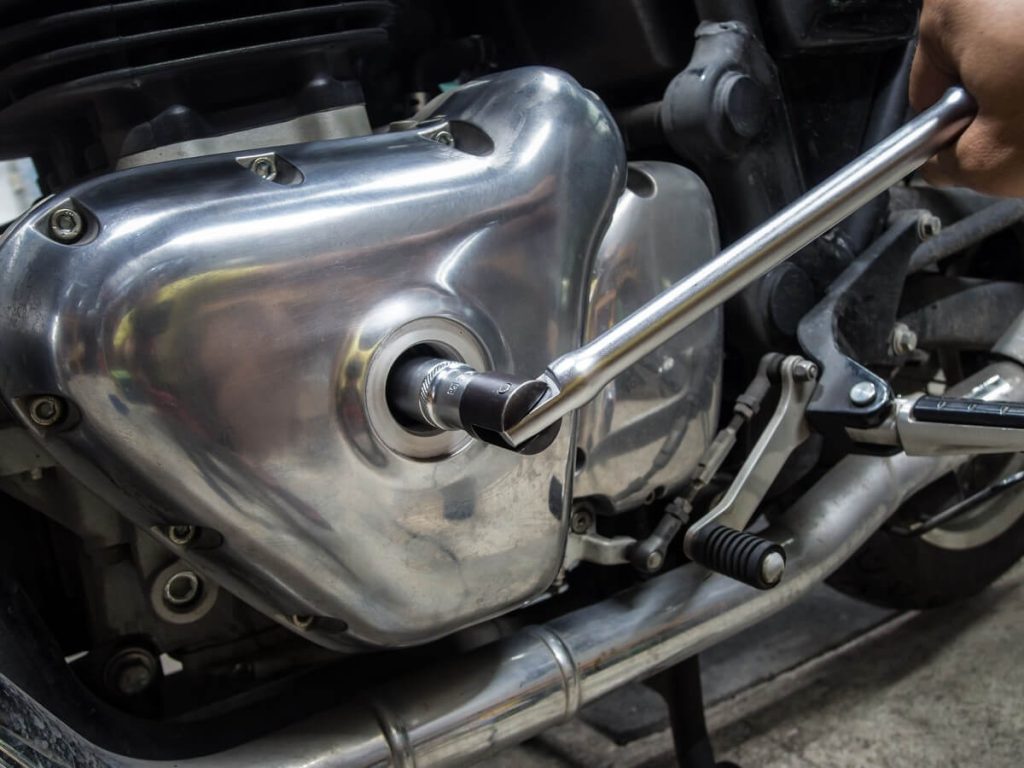 Frequently Asked Questions (FAQs)
What are breaker bars used for?
In most cases, breaker bars are "last-resort" tools — when all else fails, it will be there for you.
Put simply, a breaker bar is used whenever you have to deal with a super tight nut or rusty bolt that won't budge with a ratchet or impact wrench. Moreover, if you work with semi-trucks and tractors, a breaker bar is something you can go for instead of those massive 30 lbs. impact wrenches. And in some cases, its slimmer form makes it easier to reach bolts in tight spaces, where a bulky impact gun just won't fit.
Sure, you won't need it every day. But trust me; you'll truly thank yourself for having bought one when literally nothing else works. Because of the extra torque and leverage, breaker bars make breaking stubborn fasteners much easier, without risking damaging your other expensive tools.
Can I use a breaker bar as a ratchet?
In short, you can. But remember that a ratchet is always the more convenient tool here.
Breaker bars are meant to do one thing only — to break loose seized nuts and bolts. Yes, it's possible to keep maneuvering until they come off. However, the longer bar isn't exactly ergonomic, and the whole removal process won't be as effective as using a ratchet. So ideally, you'd want to switch to a ratchet once the nut or bolt is loose since it's lighter and much faster.
Conversely, I recommend against using your ratchet as a breaker bar. If you can't pull it off with an ordinary ratchet, it's a sign to go with the more powerful impact wrench or a breaker bar. Note that using a ratchet as a breaker bar, and increasing the leverage by sliding a pipe over it could break the ratcheting mechanism.
And honestly, have you seen the price of the breaker bars above? I can assure you that your ratchet costs a lot more than that — if something has to break, it better be that relatively inexpensive breaker bar instead.
Verdict
In the auto mechanic world, each tool is designed for a very specific job and should only be used only for that purpose. Breaker bars are not different; they are made to break tough bolts. You surely won't use yours as often as other hand tools, but when you'll need it, it will literally save your day.
Still not feeling sure which one to get? Well, here's my two cents:
If you just want a cheap breaker bar you can keep in your garage for occasional/emergency use, the ABN Extension Bar should be good enough. Need something a little bigger? Look for the Capri Tools Extended Breaker Bar. It's still a budget-friendly option and will do just fine on most smaller vehicles.
However, if you're willing to invest in a higher-quality model, the Milwaukee 1/2in Drive Breaker Bar is the most comfortable and durable model out there. And if you want your breaker bar to come with a ratcheting mechanism (one that's stronger than a standard ratchet), then the Northern Tool Klutch is what you need!
Use a different model and think it should be on this list? Don't hesitate to leave a comment below!