EDITOR'S PICK
NitroCat 1200-K Air Impact Wrench
900 lb-ft maximum torque and 1,295 lb-ft nut-busting torque
4.5 lbs. overall weight
Kevlar composite construction
8 CFM average air consumption
8,000 RPM free speed
Twin-clutch mechanism
PREMIUM PICK
Ingersoll Rand 22235QTiMAX 1/2" Drive Air Impact Wrench
900 lb-ft maximum torque and 1,300 lb-ft nut-busting torque
5 lbs. overall weight
Composite housing with titanium hammer case
6 CFM average air consumption at 90 PSI
8,500 RPM free speed
Twin-hammer mechanism
BUDGET PICK
Ingersoll Rand 231-C Air Impact Wrench
600 lb-ft maximum torque
5.8 lbs. overall weight
2-piece construction
4.2 CFM average air consumption at 90 PSI
8,000 RPM free speed
Twin-hammer mechanism
Do you ever look at lightning-fast pit stops in Formula One or NASCAR and wish you could be that quick in changing your car's tires? If it's your case, you might want to consider getting your hands on a quality air impact wrench—it's the first step to get closer to Formula One-level tire changing times.
An air impact wrench is a power tool every mechanic worth his salt should have in his tool arsenal. They are trusty and reliable tools that greatly help loosen that odd stubborn lug nut using nothing but brute force. Of course, air-powered impact wrenches are especially suitable for professional mechanics as most repair shops already have an air compressor on-site.
However, even serious DIYers will benefit from getting an air compressor for their garages (having a compressor at home is truly a game-changer). It can quickly get you out of tricky situations and will more often than not be a life-saver. Have you ever tried to remove an axle nut using only a big ratchet? That's where an impact gun will come in handy. Once you start working with an impact, you'll never go back!
The only problem? The plethora of choices available online can sometimes be overwhelming, making it challenging (especially for first-time users) to pick the best air impact wrench for your needs. To help you with that, we have come up with a detailed review of the 8 best air impact wrenches currently on the market.
Of course, impact wrenches come in all shapes and sizes, so we tried to include a little something for everyone. From budget models good for weekend DIYers who just need to install their winter tires to full-fledged professional models for certified mechanics busting their asses 40 hours a week in the shop, we have something for you!
Best Air Impact Wrench Reviews
The Ingersoll Rand 231C is one of the best ½" drive pneumatic impact wrenches for those on a budget. It is capable of delivering up to 600 lb-ft of torque to bust any stubborn bolt. Moreover, it comes with an impressive twin-hammer internal mechanism that provides efficient yet powerful operations with maximum rotational speeds of 8,000 rpm. And for more delicate jobs, you can use the power regulator to turn down the torque.
One of the best features of this air impact wrench is its compact design and lightweight nature. The pneumatic tool weighs merely 5.8 lbs. and measures only 7.3″ in length, reducing wrist fatigue even when working for longer periods.
I must admit, though, the Ingersoll Rand 231C air impact wrench holds a special place in my heart. This is actually the first air impact wrench I bought when I started as a young mechanic, going for the low cost and Ingersoll Rand's impressive brand reputation. It lasted for nearly ten years until I decided it was time for an upgrade. I then got myself the top-of-the-range Milwaukee M18 FUEL model and gave my old Ingersoll to one of the apprentices (it was still working fine even then). The point being, if you are a newbie mechanic looking to learn the ropes, you won't find a better impact wrench than the Ingersoll Rand 231C for the price.
Oh, and it's also important to keep in mind that a metal casing can get quite freezing in cold weather climates. Coming from Canada, I can tell you a thing or two about that. Luckily, Ingersoll Rands also sells rubber covers to go over the handle, so you don't end up with frozen hands when working outside.
Highlighted features
600 lb-ft maximum torque
5.8 lbs. overall weight
2-piece construction
4.2 CFM average air consumption at 90 PSI
8,000 RPM free speed
Twin-hammer mechanism
Pros
Best budget air impact wrench
Extremely easy to maintain and clean
Sufficient power for most applications
Fully lubricated and ready to use from new
Lightweight and compact air impact wrench
Ergonomic design
High value for money
Attractive chrome finish
1 year manufacturer warranty
Cons
Not suitable for high torque applications
Another solid contender in the budget air impact wrench category comes from Craftsman. The Craftsman CMXPTSG1003NB is an advanced air impact gun made from composite materials to keep the overall weight down. The result is a 4.1 lbs. impact gun that is easy on your wrist even after several hours of work. Craftsman's impact gun delivers a maximum of 750 lb-ft while consuming 5 CFM compressed air at 90 PSI—slightly more than the previous one but also a bit more expensive.
Furthermore, it features an integrated muffler to keep the noise down while you are working. Other unique features include four forward power control and one reverse setting for you to choose from depending on the task at hand. And worth mentioning, the power adjustment dial is large enough to be operated while wearing gloves for added convenience. I gotta admit that the control dial is a bit hard to handle with thicker gloves on the Ingersoll Rand's model—it still does the job fine, but this one is definitely easier to use.
Running at a free speed of 7,000 RPM, Craftsman's air impact wrench comes with more than enough grunt to loosen most bolts in a jiffy. Hence, those looking for slightly more power and will than the previous model should go for Craftsman's air impact wrench. Also, you get an ergonomic design combined with an attractive red and black color scheme. However, it's important to keep in mind that composite materials, while being lighter, are definitely not as tough as a full-metal casing, so make sure to watch not to drop it too often.
Highlighted features
750 lb-ft maximum torque
4.1 lbs. overall weight
Composite material construction
5 CFM average air consumption at 90 PSI
7,000 RPM free speed
Four forward and one reverse setting
Pros
Increased torque and performance
Attractive red and black body
Durable and lightweight body
Built-in muffler significantly reduces noise
Conveniently large power adjustment dial
Different power settings for forward and reverse
3 years limited warranty
Cons
Can be a bit noisy despite the muffler
The Ingersoll Rand 2130 is an air impact wrench specially designed for heavy-duty applications. It may come with a comparatively low maximum torque rating, at only 550 lb-ft, but don't think it isn't packing some serious power. Ingersoll Rand's time-tested twin-hammer mechanism will easily loosen most rusty nuts and bolts you come across. Also, you get a multi-position power management switch so you can adjust the power level no matter how thick your gloves are.
The 2130 air impact wrench comes with a reinforced aluminum hammer case to keep the weight down and minimize fatigue & stress to your wrist while still being a little sturdier than composite models. Its compact dimensions also allow you to access tight spaces where other air impact wrenches simply won't fit.
Ingersoll Rand's air impact wrench runs at an average free speed of 7,000 RPM to quickly get the job done. Besides, thanks to the high-grip holding area, you are in complete control at all times. The dark theme is also a nice addition. If you already work in the field, you know how those red and yellow ones will inevitably turn black after a while anyway.
The Ingersoll Rand 2130 air impact wrench is suitable for home garages and light professional environments. You get excellent ergonomics and sufficient brute force at a fairly reasonable price.
Highlighted features
550 lb-ft maximum torque
4.2 lbs. overall weight
Composite material construction with aluminum hammer case
4.4 CFM average air consumption at 90 PSI
7,000 RPM free speed
Twin-hammer mechanism
Pros
Easy to use and clean
Convenient forward and reverse slide switch
Lightweight and compact dimensions
Ergonomic design
Attractive stealthy grey and red body
Glide switch for precise power control
1 year manufacturer warranty
Cons
Not suitable for heavy-duty applications
With the NitroCat 1200K air impact wrench, we are finally into the big league, where greater emphasis is given to raw power over anything else. The 1200K comes with a high-performance twin-clutch mechanism that churns out a whopping 1,295 lb-ft of loosening torque while normal operational torque stands at 900 lb-ft—not that many bolts can resist that.
But the 1200K's main attraction is its long-lasting and comfortable Kevlar composite housing. Kevlar is an exotic material predominantly used in critical automotive and aircraft applications thanks to its high heat resistance and tensile strength—no more burning your composite casing on a hot exhaust manifold here.
The forward/backward lever is also one of the best ones out there. Thanks to the clever design, it won't get stuck in dirt after a while and will always be super easy to operate, even when covered in sludge.
Also worth mentioning, NitroCat's air impact wrench comes with the brand's patented quiet exhaust technology that significantly reduces noise during operation. As a result, the 1200K is considerably quieter than the competition—your coworkers (or wife) will only be happier.
The NitroCat 1200K proves especially useful in heavy-duty applications, thanks to the higher power and superior ergonomics. Furthermore, additional features such as the noise control technology and Kevlar body make it an incredibly attractive package for the price.
Highlighted features
900 lb-ft maximum torque and 1,295 lb-ft nut-busting torque
4.5 lbs. overall weight
Kevlar composite construction
8 CFM average air consumption
8,000 RPM free speed
Twin-clutch mechanism
Pros
High value for money
Clever sound damping technology
Impact and heat resistant body
High maximum torque value
Easy to use lever for switching between modes
Powerful internal mechanism
Lightweight and comfortable to operate for longer durations
2 years manufacturer warranty
Cons
None—when it works, it works
Experienced mechanics need no introduction to the mighty Capri Tools brand. It is one of the very few brands consistently developing high-tech power tools and other automotive repair equipment without compromising on quality.
The CP35205 air impact wrench is one of many such examples of fine craftsmanship combined with modern technology. It is a ½" drive impact gun fitted with an advanced dual-air motor design for efficient and powerful operation. The twin-hammer internal mechanism is capable of 1,715 lb-ft of nut-busting torque, while the internal twin-hammer mechanism runs at 8,300 RPM free speed to quickly deliver the right amount of power.
The Capri Tools air impact wrench is constructed from lightweight and impact-resistant composite material, which results in a 3.5 lbs. overall weight, making it significantly lighter than any other model in its class. Moreover, you might think that to develop so much twist, the CP35205 would need a humongous air compressor to satisfy its air requirements. However, it's actually the opposite. Capri's innovative internal mechanism only consumes an average of 5.2 CFM at 90 PSI.
Thanks to its superior build quality and four-stage exhaust design, the Capri Tools CP35205 is especially suitable for cold-weather conditions where other low-quality impact guns tend to give up easily (ever seen a gun jamming because the exhaust was frozen due to water in the line? That won't happen with this one). The high torque output also makes it ideal for mechanics working on heavy-duty applications.
At 1,715 lb-ft of nut-busting torque, it's by far the most powerful model on this list, and dare I say, it's probably a bit much. When working in the automotive industry, I'm not even sure if you can find bolts that can resist such pressure. That's probably an impact gun better suited to work on military tanks and space shuttles. I honestly don't know why Capri decided to go that far, but I had a coworker who had one of those, and it was incredibly efficient (I used to borrow it every time my smaller Ingersoll Rand model just wasn't enough). Still, if you need one of the most powerful air impact wrenches out there, this is the one!
Highlighted features
1,000 lb-ft maximum torque and 1,715 lb-ft nut-busting torque
3.5 lbs. overall weight
Composite material construction
5.2 CFM average air consumption at 90 PSI
8,300 RPM free speed
Dual-air motor with a twin-hammer mechanism
Pros
Lightest air impact wrench in its class
Low vibration operation helps reduce stress and fatigue
Efficient and powerful motor with a high free speed
Low air consumption
Impact-resistant body with a soft handle for optimum grip
Stealthy appearance with 3D brand lettering
2 years manufacturer warranty
Cons
Can be quite tricky on more delicate jobs—it's really powerful!
The Ingersoll Rand 22235QTiMAX is another excellent option in the heavy-duty air impact wrench segment offered by an equally reputable brand, just as the previous model. Ingersoll Rand's impact gun is a monster with a twin-hammer mechanism capable of delivering up to 1,300 lb-ft of nut-busting torque and 900 lb-ft. maximum torque for everyday use. However, you can also use it for low-intensity and precision tightening by using the power regulator to select the appropriate setting.
In addition to being extremely powerful, the Ingersoll Rand 22235QTiMAX is also quieter than the competition. Valuable properties like the quiet tool technology and lightweight construction significantly contribute to reducing everyday stress and fatigue (this one might not be as important for weekend DIYers and occasional users, but try using an impact gun 40 hours a week, and you'll start to appreciate a quiet model).
In a first for the manufacturer, Ingersoll Rand chose to go with titanium for the hammer case, mostly due to its high strength and good corrosion resistance properties. The rest of the housing is made from the familiar composite material found in several other air impact wrenches mentioned above.
The Ingersoll Rand 22235QTiMAX is perfect for professional mechanics as it comes with a healthy appetite, big enough to handle rough and prolonged use without affecting its superior performance. It may cost considerably more than other models, but the exceptional quality and performance make it worth every penny.
Highlighted features
900 lb-ft maximum torque and 1,300 lb-ft nut-busting torque
5 lbs. overall weight
Composite housing with titanium hammer case
6 CFM average air consumption at 90 PSI
8,500 RPM free speed
Twin-hammer mechanism
Pros
High-performance and efficient air impact wrench
Quiet operations
Low air consumption
Strong and durable body built to last a long time
Uses exotic materials such as titanium to provide best results
Ergonomic power regulator for precise control
2 years manufacturer warranty
Cons
Costs more than other models
Unlike the air impact wrenches we have seen so far, the Nitrocat 1056XL is a stubby model, perfect for when your standard-sized impact won't fit. It comes with 550 lb-ft of maximum torque, which you can crank up to 750 lb-ft at the flick of a switch to loosen stuck bolts and nuts.
These figures may not seem groundbreaking compared to the previous models, but you must consider the massive size advantage you get. The 1056XL measures nearly half as much in length and weight, making it kinder to your wrist and fatigue-free during those long working hours. You even get better usability and versatility as the Nitrocat air impact wrench dares to venture where other models cannot.
You might assume that with such impressive capabilities and a reasonable price tag, the 1056XL would then compromise on build quality or ergonomics. Wrong again! The Nitrocat features a durable composite body that houses an innovative jumbo hammer mechanism. Besides, you also get the brand's patented ultra-comfortable grip handle for optimum comfort and complete control over the tool.
When your line of work involves operating in tight spaces (and if you are a mechanic, it sure does), you need a stubby air impact wrench like the Nitrocat 1056XL. Of course, I'm not suggesting you buy this one first, especially if you are just starting your career as an auto mechanic. All mechanics first need a good standard impact gun, one you can use day-in/day-out to remove hundreds of wheels every week. But as you gain experience, you'll be increasingly working on more complicated work, implying more confined spaces. And sometimes, no matter how tight it is, you'll need to fit a gun in there—that's when the stubby Nitrocat will shine.
Highlighted features
550 lb-ft maximum torque and 750 lb-ft nut-busting torque
2.5 lbs. overall weight
Composite body construction
8 CFM average air consumption at 90 PSI
9,000 RPM free speed
Jumbo hammer mechanism
Pros
Patented silencing technology results in greatly reduced sound levels
Ergonomic design with simple trigger and power controls
Innovative stubby design for working in confined spaces
Durable body with comfortable grip handle
Unique yet effective hammer mechanism
Low cost
2 years manufacturer warranty
Cons
Lacks torque for heavy-duty applications
Controls are not the best to operate with thick gloves on
Have you ever needed to loosen a stubborn bolt deep in the engine bay where even a stubby air impact wrench won't fit? Me too! For that reason, I've included the Astro Pneumatic Onyx 1832 extreme low-profile air impact wrench in this list.
Yeah, I know—Astro Pneumatic is not necessarily on my "top tool manufacturers" list either. And I was skeptical too. But I'm telling you, every mechanic needs one of those.
The Onyx 1832 is basically a sturdy air impact wrench fitted with an oversized hammer internal mechanism that delivers 300 lb-ft maximum torque and 415 lb-ft nut-busting torque. You also get a high free speed of 9,000 RPM to deliver power fast and in a smooth manner.
However, you must be careful while using this air impact wrench as its design does not offer the required wrist support when running at high torque levels. The tool can kick hard at times and may even injure your wrist.
Nonetheless, the Astro Pneumatic Onyx 1832 is a must-have for every mechanic to tackle the rare but inevitable rusty bolt where none of the other wrenches can reach, and your regular air ratchet is simply not powerful enough. Still, I recommend limiting its use to difficult situations only and use a full-size air impact wrench for everything else—it should be really be kept as a last resort solution. When all else fails…
Highlighted features
300 lb-ft maximum torque and 415 lb-ft nut-busting torque
2.78 lbs. overall weight
Composite body construction
4.2 CFM average air consumption at 90 PSI
9,000 RPM free speed
Oversized hammer mechanism
Pros
Compact dimensions perfect for use in extremely tight spaces
Three speed settings in forward and reverse
Lightweight and handy air impact wrench
Comparatively quiet operation at 85 dB
Low average air consumption
Advanced 360° air exhaust muffler
Must-have for every professional mechanic
Cons
Not enough grip
Can injure your wrist if not used cautiously
Not suitable for typical applications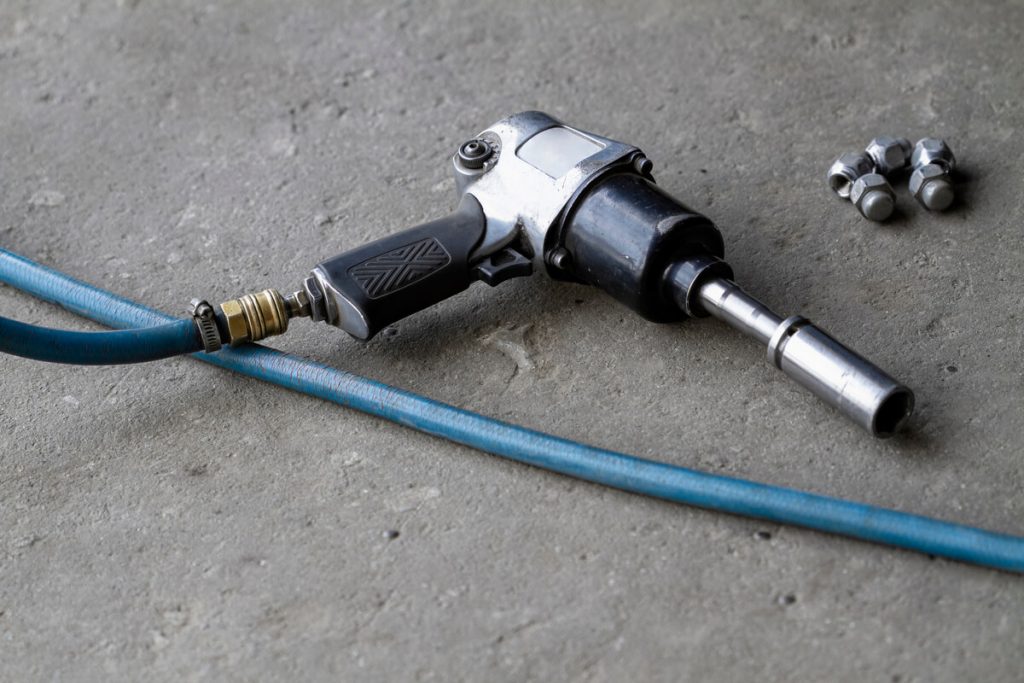 What to Consider When Choosing an Air Impact Wrench
Maximum torque
The torque rating on any air impact wrench basically tells you how powerful it is. Most air impact wrenches specify this parameter in terms of foot-pounds. Keep in mind that bigger is not always better, though. The suitable torque rating for your needs really depends on how you intend to use the tool.
For example, for home garages where air impact wrenches are mainly used to change wheels or other light-duty applications, a maximum torque rating between500 and 600 lb-ft is usually enough. Meanwhile, professional mechanics who work on numerous types of vehicles and will do a lot of suspension and steering work should aim for a little higher—you never know when you'll need to remove a rusted steering box on a car that has been sitting in a field for years. Heavy equipment mechanics and technicians doing a lot of frame work can go for air impact wrenches with more than 1,000 lb-ft torque.
Of course, you can always just buy the most powerful one and turn it down a little when doing more delicate work. Just don't forget to do it, or you'll see that 1,715 lb-ft of nut-busting torque can break bolts like nothing—not the best scenario.
Weight and dimensions
The weight and dimensions of any air impact gun are extremely important as they can directly affect usability. A heavier or bulky impact wrench is likely to cause high fatigue and stress to the operator upon prolonged use. Using such models can also result in long-term complications. Hence, make sure you pick a lightweight and compact gun to avoid wrist stress or fatigue problems, especially if you work in the field.
Overall design and controls
A good air impact wrench must be designed with ease of operation in mind. Ensure the model you pick comes with a soft and comfortable grip handle and easy-to-use forward/reverse controls (don't forget you might be wearing gloves). Of course, we're all different, and so are our definitions of comfortable handles.
Construction material
When working in a fast-paced environment such as an auto repair shop, it is common to unintentionally drop expensive tooling equipment on the floor. Therefore, it is vital to get a solid and robust air impact wrench constructed from durable materials that can handle everyday abuse.
Most air impact guns on the list are built with similar composite materials with good impact and corrosion resistance properties. Some models like the Nitrocat 1200K and the Ingersoll Rand 22235QTiMAX go the extra mile and use exotic materials like Kevlar and titanium to protect critical components.
If you plan to use your impact gun only at home, you can cheap out a little here. Unless you use your gun every day, it's very unlikely you'll see the benefit of a Kevlar construction.
Noise levels
One thing everyone hates about air impact wrenches is how noisy they are. Thankfully, though, some manufacturers use clever exhaust technologies that can suppress excessive noise up to a certain extent. When working in a shop, this aspect may be overlooked. Unless you work in a small, single, or double-bay repair shop, there will probably be 12-15 impact wrenches going off all day anyway.
However, if you work in your home garage, getting a more discreet model—your wife and neighbors will only appreciate you more.
Verdict
A good air impact wrench can save you considerable time & energy and make working on your car much more enjoyable. However, choosing the suitable model for your needs is a crucial step to hassle-free repairs and not regret your investment later.
For rookies, weekend DIYers, or mechanics starting in the field, it is crucial not to rush the process and start with an entry-level impact wrench. You don't know what kind of gun you'll need or like in the future. The Ingersoll Rand 231C and CRAFTSMAN model are good options here. They are loaded with features and provide enough grunt to loosen most bolts without breaking the bank.
On the flip side, if you are a professional mechanic, look for the NitroCat 1200-K. It's not that expensive, offers a superior Kevlar body, and the unique internal twin-clutch mechanism is just icing on the cake.
And if you really want nothing but the best, look for the Ingersoll Rand 22235QTiMAX and Capri Tools CP35205—you'll make your coworkers jealous!