EDITOR'S PICK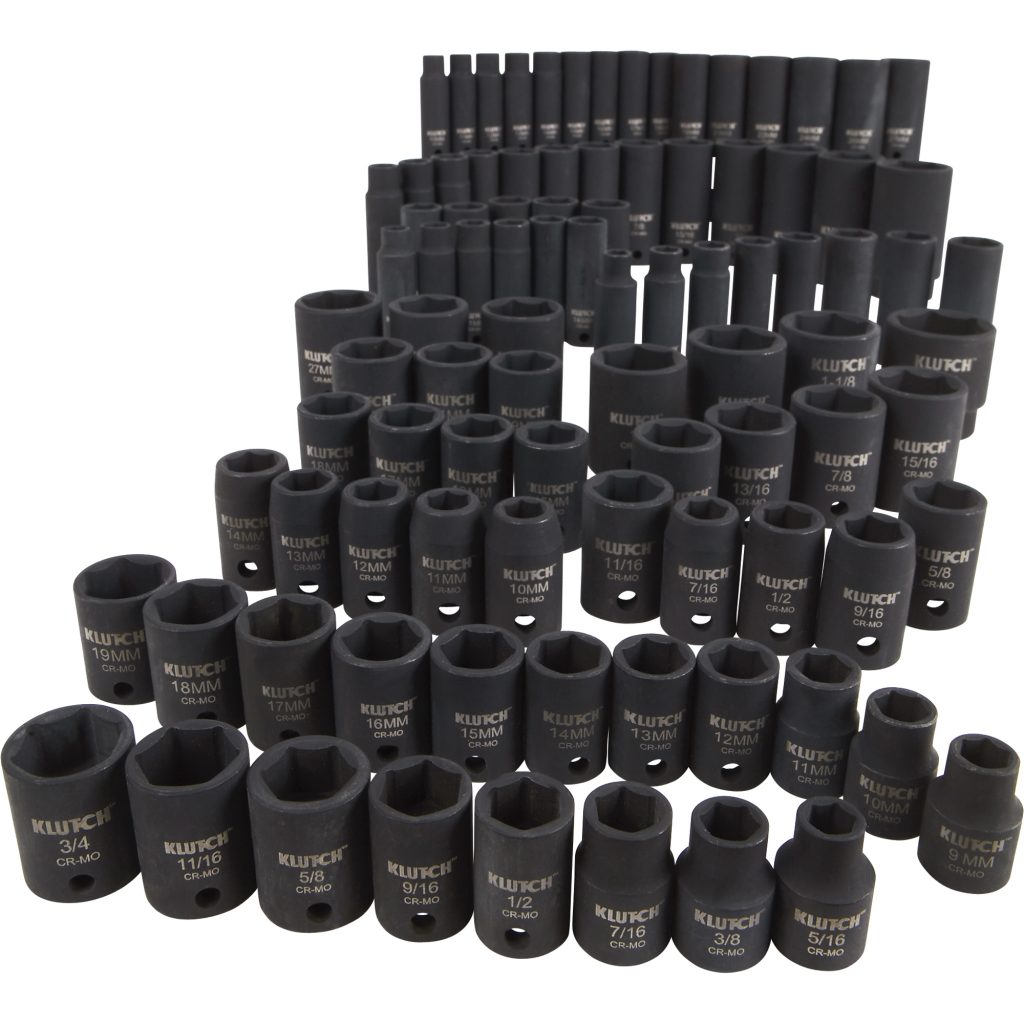 Klutch Impact Socket Set
Chrome-molybdenum construction with manganese phosphate coating
SAE & metric, deep and shallow, 6-point ⅜" drive sockets
19 Metric and 19 SAE standard sockets plus 19 Metric and 19 SAE deep sockets
Comes in a blow-mold plastic carry case
PREMIUM PICK
SK Hand Tools Impact Socket Set
¼" drive metric set
Sizes 5, 5.5, 6, 7, 8, 9, 10, 11, 12, 13, 14, 15mm
Includes swivel, shallow, and deep sockets
Includes three extensions
Innovative SureGrip technology
120-degree laser-marked sizes
Comes in a blow-mold plastic case
BUDGET PICK
ABN ½" Drive Master Impact Socket Set
Metric deep and short impact sockets
Chrome-molybdenum construction with black oxide finish
Includes common sizes 5-30mm
½" drive for automotive applications
Designed for low-clearance and center-flat torque to prevent rounding bolts
Regular sockets simply can't take the abuse from air-powered tools. When using an impact wrench, having a set of impact sockets is not only safer but also wiser. Regular sockets can shatter when used with air tools, sending metal shards flying in all directions. Besides, even if it doesn't break, using regular sockets can also damage the drive socket, which will, in turn, cost you more in replacement tools in the end. If you are serious about your tool game, buying a good quality set of impact sockets is a no-brainer.
Luckily, you don't have to spend a fortune to get the kind of heavy-duty impact sockets you can count on every day. Still, it's a good idea to avoid rock-bottom prices and cheap Chinese knock-off sets since those tools are usually inferior. Sometimes you might get lucky buying cheap; sometimes, you may lose an eye. So yeah, don't cheap out on those.
With that in mind, we put together a list of some of the best impact sockets out there. Of course, this list is very subjective and based on my own experience in the field. Nonetheless, we made sure to include budget deals and wish-list items, and everything in between.
Enjoy!
Impact Socket Reviews
GearWrench gives you a set of high-quality impact sockets that you'll use for years to come. Besides, it's a trusted brand that makes excellent quality tools. These six-point sockets with center-loading grip technology will give you maximum force on the strongest part of a nut or bolt, helping to reduce rounding and slipping.
Moreover, they are made of chrome-molybdenum, providing toughness and durability, which is coated in black phosphate finish to prevent corrosion. And thanks to the laser-etched and high-visibility size markings, you'll also be able to spot the socket you need in a jiffy.
GearWrench impact socket sets are available in metric, SAE, or both and pretty much any drive size you might need. If you are starting in the field or simply need a good all-around impact socket set for your home garage, this is probably your best bet.
Key Features
Chrome Molybdenum steel with Manganese Phosphate coating
Includes the most popular sizes in SAE, Metric, or both
Chamfered 6-point sockets with edge-loading technology
Laser-etched sizes with high-visibility paint
Comes in a plastic storage case
Pros
Excellent tool quality
Good selection of popular sizes
Sturdy storage case with metal clasps
Cons
Socket size markings can be hard to see when greased up
The right tool for the right job is a mantra any pro knows, and at some point, we have all found ourselves in a situation where we are using the wrong one. And if you only want the best of the best, this set of impact sockets from SK Hand Tools is one of the best choices on the market. It's worth mentioning, though, that this is a 1/4″-drive set, meaning it's more suited for small nuts and bolts. However, we chose to add this model to the list since every serious mechanic needs at least one good set of 1/4″-drive sockets.
The interesting thing with the SK impact socket set is that it includes deep and shallow sockets as well as some of the best swivel sockets you'll ever use. It features sizes from 5mm to 15mm in all three styles, along with impact-rated extensions to reach those deeply buried nuts and bolts.
Chrome sockets often distort after some time, causing flaking that can cut your hands. Fortunately, the black oxide coating on this set never flakes, so you can safely guide the socket while working. Moreover, the SureGrip technology ensures the impact force applies on the flat surface of the nut or bolt, significantly reducing rounding and slipping.
Finally, the laser engraving at every 120 degrees makes it super easy to find the right socket, even when they are scattered on your working table.
Key Features
¼" drive metric set
Sizes 5, 5.5, 6, 7, 8, 9, 10, 11, 12, 13, 14, 15mm
Includes swivel, shallow, and deep sockets
Includes three extensions
Innovative SureGrip technology
120-degree laser-marked sizes
Comes in a blow-mold plastic case
Pros
Excellent selection of deep, short, and swivel sockets by a top-quality company
Swivel sockets are among the very best on the market and a pleasure to use
Made in the USA
Cons
The ABN Drive Master is a great budget impact socket set for light to medium-duty use. You'll get 43 pieces total, including deep and shallow sockets from 5mm up to 30mm, four extensions, and a swivel adapter. It is a complete kit that's a perfect starter set or a great gift for young budding mechanics.
The sockets are chrome-molybdenum steel and black oxide coated for durability and corrosion resistance. Besides, they also come in a handy plastic storage case (I personally often cut the top from the bottom and use each part as socket organizers in my tool chest). ABN's ½" drive is perfect for automotive repairs and includes sockets specifically meant for removing and installing lug nuts.
If you are on a tight budget, get this set. It will probably not last as long as other more expensive sets and doesn't come with swivel sockets, but it will do the job just fine. After all, swivel sockets are a bonus and can be bought separately anyway.
Key Features
Metric deep and short impact sockets
Chrome-molybdenum construction with black oxide finish
Includes common sizes 5-30mm
½" drive for automotive applications
Designed for low-clearance and center-flat torque to prevent rounding bolts
Pros
Complete set of sockets
Comes with extensions and a swivel joint
Super affordable
Cons
The case is cheaply made
Numbers can be hard to see
The oxide coating is not as resistant as others in solvent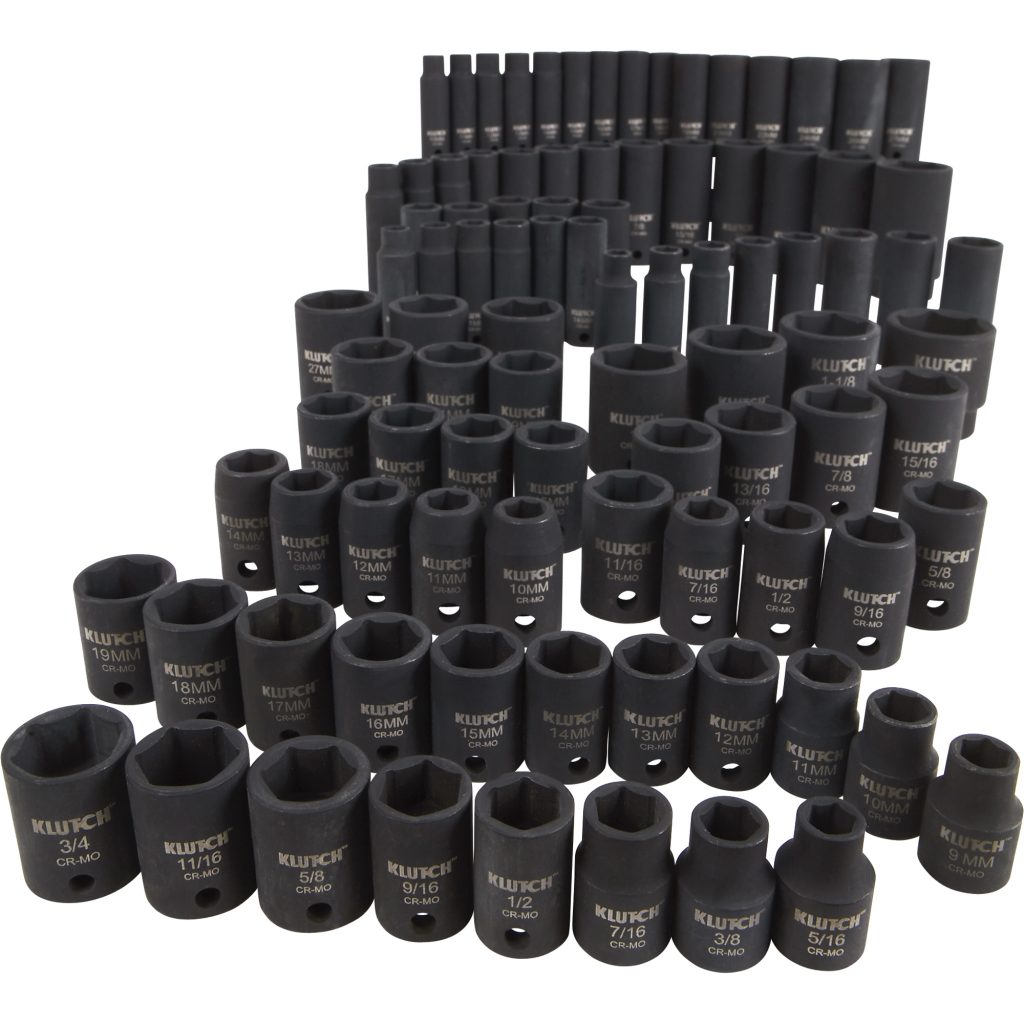 Klutch's set is an extensive selection of the most useful impact sockets around, all at a great price. It's a ⅜" set, so it's totally at home in an automotive repair shop for all but the toughest tasks. You get both metric and SAE, shallow and deep sockets in a wide range of sizes, covering almost everything you'll tackle with this drive size.
The sockets are chrome-molybdenum steel and meet or exceed ANSI and ASME standards to ensure durability. Moreover, the manganese phosphate coating provides excellent resistance to corrosion and makes cleanup easy. We highly recommend them for use in mobile services where you never know what size you'll need.
Key Features
Chrome-molybdenum construction with manganese phosphate coating
SAE & metric, deep and shallow, 6-point ⅜" drive sockets
19 Metric and 19 SAE standard sockets plus 19 Metric and 19 SAE deep sockets
Comes in a blow-mold plastic carry case
Pros
Versatile set of the most important ⅜" drive sockets
A convenient way to have the right size anywhere or outfit a toolbox
Cons
Standard 6-point impact socket lacks modern impact technology like chamfering and flat torque
Numbering isn't always easy to see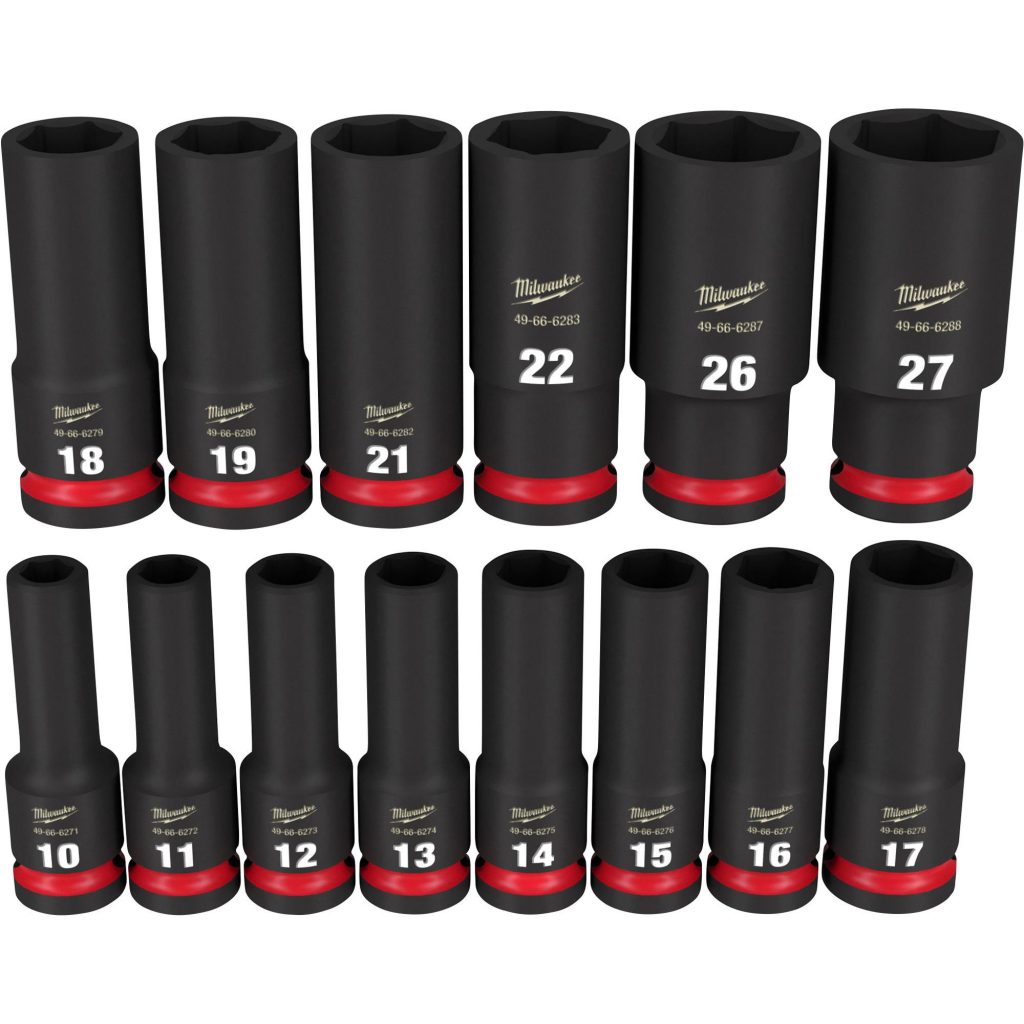 Are you serious about impact sockets? Milwaukee Tools is the answer. This impact socket set uses forged alloy steel and will dish out years of abuse without damage or breaking. Moreover, the ½" drive set is ideal for heavy-duty applications like lug nut removal, suspension work—pretty much whatever you'll throw at it.
Each socket features a modern design that helps you get it on the fastener easily. It also places the maximum amount of force on the flat, virtually eliminating rounding and ensuring swift removal. Dual pinholes and a friction groove make removing and using these sockets a treat—no more struggling to get that socket off the impact tool. Also, deeply stamped and ink-filled numbering makes identification fast.
If you are a professional mechanic, busting your ass 40 hours a week on the job, look no further. Just get this one; you'll thank me later.
Key Features
Heavy-duty forged impact sockets made of alloy steel
½" drive sockets, Metric sizes 10, 11, 12, 13, 14, 15, 16, 17, 18, 19, 21, 22, 26, 27mm
Chamfered and flat-torquing technology
Friction groove and dual pin holes for fast and easy socket changes
Includes a plastic carry case
Pros
Professional-quality set of heavy-duty impact sockets
Includes the most common sizes for ½" drive applications
Looks, feels, and performs like a high-quality tool
Cons
meh… when it's good, it's good, right?
Accessories
You'll find that some optional accessories out there make a big difference when using impact tools. Various adapters, extensions, and storage options exist to really trick out your toolbox.
Of course, there is probably as many socket accessories as mechanics out there. So these are just some of my personal favorites.
Plastic cases are fine, but when you are really getting serious about using tools, you need them at hand, not tucked away in a box. Craftsman has this three-piece set of socket organizers just for you. You'll get ten ¼", ten ⅜," and eight ½" drive lugs that feature detent balls to hold sockets in place. No more cheap chrome bars that always drop a socket or two.
It is also perfect to organize sockets in a toolbox drawer, especially when you have so many sockets that all those plastic cases just don't fit anymore. The secure lugs let you lay the sockets on their side so the drawer will close and they never pop off. When you need a socket, they are readily available and easy to find. No more digging through busted-up old plastic cases trying to find that socket.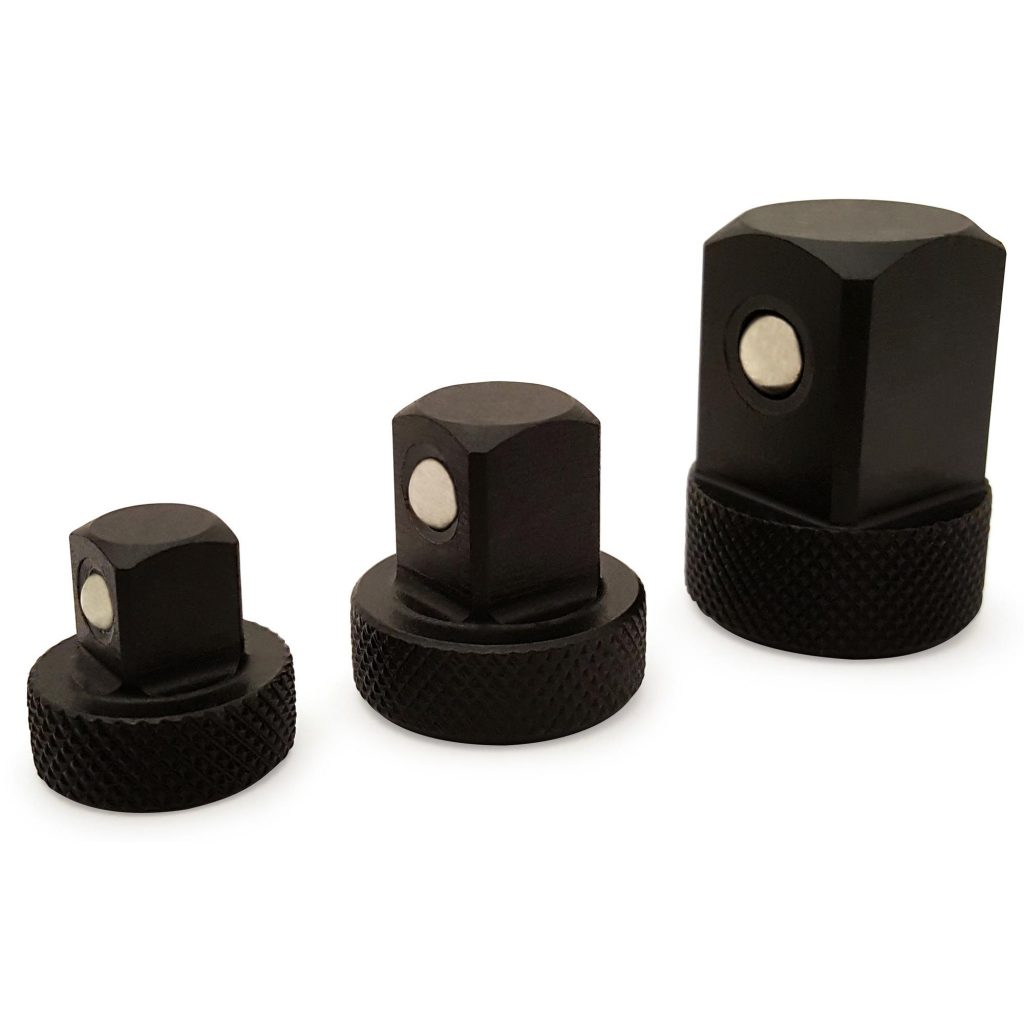 Here is a little set of tools that will pay for itself the first time you use it. There is nothing more frustrating than needing to use an impact socket drive adapter, only to find that you don't have enough room to get the tool in position. This set includes ¼" to ⅜", ⅜" to ½", and ½" to ¾" adapters that are 20% smaller than standard adapters.
Each adapter has ball detents for firmly attaching to your impact driver. A knurled edge helps to align the socket and starting fasteners by hand. It'll simply amaze you how often this adapter set will make the difference between struggling to get a rusty bolt loose and moving on to another project.
If you are a professional mechanic, think about hiding them well. Otherwise, co-workers will just keep asking to borrow them.
Things to Consider When Choosing the Best Impact Sockets
Impact sockets are an investment. They tend to be significantly more expensive than standard sockets, so you expect them to be more durable and last longer. A good set will do just that and show no signs of wear no matter what you throw at it.
Selecting the best impact sockets takes more than just finding the best deal. You'll want to buy a high-quality set that you can use for the types of tasks you've got in front of you. And get it done!
What Type of Impact Are You Using?
Most automotive repair shops use compressed air to power air tools. If you are using a high-powered air compressor and impact gun, you'll want to find a socket set that is designed for heavy-duty use. Thus, we highly recommend purchasing forged alloy steel impact sockets for use with most air tools.
However, battery-powered impact drivers are becoming more common lately. These tools can put a lot of force on a fastener, and in some cases, will rival the torque of an air tool. Still, most of the time, if you are using a battery-powered tool, you're on the move. You'll want to pick an impact toolset that is convenient to carry. That's when having a set in a good case comes in handy.
Impact Drive Size
The most common sizes of square drive lugs are ¼", ⅜", ½", and ¾". Smaller sizes correspond to smaller fasteners. DIYers and weekend mechanics can often do just fine with only ⅜" and ½" sockets but professional mechanics should really get a ¼" set. Trust me, having a ¼"-drive wrench will make all the difference. They are simply perfect for quick, repetitive tasks like removing underbody protections and oil pans. For tasks like removing lug nuts and suspension/steering bolts, you'll need a ½"-drive set.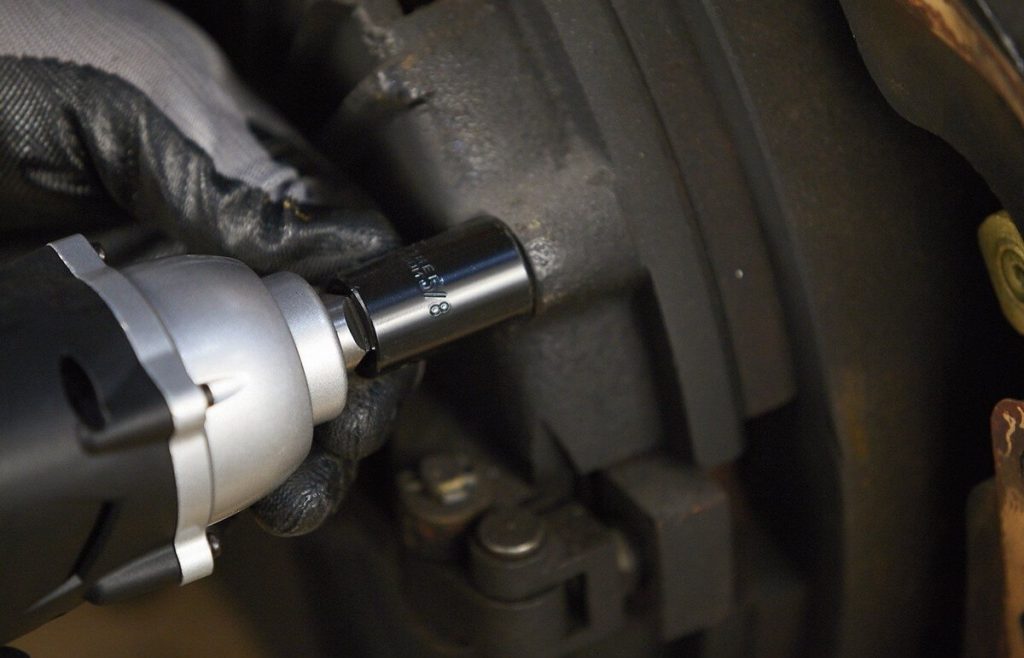 What Are You Working On?
If you plan on using impact sockets in your garage for tearing down engines, removing suspension components, and other tasks, you'll want to find a good-quality impact socket set. On the other hand, if you only need impact sockets to change your tires once summer comes, no need to shell out the big bucks for a professional set.
Also, it's nice to have impact sockets in both metric and SAE sizes, but if you have to choose between the two, you should consider the types of vehicles you commonly work on. Most vehicles today use metric fasteners, but you'll need SAE sockets for older US vehicles.
Frequently Asked Questions (FAQs)
What is the difference between regular sockets and impact sockets?
There are several important differences between impact sockets and regular sockets. Impact sockets are made from a stronger, less brittle metal than regular sockets, so they can take the force and vibration of an impact gun. Impact sockets also have thicker sidewalls for added durability.
Why are impact sockets black?
Impact socket sets are oxide-coated to prevent rust and corrosion, but there isn't any specific reason why the standard is black rather than another color. Black oxide coating simply helps to easily identify a socket meant for use on an impact gun versus one that isn't.
And, if you work in a repair shop similar to mine, blue or green sockets would end up black anyway.
Can I use regular sockets on an impact gun?
You can use regular sockets on an impact gun, but you really shouldn't. Several things can go wrong, including sockets shattering, fasteners becoming damaged, and all sorts of other problems. All sockets flex when using an impact driver, and the chrome polish will eventually flake off. When the chrome is flaking, it's a safety hazard.
And even if none of the above happens, the impact wrench's anvil will inevitably damage the drive socket and you'll need to buy new sockets.
Using a chrome socket on your impact wrench is never a good idea. Period.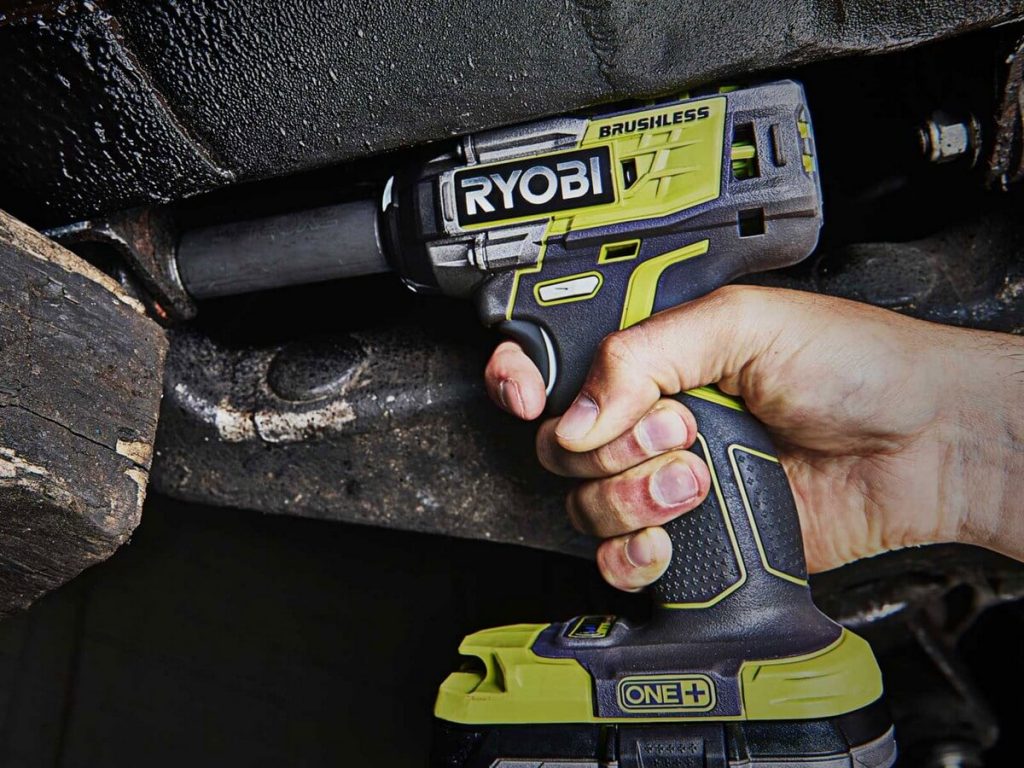 What about using impact sockets with my ratchet?
The main difference between impact and regular sockets is the sidewall thickness. In many cases, there is no reason you can't use impact sockets with hand tools, but you'll find that in some applications, you'll need standard sockets for clearance.
What's better—standard or deep sockets?
Neither is particularly better than the other. You may find that a good set of deep socket impacts is best for the tasks at end; however, you'll also likely find that short sockets give better clearance to get at fasteners that a deep socket isn't practical for accessing.
As a general rule, you'll need both.
Verdict
One of the worst mistakes you can make is to buy inferior and cheap tools. They won't hold up under hard use, and you'll end up spending more to buy a better set later. You'll be money ahead by buying a set of impact sockets that will last a lifetime right away.
Fortunately, you are just in the right place—the impact socket sets we reviewed here are among the very best on the market today. I know because I own or have owned most of them (just got my hands on the newly-released Milwaukee set). To create this list, I looked for more than just the most expensive tools but for what I would buy myself to use day-in/day-out in the shop. Of course, don't forget that if you aren't a professional mechanic, it's also possible to get some very decent impact socket sets without spending a fortune.