EDITOR'S PICK
VIAIR 75P Portable Compressor Kit
Comes in a convenient steel case
Reasonably priced
60 PSI analog gauge for real-time pressure monitoring
Long power cord and air hose
3-piece inflation tips included
Quiet and smooth operation
Easy to operate
1-year limited warranty
PREMIUM PICK
VIAIR 300P Portable Compressor Kit
Quick and powerful motor
Extra-long air hose for easy accessibility
Storage bag makes it portable
Integrated grab handle for safe handling
Comparatively quiet during operation
Comes with 3 inflation tips for other applications
Can fill tires up to 33″
1-year manufacturer warranty
BUDGET PICK
Slime 40050 12V Tire Inflator
Compact and Lightweight
Easy to use
Affordable
The LED light comes in handy at nighttime
Air pressure gauge to monitor
Sufficiently long power cord and air hose
Comes with separate adapters to inflate balls and rafts
1-year manufacturer warranty
Let's face it; if you own a modern car, the low tire pressure warning light randomly popping up on the instrument panel is not a rare occurrence. Merely looking at the light has the potential to ruin your day even if the mechanic's shop is only 5 minutes away. That light is the last thing you need whether while enjoying a nice ride in the middle of nowhere or during your daily commute. Well, why risk going through all the trouble when a portable tire inflator could have you covered.
A tire inflator is a portable device that draws power from your car to inflate tires to the required pressure. They are compact, lightweight, and specifically meant for roadside emergencies.
But just any cheap know-off won't do. To help you find the best model for your needs, we have come up with a list of 7 of the best tire inflators available online. Each one has been carefully handpicked from the plethora of options out there. Whatever your requirements are, from affordable models to straight-up heavy-duty stuff, we have something for you.
Enjoy!
Best Portable Tire Inflators Reviews
One of the best budget-friendly, entry-level tire inflators is the Slime 40050. It's cheap, compact, and super easy to use. Simply, plug it into your car's 12V power outlet, turn it On and wait.
However, don't let its size and apparent simplicity fool you. Tipping the scale at only 1.76-pound, it can still inflate an average car tire from flat to full in 8 minutes. While the 40050 is at work, you can monitor essential parameters such as the air pressure using the analog gauge. There is also an integrated LED light you can use to illuminate the surroundings if you are stranded with a flat tire at nighttime.
Thanks to its compact size, you can easily store this tire inflator in your car and leave it there for emergencies. Of course, it's not as quick and rugged as other bigger, more expensive models but if you need a cheap tire inflator that just does what it's supposed to do, this is the one!
Highlighted features
Dimensions: 7" X 2.5" X 5.75"
Weight: 1.76 lbs
Air-cooled motor
Avg inflating time: 8 minutes
Integrated LED light
Analog dial indicator
Pros
Lightweight and portable
Compact
Easy to use
Affordable
The LED light comes in handy at nighttime
Air pressure gauge to monitor
Sufficiently long power cord and air hose
Comes with separate adapters to inflate balls and rafts
1-year manufacturer warranty
Cons
Not suitable for larger tires
If you think the previous model is not rugged enough, the Slime 40047 might be the right inflator for you. The 40047 is an upgraded version of the 40050 above, equipped with what the brand calls its "Inflate Right Technology." Basically, it lets you set your desired air pressure and this tire inflator will automatically shut off when the preset pressure is reached.
The Slime 40047 also draws power from the standard 12V accessory power socket. It has a round digital display to set the target air pressure and continuously monitor it as the inflator works. Moreover, the bright front LED light features two modes—a solid white light for illuminating your surroundings at night, and a blinking red light to alert others on the road.
Slime's model also comes with several convenience-enhancing features like a rubber base to provide a stable foundation, a 2' long air hose, and special adapters to inflate rafts, balls, etc.
Highlighted features
Dimensions: 8.4" X 7" X 3.2"
Weight: 1 lb
Round LED display
Inflate Right Technology
Avg inflating time: 4 minutes
Works on 12V power
Pros
Strong casing with integrated carrying handle
Bright multi-purpose LED light for low-lit environments
Long air hose and power cord
Lightweight and portable
Reasonably priced
Comes with adapters to inflate rafts, balls, etc.
1-year manufacturer warranty
Cons
Mostly famous for its air suspension units, ViAir has made quite a name for itself in the industry for consistently developing high-quality pneumatic products and the 75P portable compressor kit is a prime example of that. It is a 50 PSI tire inflator kit rated to work on tire sizes up to 225/60R18. It uses a sophisticated permanent magnetic motor powered by your car's accessory power outlet that will last you for years.
Unlike most other tire inflators, ViAir's kit comes in a compact yet strong steel carrying case for easy portability. A subtle yet classy addition to the case is the leather holding strap—it might not be essential but it sure looks cool as hell! Moreover, to keep the compressor's noise and vibrations down to a minimum, the motor is fitted with special vibration isolators.
In addition to the central compressor unit, the 75P kit also comes with an extra set of adapters you can use to inflate other objects like pools, balls, etc.
Consider purchasing the ViAir 75P compressor kit if you are looking for a more sophisticated option. It is also one of the best tire inflators for mobile mechanics, thanks to the rugged carrying case. It simply does everything a tire inflator is supposed to and looks good while doing it.
What more could you ask for?
Highlighted features
Dimensions: 9.64" L X 4.33" W X 9.68" H
Weight: 4.44 lbs
Permanent magnetic motor tire inflator
50 PSI rating
Powered by 12V accessory socket
Pros
Comes in a convenient steel case
Portable
Reasonably priced
60 PSI analog gauge for real-time pressure monitoring
Long power cord and air hose
3-piece inflation tips included
Quiet and smooth operation
Easy to operate
1-year limited warranty
Cons
No LED light for low-lit environments
The Slime 40063 Elite Tire Inflator is a true heavy-duty model. It houses a motor much more powerful than the previous ones—a direct-drive motor specially designed to inflate 4X4 and SUV tires and protected by a thermal breaker preventing the air-cooled motor from overheating or burning a fuse when used extensively.
This tire inflator is a big ol' notch over the 40047 model discussed above and also equipped with Slime's Inflate Right Technology. All you have to do is plug the power cord and connect the air hose, set the desired air pressure value using the backlit digital display, and wait for about 3 minutes. And in the unfortunate event that you have a flat tire at night, you can use the large LED light to illuminate your surroundings.
Where most tire inflators make do with a 2' long air hose, the Slime 40063 has a whopping 16' hose extension in addition to the standard 2.7' air hose—you can almost leave the inflator in the car and still have enough hose to inflate your car's 4 tires in no time.
If you own or regularly work on SUVs, trucks, or any other 4X4s, the Slime 40063 is the right choice for you. It may not be as compact as other low-capacity tire inflators, but it will nicely tuck away in your trunk, thanks to the included canvas storage bag.
Highlighted features
Dimensions: 9" X 7.38" X 7"
Weight: 5.21 lbs
Direct-drive air-cooled motor
Avg inflating time: 3 minutes
12V accessory power source
Inflate Right Technology
Pros
Integrated grab handle
Extra-long air hose extension
Safety shut-off feature to prevent overheating
Backlit display
Adapters included for other applications
Potent motor
Comes with a portable canvas storage bag
A lot quicker than most
Suited for SUVs and light trucks
Reasonably priced
1-year manufacturer warranty
Cons
Be it power tools, lighting equipment, diagnostic equipment, or storage solutions, Milwaukee is a brand that always stands out in the crowd. The brand's M12 cordless compact tire inflator is an excellent option, true to this reputation. And worth mentioning, since it is part of the M12 series, the 2475 is compatible with batteries found in other Milwaukee M12 products. If you ever drain one, you can just replace the battery and get back to work.
The 2475 comes with Milwaukee's TrueFill Auto shut-off technology. It is similar to Slime's Inflate Right Tech in the way that it lets you set the required tire pressure, and when the pre-selected value is reached, the device will automatically shut off to prevent overfilling.
The Milwaukee 2475 uses a highly efficient and powerful motor that inflates a standard car's tires in less than 1 minute and LT tires in under four minutes—mighty impressive! While the inflator is hard at work, you can also monitor its performance using the backlit LCD.
Milwaukee's tire inflator is obviously the perfect choice for those who already own other products in the M12 range. The interchangeable batteries can be swapped in a minute and last quite a lot. It's also a wise option for mobile mechanics and anyone who might not have access to a 12V outlet nearby.
Highlighted features
Dimensions: 8 7/8 x 10 13/16 x 7 3/4
Weight: 6.50 lbs
50% duty cycle
Avg inflating time: less than one minute
Powered by Milwaukee M12 battery
Pros
120 PSI capability high-efficiency motor
Backlit digital display
Compact and lightweight
No power connections necessary
Suitable for passenger car and light truck tires
Convenient grab handle
Automatic shut-off technology
3-years limited warranty
Cons
On the expensive side
Compatible only with Milwaukee M12 batteries
Another offering in the heavy-duty segment is the ViAir 300P compressor kit. It is a high-power portable tire inflator fitted with a permanent magnet motor rated at 150 PSI. With that much air pressure, the 300P can inflate tires up to 33″ from 0 to 30 PSI in around 5 minutes. Furthermore, unlike other models using the 12V outlet, the 300P can be connected directly to your vehicle's battery or any 12V battery.
Thanks to a massive 25 ft. of air hose, accessibility will never be a problem for any application. Besides, you will find an analog pressure gauge you can use to monitor the inflation process. Meanwhile, the absence of auto shut-off technology found in other models provides a unique and hands-on experience.
You can use the ViAir 300P for inflating tires on cars, trucks, off-roaders, ATVs, UTVs, 4X4, and even semi-truck tires. The 300P's price may seem a little steep at first, but it will probably be the last tire inflator you ever need to buy. ViAir will also send you a rugged dual-compartment storage bag to sweeten the deal.
Highlighted features
Dimensions: 9″L x 4.9″W x 7.5″H
Weight: 8.70 lbs
33% Duty Cycle at 100 PSI
Integrated pressure gauge
Draws power directly from the battery
Pros
Quick and powerful motor
Extra-long air hose for easy accessibility
Storage bag makes it portable
Integrated grab handle for safe handling
Comparatively quiet during operation
Comes with 3 inflation tips for other applications
Can fill tires up to 33″
1-year manufacturer warranty
Cons
No lighting arrangements
Analog gauge not suited for low-lit environments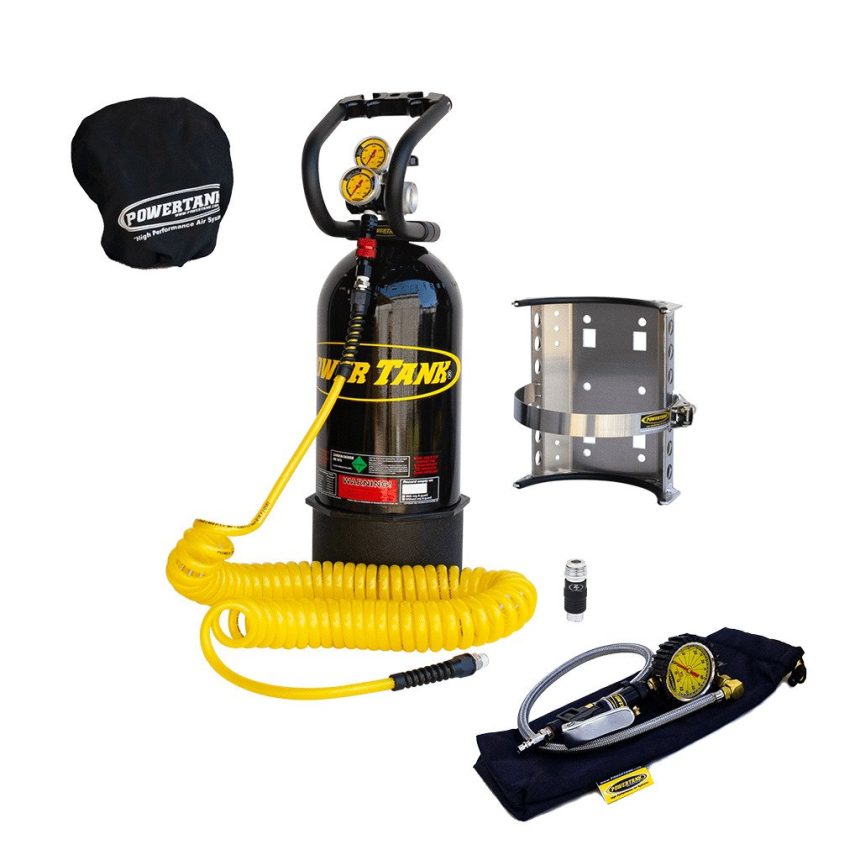 If the mighty ViAir 300P can't satisfy all your tire inflating needs; don't worry. We have just one more trick up our sleeves. Enter the Power Tank CO2 System—a standalone inflating system that uses a CO2 tank to inflate your tires. No power source or air compressors required, all you have to do is to get the 10 lbs tank refilled at any nearby shop, and you're all set to fill the equivalent of thirty 35" tires before needing a refill.
The 10 lbs tank is constructed entirely from aluminum to keep the weight in check while providing optimum strength. The cylinder is then powder-coated to preserve the matte black finish for as long as possible.
The Package B configuration comes with Power Tank's unique super coupler that allows for quick and efficient tools interchange. Moreover, the SuperFlow regulator unit features an impressive 45 cfm flow rate.
If you are into some proper off-roading, the Power Tank CO2 system is the best tire inflator for you. Its simple construction means there are fewer things that can go wrong. Plus, you can even use it to power air tools when you have to replace a tire in the middle of a trail.
Highlighted features
Dimensions: 24" H X 7" Diameter
Weight: 17 lbs when empty, 27 lbs full
Aluminum construction
Powder-coated finish
No motor or power source required
Pros
30' extra-long air hose
Extremely high flow rate
You can also use it to power air tools
Plenty of refilling options
Attractive matte black finish
Strong and lightweight construction
Lifetime limited warranty
Cons
More expensive than other models
Refilling costs extra
Definitely not as portable as others
See Also: Best Air Compressor For Your Home Garage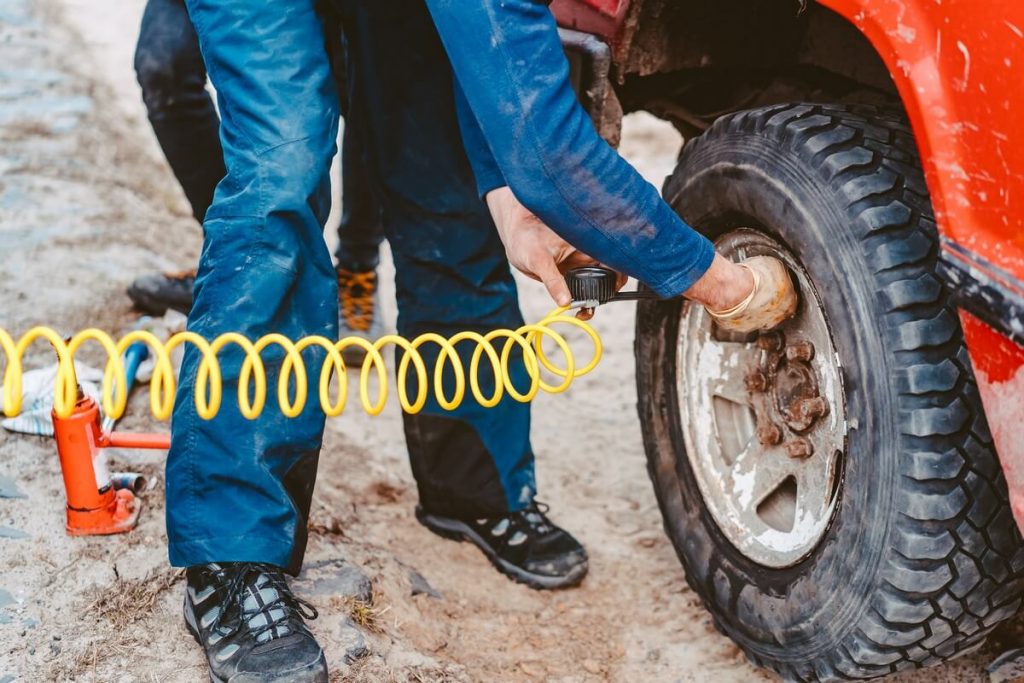 What to Consider When Choosing a Portable Tire Inflator
Picking a tire inflator is an important task; you do not want to end up stranded in the middle of nowhere just because the model you bought needs a unique adapter to connect to your tires. Hence, to make absolutely sure you don't buy the wrong tire inflator, here are some things you should consider before making the final decision.
Tire compatibility
This is probably the most critical factor to consider while choosing a tire inflator. A tire inflator is simply of no use if it does not have the power to inflate your tires. Don't forget to check a model's capability before purchasing. Most manufacturers will mention the maximum tire size their products can successfully inflate. Your job is to make sure your tires are equal to or, more preferably, less than the rated maximum tire size.
Power source
Most tire inflators are designed to operate on 12V power and usually plug into your car's accessory port/cigarette lighter socket. At the same time, certain high-capacity models will draw power directly from the vehicle's battery. In either case, you shouldn't face any issues if you are using the tire inflator to inflate car tires (obviously).
On the other hand, if you would like to use your inflator for other applications such as inflating balls, rafts, farm equipment tire, etc., make sure to get a cordless model instead or you'll have to do all this within reach of your vehicle (you might also bring a booster pack to power up your tire inflator if no car is around, though).
Inflation time
This factor is as straightforward as the name suggests. The lower the inflation time, the faster it is. Most tire inflators have an average inflation time of around 4-7 minutes. In contrast, the high-end and powerful models can do it in as low as 1 minute.
Warranty and reliability
As experienced readers might know, tire inflators are no strangers to quality issues. No matter how respected the brand is, it is always preferable to go for models with an extended warranty period. Almost all tire inflators on our list come with a 1-year warranty, while the Milwaukee 2475 is good for two more. Expensive ones like the Power Tank sometimes boast a limited lifetime warranty.
Power cord and air hose length
A seemingly unimportant factor that most tend to neglect while looking at tire inflators is the power cord and air hose length. Make sure the power cord is long enough to reach all tires of your car. The air hose length is usually around 2′ to 5′, while some models can take it up to a whopping 20′ to 26′ using extensions.
Dimensions and weight
A tire inflator for use in emergencies will spend most of its life in a corner of your trunk. So it needs to be compact to make sure it doesn't get in your way during loading/unloading stuff from the trunk.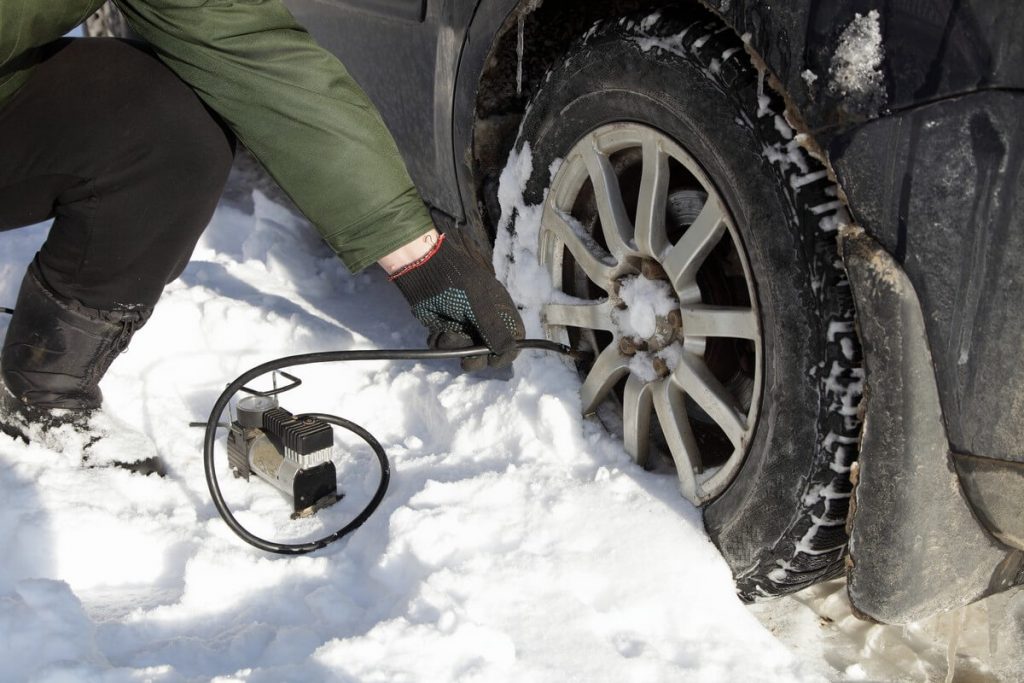 How to Use a Tire Inflator
Purchasing a tire inflator is one thing, but learning how to operate it is a skill that will come in handy in emergencies. Tire inflators are a godsend in certain situations, but they will be of no use if you don't know how to operate them. Don't get us wrong, operating a tire inflator is no rocket science, but it is still essential to learn the correct procedure.
Inspect for punctures
The first thing you want to do is try to figure out the reason for the loss of air pressure from your tires. It's no need to try to inflate a tire if there's a big hole in it. Start by visually scanning the tread surface and tire walls for any foreign objects that may have penetrated. Once you find the object, you can remove the object and repair the puncture using a flat tire repair kit. If you don't have a repair kit on hand, you can simply replace the flat tire with a spare using a portable car jack.
But what if you already used the spare tire during your last puncture and still haven't gotten to fixing it yet. In this situation, your best bet is to leave the object penetrating your tire as it is, inflate it a couple of PSI more than required (don't go more than 5 PSI over), and head straight to the mechanic shop while driving slowly and carefully.
Check tire pressure
The next step is to check the tire's current pressure—it will tell you how much air you need to fill in the tire. If you have been driving the car for more than a few miles, it is best to wait a while and let the air cool down before checking the tire pressure, or the pressure gauge might not show an accurate reading. Also, make sure to securely store the valve stem cap so you can put it back on later.
You can either use the pressure gauge from your tire inflator or buy one from your nearest hardware or auto store. They are pretty cheap, and you can get a nice one for not more than $10-$15.
Prepare the tire inflator
This is a fairly straightforward step that involves setting up the tire inflator by making power and air connections. First, plug the inflator into your car's 12V accessory socket. Some high-power models may directly draw power from the battery, so make sure you get the polarity right. Next, connect the air hose to the tire valve.
If your tire inflator lets you preset the required air pressure, set it and switch it ON. Once the preset pressure is achieved, the tire inflator will automatically shut OFF.
If your tire inflator doesn't come with such a feature, the process is the same but you'll have to keep an high on the gauge as it goes and stop it when needed.
If you aren't sure of your car's required air pressure, take a look inside the driver's door jamb. There's usually a white sticker with all the information you might need. If the sticker is damaged, you might need to look in your car's repair manual to find it.
Then, pack all the equipment back into your car and head over to the nearest tire shop before you start losing pressure again. If you haven't fixed the puncture, don't forget to keep an eye on the deflating tire, and don't hesitate to stop every couple of miles to check. You really don't want to drive on a deflated tire or you'll end up doing more harm than good.
A few things to note here—keep your car's engine running the entire time the tire inflator is operational; otherwise, you may have a usable tire, but we can't guarantee the same about your battery. Also, if you are stranded at night, make sure to use safety equipment such as a high-visibility jacket, warning triangles, etc.
Better safe than sorry, right?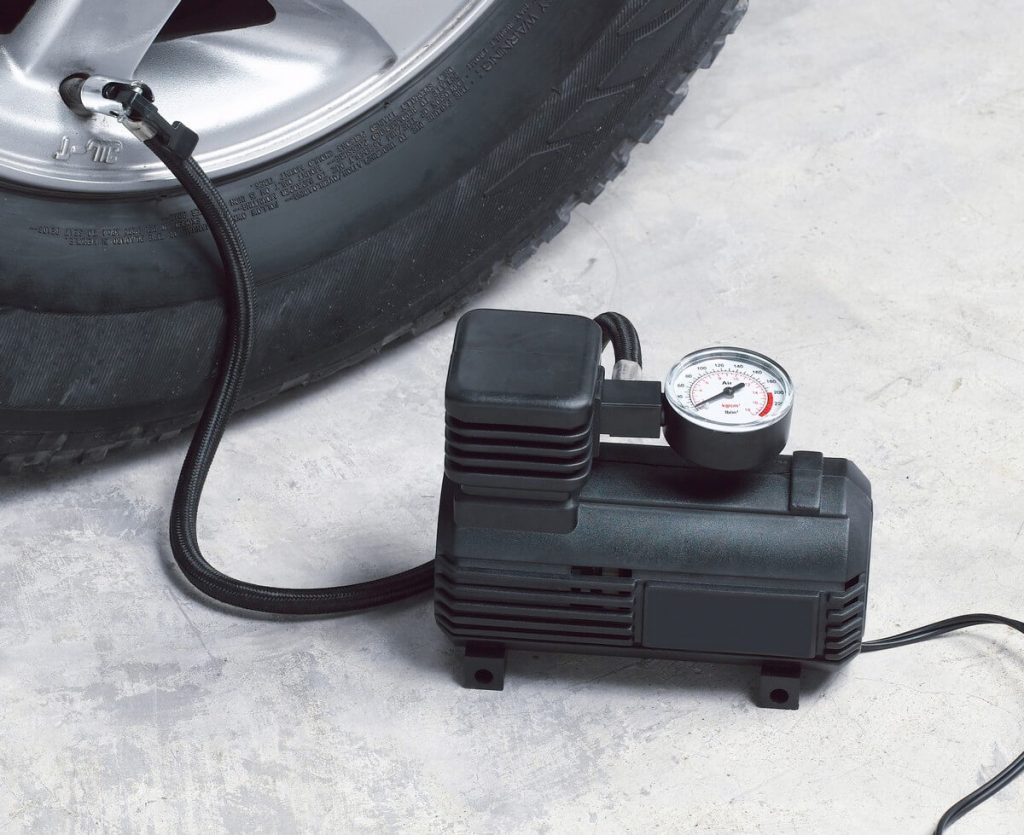 FAQs
Do I really need a tire inflator?
Yes, absolutely!
Tires are an important part of your car, so it is crucial to take care of them. And no matter how cautious you are, there will always be air pressure loss, valve issues, etc. So you must always keep a tire inflator in your car to be prepared at all times. As the famous saying goes—it is better to have it and not need it than to need it and not have it. Besides, all it's going to cost you is a few bucks and a sliver of trunk space.
What happens if I overfill my tires?
Overfilling, although a common occurrence, is quite dangerous for you and your car. Extreme caution must be exercised while using a tire inflator to avoid overfilling. It can lead to cracks in the rubber surface, distortion, and other safety issues.
The most significant risk overfilling poses is a tire blowout while driving. Your car tires and the air temperature increases while driving. Moreover, air volume expands as the temperature rises, and if a tire was already overinflated and somewhat worn out, cracked or aged, it could easily blowout when hitting a pothole or sharp edges on the road.
As a general rule, simply never fill your tires beyond the manufacturer's recommended pressure.
What does the "duty cycle" of a tire inflator mean?
The duty cycle of any device or machine dictates the amount of time it can be operated out of a total stipulated period. The duty cycle of tire inflators is commonly expressed in the form of percentages. For example, a 50% duty cycle means the inflator can be operated continuously for a maximum of 30 minutes, after which it has to be shut off for the next 30 minutes. These figures apply for 100 PSI pressure ratings and 72° standard ambient temperature.
Verdict
For obvious reasons, there is no clear winner when it comes to tire inflators. All models in our list are excellent at what they do, but the right model for you will entirely depend on your requirements, budget and vehicle type.
With that being said, the Slime 40063 is more than sufficient for the large majority of buyers. It has enough power and capacity to fill SUV and small truck tires in merely 3 minutes.
If you are looking for something with even more power, you can't go wrong with Power Tank's model. It's not as portable as most but you can easily mount it to your truck using the included brackets and fill tires up to 37″ in no time.