Are you looking to buy a good cordless ratchet and wondering if Milwaukee's 2457 M12 Cordless Ratchet would be the perfect one for you? Of course, being already ever so popular for its tough and reliable electric impact guns, Milwaukee doesn't even need an introduction anymore. To paraphrase Dominic Torreto—if you haven't heard about Milwaukee, you don't belong near a car.
Although this sounds like a great starting point, it is not enough to make a definitive decision. Just like any other tool or piece of equipment, cordless ratchets must meet various requirements and, most importantly, fit your needs and budget. This article will go through this outstanding electric ratchet's main features while also examining its benefits and downsides to help you determine if you should invest your hard-earned money in a Milwaukee 2457-21 3/8 Cordless M12 Ratchet Kit,
Enjoy!
Who is it made for?
In most cases, buying tools from a manufacturer as reputable as Milwaukee is usually your best bet. For instance, tools from Ingersoll Rand, Blue Point, Craftsman, and Milwaukee indeed are usually no-brainers. They cover all the bases, producing reliable quality tools, making them suitable for applications that range from amateur users to professional workshops.
However, professional-grade tools like the Milwaukee 2457 cordless ratchet are usually a bit more expensive than other models with similar performance. Of course, you get what you pay for, but the higher price tag may be a bit much for auto mechanic apprentices. As a result, only those who will really put this tool to use may justify the price difference.
On the other hand, if you are a professional mechanic and work your cordless ratchet 40 hours a week in the shop, don't even think twice; this is the one you need!
That being said, I gotta admit I might be a bit biased here. I'm a sucker for Milwaukee's cordless tool. Heck, I like this ratchet so much that I bought two—one for the shop and one for my home garage.
Features of the Milwaukee 2457-21 3/8 Cordless M12 Ratchet Kit
Milwaukee 2457's heart is a strong and rugged 12-volt motor that can deliver up to 35 ft-lbs of torque. Having enough power for automotive applications, this battery-powered ratchet will be capable of dealing with even the most demanding tasks.
However, you gotta keep in mind that it's still just a ratchet and not an impact wrench. Some large and very tight bolts might still require to be started with a breaker bar.
The variable output speed reaching up to 250 RPM is easy to control, thanks to the sensitive trigger. Although some competitors offer models that spin much faster, 250 RPM is still more than sufficient for all car repairs. Of course, this also depends on your preference. Some mechanics like fast tools—I prefer precision.
But to each his own, right?
Fast Charger and Outstanding Battery
The Milwaukee cordless ratchet comes as part of a kit, including one battery and a fast charger. The ability to power up dead batteries in only 30 minutes or less will be helpful during extensive usage.
The M12 battery uses an advanced lithium-ion structure to deliver more power, extended life, and faster charging times, ensuring less downtime on the job and boosting productivity.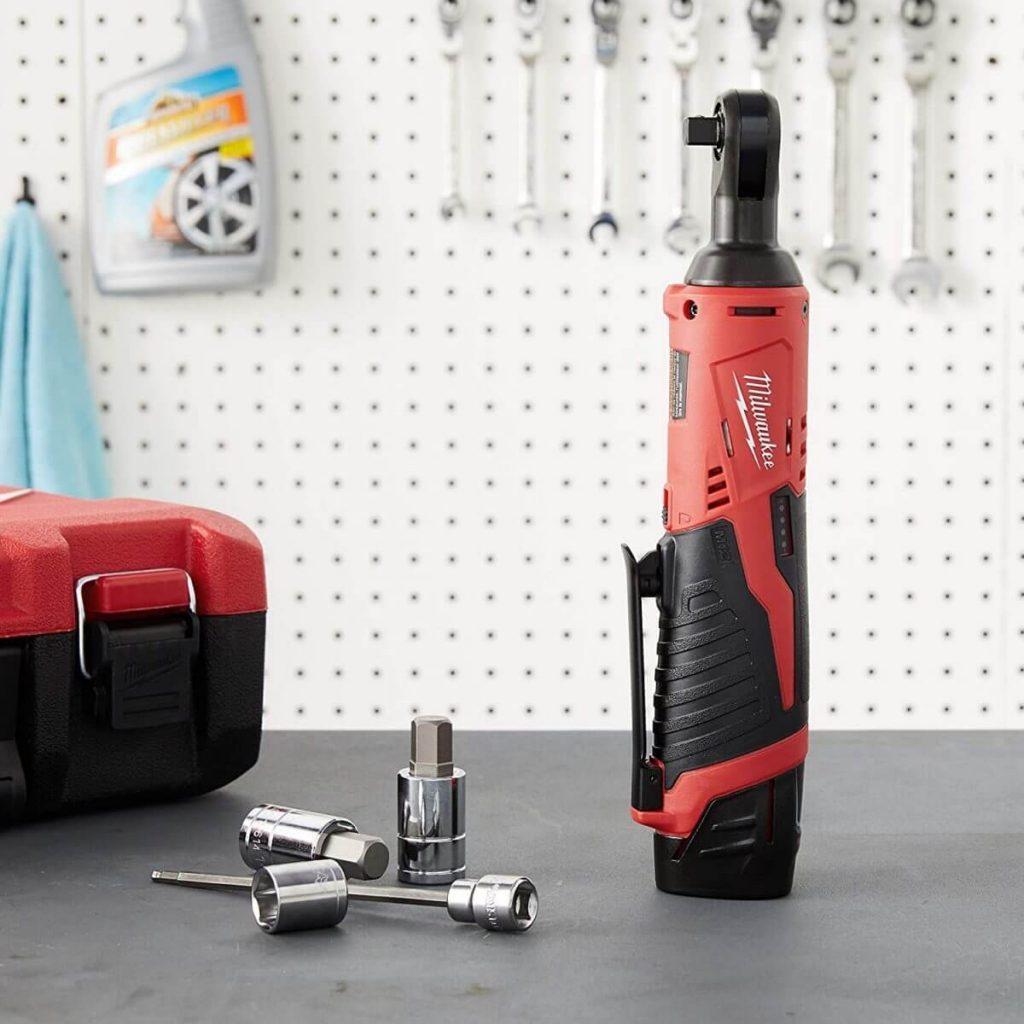 However, as with any other cordless tool, your best bet is always to have more than one battery if you intend to use it all day. I personally also own the Milwaukee 2457-21 M12 3/8″ Stubby impact and torque wrench, and they each came with their own batteries and chargers, so I can now use them interchangeably.
That being said, working as a mechanic, it's not like you'd use your cordless ratchet uninterruptedly for hours. You'll most likely use it for 5-10 min to remove an oil pan, then another 5-10 min to reinstall it. If you see that the battery starts to get low on the gauge, you can always put it back on the charger between jobs.
Integrated Light for Better Visibility
The Milwaukee 2457 electric ratchet has an integrated LED work light that really helps illuminate the work area. If you ever wrenched before, you know how having a light straight in front of where the bolt needs to go is always a good thing.
Ergonomic Handle and Robust Housing
Both the shape and overall size of the Milwaukee 2457 go in favor of professional and amateur mechanics. It is especially true for the upper part, whose low profile will be a strong point when working in thigh spaces. The shape of the middle section is quite ergonomic, with non-slip padding, providing extra grip, especially useful when the ratchet gets greasy. Moreover, the robust housing is made from strong aluminum alloy, ensuring longevity and durability.
Weighing slightly over 4.5 lbs, Milwaukee's cordless ratchet is not among the lightest on the market. It can be a downside in scenarios that include a lot of work in awkward positions, increasing fatigue. Mechanics who will use the electric ratchet extensively should consider this when making the final decision.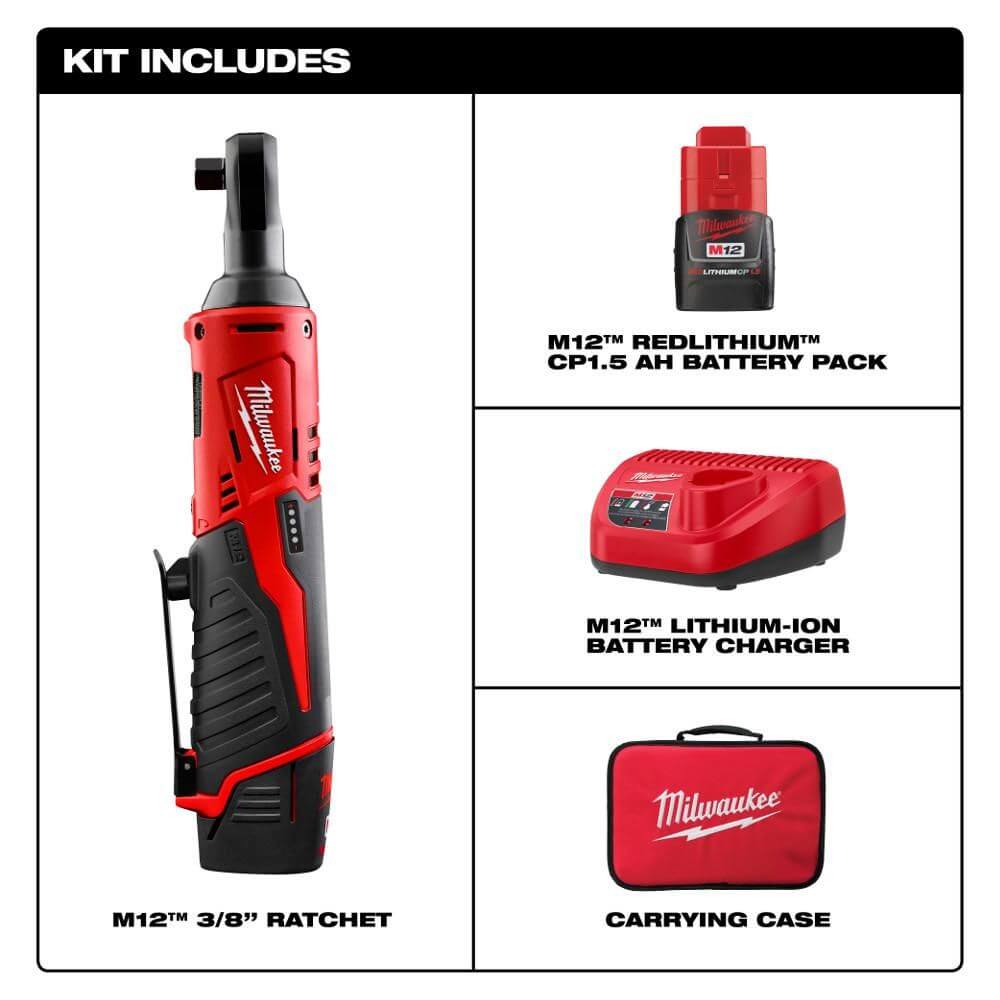 See Also: ACDelco ARW1201 G12 Cordless 3/8″ Ratchet Tool Kit Review
Pros
Powerful 12V motor provides enough power and torque
Compact size and low-profile shape
Speed is easy to control thanks to a variable trigger
Durable M12 battery with 30-minute quick charge
Built-in LED light helps when working in dark areas
Precise onboard fuel gauge
Cons
Not the lightest
Price might be a bit high (totally worth it tho!)
Highlighted Features
Output torque of 35 ft-lbs
Maximum speed of 250 RPM
3/8″ drive
12 volts battery
Anti-slip grip
Weights 4.6 lbs
Product Specifications
| | | | |
| --- | --- | --- | --- |
| Warranty | 5 Year Limited Warranty | Length | 10-3/4″ |
| Peak Torque | 35 ft-lbs | Width | 3/4″ Head |
| No Load Speed | 0-250 RPM | Battery System | M12 |
| Voltage | 12V | Power Source | Cordless |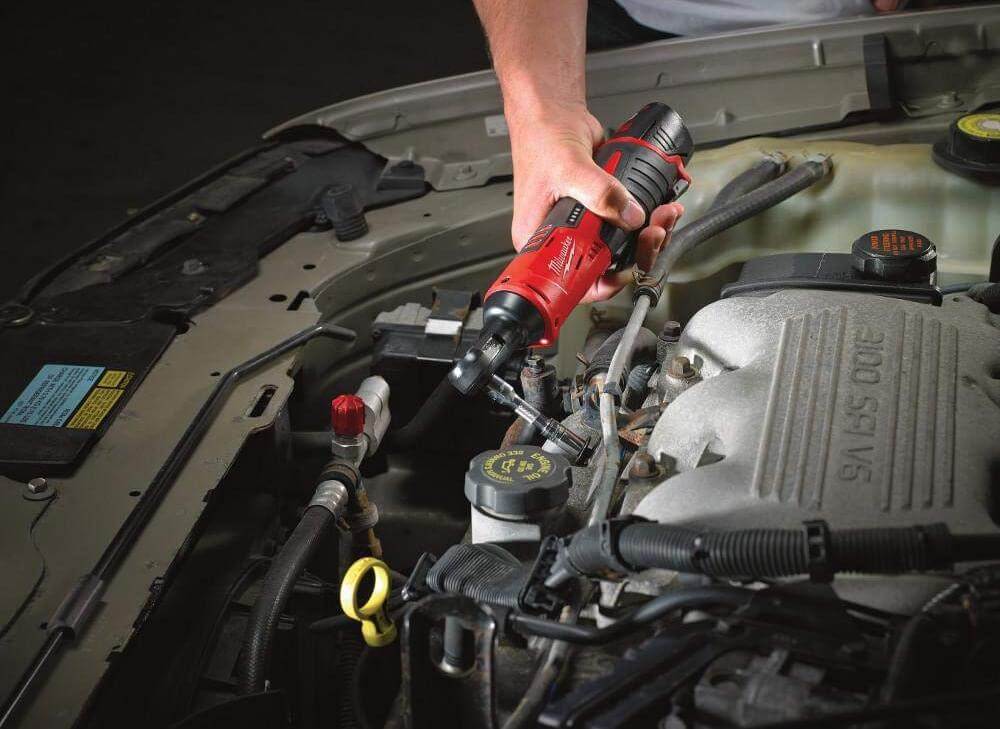 FAQs
Is Milwaukee 2457 M12 Cordless Ratchet suitable for automotive repairs?
Yes!
There is more than one feature that makes this device an ideal tool for car repairs. With 35 ft-lbs of torque and up to 250 RPM, it has enough power to undo any bolt or nut. The compact shape and size are another upside, crucial when working in limited access areas. And perks such as the integrated LED light and handy battery-life gauge only make it better.
If you ask me, the Milwaukee 2457 cordless ratchet is simply the best one for automotive use out there—that's just my opinion, of course.
Does the Milwaukee 2457 Cordless Ratchet come with a battery?
This particular model comes in a kit that, besides the ratchet itself, includes one battery, a fast charger, and a handy carrying case, helping keep everything organized and making transportation easier.
Watch out, though. The "Milwaukee 2457-21" moniker is the whole kit. Just know that you can also purchase the ratchet itself individually, without the battery. In that case, the model name would be "Milwaukee 2457."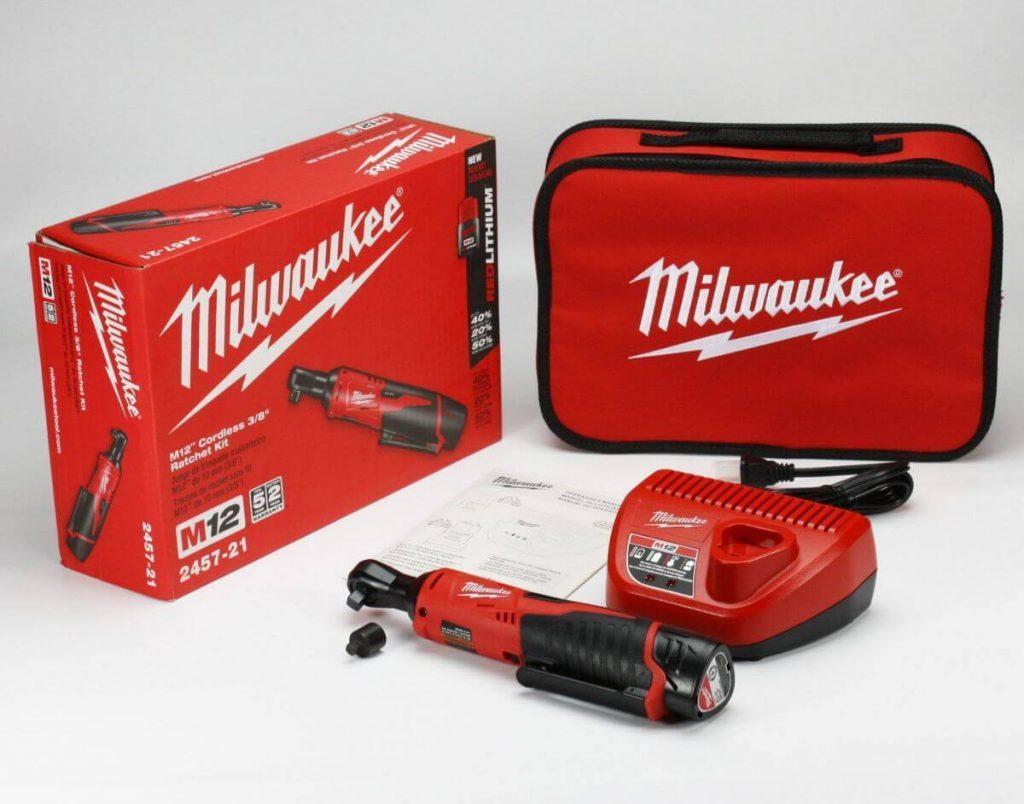 How durable is the battery?
The 2457 electric ratchet uses a lithium-ion battery from Milwaukee's M12 Fuel range, which offers more power and longer runtime. With a unique structure, these batteries will deliver better performance and more work per charge than most of its competitors.
It is also both durable and compact, thanks to a robust construction that protects it from all sorts of hazards. So yeah, it will last!
Final Verdict
No matter whether you are a professional auto mechanic or a weekend DIYer, the Milwaukee 2457-21 Cordless M12 Ratchet Kit will be a nice addition to your toolbox. In addition to being powerful enough for most applications, it's also quite compact in shape and overall size.
Meanwhile, the onboard fuel gauge and integrated LED lights enhance productivity and make every job easier. However, we have to point out it's a bit heavier than similar devices on the market. Regardless of these minor downsides, Milwaukee's electric ratchet is a well-rounded and capable tool.
If you work on cars, trust me; you want one!
Sale
Milwaukee 2457-21 3/8-in Cordless M12 Lithium-Ion Ratchet Kit
Powerful 12-volt motor: Delivers up to 35 ft-lbs of torque.
The kit includes one M12 battery, a 30-minute charger, and carrying case.
On-board fuel gauge: Helps you monitor the charge precisely for less downtime on the job.
Built-in LED light: Illuminates work surfaces in dark locations.
Superior fastening speed: Produces 250 RPM, with variable-speed trigger for greater...