There's no denying it; cordless ratchet wrenches make any auto mechanic's hard day's work that much easier. However, picking the right one can be a tricky endeavor. Luckily, ACDelco Tools has been producing power tools for over thirty years and stands out as one of the industry's most recognizable brands.
This review of the ARW1201 G12 cordless 3/8 ratchet wrench tool kit includes the ratchet itself, two interchangeable 12V Li-ion batteries, a fast charger, and a hard-shell carrying case, should help make your choice easier the same way the product itself affects the task at hand.
Whether you're a professional that relies on ratchet wrenches daily or a DIY enthusiast who doesn't settle for anything but the best, the ACDelco cordless ARW1201 G12 ratchet wrench tool kit is definitely worthy of consideration.
Features of the ACDelco ARW1201 G12 Cordless 3/8 Ratchet Wrench Tool Kit
Compact design
Tipping the scale only slightly over 3 lbs, the ACDelco ARW1201 G12 cordless ratchet wrench is lighter, thanks to the aluminum gearbox housing, and slimmer than most of its competitors making it ideal to use in confined spaces.
High power
Coming with no less than 57 ft-lbs of torque on tap, the ACDelco ARW1201 stands out as the most powerful in its class. It can operate at a variable speed of up to 160 rpm and features an electric brake switch for safe usage regardless of circumstances. Moreover, the electric brake disengages the tool upon the trigger's release to prevent overtightening and hitting your hand somewhere.
Forward/reverse lever
Unlike most cordless ratchets on the market that simply feature an on/off trigger with variable speed, the ACDelco ARW1201 G12 tool boasts a forward/reverse trigger for an easy transition. The switch is conveniently located and helps prevent overtightening.
Furthermore, you won't need to remove your hand from a tight location to switch directions. Such a feature is especially handy when tightening and loosening back and forth to dislodge rusty bolts without breaking or stripping them.
Value for money
The ACDelco ARW1201 G12 cordless ratchet wrench tool kit consists of the tool itself alongside two interchangeable 12-volt li-ion batteries, a fast charger that can fully charge a battery in 30 minutes, and a sturdy plastic carrying case.
User-friendly
The ACDelco ARW1201 G12 cordless wrench comes with an anti-slip soft ergonomic grip and fits in hand comfortably. It also sports a built-in LED light that illuminates dark spaces and goes hand-in-hand with the tool's ability to reach tight areas due to its compact design. Last but not least, its lightweight frame won't tire your hands even after prolonged use.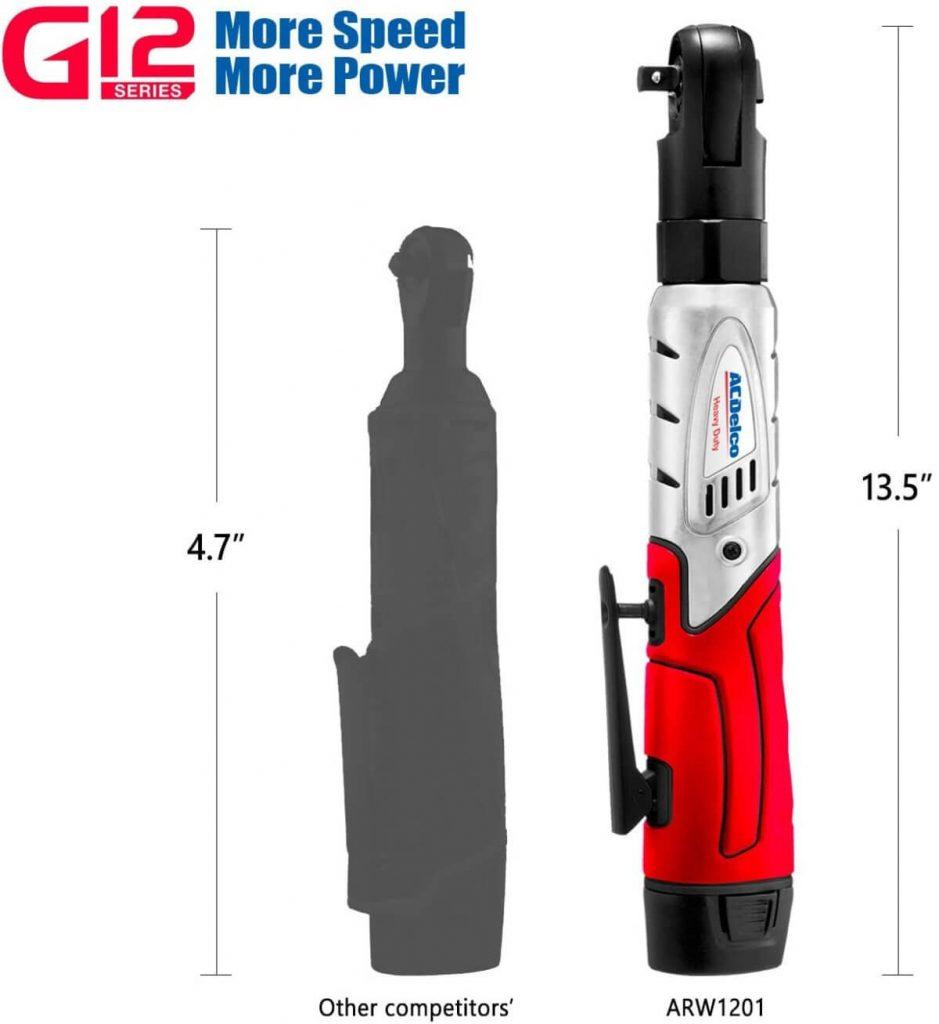 See Also: Milwaukee 2457-21 3/8 Cordless M12 Ratchet Kit Review
Pros
the most powerful tool in its class
lightweight and slim, making it ideal for hard-to-reach places
ergonomically designed and durable
forward/reverse lever for convenient direction adjustment
Cons
slightly more expensive than most other tools
batteries can drain rather quickly
Highlighted features
high power
compact and lightweight
forward/reverse lever
ergonomically designed
durable
two batteries, a fast charger, and a carrying case included
Frequently asked questions
How does a cordless ratchet wrench work?
A cordless ratchet wrench tool has a battery that drives its motor, which, in turn, rotates the ratchet head. Nuts and bolts can be tightened or loosened simply by pushing the power trigger.
You only need to attach an appropriate socket to the ratchet head and line it up with the nut or bolt in question. Then, a mere push of the trigger should do the rest.
How long will the batteries last?
That depends on the type of work and usage, but on average, the ACDelco 1.5Ah batteries should give you up to four hours of work time before requiring a recharge. However, since the kit includes two batteries, you can always charge one while you use the other and switch whenever one is dead, giving your more than enough juice for a whole day of work.
Is the ACDelco ARW1201cordless ratchet wrench sufficiently powerful to break loose or tighten a bolt manually?
That depends on how tight the bolt or nut is or how tight you want it to be. In general, yes. The ACDelco ARW1201 G12 cordless ratchet wrench tool can also be used to break loose or tighten a bolt manually, but it's not recommended. Instead, it's advisable to break bolts with a proper breaker bar first and then employ the cordless ratchet wrench.
How much power does the cordless ratchet wrench have?
The ACDelco ARW1201 G12 cordless ratchet wrench tool boasts 57 ft-lbs of torque, definitely making it stand out from the crowd. Most cordless ratchet wrenches are simply not that powerful.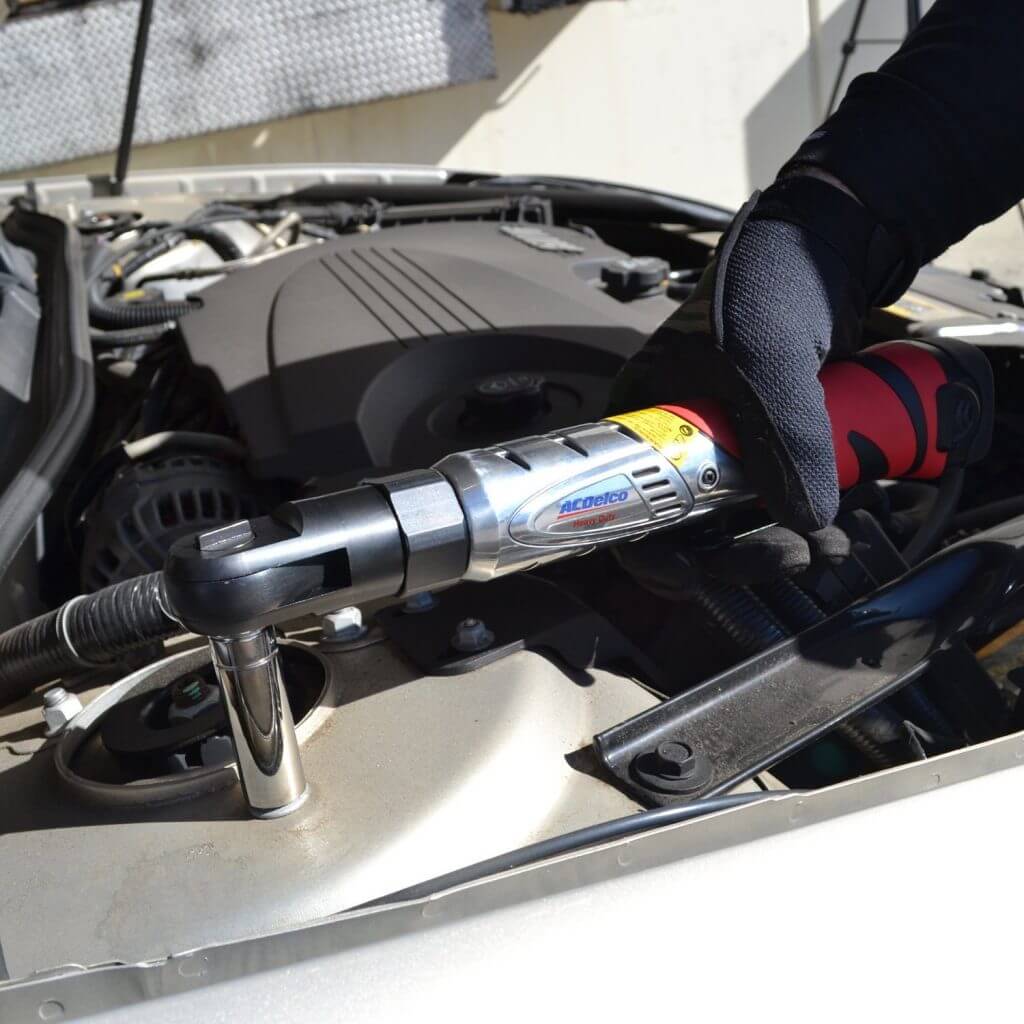 How much does it weigh?
Thanks to its lightweight aluminum gearbox housing, the ACDelco ARW1201 G12 cordless 3/8 inch ratchet wrench is among the lightest options on the market. It weighs only 3.09 pounds, with the battery accounting for 0.44 lbs of the total weight.
What's the size of a cordless ratchet tool?
It really depends on the manufacturer and the model. That being said, the ACDelco ARW1201 boasts unique dimensions. At 2.5 x 2.5 x 13.5 inches, it's much longer but also much narrower than most of its competitors, allowing it to reach those hard-to-get places with relative ease.
Final verdict
The ACDelco ARW1201 is among the best cordless 3/8 inch ratchet wrenches available on the market. It's also the most powerful ratchet wrench in its class, which, together with its innovative forward/reverse lever and ergonomic design, helps minimize the manual input on the user's part. Besides, it also reduces fatigue and simplifies everyday use to a great extent.
However, it doesn't come cheap, and its batteries aren't that durable. Well, in fact, they'll probably last you for years, but they tend to run out of juice rather quickly when used continually for longer periods. On the other hand, the kit includes two batteries, so it isn't really that big of a drawback after all.
If you are a professional mechanic and need a reliable cordless ratchet wrench that can be used 40 hours a week, the ACDelco ARW1201 is the one you need. Period.
Sale
ACDelco ARW1201 G12 Series 12V Cordless Li-ion 3/8" 57 ft-lbs. Ratchet Wrench Tool Kit with 2...
COMPACT DESIGN – Our lightweight, powerful 57 ft-lbs. torque ratchet wrench is...
VERSATILE – Unlike other brands that offer tools with singular features, our ratchet...
USER-FRIENDLY – Ergonomic soft grip design provides comfort for long working hours and a...
VALUE KIT – Our G12 series Ratchet Wrench Tool Kit comes with a cordless ratchet wrench,...
100% SATISFACTION GUARANTEED – For over 35 years we have been manufacturing and...