A proper old-school wrench is a necessary tool in every mechanic's arsenal but let's face it, in today's fast-paced world, power tools are the need of the hour. And why wouldn't they be? They are incredibly efficient, much more reliable, and in some cases, even more accurate than manual hand tools.
No matter the kind of projects you encounter on a daily basis, power tools have become a necessity thanks to the myriad of advantages they offer. However, since there are a plethora of power tool models available these days, it is also crucial to know which one is best suited for your needs and type of work.
This article will tackle two of the most commonly used power tools: impact drivers and impact wrenches. Even though they are might look similar, they are both used for very different purposes. If you are looking to up your tool game and not sure whether to invest in an impact driver or impact wrench, keep reading to learn what's what about each, when to use them, and more importantly, which brands are actually worth the investment.
Enjoy!
Key Differences Between Impact Drivers and Impact Wrenches
Before we delve into some of the intricate details about these two types of power tools, let's look at some essential differences that will help us better understand each tool's purpose.
| | Impact Driver | Impact Wrench |
| --- | --- | --- |
| Power source | Almost always battery powered | Can be air-powered or electric |
| Type of drive | Usually a ¼" hexagonal socket | ½" square shaft |
| General characteristics | Higher RPM but low torque | Low RPM with higher torque |
| Average price range | $$ | $$$ |
| Working | Uses a spring, hammer, or anvil to create rotational impact force | Uses a spring, hammer, or anvil to create rotational impact force |
| Intended use | Used to drive screws and smaller bolts at a fast pace. Often better suited for trim work and home use. | Used to apply high torque to bigger nuts and bolts. Can handle abuse and continuous use in repair shops or other industrial environments. |
Of course, while the table above shows a few of the most prominent differences between an impact driver and an impact wrench, there's still much more to them. No need to worry; we will discuss each point in more detail below.
No products found.
What is an Impact Driver, and What is it Used for?
An impact driver is a powerful tool designed to deliver intense and periodic bursts of rotational force, applied using a hammer in the axial direction with the help of an elaborate internal mechanism. The hammer will repeatedly strike the outer sleeve and rotate any drill bit it is attached to.
Impact drivers are used to drill holes or drive screws into a desired object or material. Due to their powerful internal mechanism, impact drivers put out nearly twice the torque as any cordless drill. Hence, you can use an impact driver to drill holes or directly drive screws into much stronger materials than what a power drill is capable of. However, be careful as it is easy to over-tighten screws or fasteners when using a powerful impact driver.
Pros
Nearly twice as powerful compared to cordless drills
Compact and lightweight power tools
Quite affordable and, in some cases, even inexpensive
Results in little to no fatigue to the operator
Bits are easily replaceable based on unique project requirements
It can drive screws and fasteners quickly
Cons
It can over-tighten screws if you aren't careful
Impact-specific bits are required
What is an Impact Wrench, and What is it Used for?
Impact wrenches use nearly the same internal mechanism but offer a significant bump in operational torque. Since an impact wrench is often used to loosen stubborn bolts, the increased torque comes in handy. Some impact wrenches are even capable of momentarily delivering higher short bursts of torque if required; this is called "nut-busting torque." These power tools are extremely powerful and offer more torque compared to impact drivers, making them suitable for heavy-duty applications and professional work environments.
For instance, impact wrenches are frequently used in the automotive industry to remove and install lug nuts and rusty and seized bolts holding the suspension or steering system's components in place. An impact driver would simply not be powerful enough to remove those.
Impact wrenches are usually air- or battery-powered. If your work environment requires continuous use of an impact wrench, a pneumatic model is probably the best way to go. You don't have to deal with the hassle of keeping the batteries charged, albeit the extra hose is a challenge in itself—especially when working in tight spaces.
On the other hand, electric impact wrenches are usually more convenient but you'll need to keep an eye on the battery's power level (the trick here is to get two batteries so you can use one while the other is charging).
In the end, it's really a question of personal preference.
Pros
Offers more torque than impact drivers
Some models can temporarily deliver "nut-busting torque"
Perfect for loosening seized nuts and bolts
Offers choice for power source
Can easily take considerable abuse in industrial working conditions
Cons
Costs more than impact drivers
Impact wrenches are often bulky and can cause wrist fatigue after prolonged use
The high available torque can strip threads or break bolts if the operator is not careful
Hybrid Impact Drivers/Wrenches
For DIYers or beginners in the field, spending significant hard-earned money to buy both power tools might not make sense. In that case, you might want to consider hybrid impact drivers/wrenches. They combine some of the best properties of both in a single tool. Of course, there are a few compromises, but nothing that will affect the intended use.
Bosch makes one such hybrid model called GDX18V-1800CN. It is a two-in-one impact driver and wrench packing a grooved hexagonal shrank and a socket drive allowing you to attach both impact driver and impact wrench accessories. Moreover, the powerful brushless motor is good for 1,800 in-lbs. torque, making it ready to tackle pretty much whatever you'll throw at it—what's not to like?
Such hybrid tools offer ample torque for nearly all day-to-day operations and can be an affordable alternative to purchasing an impact driver and an impact wrench separately. It is certainly a worthy option to consider for buyers who frequently need both tools but can't quite afford them yet.
Indeed, if you are just starting in the field, you'll see that such a dilemma will be pretty frequent and you'll have to make some heartbreaking choices. Building a decent tool chest takes time and you need those tools to work, be paid, and buy more. In this case, buying a hybrid impact wrench will allow you to redirect the money towards more pressing needs—you'll have time to buy more high-end, job-specific power tools later down the line.
Differences Between Impact Drivers and Impact Wrenches
Power source
Impact drivers and impact wrenches have minor differences in the way their motors are powered. While the former is almost always battery-powered, the latter is available with several power options.
When it comes to impact drivers, electric power is significantly more convenient, especially given that they are commonly used for short periods and need to be portable. The battery can be removed and recharged until you need it again. Once again, it is advisable to have more than one such batteries to enable uninterrupted operation.
On the other hand, impact wrenches are available in various configurations, starting from a simple corded electric tool to complex air-powered units. Like impact drivers, you can also get battery-electric impact wrenches, but if you aren't keen on keeping several replacement batteries handy, a pneumatic impact wrench may be a more interesting option. However, keep in mind that air-powered impact wrenches are significantly costlier since they will also require a proper air compressor.
Drive Type
A significant difference between impact drivers and impact wrenches can be seen on each tool's output end. An impact driver usually comes with hex collet chucks to accommodate drilling or fastening bits. You need to loosen the chuck and attach the appropriate bit based on operational requirements. However, keep in mind you cannot use regular drill bits in an impact driver, and you will have to purchase special bits exclusively for use with this tool.
Meanwhile, impact wrenches come with a square drive in varying sizes, the most widely used being a ½" square drive. Impact wrenches connect to impact sockets; they are made to be stronger than regular sockets to withstand high torque and prevent shearing or other failures.
General characteristics
Impact drivers have exceptionally high motor speeds, resulting in operational RPM much higher than impact wrenches or cordless drills. It is not uncommon for an entry-level impact driver to run at no-loads speeds as high as 1,500-2,000 RPM, while some high-end variants can even run close to the 4,000 RPM mark.
Meanwhile, even the most powerful impact wrenches are limited to roughly 2,000 RPM. But what they lack in speed, they more than make up for in sheer torque. Namely, they are fitted with much more powerful motors and offer high torque levels, allowing you to bust open even the most stubborn nuts with minimal effort.
Average price range
Impact drivers are much cheaper than impact guns. They are pretty compact and do not come with an internal clutch. Prices start as low as $100 for budget models, with premium ones going up to $250. Meanwhile, a good impact wrench will set you back around $250-$500, and sometimes more.
Intended use
Owing to their high torque output and bulky nature, impact wrenches are for professional heavy-duty use. If you are looking for a power tool to perform regular household functions, an impact driver is usually the way to go.
However, certain operations like loosening lug nuts on your car's wheel can only be done with an impact wrench; impact drivers are simply not powerful enough. So, the wise thing to do here would be to analyze your needs and list the type of projects you would need each tool for. If the list gives you an obvious answer as to which tool you need, go for it, and if the list doesn't lead to a meaningful conclusion, perhaps a hybrid impact driver/wrench might be the best solution.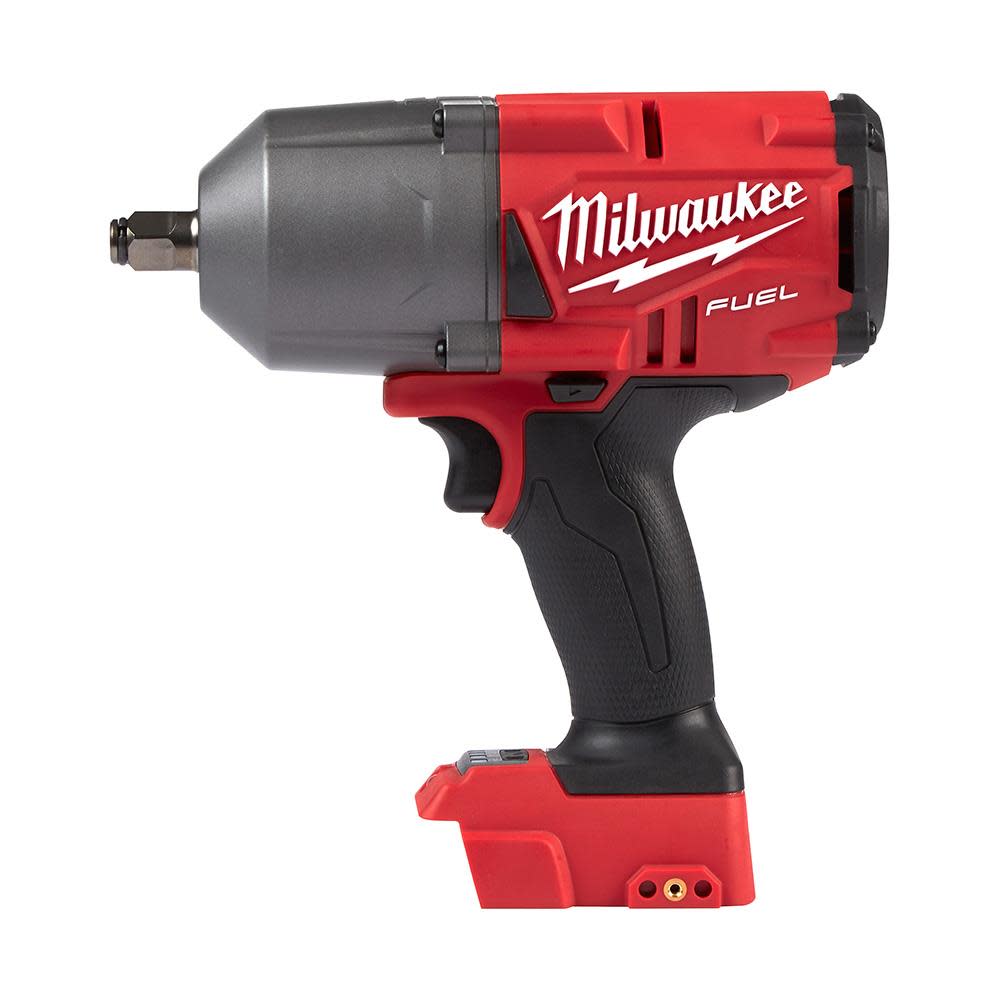 How Much More Torque Do Impact Wrenches Produce vs. Impact Drivers?
The short answer to that question is "a lot more!"
Although the exact difference between torque figures differs from model to model, it's safe to say that impact wrenches generally pack a lot more torque than impact drivers. Of course, chances are you might come across a high-end impact driver with slightly more torque than a budget impact wrench, but such isolated cases cannot be viewed as representative of the larger picture.
There are good reasons for impact wrenches packing a much stronger punch than drivers; since an impact wrench's primary purpose is to loosen stubborn lug nuts, the need for more torque is very much warranted. Rusted lug nuts can sometimes be tough to loosen and the nut-busting torque feature on most impact wrenches can come in handy. You get a surge in torque output for a short time, enough to completely bust the seized nut free.
Meanwhile, impact drivers have no use for such an enormous amount of torque. The force required to drive in screws and fasteners is much less than what's required to remove rusted nuts. In fact, higher torque levels could even become a significant disadvantage in impact drivers as the operator has to be careful not to over-tighten screws.
When to Use an Impact Wrench vs. Impact Driver
The answer to this question can be different for everybody as it entirely depends on the job at hand. As mentioned earlier, impact wrenches are widely used to loosen and tighten nuts on cars, trucks, or other vehicles. Pit crews use the same power tools in various motorsport events like Formula 1, NASCAR, and DTM.
Of course, impact guns also have applications outside the automotive field and in the general industrial workplace. Specific ultra-heavy-duty machinery requires enormous industrial-grade impact wrenches; so big in fact, that in some cases, the wrench is suspended from the ceiling using springs or more than one person would be necessary just to hold it in place.
At the same time, impact drivers are better suited to household applications like drilling holes or even driving screws to hang a painting. In the automotive industry, they would be reserved for fast repetitive tasks like removing several oil pan bolts or all those screws holding plastic covers when servicing vehicles.
Which Brand Should You Go For?

Milwaukee
The Milwaukee Electric Tool Corporation is one of the most famous power tool brands. It offers a diverse product range where all models in a series use the same interchangeable batteries.
Moreover, Milwaukee is also known for staying up-to-date with and incorporating modern technology in its tools. The brand's "One Key" digital platform is an excellent example of the strides made by Milwaukee in the technological realm.

Craftsman
What started nearly a century ago as a sub-brand of popular department store Sears has evolved into a reputed maker of high-quality tooling equipment. The Craftsman Tools brand is now under the ownership of Stanley Black & Decker Inc., an American business conglomerate employing over 60,000 people.
When it comes to the automotive sector, the brand simply doesn't need an introduction anymore. If you ever go to a repair shop that doesn't own a single Craftsman tool, you should probably take your car somewhere else—that's simply not a repair shop!

DeWalt
Raymond E. DeWalt originally founded the company in 1923, a year after he invented the radial arm saw. After changing several owners and experiencing exponential business growth, the brand now makes hand and power tools for use in diverse industrial applications. DeWalt's story is in many ways similar to that of Craftsman; both brands were established nearly a hundred years ago, and both are now under the Stanley Black & Decker umbrella.
Despite the fact DeWalt has long been more of a "construction-oriented brand," it recently started gaining ground in the automotive sector too. Their tools are excellent, quite affordable, and are surely worth considering if you can deal with the brand's trademark bright yellow, screaming "construction site tool" quite loudly.

Makita
The Makita Corporation is a Japanese maker of power tools, established in 1915. The brand enjoys a global presence with operational factories in ten countries. Its product range includes power tools, cordless tools, and other industrial equipment like chainsaws and power generators.
Kinda like DeWalt, Makita was also traditionally a construction tools manufacturer. However, since battery-powered tools are a common sight in modern repair shops, the brand started to be seen a lot more lately. And if there's something Makita knows well, it's how to make long-lasting electric tools.
Last Words
Impact wrenches and impact drivers are great tools that can go a long way in increasing your work efficiency, while also dramatically reducing fatigue even. We hope this article helps you decide on the right tool for your needs and budget. If you are still confused about which model to buy, you might want to check our Best Impact Wrenches review here for further guidance.
As always, happy wrenching!