Whether you are a professional mechanic, a weekend DIYer or just an auto geek, you cannot do much without an impact wrench. Of course, you can easily change your oil and perform regular maintenance using only hand tools but any kind of serious work will require a little more oomph.
However, even the best air impact wrench is pretty much useless without the appropriate air compressor. And selecting an air compressor can be quite tricky as you need to consider several important parameters—and they don't always come cheap so making an informed decision is pretty important here.
To help you pick the best air compressor for your impact wrench, we have curated 6 of the best air compressors we could find out there. Each one serves a different purpose and is excellent at what it does, but of course, you'll need to make sure it's right for the job you need it for. To take care of that, we have also included answers to commonly asked questions when shopping for an air compressor. Thanks to the reviews and FAQs, you should be able to narrow down the featured compressors to only one or two and choose one that will fit your mechanic's style and budget.
Enjoy!
Best Air Compressor for an Impact Wrench Reviews
The Craftsman CMEC6150K is a pancake-type air compressor with a decent six gallons tank. Tipping the scale at just 30 lbs, Craftsman's air compressor is super portable and easy to store. You also get an advanced oil-free pump, so you don't need to worry about periodic maintenance. The pump is also designed to function in cold weather conditions, making it perfect for mobile mechanics working up North. Moreover, the metal construction is highly durable and imparts a long and hassle-free life to the air compressor.
Craftsman's air compressor is rated to output 3.5 SCFM at 40 PSI under normal conditions while achieving a maximum pressure of 150 PSI (read here that it's perfect for inflating tires on the regular but also to power an impact when needed, for short periods of time). Furthermore, you get two quick-connect couplers allowing you to use up to two air tools at a time, or rather, use two power tools alternatively without needing to plug and unplug them every time you need to switch—the tank is rather small to power an impact wrench and a grinder simultaneously.
The CMEC6150K air compressor comes with an accessory kit, including some basic yet essential accessories. An air hose, a blowgun, a rubber tip, a tire chuck, a tire pressure gauge, and several inflator adaptors are included.
Due to its small size, Craftsman's pancake air compressor is suitable for occasional and light use and is suitable for everyone looking to change their tires and remove stubborn suspension bolts. It can also be suitable for mobile mechanics as a quick source of compressed air but might be a bit small for anything serious. Still, if you run a mobile mechanic business, you know very well that cars you need to work on are not always in range of your bigger compressor inside the truck—Craftsman's compressor can be a life savior at times!
Keep in mind that this one is really an entry-level air compressor (you can't really find smaller than that, in fact), but it's cheap, reliable, and super easy to move around. If you need an air compressor for your garage and don't really need it to be portable, you might be better with one of the bigger models below.
Highlighted features
Pancake-style corded air compressor
Overall dimensions: 16.5" X 16.5" X 17.88"
30 lbs. total weight
6 gallons storage capacity
Compressed air supply: 2.6 SCFM at 90 PSI
150 PSI maximum system pressure
Two ¼" air outlets
Pros
Maintenance-free operation
Comes with a 13-piece accessory kit
Made in the USA
Rubber feet to absorb vibrations
Low cost
Integrated carrying handle for easy portability
One-year limited manufacturer warranty
Cons
Noisy
Tank on the smaller side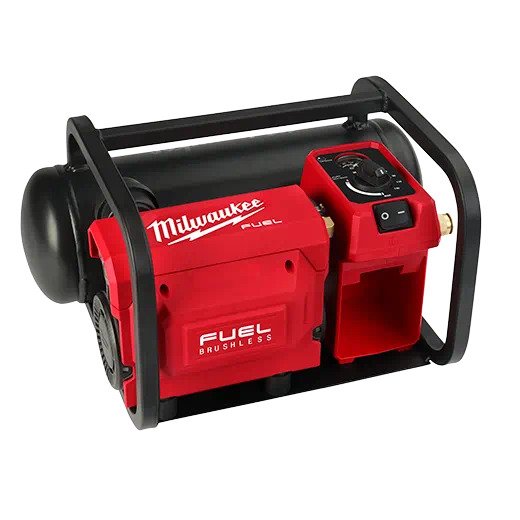 The Milwaukee name always stands out among the rest when it comes to any battery-powered equipment. The brand has made great strides in modern technology resulting in highly intuitive and sophisticated products. The M18 FUEL series of cordless tools, including the 284020 portable air compressor, is particularly interesting as it stands at the forefront of innovation. If you need a battery-powered compressor, this is probably your best bet.
Milwaukee's 284020 air compressor uses an oil-free pump designed to be durable without needing any special upkeep. Operating under normal conditions, you get an air output of around 1.2 SCFM at 90 PSI, while maximum pressure is limited to 135 PSI. And despite these impressive capabilities, Milwaukee's air compressor is still quieter than your normal voice during operation.
But, by far, the best part about this air compressor is that it's cordless. The 284020 uses Milwaukee's M18 Red Lithium batteries that also power various other products in the M18 range. So, if you already own any other Milwaukee M18 tool, you can use the same battery to power this air compressor.
The only downside to Milwaukee's air compressor is its 2-gallon tank which is kinda limiting. It's good enough to power an impact wrench for short bursts but don't even think of using it to power an air grinder or anything like that. Nonetheless, its cordless operation and other technologically advanced features more than make up for it.
If you need a portable compressor to remove lug nuts and perform quick repairs next time you go off-roading, or completely off-the-grid, look no further—this is the one!
Highlighted features
Cordless portable air compressor
Overall dimensions: 10.62" X 16.25" X 18.62"
31.2 lbs. total weight
2 gallons storage capacity
Compressed air supply: 1.2 SCFM at 90 PSI
135 PSI maximum system pressure
One ¼" air outlet
Pros
Quiet operation
Lightweight and low-profile design
Easy to store and transport with integrated grab handles
Maintenance-free pump
Uses long-lasting M18 batteries
Three years limited warranty
Cons
Battery not included
Small air tank
The Emax Hulk is another excellent option in the portable air compressor category and it offers a much larger air tank than the previous two models, thanks to the 20 gallons tank. And re-filling the tank is quite quick thanks to the dual-piston steel pump. but here's the impressive bit; the pump only produces 41 dBA of noise while operating—that's practically silent.
The pump is driven by a low RPM electric motor with copper windings, making it reliable and long-lasting. When running at its 1,700 RPM average speed, the motor produces around 2 hp; but don't jump to any hasty conclusions based on that number yet; the Emax air compressor can provide up to 5.77 CFM at 90 PSI.
Emax builds its air compressor to be as durable as possible as made evident from the oil-free operation, stainless steel transfer tubes, brass couplers, and commercial-grade steel pump. Besides, you also get a trolley-style design with two wheels and a long handle, allowing easy transportation.
The Emax Hulk is hands down the best portable air compressor. It is perfect for mobile mechanics, small repair shops, and even home garages. The 20-gallon air tank will hold sufficient air, and the two ¼" air outlets will let you run two tools simultaneously (this time, it's for real!).
Highlighted features
Vertical tank corded portable air compressor
Overall dimensions: 18" X 18" X 45"
110 lbs. total weight
20 gallons storage capacity
Compressed air supply: 5.77 CFM at 90 PSI
125 PSI maximum system pressure
Two ¼" air outlets
Pros
Silent operation
Trolley-style design for better mobility
Heavy-duty steel construction
Low power consumption motor
Offers two quick-connect brass couplers
Two years manufacturer limited warranty
Cons
Not fit for heavy-duty jobs
No products found.
Any conversation about high-quality tooling, handling, or pneumatic equipment would be incomplete without mentioning Ingersoll Rand. The 160-year-old global brand has earned an impeccable reputation by consistently developing superior products. But of course, if you are a pro mechanic, there is no way you never used one of its tools. And if you are still a beginner, what are you waiting for?
The Ingersoll Rand SS5L5 is a prime example of the brand's unmatched craftsmanship and attention to detail. It uses a 5-hp single-phase motor rated at 100% duty cycle. Hence, you can continuously operate the motor without the need for periodic rest. It's very unlikely that you'll ever use an impact wrench for hours without interruption but the better duty cycle will come in handy when using a grinder or a spray paint gun.
The SS5L5 air compressor provides an impressive 18.1 CFM of compressed air at 90 PSI, which is more than enough to unlock the full potential of your impact wrench. However, the air supply drops to 15.5 CFM when pressure is increased to the maximum 135 PSI setting (still good enough for an impact wrench, though). And even if you were to use several air tools simultaneously, the powerful pump takes only about 3-5 minutes to refill the 60 gallons tank.
Furthermore, the vertical air tank is built entirely from cast iron for exceptional strength and longevity. It is then powder-coated to impart an extra protective layer to handle extreme weather conditions and prevent premature rust.
Overall, Ingersoll Rand's SS5L5 is one of the best electric air compressors available online. The cast iron construction may not be lightweight but results in unmatched strength and durability. If you need a serious compressor ready to tackle serious work, similar to what they use in small repair shops, Ingersoll Rand's model is a solid contender.
Highlighted features
Vertical tank corded stationary air compressor
Overall dimensions: 20" X 30" X 71"
310 lbs. total weight
60 gallons storage capacity
Compressed air supply: 18.1 CFM at 90 PSI
135 PSI maximum system pressure
One ¼" air outlet
Pros
High-capacity air tank
Robust and long-lasting cast iron construction
100% duty cycle
Ergonomic design with easy controls
Open feet for easy mounting
Powder-coated finish
One-year manufacturer warranty
Cons
Nothing, really—when it's good, it's good!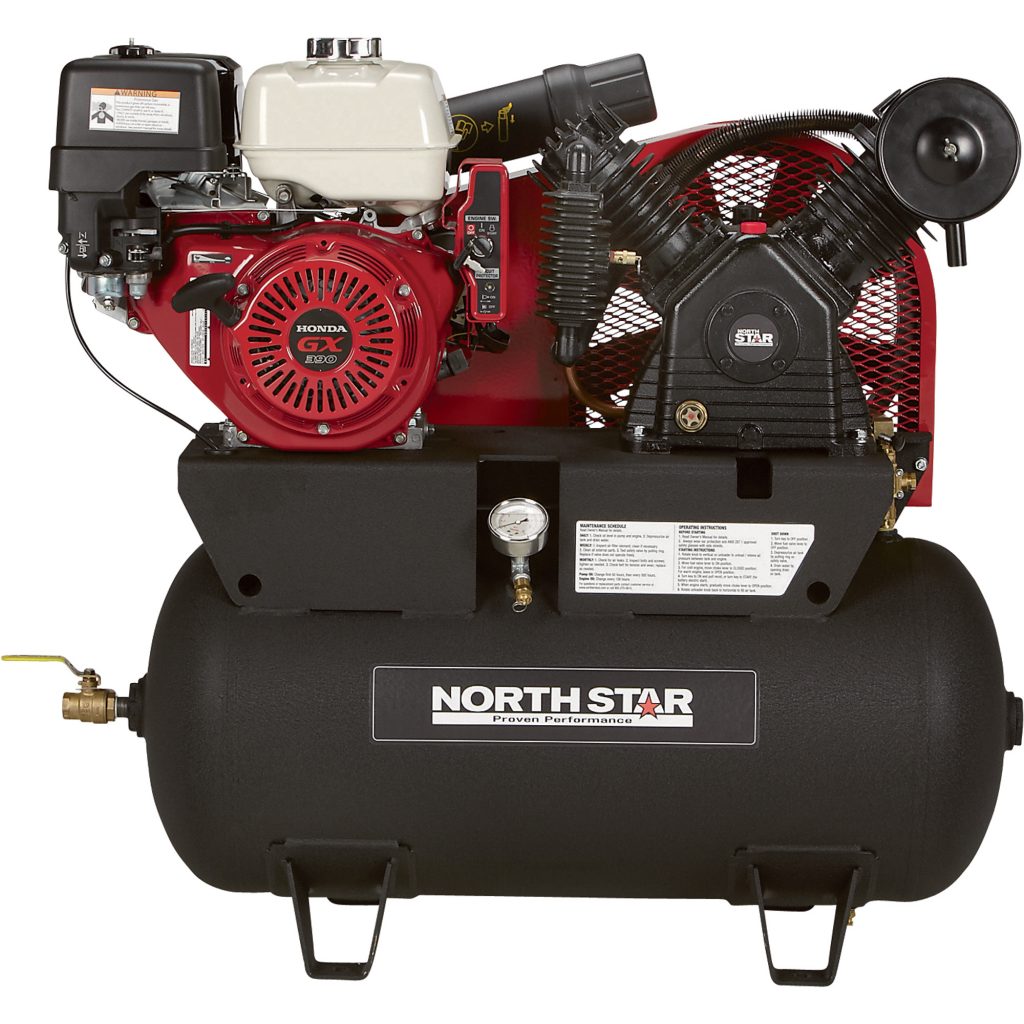 The NorthStar 459382 marks a stark contrast to all previous models in the list. Instead of the usual electric motor, this air compressor uses Honda's GX390 overhead valve gasoline engine to drive the two-stage compressor pump. The cast iron pump will then fill up the 30-gallon horizontal tank with compressed air in no time. As a result, the 459382 portable air compressor can deliver 24.4 CFM air at 90 PSI—and that's a lot!
It's no secret that gasoline engines produce severe vibrations and unwanted noise, which is a significant disadvantage compared to electric motors. However, NorthStar's air compressor features Low Vibration Technology (LVT) using a dynamically balanced pump and one-piece cast iron crankcase with bearings on both ends to provide optimum support while keeping noise to a minimum.
If your line of work consists primarily of on-site jobs, the NorthStar gas-powered air compressor is a perfect choice. You can install it on your pick-up truck's rear bed, and voilà, you have a mobile air compressor on standby wherever you go. On the other hand, the gas engine makes it impossible to use inside a garage, unless you route a complicated (and somewhat risky) exhaust system. Still, in some cases where there are no power outlets nearby and you need more power than the previous portable models, a gas-powered air compressor might be your only option.
Highlighted features
Horizontal tank gas-powered portable air compressor
Overall dimensions: 41" X 19" X 40"
492 lbs. total weight
30 gallons storage capacity
Compressed air supply: 24.4 CFM at 90 PSI
175 PSI maximum system pressure
One ¾" air outlet
Pros
Powder-coated weather-resistant tank
Cast iron construction for longevity
Heavy-duty yet portable compressor
No need to search for power outlets
Comes with several safety features
Long pump and engine life
Impressive air output
Four years consumer warranty
Cons
Costs more than other models
Only one air outlet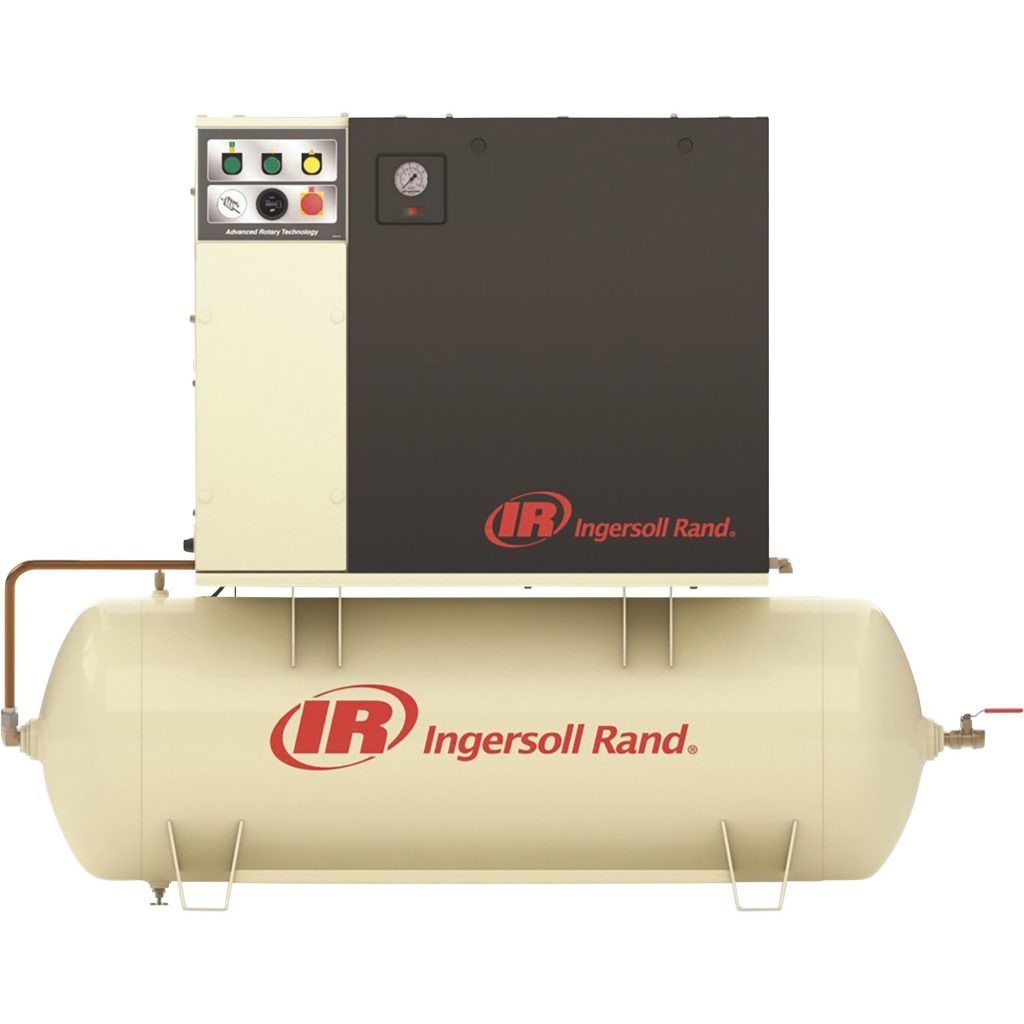 We've saved the best for last. Meet the Ingersoll Rand 1540443, a rotary screw-type air compressor designed to be the absolute best at what it does. Despite being a little pricier, rotary screw air compressors offer numerous advantages with little to no downsides. They are incredibly efficient, extremely safe, quiet in operation, easy to maintain, and long-lasting.
Ingersoll Rand's air compressor comes fully loaded with state-of-the-art components, so you don't need to worry about anything. You get an ODP electric motor with auto start/stop control for optimum protection, a refrigerated dryer and an air-cooled aftercooler to maintain the optimum temperature at all times.
Furthermore, the compressed air reaching your impact wrench will only make it after passing through a prefilter and two high-efficiency final filters, making it especially perfect for use in dusty environments such as an auto body repair shop. Moreover, these components are cleverly packed in a low sound sheet metal enclosure placed above the 80-gallon air tank, so no more waking up the neighbors when working late at night.
The rotary screw mechanism in Ingersoll Rand's air compressor supplies air at 28 CFM @ 135 PSI, making it perfect for heavy-duty industrial-grade applications. If you work on bigger equipment than most, you'll especially appreciate this one.
Of course, we realize the Ingersoll Rand 1540443 rotary screw air compressor is significantly more expensive than traditional models, but it is also the best air compressor, making it worth every penny. Moreover, clever engineering and high-quality construction mean this will probably be the last air compressor you ever need to buy.
Highlighted features
Horizontal tank rotary screw stationary air compressor
Overall dimensions: 54" X 29" X 61"
1000 lbs. total weight
80 gallons storage capacity
Compressed air supply: 28 CFM at 90 PSI
135 PSI maximum system pressure
Complete air system
Pros
Straightforward installation process
Ergonomic design with integrated controls
Low sound construction
High air output
Auto start/stop control with electrical protection
9000-hour ultra plus coolant
One-year manufacturer warranty
Cons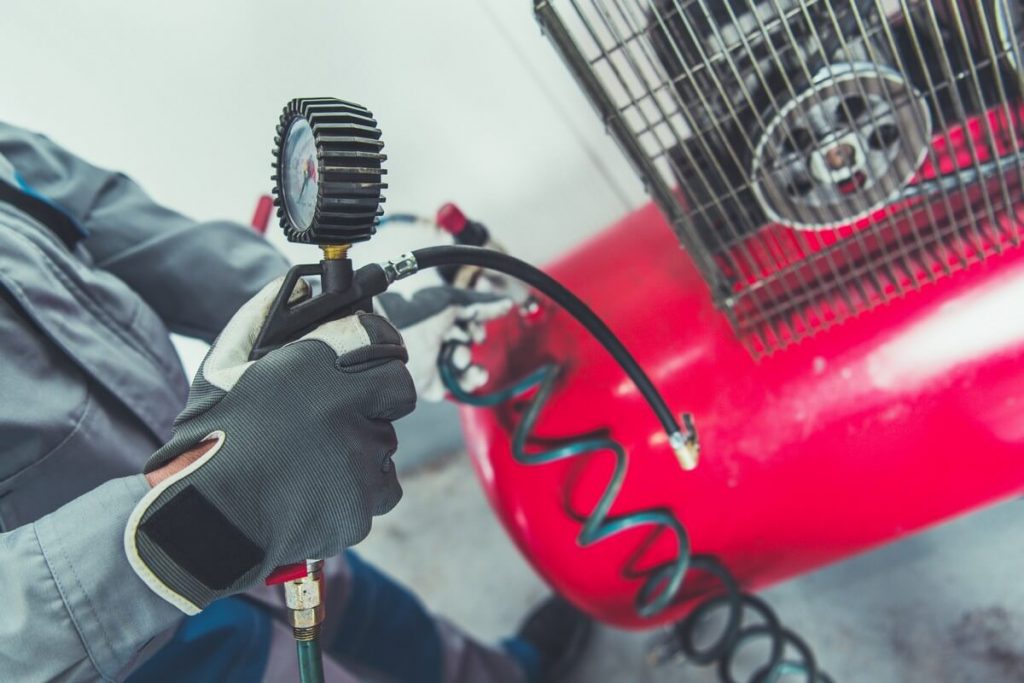 How Much Air Pressure Does an Impact Wrench Need?
One of the most important factors to be considered when looking to purchase an air compressor for your impact wrench is the pressure requirement. Unfortunately, there is no simple answer to this question as different air impact wrenches come with specific air requirements. Of course, several other parameters need to be considered before choosing a particular air compressor but more on that later.
To explain how it all works, let us classify air impact wrenches based on the drive size. They come in four main drive sizes (in the automotive industry, you'll only use 3/8″- and 1/2″-drive models, though), but the good news is that the pressure requirement is relatively similar for all.
| | |
| --- | --- |
| Impact Wrench Size | Pressure range |
| 3/8" Impact gun | 90 PSI |
| 1/2" Impact gun | 90-100 PSI |
| 3/4" Impact gun | 95-105 PSI |
| 1" Impact gun | 95-125 PSI |
By design, all air compressors in our list offer a maximum pressure at least above the 90 PSI standard. In other words, all the products mentioned in this article are powerful enough to supply the required compressed air to power any impact wrench out there, so no need to worry about a thing here.
What Size Air Compressor Do I Need for an Impact Wrench?
So what are the advantages of spending thousands of dollars on a heavy-duty air compressor when a pancake model can provide the same pressure for just a couple of hundred bucks then?
Well, most air compressors can easily reach a high enough pressure level to power an impact wrench. Still, the difference between a portable pancake model and a heavy-duty model with a large air tank lies in how long they can maintain that pressure level.
Since a pancake air compressor comes with a relatively small air tank, you can only store so much compressed air in it. When you start using your power tool, the pressure will drop gradually as the impact gun consumes compressed air. Once the air reaches the threshold level, the motor will start and the pump will fill the tank again. This is not really a problem if you only need to remove 4 lug nuts but might be one if you are doing more extensive work.
Meanwhile, an industrial air compressor comes with a much larger air tank, storing a lot more air in it. As a result, you won't see a significant pressure drop any time soon. A more powerful motor will also run a bigger pump, filling the tank much faster.
Consequently, it is vital to get the right size air compressor for your needs; otherwise, you'll either end up with a small model that needs to run the pump continually (and that would significantly reduce its lifespan) or one with a large tank (and a large price tag) that you don't really need.
To help you decide the right size air compressor for your impact wrench, we need to ask a few questions first: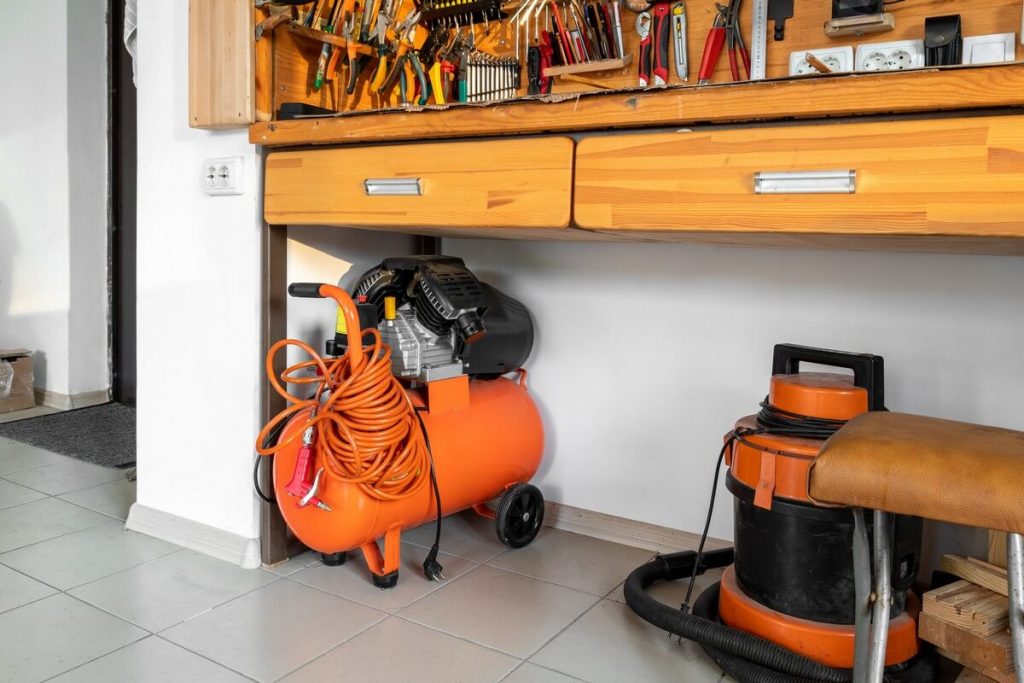 How often do you use your impact wrench?
If you rarely use your impact wrench or other air tools and only use them for short periods, a small tank air compressor will suffice. Meanwhile, those who use their impact guns every day are better off with a larger compressor to make sure the pump doesn't need to refill the tank too often.
What do you use an impact wrench for?
Simple tasks like changing a tire or building small furniture items require a lot less compressed air compared to, say, building an entire barn in your backyard, for example. Some tools also need constant pressure while others don't. For instance, when using a grinder and running out of air, nothing will really happen aside from the fact that the grinder will slow down. On the other hand, if you run out of air using a pray paint gun and the air pressure changes, it will modify the width of the spray and may cause the paint to drip—and nobody wants paint drips, right?
However, it's very unlikely that you'll run your impact wrench at full speeds for hours. Consequently, even the smallest tanks will do. Nonetheless, pancake air compressors and small portable ones can sometimes be a hassle. Nothing is worse than having to wait for the pump to refill the tank every 10 minutes.
If you are serious about auto mechanics, try to aim for something like the EMAX Hulk and Ingersoll Rand SS5L5 or bigger.
Will the air compressor be used to power any other air tools?
If you are looking to buy your first air compressor, you might think that you'll only use it to power your impact wrench. But, don't forget that once you have one, you'll probably start shopping for more power tools at some point.
Impact wrenches require significantly less compressed air compared to some other air tools out there, so make sure your compressor is capable of running all air tools in your arsenal (including your future arsenal). If you plan on using tools with high air requirements, go for a large air compressor to fulfill those needs without any disruptions.
To help you figure out what you'll need depending on what you might want to use your air compressor with, we have included a quick CFM chart that can serve as a good starting point. However, it's impossible to include every single tool out there and those are just estimates. Always make sure to check every tool's air requirement before committing to buying an air compressor that you might need to replace in a year or two because it's simply not powerful enough for your needs.
| | | |
| --- | --- | --- |
| Pneumatic tool | Approx. CFM requirement @ 90 PSI | Pressure requirement |
| Angle Grinder | 5-8 | 90-120 |
| Air Hammer | 3-11 | 90 |
| Brad Nailer | 0.3 | 60-120 |
| Die Grinder | 4-6 | 80-100 |
| Blowgun | 2-3 | 90-100 |
| Sander | 11-13 | 100 |
| Drill | 3-6 | 90 |
| Framing Nailer | 2.2 | 100-120 |
| 1/2" Impact Driver | 4 | 90 |
| 3/4" Impact Driver | 8 | 90 |
| 1" Impact Driver | 12 | 90-110 |
| 1/2" Impact Wrench | 4-5 | 90-100 |
| 1" Impact Wrench | 10 | 90-125 |
| 3/8" Impact Wrench | 2.5-3.5 | 90 |
| Random Orbital Sander | 6-9 | 90 |
| Paint Gun | 0.3-12 | 15-50 |
| Staple Gun | 2 | 60-120 |
| 1/4" Ratchet | 1.5-3.5 | 90-100 |
| 3/8" Ratchet | 4.5-5 | 90 |
| Tire Inflator | 2 | 100-150 |
| Speed Saw | 5 | 90-100 |
Things to Consider While Choosing an Air Compressor for your Impact Wrench
Apart from air pressure and compressor tank size, you need to consider a few other essential things to make an informed decision.
Work environment
Different air compressor types are better suited for specific work environments. For example, if your job involves traveling all day from one worksite to another, a pancake-style portable air compressor is perfect for you. However, if you need a steady supply of compressed air for extended periods, a high-capacity gas-powered model like NorthStar's is probably better.
Meanwhile, if you need an air compressor for your professional garage or repair shop, where you will use several air tools at once, it is advisable to get a heavy-duty industrial-grade model. That way, the large tank will store plenty of air, and you won't need to run the compressor every five minutes.
Strength and reliability
Look for an air compressor built using solid materials like steel or cast iron to ensure longevity. Cast iron construction can significantly increase the weight, but you will get a robust body and air tank in return. Optimum strength and reliability can also be ensured by clever design and packaging, where all components are strategically placed to achieve a low center of gravity and equal weight distribution.
Inner working
Another important choice to make when selecting an air compressor is the type of inner mechanism you prefer. Most air compressors work by drawing electric power to run an electric motor, which runs the compressor pump. Some portable models like the Milwaukee 284020 are battery-powered for cordless operation in remote areas where electricity is unavailable.
In contrast, the list also includes gas-powered and rotary screw-type air compressors. These are mainly suited for heavy-duty applications thanks to their high-capacity storage tank and powerful pumps.
Verdict
Choosing a suitable air compressor for your impact wrench is an essential task, and we hope that after going through this detailed guide, you will be able to make an informed decision. As mentioned earlier, there is no "one size fits all" when it comes to air compressors because all models in our list are suited for different purposes (and everyone has their own preferences when it comes to tools).
Still, if you are looking for a portable model, there is probably nothing better than the NorthStar 459382 when it comes to sheer power and tank capacity. However, given that it's a gas-powered model, it's not really suited to be used indoors.
For something you can use in your garage, look for the Ingersoll Rand 1540443. It is by far the best stationary air compressor on this list due to its solid cast iron construction, impressive reliability, and comparatively affordable price tag.