Let's face it, Harbor Freight Tools often gets a bad rap. But anyone buying a $20 torque wrench or a 50-piece socket set for $15 from the discount tools and equipment chain expecting top-quality may need to reconsider their perspective.
Harbor Freight is well-known for being cheap in terms of product pricing and, oftentimes, cheap as it relates to product quality. That said, they also offer some tools that, when compared to premium brands, aren't too far apart at all in terms of quality and performance but at much lower prices. The Daytona 3 Ton Floor Jack is one such tool, in our and many others' opinion.
Before you say that in no way can a Harbor Freight floor jack be as good as a big-brand floor jack, you may want to consider that the well-known tool-truck brand Snap-On sued Harbor Freight a few years back, accusing the company of selling floor jacks that "are substantially identical" to those sold by Snap-on for about 3x more. The same factory produced both floor jacks.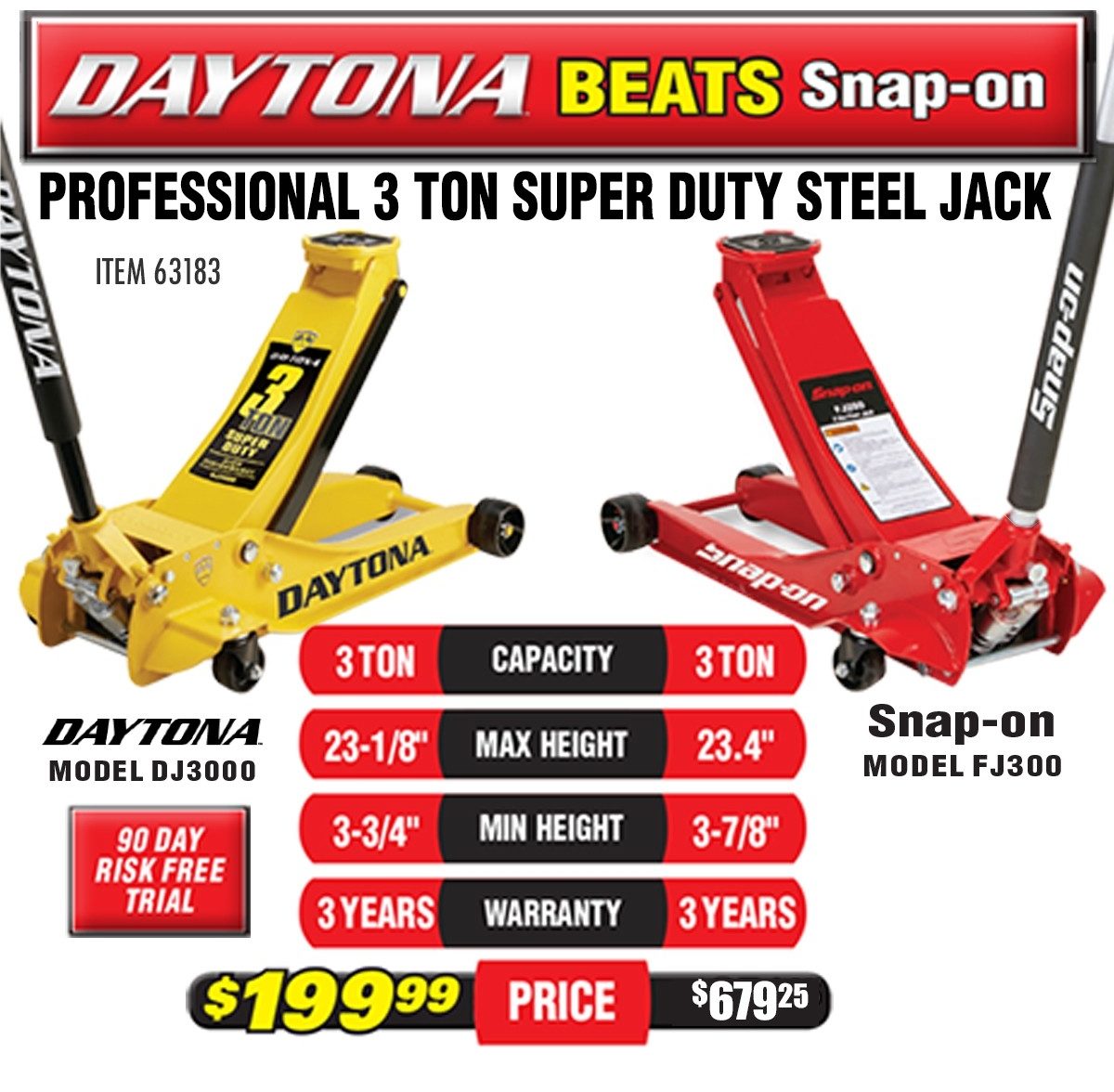 We purchased our Daytona floor jack well over a year ago, primarily for use under our lifted four-door Jeep Wrangler in our home garage. And while we haven't abused it as a pro would by any stretch, we have used it enough to know that it is a very confident floor jack and one that we'll likely use for years to come. In fact, we'll probably be buying one or two more.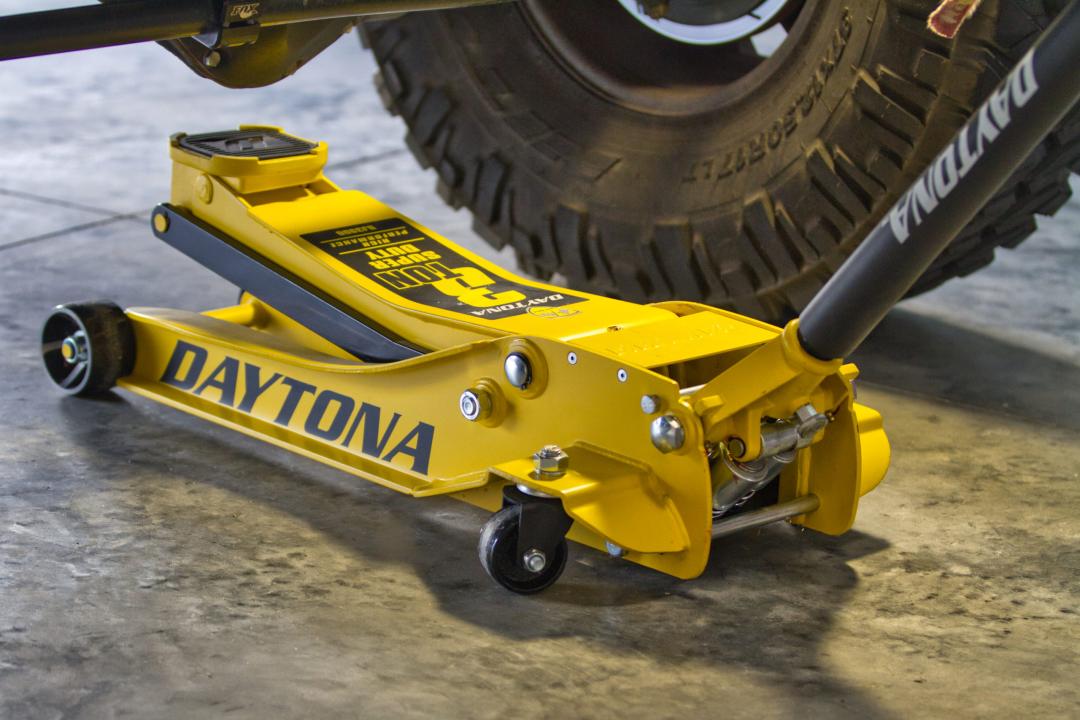 The Daytona is a 3-ton floor jack, which obviously means it will lift up to three tons or 6,000 lbs. That's plenty for almost any home garage application—cars, trucks, SUVs. The jack does have built-in load limiters with a bypass valve to protect the pump if an overweight load is attempted. Of course, you should always, always, always (one more…) ALWAYS support your vehicle with the properly rated jack stands (two of them) once your vehicle is lifted, and never rely solely on the floor jack itself to support the full weight of the vehicle. Ever. We love our Torin Big Red 6-Ton Double-Locking Jack Stands.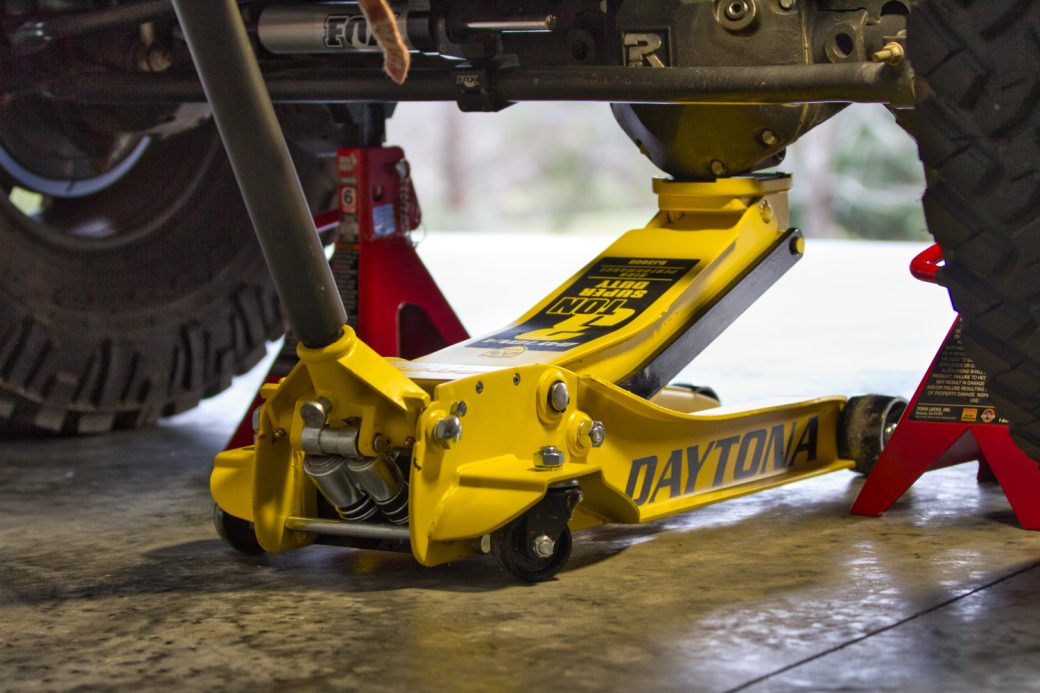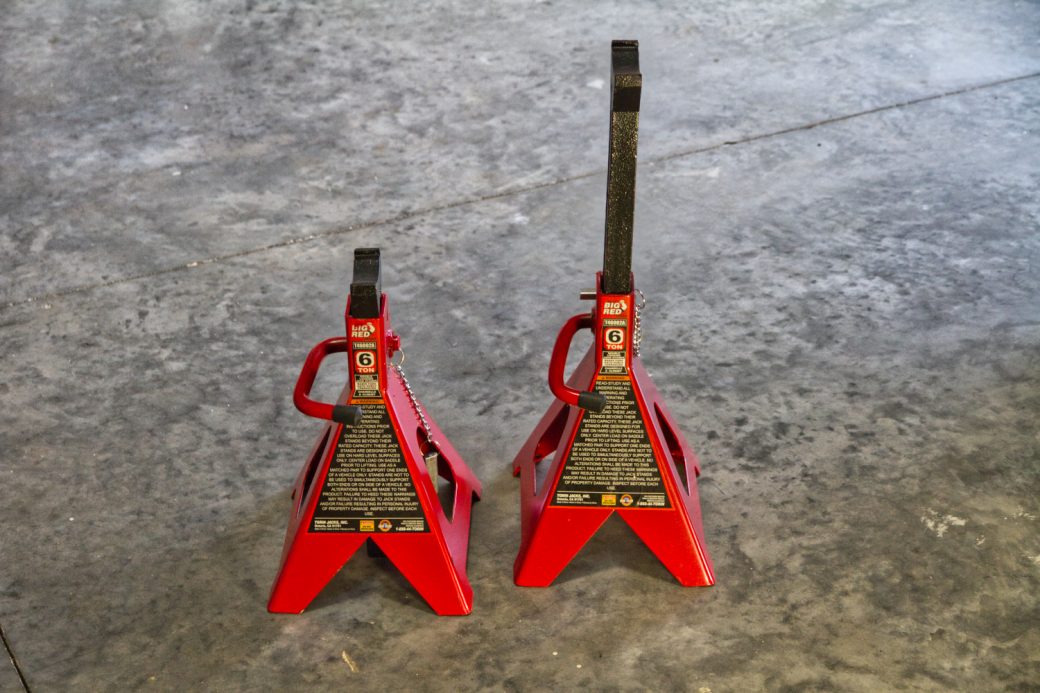 The 31-1/4″ long x 12-1/2″ wide floor jack is constructed of thick powder-coated steel and weighs in at around 104 lbs. The frame has clean, seemingly sturdy welds, and strong nuts-n-bolts where it counts. This thing feels extremely solid, which is a pleasant surprise coming from a company known for some pretty low-quality and even single-use tools. This jack is a beast, for sure.
Despite its beefiness, our jack rolled nicely on every surface we used it on—an unfinished garage floor, a rough cement driveway, a rubber drip mat, some snap-lock garage flooring… you get the point. It's also surprisingly quiet when being rolled around, thanks to its well-lubricated dual bearing wheels and overall weight. The front wheels measure 3-1/2″ in diameter and 2″ wide and do not swivel. The rear casters do swivel and are slightly smaller at 2-1/2″ in diameter and about 1-3/8″ wide. All four wheels are slightly contoured for even better mobility.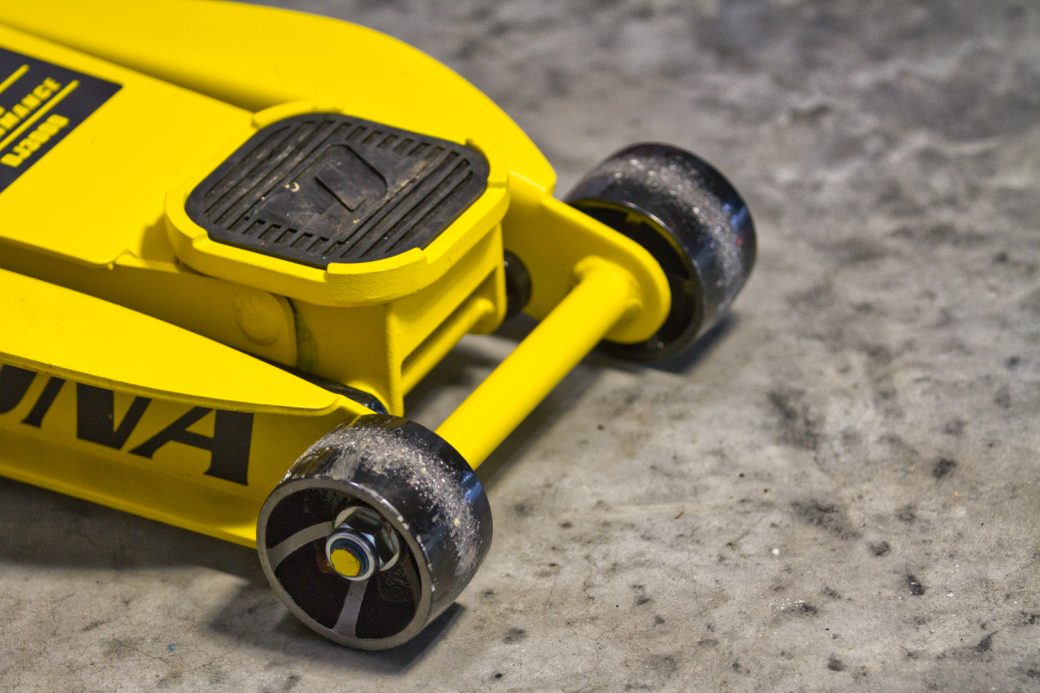 The 'dual-parallel' hydraulic pumps on this floor jack have integrated magnetic filtration for longer pump life. Essentially, any contaminants will be drawn towards the magnets and away from the pumping mechanisms. Of course, the hydraulics are what make or break a floor jack. Under the full front weight of our modified (e.g., far more beefy than stock) Jeep JKUR, our Daytona floor jack didn't budge—even a little—after about three days at 3/4 working height. Not a scientific test, we know, but we've had more expensive floor jacks slowly descend on us in far less time.
See Also: Our review of Pittsburgh 3 Ton Low Profile Floor Jack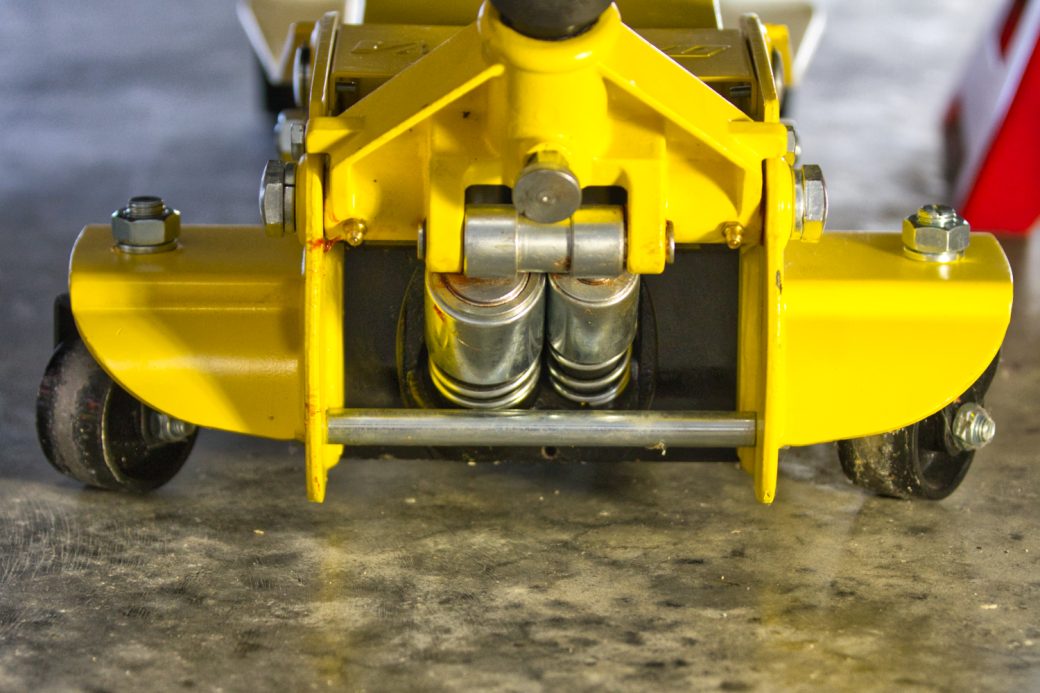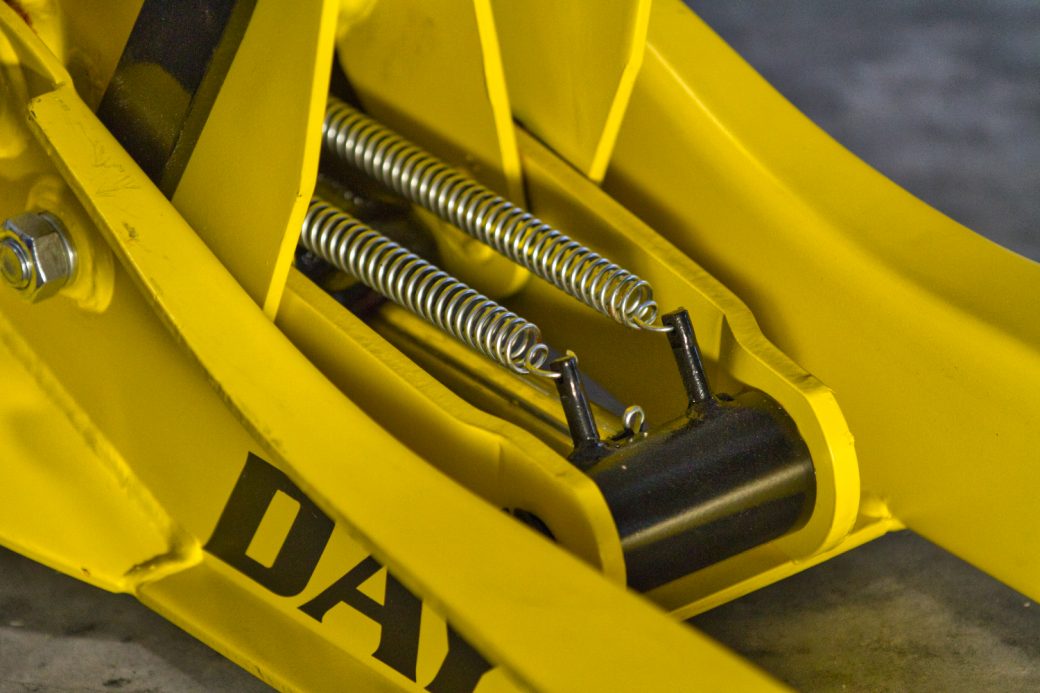 The Daytona floor jack is considered a low-profile floor jack at just 8-7/8″ high but has a maximum lift of 23-1/8″ (its minimum lift is 3-3/4″). Once the pump handle is securely tightened in its clockwise position, reaching maximum working height only requires about 4-1/2 full strokes (all the way down, all the way up, four-and-a-half times). It's a relatively fast floor jack, compared to others we've used, but not the fastest. The strokes are smooth, too, but it isn't super-easy to do one-handed while on a creeper (some of you will know what we're talking about and please don't use your legs to pump this or any jack). ????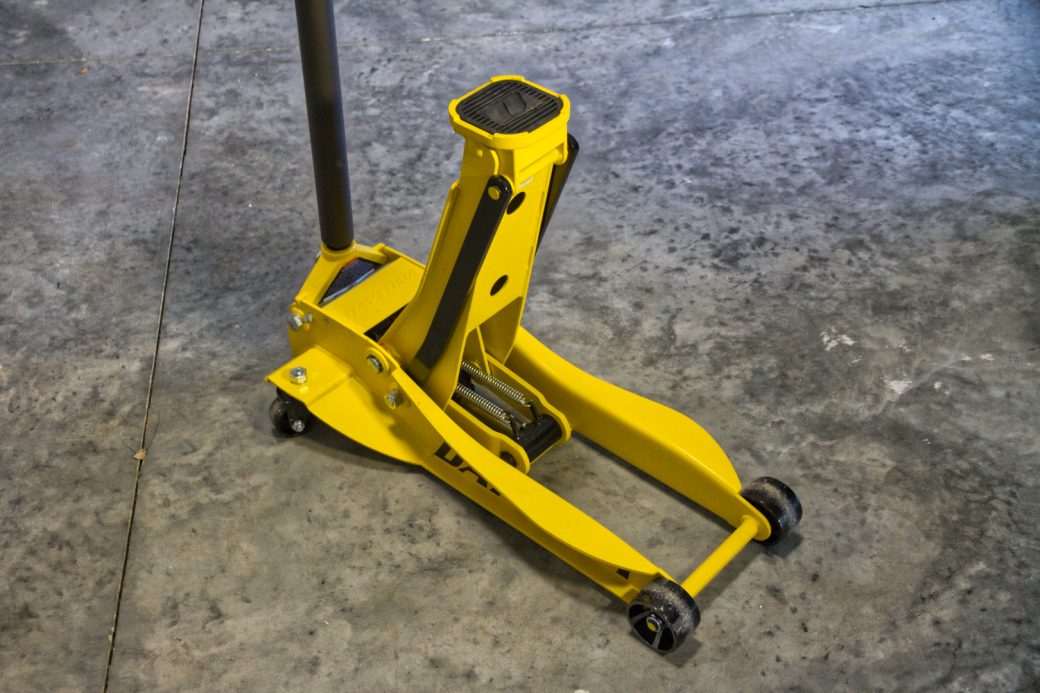 The steel pump handle is plenty long at 50-1/4″ and clicks into place (and is removed) quickly via a single aluminum push/pull knob where the handle meets the jack's steel frame. The handle is also knurled and has a foam guard to protect the vehicle's finish. The pistons in the Daytona floor jack are continuously force-loaded to keep the pump handle in its 'ready state' during use, meaning, no matter where you leave the handle, it's ready to pump/lift from that position.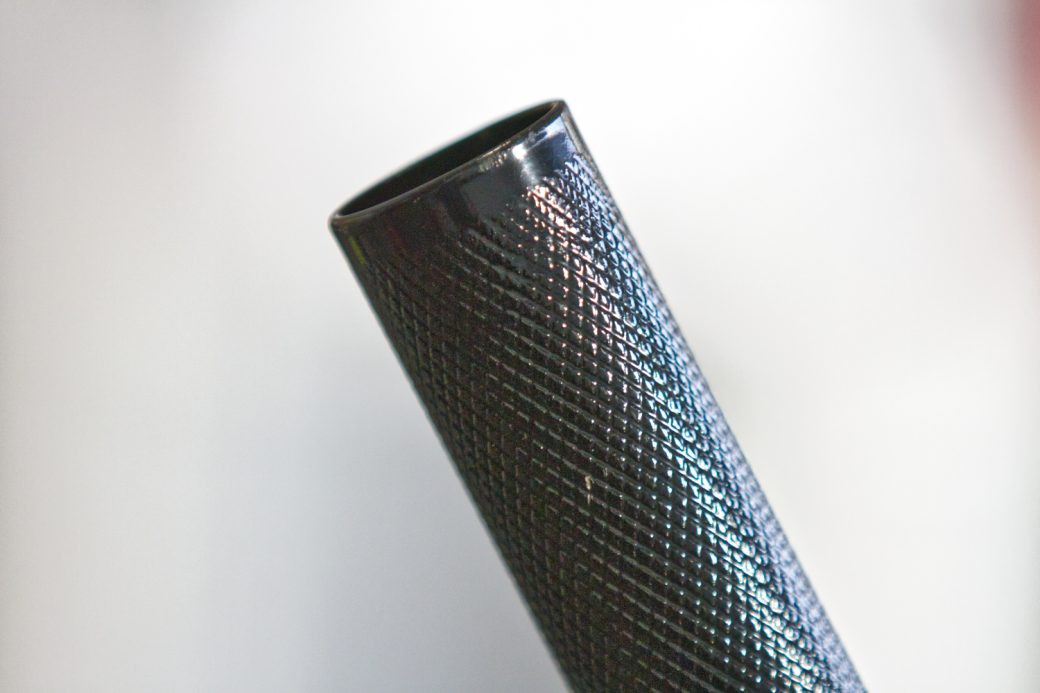 The cushioned saddle pad is 5″x5″, which is fairly standard in a jack this size. The smaller floor jacks from auto parts stores usually have the round, wobbly steel saddle. The larger square saddle on this jack shouldn't damage anything it's supporting and could be considered safer overall.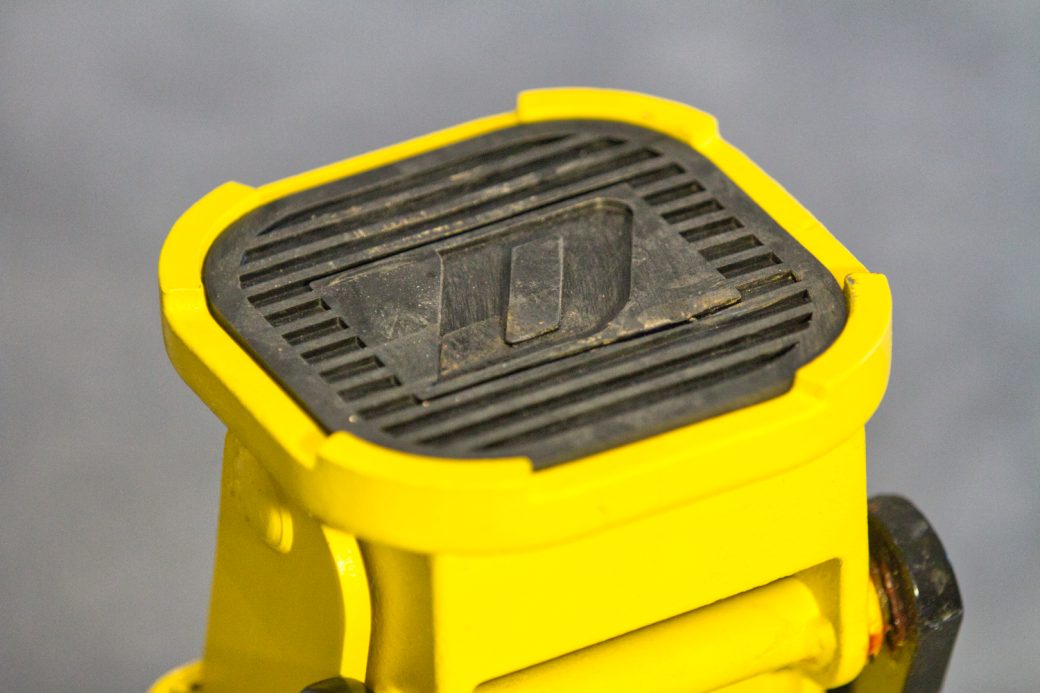 Lowering the jack is nice-n-smooth. Like most floor jacks, slowly turning the pump handle counterclockwise lowers the jack. While the large saddle and beefy lifting arm allow the jack to collapse under its own weight when being lowered, ours never fully lowers. We have to apply a little pressure (hand of feet) to get the jack all the way down in its lowest profile position. It's fine… just making note of it.
Maintaining the Daytona floor jack is a simple ordeal, as there are easy-access grease fittings in the lift arm pivot, handle socket, and the front wheels to keep things running smoothly. You shouldn't need to use too much grease or too often, so lube this jack only when things start getting stiff. Yeah, we said that. If the floor jack starts to become difficult to pump or starts descending under the weight of whatever it's lifting, you may need to add some hydraulic jack fluid, which is done by removing the rear faceplate and unscrewing the fluid cap. Again, you should not need to do this too often.
Overall, we absolutely love this floor jack. It's very well-built, performs great, and is priced just right—especially when compared to the Snap-On floor jack that started the whole legal battle, which currently sells for about $900.
All thumbs-up on this one so far! ????
Rating Criteria
When compared to a specific Snap-On brand floor jack, this floor jack is almost identical. In fact, Snap-On sued HF because of it (but the case was dismissed). It's a damn fine jack and we highly recommend it, especially if you've got a lifted truck, Jeep or SUV.