Working on your engine or under your car and struggling to see anything? All you need is a proper work light specifically made with mechanics in mind!
EDITOR'S PICK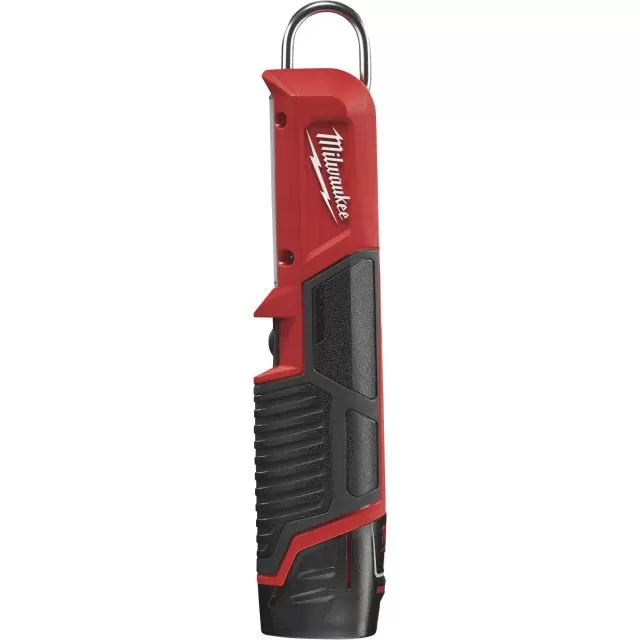 Cordless stick LED work light for mechanics
Trueview technology
220 lumens
Work with Milwaukee 12V M12 batteries
Weight: 0.55 lbs.
3 high-quality LED units
Run time: 11 hours on 4.0Ah battery
Heavy-Duty Pick
Cordless pocket LED work light for mechanics
500/250 lumens
Uses DeWalt's 20V MAX rechargeable battery
Weight: 1 lb.
3 powerful LED units
Molded lens cover
BUDGET PICK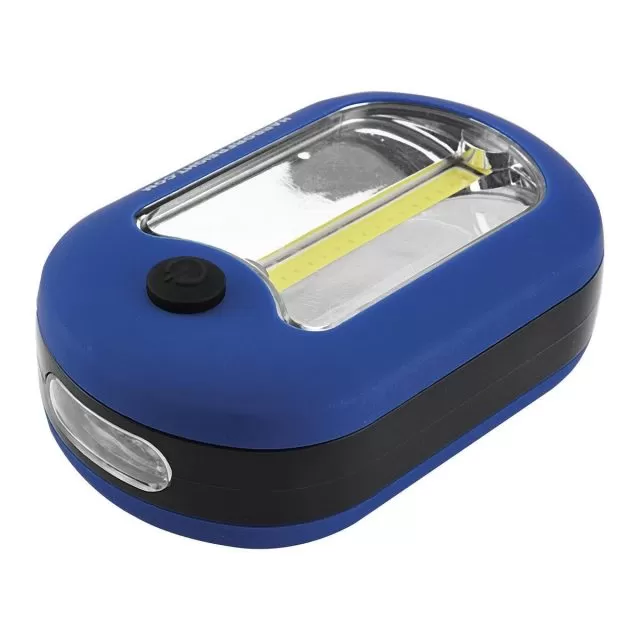 Cordless portable LED work light for mechanics
144 lumens
Uses three AAA batteries
Weight: 0.25 lbs.
27 LED units
Run time: 48 hours
If you are in the field as a professional technician or a weekend DIY'er, I don't need to tell you that mechanics work incredibly hard, and despite the harsh working conditions, the compensation is, most of the time, far from proportional. But of course, more than just a career, auto mechanics is first and foremost a passion and those conditions are part of the deal.
Still, changing very simple things in the shop can sometimes make a world of differences. The right tool at the right moment can make your life significantly easier and while some don't look like much, they're simply essential. For instance, you really don't want to work without a good work light specifically designed for mechanics. Once again, if you play around cars, you already know that, no matter how well-lit your garage is, there will always be that dark spot, deep in an engine bay, where the bolt you need to remove is hiding. Luckily, a good work light is all you need here.
Our team of experts has taken the time to meticulously go through the ton of work lights available online market so you don't have to. We have handpicked eight of the best work lights for mechanics and reviewed them below, along with an extensive guide on choosing the right one depending on your specific needs and budget. And as usual, we tried our best to keep the list as diverse as possible, so you'll without a doubt find a model that's exactly right for you.
Enjoy!
Best Work Light for Mechanics Reviews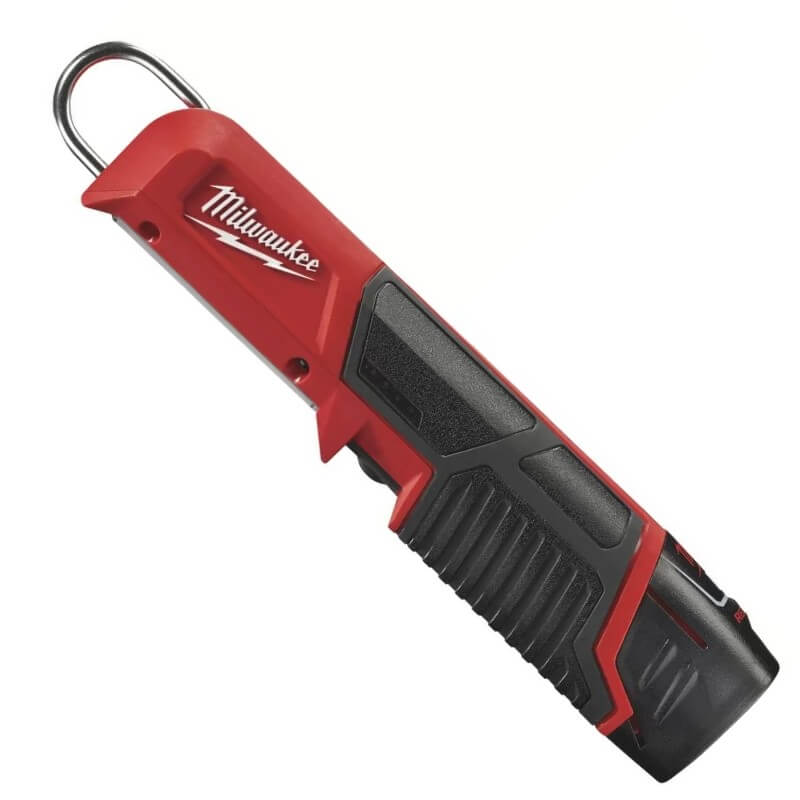 When it comes to automotive tools, Milwaukee doesn't need an introduction anymore. It's been sitting atop the power tool market for a while now, consistently using advanced technology to gain a distinct edge over the competition. And apparently, even a tool as simple as a work light can benefit from modern tech, and Milwaukee's Trueview system is here to demonstrate that.
For a start, Milwaukee's M12 stick LED light produces 220-lumen of high-definition neutral white light distributed evenly for optimum visibility and an adjustable stainless steel hook so you can use both hands freely. And if there's nothing to hang it on, Milwaukee also offers an accessory magnet letting you mount the light to any metal surface.
Worth mentioning, it works with any Milwaukee M12 batteries they aren't included with the light — they're sold separately. However, if you own other tools from the M12 product range, you can simply use the same batteries for this work light (you might want to get your hands on a couple more batteries, though; nothing is worse than a work light running out of juice in the middle of a job).
As anything else produced by Milwaukee, the 2351-20 stick light is built for use in harsh work conditions, as evidenced by the rugged lens used to protect the LED cluster. The lens is impact & chemical resistant; however, if anything goes wrong, it's backed by a 5-year limited warranty and Milwaukee's pretty decent customer service. However, it's important to keep in mind that the sturdy casing makes it a bit bulky and it might not fit everywhere; it's honestly better used in conjunction with another slimmer model.
Still, if you want a work light with an interchangeable battery performing better than most, and that will do so for years, get this one!
(Full disclosure, this is one of the work lights I keep in my "home" tool chest and I love this thing — I might not be fully impartial here lol)
Highlighted features
Cordless stick LED work light for mechanics
Trueview technology
220 lumens
Work with Milwaukee 12V M12 batteries
Weight: 0.55 lbs.
3 high-quality LED units
Run time: 11 hours on 4.0Ah battery
Pros
Interchangeable batteries with other Milwaukee M12 power tools
Stainless steel hook for easy mounting
High-definition output
Impact and chemical resistant lens
Ergonomic design and comfortable handle
Five years limited warranty (tool), limited lifetime warranty (LED)
Cons
No batteries included
Does not work while charging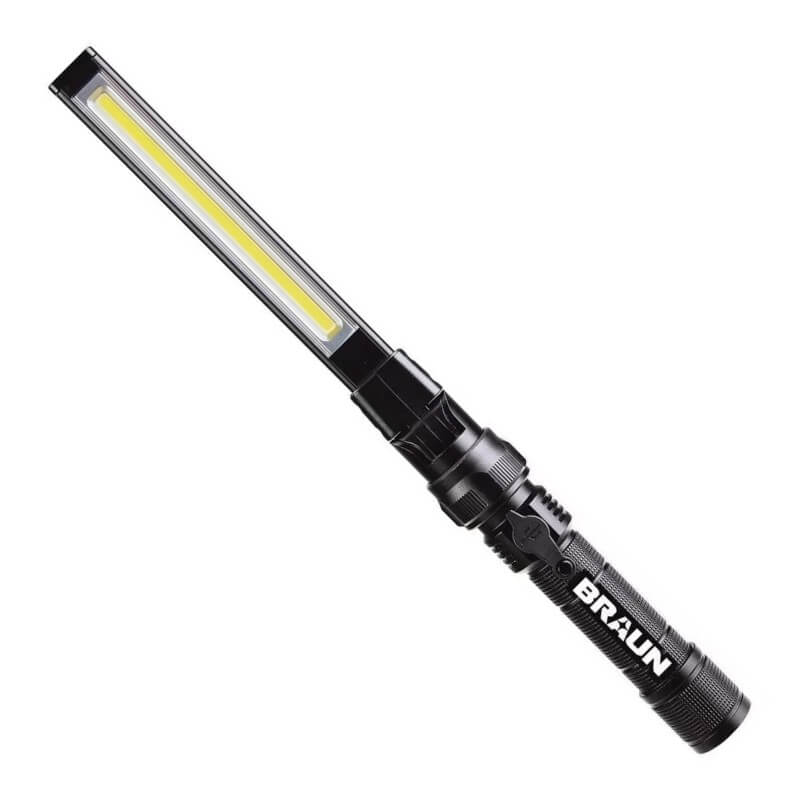 The Braun 56329 is a 390-lumen slim bar-type folding LED work light for mechanics — yep, all that. This is exactly the kind of work light you need when the previous model won't fit. Indeed, the super-slim folding head is designed to fit pretty much anywhere and the robust magnetic base allows to mount the tool on any metallic surfaces for hands-free operation (a standard feature, this time).
Braun's work light uses an integrated lithium-ion battery that can be charged using any micro-USB port. And for merely four hours of charging time, you'll get up to 11 hours and 39 minutes of run time on "low" power mode, good enough for the longest workdays. And even if you work more than 12 hours a day (which could be a bit overkill but who am I to judge?) and run out of power, you can use a USB extension, plug it in and keep working — you simply can't overwork that thing.
If your line of work involves performing odd jobs in extremely tight spaces (so basically any mechanic out there), the Braun Slim Bar work light is a must-have tool in your arsenal. It is versatile, portable, and highly usable for various applications.
Highlighted features
Cordless foldable LED work light
Integrated Li-Ion battery
390 lumens
Rechargeable using a micro-USB cable
Weight: 0.65 lbs.
3 high-quality LED units
Charging time: 4 hours
Run time: 11 hours 39 minutes
Pros
Lightweight aluminum construction
Can be used while charging
Integrated flashlight
Magnetic support base
Cost-effective option
Wide illumination range
90-days limited warranty
Cons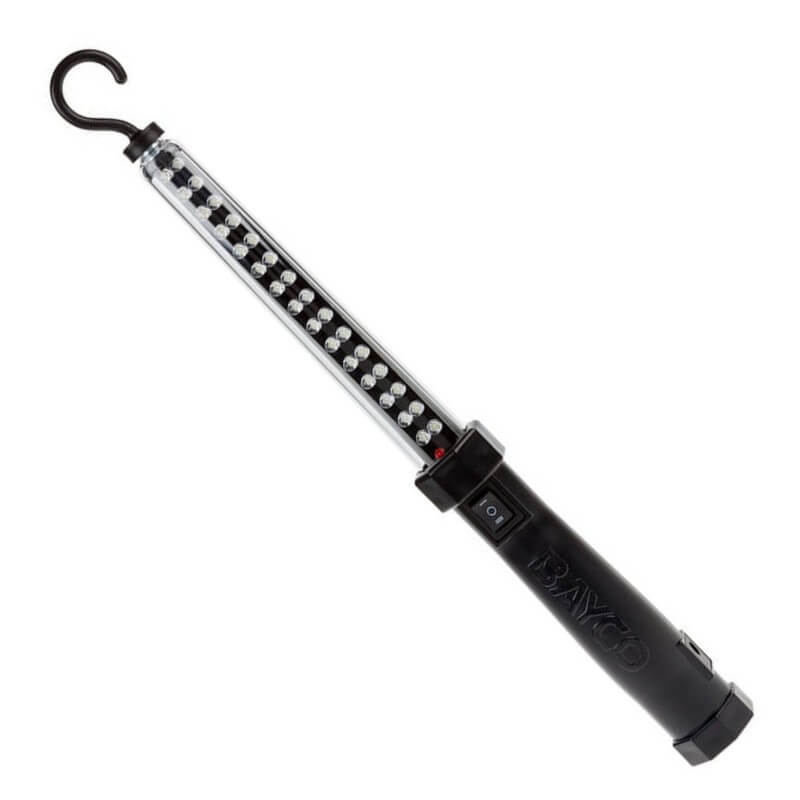 Before I start with this one, I have to mention that this work light is probably the most used in the industry. Of course, I have absolutely no data whatsoever to support my claim but I'm quite confident about it. Why? Basically, because this is the exact same model that was usually supplied by "default" when starting a new job in pretty much every repair shop I worked in — it's the work light that comes with the working bay. It's cheap, reliable, it does what it's supposed to do, and if you want something better, well that you can buy that yourself.
The Bayco BAR-2134 is another rechargeable work light for mechanics with an integrated battery — only this time, the battery is made from nickel hydride, instead of the familiar lithium-ion construction. Of course, experienced mechanics may be aware that nickel hydride batteries underperform in almost every aspect compared to lithium-ion units. Still, the effects are practically negligible when dealing with a work light (the same wouldn't be true if it was a cordless impact wrench, for instance).
Bayco's work light is equipped with 34 bright LEDs, 30 for the central floodlight rated at 200 lumens and the remaining 4 at the base, good for 20 lumens, to be used as a flashlight.
Still, versatility is where the Bayco BAR2134 work light really stands out from the crowd. Indeed, where other models only offer one hook or magnet, Bayco's comes with not one but two built-in magnets, in addition to a detachable magnetic hook. As a result, you get four different mounting options; you can use either of the two magnets on their own or attach the hook to them to get a 360° range of motion.
As said before, this one is definitely not the most advanced model out there but it's quite reliable, works incredibly well as an everyday light and since it's super affordable, which is especially interesting if you are the type of mechanic who regularly drive on your work light or leave it in a customer's car every once in a while (if you ever lost a $200 work light because you left it hooked under a client's car, you'll understand why I now make sure to also have a cheaper model for everyday stuff lol).
Read more: 7 Best Underhood Work Lights [2021 Review]
Highlighted features
Cordless stick LED work light
Integrated nickel hydride battery
200 lumens (floodlight), 20 lumens (spotlight)
Rechargeable using a unique adapter cable
Weight: 0.55 lbs.
34 LED units
Pros
Two-in-one floodlight and spotlight combination
Comfortable handle
Octagonal stoppers prevent it from rolling
Offers several mounting options
Lightweight and compact
One-year limited warranty
Cons
Magnets could be more powerful
Detachable hook is easy to lose
Uses a somewhat outdated battery design
Charging cable uses a non-standard pin, which can make it challenging to find a replacement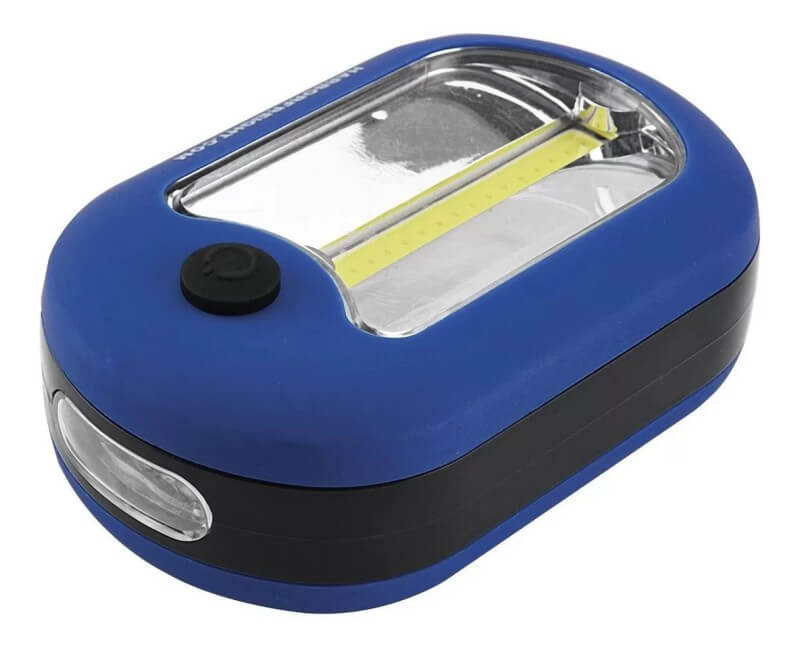 Harbor Freight's 144-lumen portable LED work light is the most basic model you will ever find. Still, it packs all the features we have seen so far in a much more compact package and at a much lower price — it cost pennies.
And despite being only slightly wider than an average mobile phone, it still includes a work light, a flashlight, a magnet, and a 360° swiveling hook. Of course, at only 144 lumens, it's slightly less powerful than the more expensive models above but the ultra-bright white light produced is still pretty decent and it will run up to 48hrs of continuous use (which is a lot) on just three AAA batteries. Once they run out, simply swap them out with new ones and get back to work right away — no need to wait until it's charged. And if you don't like the idea of wasting tons of batteries, keep in mind that you can also buy a pack of rechargeable AAA batteries and use and recharge them in a rotation.
Not bad for a work light costing barely the same as a large coffee.
No need to mention that the Harbor Freight Ultra Bright Portable LED is probably not intended to be used as your go-to work light; you'll still need to buy a regular one for everyday jobs. Still, it's small enough to be carried in your pockets and can illuminate any area with the press of a button.
Sure, this one will certainly not last as long as standard work lights. But think about it. At this price, you can basically buy 30 of those for the same price as the more premium DeWalt model below — that's not to neglect!
Highlighted features
Cordless portable LED work light for mechanics
144 lumens
Uses three AAA batteries
Weight: 0.25 lbs.
27 LED units
Run time: 48 hours
Pros
Magnetic base and 360° swiveling hook for secure mounting
Comes with an integrated flashlight
Extremely versatile and portable work light
Costs next to nothing
Small yet very handy
90-days manufacturer warranty
Cons
Not as powerful as other models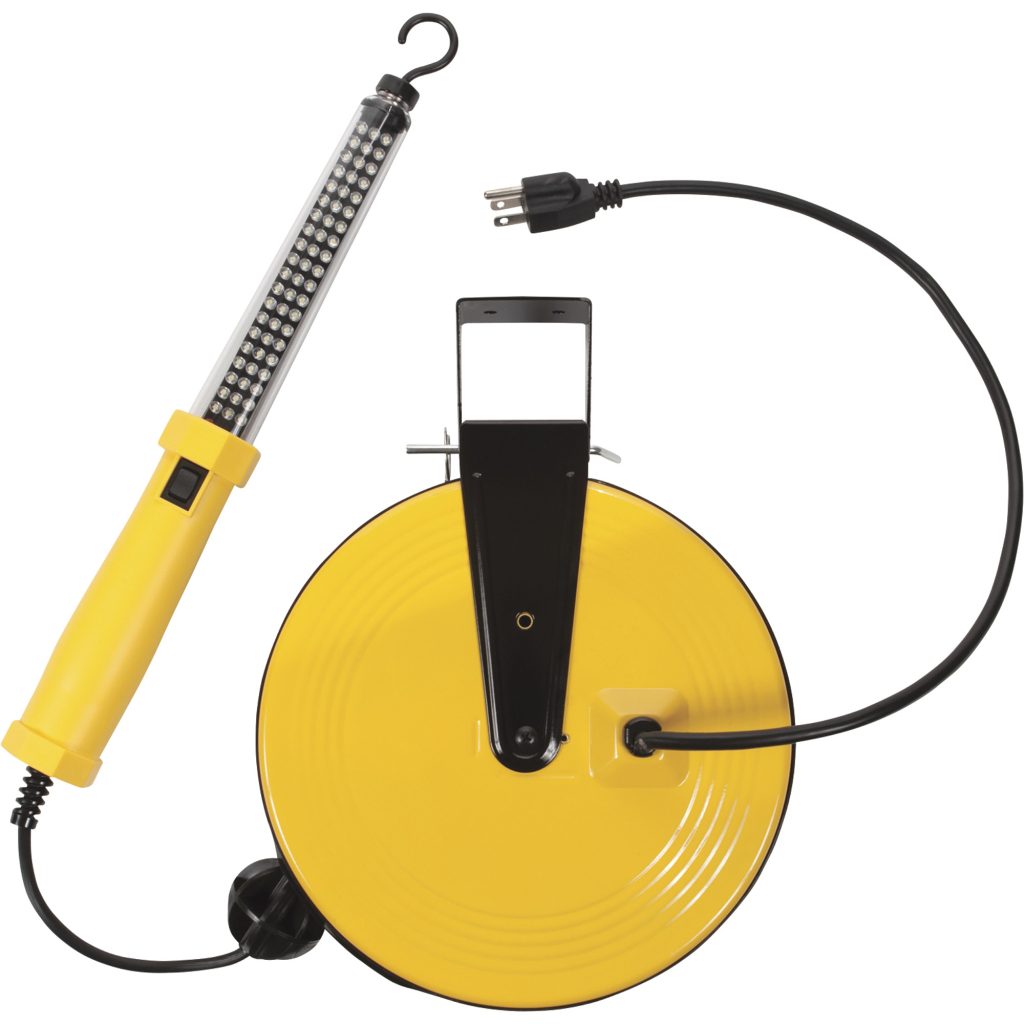 Cordless work lights are very convenient until the batteries run out, and your only option is to wait for them to recharge patiently. You can always make sure they are on the charger before leaving for the night, but then the day will inevitably come when you'll forget to plug them in, only realize it the next morning and now have to work a whole day with a work light dying every 5 minutes. Yes, you can operate some models while charging, but not everyone has an electric outlet within arm's reach of their workstation.
But don't worry, the Bayco SL864 is here to kill all those birds with one stone. This model is a corded work light with a 50 ft. cord stored away in a retractable reel — basically what mechanics used for years in the olden times. It's equipped with 60 LEDs working in unison to produce a pretty decent 120 lumens. As is the case with other Bayco work lights, you also get two magnets and a detachable magnetic hook for mounting purposes.
So let's be honest here; it's not nearly as powerful nor convenient as other more modern work lights. However, it does the job, won't die on you when you need it and will be supporting you while you sweat in your garage for years.
And after all, not everyone has to be always modern all the time. Some of us prefer the old school stuff and it's totally cool. If you miss the good ol' days, this is the work light you need!
Highlighted features
Corded work light with retractable reel
120 lumens
50' long cord
Weight: 8.6 lbs.
60 LED units
Sturdy metal casing
Pros
Corded operation means no hassle charging batteries
Impact- and chemical-resistant body
Flexible mounting options
Extra-long cord for longer reach
Auto-locking and auto-rewind reel
One-year limited warranty
Cons
Costs more than other models
Not suitable for mobile mechanics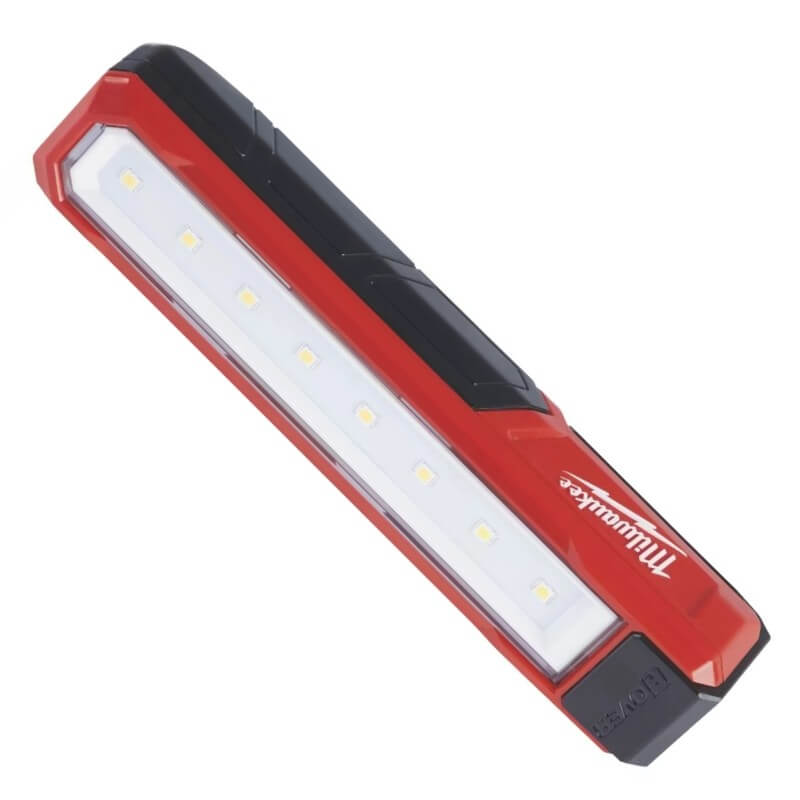 If you are the type of mechanic who likes to always have a work light in one of his pockets for those times when a client goes "do you have a minute do come check something on my car outside?" and 2 minutes later, you find yourself kneeling down trying to find what's making that noise in semi-darkness, here's a pocket model definitely worth the look.
The Milwaukee 211221 USB Rover is designed to be any mechanic or DIY'er's best friend, no matter the project or job at hand. And don't be fooled by its compact size; the Rover pocket work light packs one heck of a punch. Indeed, it's equipped with eight LED chips able to produce up to an impressive 455 lumens in high-power mode. Of course, there's also a low-power mode providing a respectable 100 lumens, increasing total battery life up to 11 hours.
The Milwaukee Rover utilizes the brand's REDLITHIUM USB battery that can be recharged using a standard micro-USB cable. However, unlike other most cordless work lights, the 211221 Rover's batteries are not integrated into the unit. Hence, you can also replace the drained-out battery for a charged one and carry on working with virtually zero downtime.
Milwaukee's work light is the perfect go-anywhere model and one you can always have on you. It is small enough to fit in your pockets and even comes with an IP54 rating for water and dust resistance.
If you want the best pocket work light on the market, this is the one!
Highlighted features
Cordless pocket LED work light for mechanics
445/100 lumens
Uses Milwaukee's REDLITHIUM rechargeable battery
Weight: 0.36 lbs.
8 high-power LED chips
Run time: 11 hours in low-power mode
Pros
Comes with a rechargeable and replaceable battery
Two light modes allow greater flexibility
Extremely versatile and easy to use
Two magnetic mounting points
IP54 water and dust resistance rating
Lifetime limited warranty
Cons
Runs only two hours on high-power mode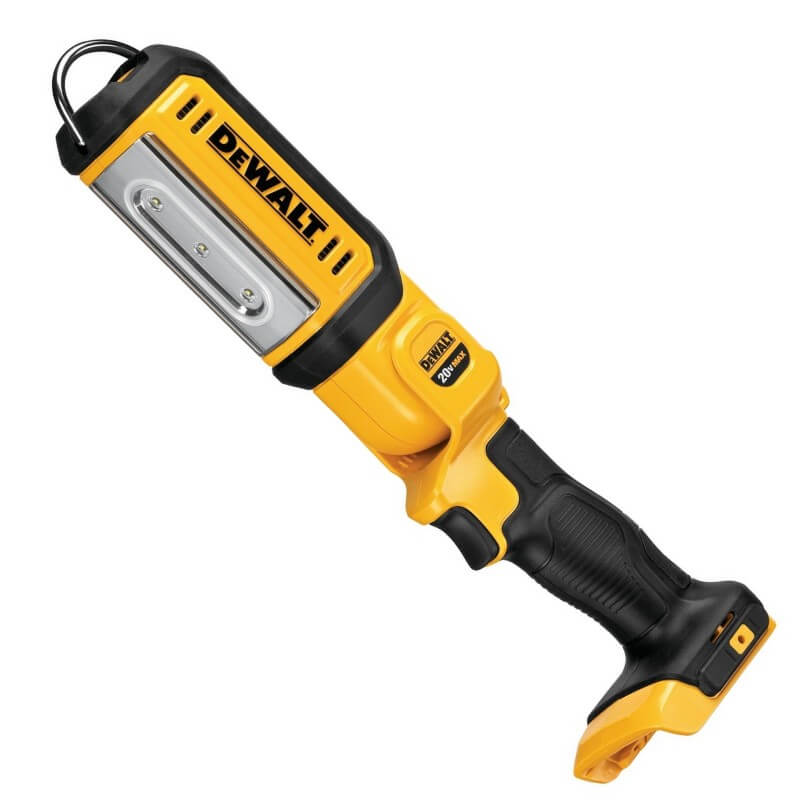 If you're looking for a truly heavy-duty model capable of handling years of abuse in the shop, look for the DeWalt DCL050 LED work light. It works on DeWalt's well-proven and time-tested 20V MAX system, which employs three high-power LED outputting 500 lumens of bright light in high-power mode. You also get a low-power setting compromising brightness output in favor of a longer run time.
Dewalt's work light features rugged build quality thanks to an over-molded lens cover and body capable of handling significant impacts. Furthermore, you get a 140° pivoting head allowing you to direct the light exactly where you need it. You can even choose to hang the DCL050 from any location or materials up to 2" thick using the telescopic and 360° rotating hook.
The only real disadvantage is the absence of a mounting magnet, but if you can look past that, the DeWalt DCL050 is one of the best work lights for mechanics, especially those specializing in big rigs and heavy equipment. However, it's important to keep in mind that it might be a bit big for mechanics working on everyday cars. Modern vehicles are ever tighter and there's no way this thing would fit in an engine bay. Still, if you need something that can be dropped from 5 feet high and survive to fight another day, this is what you need!
Highlighted features
Cordless pocket LED work light for mechanics
500/250 lumens
Uses DeWalt's 20V MAX rechargeable battery
Weight: 1 lb.
3 powerful LED units
Molded lens cover
Pros
Great value for money
140° pivoting head for added flexibility
Integrated telescopic and 360° rotating hook for easy mounting
Durable construction for heavy-duty work environments
3-years limited warranty with one-year free service
Cons
Battery not included
No magnetic mounting points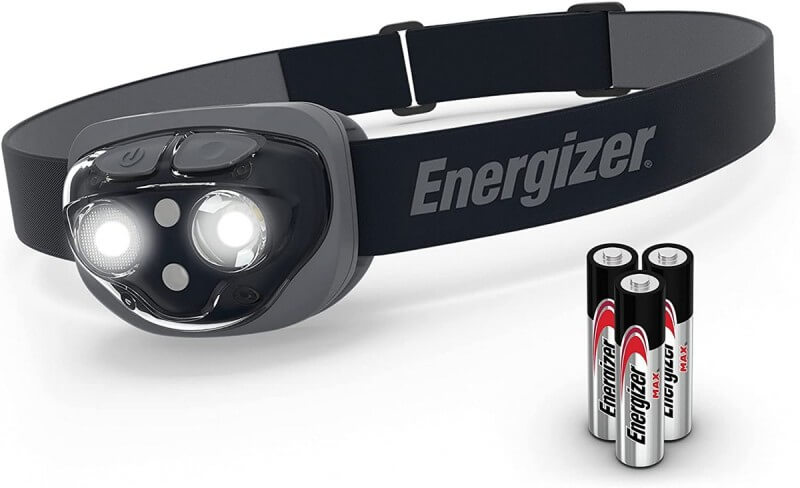 Ok, this one might not be for everyone but some people only swear by headlamps nowadays — and I have to admit that, in some cases, these little things can really come in quite handy, The idea is to use a small head-mounted lighting unit instead of a large handheld tool, leaving your hands completely free, and saving time normally wasted on finding a suitable mounting point.
The lighting unit consists of two super-bright LEDs mounted to your forehead using an elastic band for optimum comfort. You'll need three AAA batteries to power this setup, and depending on which mode you use, a single set of batteries can last up to 50 hours. Moreover, there are seven light modes to choose from: high, low, wide, wide low, red, flashing red, and green.
The Energizer LED work light is designed for mechanics who like to practice an "all hands on deck" approach while working. It is also especially suitable when working under a car, lying on a creeper, where regular-sized work lights just won't fit. And even better, you can also use it next time you go camping and try to find the bathroom in the middle of the night.
However, it's important to keep in mind that, since it's always directed right ahead of you, you actually need to look where you want it to point. In some cases, when you are stuck elbow-down in an engine bay, it may not be ideal.
Nonetheless, if you are looking for a headlamp you can use confidently in the shop, Duracell's model is definitely worth trying.
Highlighted features
Head-mounted LED flashlights for mechanics
360 lumens
Uses three AAA batteries
Weight: 0.2 lbs.
2 powerful LED units
Run time: 50 hours low-power mode
Pros
The elastic headband is secure, comfortable, and unaffected by sweat
Extremely versatile work light
Affordable
Leaves both hands free
Rugged build with shatterproof lens
Can be used in heavy rain thanks to IPX4 rating
Long run time
Cons
Navigating between modes can take some getting used to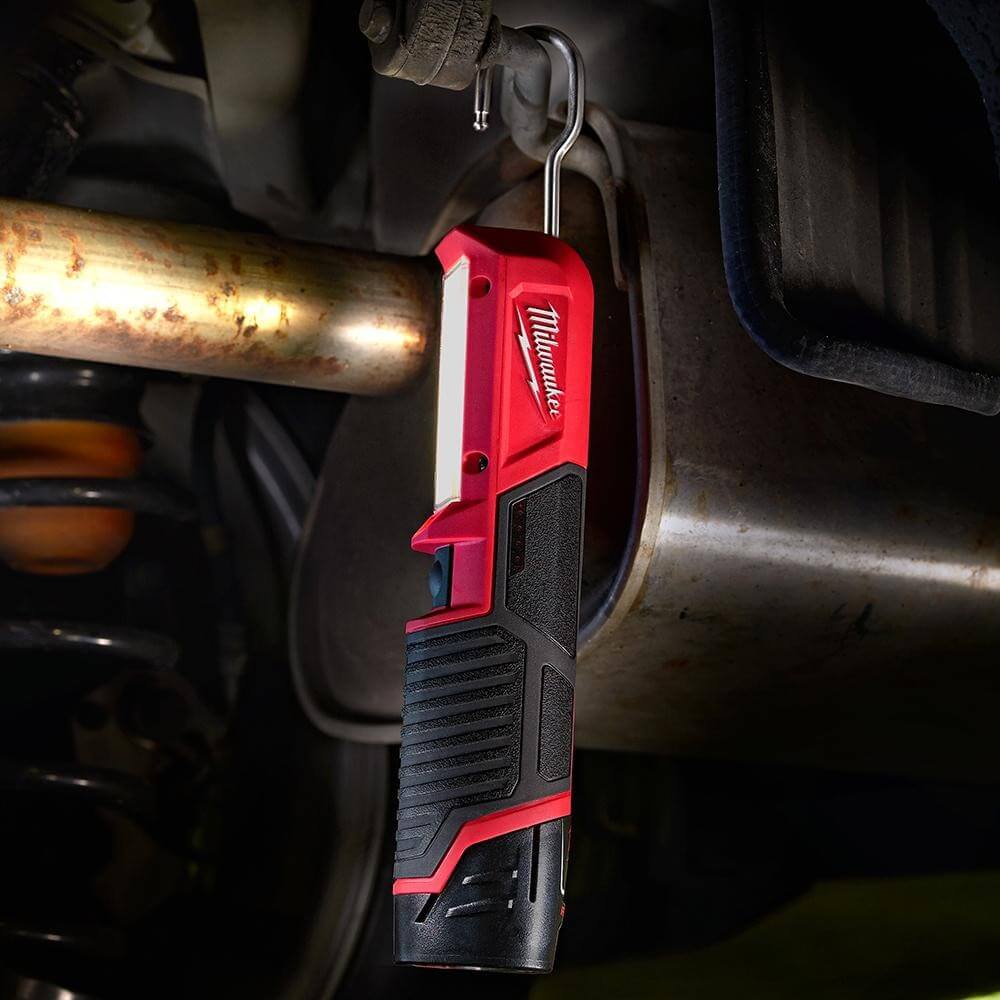 What to Consider When Buying A Work Light for Mechanics
Brightness output
Any light's brightness is measured using lumens, the standard measuring unit of luminous flux, or the total quantity of light output produced by an active source, per unit of time. In simpler terms, lumens assign a quantitative characteristic to any light source based on its brightness, and the higher the lumen rating, the brighter it is.
For comparison purposes, direct sunlight is rated at approximately 120,000 lumens. Of course, you won't need something that powerful here (although a pocket sun could sometimes be helpful), but as a general rule, the higher the better — I have never seen anyone who complained that their work light was "too powerful".
Mounting options
A work light's mounting system is the second-most important factor to consider and in this case, go for the classic "it is better to have and not need than need and not have" approach. Hence, pick a work light with several mounting options like hooks, magnets, and more. You never know what your next project may be, so it is better to have as many mounting options as possible. Also, ensure your work light comes with strong magnets capable of holding its weight, and then some — weak magnets are just frustrating…
Power source
Since all work lights are electric tools, they can be classified into two general categories based on the power source: corded and cordless. Each type has several sub-categories, but it is best to consider the two main types for all practical purposes.
As the names suggest, corded work lights work when plugged into an electric outlet, while cordless models run on batteries that are often rechargeable. Each type has its unique pros and cons, but for most situations, cordless work lights seem to have a distinct advantage. Still, it all comes down to the intended use and personal preference.
Battery characteristics
When it comes to cordless work lights, it is crucial to consider several battery qualities, such as charging time, run time, and the type of battery. Most modern work lights use advanced lithium-ion batteries for longer service life and better efficiency compared to outdated counterparts. There is no specific requirement to look out for here but just know high-quality batteries provide longer run time and charge much faster.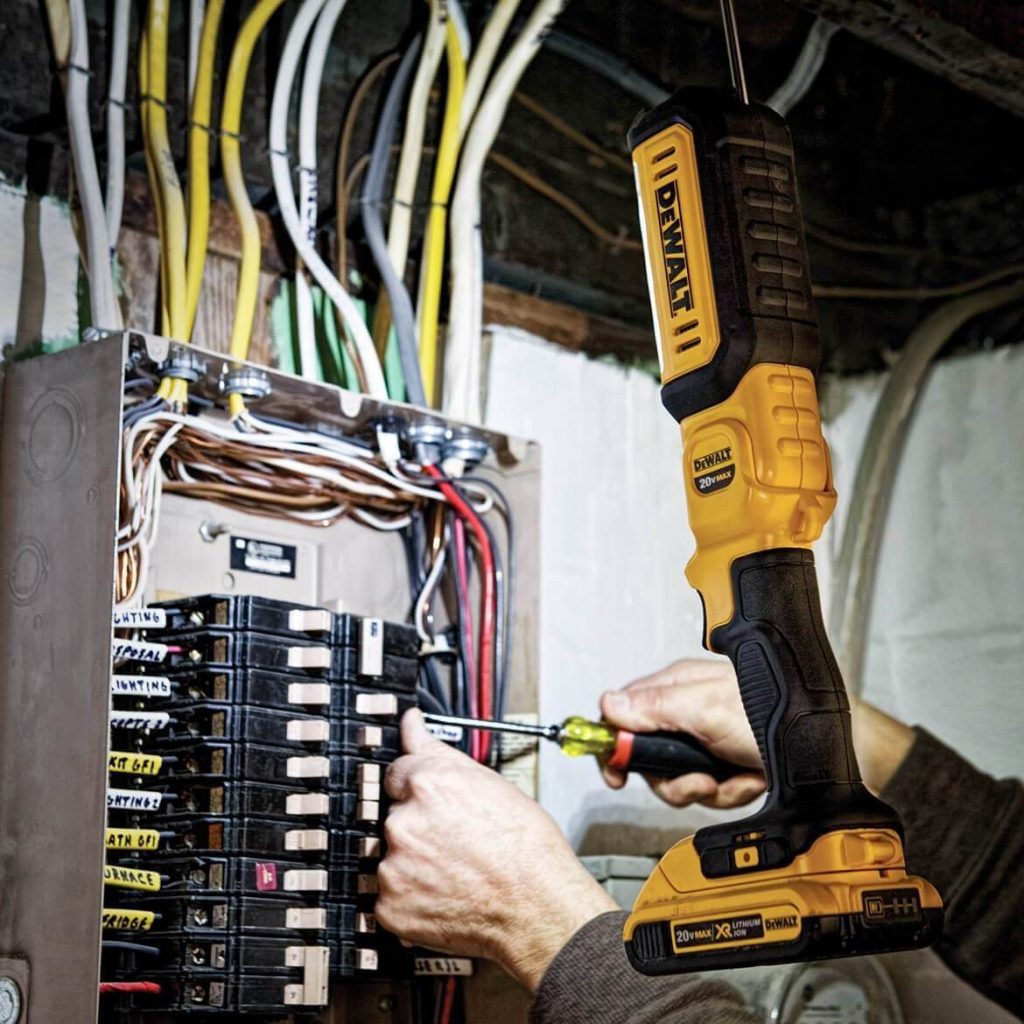 Frequently Asked Questions (FAQs)
Can overcharging damage my work light?
Although modern battery technology has made great strides over recent years regarding overvoltage protection, overcharging can still be somewhat harmful to your battery. It can cause leaks, increased pressure, and temperature conditions, and in some cases, the battery could literally explode. However, these are sporadic cases, and the most common effects include decreased run time and higher operating temperature.
But if you ask me, I've been using cordless work lights for about 10 years now (I've been in the field for about 15 years now but I guess it took me the first five before I was able to afford it lol), and I have always just plugged them in at the end of the day, only to unplug them the next morning. Of course, after a while, you can tell they don't hold their charge as much but it's been 5 years and it's probably time to get a new one anyway.
Would they have lasted longer if I had only plugged them for the most optimal period every day? I have no idea. But don't forget that work lights are "consumable" tools. They are not sturdy hammers or pry bars; they are made of plastic and will still go through hell. Whether it's scratches, falls, water, rain, dirt, or anything else, they are bound to break at some point.
In my opinion, you are better off buying a slightly cheaper model that you can replace more frequently than buying a really expensive model and just want to cry if you happen to leave it plugged overnight, drive over it, crush it between an engine and a subframe, or simply leave it in a customer's trunk.
But that's just me… ✌
How important is build quality in work lights?
Mechanics work in harsh environments where a work light can be subjected to numerous impacts and drops. A good work light needs to be built well with high-quality materials to withstand such challenging conditions. Most models come with reinforced lens covers to protect the expensive LED units and rugged rubberized molding for the rest of the body. At the same time, a comfortable and ergonomic grip handle is also an important quality.
But once again, don't get too attached to your work lights. You are better investing in a decent impact wrench than a high-tech work light with a ton of bells and whistles. After all, you can unscrew a bolt with a ratchet and no light, but not the other way around.
Not to mention that if you are running on a tight budget, you can very well go for the Harbor Freight Portable Worklight and call it a day for less than $5 — it won't last as long as others but it will do the job just fine.
Read more: Best Garage Lighting to Finally See Something in There!
What light temperature is best for mechanics?
Modern LED lights come in several color temperatures. However, in my experience, cool white light is the best option. Indeed, cool white light enhances contrast, making everything look sharper, which is of the utmost importance when working on a car.
White light can also keep you awake and alert, another important feature for mechanics, especially those working overnight in the garage to get this rally car back on track the next day. Meanwhile, a warm light (more similar to the sunset or a candle) is better for your living room, as it tones down the contrast and lets you relax.
Verdict
Put simply, if I had to pick, and I did since I bought it last year, the Milwaukee M12 2351-20 Stick LED Light is the best all-around work light for mechanics. It comes with everything a mechanic needs in a work light — high output, flexible mounting options, long battery life, ergonomic design, and so much more.
However, this doesn't mean all other models in the list are substandard. Each work light is excellent in specific situations; for example, those working in harsh industrial conditions would greatly benefit from the DeWalt DCL050 20V MAX LED Work Light's heavy-duty construction. On the other hand, mechanics who just can't stand the idea of having to manage batteries should go for the tested and true Bayco SL864 corded work light.
And if you aren't sure, go for the BRAUN Slim Bar Folding Work Light, it's reliable and will fit in most scenarios — you just can't go wrong with this one!