EDITOR'S PICK
Hyhoshi Deformable Garage LED Light
Technical specs: 150W & 15000 lumens
Emits 6500K light
Overall dimensions: 6.42" X 6.3" X 4.84" (when collapsed)
Total weight: 1 lb
ABS plastic construction
8-leaf garage lighting system
Screws onto standard E26/E27 base outlet
PREMIUM PICK
Lightdot 150W5K LED High Bay Shop Light
Technical specs: 150W & 18000 lumens (combined)
Emits 5000K light
Overall dimensions: 23.7" X 12.6" X 3.38"
Total weight: 19.8 lbs
Aluminum LED lighting fixture
Suspended or hanged from the ceiling
BUDGET PICK
Tanbaby E26/E27 Garage Ceiling LED Lights
Technical specs: 60W & 6000 lumens
Emits 6000K white light
Overall dimensions: 7.44" X 6.61" X 4.88"
Total weight: 1.37 lbs
Aircraft-grade aluminum construction
Three 90° adjustable LED units
Screws onto standard E26/E27 base outlet
You may not realize it, but your house garage is a lot more than a storage space for your car. For some, a garage is a place to unwind after a long day's work by doing some relaxing activities like painting, yoga, etc. At the same time, others may use it as headquarters for their small yet growing business operation. But yes, most people reading this blog probably spend a significant majority of their free time holed up in the garage, working on their vehicle. Of course, we think it's therapeutic too! But to make sure the experience is not ruined by you stubbing your toe on a sharp corner in the poorly lit part of your garage, you need appropriate garage lighting.
Since not all garages are the same, choosing the right garage lighting can be tricky. To make the entire process is as hassle-free as possible, we have come up with this comprehensive review of 7 of the best garage lighting systems currently on the market. The list includes at least one option for all different garage types and has everything you need to know to make an informed decision.
Sit back and enjoy!
Best Garage Lighting Options
The Tanbaby garage lighting system is a compact and practical model. Despite being our 'budget pick,' Tanbaby's light is impressively capable and easy to use. The setup consists of 3 LEDs emitting white light at 6000 lumens; that is 1.5 times more than other lights with the same wattage. But the best part about this garage light is the simple installation process. All you have to do is screw the lighting unit into your regular E26/E27 base, and you are good to go. Besides, thanks to the use of the latest energy management technology, using it can save up to 85% energy compared to other systems.
Furthermore, Tanbaby's model has strong, durable aircraft-grade aluminum construction and fins near each LED to optimize heat dissipation characteristics. You can individually adjust the aluminum heads in the 90° range to focus the wide-angle glare on any object in the garage.
If you have a small garage with a low ceiling, the Tanbaby LED light is the most affordable and the best garage lighting for you. It is a fantastic alternative to conventional bulbs and is backed by quality assurance for the first 2 years from purchase.
Highlighted features
Technical specs: 60W & 6000 lumens
Emits 6000K white light
Overall dimensions: 7.44" X 6.61" X 4.88"
Total weight: 1.37 lbs
Aircraft-grade aluminum construction
Three 90° adjustable LED units
Screws onto standard E26/E27 base outlet
Pros
Aluminum fins for better heat dissipation
Adjustable heads allow you to cover a 360° area
Decent brightness output with up to 85% energy savings
Extremely easy to install
50,000 hours total lifespan
Low cost
No wiring required
2 years quality assurance with quick customer service
Cons
Not enough for medium to large garages
Even in a small garage, using a lighting system comprising just one small light-emitting unit can often be inadequate. No matter how bright a single-unit light is, it will never match the illumination range of a multi-point lighting system. That is where the Best World LED C50 comes in; it is a multi-point garage lighting system with double the wattage and brightness compared to the previous model. With one main 60W lamp and 4 small pods rated at 15W each, you can be assured there will be no poorly lit corner in your garage.
However, installing the C50 garage lighting is not as straightforward as the previous model. The main lamp screws into your standard E26 base, but the satellite lamps must be connected by wire to the main light. As a result, the maximum distance between the main unit and any satellite lamp is limited to 8.8 feet. Still, the good news is you don't need separate power outlets for each light.
The Best World LED C50 boasts a die-cast aluminum construction for strength and optimum heat dissipation qualities.
If you want every nook and cranny of your small garage to be flooded with white light, there is probably nothing better than the Best World LED C50 garage light. It may not have adjustable arms like other models, but you don't need them when you have a far-reaching 5-point system.
Highlighted features
Technical specs: 120W & 12000 lumens
Emits 6500K cool light
Overall dimensions: 11.39" X 10.29" X 3.86"
Total weight: 3.74 lbs
Aluminum and ABS plastic construction
5-point lighting system
Screws onto standard E26 base outlet
Pros
Insanely bright
Multi-point illumination covers all corners of your garage
50,000 hours total lifespan
Decent color rendering index
Perfect for small garages
You can choose how many satellite pods to use as per requirement
Only one E26socket required
Low cost
High value for money
3 years manufacturer warranty
Cons
Maximum length of cables is 8.8 ft
Slightly complicated installation process
Another garage light that screws into E26/E27 sockets is the Hyhoshi deformable garage lighting unit. It is an 8-leaf LED system with complete adjustment capability, projecting white light in all four directions.
The four primary LEDs attached to the main pod are free to move 90°, while the outer four LEDs can pivot 210° for broad coverage. Each of the eight LEDs is packed with 192 advanced wafer chips that produce a combined brightness output of up to 15000 lumens while saving 85% energy compared to incandescent bulbs.
Hyhoshi's garage lighting system is constructed from ABS plastic, known for its exceptional strength and the ability to withstand rough use. Special care is also taken to ensure adequate heat dissipation and corrosion resistance.
The Hyhoshi deformable garage LED is an excellent option among the E26/E27 bulb-type systems with an unmatched degree of adjustability. The high degree of adjustment it offers comes in handy whether you want to illuminate a specific workbench or the entire garage. Plus, there is a 3-year manufacturer warranty for complete peace of mind.
Highlighted features
Technical specs: 150W & 15000 lumens
Emits 6500K light
Overall dimensions: 6.42" X 6.3" X 4.84" (when collapsed)
Total weight: 1 lb
ABS plastic construction
8-leaf garage lighting system
Screws onto standard E26/E27 base outlet
Pros
Simple installation process
Low cost
Adjustable nature allows for maximum coverage
50,000 hours total lifespan
High brightness output with significant energy savings
Unique fin design for better heat dissipation
3 years manufacturer warranty
Cons
Not suitable for large or high ceiling garages
The Barrina LED linkable garage light is a genuine heavy-duty option made to commercial-grade standards. It is an immensely bright 20W LED light that uses an advanced double-row LED chip configuration with superior illumination. Barrina's garage light comes in pairs, and each 23.86" long tube light is rated at 2500 lumens brightness.
An innovative feature of this garage light is its linkable nature that gives your three flexible connection options. First, you can plug each tube light into any standard wall socket using the 59″ power cord with an integrated ON/OFF switch. If you don't have more than one power outlet available, you can use the 48" connector cables to connect up to 12 lights in series. For applications such as paint booths or quality checking where high light output is required in compact spaces, you can use the included small adapters to achieve the desired effect.
Even though this garage lighting is for commercial purposes, it will also work perfectly in your home garage. The best part about the Barrina linkable LED tube light is that you can choose how many units you want based on your garage's area and place them in a way to provide optimum illumination.
Highlighted features
Technical specs: 20W & 2500 lumens (per light)
Emits 5000K bright white light
Overall dimensions: 23.86" X 1.30" X 1.38"
Total weight: 1.95 lbs
Polycarbonate construction
2-piece corded tube lighting system
Mounted on any flat surface with included brackets
Pros
Comes with mounting brackets, connector cables, and adapters
Flexible connection options
High value for money
You can connect up to 12 lights in series
270° wide-angle double row LED chip design
Lightweight and easy to install
Sufficiently long power cord
Up to 75% electricity savings
3 years manufacturer warranty
Cons
Cannot be connected in series with other tube lights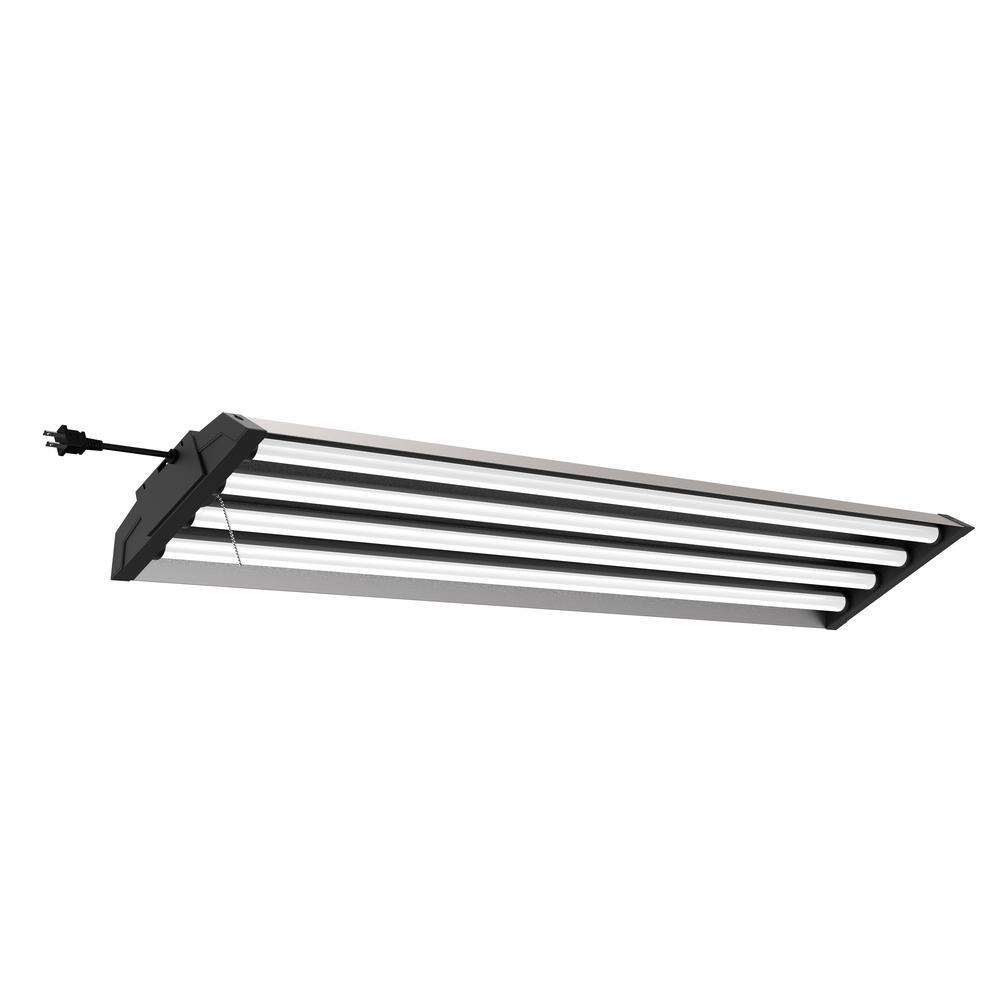 Throughout its long history, Commercial Electric has made quite a name for itself by developing affordable yet high-quality automotive electric equipment such as garage lighting fixtures, garage fans, battery testers, etc.
The 840HD LED shop light is one of many such examples. It is a lighting fixture that houses four integrated LED tube lights, each measuring 4 ft. in length. The entire setup accounts for a combined output of 7000 lumens of cool white light. Running at 80W, this garage lighting system consumes 50% less energy, resulting in savings of nearly $1,800 over its 50,000 hours lifespan compared to a 160W system.
The Commercial Electric garage light comes with V-hooks, wall anchors, screw hooks, and hanging chains to give you flexible and secure mounting options. Also, there is a practical pull chain ON/OFF switch mechanism to further enhance usability.
If you are in the process of setting up a new garage or revamping your old one, you certainly cannot go wrong with this Commercial Electric LED lighting fixture. The option to connect up to four such fixtures in series makes it suitable for large garages or even repair shops.
Highlighted features
Technical specs: 80W & 7000 lumens (combined)
Emits 4000K cool white light
Overall dimensions: 47.25" X 11.1" X 2.52"
Total weight: 5.25 lbs
Polycarbonate housing
Lighting fixture with 4 integrated LED tube lights
Can be wall-mounted or suspended from the ceiling
Pros
Pull chain ON/OFF switch for added convenience
Extra-long 5 ft. power cord
Up to 4 such fixtures can be connected in series
50000 hours total lifespan
50% energy savings
Durable and long-lasting housing
5 years manufacturer warranty
Cons
Integrated LED construction means you cannot replace individual lights
Don't you hate it when your new LED garage light is too bright to be practically usable? Well, look no further because the Hyperlite high bay LED light features a clever anti-glare technology to deliver a healthy balance of brightness and viewing comfort. The lighting fixture uses strategically placed aluminum strips to reduce diffusion by preventing excess light scattering. If the lighting fixture is still too bright for you, you also have the option to dim it as per requirement.
Other unique and innovative features include a microwave motion sensor that automatically switches the light ON when someone enters and OFF when no movement is detected. Thanks to this technology, you stand to save a significant amount of money due to reduced electricity consumption. Moreover, the onboard emergency power supply unit will power this garage light for up to 90 minutes during a power outage.
Hyperlite's garage lighting fixture boasts a strong yet lightweight frame constructed from aviation-grade aluminum. The aluminum frame houses several lights containing 840 advanced chips to produce a whopping 20,800 lumens combined brightness. Furthermore, fins incorporated into the design fulfill the lighting system's cooling needs on the backside by improving air circulation.
The Hyperlite high bay LED light does cost significantly more than other models, but it makes up for it with the plethora of features it offers in return. If you don't mind spending the money, the power of 20,800 lumens at your fingertips will instantly brighten up every corner of your garage. Also, there is a 30-day return policy and a 5-year manufacturer warranty to sweeten the deal.
Highlighted features
Technical specs: 160W & 20,800 lumens (combined)
Emits 5000K daylight
Overall dimensions: 25.6" X 15.8" X 4.6"
Total weight: 11.23 lbs
Aluminum frame
Suspended from ceiling
Pros
Crucial components are isolated to protect from humidity and adverse weather conditions
Simple installation process with detailed instructions
Strong and robust aircraft-grade housing
Extremely high brightness output
Unique anti-glare chip placement for viewer comfort
Emergency power supply functionality
5 years manufacturer warranty
Cons
Heavier than other models
On the expensive side
Another heavy-duty commercial-grade garage lighting system is the Lightdot 150W56 LED high bay light. It is a lighting fixture fitted with 384 ultra-efficient SMD 2835 LED chips to deliver a combined total brightness output of 18,000 lumens.
Lightdot's 150W lighting fixture is constructed from aeronautical aluminum and polycarbonate to provide optimum strength and rigidity while keeping the overall weight in check. The structure is equipped with clever side vent holes along its rectangular circumference for excellent heat dissipation.
The 150W5K lighting fixture allows for a plethora of mounting options to suit a wide variety of applications. The light comes with all the necessary equipment to suspend it from the ceiling via V-hooks, hang it using the pendant kit, or have it sit flush with the surface. You also get detailed instructions that make the process hassle-free and straightforward.
The Lightdot LED garage lighting fixture is specially designed for high-ceiling house garages or other similar establishments such as warehouses, repair shops, logistics centers, etc. The higher the distance between the light and floor, the more light coverage you get. Moreover, thanks to a 5-year manufacturer warranty, you have complete peace of mind on the quality front.
Highlighted features
Technical specs: 150W & 18000 lumens (combined)
Emits 5000K light
Overall dimensions: 23.7" X 12.6" X 3.38"
Total weight: 19.8 lbs
Aluminum LED lighting fixture
Suspended or hanged from the ceiling
Pros
High brightness output
Easy installation process with all required components included
Comes in a pair
Rugged and long-lasting construction
Height adjustable ceiling mounts
Energy-efficient SMD 2835 type LED chips account for 75% of energy savings
No flickering or noise
5 years manufacturer warranty
Cons
On the heavier side
Costs slightly more than other models
See Also: 7 Best Underhood Work Lights
Types of Garage Lighting
As is evident from the list, there are several different types and sub-types of garage lighting systems. Each type is designed for different applications and is good at it. It will be impossible to list down all garage lighting types, but here is a general classification:
LED Bulb-type garage lighting
Although these lights look nothing like them, they are best viewed as a substitute for traditional LED light bulbs. They use the same E26/E27 base sockets as the bulbs it replaces, but you get much better illumination, heat dissipation, and energy savings. The installation process is rapid since all you have to do is unscrew the incumbent light bulb and screw the new one in place.
Some bulb-type lights have several LED units that you can adjust to focus on specific objects in your garage. Such a level of flexibility is unique to this type and can come in handy in many day-to-day scenarios. Examples from our list include models by Tanbaby, Best World LED, and Hyhoshi.
LED Tube or bar lights
Tube or bar-type LED lights are some of the most commonly used lighting units with widespread applications. Low costs and fewer chances of malfunction are the primary reasons for this. However, due to their ability to be connected in series, we think they are most suitable for mechanic repair shops or professional paint booths. The best example of this type is the Barrina LED linkable tube light.
LED Bay lights or tube lighting fixtures
Also known as lighting fixtures, they are units packaged with one or more LED tube lights to deliver high output. Certain variations of this type come with strings that allow you to hang the fixture from high ceiling garages. Another advantage comes in replacement costs; if a single LED unit breaks, you only need to replace that particular unit and not the entire fixture. Examples include garage lighting systems by Commercial Electric, Hyperlite, and Lightdot.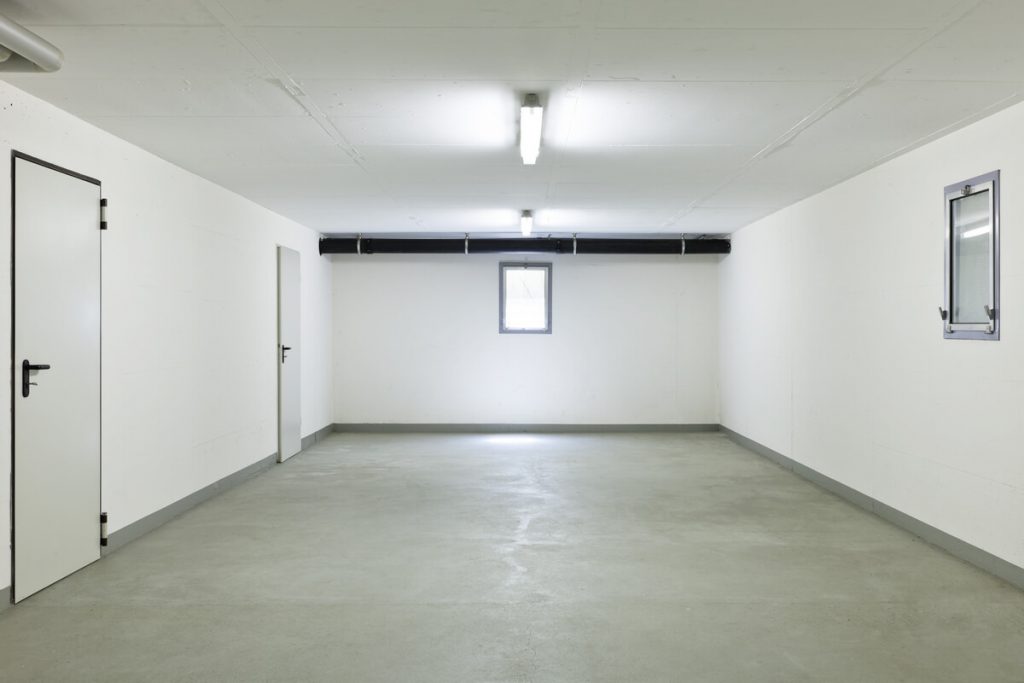 What to Consider When Buying Garage Lighting
Since each garage lighting system is meant for different scenarios, you must choose the best light that fulfills your illumination needs. The last thing you would want is for your new garage light to be dimmer than you expected or too bright to be usable. For this purpose, below are some factors you should consider before making the final decision.
Brightness
The fundamental reason anyone buys garage lighting is for optimum illumination or brightness. Any garage lighting system's brightness is expressed in lumens where a higher value signifies brighter light. However, that doesn't mean you should get the garage lighting with the highest brightness rating, as some lights can be too bright to look at. Instead, look for a model that perfectly balances brightness and viewer comfort by incorporating anti-glare technology.
Color temperature
The type of light a garage light emits can significantly impact your garage's room temperature. However, most LEDs emit cool white light with temperatures ranging from 4000 to 7000 Kelvin. A higher color temperature rating signifies cool and blue light, while low ratings are for warmer lights. You can choose the right color temperature light for your garage based on your region's climatic conditions. However, as a general rule, cooler lights with a high color temperature rating are suitable for nearly all applications.
Electricity consumption
It is no secret that in terms of energy consumption, modern LEDs or fluorescent lights are vastly more efficient than older incandescent bulbs. So the only tangible comparison LED garage lights have, is amongst themselves. Pick a garage light with high lumens per watt ratio, so you get more brightness while consuming less electrical power. Energy-efficient garage lighting can potentially save you hundreds of dollars in electricity costs in its lifespan, so choose carefully.
Mounting options
Although it is often neglected, considering the garage lighting's mounting options beforehand is quite crucial. You need to make sure that the model you are looking to buy will safely and securely fit where you want it to. For instance, bulb-type LED lights will screw into standard E26/E27 sockets without the need for any complex work. Meanwhile, other types of garage lighting, such as lighting fixtures or tube lights, will require you to drill holes in the ceiling or walls for mounting brackets.
Total lifespan
The longevity or lifespan of any garage lighting refers to its total runtime as specified by the manufacturer. The standard norm in any modern garage lighting is 50,000 hours lifespan; this comes to around 5.7 years of continued usage, which is more than enough for normal applications.
Heat dissipation characteristics
Garage lighting systems are super bright devices that run on high power for prolonged periods. So, it is natural for these lights to get hot. To that end, good garage lighting should have the ability to prevent its temperature from rising above safe limits by dissipating excess heat into the surroundings.
Go for a garage light with superior heat dissipation as it protects sensitive components from damage and ensures long operational life. Most models incorporate unique details such as fins to deal with this problem.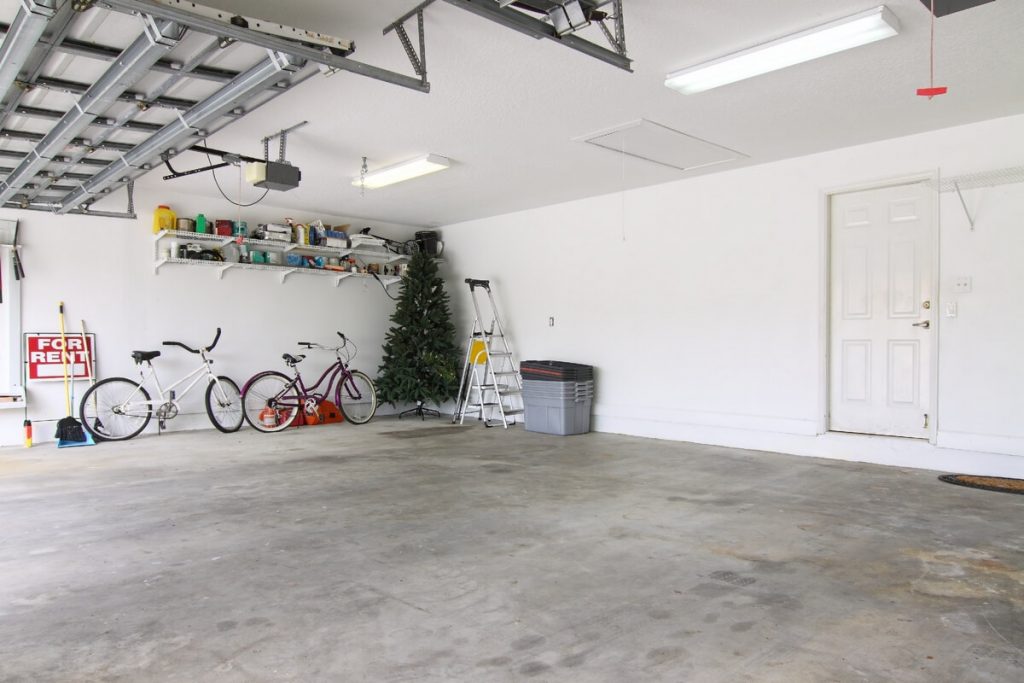 Frequently Asked Questions (FAQs)
What does the term "Integrated LED" mean?
In certain types of garage lighting products designed as LED fixtures, manufacturers would install the LED lighting units directly to the frame. These are called lighting fixtures with integrated LEDs. Integrated LEDs have to be specially designed for use in that particular fixture. Moreover, integrated LED construction increases the lighting system's lifespan and prevents tampering as you cannot remove the individual lights from the fixture.
The only downside to an integrated LED architecture is that if one of the lights in the fixture malfunctions, you have no choice but to replace the entire fixture. So if you are purchasing an integrated LED garage light, make sure to get one with a long-term warranty.
What is the color rendering index?
The color rendering index or CRI of any light tells us about its ability to reveal colors in various objects. Simply put, CRI is a measure of the quality of light emitted by a source compared to a natural light source. The better the quality, the more natural or true any object looks under the light. CRI is measured on a scale of 0 to 100, with most garage lights on our list scoring at least 80. CRI of 90 and above is considered to be excellent, while anything above 80 is pretty good. Since we have only included the best garage lighting in our list, you don't have to worry about the CRI of any model because none of them rank below 80.
Are fluorescent lights better than LEDs?
The simple answer is no. Fluorescent lamps create light by facilitating complex chemical reactions involving the collision of electrons and atoms. Moreover, they contain toxic materials that pose severe health hazards to the people around them. Besides, even with the same Wattage, LEDs emit much better light quality and quantity.
Verdict
Well, there it is, folks, everything there is to know about garage lighting and then some. We hope all this information will assist you in choosing the best garage lighting. Although the final decision varies from person to person, here are some generalized suggestions.
If you have a reasonably small garage, then the easy-to-install bulb-type LED garage lights are perfect for you. Meanwhile, those with medium to large garages or even repair shops are better off with purpose-built heavy-duty LED fixtures for reliable and sufficient illumination. Yes, those fixtures are pretty costly, and chances are, you will need several units depending on the area to be illuminated. However, if you are looking for high-quality and long-lasting illumination, then this is an investment worth making.
"Let there be light!"