EDITOR'S PICK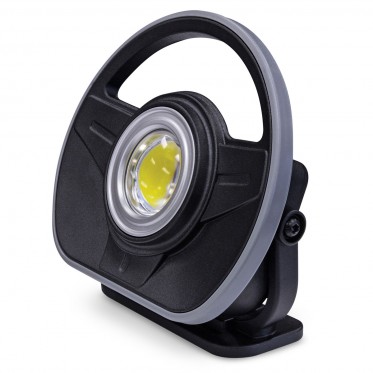 Eastwood 32400 Modular Light Module
1000 lumens rating
Virtually endless brightness settings
Integrated battery level indicator
Sturdy aluminum casing
Maximum 8 hours run time
7.4V 2200 mAh rechargeable lithium-ion battery
3 hours charging time
PREMIUM PICK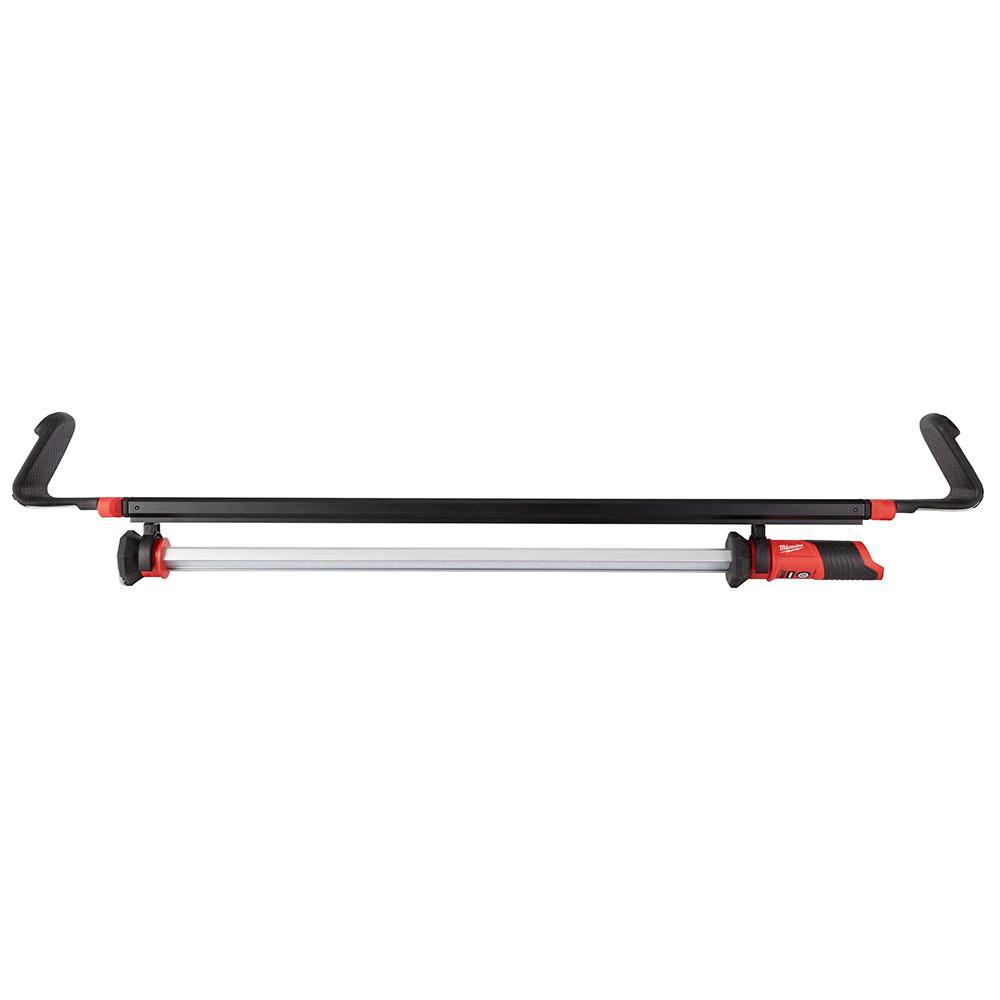 Milwaukee 212520 LED Underhood Light
1350 lumens output rating
High and low brightness settings
Maximum 8 hours of run time
Tool-only model
Light and sturdy aluminum frame
Scratch-resistant mounting hooks
BUDGET PICK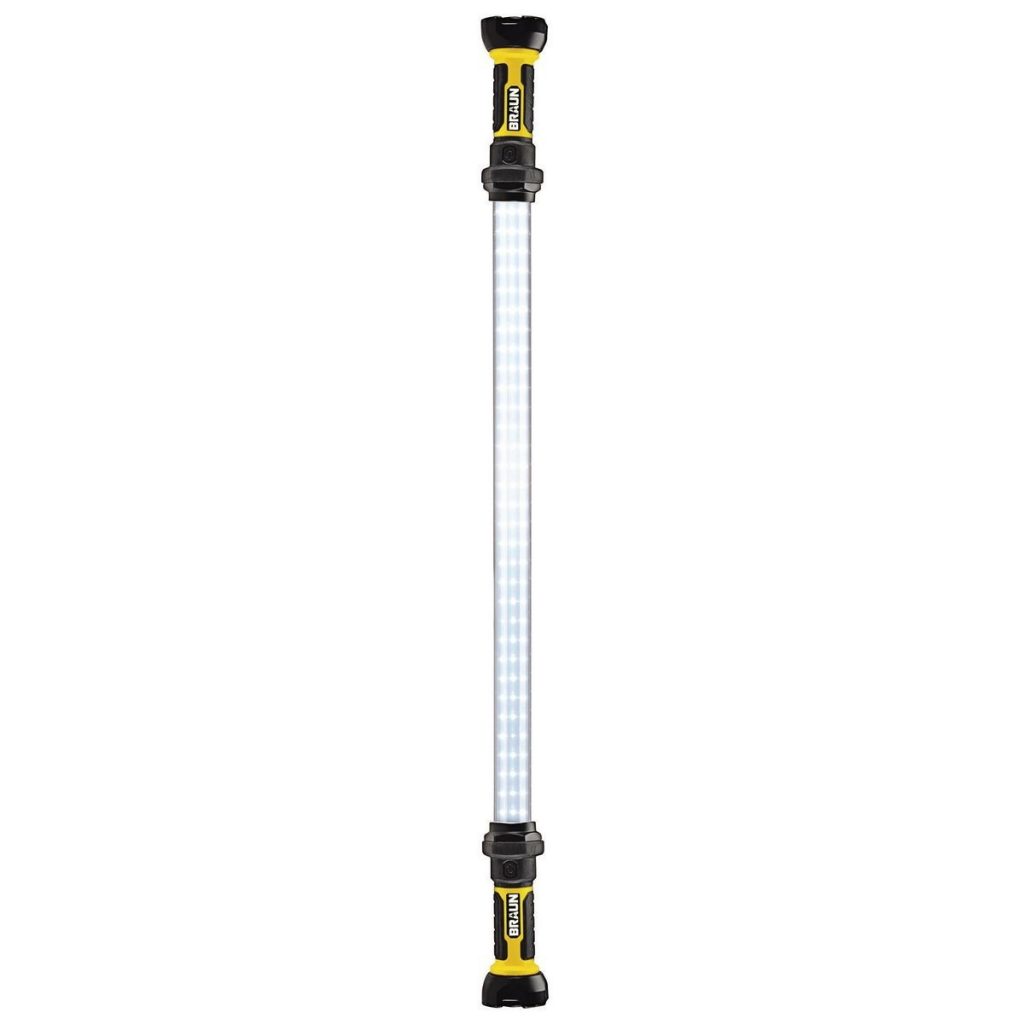 Braun Rechargeable Underhood Work Light
845 lumens output
Two lighting modes
Maximum 7 hours of run time
1800 mAh lithium-ion rechargeable battery
4h 30mins charging time
88 ft. illumination range
Convenience is king. Whether you are a professional mechanic or a DIYer, there is a good chance you have found yourself working under your car's hood in the dark with nothing but the flashlight from your smartphone to help you see better. For that purpose, you need an underhood work light; a bright light specially designed for mechanics working under a car's hood. As opposed to regular portable work lights, it has several interesting features, such as the ability to mount itself on the hood so you can use your two hands and do the job faster and much more efficiently.
Underhood work lights are not a requirement exclusively for low-lit environments; instead, they are also necessary when working on components deep in the engine bay. No matter how powerful is your garage's overhead lighting system, it will always be quite dark down there; not to mention that the hood also casts its own shadow.
Performing simple tasks such as changing engine belts, spark plugs, etc., can be stress-free when using such a light. However, we understand that it can be challenging to choose which underhood work light to buy from the plethora of online options. This is why we have curated a list comprising 7 of the best underhood work lights we could find. The list includes a detailed description and each work light's highlighted features, advantages, and disadvantages.
Hope it helps!
Underhood Work Light Reviews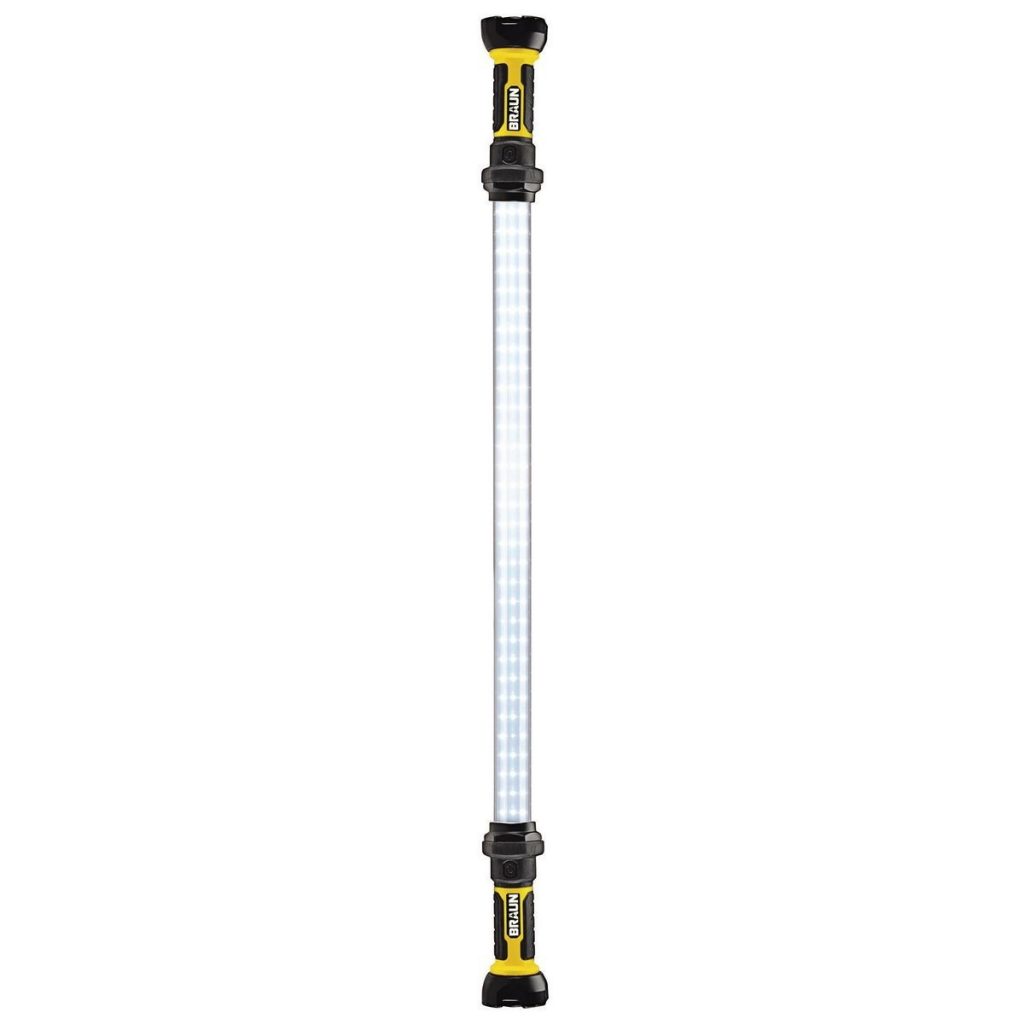 The Braun 63990 underhood work light is a rechargeable unit capable of emitting a maximum of 845 lumens for 3H 30min. However, if you switch to the low brightness mode, the run time doubles.
The 3.6 V 1800 mAh lithium-ion battery takes around 4H 30min to recharge and you can charge it either using a 120V wall adapter or a 12V car adaptor for charging on the go.
Furthermore, the lighting assembly is protected by shatter-resistant polycarbonate tubing, while the rubber grips on either end keep dust particles out.
Meanwhile, both endpoints have magnets along with plastic mounting hooks that sit flush with the body. The ends can be unscrewed and used to mount this light under your vehicle's hood, either using magnets or pins.
For the price, this light is an excellent buy for DIYers or beginners. Thanks to its compact dimensions and lightweight nature, it is also relatively easy to store and carry around.
Highlighted features
845 lumens output
Two lighting modes
Maximum 7 hours of run time
1800 mAh lithium-ion rechargeable battery
4h 30mins charging time
88 ft. illumination range
Pros
Magnetic and hook mounting options
A rechargeable battery allows for versatile usage
Strong external polycarbonate tubing
Low and high brightness settings
Great for beginners
Low cost
Cons
Takes some effort to get it to focus on the required spot
Hooks and magnets could be stronger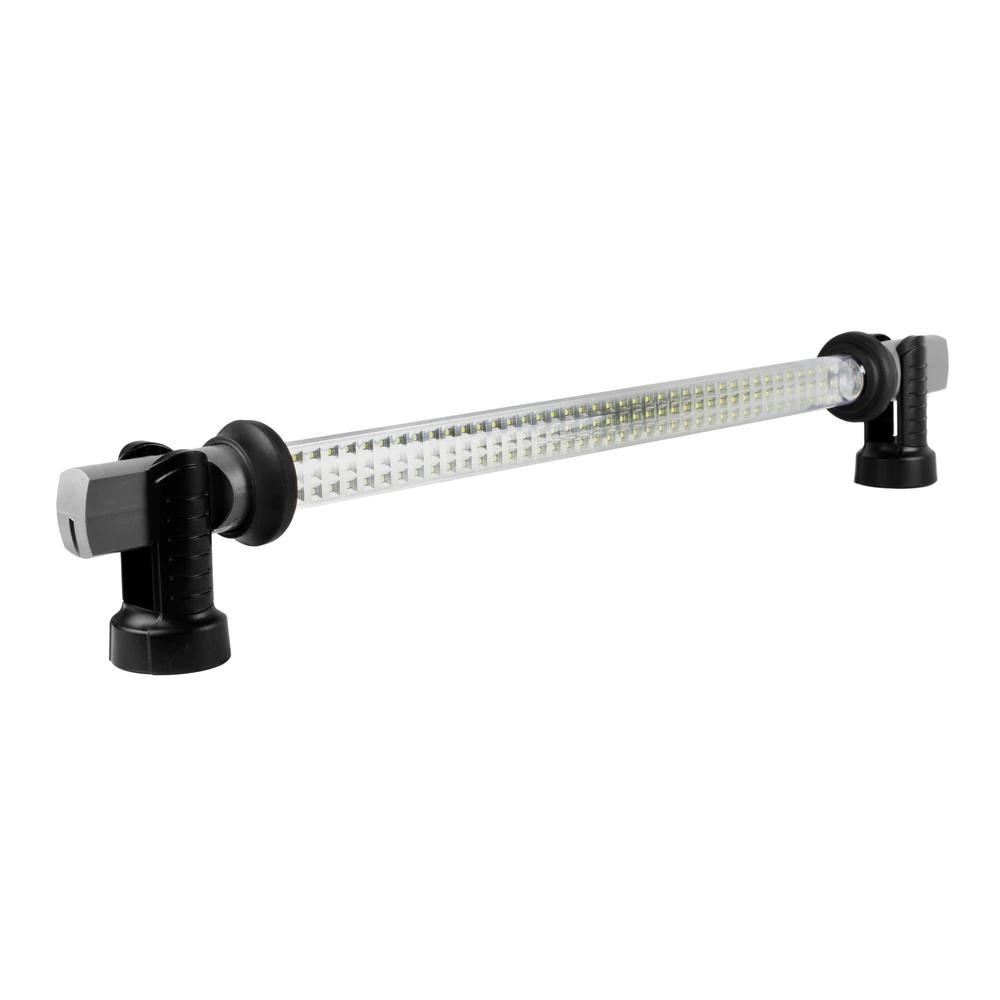 The Wagan Corporation EL4344 model is a 1000-lumen rechargeable underhood work light. It has three lighting modes of varying brightness; the high brightness mode gives you the entire 1000 lumens while the medium setting is capable of a modest 400 lumens, and lastly, the low brightness mode is suitable for 200 lumens. The lighting module comprises 120 surface-mounted LED lights capable of emitting light up to 82 feet away.
The EL4344 model uses a rechargeable lithium-ion battery with a 2200 mAh capacity that requires around 4 hours of charging time. Depending on the running battery mode, one full charge will last you 1, 2, or 4 hours (figures for low, medium, and high setting, respectively). Meanwhile, wall and car charging adaptors are included in the box.
With this work light, you also get flexible mounting options. Both handles house powerful magnets and a hook that rotates 360°. The main handle is capable of 180° movements for easy operation. Measuring 36 inches in length, this underhood work light is best suited for small to medium cars.
Highlighted features
1000 lumens output
Three lighting modes
2200 mAh rechargeable lithium-ion battery
82 ft. illumination range
Maximum 4 hours of run time
Pros
One-year warranty
Three brightness modes expand the scope of use
Lightweight underhood work light
Decent brightness range
Option to choose between magnets and hooks for mounting
Reasonably priced
Cons
Less running time compared to other models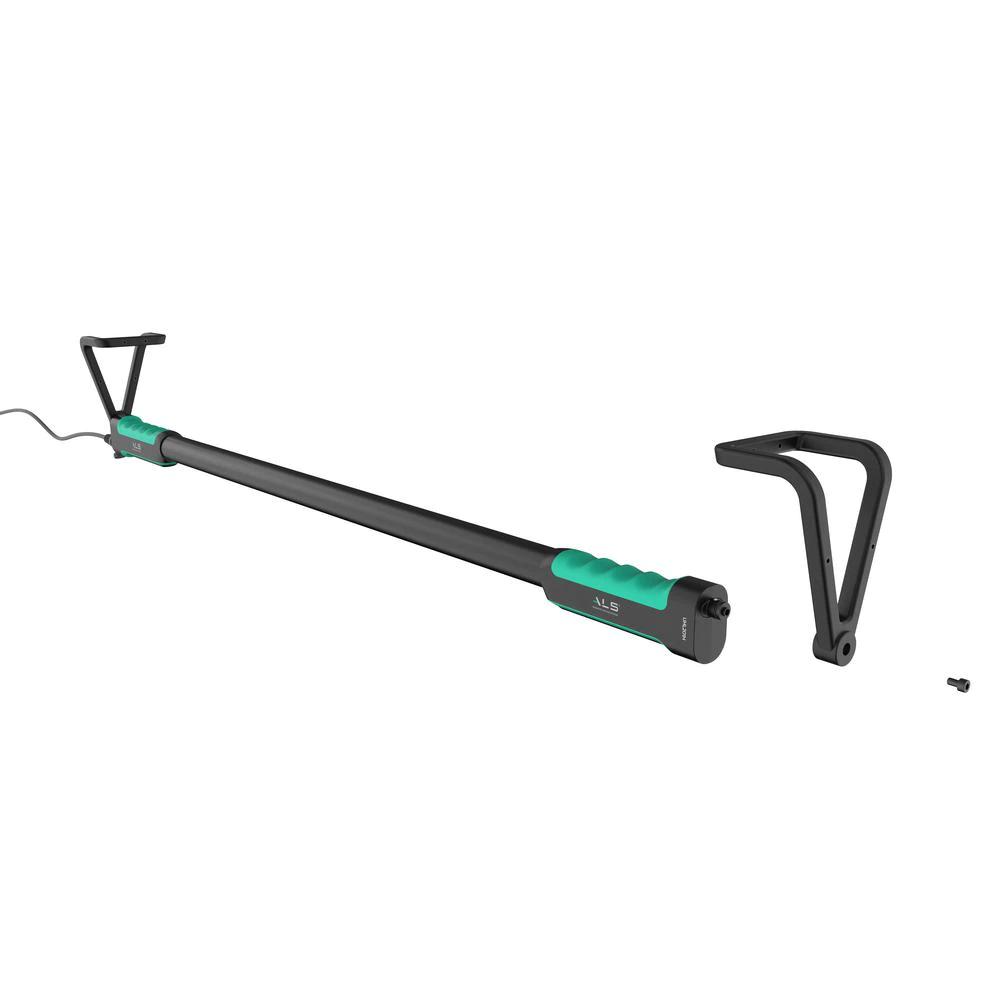 Moving on, the next underhood work light is from Advanced Lighting Systems, a well-known brand in the lighting world for consistently producing high-quality and long-lasting equipment. The ULH201H model is no exception. Rated at 2000 lumens, this work light features an innovative and ergonomic design that makes it very user-friendly. You also get a dimmer setting that emits 1000 lumens.
Furthermore, it features a lithium-ion battery with a 5200 mAh capacity that allows for a maximum running time of around 4 hours. Fully charging the battery takes anywhere between 3-4 hours. However, a unique thing about this model is that it can be used even when it is plugged in, a trait not many other models possess.
When it comes to mounting, this light is quite different from all previous models—it uses brackets that grip your vehicle's hood. The mounting brackets can swivel 360° and are adjustable in terms of length to fit different vehicle types. Moreover, you can adjust them within the range of 47" to 79".
Highlighted features
2000 lumens output
Two brightness settings
7.2V 5200 mAh lithium-ion battery
Around 4 hours of operating time
3-4 hours charge time
Pros
2-year manufacturer's warranty
Lightweight and portable underhood work light
Extra-bright SMD LEDs
Ergonomic handle and slim design
Waterproof and resistant to dust particles
Adjustable and swiveling handlebar allows for greater flexibility in mounting
It can be used either on battery power or when plugged-in
High value for money
Cons
Slightly high initial cost
The GearWrench 83350 is an efficient and usable underhood work light. In essence, the 83350 is a combination comprising two GearWrench models, the 83349 underhood rack and the 83351 wing light. The leading light possesses a unique design with two flaps that pivot up to a maximum 180° angle. It is rated at 1000 lumens, but there is a dimmer setting that gives 500 lumens. When you close the flaps completely, you will notice another lighting assembly on each flap's topside. That is the 400-lumen spotlight.
The wing light is powered by a rechargeable lithium-ion battery that provides up to 4 hours of run time in the dimmest setting.
The aluminum underhood rack is responsible for securely holding the work light and allowing the ability to focus the light wherever required. To that end, it uses two brackets on either side that go over your vehicle's hood. The brackets are also equipped with magnets to prevent unnecessary movement. The rack is quite versatile as it has a wide adjustment range spanning 37" to 80".
Highlighted features
1000 lumens rating
Two lighting settings
4 hours maximum run time
Aluminum rack with brackets and magnets
Lithium-ion rechargeable battery
Pros
One-year limited warranty
Flexible mounting options
Waterproof and dust-resistant construction
Lightweight and adjustable rack with secure mounting
Light can also be used separately
Pivoting light assembly makes it easy to focus light where required
Additional 400-lumen flashlight
Cons
Slightly high initial investment but well worth the cost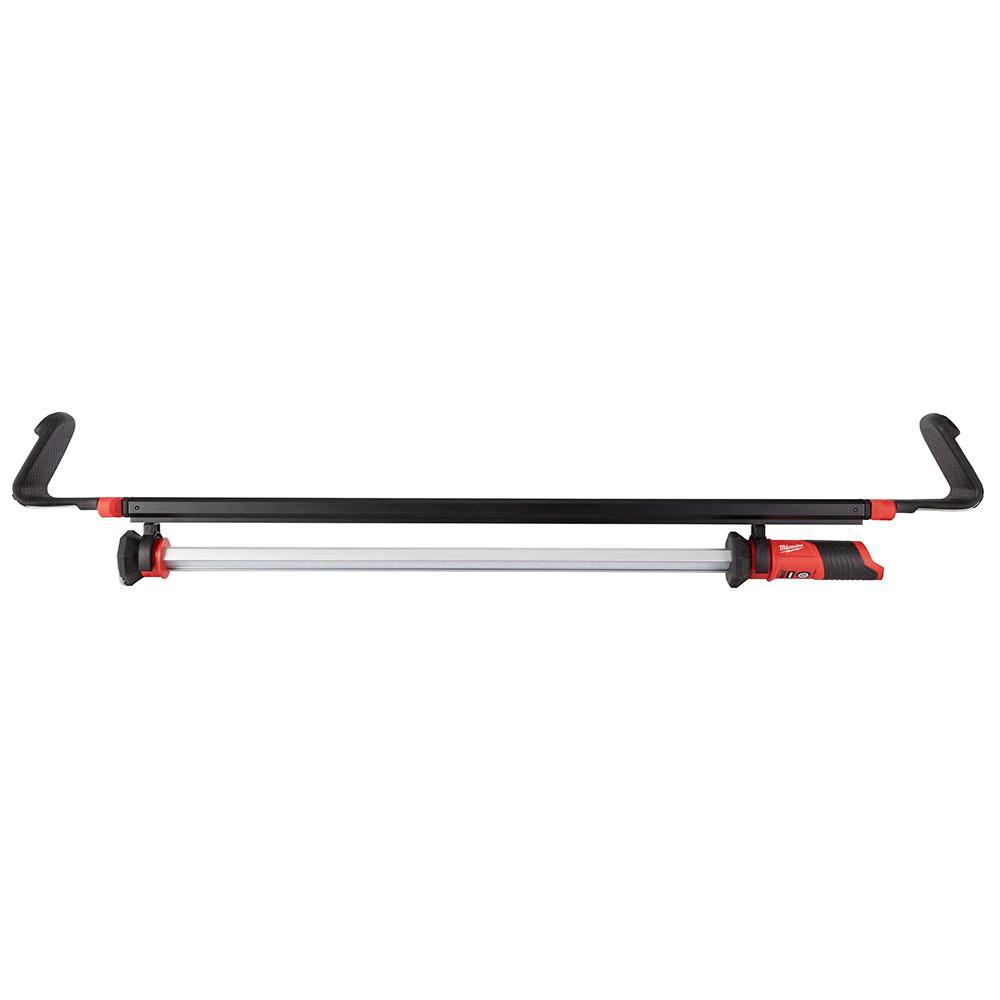 The Milwaukee 212520 is a premium underhood lighting kit and part of its M12 power tools family. The light is rated at 1350 lumens, while a low brightness mode will emit 600 lumens. The LED system uses Milwaukee's TRUEVIEW technology that provides a high definition output and a wide coverage area, and unmatched clarity. When used with the appropriate battery, it gives a run time of 8 hours on the low setting and half that on full-chat.
The 212520 model, in particular, is a tool-only model, meaning it does not come with the required battery or charger. So only buy this model if you already have the compatible M12 batteries from other Milwaukee tools. Those who would like to purchase the entire kit should look into the 212521XC model.
The lightweight aluminum rack is equipped with mounting brackets on either end that are used to securely mount the light under your vehicle's hood. The rack can be adjusted within the range of 47″ to 78″ to fit various vehicle types. Moreover, the light bar has an additional metal hook on one end.
Highlighted features
1350 lumens output rating
High and low brightness settings
Maximum 8 hours of run time
Tool-only model
Hook mounting bar
Pros
5-year tool warranty
Lifetime limited warranty on LED components
Adjustable mounting hooks allow for greater versatility
Light and sturdy aluminum frame
Scratch-resistant mounting hooks
Cons
Does not come with a battery or charger
On the expensive side
The Eastwood modular lighting system is a great all-around package that finds several applications in your garage. In addition to the regular underhood work light, you can also use it for other purposes such as working under your vehicle and bodywork. However, the 32400 model only includes the lighting unit.
The 1000-lumen light has several unique and valuable features such as a 4-segment LED charge level indicator, an adjustable magnetic base, flexible mounting options, etc.
Much like other models, it also has provisions for selecting a dimmer setting. However, instead of one or two different settings, the controls are set up such that you can choose virtually any output within the 100-1000 lumen range.
The 2200 mAh rechargeable battery is capable to continuously run for 8 hours on its dimmest setting, while the brightest setting will be available for just 1.5 hours. Meanwhile, charging the battery requires just 3 hours.
To use this light as an underhood work light, you will need to separately purchase a light bracket (model 32401).
Highlighted features
1000 lumens rating
Virtually endless brightness settings
Integrated battery level indicator
Sturdy aluminum casing
Maximum 8 hours run time
7.4V 2200 mAh rechargeable lithium-ion battery
3 hours charging time
Pros
Charging level indicator adds convenience
1-year warranty with an optional extended service plan
Lightweight work light
Modular architecture allows for unmatched flexibility and personalization
Low cost
Magnetic base allows quick and easy mounting
Wall and car charger included
Cons
The mounting bracket needs to be purchased separately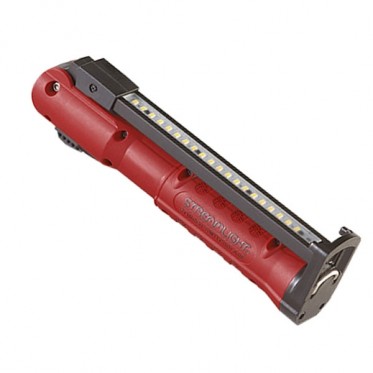 The Streamlight Stinger Switchblade is one of the most versatile work lights available to buy. In addition to an underhood light, it can also be used in several other applications inside and outside the automotive world. It is a compact and lightweight work light that features a light bar with 180° rotation with lights on either side of the bar. One side houses an 800-lumen bright and wide-reaching light using 20 LEDs. The same side is also capable of emitting ultraviolet light when required.
The other side houses a high-definition 600-lumen light comprising of 90 CRI (Color Rendering Index) LEDs. The primary purpose of this light is to display all colors in their clearest and most authentic form.
The Stinger Switchblade uses a 5200 mAh battery that takes around 88 hours to fully charge. When fully charged, you get 3.5 hours of run time using the 800 or 600-lumen lights, while the UV light can function for 15 hours on end.
Secure mounting can be achieved by a strong magnet present in this light's base. The base also has an integrated metal hook for underhood mounting.
Highlighted features
3 lights in one compact package
800 lumens LED light
600 lumens 90 CRI white light
Ultraviolet light
Rechargeable 5200 mAh lithium-ion battery
8 hours charging time
15 hours maximum run time
Pros
Manufacturer's limited lifetime warranty
90 CRI white light makes it easy to differentiate between similar colors
Strong magnet and hook make for easy and secure mounting
Highly versatile work light
High-capacity battery
UV setting to detect HVAC or other leaks
Cons
See Also: 7 Best Garage Lightings for Your Home Workshop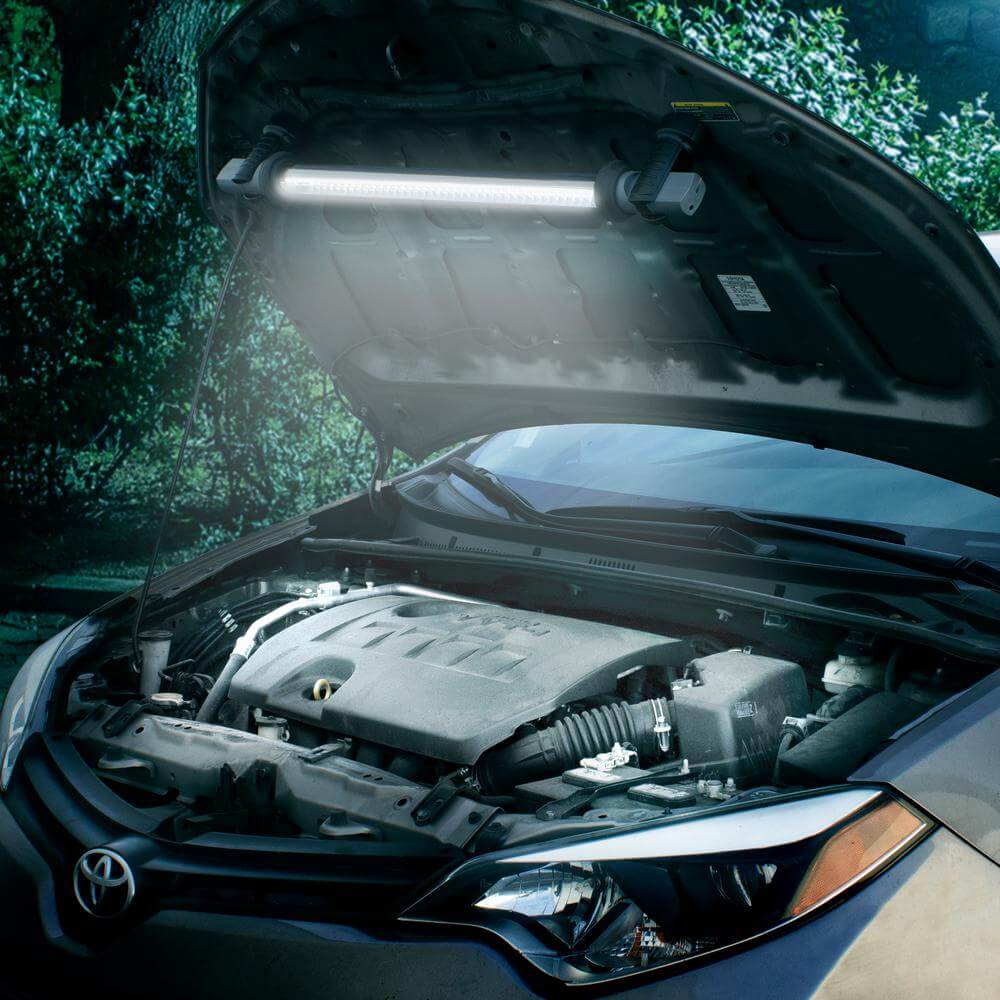 Things to Consider When Buying An Underhood Work Light
When it comes down to choosing an underhood work light to buy, several vital factors play a pivotal role in the decision-making process. Below is a detailed list of those factors. Your job as a buyer is to evaluate your needs for each aspect and then choose a model that fits your needs the best.
Lumens rating
Every underhood work light has its own unique light output rating, usually in the form of lumens. The above list contains lights with output ratings within a respectable range of 800-2000 lumens. As the SI unit of luminous flux, any work light's lumen count indicates its intensity or brightness. A good underhood work light should have enough lumen count to provide a sufficiently lit engine bay even in the darkest of environments.
Battery life and capacity
All underhood work lights in our list come equipped with a rechargeable lithium-ion battery. Therefore, an excellent light needs to have sufficient running time, which can be made possible by a high-capacity battery. As a general rule, around 4 hours maximum running time is considered respectable. However, some lights offer a lot more.
Another critical factor is the charging time required by your battery. A high-capacity battery comes with longer charging durations, so it is crucial to pick a model with low charging time and high run time.
Mounting options
The entire purpose of buying an underhood work light is to have the freedom of using both hands. To fulfill that purpose, you need to buy a model with secure and flexible mounting. In general, models with mounting brackets that go over your vehicle's hood on either side are considered desirable and safe. However, if a light has magnets, they are strong enough to support the light assembly's weight.
Another concern when it comes to mounting options is damaging the vehicle. Underhood work lights with the bracket-type mounting tend to leave scratches on the hood's top surface. Hence, make sure the model you pick has soft and scratch-free contact points.
Light intensity settings
In addition to the maximum lumen rating, most lights have one or two settings that provide a dimmer output. When choosing an underhood work light, it is advisable to pick the model with the most brightness settings as you increase the scope of applications, thereby increasing the versatility.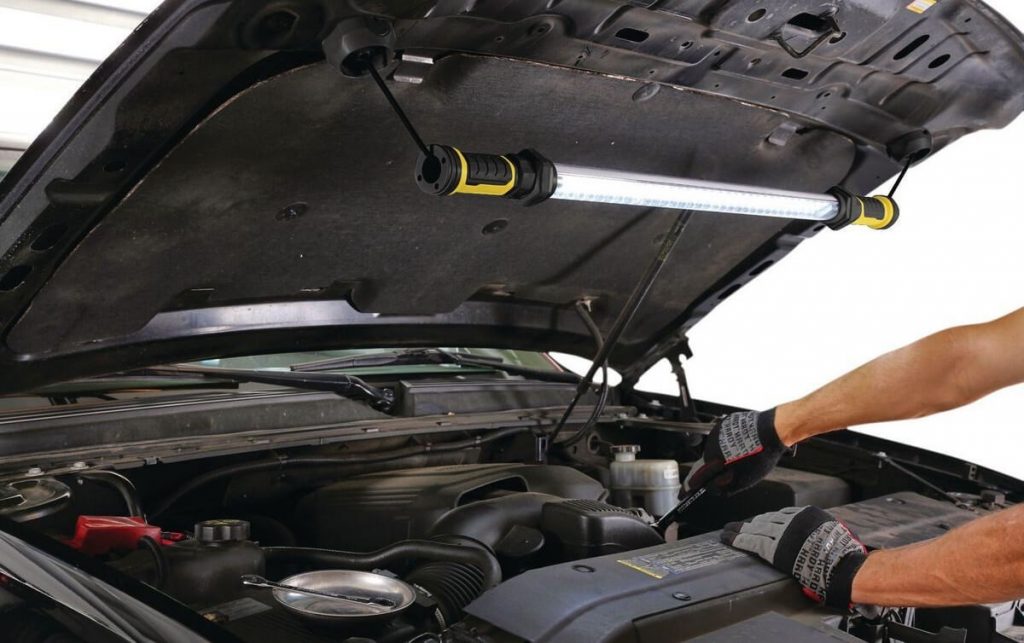 Frequently Asked Questions (FAQs)
How many lumens do I need?
As mentioned above, the lumens rating indicates a light's output or brightness rating, and in an ideal world, the more lumens your light has, the better. However, with a higher brightness rating, you get a lower run time. So, it is crucial to balance the required output rating in order to get a good run time.
As a general rule, you should not buy models with fewer than 750-800 lumens for use as underhood work lights. On the other end, anywhere from 1000-1500 lumens should be sufficient for everyday usage.
Can I use my underhood work light while it is plugged in?
Yes and no.
The ability to use an underhood work light when plugged-in to the charger varies from model to model. Some manufacturers encourage buyers to do so while others denounce it. Our advice would be to not use your light while plugged-in unless the manufacturer says otherwise. In some instances, this may lead to permanent damage to the light's internal circuit, ultimately resulting in malfunctioning or other issues.
Which is the best or most preferable mounting option for my light?
Broadly classified, there are three main mounting options available in modern underhood work lights. Lights can be mounted using hooks, magnets, or brackets. One single model doesn't need to have all the options. Moreover, each type has its own set of advantages and disadvantages.
The magnet-mounting method is only successful when the magnets are strong enough to securely bear the entire assembly's weight. On the other hand, hooks only work when you have the required points to hang the light. The presence of strong winds can cause a significant hindrance when using hooks. Brackets are considered most secure and safe, but you risk scratching or damaging your vehicle's hood unless proper materials are used.
Verdict
So far, we have established that an excellent underhood work light is a requirement and a necessity in every mechanic's tool arsenal. However, choosing which model to buy is a decision that differs from person to person and can only be made after carefully evaluating all needs beforehand.
If we had to choose one model from the list, the Eastwood light module is the obvious choice, thanks to its modular architecture that allows for unparalleled flexibility. When combined with the optional bracket, it gives you the option to mount numerous lights on one rack, thereby providing more than one focus point.